We've created plenty of hemp hearts recipes at Simple Green Smoothies, yet today I'm sharing the best of the best. Hemp hearts have incredible health benefits and are 100% plant-based, making them a staple superfood. And despite rumors, they won't get you high (I'll talk more about that below).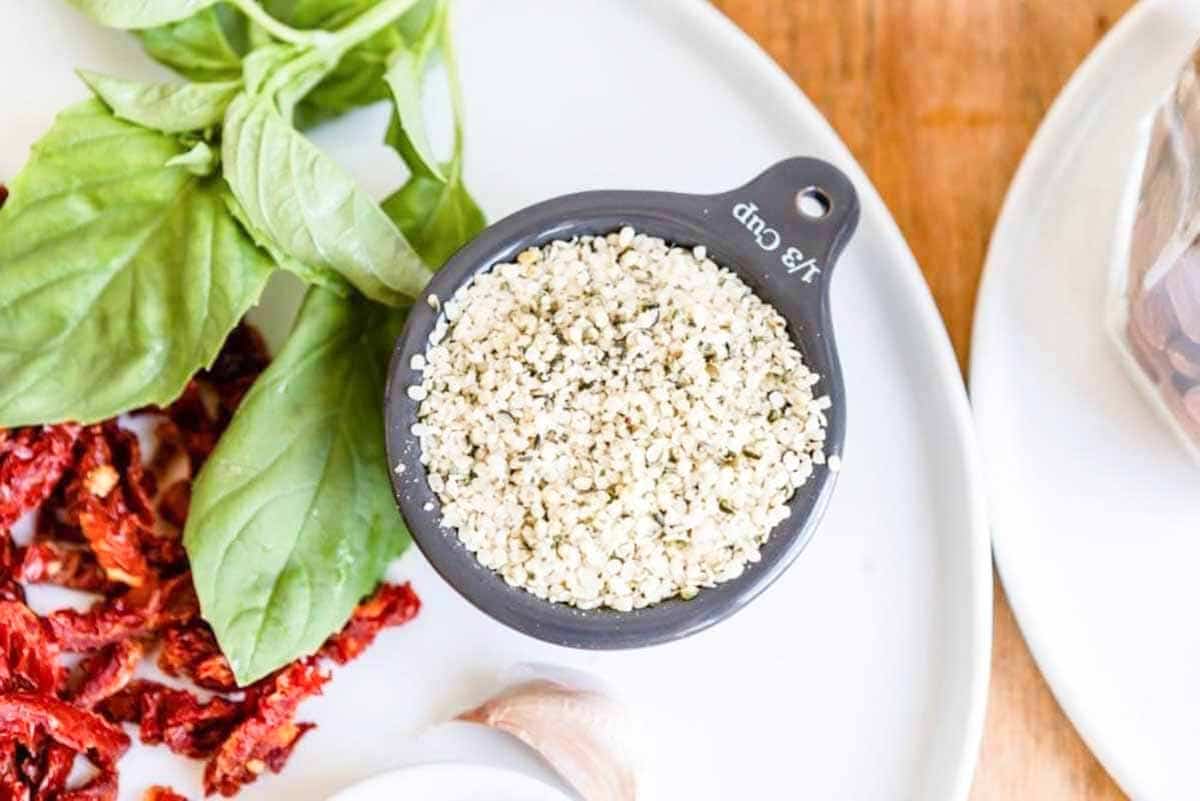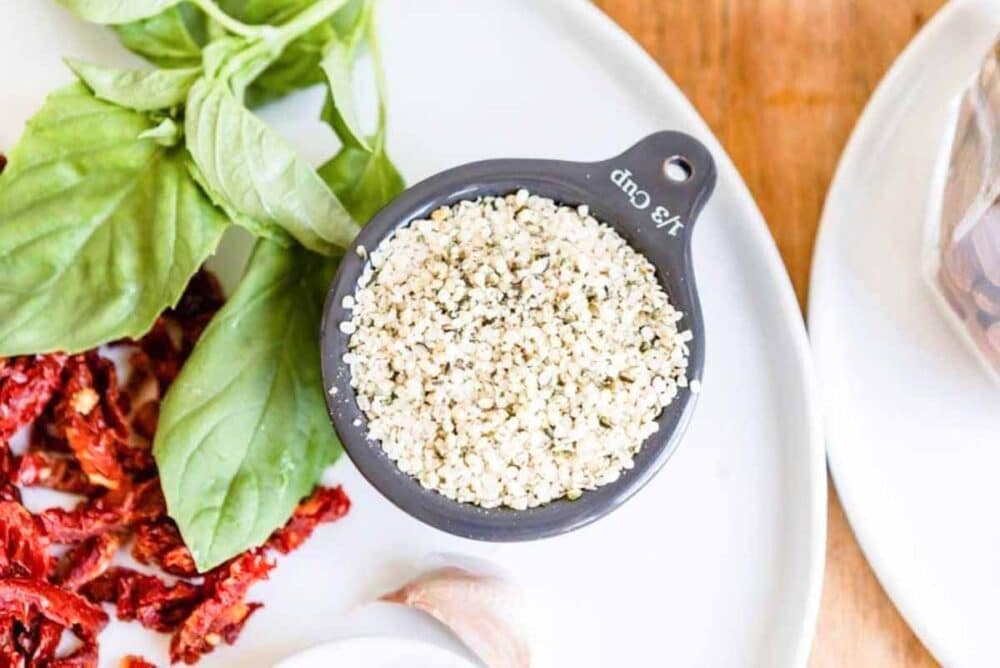 Table of Contents
Health Benefits of Hemp Hearts
ALL essential amino acids: Our bodies need protein, but can't make it on its own. Hemp hearts have every single essential amino acid that your body needs, which are the foundation of protein.
B vitamins: Hemp hearts benefit your heart, nerves, brain, muscles and blood cells because of all the B vitamins it contains. The highest is vitamin B1 (thiamine), boasting 32% of the daily recommended value.
Maintain bone density: Hemp hearts are a nutrient-dense food with much of what our body needs for good bone health: magnesium, phosphorus, potassium, calcium, copper, iron and zinc.
Omega fatty acids: Hemp seeds (hemp hearts are at the center of the seed) are said to have the ideal ratio of omega-6 and omega-3 essential fatty acids needed for overall health (according to the National Institutes of Health). Having a 3:1 ratio may lead to reduced inflammation that could help chronic illnesses, such as cardiovascular disease and cancer.
As you can see, hemp hearts recipes are great for your overall health. Keep scrolling to find my five best recipes using this plant-powered superfood. But first, here are some answers to a few common questions about hemp hearts:
Seeds vs Hearts
Are hemp seeds the same thing as hemp hearts? Yes and no. Hemp hearts are the raw, soft, nutty-flavored center inside hemp seeds. You can eat hemp hearts raw, as well as cooked, toasted, and even baked.
Hemp seeds are just as good for you as hemp hearts. One main difference is the outer shell. In some recipes, you can use hemp hearts and hemp seeds interchangeably. One reason I prefer hemp hearts more than hemp seeds is that they keep smoothies from becoming too gritty.
Best Place to Buy
I typically buy hemp hearts from Thrive Market or Costco, because they have the best prices. Shop around a bit before purchasing if this is your first time buying them, because some specialty food stores have 4 oz bags for $10, while the 2 companies mentioned above have much larger sizes for the same price! No need to overpay for this delicious superfood.
Are There Side Effects to Consuming Hemp?
It's natural to wonder whether or not hemp hearts can cause similar negative side effects like that of marijuana. But the overwhelming majority of research shows that hemp hearts cannot get you high.
The plant that produces hemp hearts is very similar to, but not the same as, the marijuana plant. The hemp plant contains 0.3 percent of tetrahydrocannabinol (THC), where as the marijuana plant contains anywhere from 5%-30%.
According to Jolene Formene, staff attorney at Drug Policy Alliance, "Hemp seeds are non-psychoactive, meaning that consumers cannot get high by eating them." A study found that THC levels are minimally affected when eating hemp hearts, and that it would be nearly impossible to see levels altered enough to draw concern from federal drug testing.
One thing to keep in mind, though:
Hemp hearts are naturally "fatty," but it's the good-for-you kind of fat (unsaturated fat). Eating too many hemp hearts can increase your caloric intake (if you're watching those numbers), so just consume these hemp hearts recipes in moderation, just like all other delicious foods I recommend!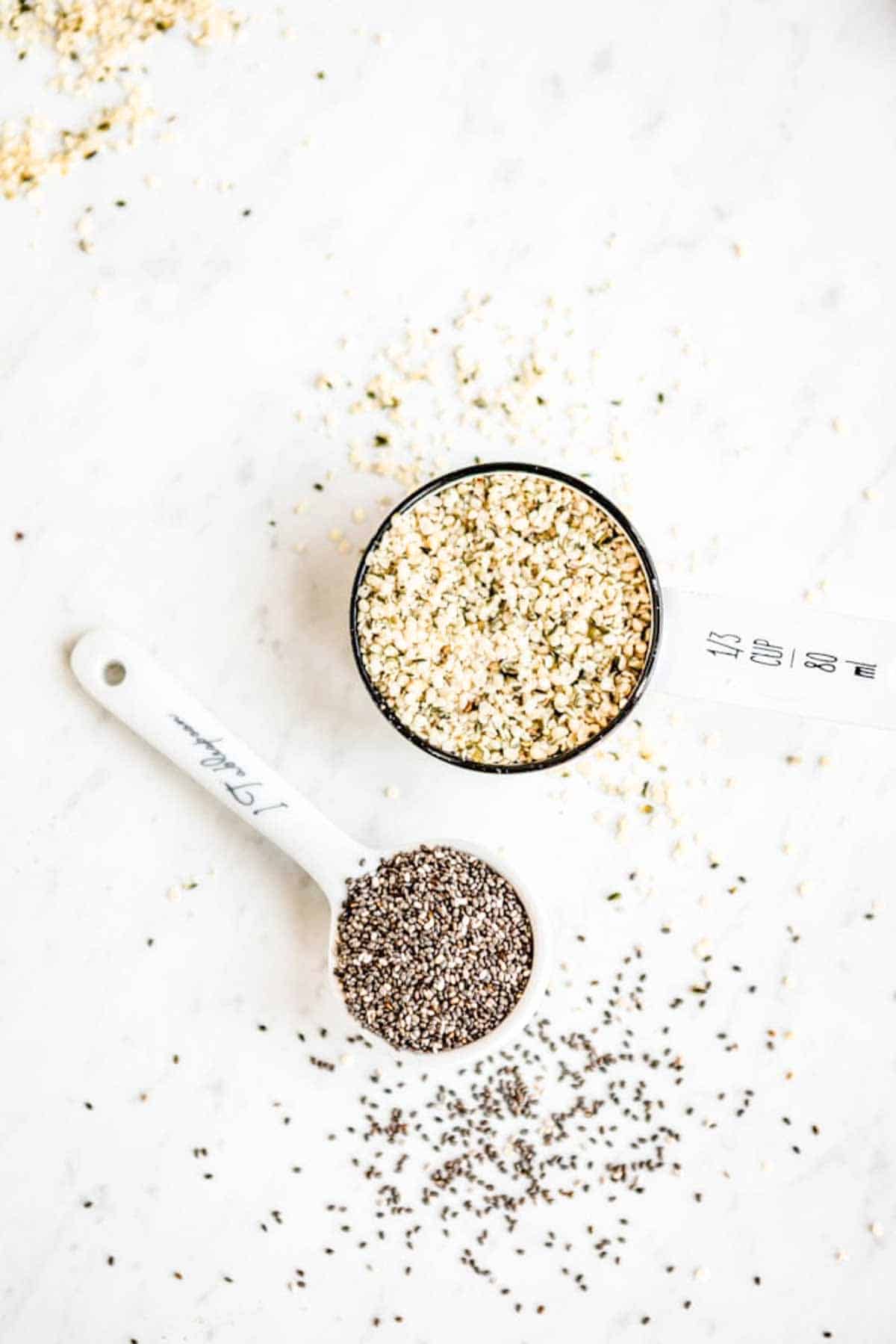 Are Hemp Hearts Good for Weight Loss?
Yes! As mentioned above, they have good, healthy fat, yet ALL of us need to eat some fats to keep our bodies working. It's what helps skin stay moisturized and the digestive system running smoothly, as well as helps the body absorb certain nutrients.
Hemp hearts are protein-rich, and the body uses protein for energy. This awesome plant-based ingredient keeps the body going and can help to curb sugar cravings. Green smoothies boosted with hemp hearts can act as meal replacements, which in turn can help shed some extra pounds.
Plant-based protein in smoothies
A lot of people boost their smoothies with protein powder to boost protein. I've done the same for years, yet I've never found a plant-based protein powder that I loved. So I created a protein powder recipe, which iss plant-based with 3 simple ingredients: organic hemp protein, organic chia seeds, and organic flaxseed.
Together, these 3 powerhouse ingredients turn any smoothie into a meal replacement + provide essential amino acids the body needs to thrive. I wasn't joking when I said I loved hemp hearts.
6 Tasty Hemp Hearts Recipes
I've include the top five hemp heart recipes from our plant-powered blog. I could have made all five of them smoothies (we have loads of recipes!), but I decided to give you a variety to choose from.
Whichever hemp hearts recipe you make, know that you're using whole foods, plant based ingredients to fuel your incredible life. Which one of these recipes has you checking your pantry for ingredients? Don't forget to leave a comment below to let me know what you think!