When the temps hit the 90's, the only thing that makes me happy is a pool with homemade strawberry lemonade. Central Florida is home to many strawberry patches, so finding a healthy strawberry lemonade recipe is a no-brainer for me.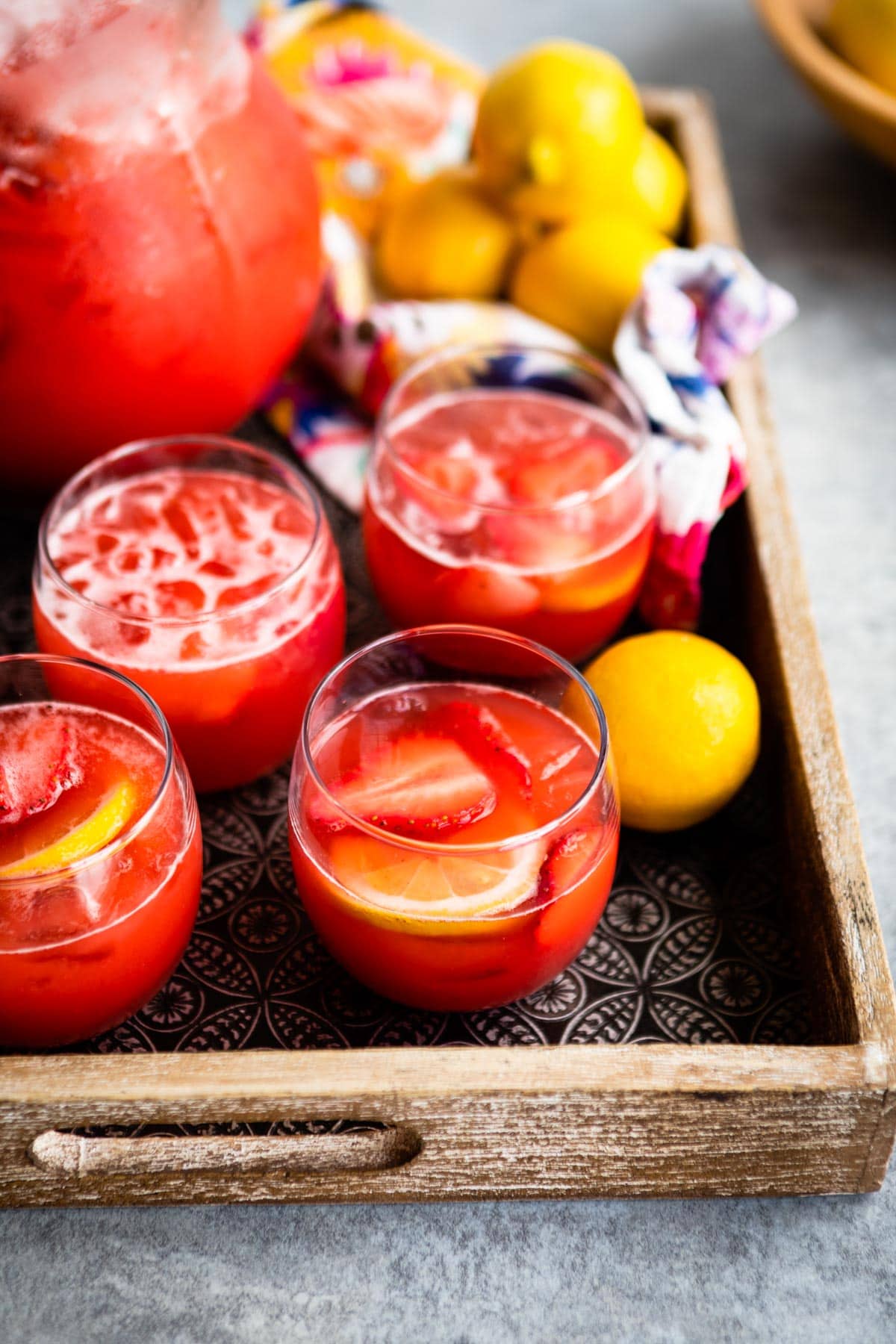 This healthy-ish recipe ditches the refined sugar, and you don't need a stovetop to make it. Just grab your blender and get ready to enjoy a sophisticated upgrade to my favorite childhood drink.
Table of Contents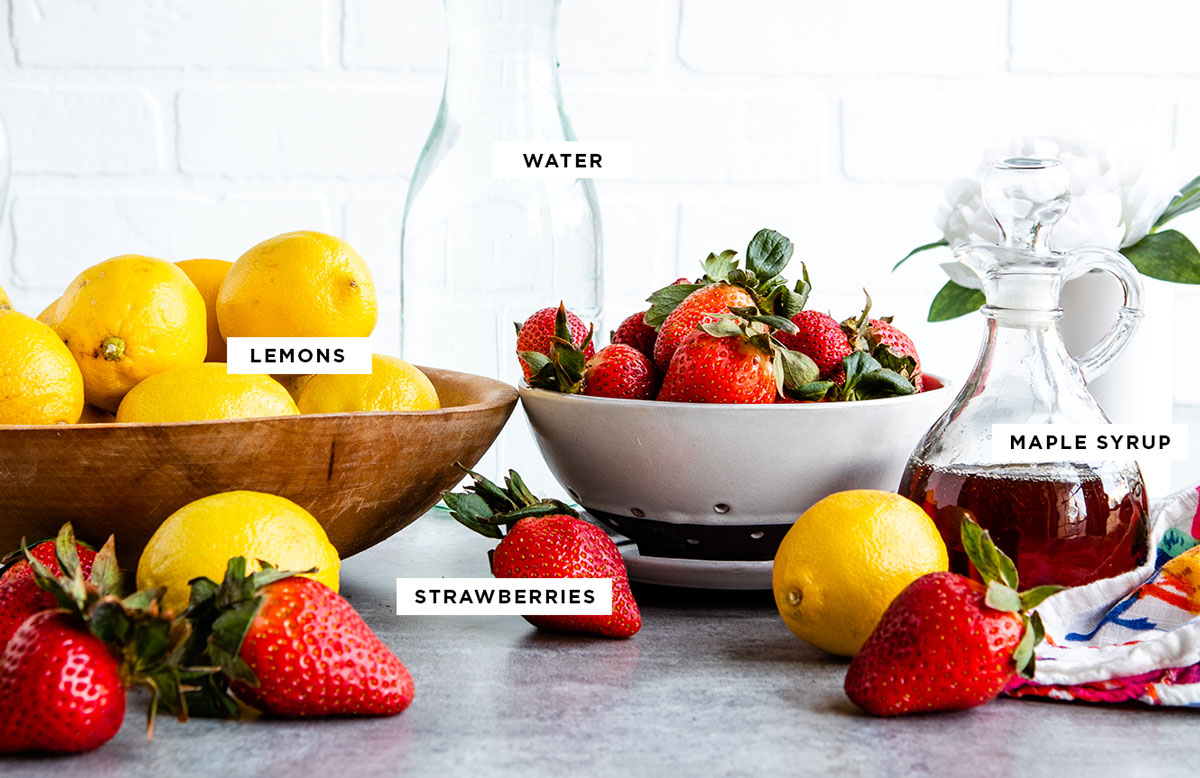 How to Make Lemonade
You don't need a stovetop to make this lemonade recipe. Instead, wash and slice the strawberries. Place them in a bowl with maple syrup, for at least 15 minutes. Letting the berries soak up the syrup makes for perfectly sweetened lemonade.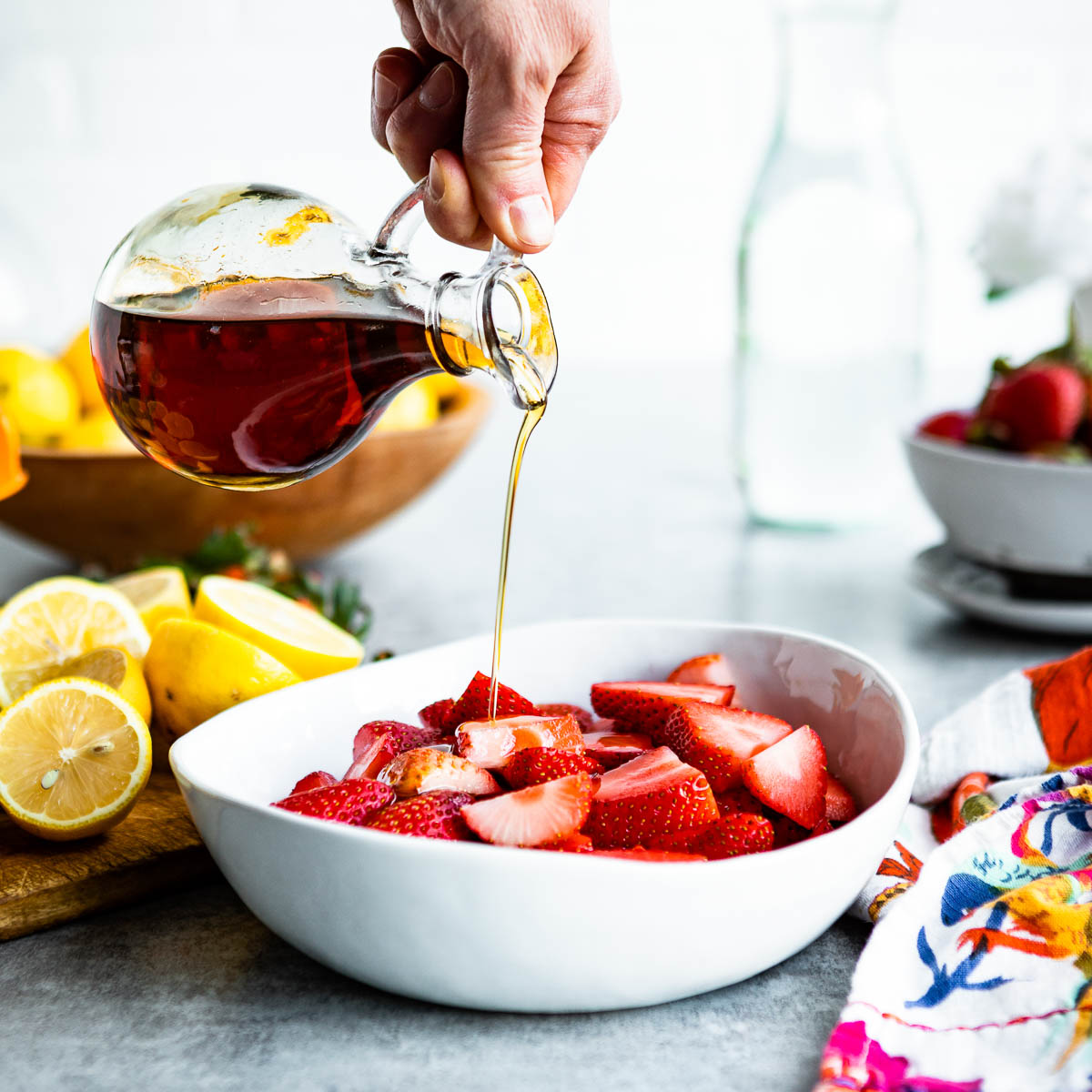 I also use real lemons and lemon zest to bring that tang through the sweet strawberries. This healthy lemonade doesn't use weird lemon juice in a bottle, nor do you need refined sugar.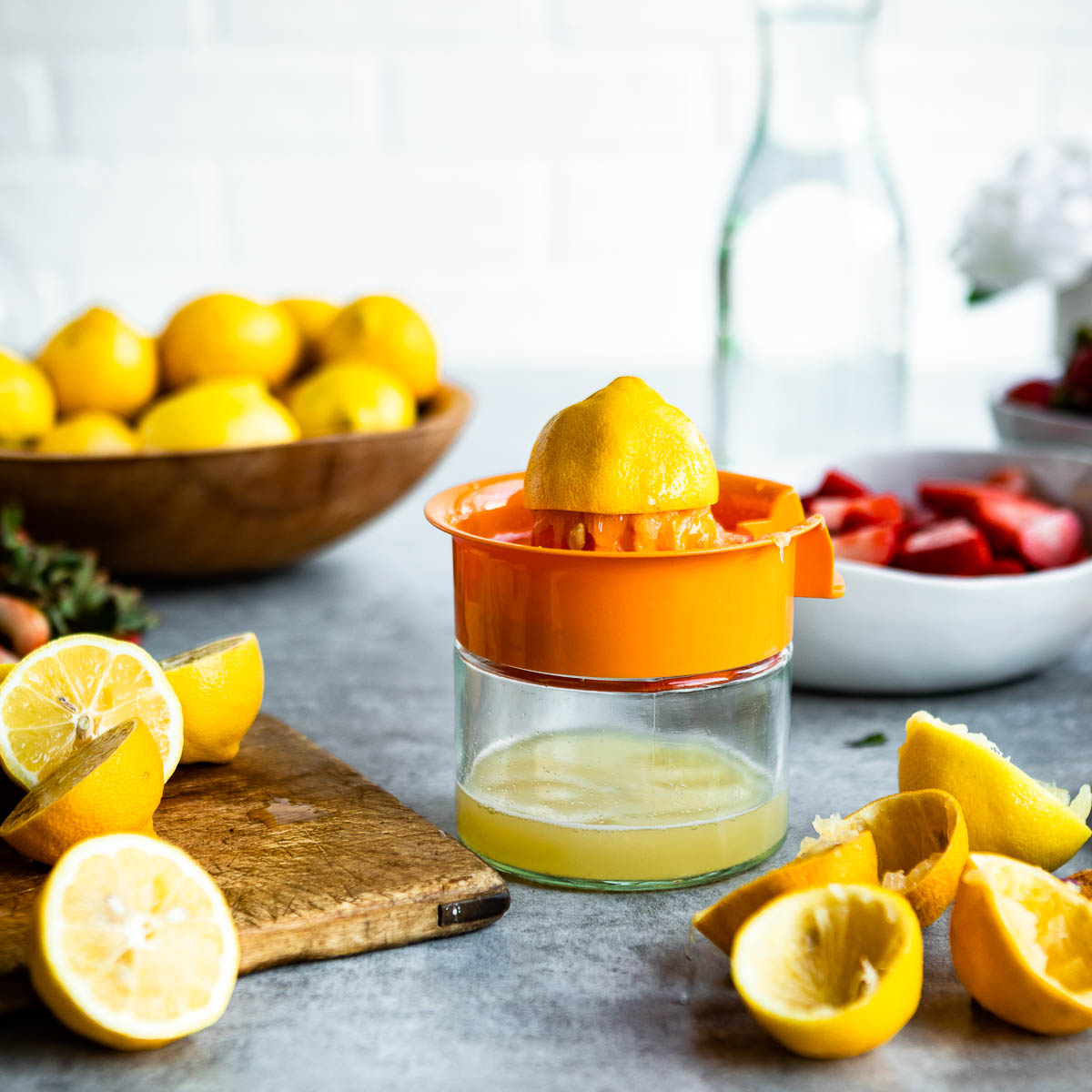 To make the most of the fresh fruits, I use a blender. This gives it a 'mocktail' feel. If your blender can't puree the seeds of the strawberries, then feel free to use a strainer before pouring out your mixture into a pitcher. Make this recipe the texture and consistency you want.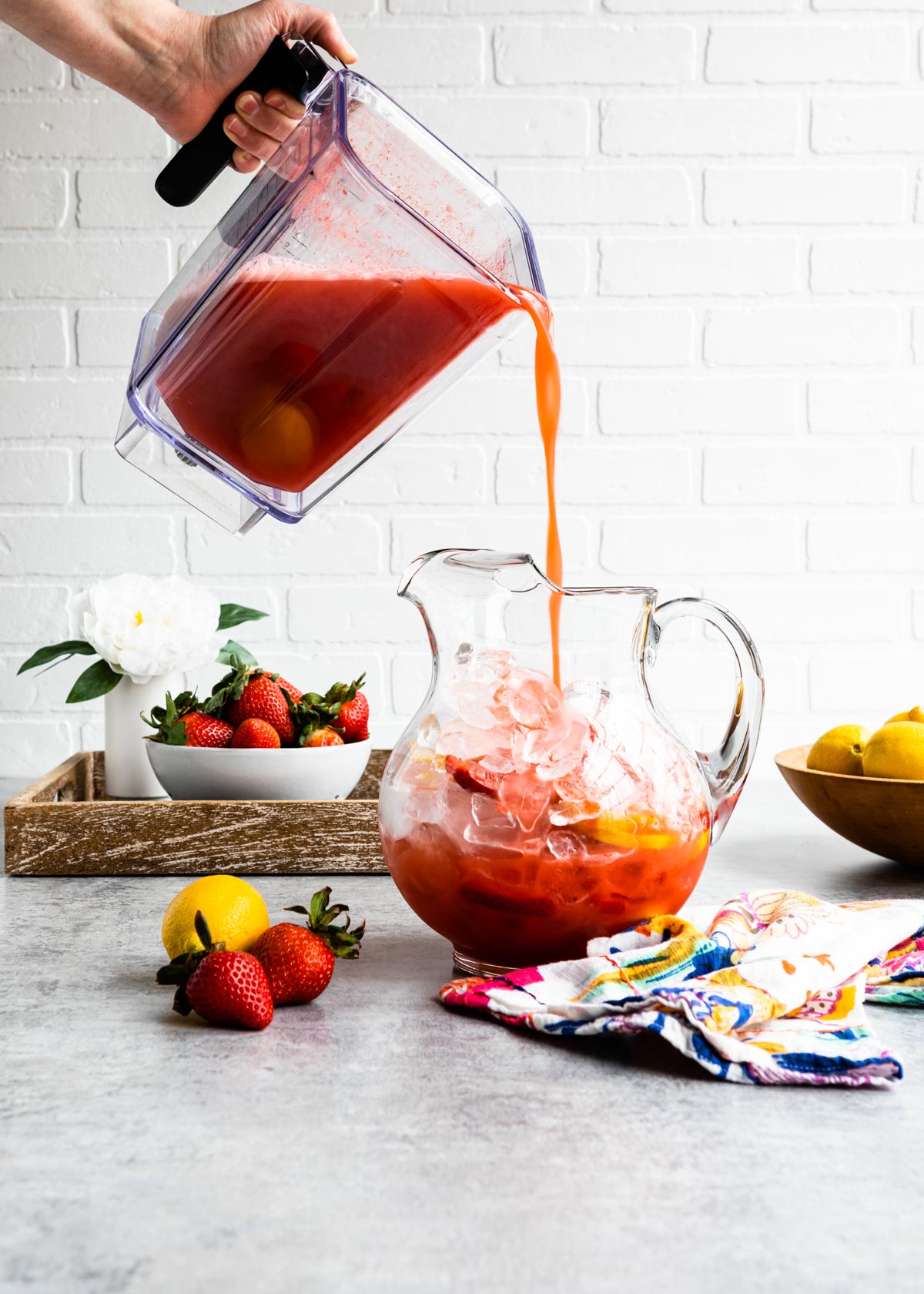 Homemade Strawberry Lemonade FAQs
How do you make strawberry lemonade?
I use all fresh ingredients in my homemade lemonade, including fresh strawberries, juice from a whole lemon, lemon zest and maple syrup. I soak the strawberries in the maple syrup for at least 15 minutes before blending. Then I add everything to a blender with 1 quart of water and puree until smooth. If you aren't using a high powered blender, you may want to strain the final product before pouring into a pitcher to serve.
How can I sweeten lemonade without using sugar?
I use maple syrup to sweeten my strawberry lemonade. You can also use honey (though this is not a vegan option).
Can I make lemonade with frozen strawberries?
Of course! No need to thaw them first, either. Just omit the washing step and go straight to adding them to a bowl with maple syrup and allowing them to sit for at least 15 minutes to soak up the syrup.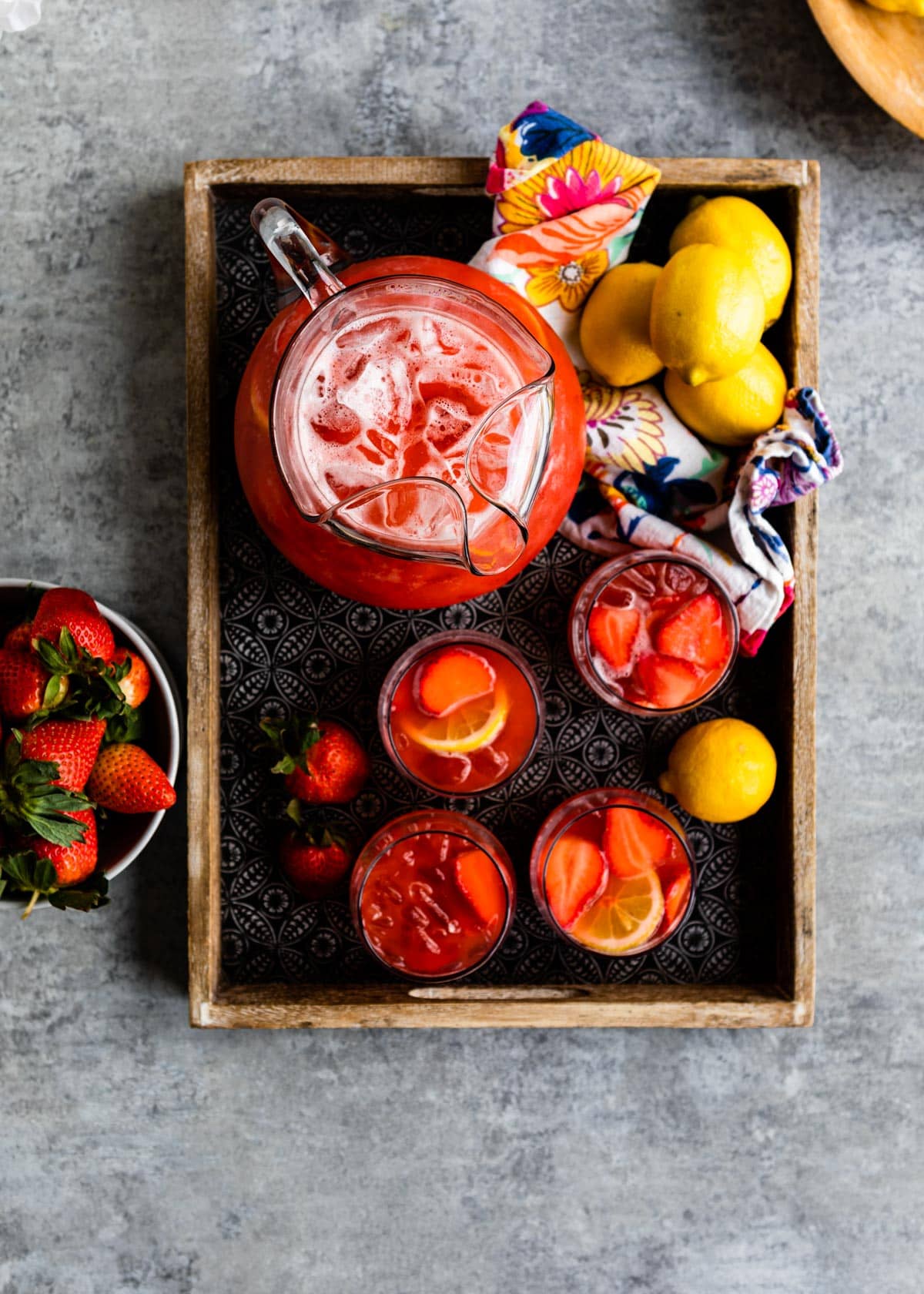 Flavor Boosts
While this homemade strawberry lemonade is perfect on its own, you can jazz it up in a few easy steps!
If you're serving this at an outdoor even, you need an easy way to keep it chilled. Two words: frozen fruit. For real! Just toss some frozen strawberries or other berries (raspberries and blueberries work too!). Your lemonade stays chilled without getting watered down by ice.
Make this more visually appealing and lemony by washing a whole lemon then slicing it up. Toss the slices into the finished drink (take out any seeds) for a pop of color and a boost of lemon.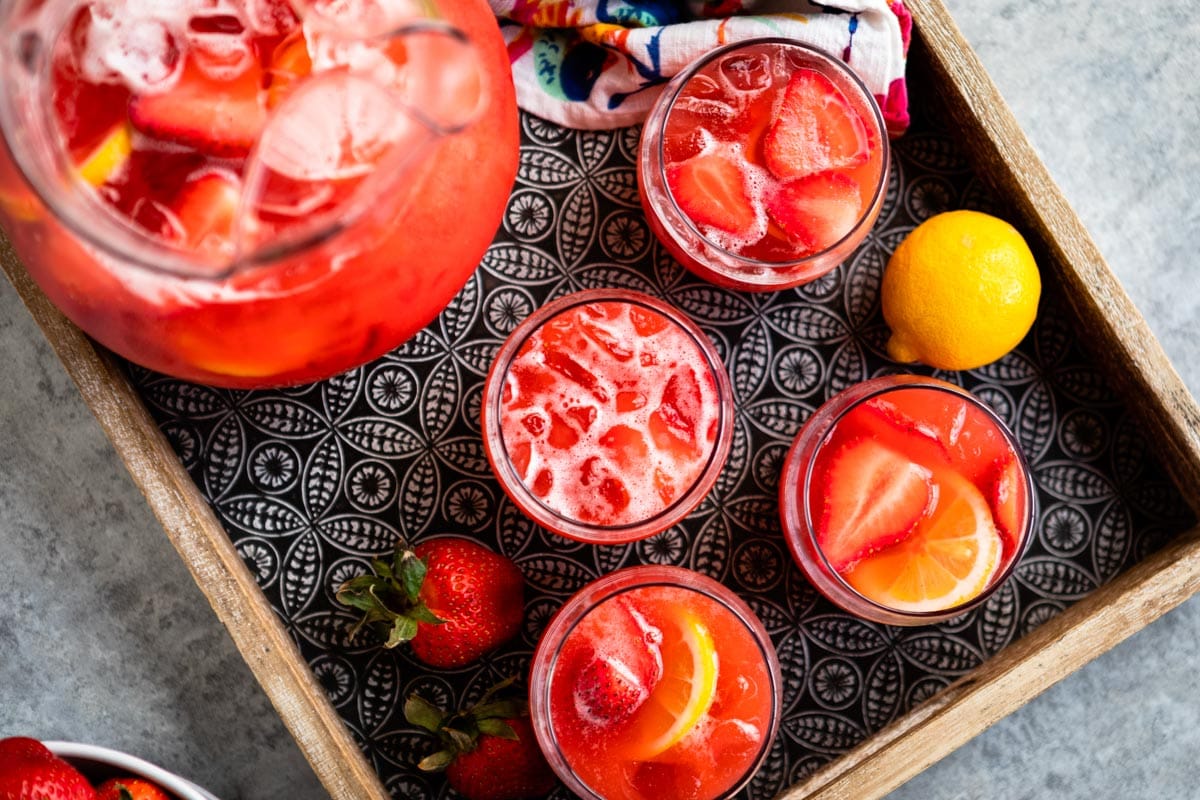 Sweetener Options
Most homemade lemonade recipes require stovetop cooking to ensure the sugar is turned into sugar water. Not with my recipe! I'm sweetening my healthy(ish) strawberry lemonade with pure maple syrup. No need to use a stovetop, just allow the strawberries to soak up the syrup before blending.
If you don't need this recipe to be vegan, you can also use honey as the sweetener.
More Fresh Spring Drinks
No matter the occasion, I've got some fun homemade beverage ideas for you:
Switch up your favorite party drinks with one of the recipes above. I always need drink inspiration to avoid just running to the store for random sodas. Next time you want to make a splash, grab one of the recipes above, or the healthy strawberry lemonade below, and elevate your beverage options!
Don't forget to rate + review this recipe once you made it. I'd love to hear how yours turns out.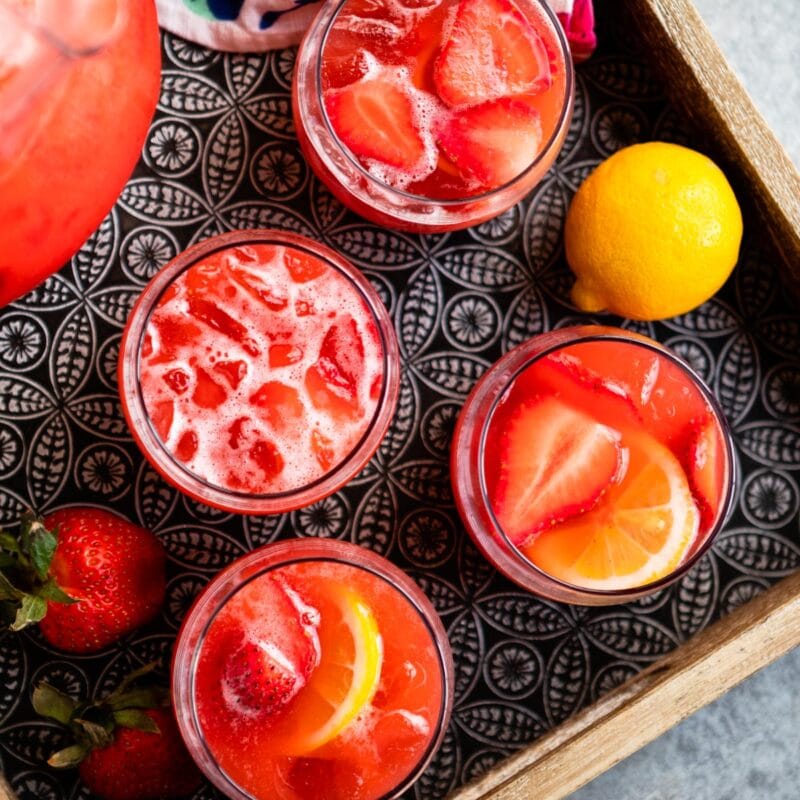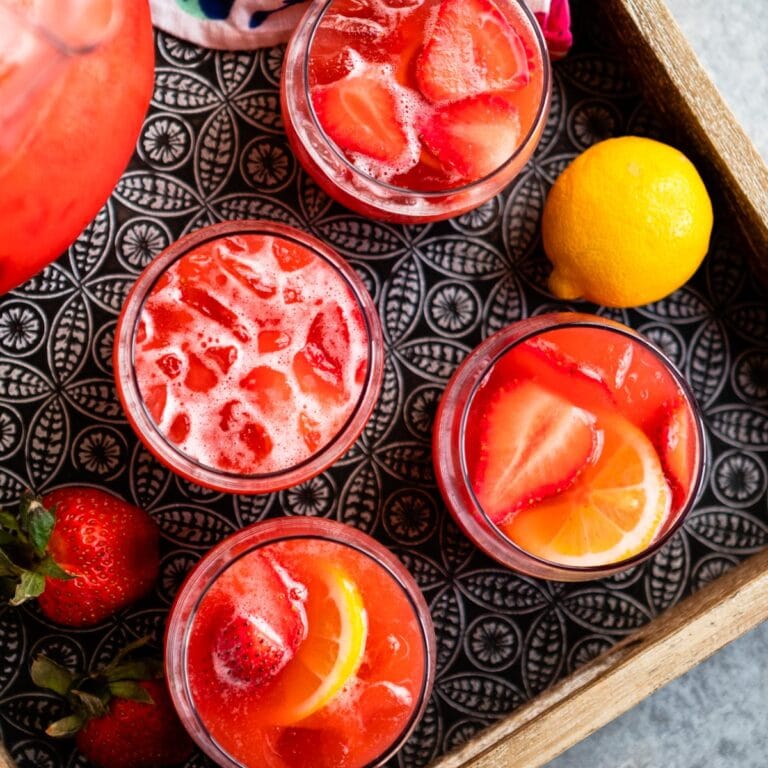 Homemade Strawberry Lemonade
After you try this homemade strawberry lemonade, you won't want to every get store-bought again. It's made with super fresh, real ingredients and is the perfect blend of sweet and tangy.
Ingredients
1

lb

strawberries

½

cup

maple syrup

½

cup

lemon juice

fresh

2

tbsp

lemon zest

4

cups

water
Instructions
Wash strawberries well. Remove stems and slice then place berries in a medium bowl. Pour maple syrup over the berries, gently toss, then cover. Allow to stand for at least 15 minutes (at room temp) or up to 1 day (refrigerated).

Transfer berries and any liquid to a blender along with the remaining ingredients. Puree until smooth. Add 1 quart filtered water and blend again.

Transfer to a serving pitcher. Chill until ready to serve.
Notes
If using frozen berries, no need to wash. Just place them in a bowl and pour the maple syrup over top. Cover and allow to stand as direct for fresh berries.
No need to thaw frozen berries in advance.
Swap maple syrup with honey or sweetener of choice. 
If not using a high-powered blender, you can strain the blender contents before pouring into a pitcher to remove any stems/pulp you don't want in your final product.
If you make this a day ahead, be sure to stir well before serving.
Nutrition
Calories:
152
kcal
,
Carbohydrates:
38
g
,
Protein:
1
g
,
Fat:
1
g
,
Saturated Fat:
1
g
,
Polyunsaturated Fat:
1
g
,
Monounsaturated Fat:
1
g
,
Sodium:
17
mg
,
Potassium:
295
mg
,
Fiber:
2
g
,
Sugar:
30
g
,
Vitamin A:
15
IU
,
Vitamin C:
78
mg
,
Calcium:
71
mg
,
Iron:
1
mg