Fennel is commonly used in Mediterranean recipes and Italian cooking. Let's learn how to cut fennel and properly store it so we can enjoy gems like this Apple Celery Smoothie or in a gorgeous Lemon Arugula Salad.
It is super crunchy and if you think it reminds you of something, that something is celery and they are cousins. It's got a crisp, fresh taste that is distinctly like black licorice or my favorite snack, Good 'n Plenty.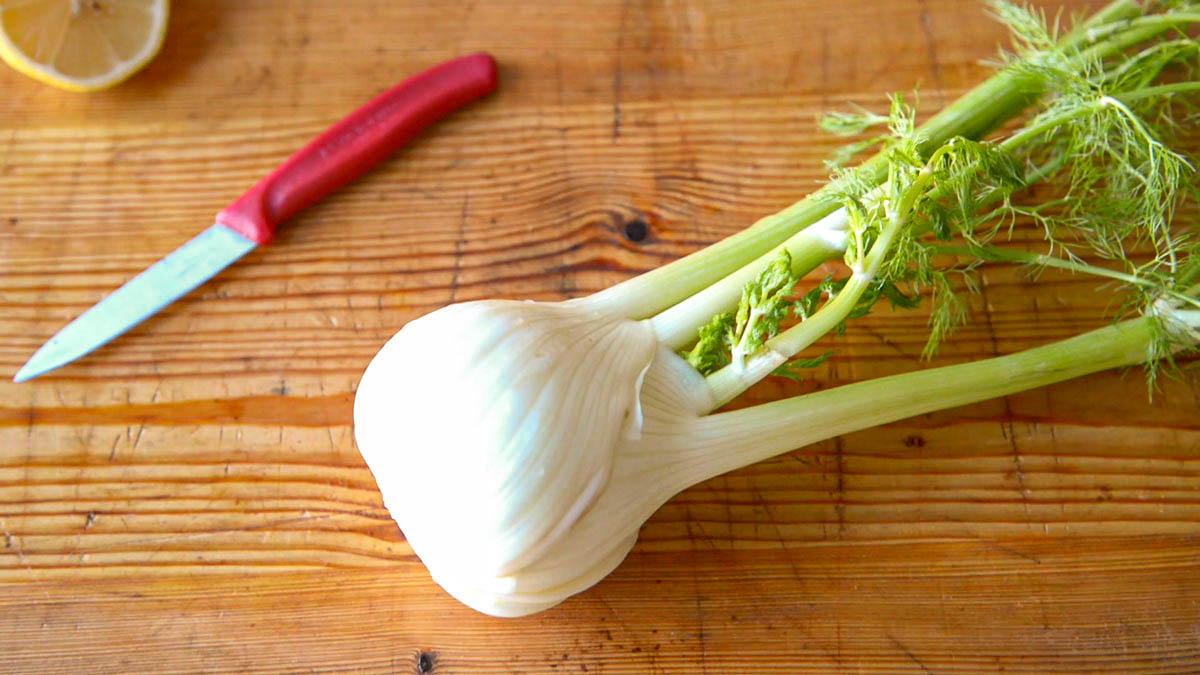 The stalks and those dill-like fronds are edible yet super hard. If you want to use them in a soup or a smoothie then I recommend cooking to soften a bit first. You can use the wispy fronds to season dishes, salads and more.
The bulb has noticeable layers kind of like an onion and is pretty easy to cut if you've got a sharp chef's knife and a good, sturdy cutting surface.
Table of Contents
Fennel is harvested in October and is ready for all manner of Autumn and Winter recipes. Get ready to fall in love with fennel salad, fennel soup and fennel pizza, or maybe other recipes that use it well.
Step By Step Guide to Cutting Fennel
Want a visual tutorial? Then check out this video:
Want a step-by-step written version? Then keep reading:
For this process, you'll need a paring knife and a good cutting board.
If the fennel you bought has long stalks with a white bulb at the end, then start with step 1. If yours is just the white bulb portion then head to step 2.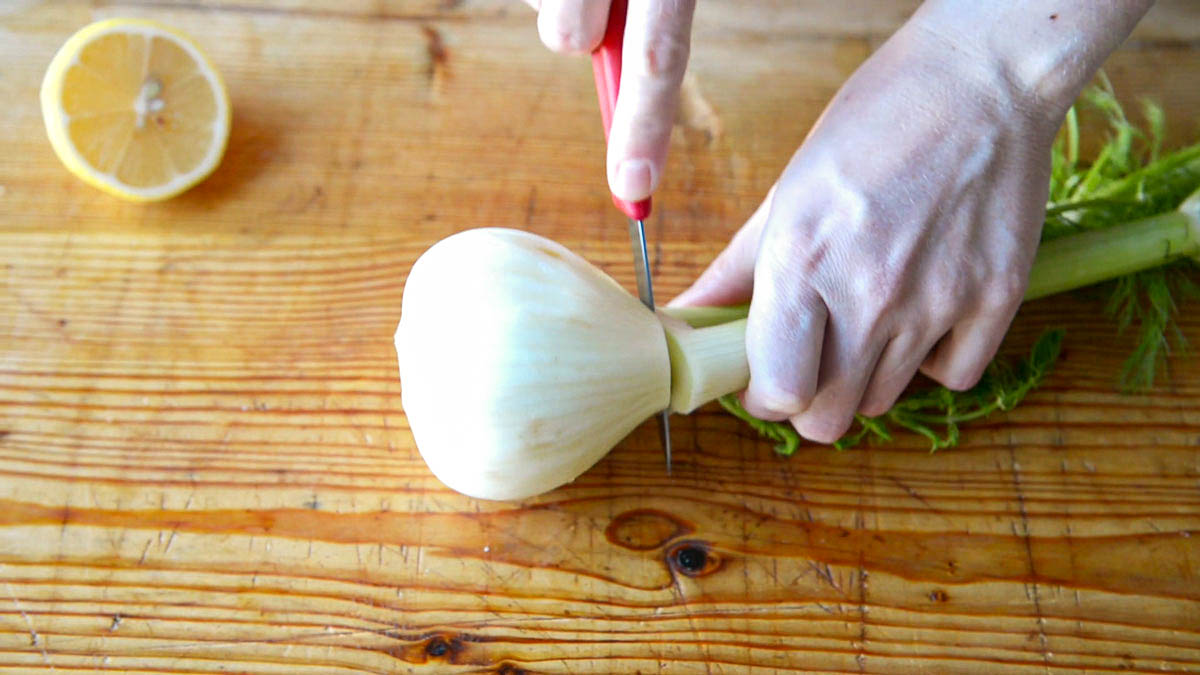 Step 1: Cut the fronds/stalks off at the base, where they meet the rounder white bulb. Discard the stalks as you won't use those.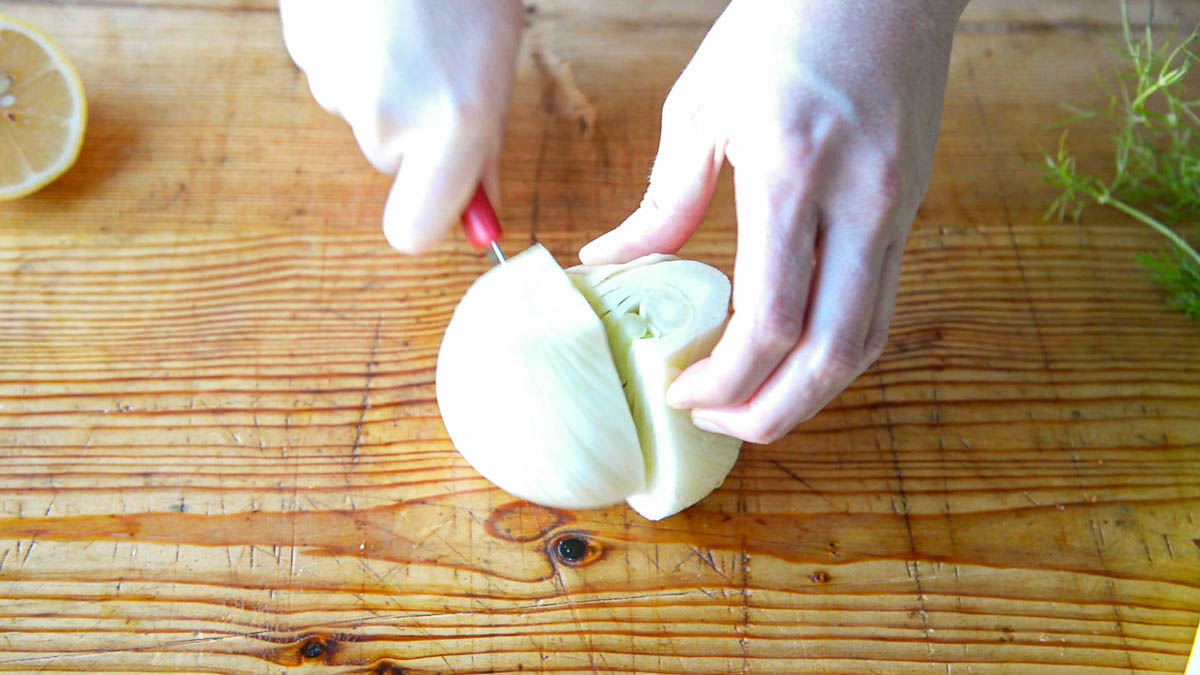 Step 2: The top of the fennel bulb is where the stalks come out and the bottom is the root end. Start at the top and cut straight through the middle of the bulb, on the "flatter" side.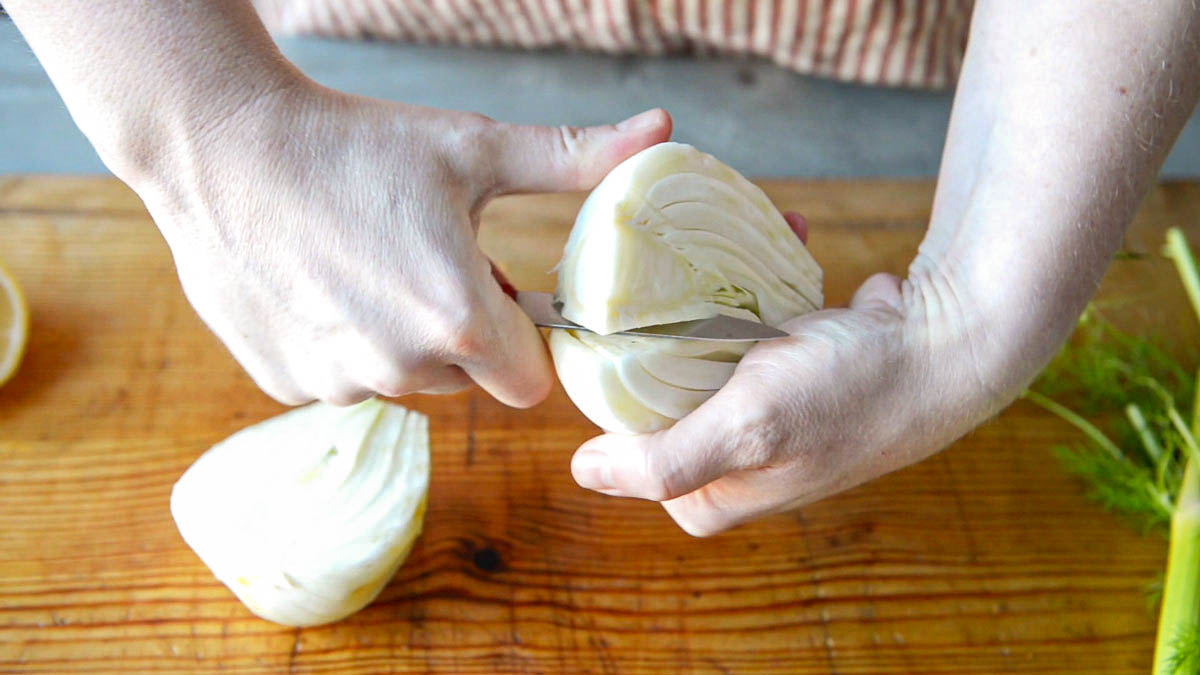 Step 3: You'll see a core in the center of the layers of each half. Cut on either side of the core then pop it out of each half.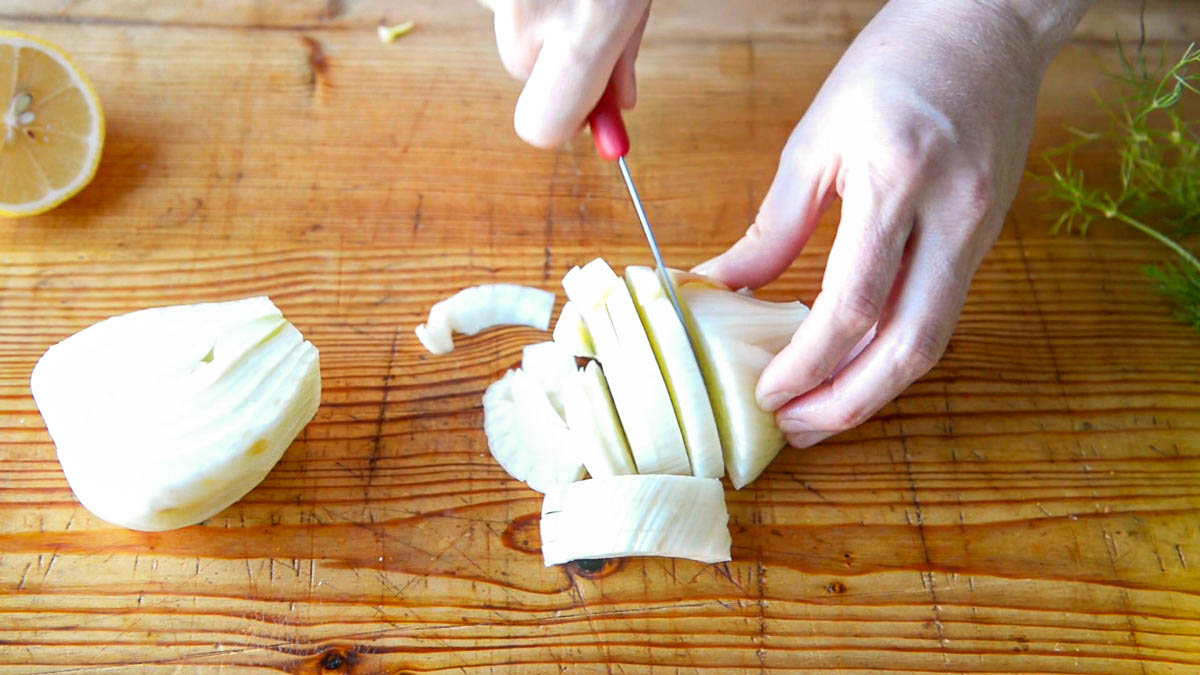 Step 4: Place the fennel cut side down and cut into thinner slices. You can then use the longer slices or dice, depending on the recipe. It cuts like an onion, yet isn't as juicy and won't make you tear up.
If you're meal prepping, you can store the fennel bulb whole or sliced/diced. If storing whole, place in a bowl full of water and fresh lemon juice. Cover and refrigerate until ready to use.
If storing in pieces, squeeze fresh lemon juice to cover all the pieces then store in the refrigerator in an air-tight container until ready to use.
This keeps the vegetable from oxidizing and turning brown before you're ready to use it.
How To Use Fennel
Now that you've chopped up that fennel like a pro, let's talk about how to use it. It is crisp, crunchy and has a distinct licorice taste. Use it raw with sweet ingredients like in my Strawberry Arugula Salad.
This might surprise you, but fennel seeds are actually in a lot of pizzas! I like to mix the seeds into a homemade, gluten-free pizza crust or use the vegetable itself as a pizza topping for my Plant-Based Pizza.
Squeeze lemon juice over the pieces to keep the fennel from oxidizing and turning brown before you're ready to use it.
FAQs
What part of the fennel do you use?
While you can use the long stalks and fronds, the stalks are pretty tough. Cook them before adding to smoothies or soups. You can use the wispy fronds as a garnish or to lightly flavor salads, soups and more. The white bulb of the vegetable is what is mainly used.
How do you cut fresh fennel?
Separate the stalks/fronds from the white bulbous part. Cut the bulb in half, then slice around the core in each half and pop out. Then place the bulb halves cut side down and slice them into longer strips. You can use them as is or dice.
Does fennel need to be peeled?
Fennel doesn't have to be peeled, yet it does have a core in the middle of the white bulbous part. So once you've removed the stalks and cut the core in half, take your paring knife and cut out the core.
More How-To Guides For Kitchen Confidence
I'm not going to buy produce that I don't know how to cut/peel/prepare. I realized that really limits me on trying new things, so I started looking through the produce in my kitchen and remembering how I learned to prep the items I had.
At some point, I didn't know how to cut a mango or how to cut an avocado so I Googled these and learned.
I want you to have confidence in the kitchen, too, and that confidence comes through knowing what tools you need to cut melon and how to freeze spinach so you can stop wasting half a bag. If there's a fruit or vegetable you don't know how to prep, cook, store or pair with other ingredients, drop a comment and let me know!
Also, let me know in the comment section if this tutorial was helpful. It only works if I know it makes sense for you!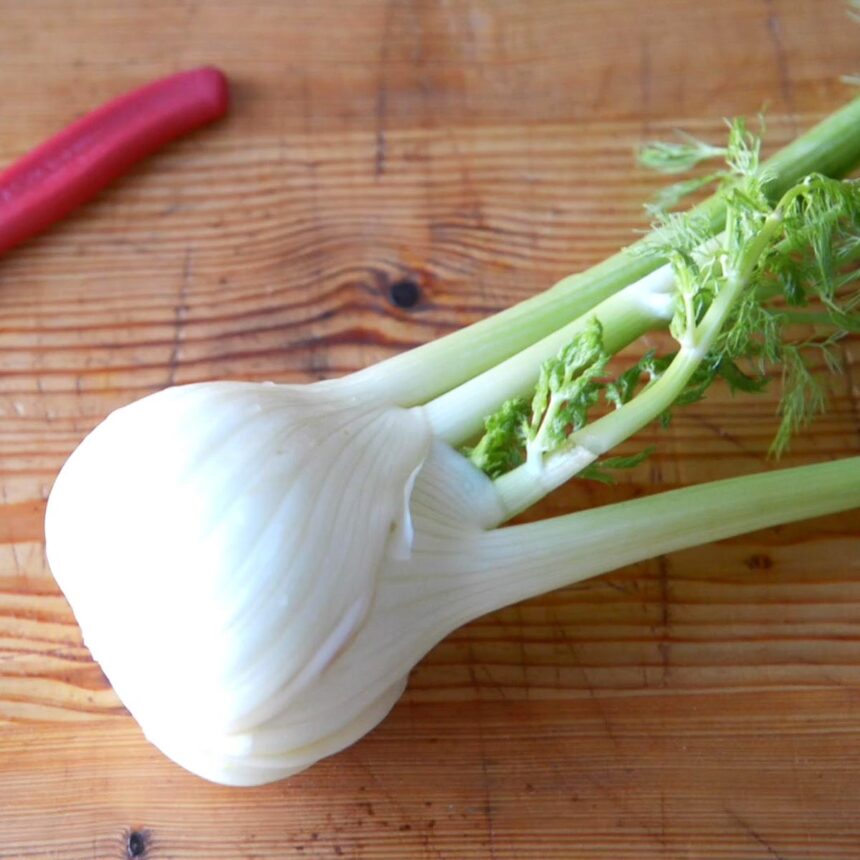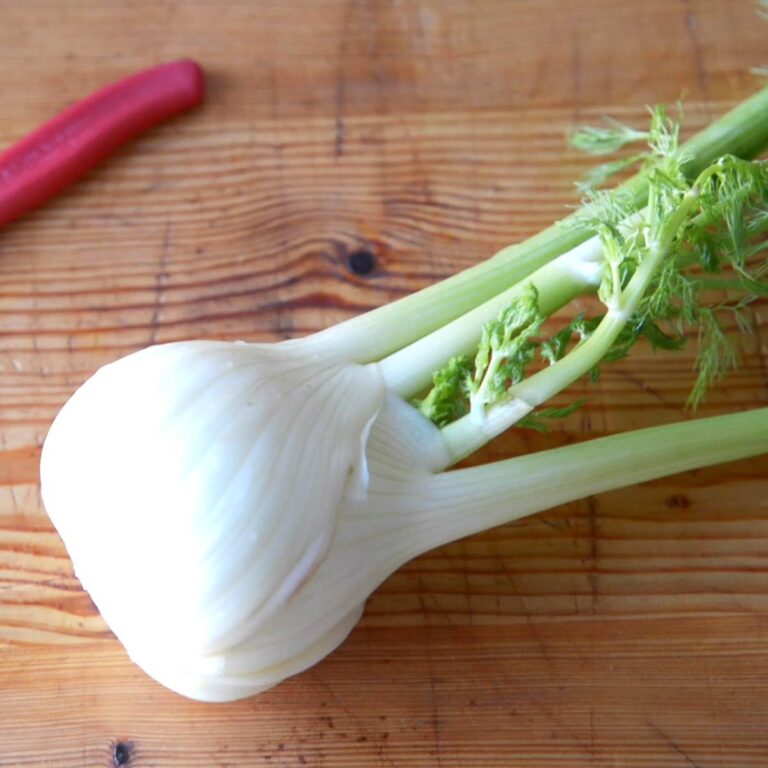 How to Cut Fennel
Fennel is definitely a unique-looking vegetable, yet it's too delicious to pass by. So learn how to cut fennel like the kitchen pro that you are and use it in so many different ways! I'm teaching you how to easily prep fennel and store it so you can start using it.
Ingredients
1

fennel

fresh white bulb, with or without fronds
Instructions
If your fennel bulb comes with fronds/stalks, use a paring knife and cut those off right where they meet the white bulbous part.

Set the fennel bulb on it's root end and use the sharp knife to cut it in half down the center of the "shorter" side.

Cut through either side of the core and pop out the wedge-shaped piece from both halves. You should be able to see a slightly discolored line that helps outline where the core is inside the bulb, and how it meets with the root end.

Place each half cut side down and slice through until there are several pieces, like how you chop an onion. You can leave the pieces in longer sections or dice further depending on the recipe.
To Store:
If you're not using the cut fennel right away, then squeeze fresh lemon juice over the pieces and store them in an air-tight container in the refrigerator until you're ready to us.
Notes
If you want to store the fennel bulb whole, fill a bowl with water and fresh lemon juice then completely submerge the bulb. Place an air-tight lid over the container and refrigerate until ready to use.

Feel free to use the fennel fronds/stalks as garnish or cooked and tossed into smoothies. The fronds feel a bit like dill and have the same licorice taste as the fennel bulb.

If you bulb is particularly large, switch to a chef's knife instead of a paring knife.
Nutrition
Calories:
18
kcal
,
Carbohydrates:
4
g
,
Protein:
1
g
,
Fat:
0.1
g
,
Saturated Fat:
0.1
g
,
Polyunsaturated Fat:
0.1
g
,
Monounsaturated Fat:
0.04
g
,
Sodium:
30
mg
,
Potassium:
242
mg
,
Fiber:
2
g
,
Sugar:
2
g
,
Vitamin A:
78
IU
,
Vitamin C:
7
mg
,
Calcium:
29
mg
,
Iron:
0.4
mg