Bananas are for sure a staple in my house. The ones that don't get eaten immediately get tossed into smoothies, snacks, baking, etc. Yet this Florida heat makes them ripen quickly, and I can't always enjoy them before they get too spotted for my liking. So I learned how to freeze bananas.
Any time I learn a new kitchen skill or hack, like how to cut melon or how to cut an avocado, I get more confidence and find it easier to try more new things! I hope this helps you feel that way, too.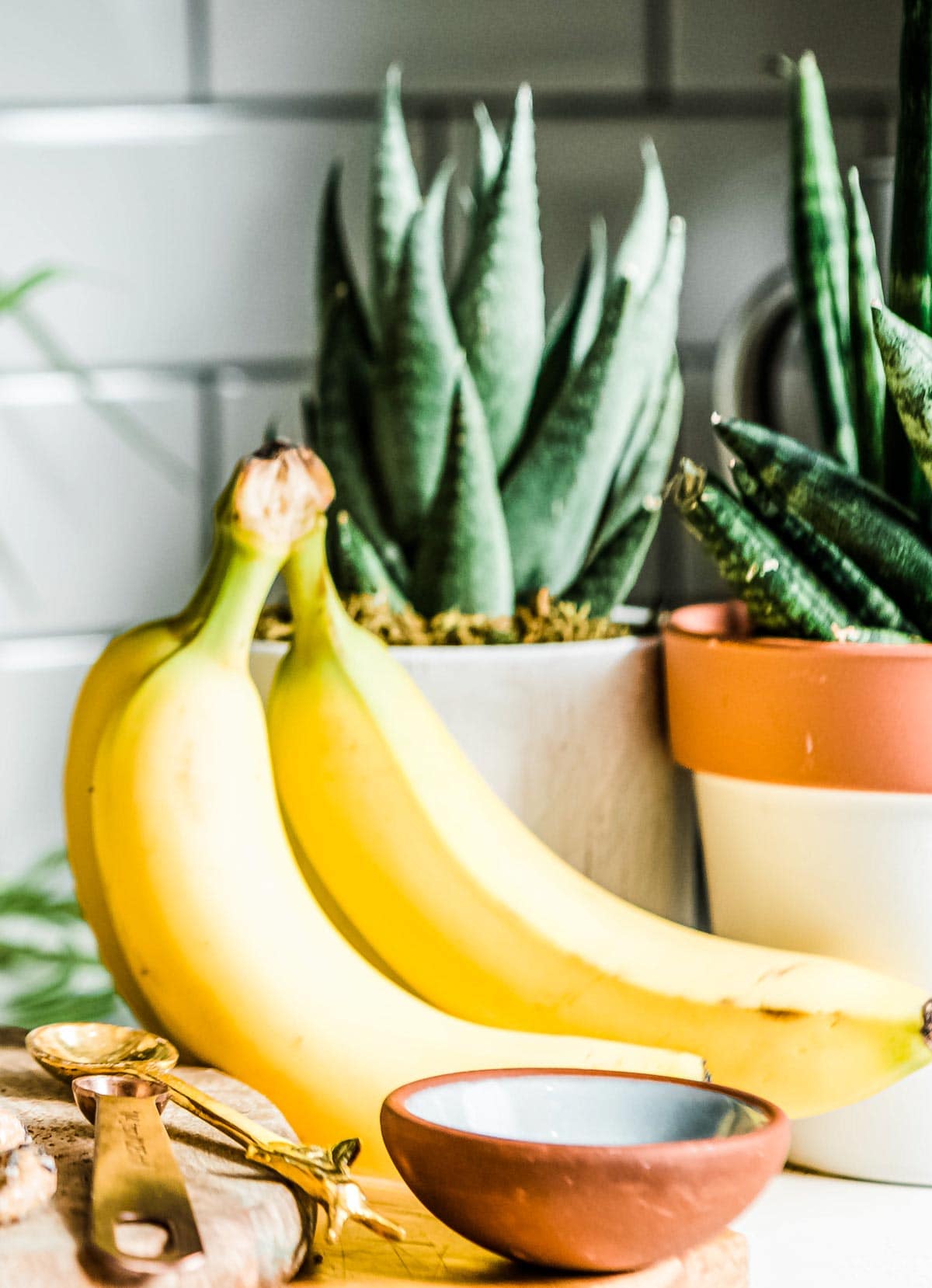 Freezing bananas allows you to use them when you need them and not worry about having a recipe ready when they ripen. I love adding frozen banana pieces to smoothies, and I love the banana peels in my compost!
Table of Contents
How to Freeze Bananas
This is such a simple trick to making sure you've always got perfectly ripe bananas on hand.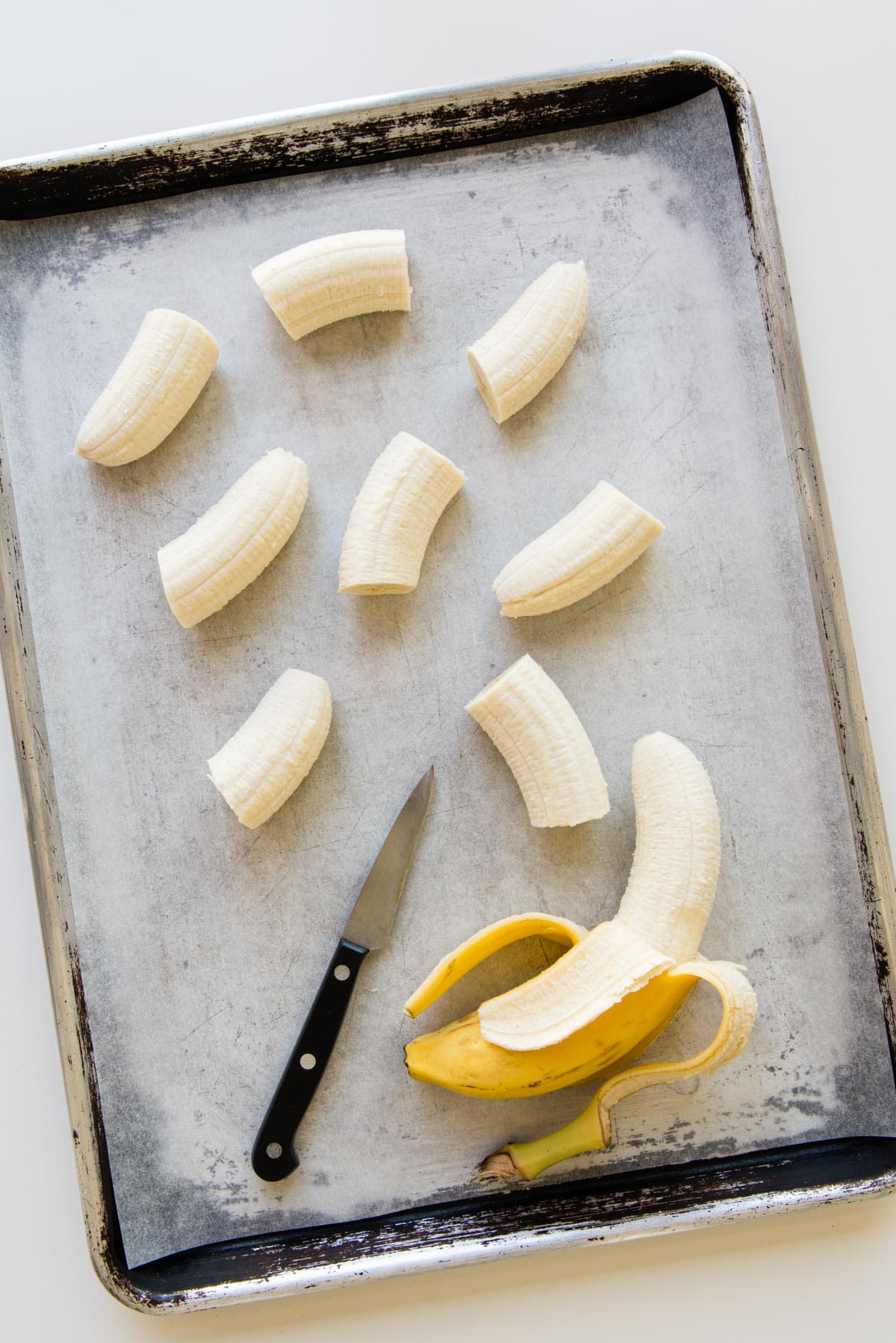 I like to chop up my peeled bananas before storing them in the freezer, making them easier to keep and easier to add to the blender.
I use a parchment-lined baking tray with sides when freezing bananas since I don't want to find them in the bottom of the freezer the next time I clean it out. Make sure you let them freeze for at least 30 minutes before storing them in silicone freezer bags.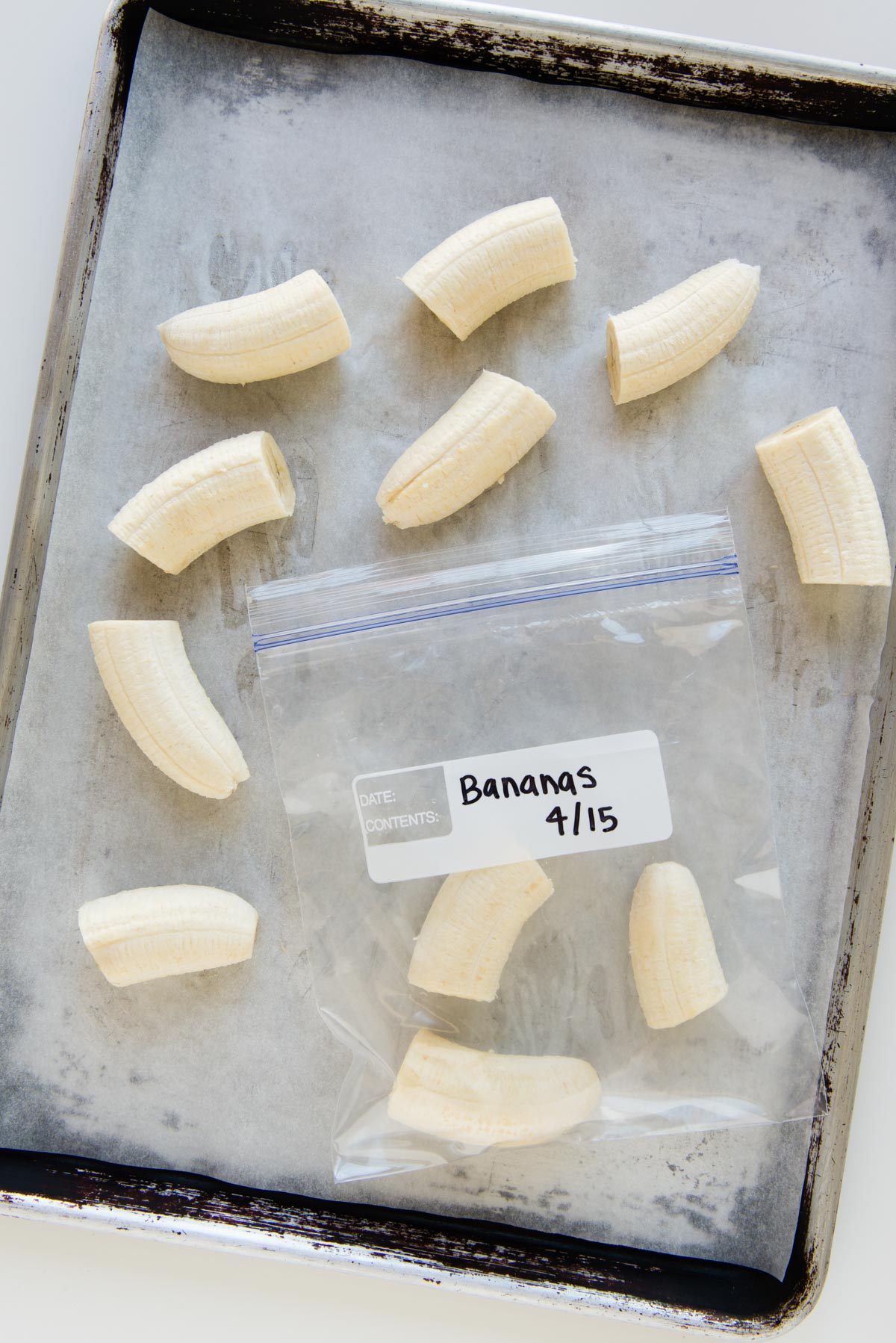 Store the pieces in a freezer-safe bag or container until you're ready to use them. Then take out what you want when ready for a smoothie or baking.
If you are prepping smoothies ahead of time (placing all fresh smoothie ingredients aside from liquid in a jar and freezing), then no need to freeze the bananas before you prep. They will do just fine in your jars, fresh or frozen.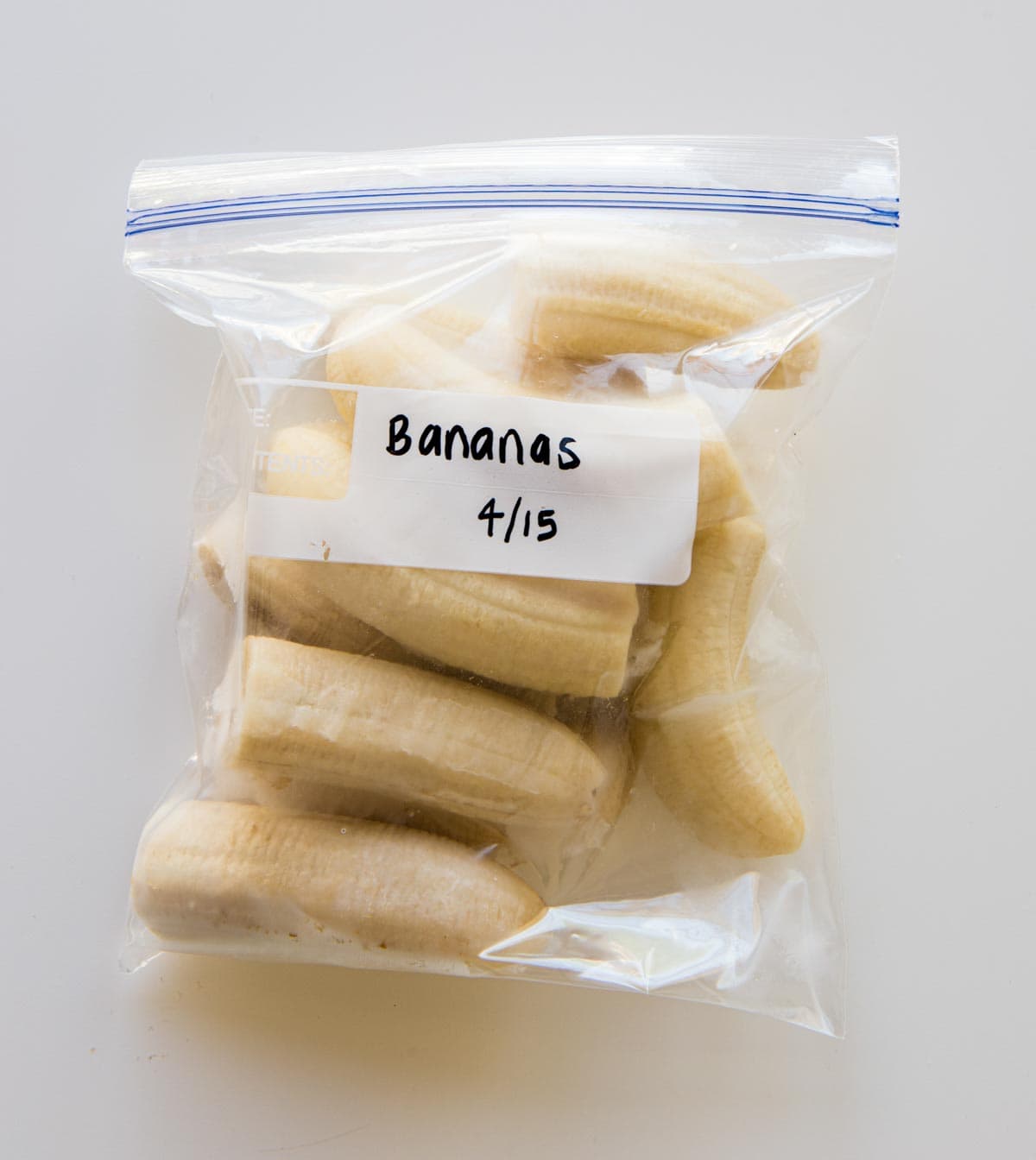 Freezing Whole Bananas
While sliced bananas are easier to store, you can freeze them whole. Peel them, then freeze them on a parchment-lined baking sheet for at least 30 minutes. Make sure you have a freezer-safe storage bag big enough for whole bananas.
When you're ready to use them, take out the quantity you need and allow them to thaw at least slightly before use.
Pro tip: if you aren't using a high-powered blender, that whole, frozen banana may have a hard time blending. I recommend freezing bananas in pieces to help out that blender.
When to Freeze
How ripe are your fav bananas? Are we talking green and hard to peel or brown and questionable? If I want to eat a banana on the go, it needs to be yellow, with no brown spots, and I'm not mad if it is slightly green. Yet if I'm freezing bananas for smoothies, baking and more, then riper is better.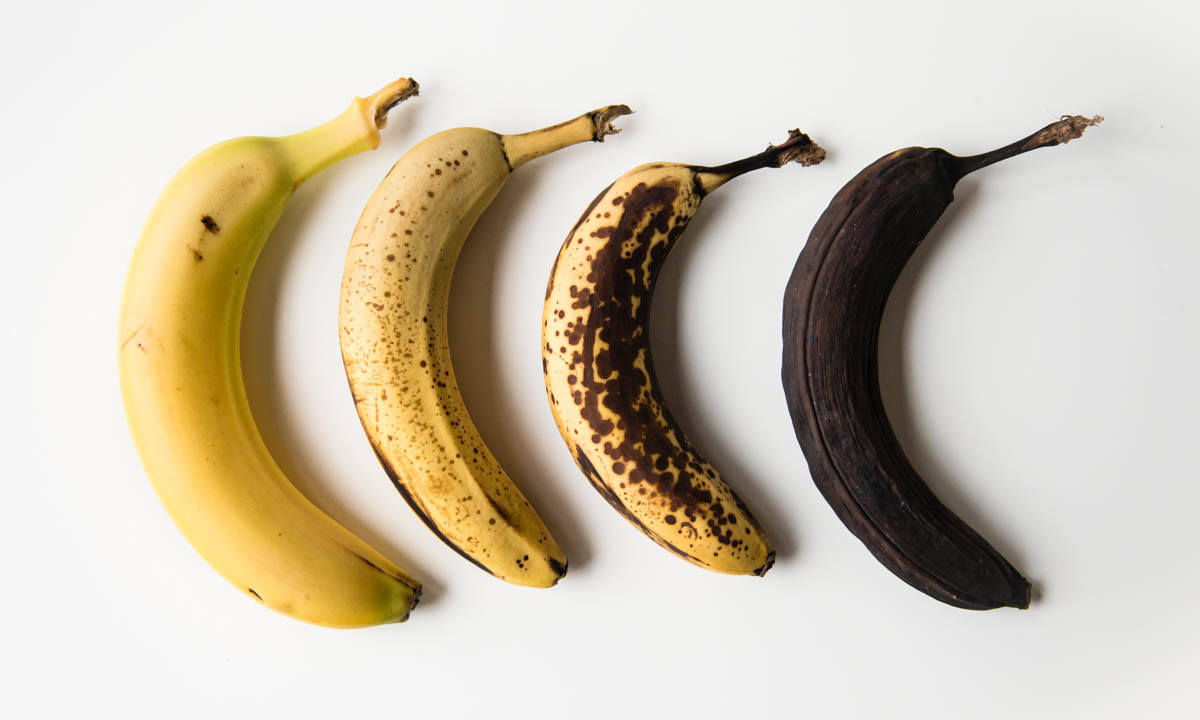 Even if your bananas look like the all brown photo on the far right, you can still freeze them! They will be super sweet editions to whatever you are making. Unripe or green bananas have a lower glycemic index (30 out of 100), while riper bananas score around 60 out of 100. Green bananas still have nutrients, yet they can be harder to digest. The riper the banana, the easier it is on your digestive system.
The Healthy Side of Bananas
Bananas are loaded with potassium, fiber and B vitamins, so if you freeze them when ripe, you'll lock in many of those key nutrients.
Every banana contains three different kinds of sugar. Glucose and fructose are quickly absorbed into the bloodstream, so they'll give you an energy boost fast. Sucrose is slower to break down, keeping your blood sugar level stable and ensuring you don't suffer the crash of other sweet treats like candy and soda.
FAQs
What is the best way to freeze fresh bananas?
I peel + roughly chop the bananas. Then place them on a parchment-lined baking sheet and freeze for at least 30 minutes. Once frozen, place them into freezer-safe bags until you're ready to use them.
Can you freeze whole bananas?
Definitely. I like to freeze whole bananas when I'm saving them for banana or zucchini bread. That way, I grab the correct quantity when I'm ready to use them.
Can you put fresh bananas in the freezer?
Yes! Just peel them beforehand, so you don't have to mess with a frozen peel.
Recipes with Bananas
Bananas are super versatile. Use them in virtually any smoothie you want and baked goods and snacks. They can replace eggs in some recipes, enhance flavors, fluff up cookies and make delicious bread.
Smoothies
Snacks
How do you like to use bananas? Leave a comment and let me know!
More How-To Recipes
Love learning how to use more plants in your life? Then you'll want to learn how to:
How are you using your frozen bananas? Drop a comment and let me know!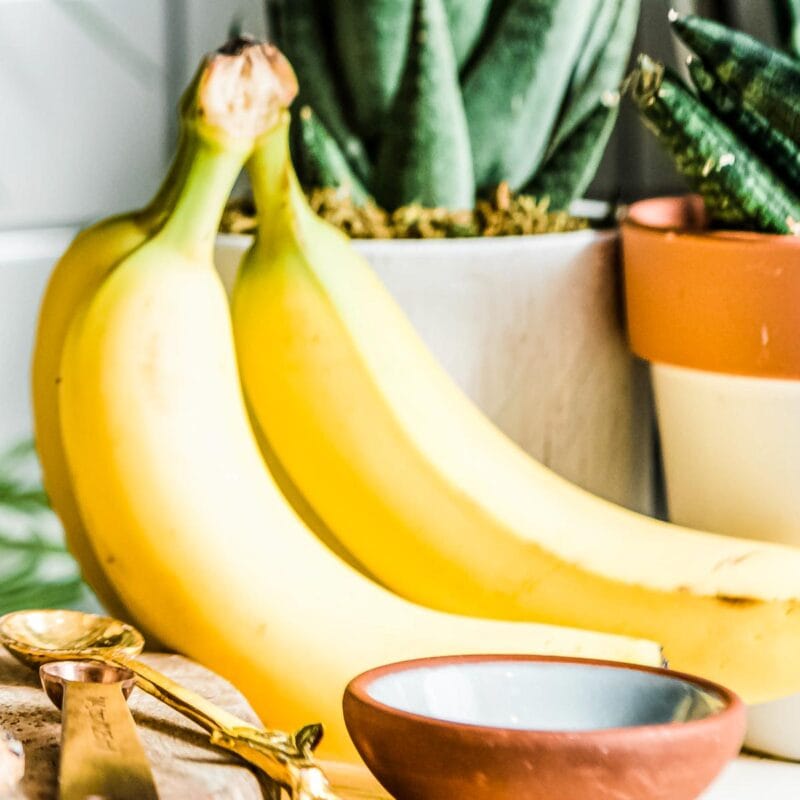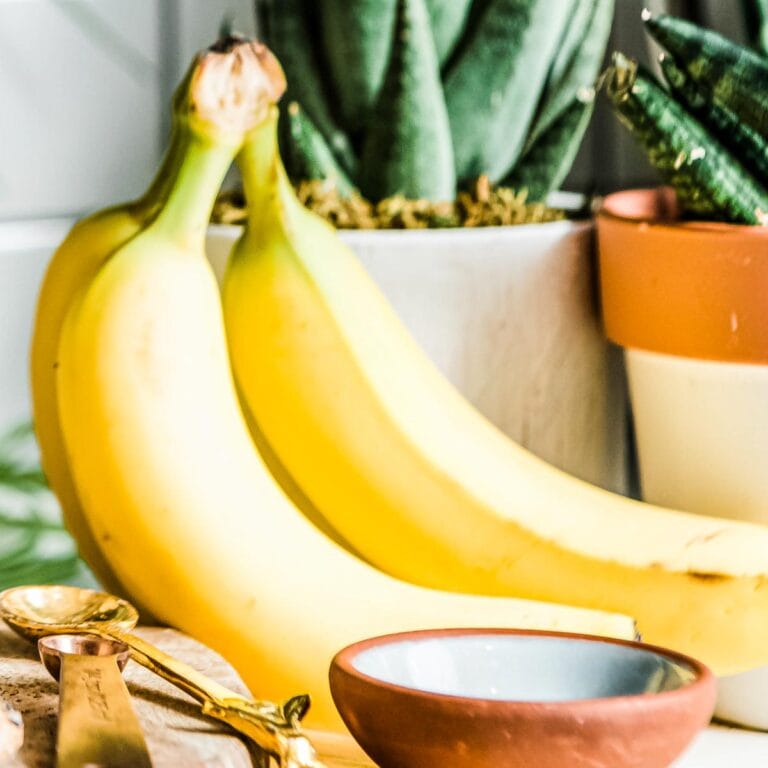 How to Freeze Bananas
This no-fail way to freeze bananas allows you to always have perfectly ripe bananas on hand for smoothies, baking and more.
Ingredients
5

bananas

1

knife

1

baking sheet

parchment paper
Instructions
Once your bananas have reached your preferred ripeness, peel each banana and slice in 1-2 inch pieces.

Line a baking sheet with parchment paper then place the sliced bananas on the sheet so that they aren't touching each other.

Freeze banana slices for 30 minutes or until completely frozen. Store in a freezer-safe container until you're ready to use.
Notes
Labeling the storage containers with how many whole bananas are in them, or how many pieces make up a whole banana can be useful when needing a certain measurement.
Freeze for up to 6 months.
You can freeze the peeled bananas whole, yet note you may need to wait for them to thaw to use.
Bananas may turn brown in the freezer and that is OKAY. They didn't go bad or get too ripe, that's just what happens. 
Nutrition
Calories:
105
kcal
,
Carbohydrates:
27
g
,
Protein:
1
g
,
Fat:
0.4
g
,
Saturated Fat:
0.1
g
,
Polyunsaturated Fat:
0.1
g
,
Monounsaturated Fat:
0.04
g
,
Sodium:
1
mg
,
Potassium:
422
mg
,
Fiber:
3
g
,
Sugar:
14
g
,
Vitamin A:
76
IU
,
Vitamin C:
10
mg
,
Calcium:
6
mg
,
Iron:
0.3
mg