This Italian Soda Recipe is a healthy alternative to many store bought syrups and brands out there. I use fruit and a simple syrup to sweeten the beverage and allow you to customize based on your favorite flavors.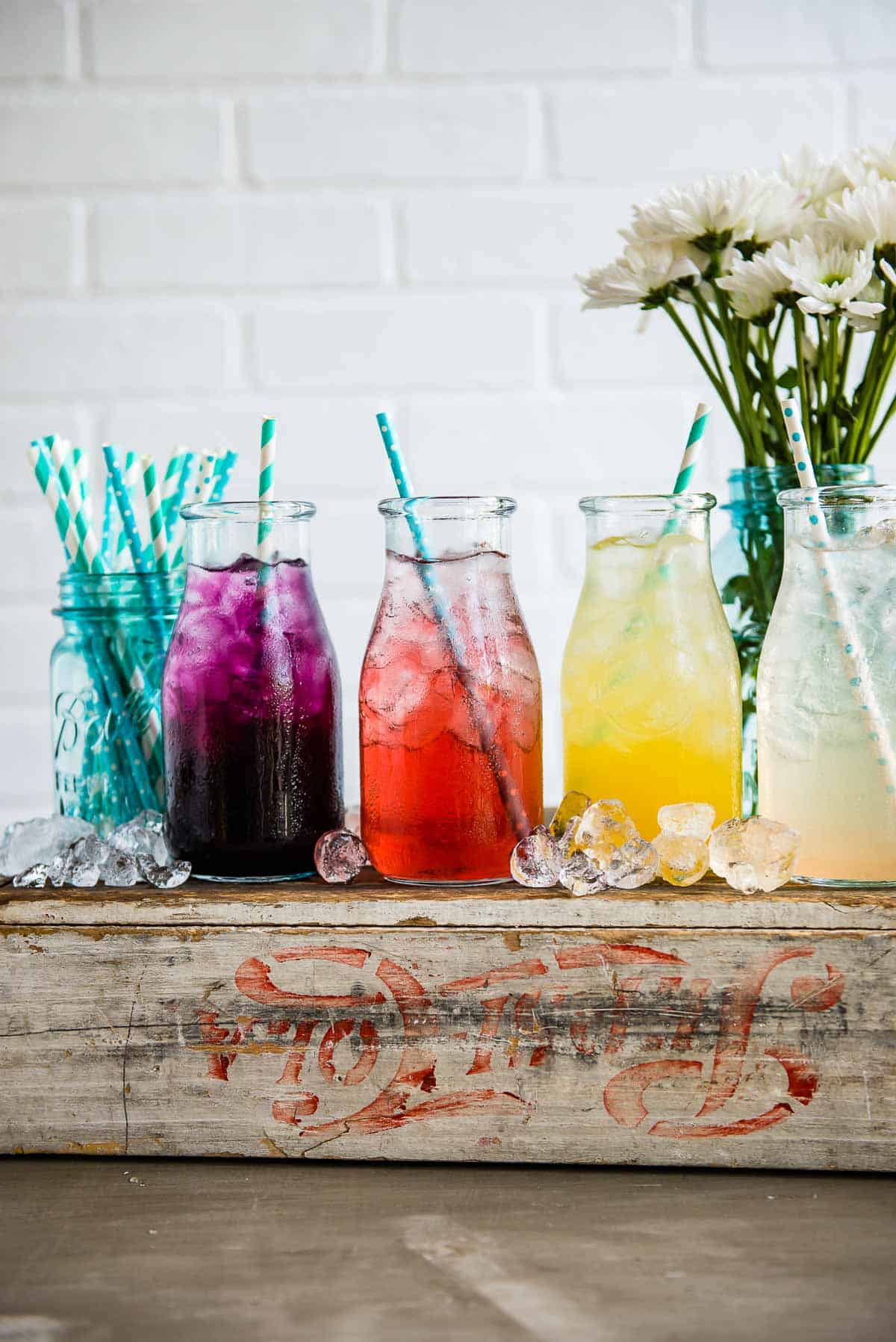 Traditional soda, both regular and diet, seem addictive for a reason… they are! Caffeine and sugar are enjoyable and cause your body to crave them on a regular basis. Don't get me wrong, I was a soda lover too!
Diet Cherry Coke was my saving grace in college. Every time I'd get gas, I'd grab one from the cooler. Yet I realized that even with the caffeine + sugar fix I was still so tired. Cutting out this habit and turning towards plants actually gives me more energy and fuels my body the right way.
Plus, real food is actually quite delicious!
Table of Contents
Perks to Homemade Soda
Most canned drinks are not whole food. Especially the "Diet" versions. Just because the word "diet" is in it, doesn't make it good for you. The artificial sweeteners and chemicals in soda are super processed. Instead, this homemade Italian soda recipe uses the cleanest ingredients out there so you can enjoy a refreshing soda on a hot day. When you eat real food, your body responds with strength and energy.
Each variation of this homemade soda recipe is amazing! You control how much flavor and sweetness you want to create a refreshing drink. Mix + match flavors in a way that makes your tastebuds dance.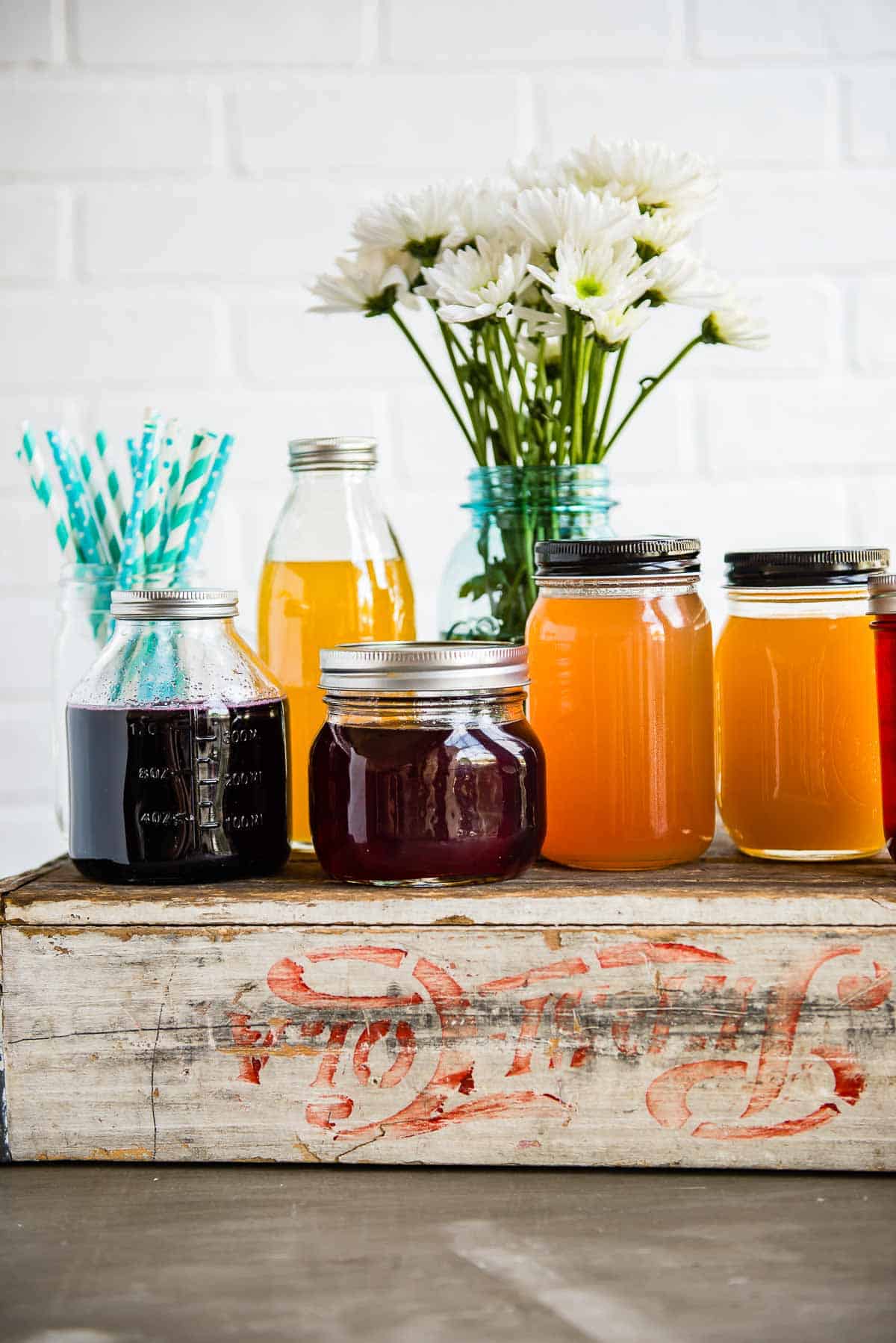 How to Make Italian Soda
There are two steps to making your own homemade soda. First, you need to make a "simple syrup" using fruits and flavors that you love. My favs are included in the recipe card below.
You'll have to boil the syrup down into a concentrated form to get the flavor to really punch. Once that's done, you just add a few tablespoons to a glass of sparkling water and you've got the perfect summer drink!
Pro tip: using eco-friendly straws is a simple way to make this drink even more special. You can find colorful Reusable Stainless Steel Straws in our online shop. You can also get paper straws that are single use, yet biodegradable as well. These are much better choices than plastic straws.
Soda FAQs
What makes it an Italian soda?
Italian sodas require 3 ingredients: flavored syrup, soda water, and ice. Beyond that, the sky's the limit!
What are the best flavors for Italian soda?
Rule of thumb with Italian soda is, if you like the flavor, then you'll like it in an Italian soda! Some people go the fruit route, while others play around with spices, and herbs. I personally love the strawberry vanilla classic, yet reach for the peach rosemary one when I'm looking for a more complex flavor.
Can you use Perrier for Italian Soda?
Yes! Perrier is a little less bubbly than some other types of sparkling water, but works just as well. And with cute bottles, you could pour the finished product right back in the Perrier bottle for a great presentation!
Finishing touches for your Italian soda
I've seen several Italian soda recipes with whipped cream on top. I love adding a dollop of coconut whipped cream on top (cream, not canned coconut milk!). You can also jazz it up with berries; frozen berries work double duty as ice AND extra flavor.
Turn your soda into a fancy mocktail by adding fresh herbs, or even creating a fun sugar rim. The syrup is naturally colorful, so these drinks already start to shine the moment you add the syrup to the sparkling water.
More fun drinks with real ingredients
If you love the idea of creating some specialty drinks this summer that are both simple and homemade, then I've got you covered. Here are recipes that will take those end-of-summer gatherings from drab to fab!
I've also got a whole section of my cookbook, Simple Green Meals, dedicated to all this party drinks. It's actually where this Italian soda recipe started for me. I'd love for you to give one of these recipes a try, and let me know how they turned out for you!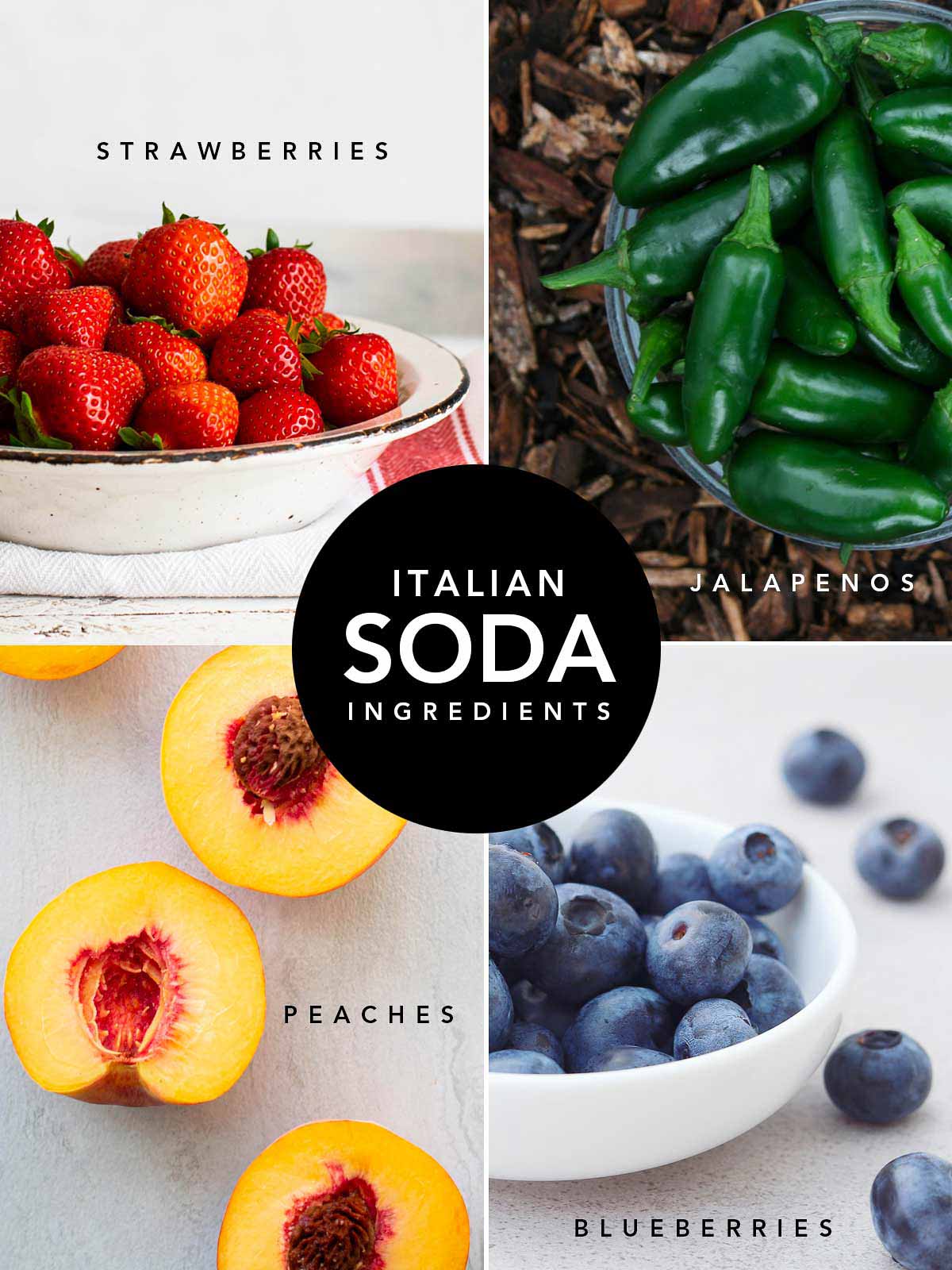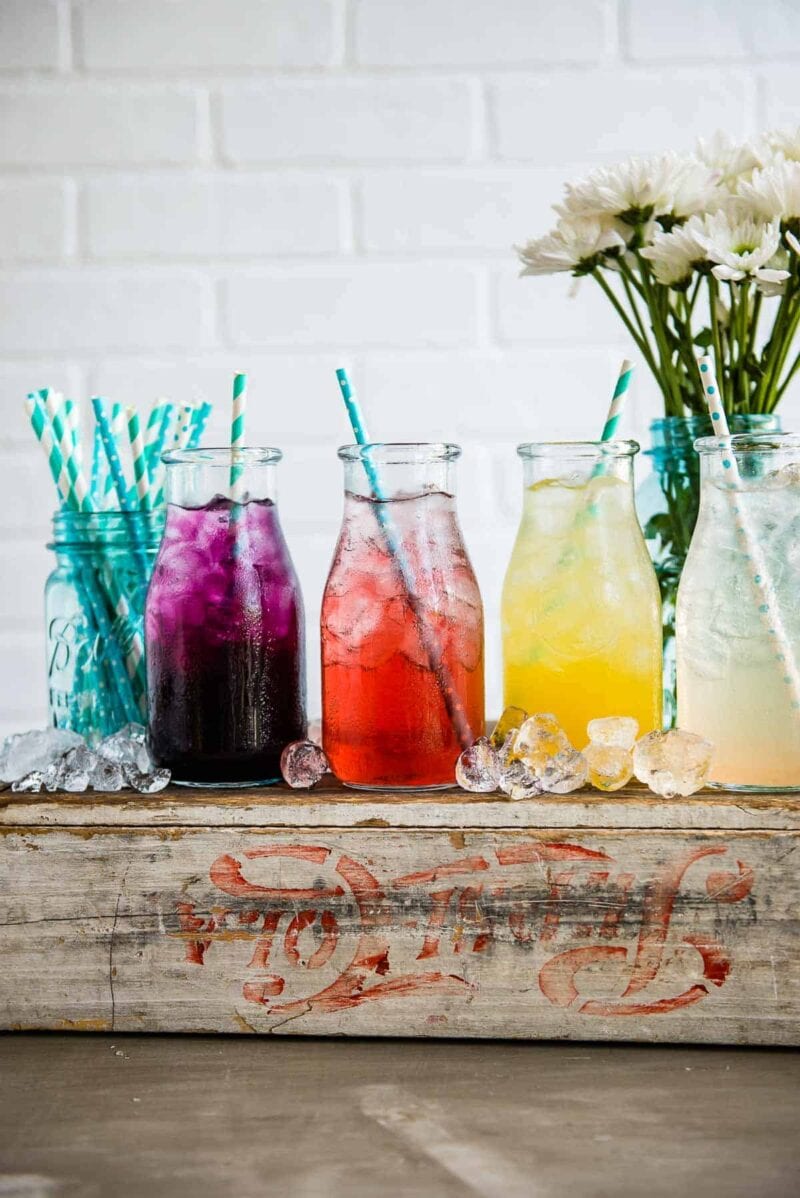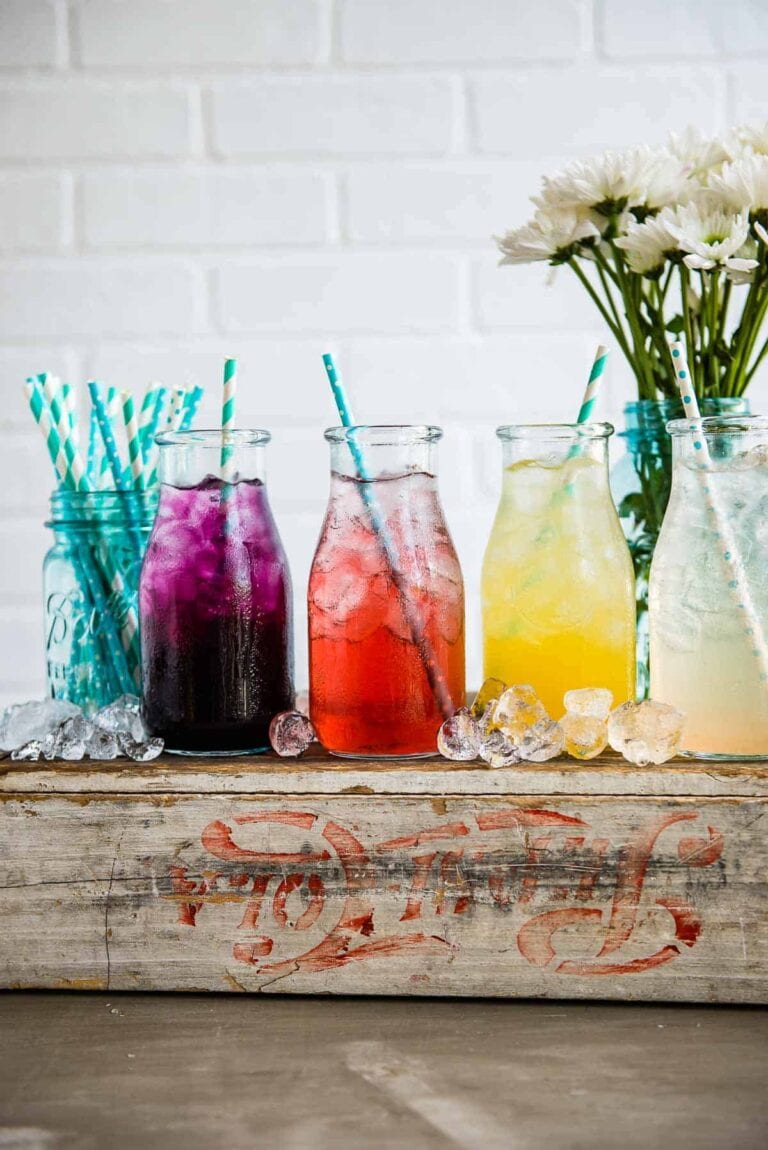 Italian Soda Recipe
When you embrace a plant-powered life and try to avoid processed foods, sodas are one of the first things to go. My twist on a classic Italian soda recipe is a fabulous way to bring back "soda" in a nutritious way. My kids still don't like carbonated beverages, but as they get older and their tastes change, I know what we will be making first!
Ingredients
Italian Soda Recipe
1

cup

sparkling water

3

tbsp

simple syrup

recipe options below
Strawberry-Vanilla Simple Syrup
1

cup

cane sugar

1

cup

water

1.5

cups

strawberries

½

tsp

vanilla extract
Peach Rosemary Simple Syrup
1

cup

cane sugar

1

cup

water

1 .5

cups

peach

1

sprig

fresh rosemary
Lavender Blueberry Simple Syrup
1

cup

cane sugar

1

cup

water

1.5

cups

blueberries

3

tbsp

lemon

juice
Mango Jalapeño Simple Syrup
1

cup

cane sugar

1

cup

water

1.5

cups

mango

2

tbsp

lime

juice

½

jalapeño pepper

sliced
Instructions
Simple Fruit Syrup
Choose a flavor from the ones above and create a simple syrup. Place the sugar, water, fruit, and any other ingredients in a saucepan. Bring to a boil, then reduce the heat to low and simmer for about 20 minutes, or until the fruit has released its juices and is very, very soft.

Strain the syrup through a fine-mesh sieve to remove seeds, peels, and other solids. There should be about 2 cups of syrup. Allow to cool, then transfer to a jar with a tight- fitting lid and store in the refrigerator for up to 2 weeks, or freeze for several months until ready to use.
Italian Soda Recipe
Add 3 tablespoons of the strained syrup to 1 cup sparkling water. Serve chilled or over ice.
Nutrition
Calories:
161
kcal
,
Carbohydrates:
44
g
,
Sodium:
84
mg
,
Potassium:
43
mg
,
Sugar:
44
g
,
Calcium:
20
mg
,
Iron:
2
mg