This insanely tasty tropical kale smoothie recipe was originally created for my #1 best-selling recipe book, Simple Green Smoothies. Over the years, I've craved it more and more, and even started growing my own kale to use in smoothies.
This smoothie tastes like sunshine, and will cause you to fall in love with green smoothies.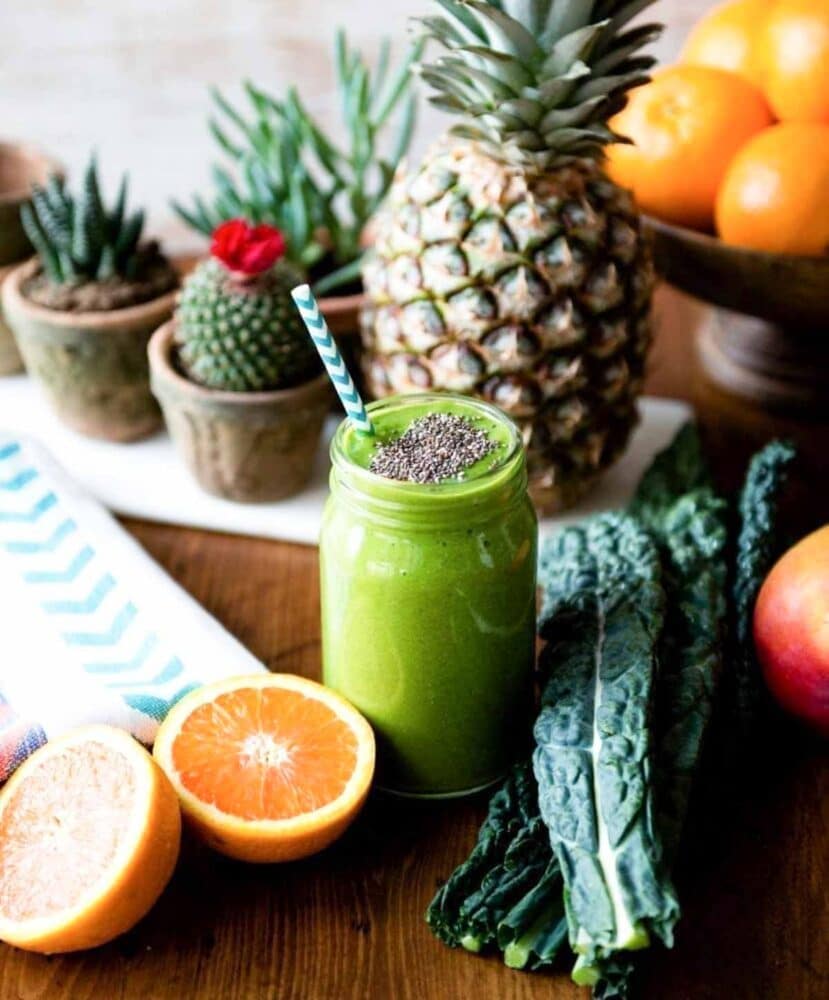 I'm sure you've noticed kale's rise to fame over the last decade. It went from an unidentified leafy green to the top dog of the produce section overnight. Kale comes from the cruciferous family (along with cabbage, broccoli, cauliflower, radishes, and more). Kale is a supercharged superfood, because it is loaded with vitamins A, B6, C, and K, calcium, potassium, copper and manganese.
Table of Contents
People typically identify kale by it's sharp taste, and tougher texture, yet if this is you, then I'm gonna ask you to give it another try.
Kale Smoothie Ingredients
This recipe takes me back to my California roots through its tropical ingredient list:
Orange: 92% DV of Vitamin C
Pineapple: 761% DV of Vitamin C
Mango: Vitamin C… and a natural sweetener.
Chia seeds: The omega 3s and 6s in the chia seeds, as well as the protein boost, help turn that natural sugar into energy as your body processes it.
Kale: This Top Superfoods List is a great way to boost your fiber intake + help your body process the natural sugar found in the fruit ingredients.
Easy Ingredient Swaps
If you want to turn this smoothie into a great pre or post workout beverage, then swap the water with coconut water, aka nature's gatorade. Add even more superfood goodness by swapping the chia seeds with a plant-based protein powder, like my protein powder recipe.
Tips for Blending a Smoothie
While this kale smoothie recipe uses Lacinato kale, any kale will work. I highly recommend removing the stems of the kale before blending to eliminate as much bitterness as possible. You can compost the stems or even feed them to the backyard chickens. To tenderize kale leaves, wash them in water, then gently massage the leaves with your fingers.
When blending kale, tear it up into smaller pieces before tossing in the blender. Blend with just the liquid + kale first, until no chunks remain. Then add the remaining ingredients and blend again. This 2 blend method helps the kale break down quicker, especially if you're using a non high-powered blender.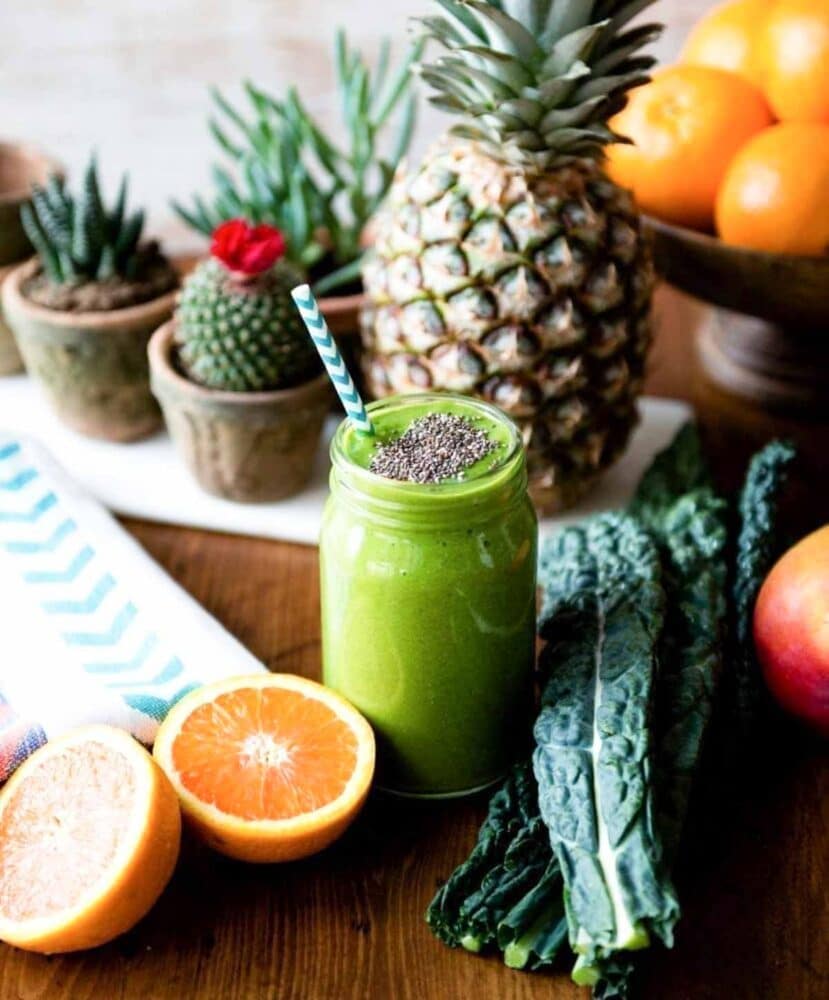 Kale Smoothie FAQs
Are kale smoothies good for you?
Smoothies can be great for you, if you focus on using whole food ingredients. Ditch the added sugar and processed foods and use real whole food. Fresh or frozen kale can be used (both have great nutrition!). Just make sure to swap up your leafy greens to ensure your body gets well rounded nutrients.
Can you put raw kale in a smoothie?
Yes! Just make sure to wash it well and massage with your fingers before adding it to the blender. Also, de-stem the kale to ensure those tough stems don't end up as chunks in your smoothie.
What kale is best for smoothies?
I love the mild flavor of Lacinato kale, yet curly kale is typically the easiest to find at the grocery store. I would stay away from Tuscan kale as it is a bit spicier. If the first kind of kale you try isn't your fav, look for another kind!
More Kale Smoothies
Whether this is a new ingredient for you or a staple in your fridge, here are some more great smoothies that use kale:
Really, swap out the leafy green in any green smoothie with kale. It might just become your go-to smoothie ingredient too! Let me know your thoughts about this smoothie by leaving a rating + review below once you blend it.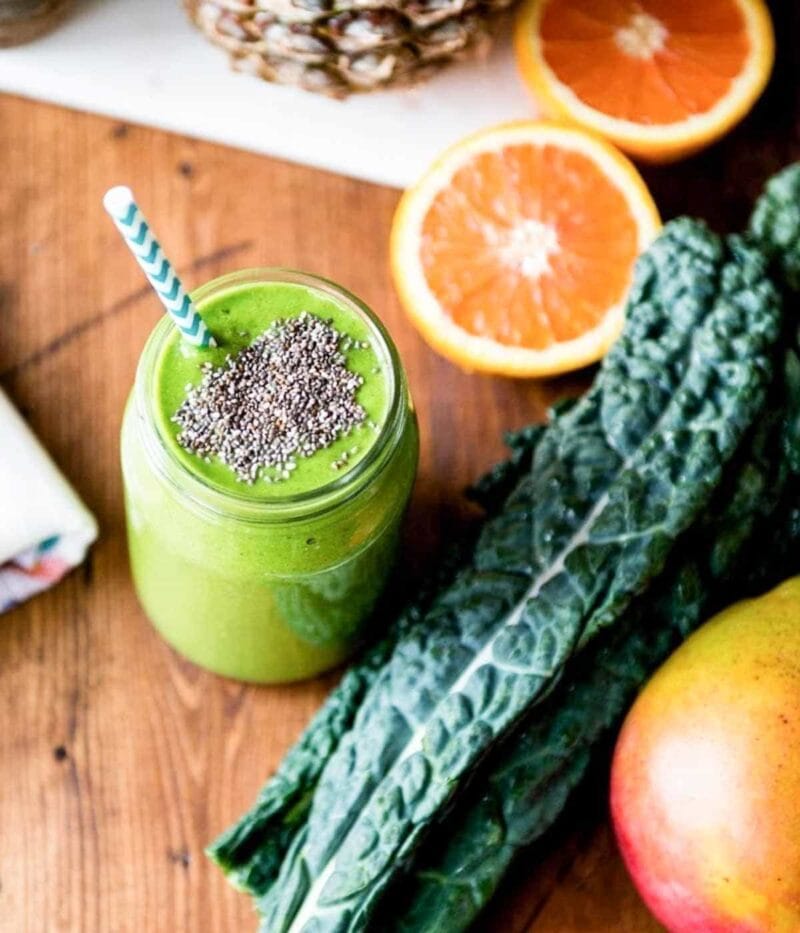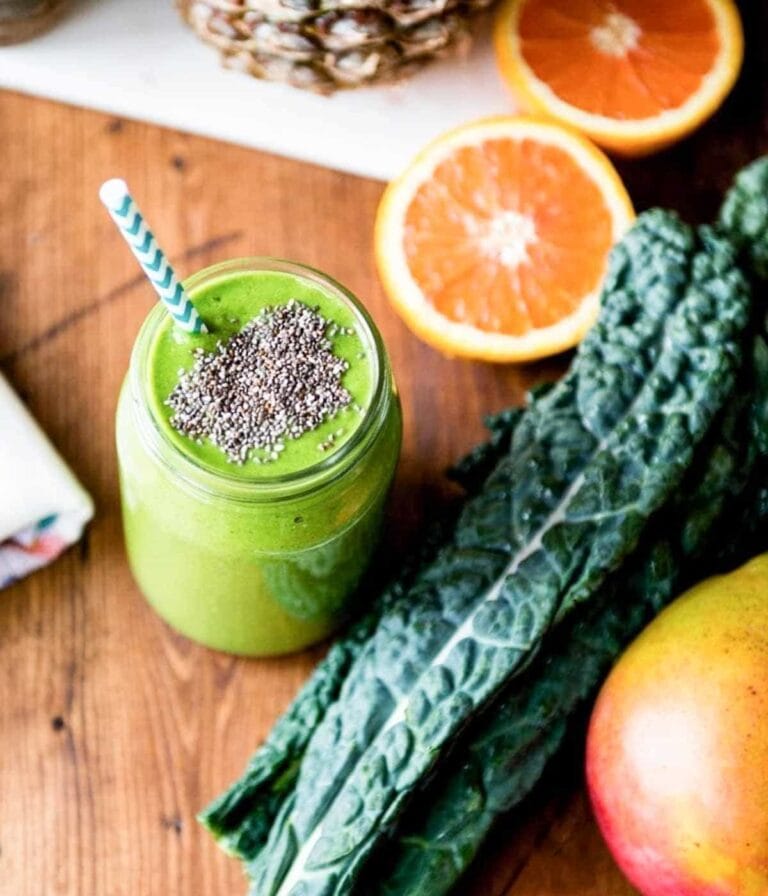 Kale Smoothie
Like the warm California sunshine, this tropical kale smoothie will brighten your day. Loaded with vitamins A, C, K, and calcium, you'll be filling your body with goodness that tastes great. Using chia seeds packs a mighty punch by adding omega 3's, omega 6's, healthy fats and protein. 
Ingredients
1

cup

kale

½

cup

water

1

orange

peeled

½

cup

pineapple

frozen

½

cup

mango

frozen

1

tbsp

chia seeds
Instructions
Blend kale, orange and water until smooth.

Add remaining fruit and blend again.
Notes
Use at least 1 frozen fruit for a refreshingly cold smoothie.
Swap kale with the leafy green or your choice.
Swap in coconut water if you need natural electrolytes.
Depending on how big and juicy your orange is, start with a little less water and gradually add more as needed to easily blend.
Nutrition
Calories:
243
kcal
,
Carbohydrates:
49
g
,
Protein:
7
g
,
Fat:
5
g
,
Saturated Fat:
1
g
,
Polyunsaturated Fat:
3
g
,
Monounsaturated Fat:
1
g
,
Trans Fat:
1
g
,
Sodium:
35
mg
,
Potassium:
843
mg
,
Fiber:
10
g
,
Sugar:
32
g
,
Vitamin A:
7935
IU
,
Vitamin C:
220
mg
,
Calcium:
252
mg
,
Iron:
2
mg