These Lemon Fat Bombs are great for a great way to curb your appetite in between meals. They also help your digestive system and enhance mental clarity thanks to the hearty dose of healthy fats and protein. Plus, my lemon meltaways look gorgeous on a party platter!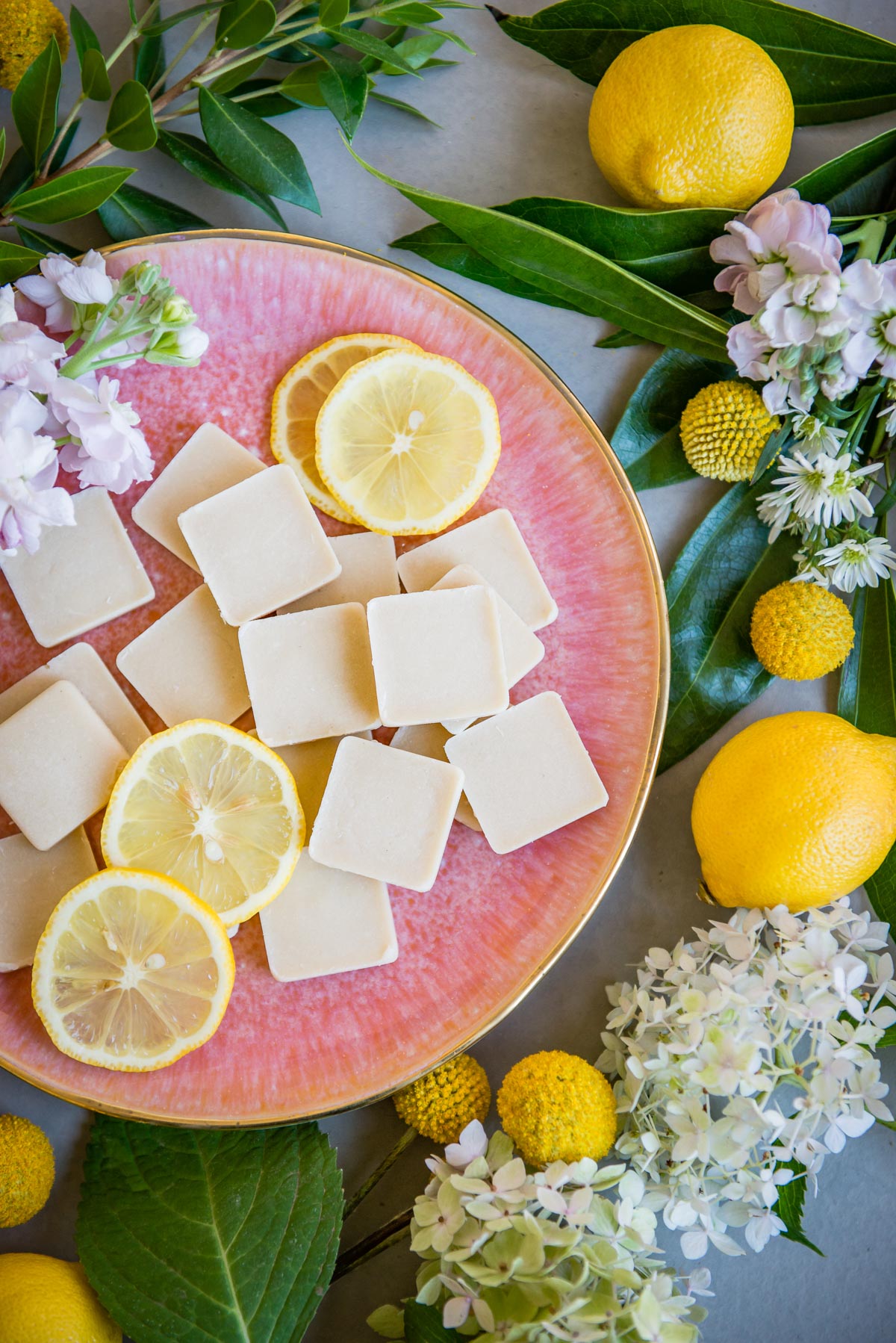 I love watching YouTube videos where the babies have their first taste of lemon. It's so funny to watch their faces! They either love it or hate it. As for me, I LOVE lemon! When I was pregnant with my son, I literally ate lemons like apples. I eventually had to stop because my dentist said I was ruining my tooth enamel.
So I cut back on the straight lemon snacks and started incorporating them into fun recipes like a lemon vinaigrette and a lemon smoothie.
Table of Contents
What are Lemon Fat Bombs?
Fat often gets a bad rap. Honestly, your body needs fat to thrive. Yet not all fat is the same. My lemon meltaways use fat from plants (cashews and coconuts) as well as fresh lemon juice, a bit of maple syrup and a pinch of sea salt for an easy peasy snack.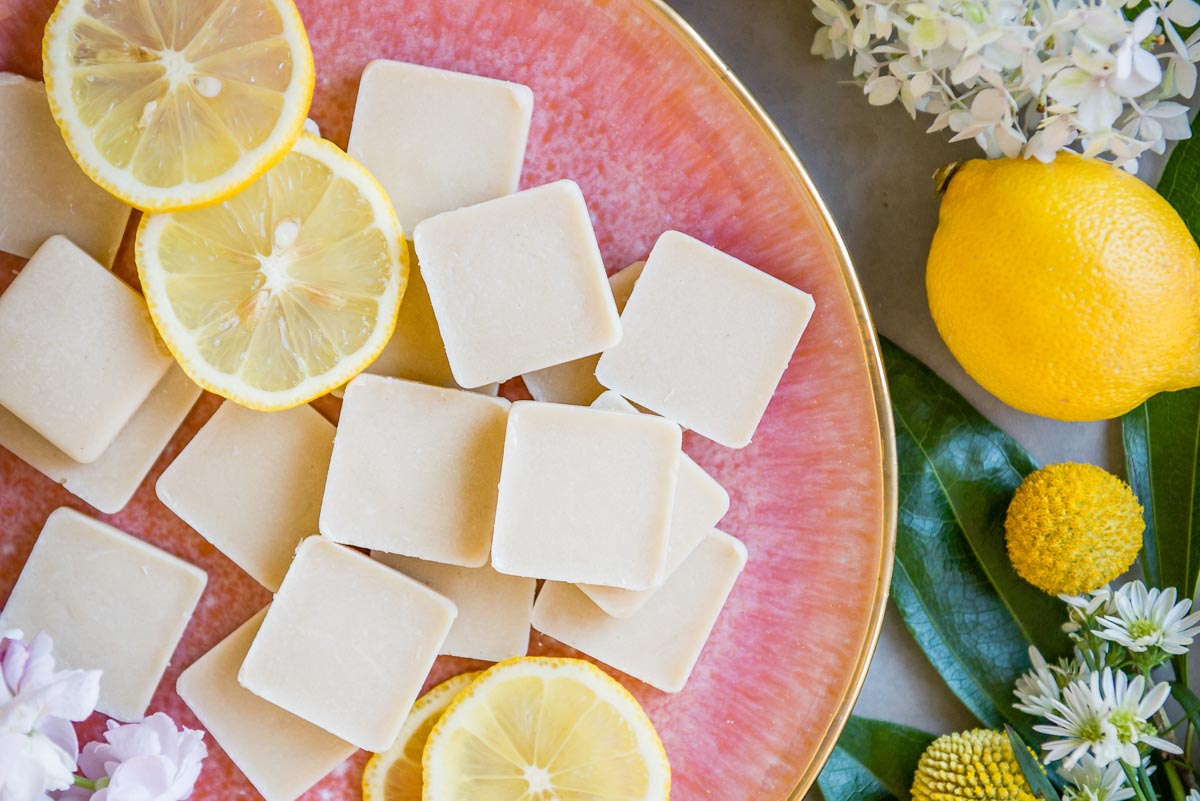 Eat a few of these for your next afternoon snack and feel your brain wake up. No need for that afternoon caffeine fix, grab one of these instead!
What Makes a Great Snack
I love this recipe as a dessert and also as a great snack. Here's why:
A quick alternative to sour candy, especially since this snack doesn't give me a sugar crash!
One little treat goes a lot way in satisfying the body as well as the tastebuds.
These squares help me hang onto my focus thanks to the healthy fats which are incredible for the brain.
You can make a large batch ahead of time and store it in the freezer until you're ready to enjoy.
Is your mouth watering yet from this lemon fat bomb recipe? Then I have a feeling you'll LOVE my new recipe book. Don't miss out on the healthy and tasty recipes in Simple Green Meals.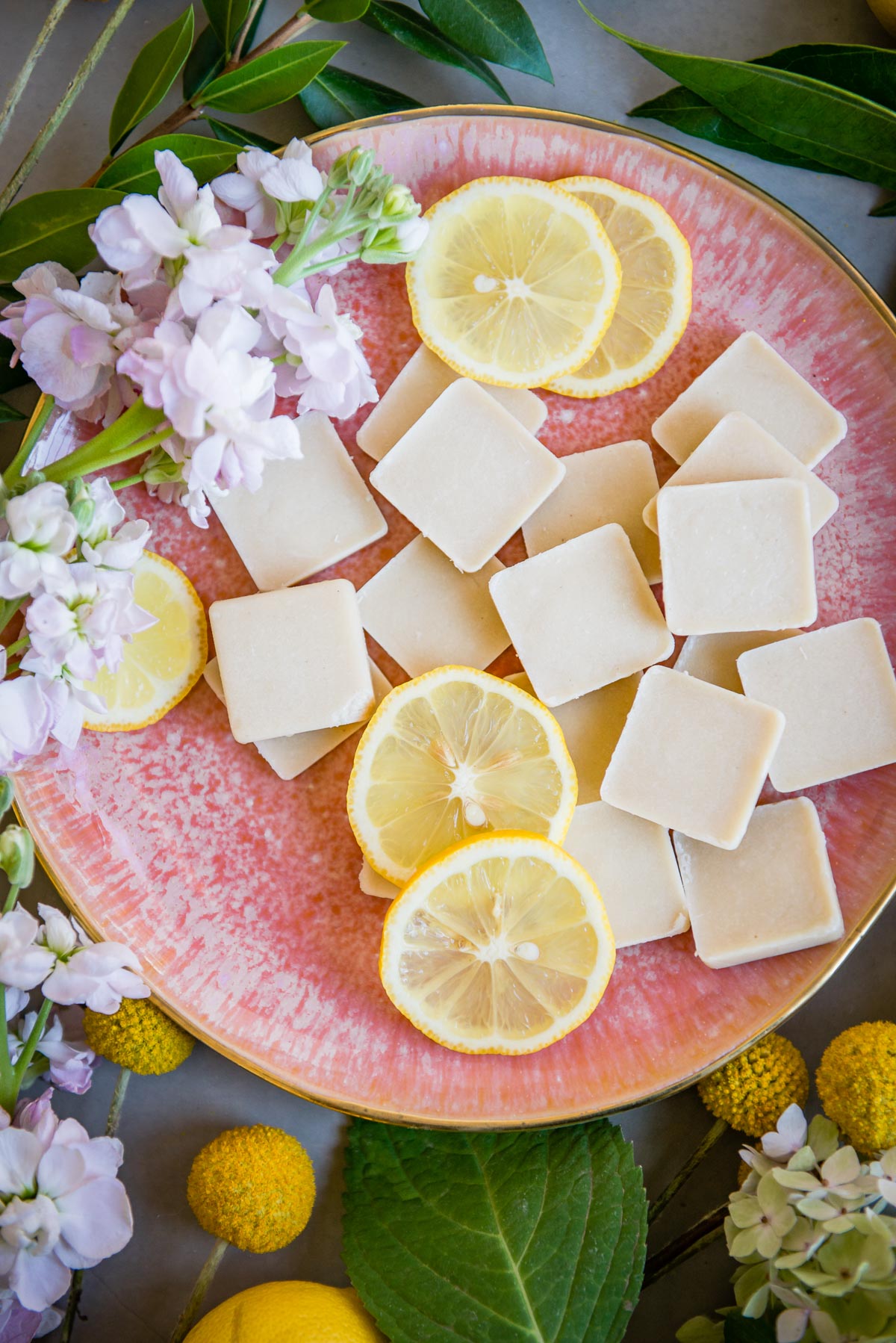 Fat Bomb FAQs
Are fat bombs good for weight loss?
Purposely eating fat can sound scary. Yet our bodies NEED fat to function at our best. So if you're trying to lose weight and you cut out all fat, you aren't doing your body any good! Including healthy, whole-food fats like cashews and coconut oil in these lemon fat bombs is a great way to get good fat back into your diet.
Can you eat fat bombs for breakfast?
You can include these in your breakfast, especially if you're only getting protein and carbs but no fat. Starting the day off balanced is the best way to go.
How long do fat bombs last?
Store my lemon melt-aways in the freezer for several months. Once they set the first time, you can transfer them to a freezer-safe container and grab them whenever you want to!
More Snack Recipes
Now I got to go run to the kitchen and grab a snack for myself! I love nourishing my body with healthy foods that taste amazing. Which one of these snacks sounds like a winner to you? And don't forget to rate and review my lemon meltaways; they truly are my go-to!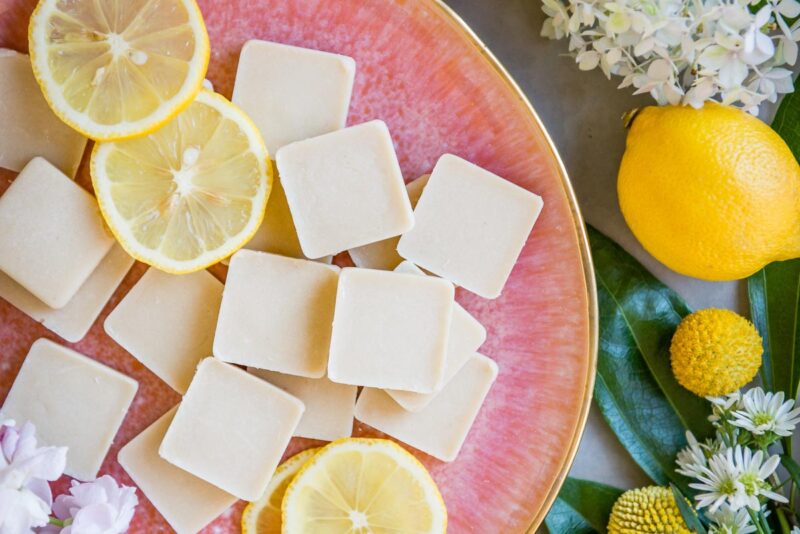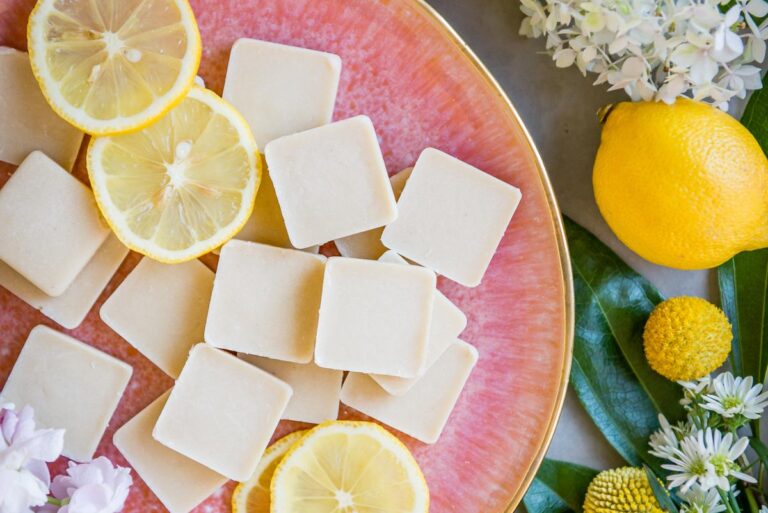 Lemon Fat Bombs
These lemon fat bombs, or melt-aways, make a great quick afternoon snack. I should warn you, you really have to like lemons to enjoy these tart treats.
Ingredients
1⁄2

cup

raw cashews

2

tbsp

maple syrup

2

tbsp

lemon

juice, plus more to taste

1⁄2

cup

coconut oil

Pinch

sea salt
Instructions
Place a baking sheet lined with waxed paper in the freezer OR use silicone ice cube trays.

In a blender or food processor, blend or process the cashews until finely ground.

Add the maple syrup and lemon juice and pulse a few times.

Add the coconut oil and salt. Puree until smooth and creamy.

Drop 1⁄2 tablespoonfuls of the cashew mixture onto cold baking sheet or into silicone trays. Return the pan to the freezer. (Depending on the size of the baking sheet, you may have to make the lemon bombs in batches.)

When the drops are solid, peel them from the waxed paper (or pop out of the tray) and store in the freezer in an airtight freezer container.
Notes
Going keto? You can swap out the maple syrup for a dash of stevia.
Have fun with these! Use your fav silicone mold to shape them into fun shapes, especially if they will be party food.
If you want to use a high-powered blender to make these, feel free to double or triple the batch.
Lemon melt-aways can be kept in the freezer for several months.
Nutrition
Serving:
1
g
,
Calories:
345
kcal
,
Carbohydrates:
13
g
,
Protein:
3
g
,
Fat:
34
g
,
Saturated Fat:
24
g
,
Polyunsaturated Fat:
2
g
,
Monounsaturated Fat:
6
g
,
Sodium:
3
mg
,
Potassium:
139
mg
,
Fiber:
1
g
,
Sugar:
7
g
,
Vitamin A:
2
IU
,
Vitamin C:
4
mg
,
Calcium:
19
mg
,
Iron:
1
mg