I love quick and easy mason jar salads. They're easy to store, plus easy for grab n' go eating on those busy days. Healthy can be easy! If you're limited on lunch box space, mason jar salad recipes come in clutch for packing a lot of food in a smaller space.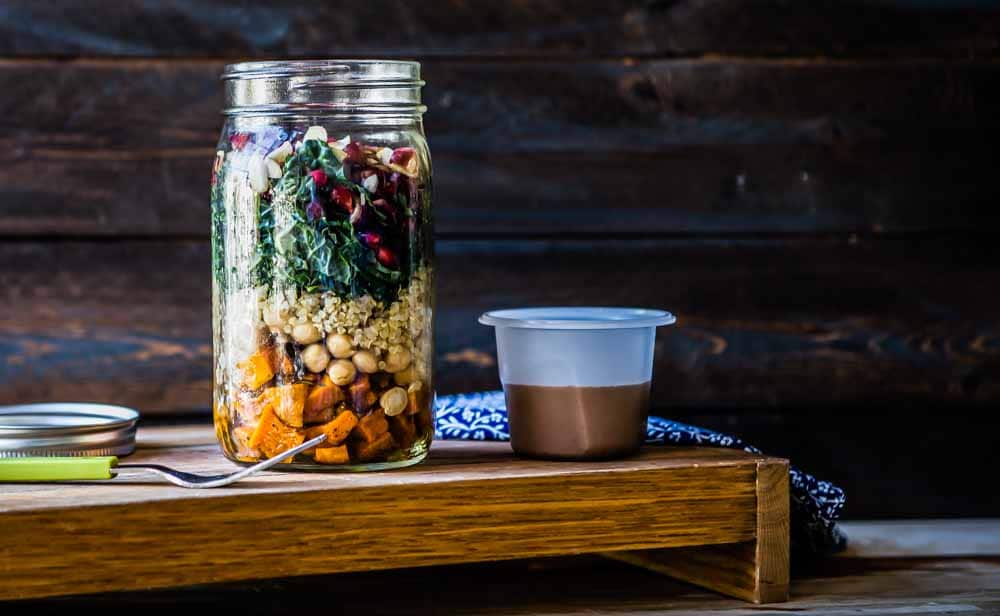 I love a quick and easy mason jar salad. They're easy to store, plus easy for grab n' go eating on those busy days. Healthy can be easy! Read on for this great salad, as well as some tips for creating healthy, fast meals.
Table of Contents
A Delicious Fall Salad
This recipe is not your average salad. It's packed with nutrients + flavor to help you feel full, satisfied, and energized. Just look at this powerhouse ingredient list:
Butternut squash: 1 serving contains 7 grams of fiber, 457% of the recommended daily intake (RDI) of vitamin A, and 52% of the RDI of vitamin C. It gives this recipe a huge immunity boost.
Quinoa: This grain provides 4.4 grams of protein per cooked serving. It is super versatile, and provides a slightly nutty flavor.
Chickpeas: In the legume family, this ingredient offers 3 grams of protein, along with 12% of the RDI of folate. It's a great plant-based protein option.
Pomegranate seeds: 1 cup of this fruit contains 7 grams of fiber, 3 grams of protein, 30% of the RDI of vitamin C and 36% of the RDI of vitamin K, 16% of the RDI of folate, and 12% of the RDI of potassium. Studies suggest that pomegranate seeds have anti-inflammatory affects on breast cancer cells due to their high antioxidant levels.
Kale: This is an incredibly nutrient-dense leafy green. It boasts 684% of the recommended daily value of vitamin K, 206% of the RDV of vitamin A, and 134% of the RDV of vitamin C.
Almonds: Not only do sliced almonds provide this mason jar salad with a nice crunch, they also provide 6 grams of protein, 37% of the RDI of vitamin E, 32% of the RDI of Manganese, and 20% of the RDI of magnesium.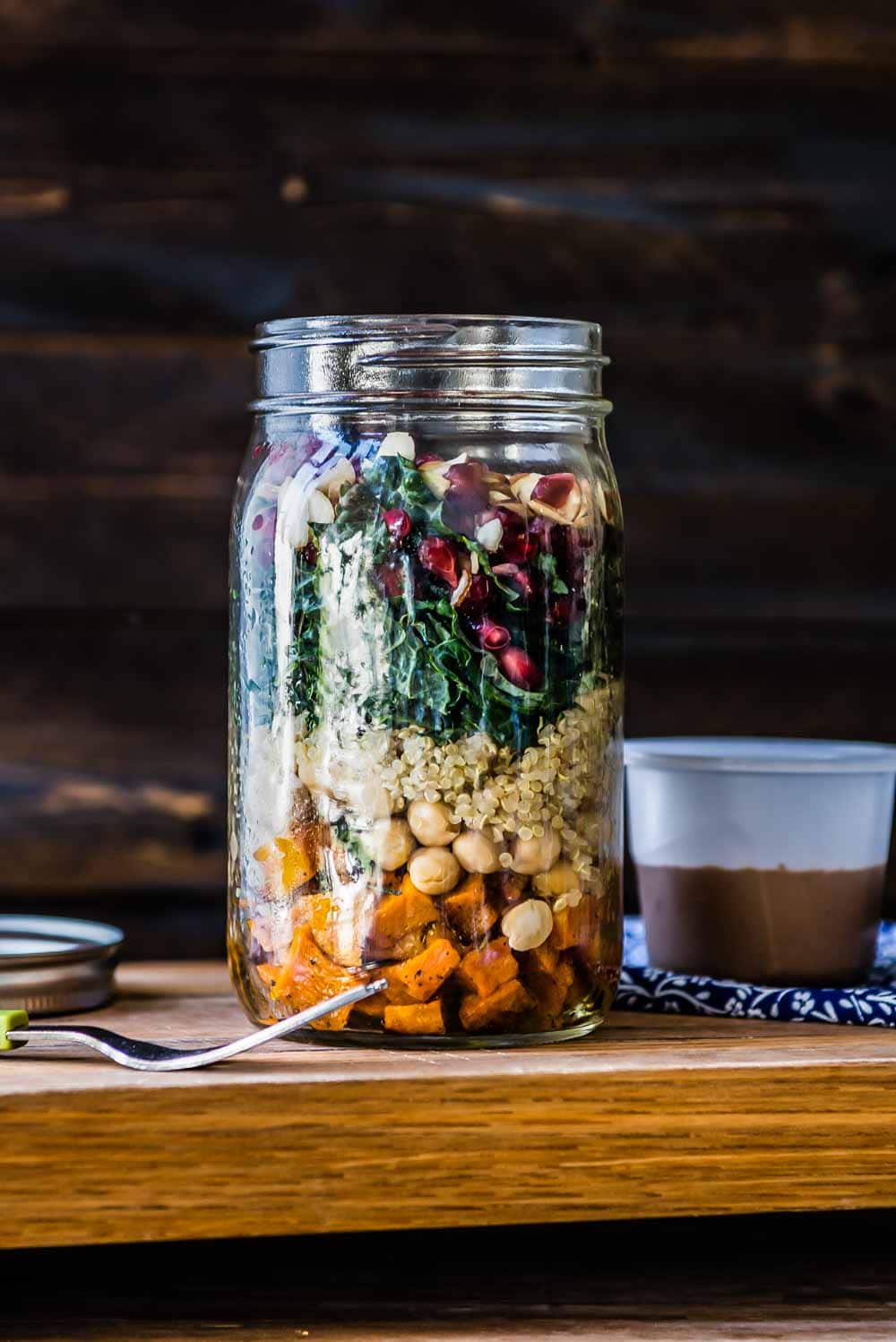 Healthy Eating Tucked in a Mason Jar
I often say that green smoothies are the ultimate fast food because they are easy, versatile, delicious, and healthy. Yet I've created other recipes that you can have 'to-go' as well:
I LOVE this recipe. It is so flavorful, so healthy, and so quick. I often make 2 at a time so that I've got another packed lunch for tomorrow.
This can be put into smaller jars for several hearty snacks, or layered in 1 larger jar for a delicious, light lunch. I love the tartness from the berry compote, which mixes perfectly with the sweetened granola. You'll be surprised at how 'yogurt-like' this cashew coconut creation is!
My go-to for hitting the gym is this shake. Not all my smoothies have to be green, yet all of them have to be good. This incredible smoothie is a great recovery drink, and a good meal replacement option for a busy day. Who knew mason jars could be so useful?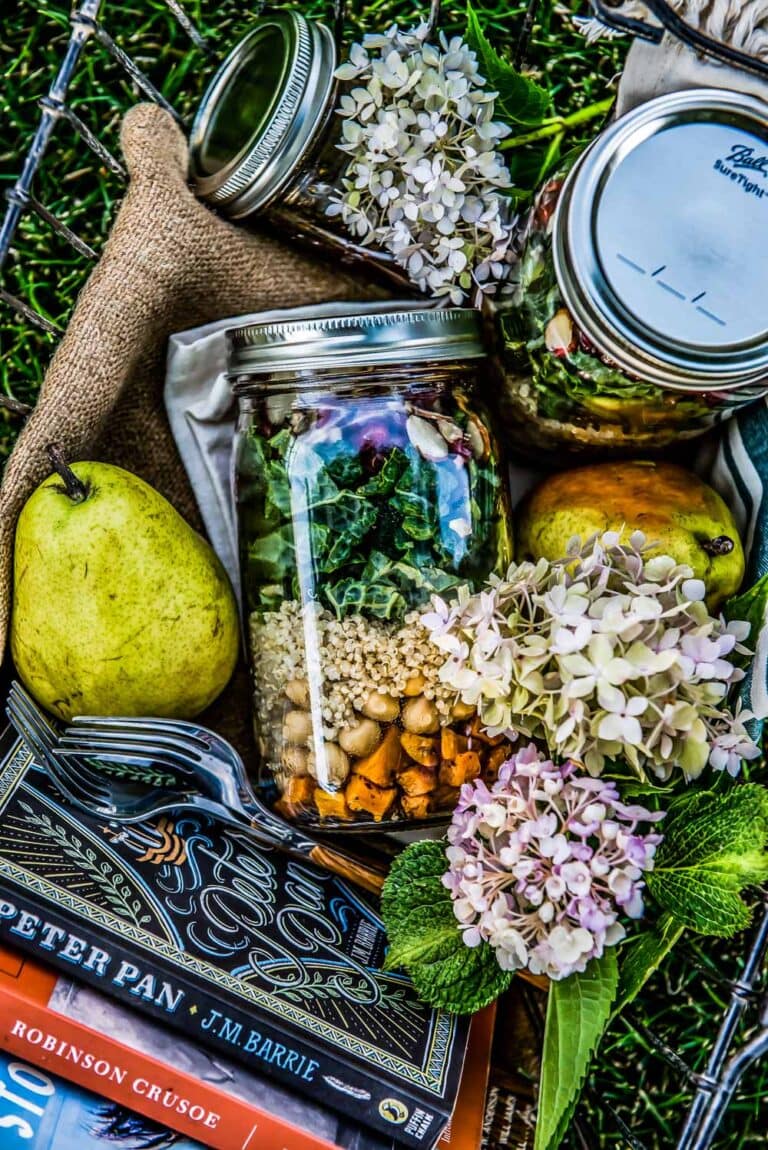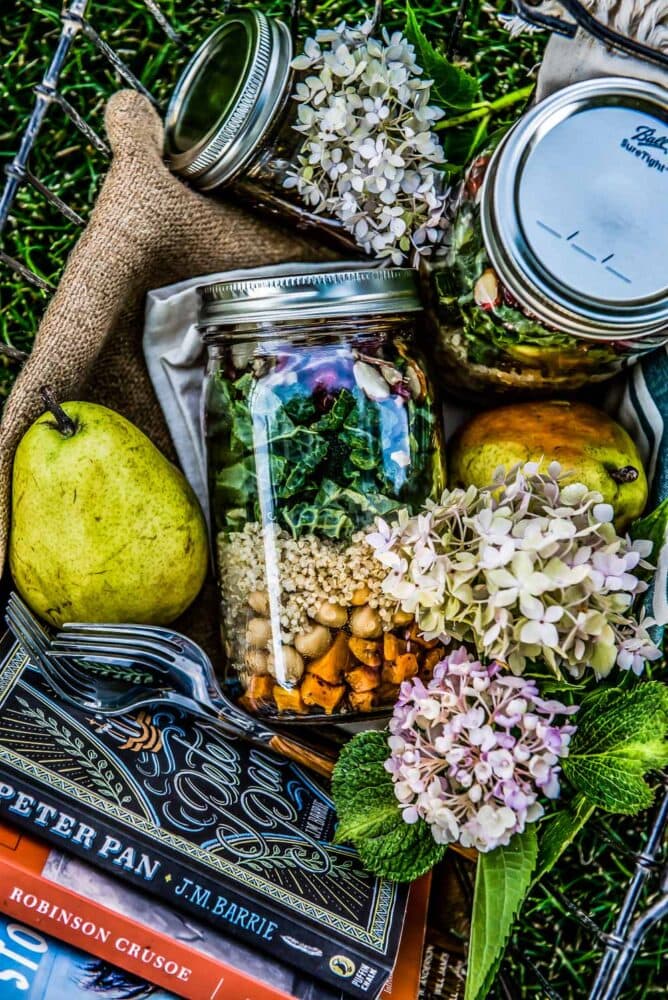 Mason Jar Salad Recipes
Ready to try your own mason jar salad? Then you should know you can pretty much put any salad in a jar and go! It's all about the layers. My mason jar salads always keep the leafy greens on top, while the heavier fruits/veggies start on the bottom. I alway use wide-mouth mason jars, so that I can easily pour this salad onto a plate, or eat right from the jar when I'm hungry.
Make sure to give the jar a good shake before you dive in, so that the layers can all mix together. Do you find that salads just don't fill you up? Me too! That's why I make sure my salads have plenty of fiber rich veggies, a good amount of protein, and a balance of healthy fats to help break it all down. With this easy formula, your next salad will be filling, nutritious, and amazingly delicious.
I'd love to hear your fav on-the-go recipes. Will you leave a comment and let me know some of your tried and true meals?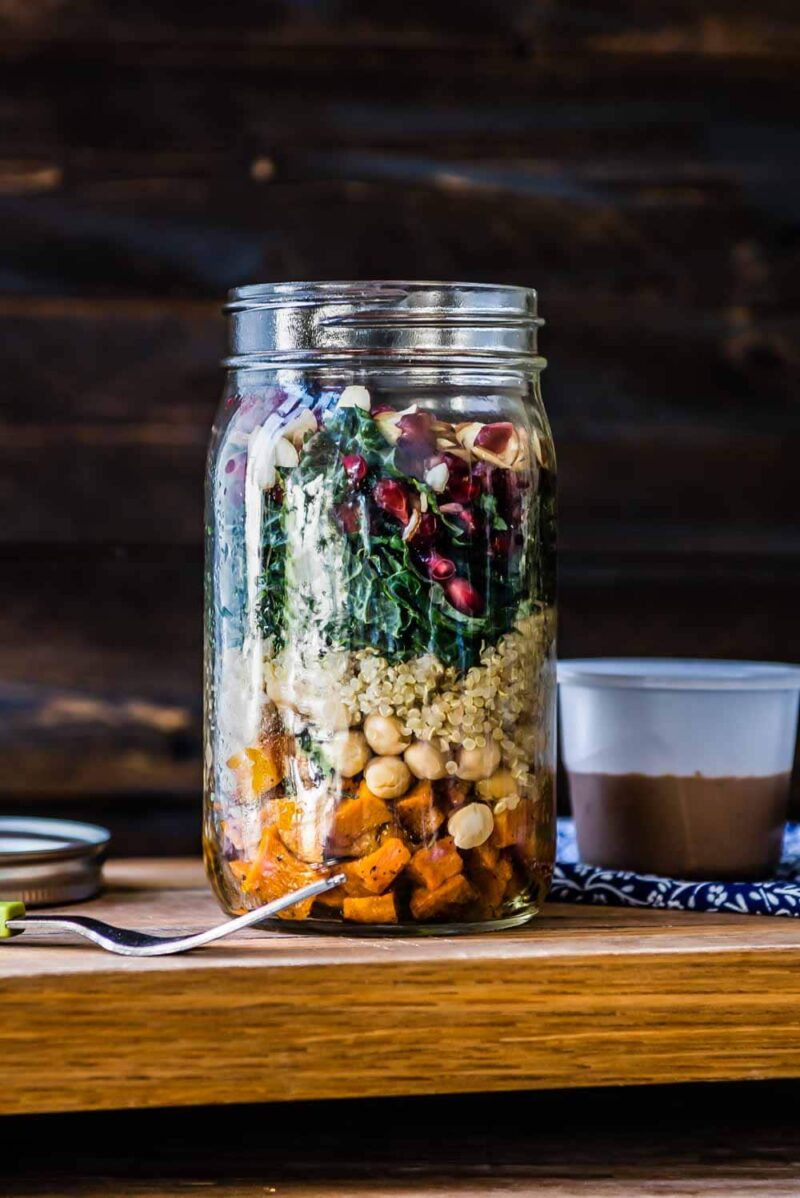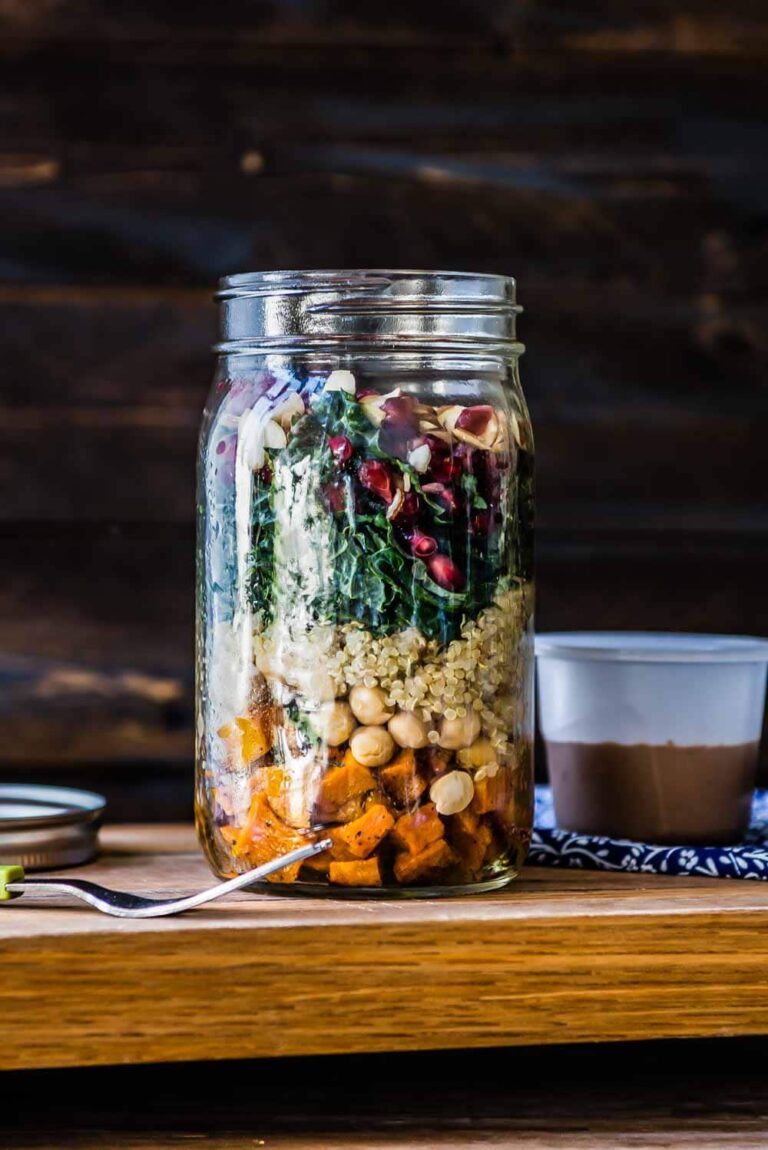 Hearty Mason Jar Salad
This easy-to-assemble, mason jar salad is perfect when you need lunch on the go! Packed with protein, healthy fat, and antioxidant rich pomegranate seeds, this autumn-inspired salad is sure to keep your body fueled through the afternoon. Feel free to prep the ingredients the night before, and have a tasty + healthy lunch waiting for you in the fridge the next day!
Ingredients
For Salad:
2

cups

butternut squash

cubed and roasted

1

cup

quinoa

cooked

1

cup

chickpeas

canned (drained and rinsed)

¼

cup

pomegranate seeds

2

cups

kale

cut into ribbons

4

tbsp

raw almonds

sliced

4

tbsp

Herb Vinaigrette

(recipe follows)
For Herb Vinaigrette:
⅔

cup

olive oil

⅓

cup

balsamic vinegar

1

tbsp

dried Italian herbs

2

tsp

honey

1

tsp

Dijon mustard

¼

tsp

garlic powder

¼

tsp

sea salt

⅛

tsp

black pepper
Instructions
Have two quart size canning jars ready. Before assembling jars, place kale in a bowl or strainer. Gently squeeze or massage the kale to soften it.

Layer in jars in this order starting from the bottom and working up:-1 cup butternut squash-½ cup cooked chickpeas-½ cup cooked quinoa-2 tablespoons pomegranate seeds-1 cup kale ribbons-2 tablespoons sliced almonds

Mix ingredients for vinaigrette together in a small bowl.

To serve, add the dressing to the jar, close the lid tightly, and gently turn the jar over to coat the ingredients with the dressing. Open and eat.
Notes
Can be made 1-3 days in advance.
Keep dressing separate until ready to eat.
Swap butternut squashed with cooked acorn squash or sweet potato.
Swap the kale with the leafy greens of your choice.
Nutrition
Calories:
535
kcal
,
Carbohydrates:
86
g
,
Protein:
21
g
,
Fat:
15
g
,
Saturated Fat:
1
g
,
Polyunsaturated Fat:
5
g
,
Monounsaturated Fat:
7
g
,
Trans Fat:
1
g
,
Sodium:
373
mg
,
Potassium:
1470
mg
,
Fiber:
15
g
,
Sugar:
24
g
,
Vitamin A:
21605
IU
,
Vitamin C:
113
mg
,
Calcium:
293
mg
,
Iron:
7
mg