Get organized for the week with these easy and healthy meal prep salads. I'll share tips to keep your salad fresh, best salad dressing containers and help you choose the best meal prep salad recipes to make ahead.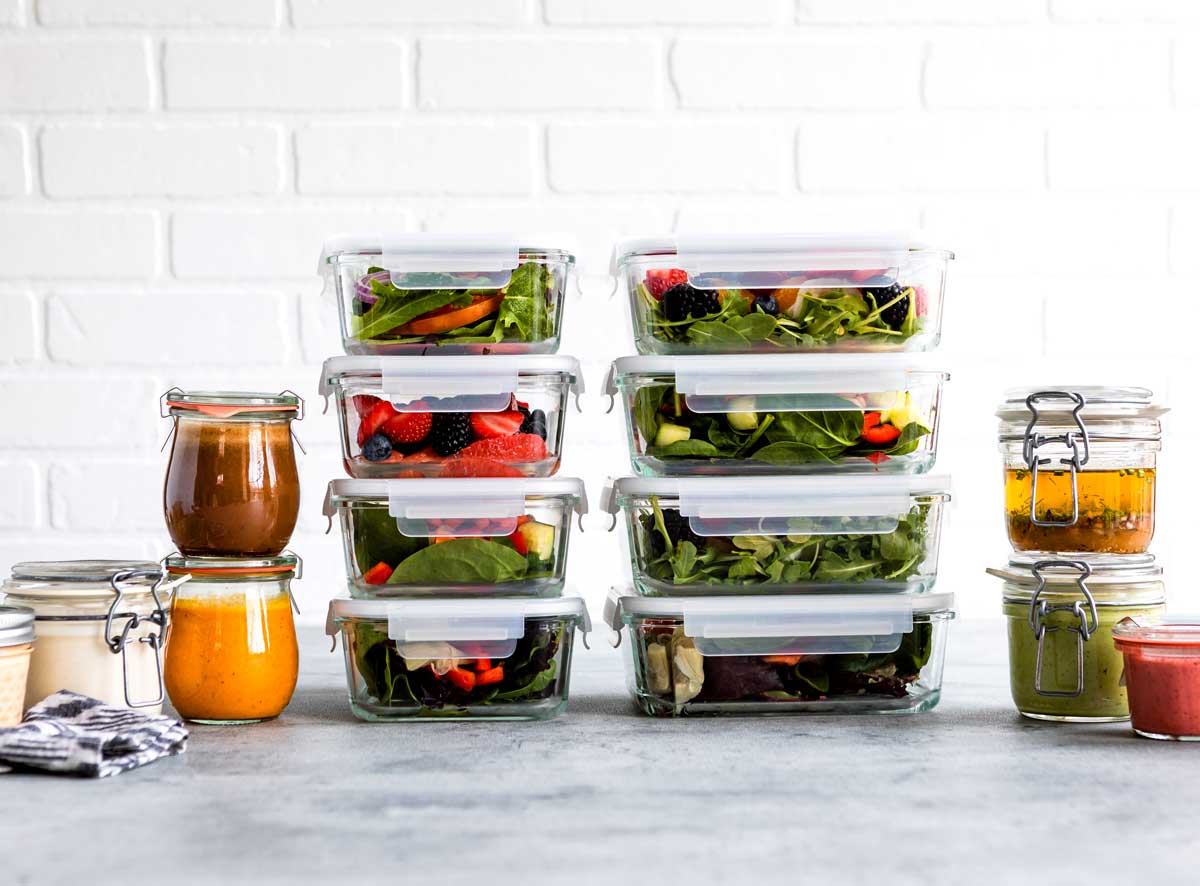 How to Easily Make Salad for a Week
It can be overwhelming planning out a week's worth of salads, yet it doesn't have to be. It all comes down to the prep if healthy habits are what you're after. Prepping can save you time and money, but more importantly it can give you control as you head into a busy week. And let's be honest: every week is mad busy.
Here's a few things to keep in mind when prepping salads:
How many people do I need to prep for? Is it just you eating salads? Maybe your spouse or sister or son wants to do it, too? It's important to keep in mind how many people will be eating the salads so when you prep you have enough stuff.
Will I be eating these at work, home or on the road? Depending on when you'll be eating the salads will dictate which style of containers you use for salad prep.
What recipes do I want to eat? Do you want to repeat salads, use the same dressing each day, have a variety of toppings, etc.
Traditional Salad Recipes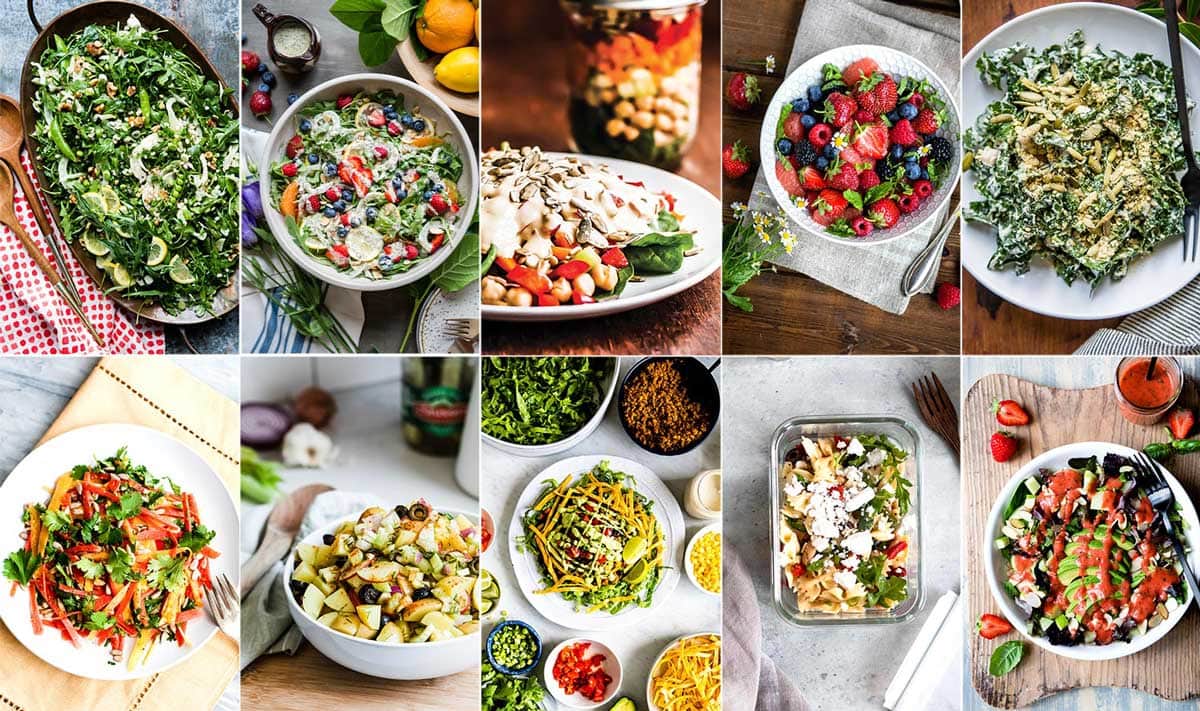 Adventurous Salad Recipes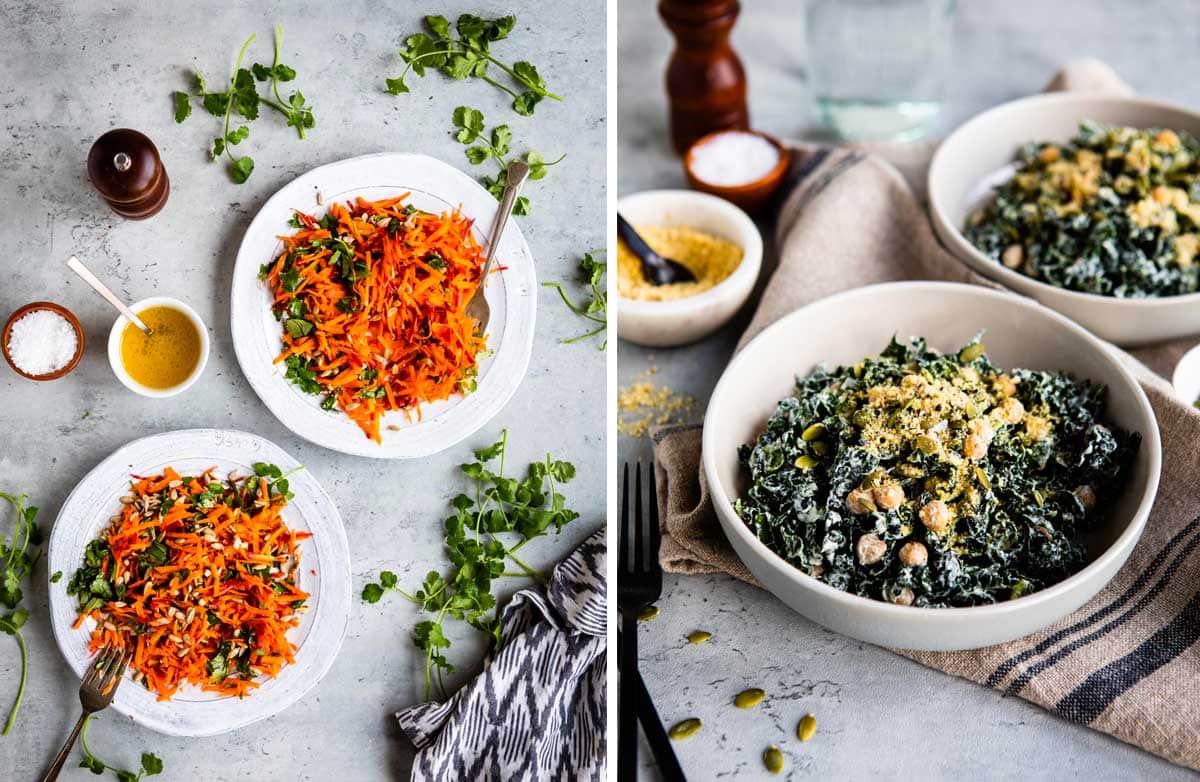 How to Keep Salad Fresh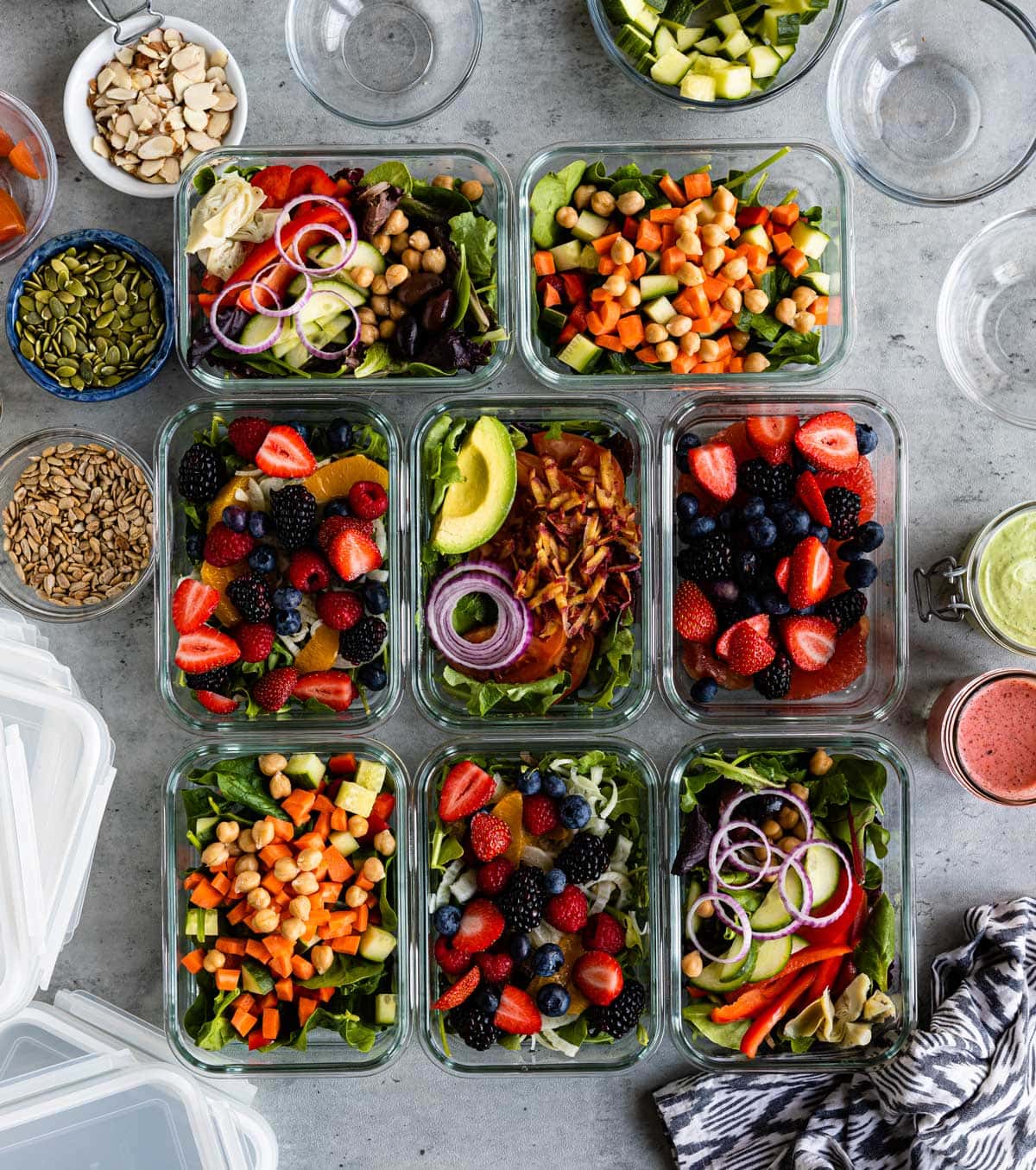 Leafy greens are quite delicate plants. I can't tell you how many times I've opened a bag of spinach and gagged once the rotten air hit my nose. It can go from "great" to "gross" overnight. Yet leafy greens are the star of the plant-based world and deserve a second change (or third)— trust me!
Here's some tips on how to keep salad greens fresh before you're able to prep:
Best Meal Prep Salad Containers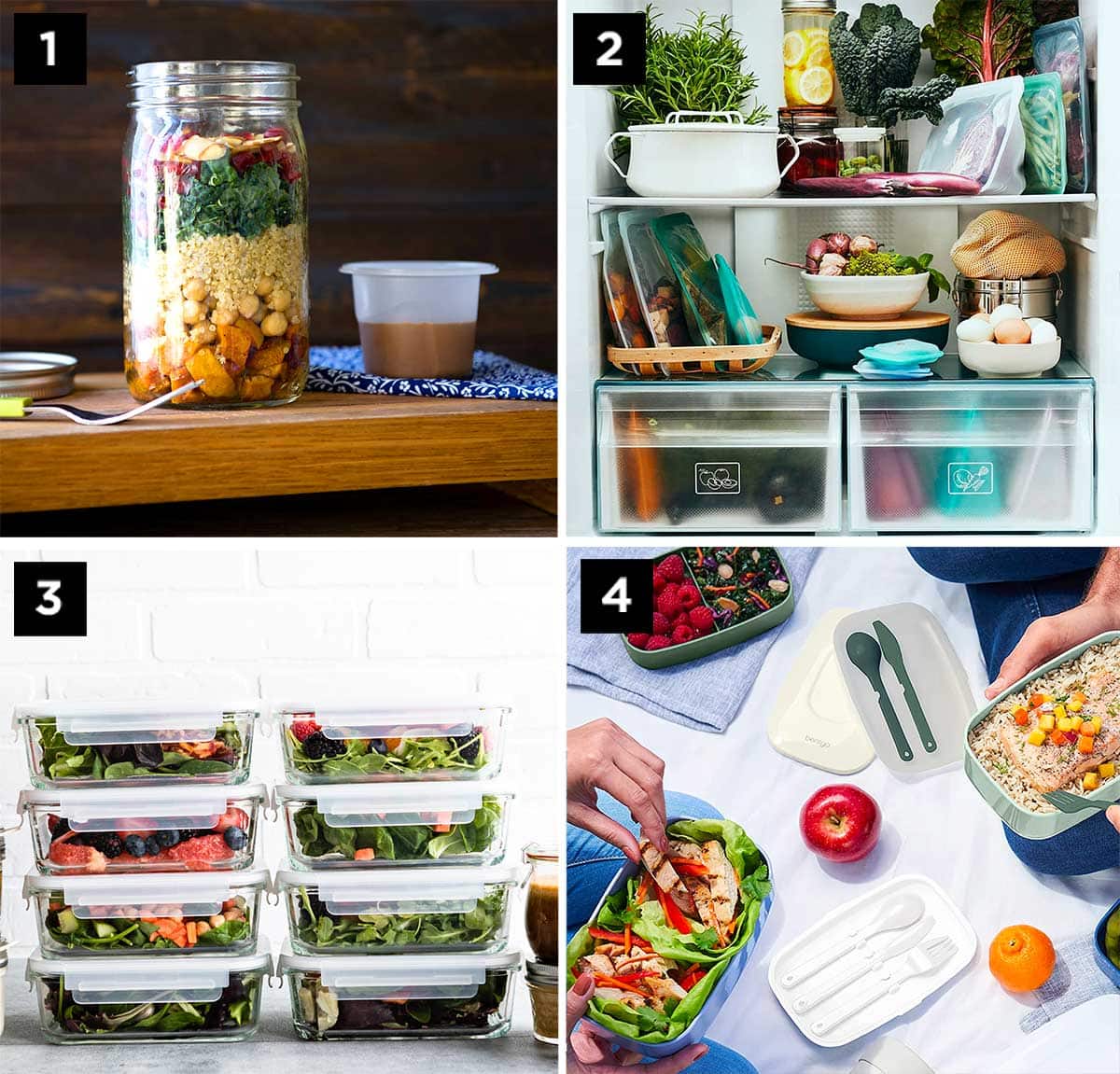 I have an embarrassing collection of salad prep containers. I'm a sucker for new styles and can't pass up anything in my favorite colors (army green and navy blue). The key is that they are air tight, stack nicely and look cute. Here's a few options that have worked well for me:
Best Salad Dressing Containers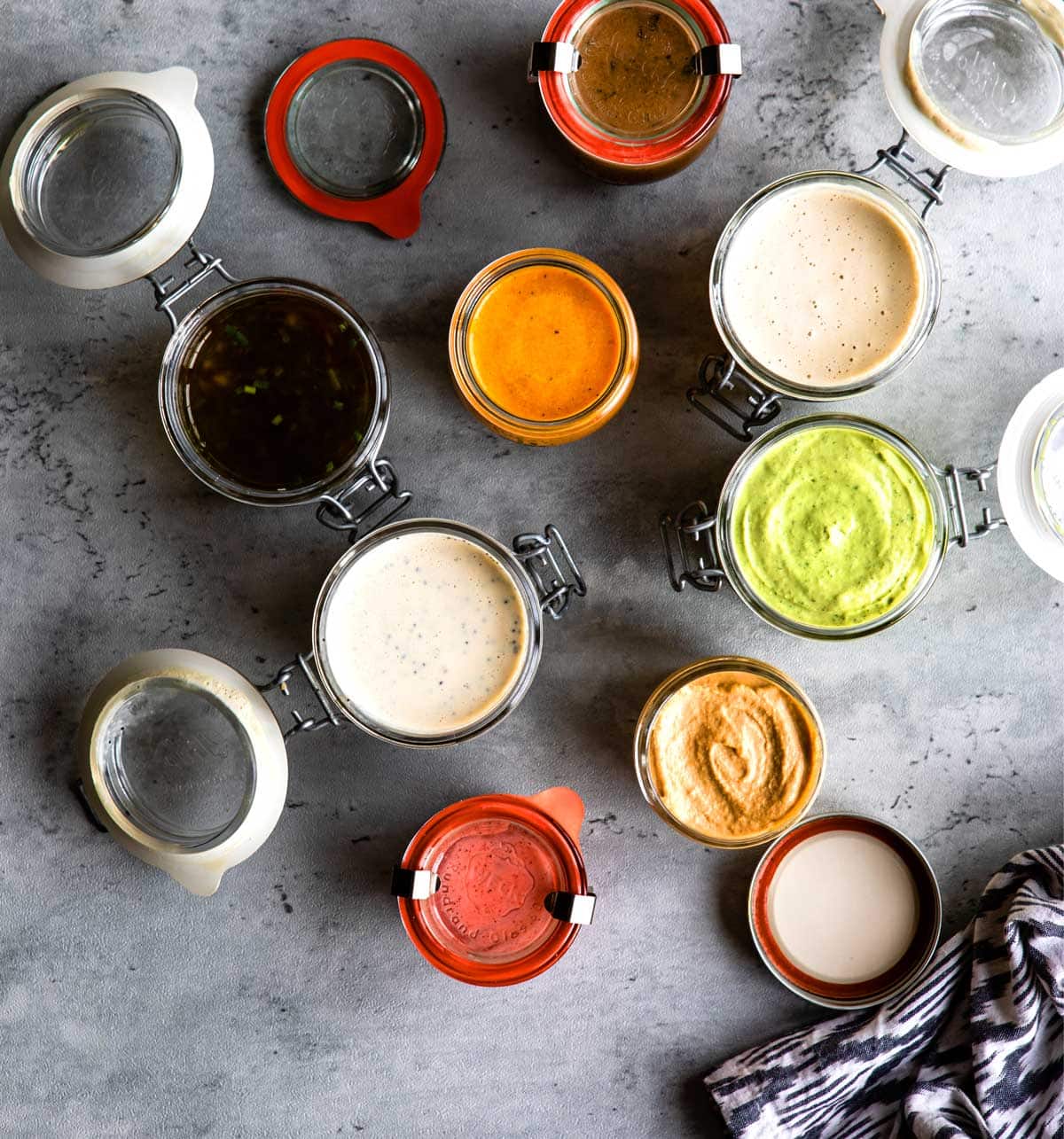 The key to a good salad is the dressing. I love making my own dressing because the flavor is much more robust and the nutrients are much higher too. Plus, make it once and you can use for a week of salads if you have a recipe you love. Below are some dressing containers that I use when I meal prep salads:
Jelly mason jar: affordable and a great size for dressing. If using vinegar in your dressing, the metal band will rust (so make sure to buy back-up plastic lids to use too). I also use these containers to store my supply of homemade deodorant.
Weck mini mold jars: these elegant petite jars always remind me of the French countryside. Not quite sure why, but I'm thinking it's just the craftmanship and artisan vibe. Turns out they are made in Germany, but I still pretend I'm in France.
Hinge-top glass jars: These 7oz containers seal well and store just the right amount of dressing get you through a few meals. I love how easy they are to stack and seal.
How to Store Salad Dressing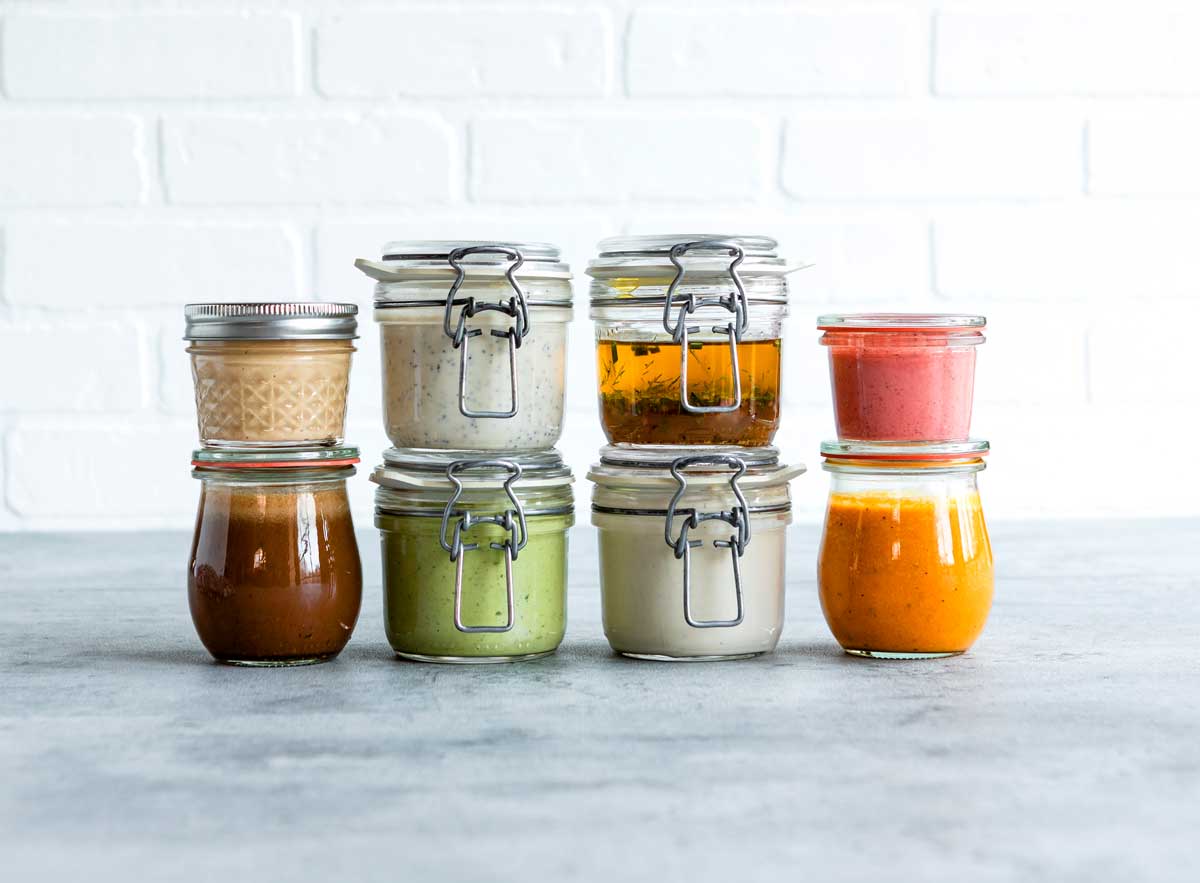 When storing salad dressing, I definitely suggest keeping it in a clear container so you can easily identity each dressing. Salad dressing can be stored in the door of the fridge, stacked on a shelf or even inside the meal prep salad container.
If taking your salad on the go, I suggest keeping it in a lunch box with an ice pack.
Homemade Salad Dressing Recipes
Here's some awesome salad dressings recipes we've created over the years. I love that they can be made in an advanced and enjoyed all week.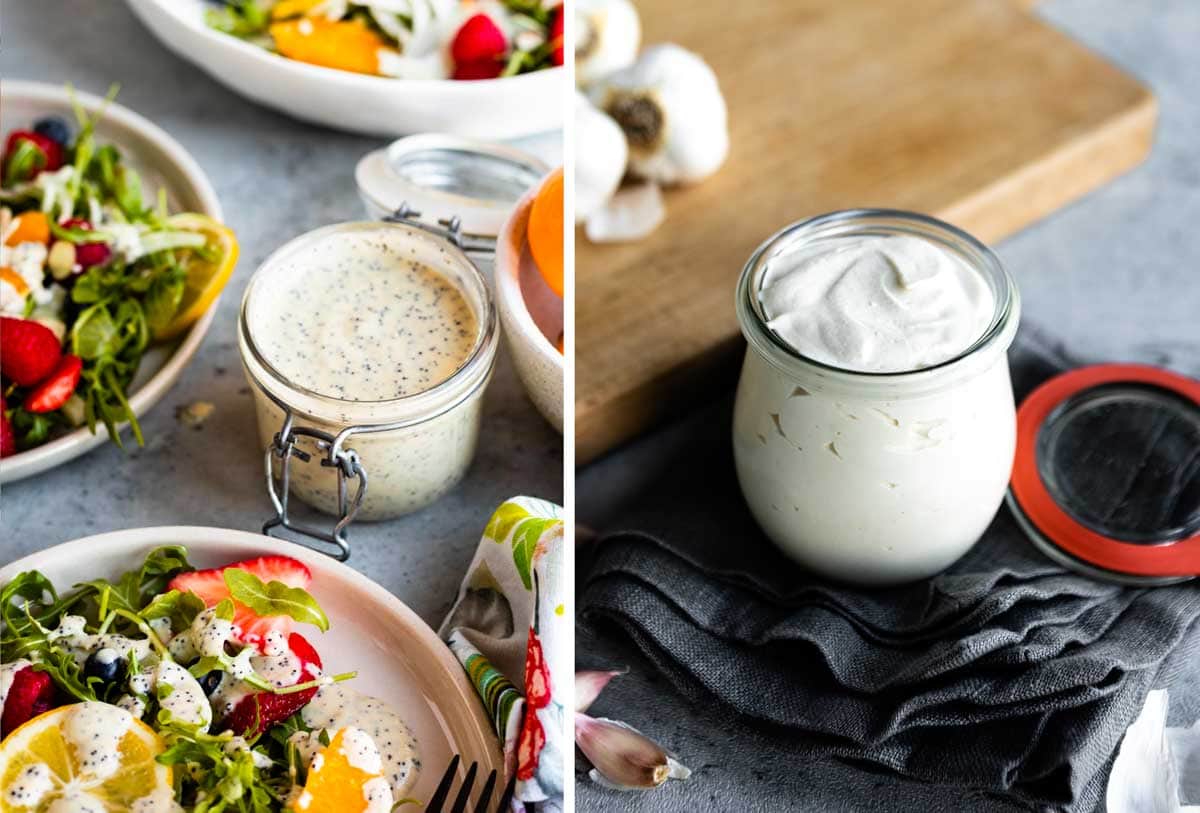 Tips to Meal Prep Salads
Now that our salad prep is coming along, I suggest you decide the recipes you're making and dive in. Start with a base of greens, then add any chopped vegetables, fruit and beans.
In a separate air-tight container, store any dry goods you could use to add some "crunch" to you salad. I love sprinkling pepitas, sunflowers seeds, vegan parmesan cheese and even dried fruit on top. If you haven't learned yet, I like to pile on a variety of toppings to mix up the flavors and textures.
Rawkstar tip: Keep your salad dressing separate until you're ready to eat. Otherwise, you're gonna have a soggy mess— and no one is going to enjoy that.
If you make any of these meal prep salads or use the containers, let me know how it turned out! I'd love to hear what you think in the comments below.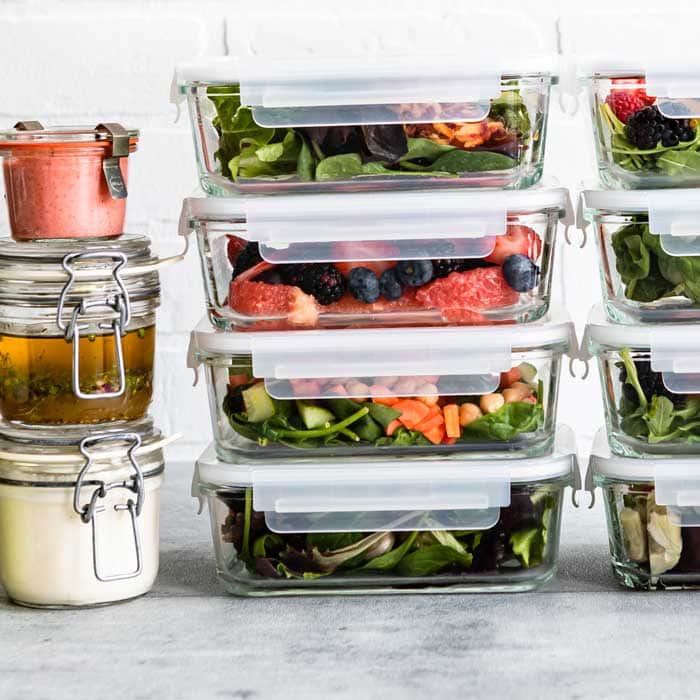 10 Tasty Meal Prep Salads
These hearty, meal prep salads can be made ahead to save you time during the week.
Equipment
2 storage containers

2 small glass jars
Ingredients
4

cups

mixed greens

1

cup

cucumber

sliced

1

apple

green

1

avocado

¼

cup

sliced almonds
Strawberry Dressing
1

cup

strawberries

2

tbsp

basil

2

tbsp

olive oil

1

tbsp

lemon

juiced

2

tsp

maple syrup

¼

tsp

sea salt

¼

tsp

black pepper

ground
Instructions
Puree the dressing ingredients in a blender or food processor. Store in airtight container.

Divide salad ingredients between two salad prep containers.

Store in fridge or lunch box w/ ice pack until ready to eat.
Notes
Mix n' match the salads and dressing recipes to fit your preferences.
Use what you have on hand! Tossing in an extra pepper, olives and more can jazz up your salad + leave you without spoiled ingredients.
Use seasonal ingredients: find out what is fresh right now in your area as it will be the most nutrient dense. 
Nutrition
Calories:
1135
kcal
,
Carbohydrates:
85
g
,
Protein:
21
g
,
Fat:
88
g
,
Saturated Fat:
10
g
,
Polyunsaturated Fat:
14
g
,
Monounsaturated Fat:
58
g
,
Trans Fat:
1
g
,
Sodium:
646
mg
,
Potassium:
2329
mg
,
Fiber:
29
g
,
Sugar:
40
g
,
Vitamin A:
2538
IU
,
Vitamin C:
161
mg
,
Calcium:
280
mg
,
Iron:
6
mg