I love the vibrant ingredients of the Mediterranean, and love making Mediterranean-inspired recipe using these gorgeous ingredients. Are are my top 5 vegetarian Mediterranean recipes that are easy to make and oh so enjoyable.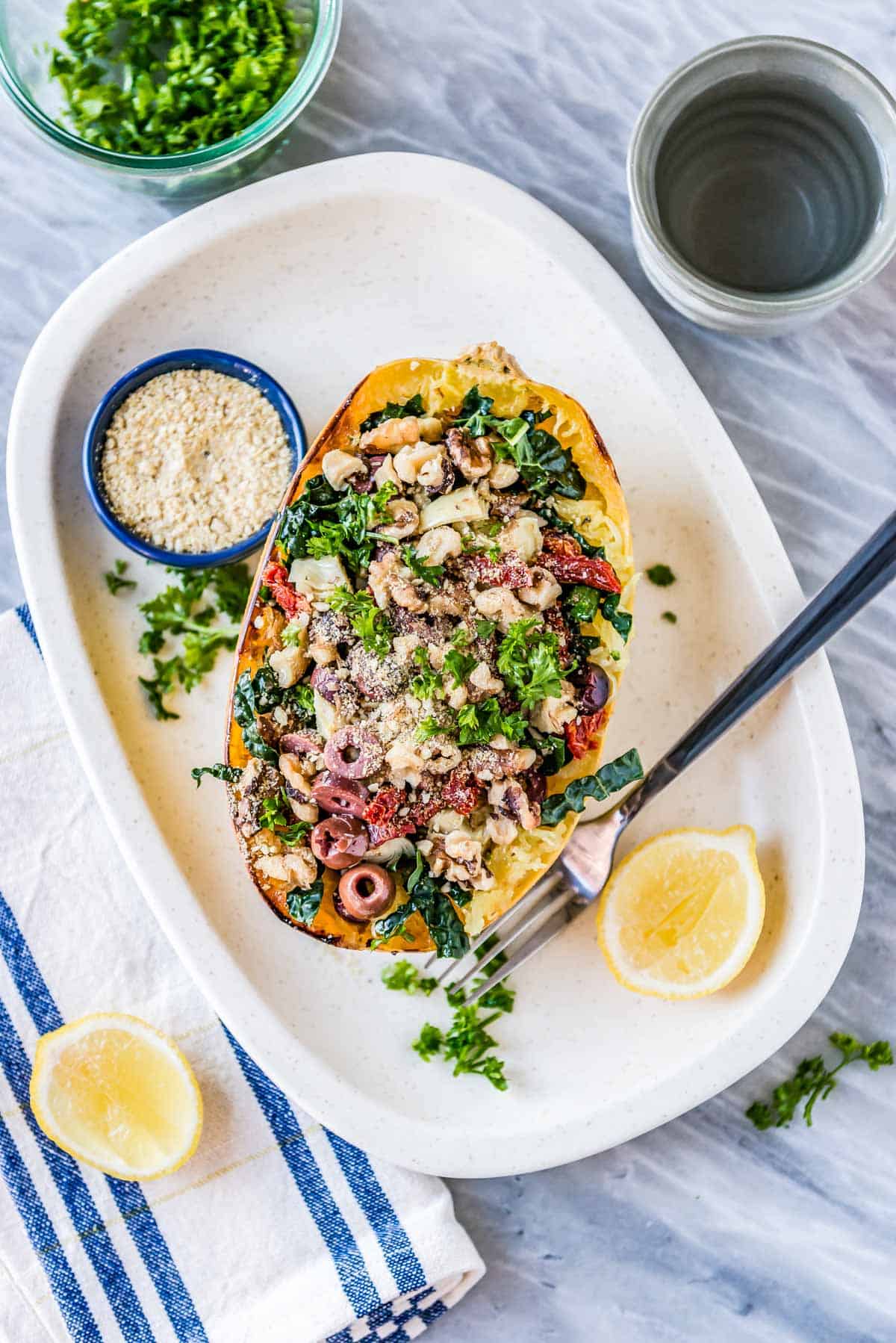 As much as I've grown to love a salad, I still prefer my veggies either blended into a green smoothie or roasted with fun seasonal flavors. These Mediterranean inspired recipes are truly masterpieces at the latter.
Yes I know that's a bold claim. Yet stay with me and see what I mean…
They are packed with veggies AND flavor…oh the flavors!!! Your taste buds are gonna go crazy from all the flavor-fusion happening here. I suggest doubling some of these recipes (especially the Mediterranean veggie bowl below) so you have leftovers galore and can keep on enjoying it. These recipes are also gluten-free and dairy free, which I love because they won't cause bloating or skin issues. Eating a clean, plant-based whole foods diet can really do the body some serious good!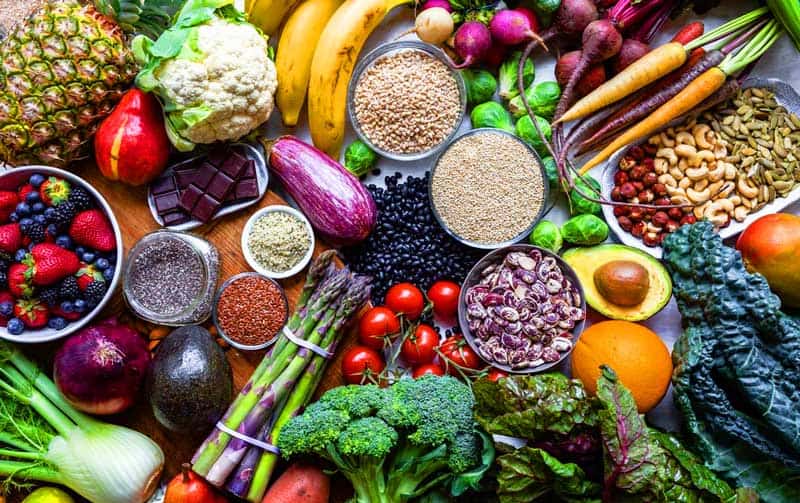 Vegetarian Mediterranean Foods
I adore Mediterranean recipes and love how vegetarian-friendly the mediterranean diet is overall! The more natural, fresh ingredients we eat, the longer we live— study after study has proven that!
What are some examples of Mediterranean food?
If you're wanting to embrace more of a Mediterranean kinda diet, then you have to use ingredients that benefit the body most. Here are some of the most common examples of Mediterranean food you can start incorporating into you diet (and many are used in the recipe below!)
vegetables
nuts
grains
seeds
herbs
fruit
legumes
unrefined oils
fish
moderate use of cheese, eggs, poultry
Now that you know what a huge part of a Mediterranean diet looks like, it's time to put it into practice with one of my favorite recipes from Seasonal Cleanse. Here's to good health and happiness!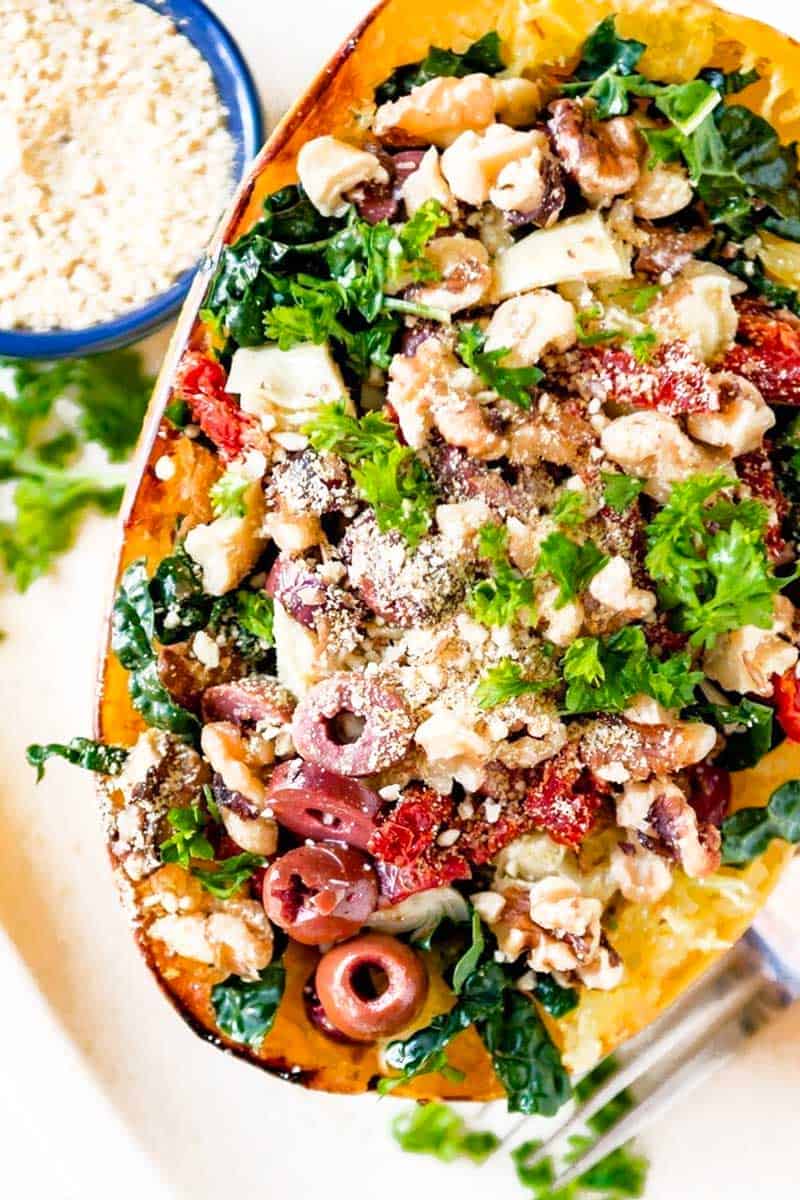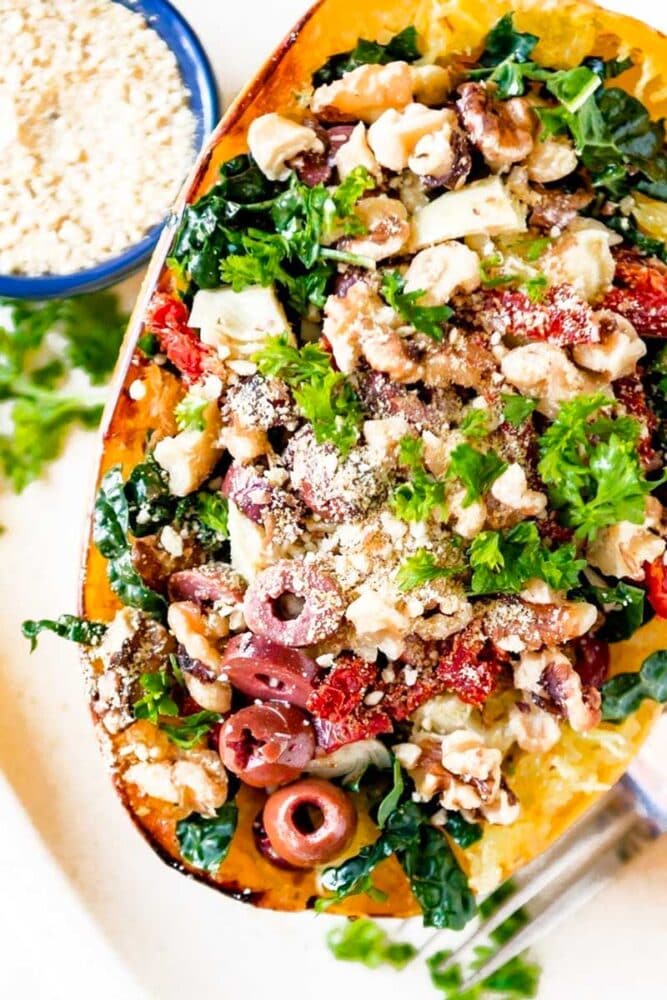 5 Mediterranean Diet Recipes for Beginners
After you make this tasty dish below, you should check out these five mediterranean inspired recipes for beginners:
Herb Hummus: If you've got this recipe on hand, then you'll never need store-bought hummus again! Along with iron-rich chickpeas, I've included loads of fresh, vibrant herbs to add extra vitamins, minerals, and leafy green love to an already beloved dip.
Pumpkin Soup: One thing I really love is a good vegan pumpkin soup. It's healthy, filling, comforting, and warms you up when the weather is chilly. Check out the recipe notes for all the variations.
Kale Chickpea Salad: This easy-to-assemble, seasonal salad is perfect when you need lunch on the go! Packed with protein, healthy fat, and antioxidant rich pomegranate seeds, this autumn-inspired salad is sure to keep your body fueled through the afternoon.
Vegetarian Taco Salad: I've spiralized sweet potatoes and used walnuts as a protein source for this delicious taco salad recipe.
Roasted Vegetarian Bowl: Loaded with salty kalamata olives and rich nutritional yeast, the recipe below is the perfect Mediterranean recipe for you to enjoy right now.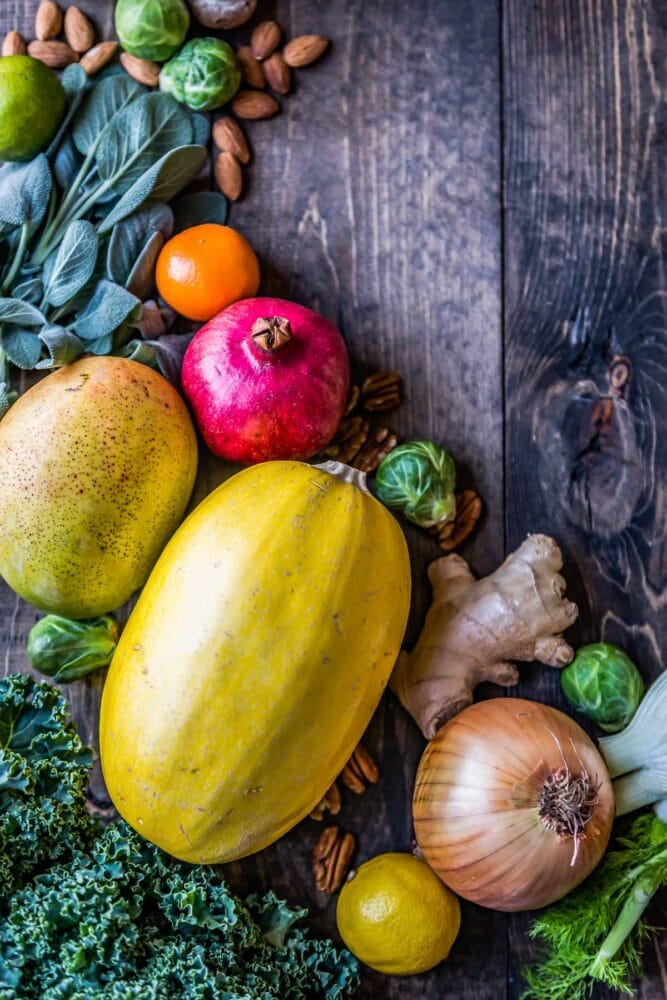 Using mediterranean recipes to heal
If you're ready for more energy and less weight, then check out my 7-Day Plant-Based Whole Foods Reset. You'll have a shopping list, meal plan and simple recipes to help you take control of your health as well as reset your body… in just 7 days.
If you're new to the world of plants, grains and rich oils, then you're not alone! I feel like there was a time when I watched a lot of people cook on TV, yet I wasn't actually doing it. It can be intimidating at first to take the reins in the kitchen. Yet once you find a few staple recipes you love, like this Mediterranean recipe, you can really be set free to experiment and find your own favs.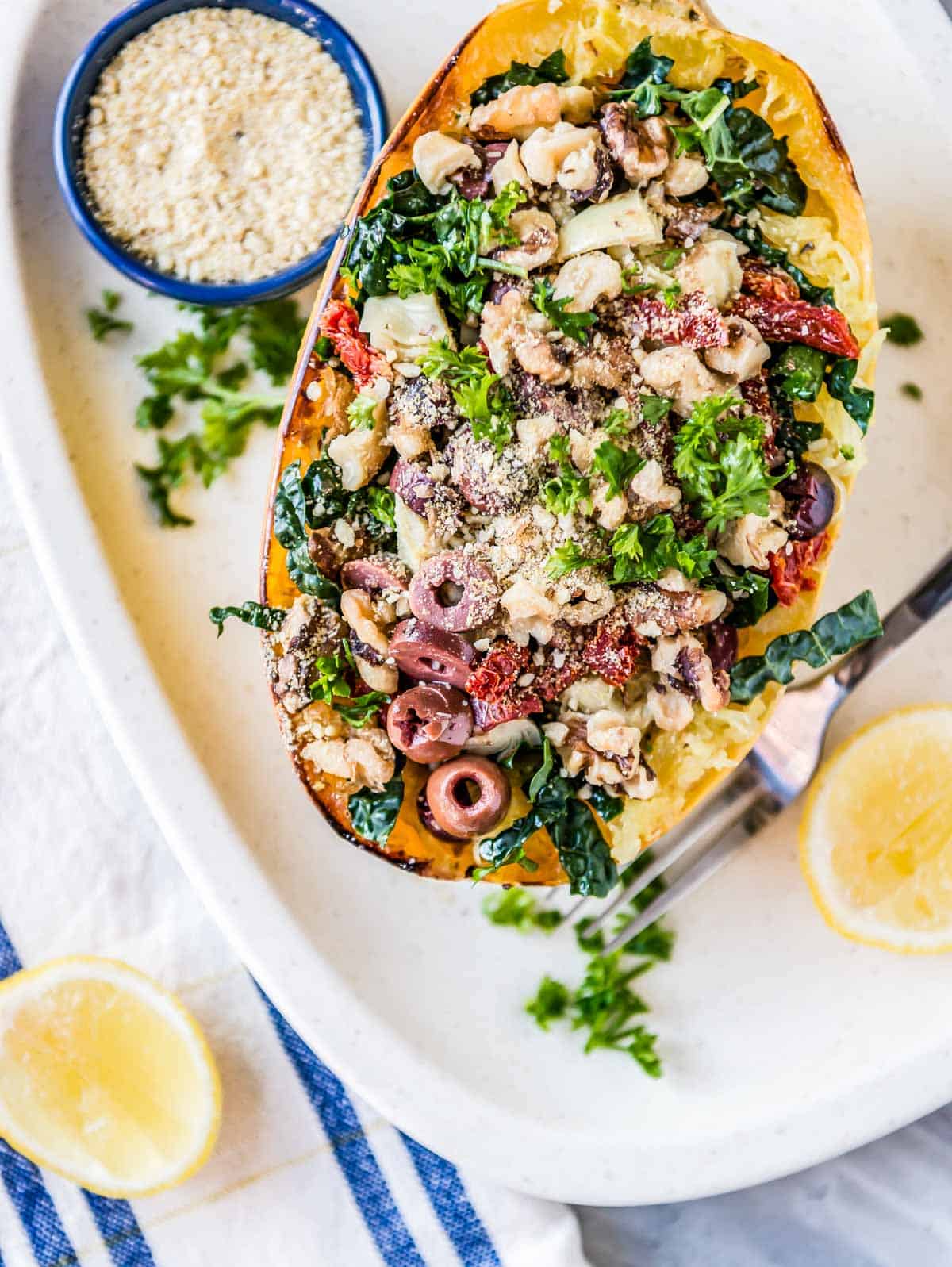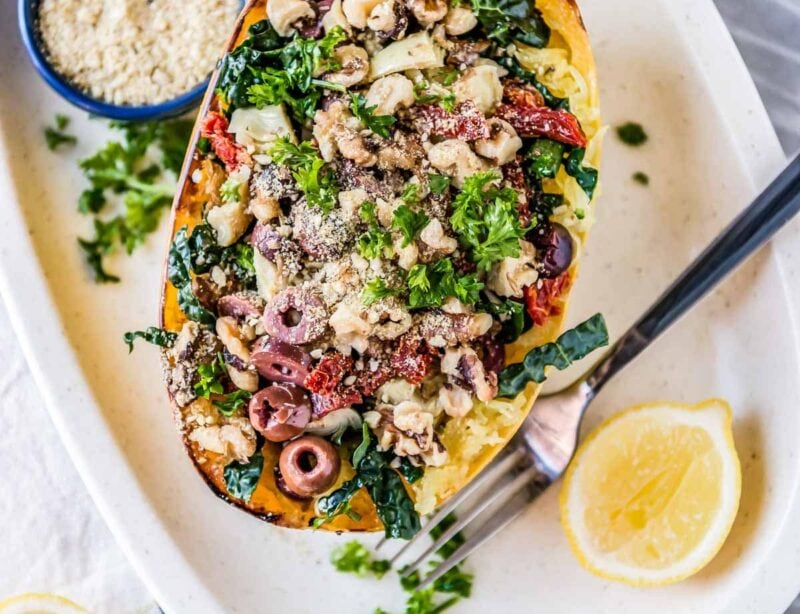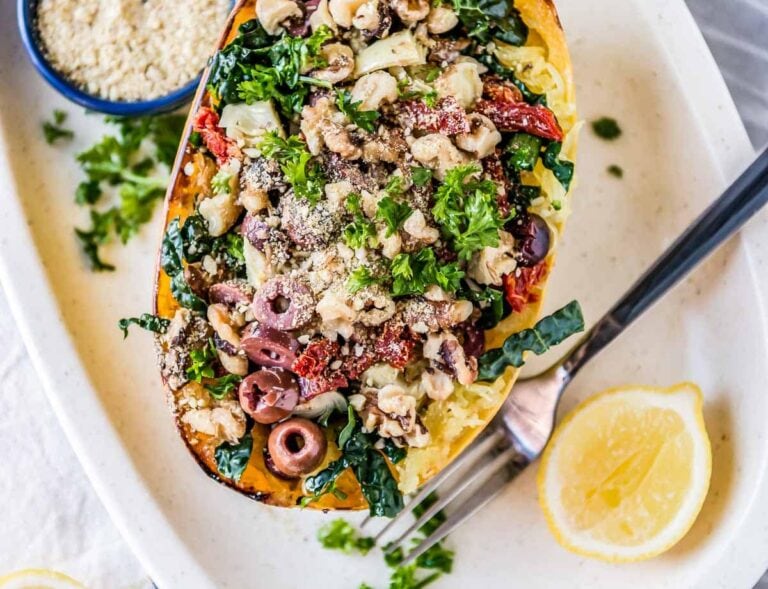 Roasted Vegetable Mediterranean Recipe
I'm a huge fan of swapping traditional pasta for veggie noodles in this mediterranean recipe. And this one is no different! Spaghetti squash is very mild and has a great texture that can hold up to sauces and toppings like a champ. 
Ingredients
FOR BOWL
½

spaghetti squash

seeds removed

1

tsp

olive oil

⅛

tsp

sea salt

⅛

tsp

black pepper

ground
Toppings
1

cup

kale

cut into ribbons

¼

cup

marinated artichoke hearts

drained and chopped

2

tbsp

kalamata olives

2

tbsp

raw walnuts

chopped

2

tbsp

sun-dried tomatoes

chopped

1

tbsp

lemon

juice

2

tbsp

fresh parsley

roughly chopped

crushed red pepper

to taste

1

tbsp

nutritional yeast

1

tbsp

raw almonds

1

tbsp

raw cashews

.5

tsp

sea salt

.5

tsp

garlic powder
Instructions
Preheat oven to 400°F. Line a baking sheet with parchment paper.

Place the squash half on the baking sheet and sprinkle with olive oil, salt and pepper. Flip it over and bake, cut-side down for 40–45 minutes.

While baking, prepare the vegan parmesan cheese: Place all ingredients in small food processor and pulse until finely chopped. The mixture should look like breadcrumbs. Set aside.

While baking, prepare the vegan parmesan cheese: Place all ingredients in small food processor and pulse until finely chopped. The mixture should look like breadcrumbs. Set aside.
To Serve
When squash is done, remove from oven and scrape the inside of the squash with a fork to create "strands". Use a fork to scrape the squash strands away from the shell.

Squeeze lemon juice over the top, and all toppings, including Vegan Parmesan Cheese. Eat immediately.
Notes
Vegan Parmesan makes a great topping
Eat within 24 hours, or the spaghetti squash 'noodles' start to go mushy. 
Use the nuts or seeds of your choice in place of walnuts. 
Nutrition
Calories:
597
kcal
,
Carbohydrates:
59
g
,
Protein:
19
g
,
Fat:
38
g
,
Saturated Fat:
4
g
,
Polyunsaturated Fat:
14
g
,
Monounsaturated Fat:
12
g
,
Sodium:
2029
mg
,
Potassium:
1568
mg
,
Fiber:
18
g
,
Sugar:
20
g
,
Vitamin A:
8606
IU
,
Vitamin C:
106
mg
,
Calcium:
379
mg
,
Iron:
7
mg