I've eaten this fun vegetable for years and still am in awe of how it looks just like spaghetti noodles! It can be daunting to cook it if you never have before, so let me share my go-to recipe for Oven Roasted Spaghetti Squash.
If you've ever tried to find a gluten-free dinner or grain-free recipe, or just a unique take on spaghetti then you've probably heard of spaghetti squash. This vegetarian Mediterranean recipe is delightfully seasoned and packed with a variety of ingredients to keep it fun. I love this recipe and look forward to enjoying it through the cooler months. I can't wait for you to fall in love with it, too!
I find my body is happier and energized when fueled by plants. This recipe is one of my favorites and it's been around Simple Green Smoothies a long time. We originally created it for my 7-Day Winter Cleanse. I love the flavors so much, it actually was the inspiration for my Stuffed Portobello Mushrooms!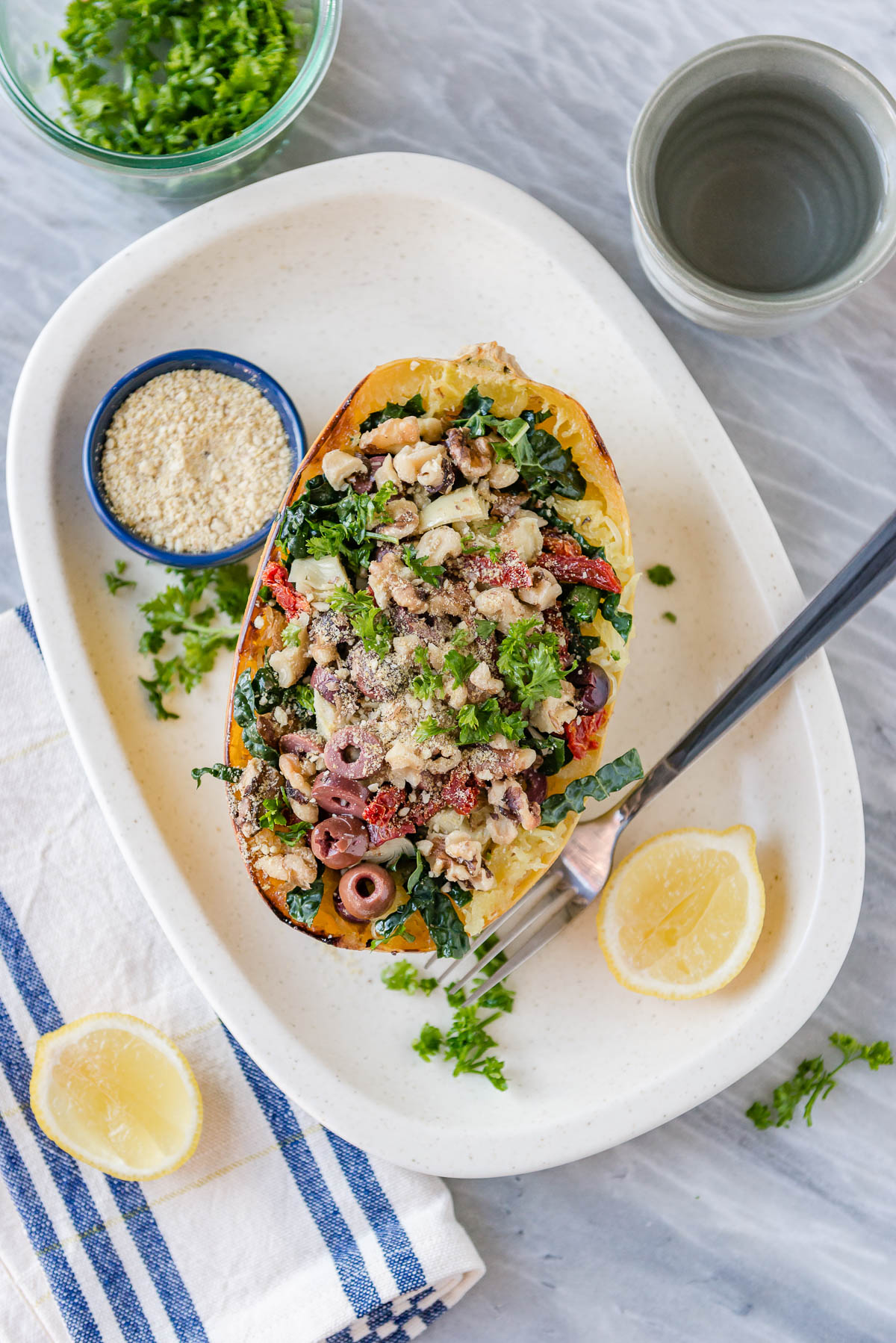 Table of Contents
Oven-Roasted Spaghetti Squash Ingredients
If you're looking for a simple "this is how to roast spaghetti squash" then you're in the right place. Just a few ingredients can render a perfectly roasted squash with minimal prep.
If you want to take this dish to the next level, check out the toppings I use in this recipe (they're seriously delicious).
Spaghetti squash: Just like with pumpkins, when ripe this squash should feel heavy and should be free from cracks and spots. Find one that's hard (no squishy bits!).
Olive oil: The flesh will soak up the oil you use which means you'll taste that oil more in this recipe than some others. So use a good quality one that tastes good to you!
Sea salt & ground black pepper: Please please please season your food. It tastes better! Feel free to just use salt if you're sensitive to pepper.
Spaghetti Squash Toppings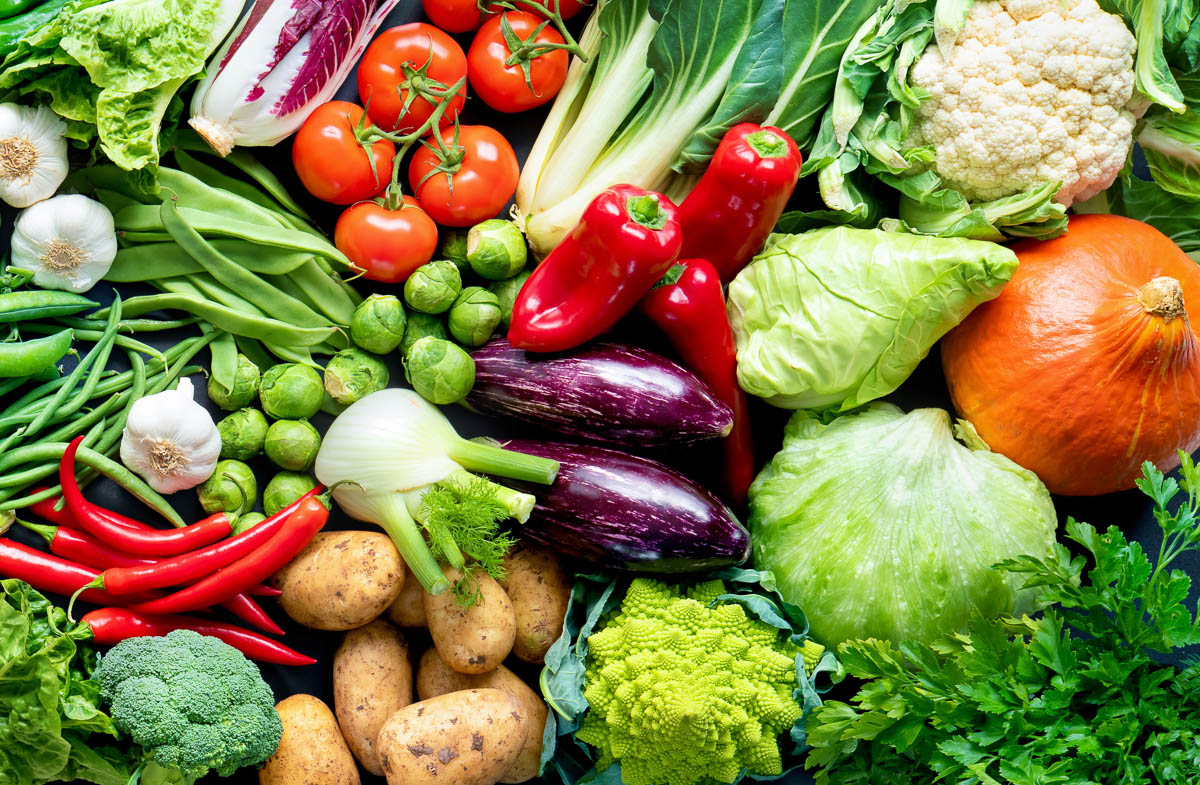 While your squash is roasting work on the toppings that truly make this dish outstanding. These toppings are used throughout the Mediterranean Diet and aren't only for flavor! They also add to the 11 grams of protein, 15 grams of fiber, vitamin A and potassium this meal has to offer.
These are my favorite toppings to add to oven-roasted spaghetti squash:
kale
artichoke hearts
walnuts
sun-dried tomatoes
fresh lemon juice
fresh parsley
crushed red pepper
garlic powder
How to Roast Spaghetti Squash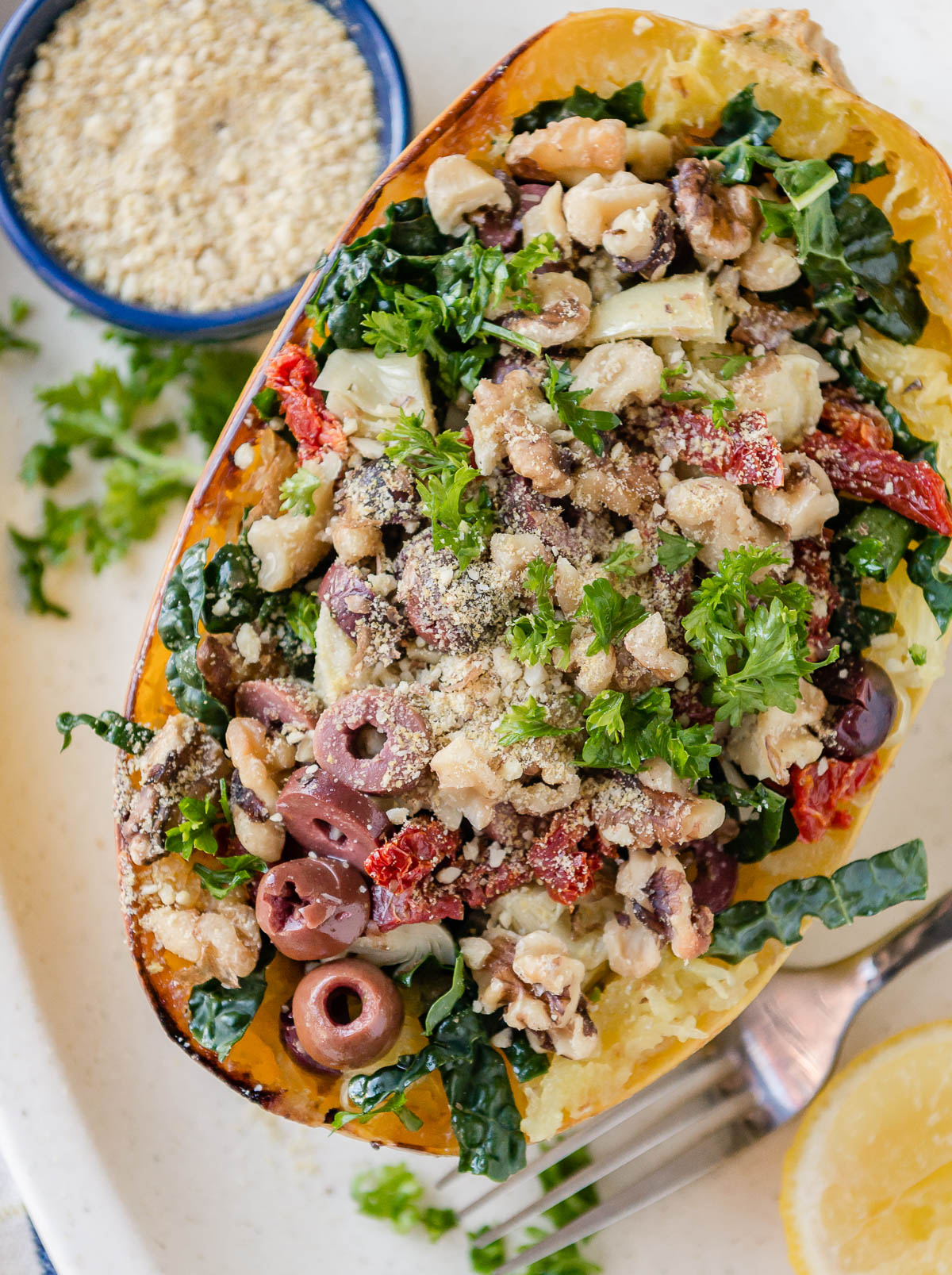 To easily and safely prepare this fun spaghetti squash recipe, make sure you have a large cutting board and a sharp chef's knife.
Preheat the oven to 400°F. Line a rimmed baking sheet with parchment paper for easy clean up and also so that the squash doesn't stick to the baking sheet. This vegetable has a lot of water in it, so a rimmed sheet will ensure that doesn't drip to the bottom of your oven while baking.
Slice the squash in half length-wise using a chef's knife. You'll see that each half has seeds, so use a spoon to scoop all of those out.
Place both halves onto the prepped baking sheet cut side up then drizzle with olive oil, salt and pepper. Flip the halves over and bake for 40-45 minutes or until tender.
Once it's done cooking, carefully remove both halves from the oven. Use a fork to scrape along the insides of each piece. This will lift the strands away from the skin and transform into spaghetti "noodles" right before your eyes.
Transfer the squash noodles to two bowls and top with any or all of the toppings you just prepped.
FAQs
At what temperature do you roast spaghetti squash?
I roast it in halves at 400°F for 40-45 minutes or until it is tender.
Can diabetics eat spaghetti squash?
Diabetics can enjoy spaghetti squash as part of their meal. Make sure to include plenty of other items with protein and healthy fat to help your body break down the carbs from this starchy vegetable.
How long do you keep squash in the oven?
At 400°F, it takes about 40-45 minutes to cook spaghetti squash in a rimmed pan until it's fork tender.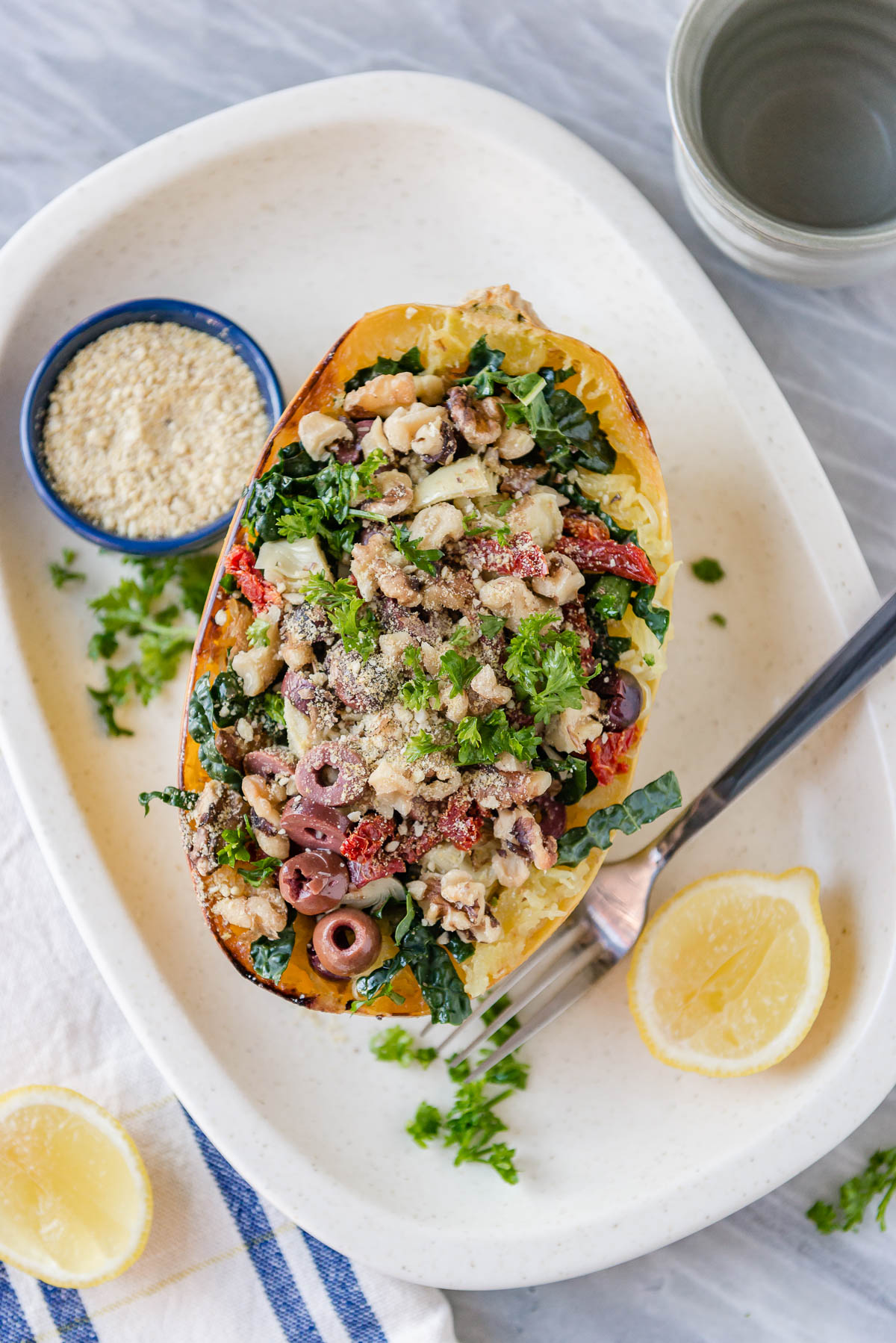 More Roasted Squash Recipes
If you loved the flavors in this dish then let me share a few more that are equally awesome! I love roasted squash dishes that are bright and full of flavor. Here are a few more to try:
Butternut Squash Smoothie: This butternut squash smoothie is warm, soothing and perfect for those frost-bitten mornings. Grab your favorite pair of wool socks and get snuggly.
Roasted Butternut Squash: Learn how to cube, roast and season butternut squash to perfection.
Vegan Pumpkin Soup: Bring on Fall with this lovely seasoned, puréed soup.
I hope you give this special recipe a try. It's just that good! And don't forget to rate + review it once you do; I love getting your feedback.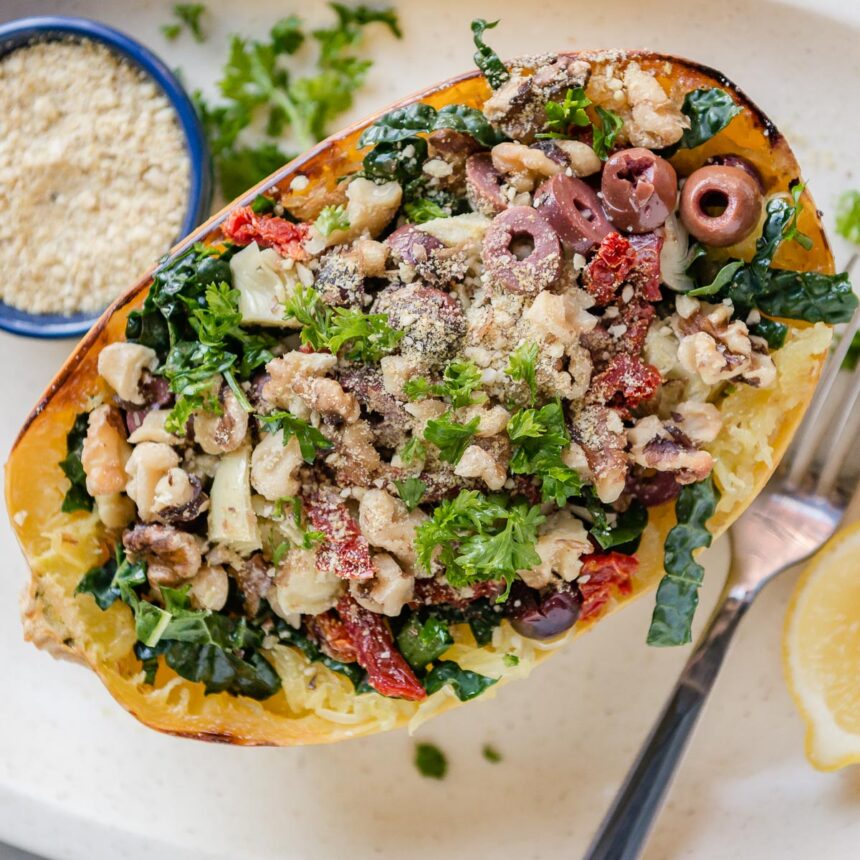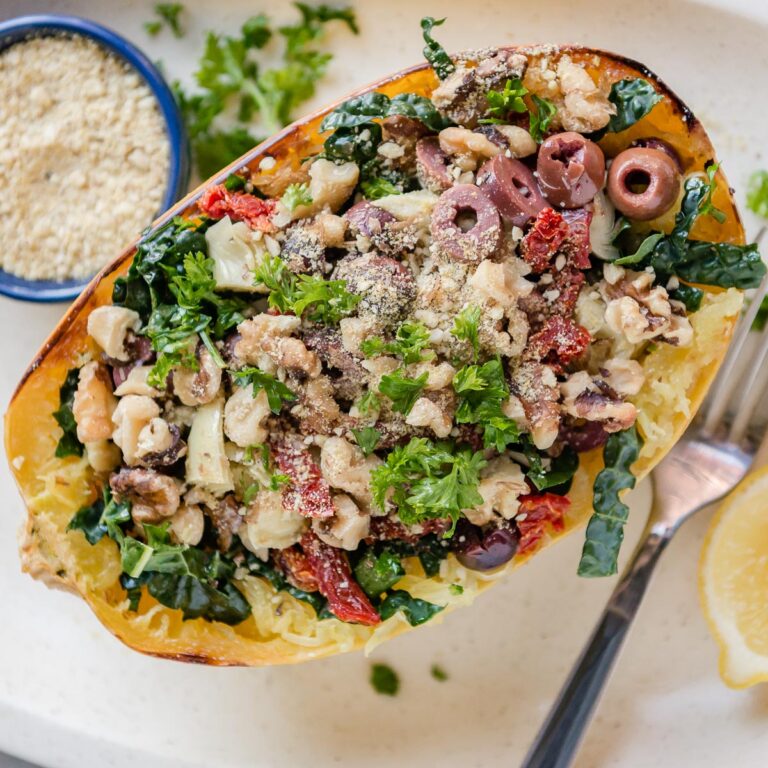 Oven Roasted Spaghetti Squash
I'm a huge fan of swapping traditional pasta for veggie noodles in this Mediterranean-inspired recipe. Spaghetti squash is very mild and has a great texture that can hold up to sauces and toppings like a champ. Enjoy it to the fullest wrapped in olive oil, artichoke hearts, olives and sun-dried tomatoes topped with crunchy walnuts and perfectly seasoned.
Ingredients
FOR BOWL
1

spaghetti squash

seeds removed

2

tsp

olive oil

¼

tsp

sea salt

¼

tsp

black pepper

ground
Toppings
2

cups

kale

cut into ribbons

½

cups

marinated artichoke hearts

drained and chopped

4

tbsp

kalamata olives

4

tbsp

raw walnuts

chopped

4

tbsp

sun-dried tomatoes

chopped

2

tbsp

lemon

juice

4

tbsp

fresh parsley

roughly chopped

¼

tsp

crushed red pepper

to taste

1

tsp

sea salt

1

tsp

garlic powder

2

tbsp

Vegan Parmesan Cheese

for serving
Instructions
Preheat oven to 400°F. Line a baking sheet with parchment paper.

Set a whole spaghetti squash on a large cutting board. Using a sharp chef's knife, half the spaghetti squash length-wise. Use a spoon to scrape out the seeds in both halves.

Place the squash halves on the baking sheet and sprinkle with olive oil, salt and pepper. Flip them cut side down and bake for 40–45 minutes.

When squash is done, carefully remove from oven and scrape the inside of the squash with a fork to create "strands". Use a fork to scrape the squash strands away from the shell and into 2 bowls.

Top with any or all of the toppings listed above and serve immediately.
Notes
You can also top with cashew cream.
Eat within 24 hours, or the spaghetti squash 'noodles' start to go mushy. 
Use the nuts or seeds of your choice in place of walnuts. 
Since you will taste the olive oil as it soaks into the squash, I recommend using a higher quality oil that tastes good.
Swap vegan parmesan cheese with regular parmesan if you are fine with adding dairy.
Nutrition
Calories:
459
kcal
,
Carbohydrates:
51
g
,
Protein:
11
g
,
Fat:
29
g
,
Saturated Fat:
3
g
,
Polyunsaturated Fat:
12
g
,
Monounsaturated Fat:
7
g
,
Trans Fat:
0.1
g
,
Sodium:
2032
mg
,
Potassium:
1283
mg
,
Fiber:
15
g
,
Sugar:
19
g
,
Vitamin A:
8677
IU
,
Vitamin C:
104
mg
,
Calcium:
347
mg
,
Iron:
5
mg