Today I'm sharing a simple beverage that can help you fall asleep. When I have trouble falling asleep, I turn to drinks like this moon milk recipe to relax my body naturally and help me sleep peacefully. If this is something you struggle to do then try out this pretty pink drink!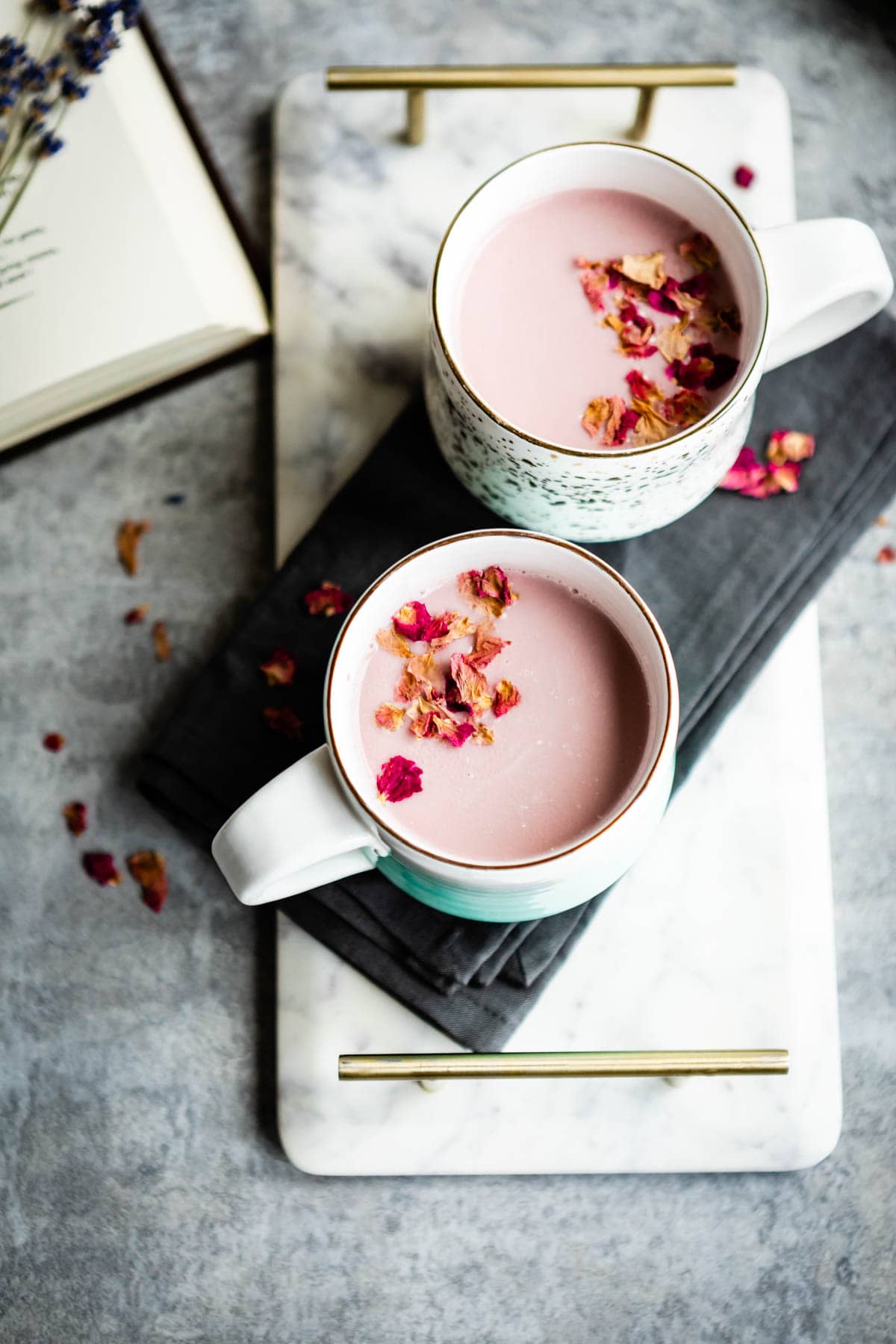 Table of Contents
How to Make Moon Milk
This recipe is as simple as brewing tea. I like to warm the cashew milk over the stovetop, so as to not heat it too quickly. You can also use an electric kettle for this step.
You can omit the honey from this recipe to cut back on the natural sugar, yet you might find it lacking in sweetness if you do. Feel free to swap honey with the natural sweetener of your choice.
I purchase my culinary flowers from Mountain Rose Herbs as I trust their products. If you can find local culinary dried flowers that would be awesome!
Adaptogens help your body destress. Adding in Lion's Mane powder or Ashwagandha powder is a great addition to moon milk after a long day.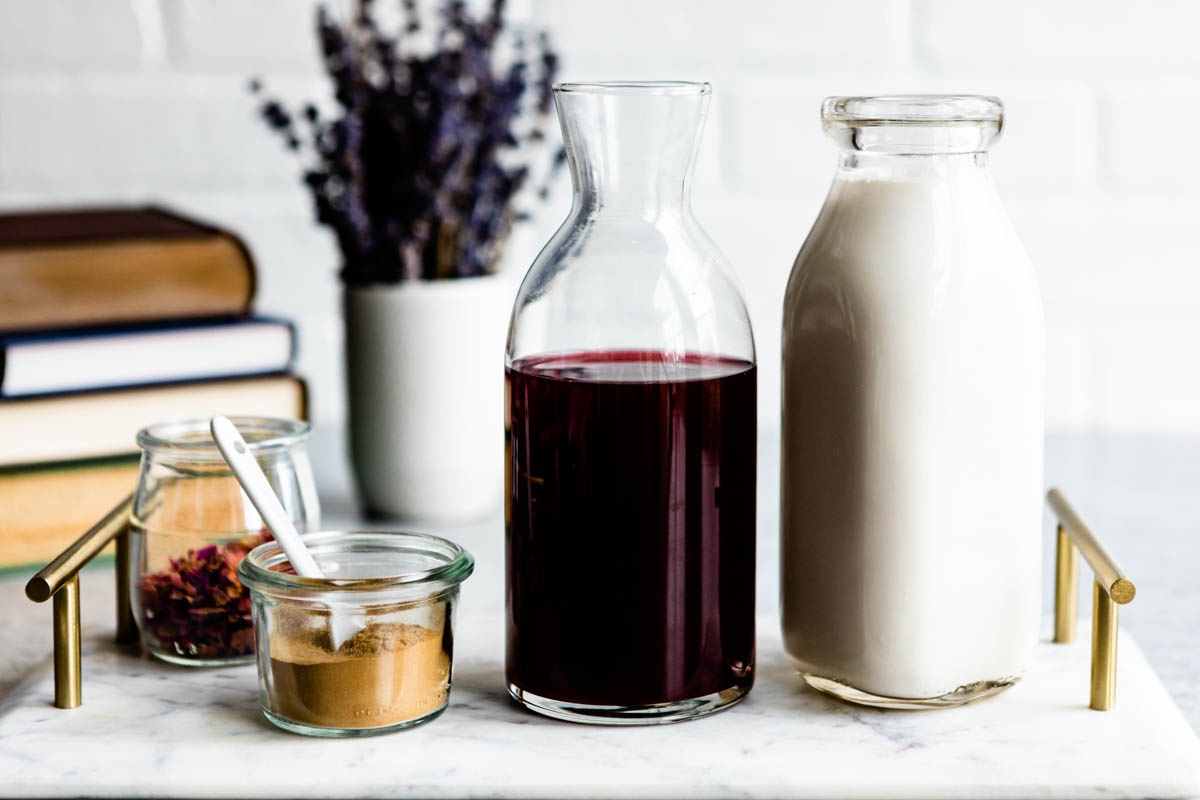 Moon Milk FAQs
What is moon milk?
Moon milk is a nighttime drink to help you fall asleep. It typically contains some type of milk, adaptogens and a sweetener like honey. My version is dairy free (made with cashew milk) and can help calm your body and mind before sleep.
Why is it called moon milk?
The moon milk name is derived from an ancient Indian use to help cure insomnia. Think of it as an all-natural sleep aid.
How often should I drink moon milk?
You can drink it daily, preferably right before going to bed.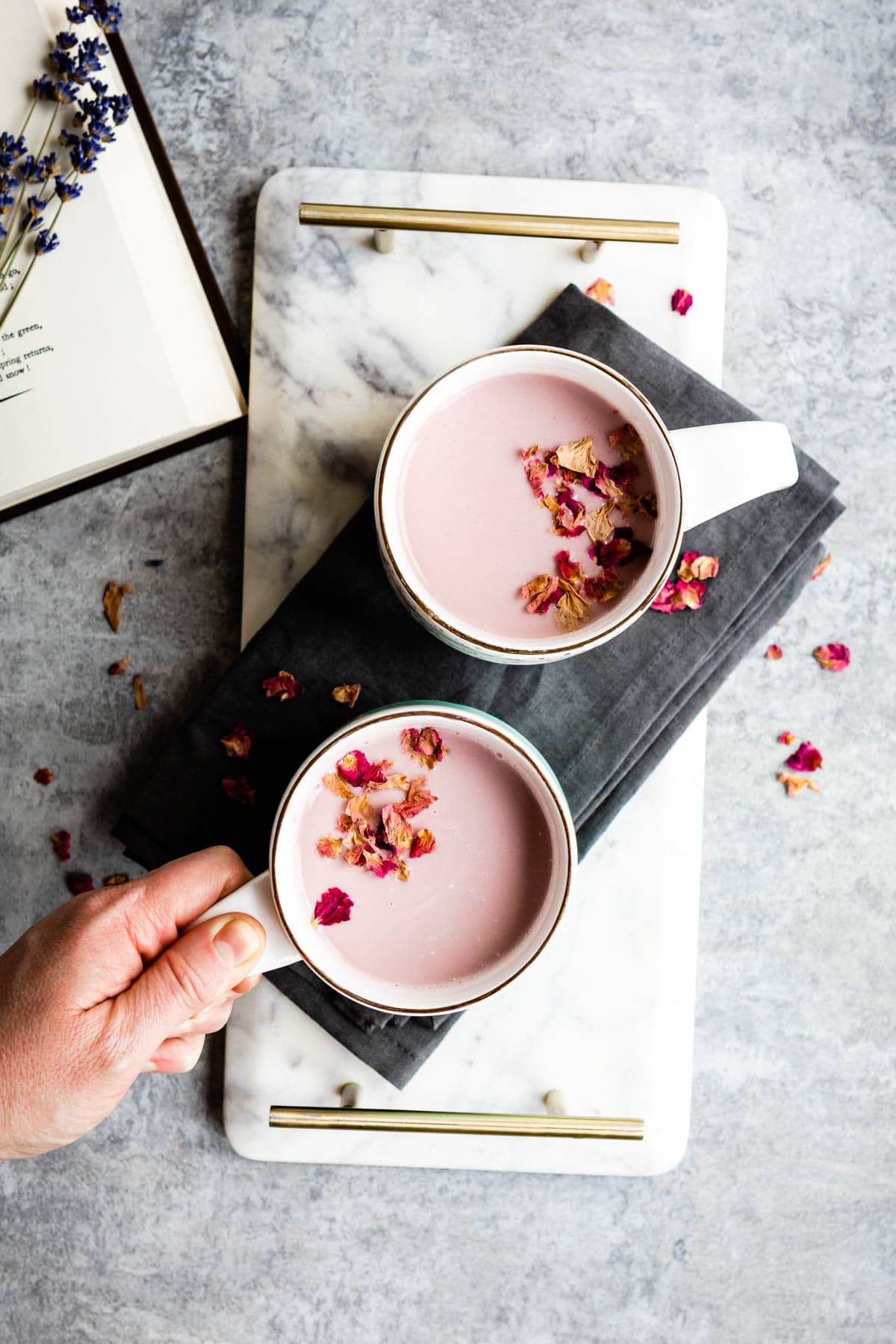 Creating an Environment for Good Sleep
While natural sleep aids like my moon milk recipe below are great, there are many other things you can do to set yourself up for a good night's sleep. Here's how I like to wind down for bed:
Turn off electronics one hour before bed. I know nighttime might be your only time to catch up on social media or scroll through light-hearted videos, but it won't help you sleep! Instead, set a timer for one hour before bedtime and turn off that device. Read a book, meditate or talk to your loved ones before turning in.
Keep your bedtime consistent. Going to bed and waking up at the same time each day gives your body a natural pattern to follow. If you do this for several days in a row, you'll find a good rhythm that will help you fall asleep faster and wake up feeling more refreshed.
Get rid of the lights. Even the little glow from a charger can disrupt sleep! Try to keep lights out of your bedroom while you're sleeping. Plug electronics in the hall or kitchen to avoid having them light up while you're trying to fall asleep.
Try these tips for seven days, then let me know how it goes! Are you more rested? More energized? In a better mood? What are your go-to methods to help you fall asleep? I want to hear it all.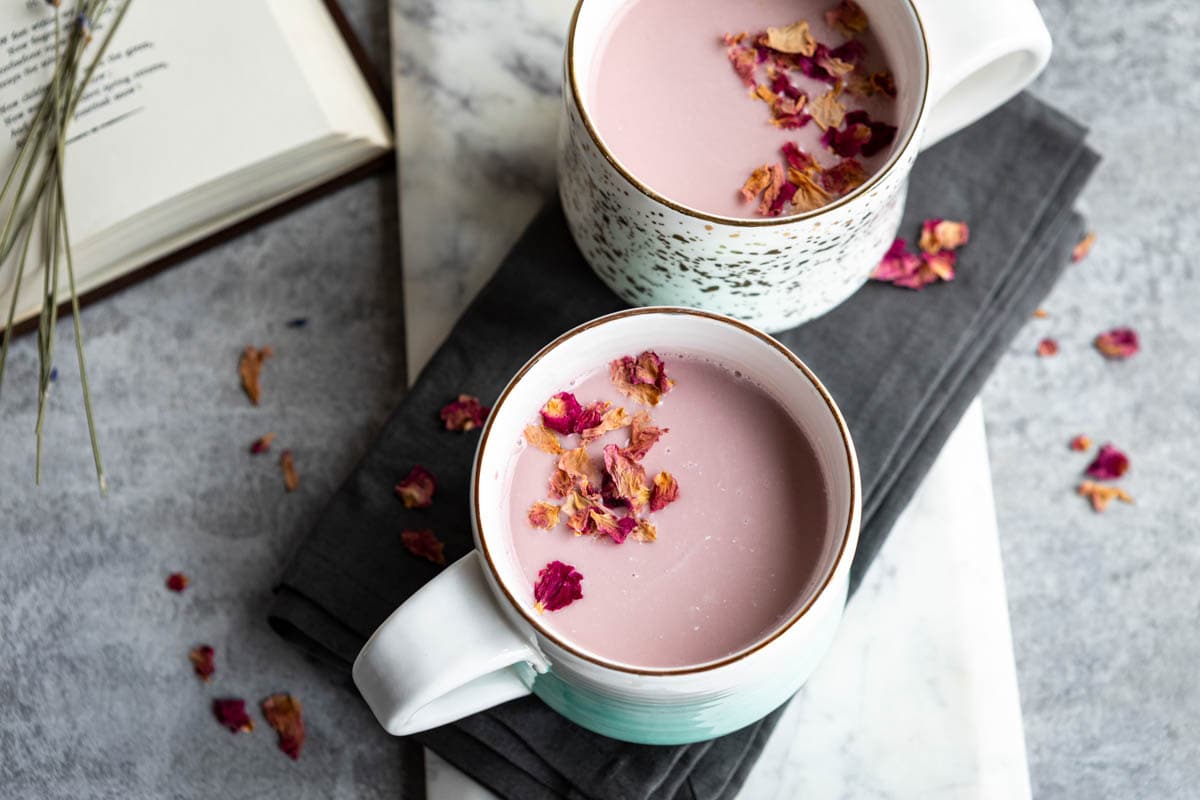 Drinks to Help You Sleep
If sleep alludes you on a regular basis, then try one of these calming recipes designed to soothe your body into natural slumber:
Pharmaceutical sleep aids often leave me groggy for hours after I wake up and give me super weird dreams. I've turned to plants to guide me toward good and fulfilling sleep. When I can't get my mind to stop running or I find myself restless before bed, I turn to the beverages listed above or my moon milk recipe below.
Let me know how this fun recipe turned out for you by leaving a rating + review. I love getting your feedback!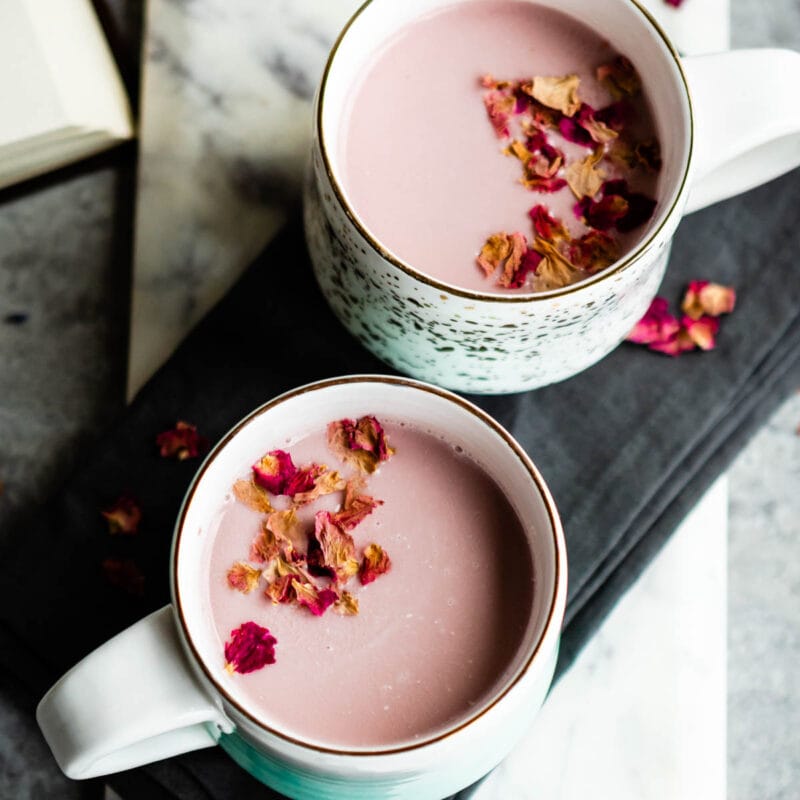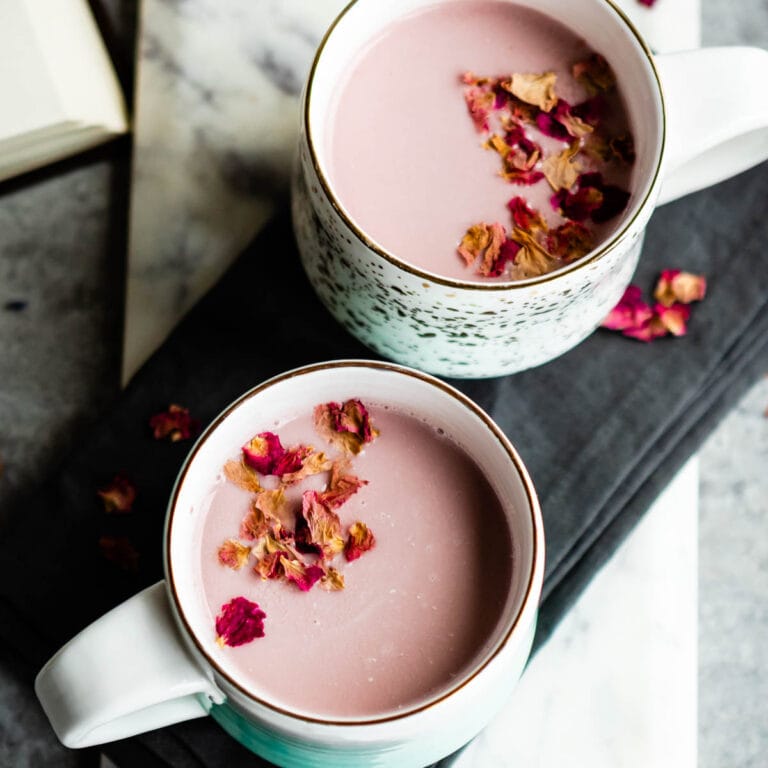 Pink Moon Milk
Try this warm pink moon milk recipe to help you drift off into dreamland. I like to sip this at night to calm my mind and body before sleep.
Instructions
Gently heat cashew milk in a small pan over medium heat until very hot. Remove from heat and whisk in remaining ingredients. For a frothy version, whisk vigorously (use a frother) or blend in a blender.

Divide moon milk between 2 heat-safe mugs. Garnish, if desired, and serve immediately.
Notes
Using store-bought cashew milk works, however, homemade is preferred. Due to the extra ingredients in store-bought brands, the cashew milk will likely separate and curdle when heated and combined with the cherry juice. It will still be fine to drink. 
Follow the suggested serving size for Lion's mane powder depending on the brand used.
Swap cashew milk with the dairy-free milk of your choice.
Swap Lion's mane for 1 tsp of Ashwagandha powder.
Nutrition
Serving:
2
g
,
Calories:
274
kcal
,
Carbohydrates:
66
g
,
Protein:
1
g
,
Fat:
2
g
,
Monounsaturated Fat:
1
g
,
Sodium:
174
mg
,
Potassium:
409
mg
,
Fiber:
1
g
,
Sugar:
57
g
,
Vitamin C:
1
mg
,
Calcium:
21
mg
,
Iron:
2
mg