I love using the natural power of electrolytes to boost energy, especially while training for new adventures. These natural electrolytes smoothie cubes are a great way to help replenish your body after a workout… and who doesn't want to try a blue smoothie?!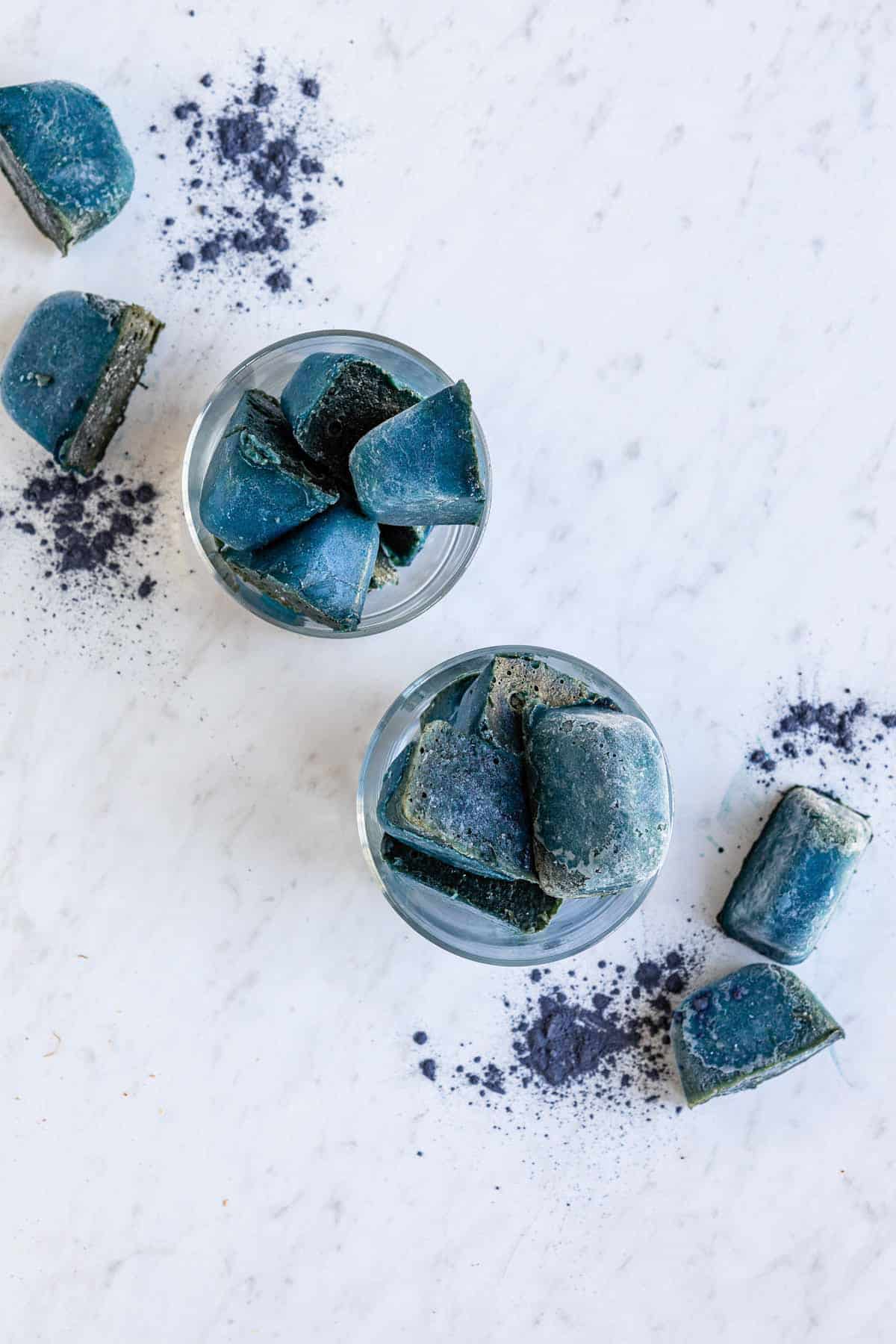 Have you ever spent an active day outside, and failed to stay hydrated? Chances are your body didn't receive enough natural electrolytes. That's why I created a smoothie cube recipe designed to give your body more natural electrolytes. Say goodbye to that electrolyte imbalance, and hello to renewed energy!
Table of Contents
What are Natural Electrolytes?
Electrolytes are minerals that are vital for the body to function normally. Lots of fruits and vegetables contain the electrolytes our bodies need… which is why you often read about them in my blog posts. As a runner + adventure seeker, I work hard to make sure I've got the nutrients I need to live my best life.
Electrolyte minerals include:
calcium
bicarbonate
potassium
sodium
chloride
phosphate
magnesium
I love that plants contain these minerals and we can easily get them by adding more plants to our diet! Let's fuel our bodies with food that works for us, not against us.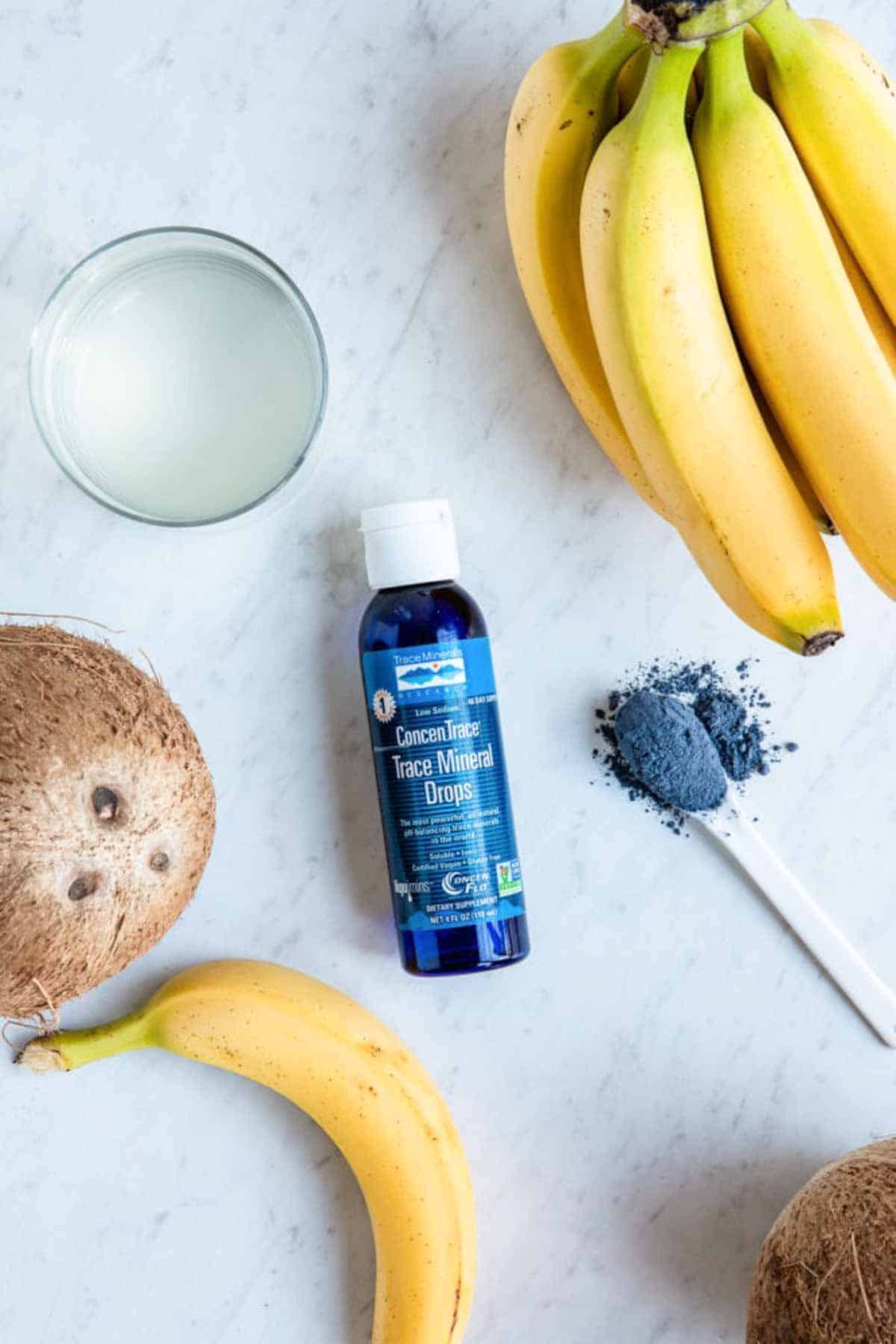 How Can We Boost Our Electrolytes?
During the hotter months of the year, one of our team members, Lindsey, likes to use ConcenTrace® Trace Minerals Drops. They add an extra boost of natural electrolytes on days when she's doing a lot of work outside or perspiring more.
The liquid contains very concentrated levels of minerals sourced from concentrated seawater in Utah's inland sea. Some home water filtration systems remove these minerals from the water, so this is an easy way to add them back.
A mere 20 drops will remineralize a gallon of water. Lindsey says she uses these drops to successfully prevent as well as treat muscle cramping in her legs and other extremities.
Workout remedies
While the below natural electrolytes smoothie cube recipe is great to have on hand, sometimes I need to take electrolytes with me on a long run. If I'm running more than 8 miles (especially in the Florida heat!) I've got some go-to ways to keep my body balanced as well as energized:
Skratch Labs sports hydration drink mix offers concentrated minerals that you just add to water. So you can rehydrate as well as replenish electrolytes at the same time.
LMNT drink mix also focuses on a concentrated mix of minerals to recharge your body.
Both of these mixes are super small and can fit in a pocket or running pack, then used when needed.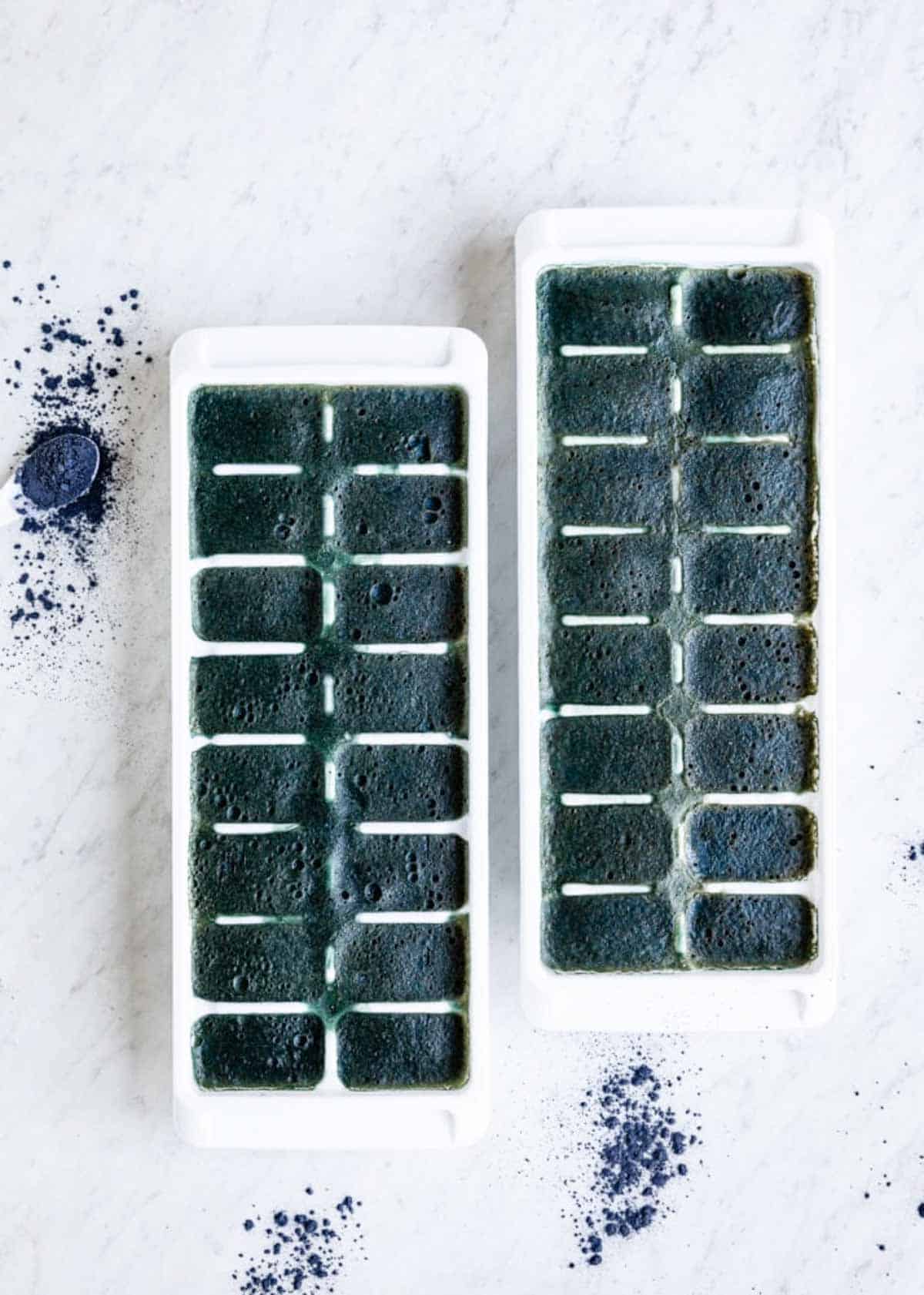 Are sports drinks good for you?
Sports drinks have long been all the rage as ways to hydrate and replenish whether it's during a sports game or other times of physical exertion. However, if you look closely at the labels you'll find some unsavory ingredients including artificial flavors and colors.
In an attempt to appeal to a larger audience, there are even organic, dye-free sports drinks available now. Always read the ingredient list before purchase, and try to choose the most natural electrolyte drink you can find!
Natural Electrolytes Replenishers
There are plenty of fruits and vegetables that provide us with the necessary electrolytes through a varied, healthy diet.
But in the case of an imbalance, there are two excellent, 100% natural electrolyte replenishers that are loads better than sports drinks. Plus, they have fewer ingredients than hydration drink mixes. I'm talking about 100% pure coconut water and bananas.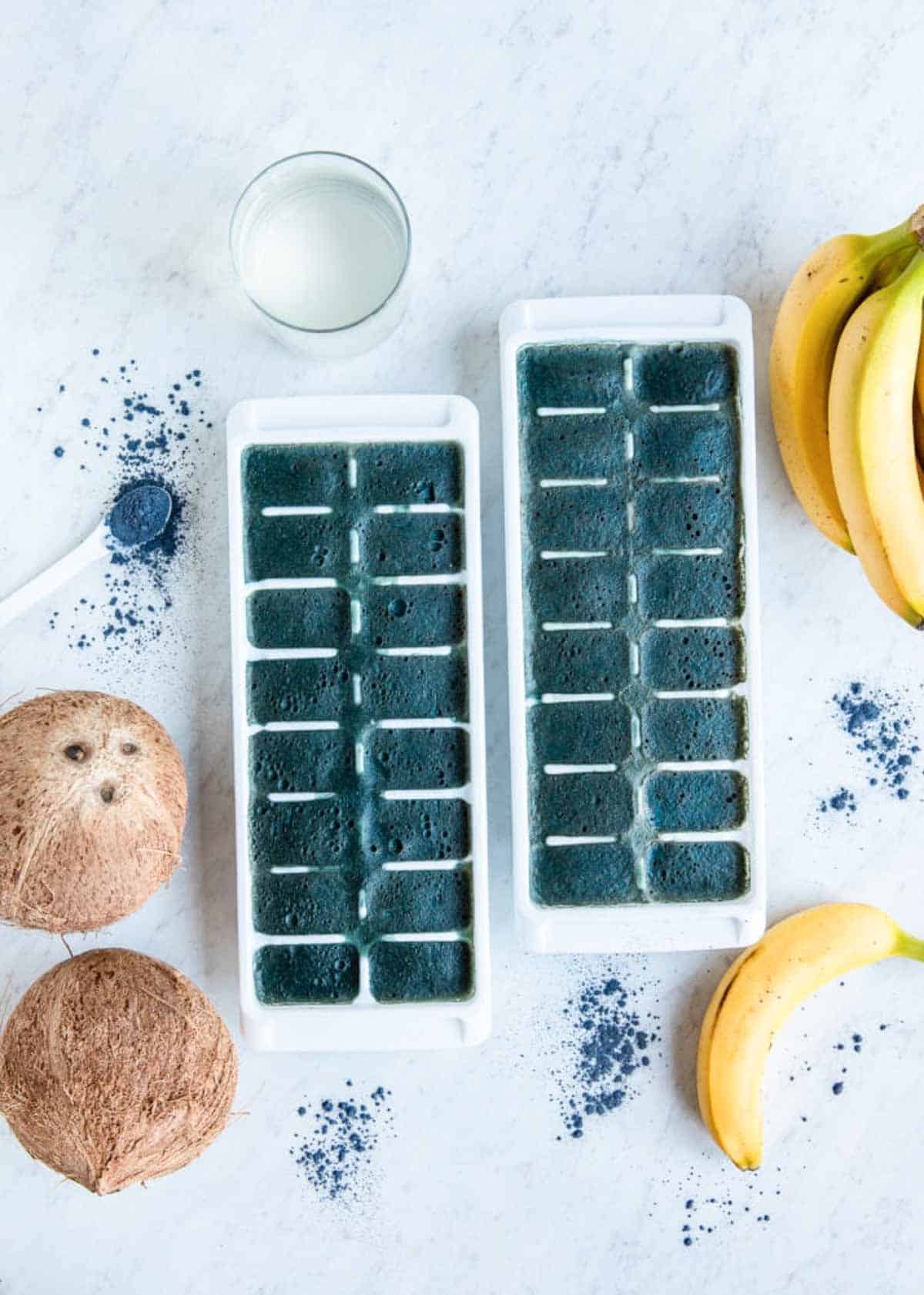 Coconut water is an incredibly good source of potassium, it is also naturally sweet which can help provide natural, simple carbohydrates for energy.
Bananas are also known for their potassium, which is essential for maintaining normal blood pressure levels and heart function.
Here are some other plant based foods that help maintain as well as balance electrolytes naturally:
Dill pickles
vegetable juices (particularly tomato)
lettuce and other leafy greens (spinach is great!)
olives
potatoes with skin
bananas
nuts and seeds
melon and cucumber
citrus fruits
broccoli
sweet potatoes
berries
other produce with a high water content
In other words, green smoothies and plant-based meals are incredible ways to keep your body balanced + hydrated.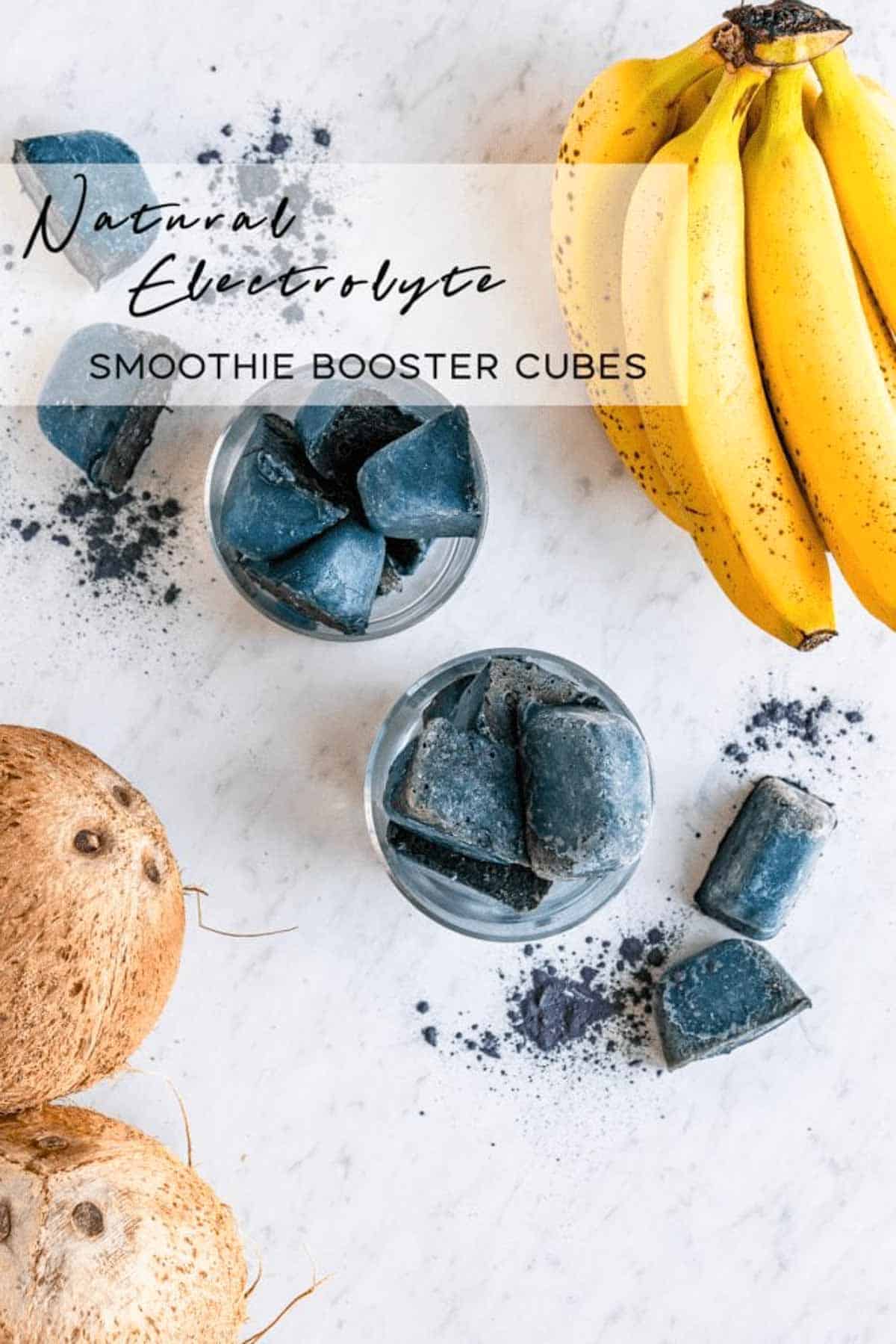 I recommend adding these cubes to the following recipes:
If you love this natural electrolyte smoothie cube recipe, don't forget to rate + review it below… then check out some other great cube recipes I've created.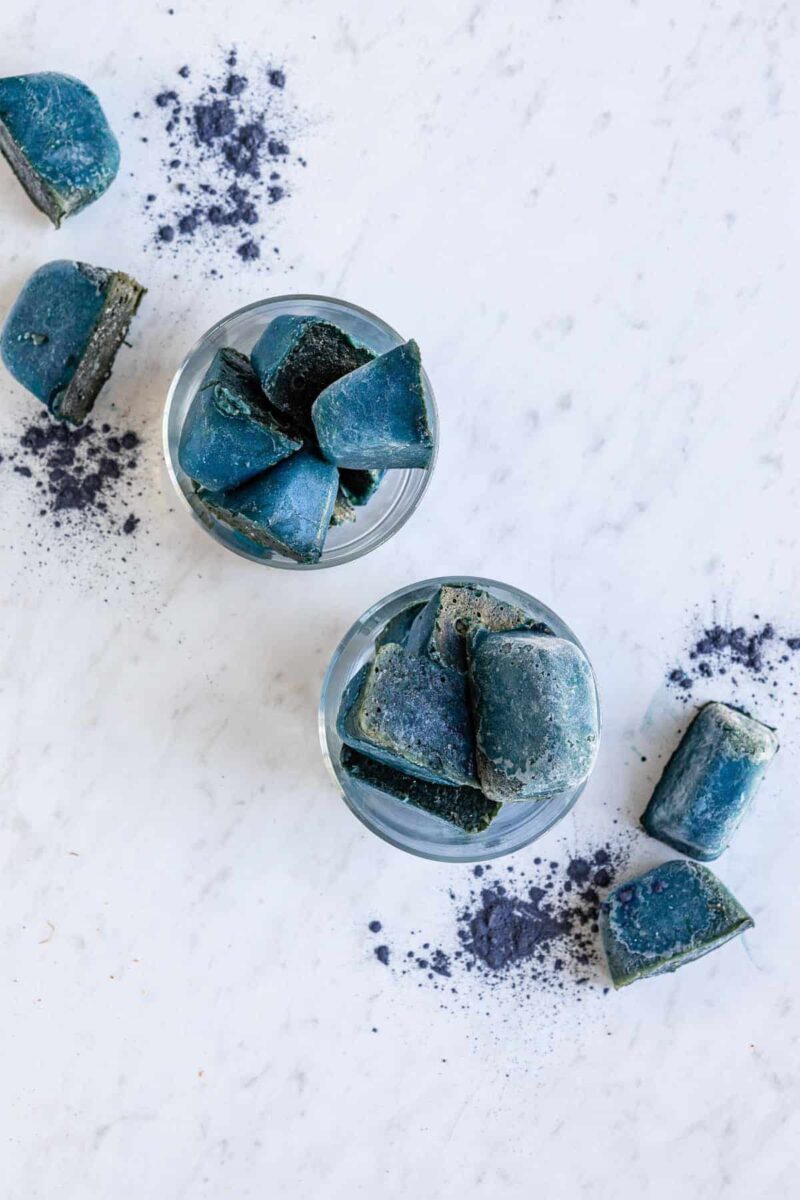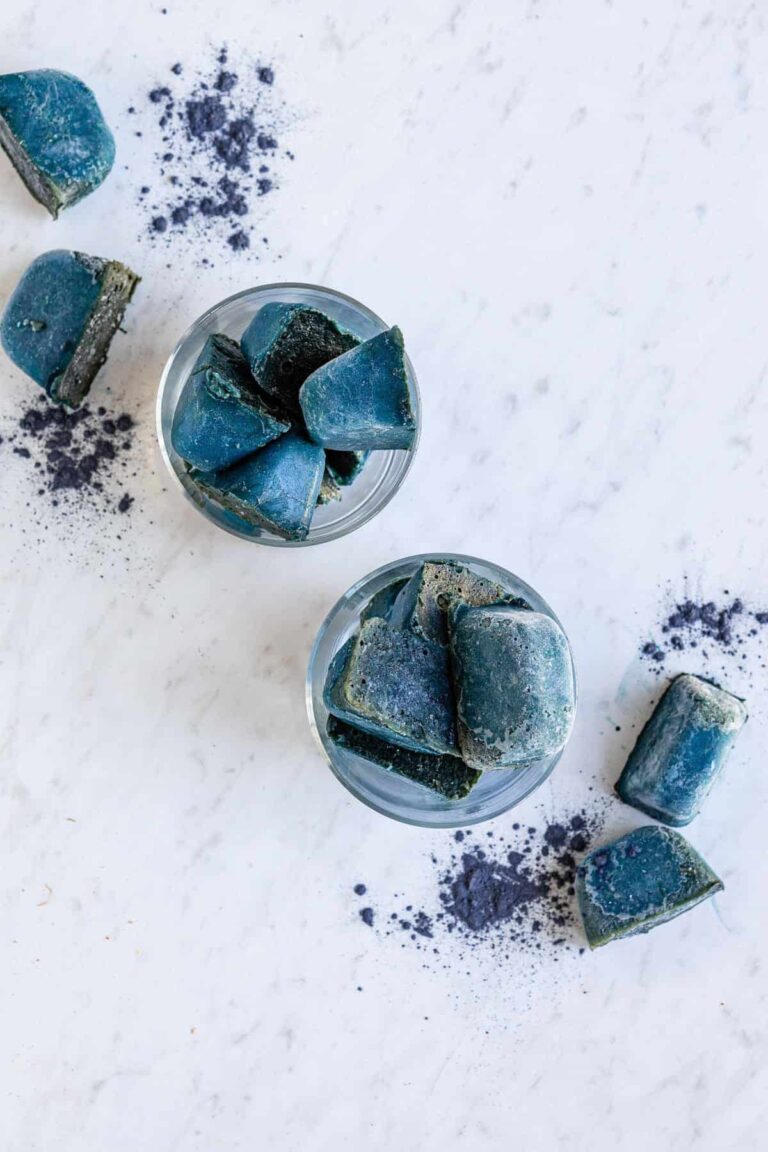 Natural Electrolytes Smoothie Booster Cubes
Replenish your electrolytes naturally with these smoothie booster cubes made with plant-based ingredients.
Ingredients
5

bananas

peeled and sliced

2

cups

coconut water

unsweetened, preferably not from concentrate

4

tsp

Concentrace Trace Minerals

optional

1-2

tsp

butterfly pea powder

optional

pinch

sea salt

pinch

baking soda

optional, to enhance color
Instructions
Place ingredients, including optional ingredients if using, into a blender and puree until smooth. Add a little more baking soda, if needed, to achieve a bluer color.

Pour into two standard, 16-well ice cube trays. Rap a few times on the counter to help release any bubbles. Freeze for several hours, preferably overnight, until firm.

Pop frozen smoothie cubes out of trays, then transfer to a freezer proof, airtight container.

To use add 4 cubes per serving to your favorite smoothie recipe to replace 1/2 cup fruit. Or, blend 8 cubes per serving, plus enough water or coconut water, for use as a quick way to replenish electrolytes.
Notes
Nutrition info includes the optional ingredients.
The butterfly pea powder adds the blue color, without any other additions, the cubes will be light cream in color. Any superfood juice powder can be used to create other beautiful colors.
Nutrition
Calories:
19
kcal
,
Carbohydrates:
5
g
,
Protein:
1
g
,
Fat:
1
g
,
Saturated Fat:
1
g
,
Polyunsaturated Fat:
1
g
,
Monounsaturated Fat:
1
g
,
Sodium:
16
mg
,
Potassium:
104
mg
,
Fiber:
1
g
,
Sugar:
3
g
,
Vitamin A:
12
IU
,
Vitamin C:
2
mg
,
Calcium:
5
mg
,
Iron:
1
mg