Most of my smoothie bowls are very fruit-forward—a Tropical Smoothie Bowl bursting with fruit, or a Berry Smoothie Bowl with berries blended in as well as added on top. Yet this Oat Smoothie Bowl is a special one. It's still got fruit (sweetened with banana) yet it's also a protein-filled Breakfast Smoothie Bowl that is giving more Autumn vibes than Summer.
This new smoothie bowl with oats is still super creamy, perfectly sweet and the perfect vessel for all your favorite toppings, yet it also contains protein built right in making it a great way to start the day.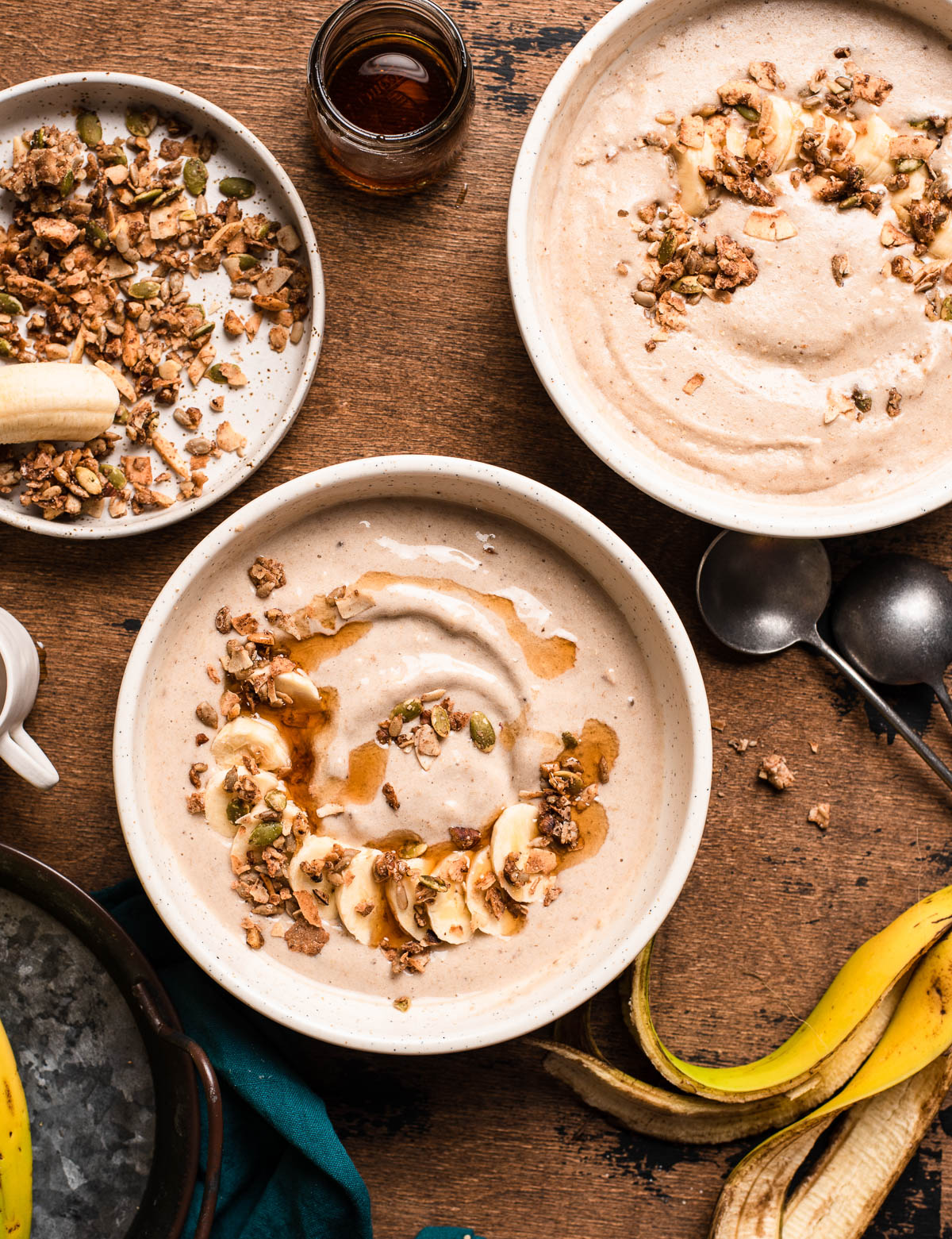 Table of Contents
If you're looking for an oatmeal smoothie bowl then you've come to the right post. If you give this one a blend, have patience and get rewarded with a super smooth result.
While it can be topped with berries or tropical fruits, it can also be topped with the fruits that show up during cooler weather like apples and pears, just like my Green Smoothie Bowl.
Recipe Ingredients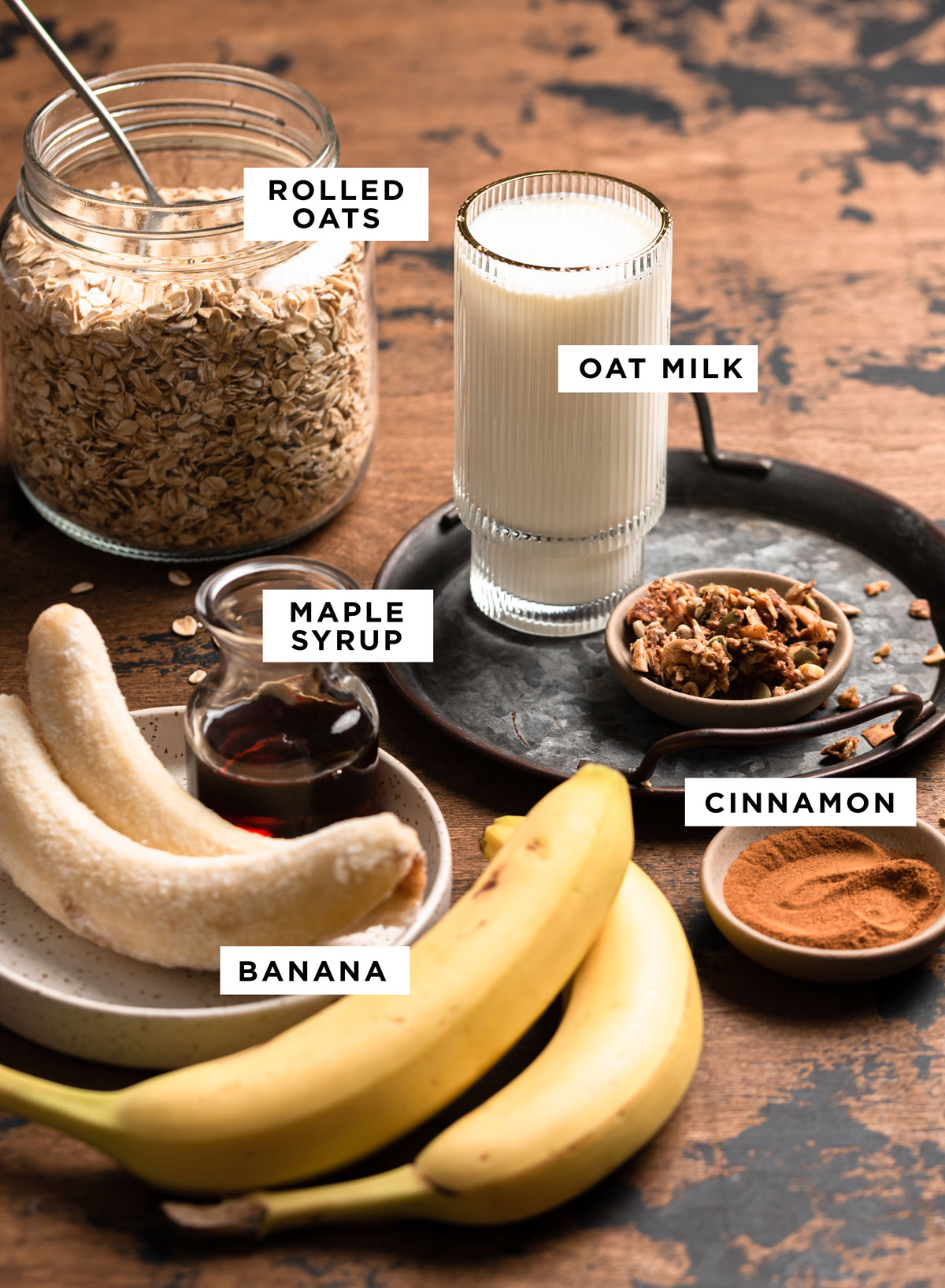 We are going oat heavy with this breakfast smoothie bowl. You'll find it in both the milk and as an ingredient all on its own to create the thickest, creamiest bowl ever. Here is what I'm blending today:
Oat milk: Unsweetened oat milk is the creamiest dairy-free milk option for this recipe. You can use store-bought or homemade oat milk. You choose!
Frozen banana: It's important to use at least one frozen ingredient for a refreshingly cool smoothie bowl and it also helps to create that thick, soft-serve ice cream texture I want.
Rolled Oats: This is an easy oat to blend. Make sure to read your labels to find one that's certified gluten-free. While oats are naturally gluten-free, they are often processed in facilities that also process gluten-filled grains.
Maple Syrup: This is my natural sweetener of choice in this bowl since it is warm and when mixed in gives almost a caramel flavor.
Ground cinnamon: I'm finishing off my blend with some fresh ground cinnamon for the perfect taste. You could also use a pumpkin spice blend, vanilla extract or a chai spice blend.
Feel free to use the plant-based milk of your choice for this recipe. Almond milk or cashew milk are both great options.
Toppings
Now for the fun part. If you're blending this for breakfast, I recommend some heartier toppings like homemade nut butter, healthy granola or nuts and seeds to ensure you're getting plenty of protein and healthy fats.
Superfoods like hemp hearts or chia seeds make great protein and healthy fat toppings and don't really change up the flavor of this smoothie bowl recipe.
You can also top with other fruits like more banana slices, diced apples or pears, or berries like raspberries or blueberries. Lean into whatever toppings will make your morning happier and more productive.
How to Blend an Oat Smoothie Bowl
Blending a smoothie bowl is super similar to a smoothie, yet it's a bit more challenging. Just a bit, so don't worry if you haven't done it before!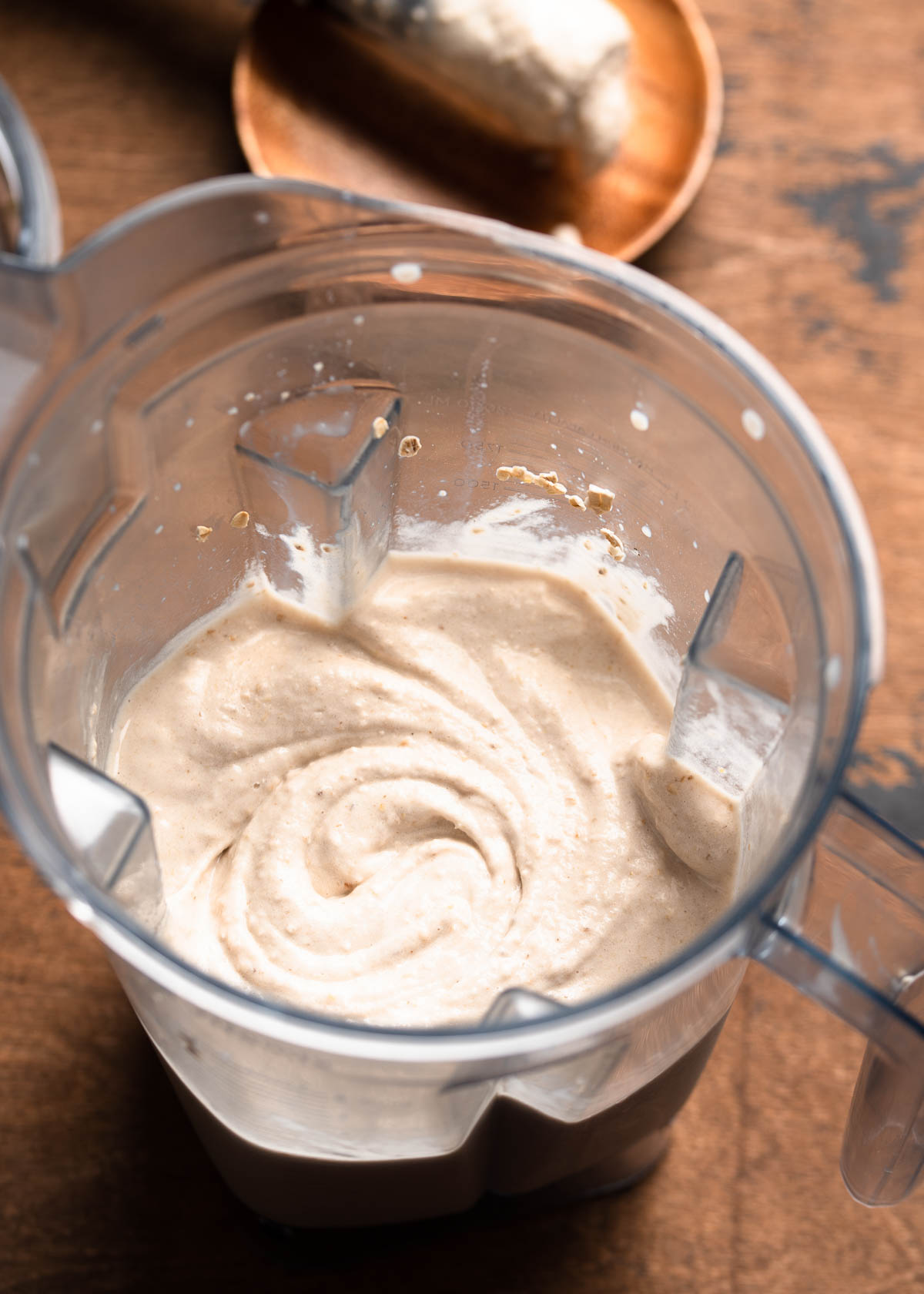 Step 1: Since this doesn't have leafy greens in it, add all the ingredients at once and start blending. Blend until the mixture is creamy. If you need to, stop and scrape down the sides of the container until everything has been pureed.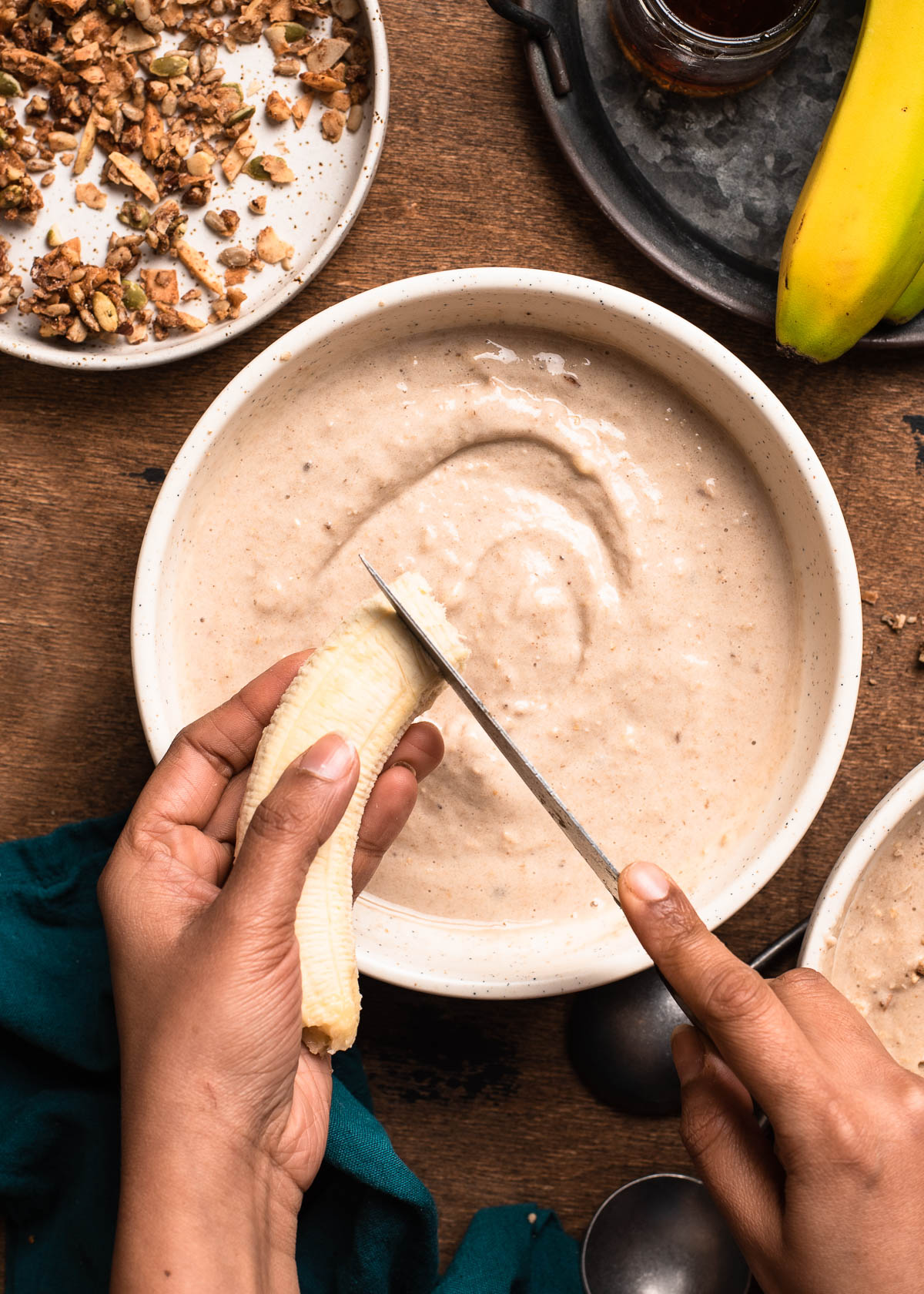 Step 2: Scoop the mixture out into a bowl and top to your heart's content. It should be the texture of soft serve ice cream, so it may need some help getting out of the blender container, unlike a smoothie.
Tips
If you're using a Vitamix or another blender with a tamper, have it handy. Smoothie bowls are supposed to be thick and often even high-powered blenders need help getting the ingredients pushed down to the blades.
Be patient! This process may take longer than a regular smoothie does, and you really don't want to be eating chunks.
If you aren't using a high-powered blender, you can give the rolled oats a quick pulse in the blender before adding the other ingredients to give it some extra time to break down. Oats can cause your smoothie to be gritty, but blending them first and then adding the other ingredients can really cut down on any grit.
FAQs
Can I put raw oats in my smoothie bowl?
You can blend raw oats into a smoothie bowl for extra protein and fiber. You may want to pulse them in your blender by themselves a few times until they are well chopped up before blending in the other ingredients to ensure you don't get a gritty smoothie bowl.
Are oat smoothies good for you?
Oat smoothies can be a great, healthy breakfast option. Be sure to use whole food ingredients and no refined sugars. Stick to natural ingredients like plant-based milk, fruit, rolled oats and spices.
What makes a smoothie bowl thick?
Smoothie bowls use less liquid than smoothies, which helps make them thick. They also use ingredients like bananas, oat milk, canned coconut milk and frozen ingredients for a thicker result.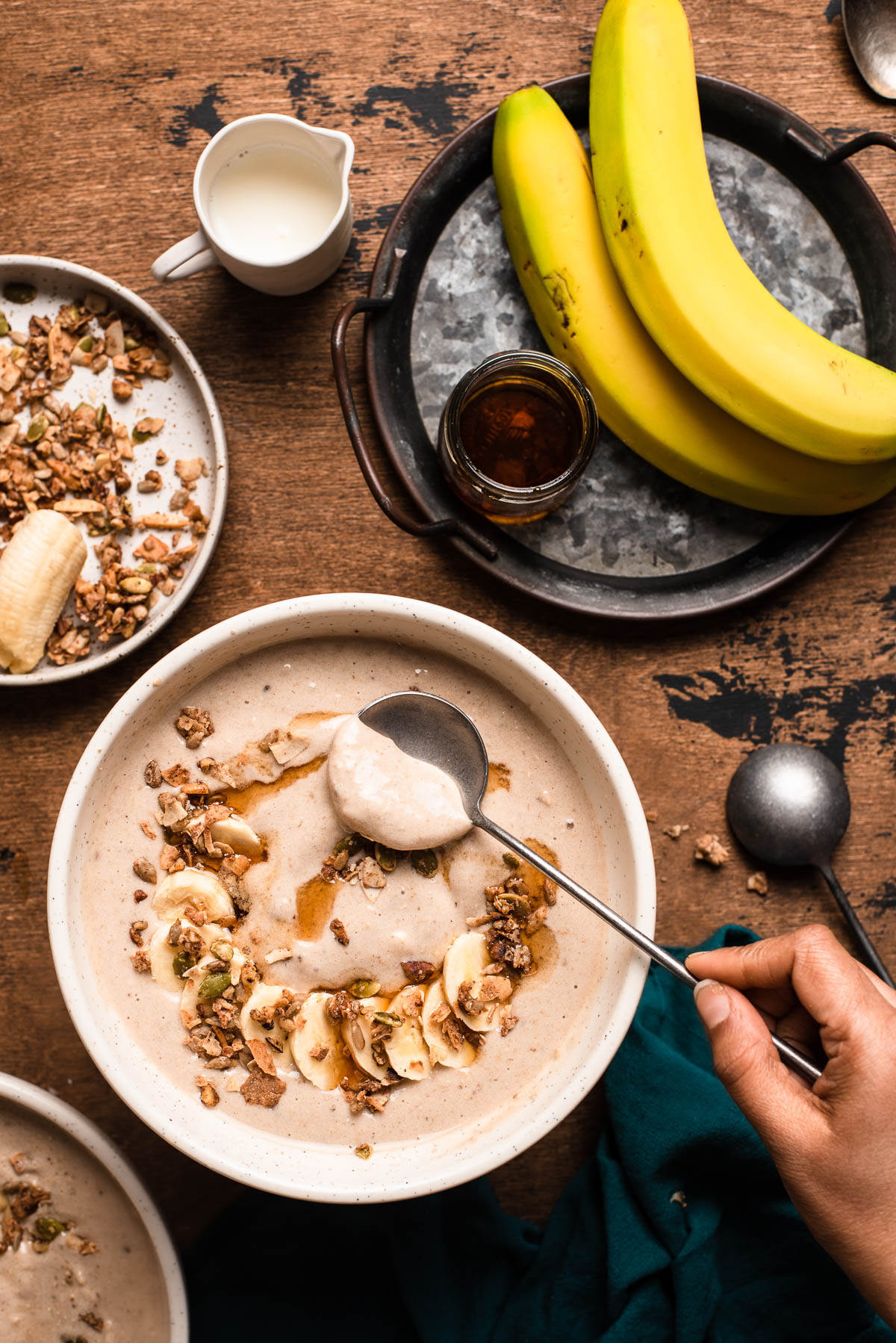 More Smoothie Bowl Options
If you loved this delicious breakfast smoothie bowl then check out some of my other creations. Whether you want something unique like a vibrant Dragon Fruit Smoothie Bowl or a trendy Açai Smoothie Bowl, I've got great options for you to blend.
I started making this Fruit Smoothie Bowl for my kids and their friends, and have used this Iron-Rich Smoothie Bowl when I needed a boost myself. They are just as easy to toss together as a regular smoothie. And you can create a toppings bar to let people decide just how they want to top theirs.
Don't forget to rate this recipe once you try it; it's such a good one!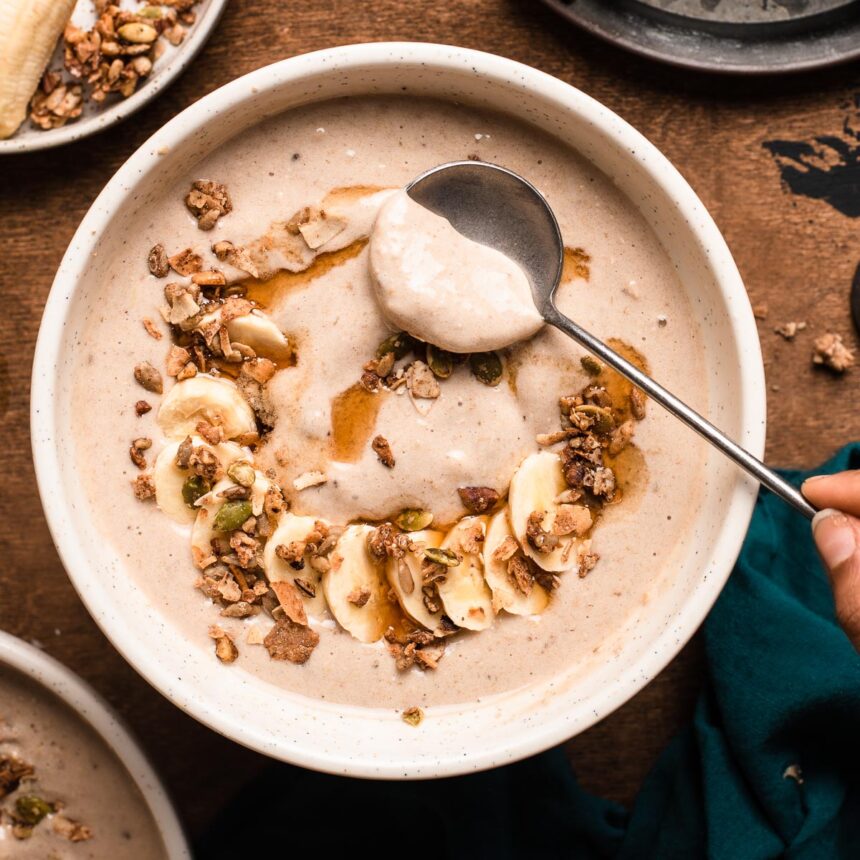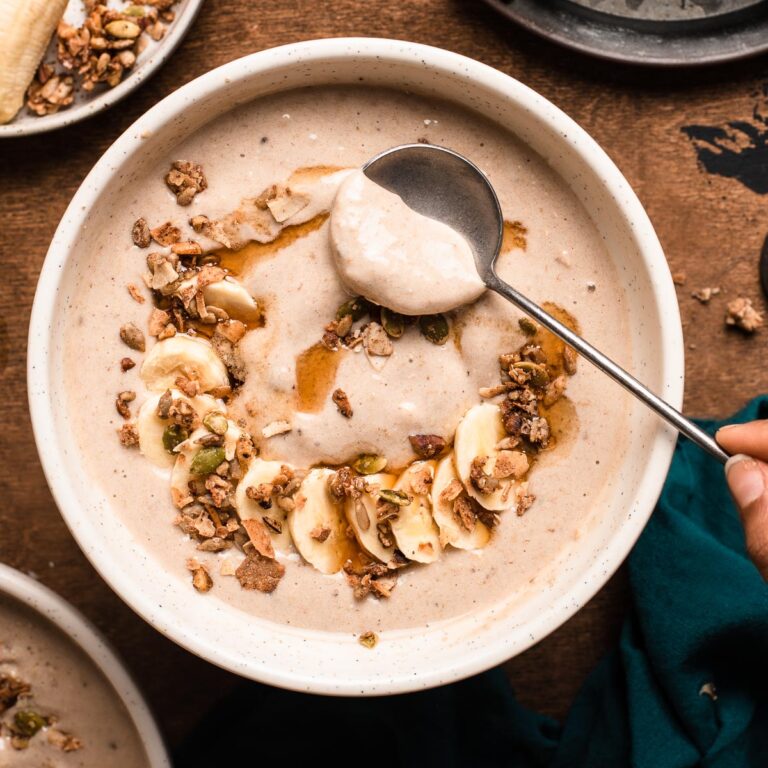 Maple Oat Smoothie Bowl
Dive into this 5-ingredient breakfast smoothie bowl and start your day right. My Oat Smoothie Bowl is easy to make, and easily gluten-free and nut-free. I'm using oat milk, banana, rolled oats, maple syrup and cinnamon to make the perfect bowl that you can top to your heart's desire.
Ingredients
¾

cup

oat milk

unsweetened

1

banana

frozen

¼

cup

rolled oats

1

tbsp

maple syrup

⅛

tsp

cinnamon

ground
Toppings:
½

banana

sliced

¼

cup

granola
Instructions
Blend ingredients until thick and creamy. Use your blender's tamper or stop and scrape down the sides of the container to ensure a creamy result.

Pour into a bowl and add toppings.
Notes
Smoothie bowls are extra thick, so it may be hard for some blenders to easily blend. This is why using your blender's tamper is important to ensure all the ingredients get pushed into the blades to be pureed. If your blender blades aren't moving at all, add a little more liquid then try again, just until the blades start moving. This should scoop out of your blender almost like soft-serve ice cream.
To add more protein, add in 1 serving of Homemade Protein Powder. You'll probably need a bit more liquid since protein powder will make this even thicker. 
Top with a healthy granola, dried or fresh fruit, or nuts/seeds. 
Swap oat milk with the dairy-free milk of your choice. 
Nutrition
Calories:
457
kcal
,
Carbohydrates:
102
g
,
Protein:
10
g
,
Fat:
5
g
,
Saturated Fat:
1
g
,
Polyunsaturated Fat:
1
g
,
Monounsaturated Fat:
1
g
,
Sodium:
139
mg
,
Potassium:
945
mg
,
Fiber:
10
g
,
Sugar:
54
g
,
Vitamin A:
599
IU
,
Vitamin C:
15
mg
,
Calcium:
302
mg
,
Iron:
5
mg