Testing out six variations of peanut butter fudge in my kitchen was a great day. I had Ryan, the kids and a few friends vote on their favorites and right here is the #1 no-bake vegan fudge recipe.
For starters, the fudge is only 4 ingredients (and two ingredients are optional toppings!)! Second, it can be made ahead and stored in the freezer until your next party (if you can handle the temptation). Oh, and did I mention that this is vegan fudge, too?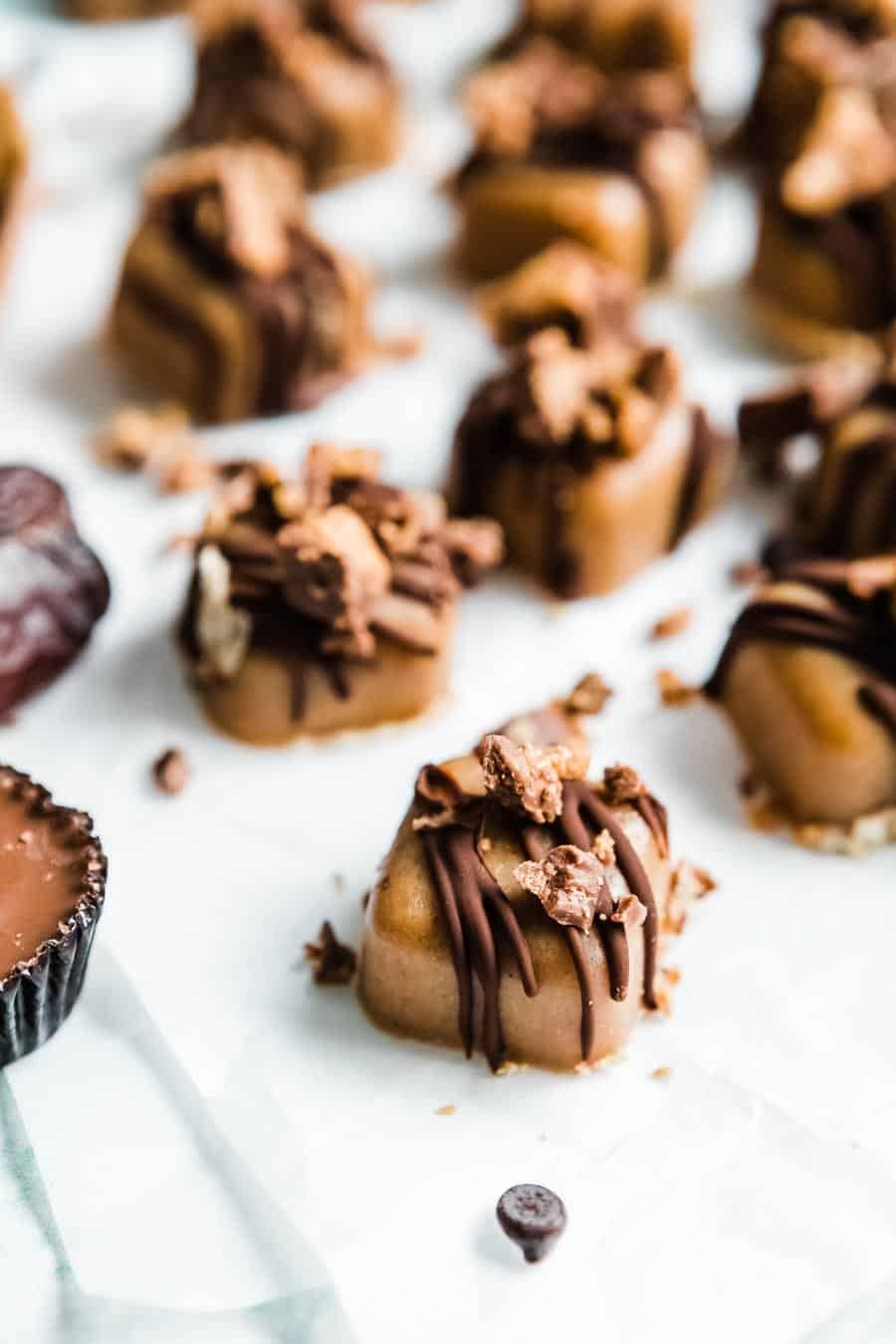 For the photos, I added a drizzle of chocolate and crumbled mini peanut butter cups, but those are totally optional! What isn't optional is using Medjool dates to create a naturally sweet, caramel flavor to the fudge. It's outta this world! I used Natural Delights Medjool Dates because they are my favorite (seriously… you will be obsessed once you try them, too). I've partnered with them to share this simple dessert recipe with you.
Table of Contents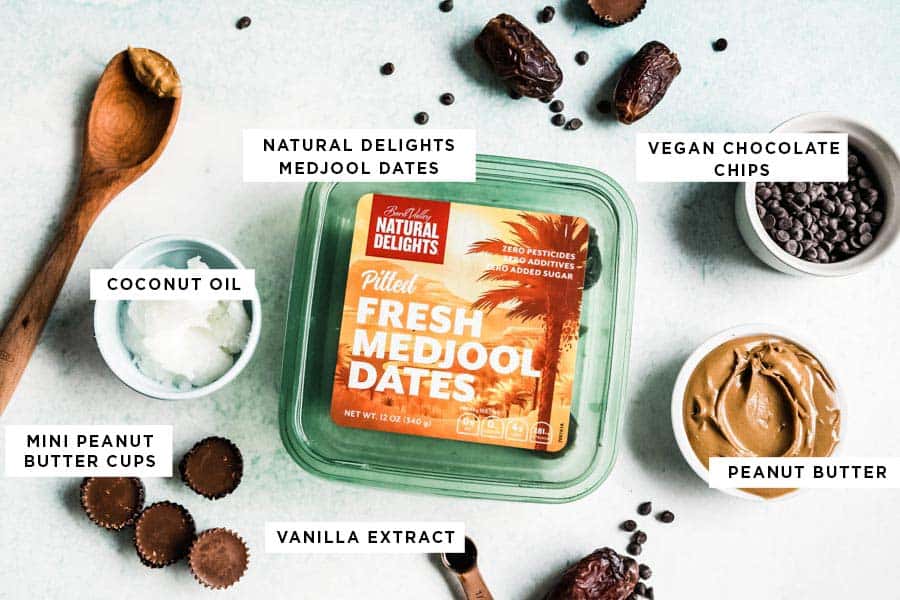 How to Make Peanut Butter Fudge
You can make this vegan fudge recipe in 30 minutes or less (and 20 minutes of that is the freeze time!).
Combine all 4 ingredients in a high speed blender and blend until super creamy. If you need to double the recipe to blend better, then go for it!
Pour the fudge into a silicone ice cube tray and spread evenly.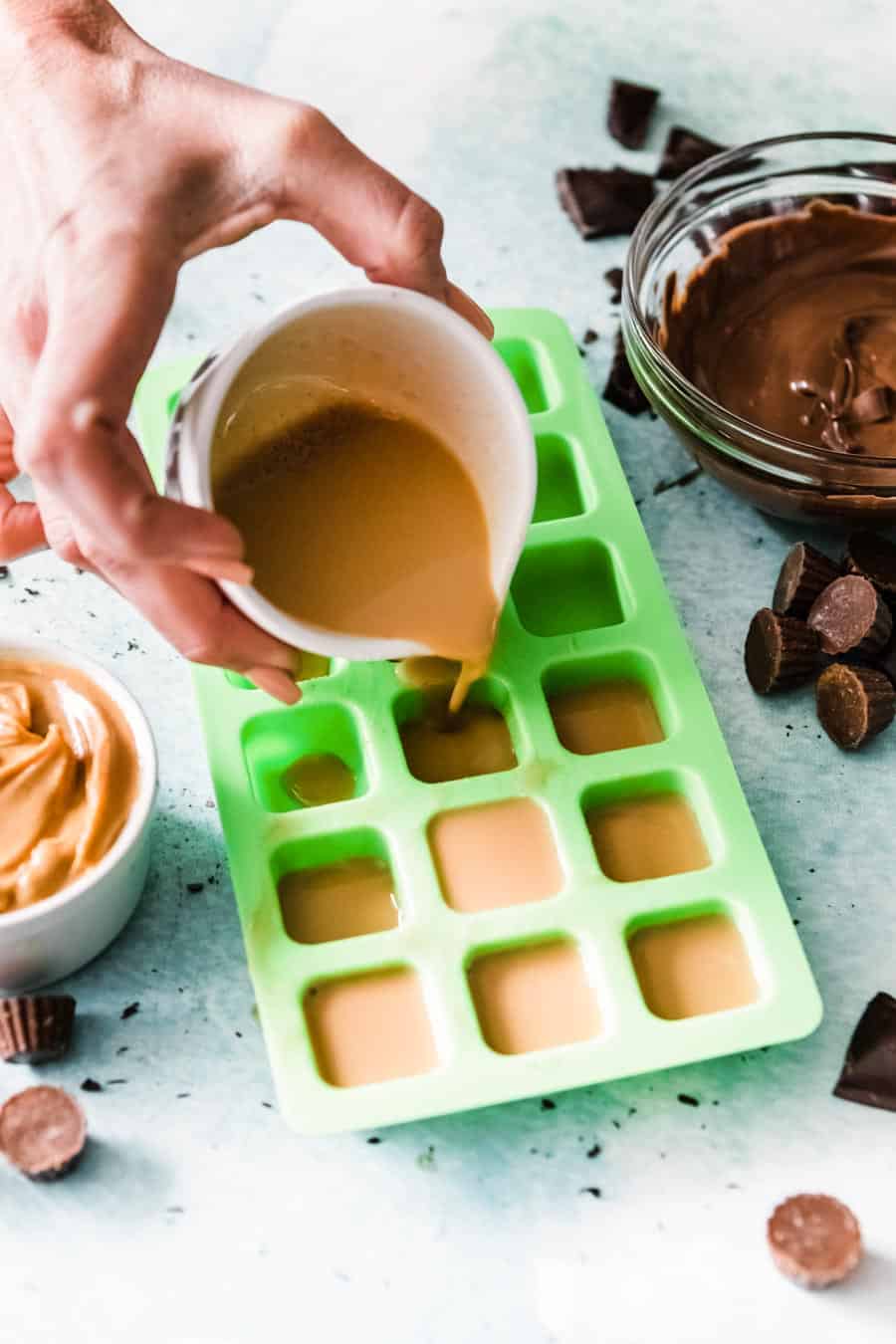 Freeze for 20 minutes, until the fudge has hardened slightly. While the fudge is freezing, jump to step 7 if you want to add a homemade chocolate drizzle.
Remove from freezer and set on counter.
Add chopped mini peanut butter cups on top and press gently to "set it" if you wanna win some style points.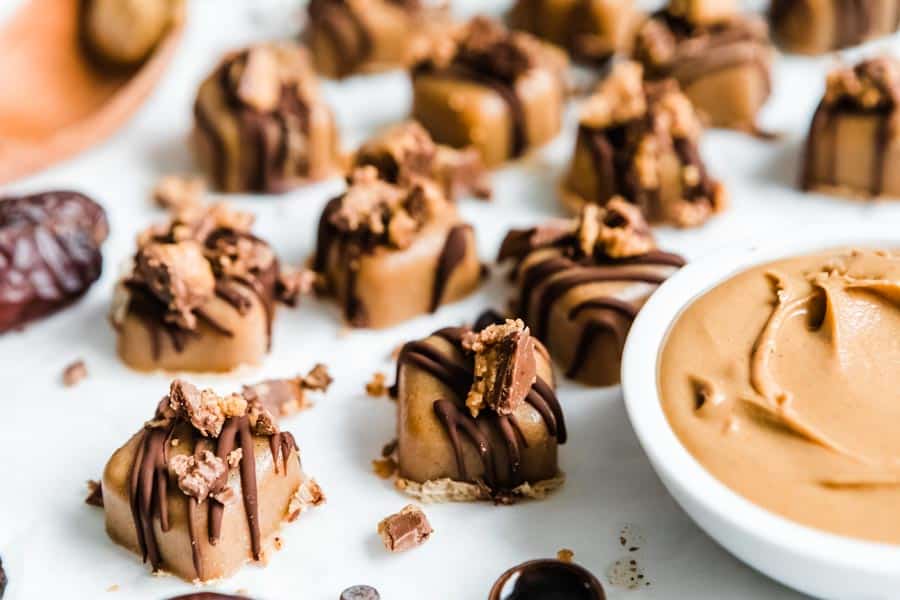 Vegan Ingredient Swaps
Since this recipe only has a handful of ingredients, this swap list will be short n' sweet:
If peanut butter isn't your thing, then swap for cashew or almond butter. Even if you use super smooth almond butter, the final texture will change (yet still be fudge-like). Just make sure whatever nut/seed butter you use is unsweetened and limited ingredient.
If you aren't able to easily find Medjool dates, then you can swap for maple syrup. The vegan fudge will still freeze just fine, though it won't be as thickly fudgy.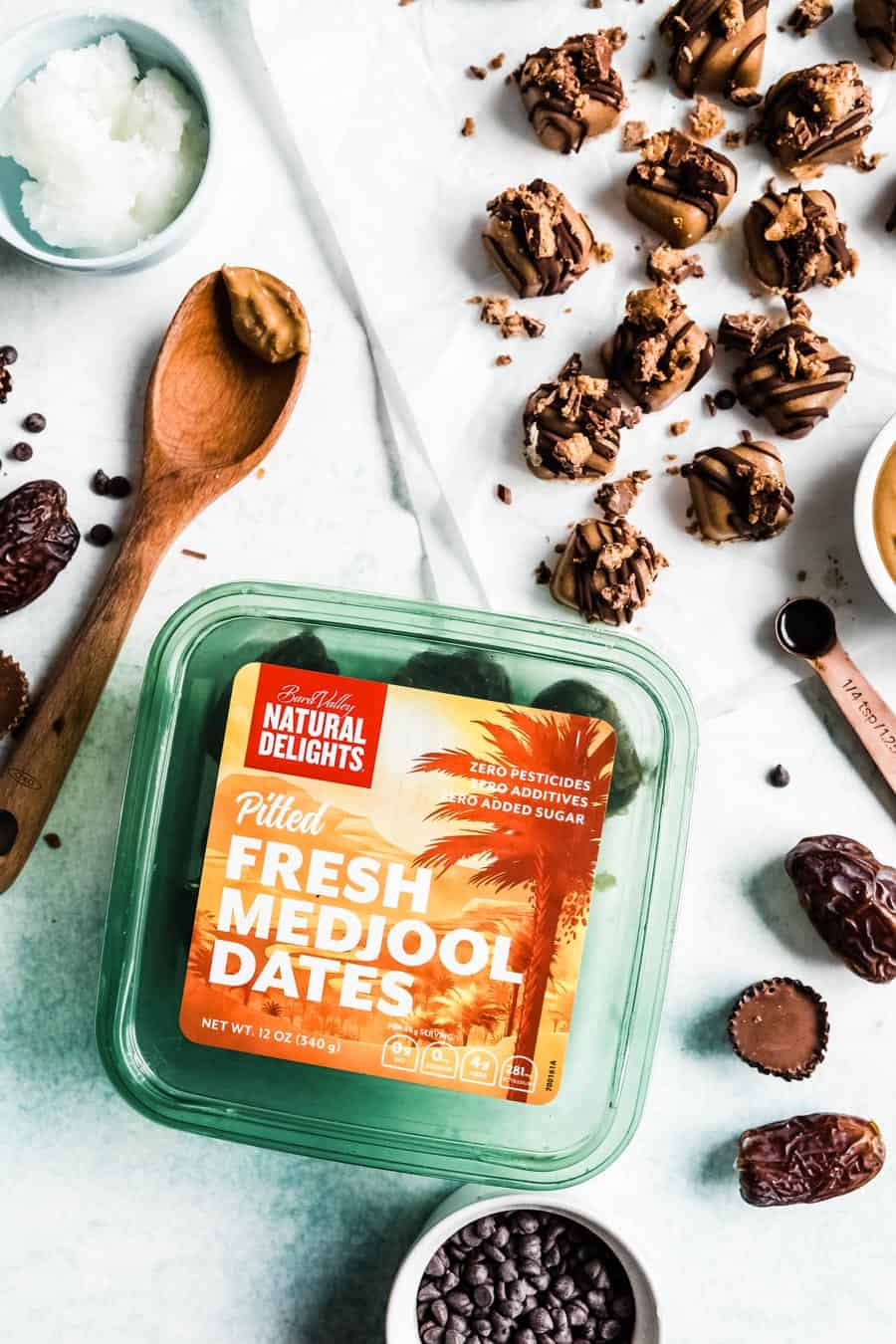 Choosing the Right Dates
I'm slightly obsessed with Natural Delights Medjool Dates. Seriously, they're perfectly soft + sweet. Many dates are dry, yet not these! These dates are versatile, so I eat them as-is, stuff them with almond butter for a quick energy bite, or throw them in a Cinnamon Date Smoothie for a little added sweetness. I've tried so many fancy pants dates over the years, and these are hands down my fav.
Medjool dates are a whole fruit natural sweetener with good-for-you dietary fiber. This combination is metabolized by your body slowly, resulting in lasting, natural energy to help carry you through your day— in a healthy, yummy way.
I know they sound like an odd ingredient for peanut butter fudge, yet you won't think that after your first bite!
Tips for Drool-Worthy Fudge
If you have a silicone mold like the green one used in my photos, then definitely use it! As you can see, it will create perfectly adorable fudge pieces.
Make sure the coconut oil is 100% melted. That way it will cool down more evenly and not leave you with any odd spots on your fudge. I don't notice a 'coconut' taste with this fudge yet if you are super sensitive to taste, use refined coconut oil for a more tasteless addition.
For presentation, cut the fudge into squares and separate before drizzling with chocolate. That way each square is nicely covered in drizzle.
Pour the chocolate drizzle over the hardened no bake fudge while it's still cold. This will create an instant hardening effect and make the fudge easier to handle.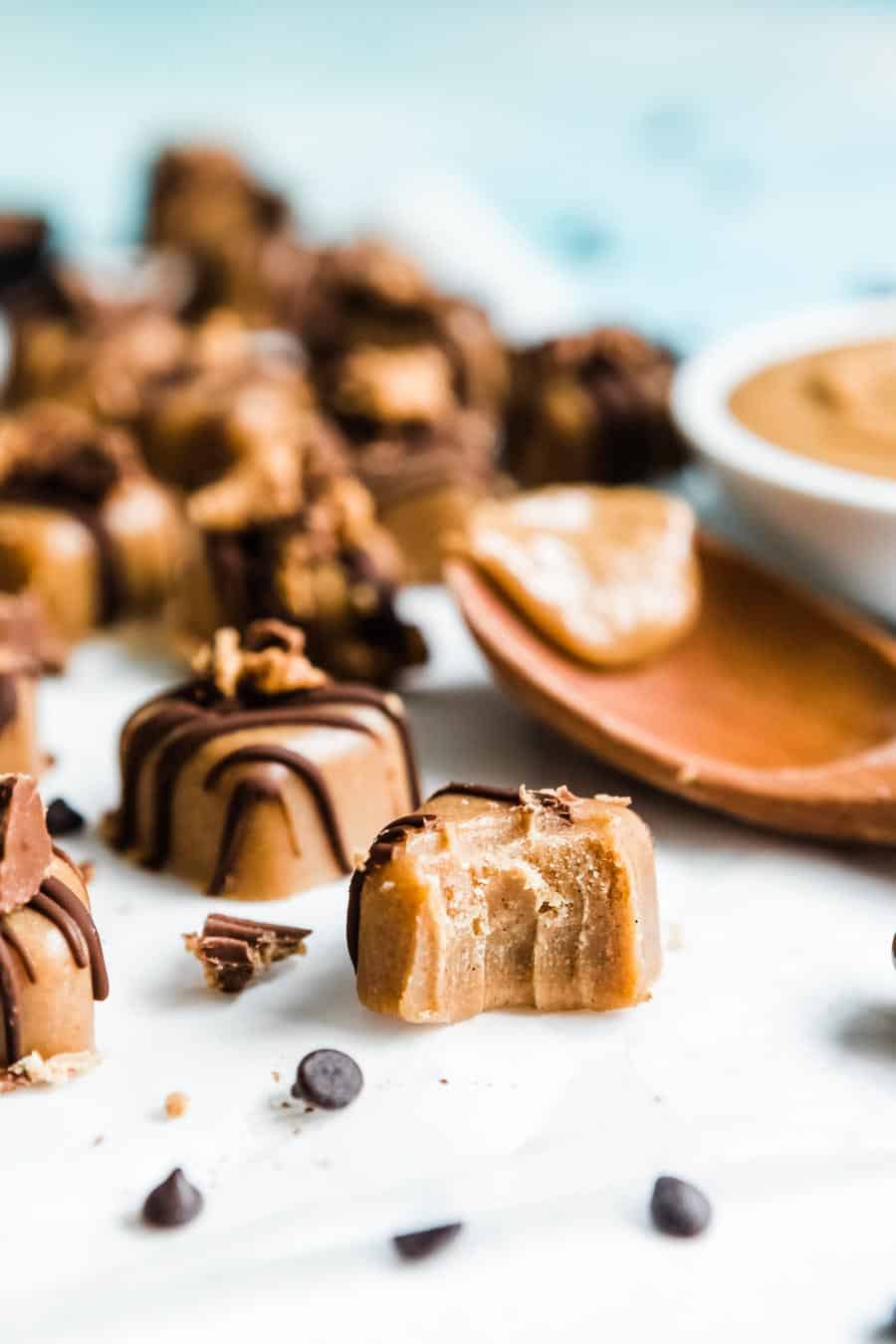 Fudge FAQs
What is the secret to making fudge?
Since my recipe is no bake fudge, there's no need to cook the ingredients to just the right temp. Instead, just make sure the coconut oil is completely melted before blending. This way the mixture will easily spread out in the pan, and freeze properly (with no oil clumps).
How much sugar is in peanut butter fudge?
I use Costco-brand organic peanut butter in my recipe, so there are only 2 grams of sugar per serving (all natural). So the only sugar comes naturally from the Medjool dates used. If you cut 12 squares into this fudge, each square has 12 grams of sugar.
How bad is peanut butter fudge for you?
Well… I wouldn't recommend eating my vegan fudge on the daily, yet it's only got 4 ingredients, that are all whole food + plant based. So feel free to indulge in a few pieces and enjoy a sweet treat without the sugar spike.
More Vegan Dessert Recipes
I love finding plant-based ways to enjoy my fav desserts, and I dare you to try some, too! Here are more fun, tasty recipes that ditch eggs, dairy and more yet taste phenomenal and grace any dessert table with ease.
Don't forget to rate + review this recipe once you make it! Your feedback is so important to me.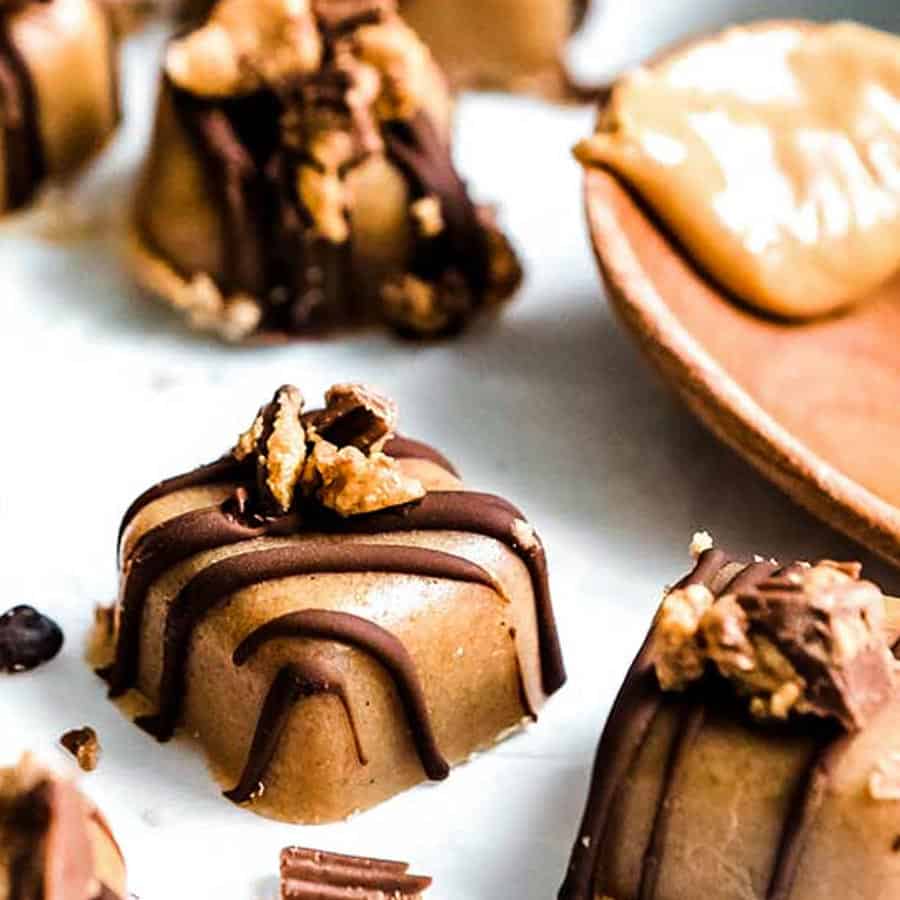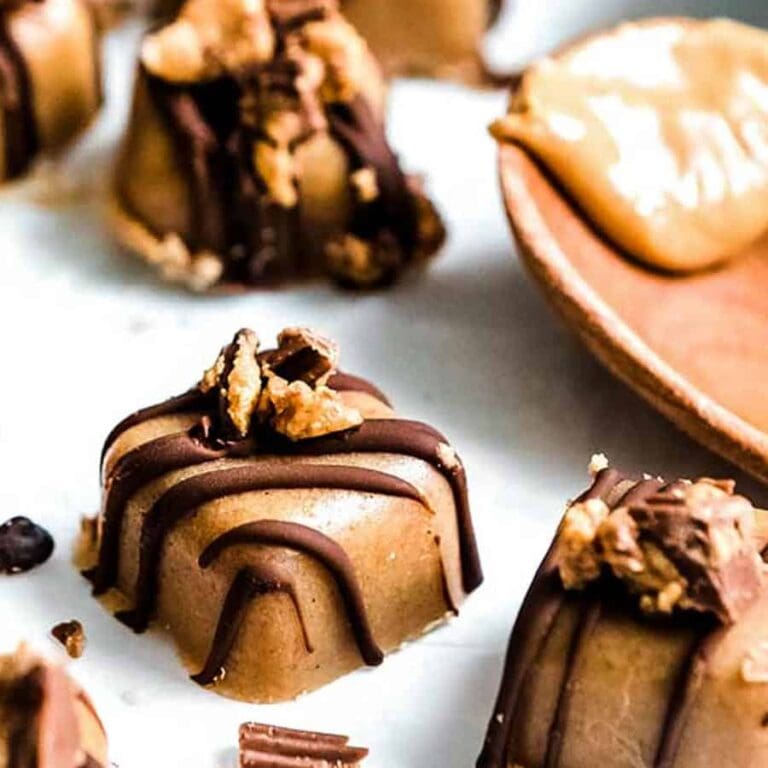 Peanut Butter Fudge
You'll definitely wanna include this vegan peanut butter fudge into your holiday menu this year. This decadent recipe is easy to make and provides a beautifully rich treat. Plus, it's only 4 ingredients!
Ingredients
½

cup

coconut oil

melted

½

cup

natural peanut butter

5

Natural Delights Medjool dates

1

tsp

vanilla extract
Toppings (optional)
1

cup

mini peanut butter cups

I use Justin's

3

tbsp

vegan chocolate chips

1

tbsp

coconut oil

sea salt

coarse
Instructions
Line an 8×4 inch loaf pan with parchment paper.

Combine fudge ingredients in a high speed blender and blend until super creamy.

Pour the fudge mixture into the loaf pan and spread out evenly.

Freeze for 20 minutes, until the fudge has hardened slightly.

Remove from freezer and set on counter.

Add chopped mini peanut butter cups on top and press gently to 'set'.

Gently melt the coconut oil and chocolate chips over stovetop on low, stirring constantly.

Lightly drizzle melted chocolate on the cold fudge for instant hardening effect.

Sprinkle coarse sea salt lightly over top (if using).

Cut into squares and store in freezer until ready to enjoy.
Notes
To keep this recipe vegan, make sure you use natural peanut butter, vegan chocolate chips, and vegan peanut butter cups.
Swap cashew butter or almond butter for the peanut butter. Note that this will change the texture.
Feel free to add any toppings you want, or mix in nuts as desired to the fudge before it sets in the freezer. 
Nutrition
Calories:
222
kcal
,
Carbohydrates:
15
g
,
Protein:
3
g
,
Fat:
18
g
,
Saturated Fat:
12
g
,
Polyunsaturated Fat:
2
g
,
Monounsaturated Fat:
3
g
,
Sodium:
2
mg
,
Potassium:
140
mg
,
Fiber:
2
g
,
Sugar:
12
g
,
Vitamin A:
15
IU
,
Calcium:
22
mg
,
Iron:
1
mg