Pistachios are a great snack, dessert topping, and now, the perfect pesto ingredient. I dare you to toss some into your next creation! This pistachio pesto recipe might be unique, yet it's easy to make and oh so delicious.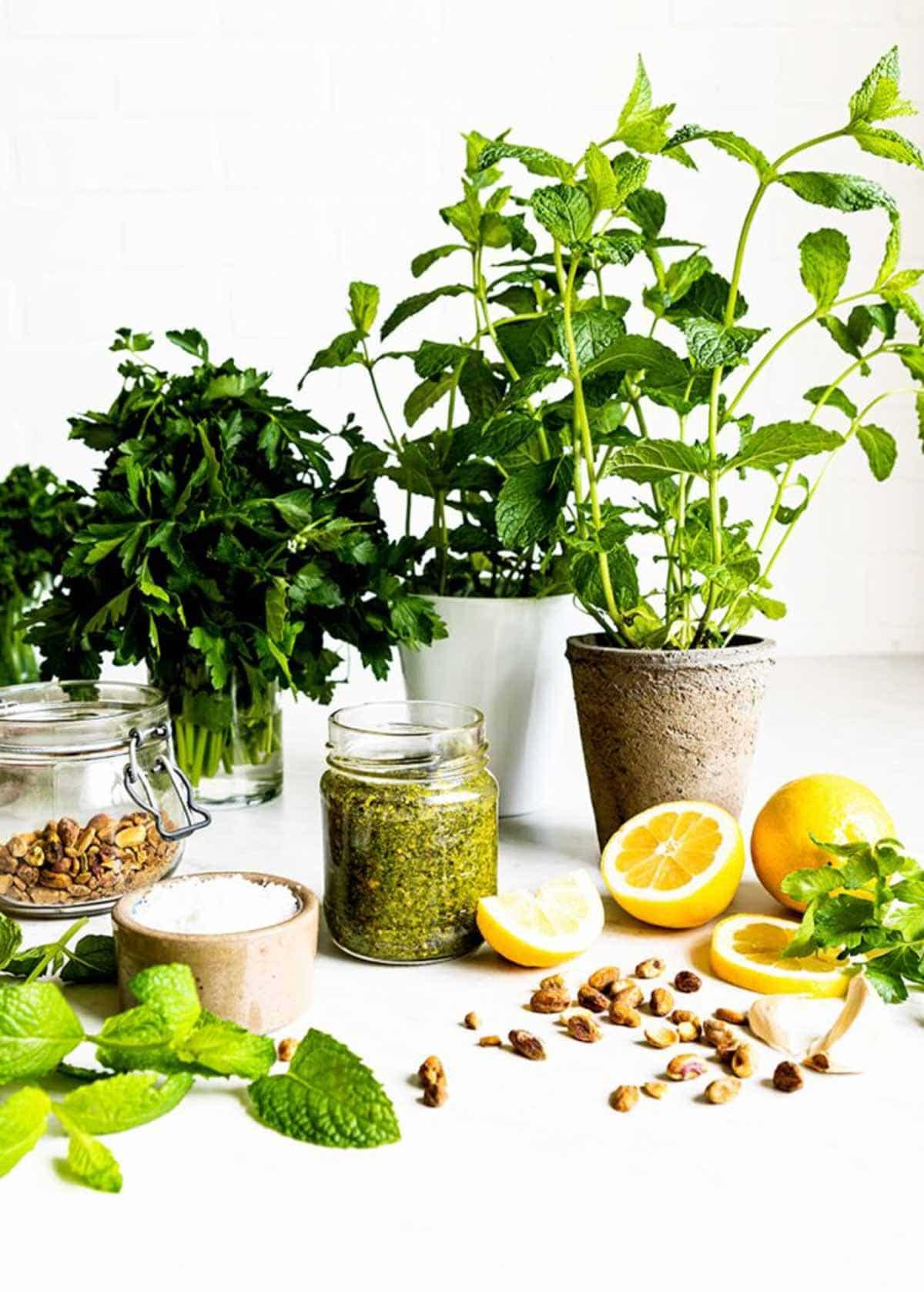 Pistachios are a bit of an unsung hero, relegated to mint green ice cream and out-of-hand snacking. This pistachio pesto recipe is not only plant-based and dairy-free, but also bursting with freshness. I like using pistachios in recipes because they add a unique flavor, as well as a fantastic texture. If you've never used pistachios in pesto, then now's the time to give it a try!
Table of Contents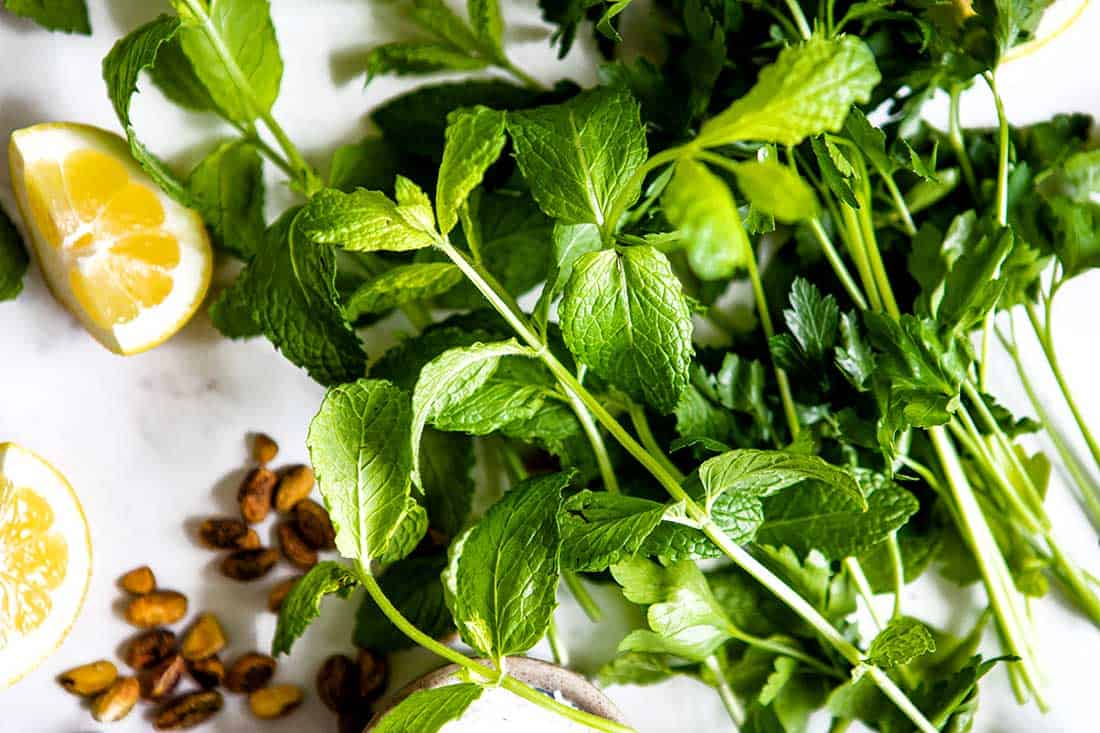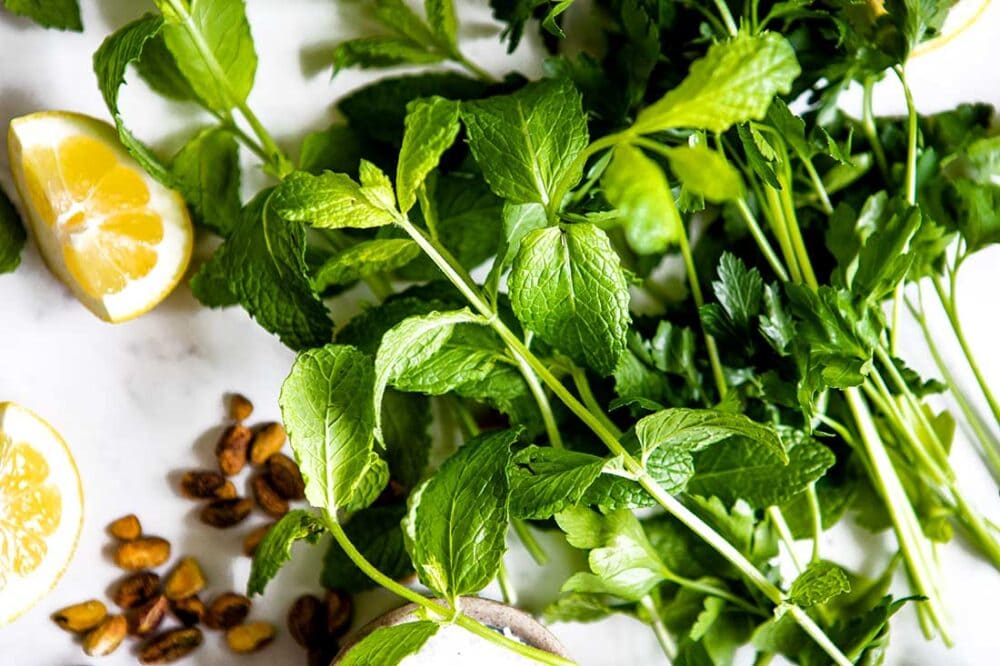 How to Make Pistachio Pesto
To make this pistachio pesto recipe:
Start with giving the shelled pistachios and garlic a quick blitz in the food processor or blender. If making by hand, finely chop with a chef's knife.
Then add the other ingredients, except for the olive oil, and pulse until finely chopped. The oil goes in last – only use what you need – and process or blend until it reaches the desired consistency. I like mine a little chunkier. You can even blend it until it's very smooth – totally up to you!
Ways to Use Pesto
This recipe combines pistachios with lemon, mint, and parsley in a uniquely flavorful way. This also makes the pesto very versatile. Use in place of the almond butter sauce in this zoodles recipe, use as a sandwich spread, veggie dip, sauce for roasted veggies (especially cauliflower and sweet potatoes!), plant-based pizza, stirred into vinaigrettes or other salad dressings… or just about anywhere else you can think of.
How to Store
Pistachio pesto keeps in the refrigerator for up to 2 weeks, or frozen for several months. The freezing process will cause the texture or consistency of the pesto to deteriorate a little bit, so plan on giving the thawed pesto another quick spin in the food processor before using.
An ice cube tray is perfect for creating little cubes that you can quickly add to soups and stews. Just be sure to store the pistachio pesto, cubes or not, in an airtight, freezer-proof container or bag.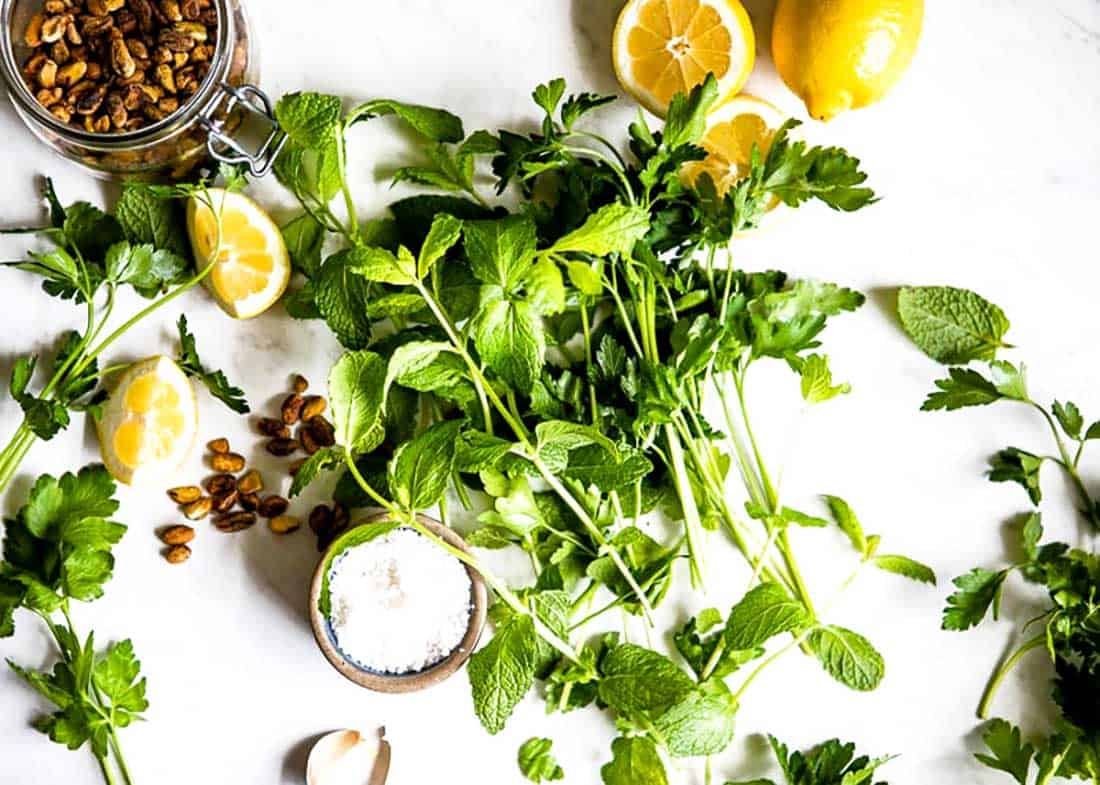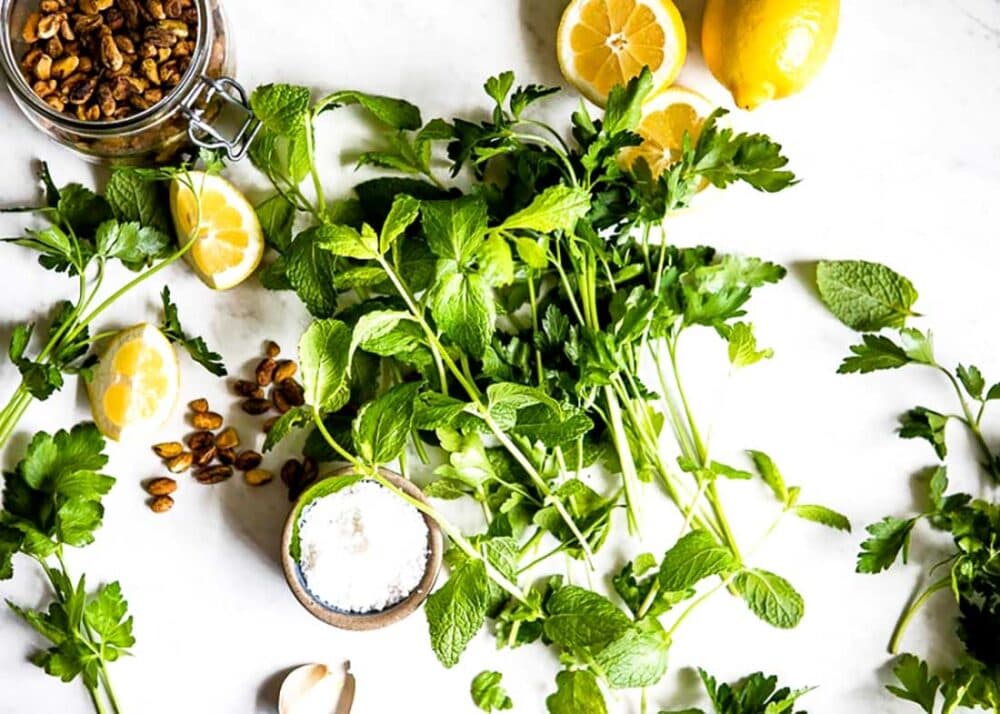 Where to Buy Pistachios
Pistachios typically live in the baking, dried fruit and nut, produce, or bulk food section of most grocery stores. Buying pistachios online may provide a better price point. Costco and Trader Joes are my go-to for nuts, yet I also love using Thrive Market.
Pistachios are sold raw or roasted with or without shells. I prefer to use lightly salted roasted pistachios because I love their flavor. Using raw pistachios will give the pesto a little extra creaminess. If shelling pistachios isn't your forte, then I just found some shelled ones at Costco that I can't wait to try.
If you don't like pistachios or need to use a substitute, then I recommend almonds, walnuts, pecans, pine nuts, macadamia nuts, cashews, Brazil nuts, or shelled hemp hearts. Swap 1 for 1 with any nut or seed of your choosing.
Fresh Herbs for Pesto
You may be shocked to know that basil isn't the only good herb for pesto. Two herbs that grow splendidly in any garden are mint and parsley. Right now, we're growing mint, basil and cilantro in our backyard garden– and they are taking off! Mint might even take over the yard if not contained!
Other fun herbs to try include cilantro, dill, oregano, rosemary, and more! Start with a little (like the mint in this recipe), then work your way up to a flavor profile that leaves your mouth in awe.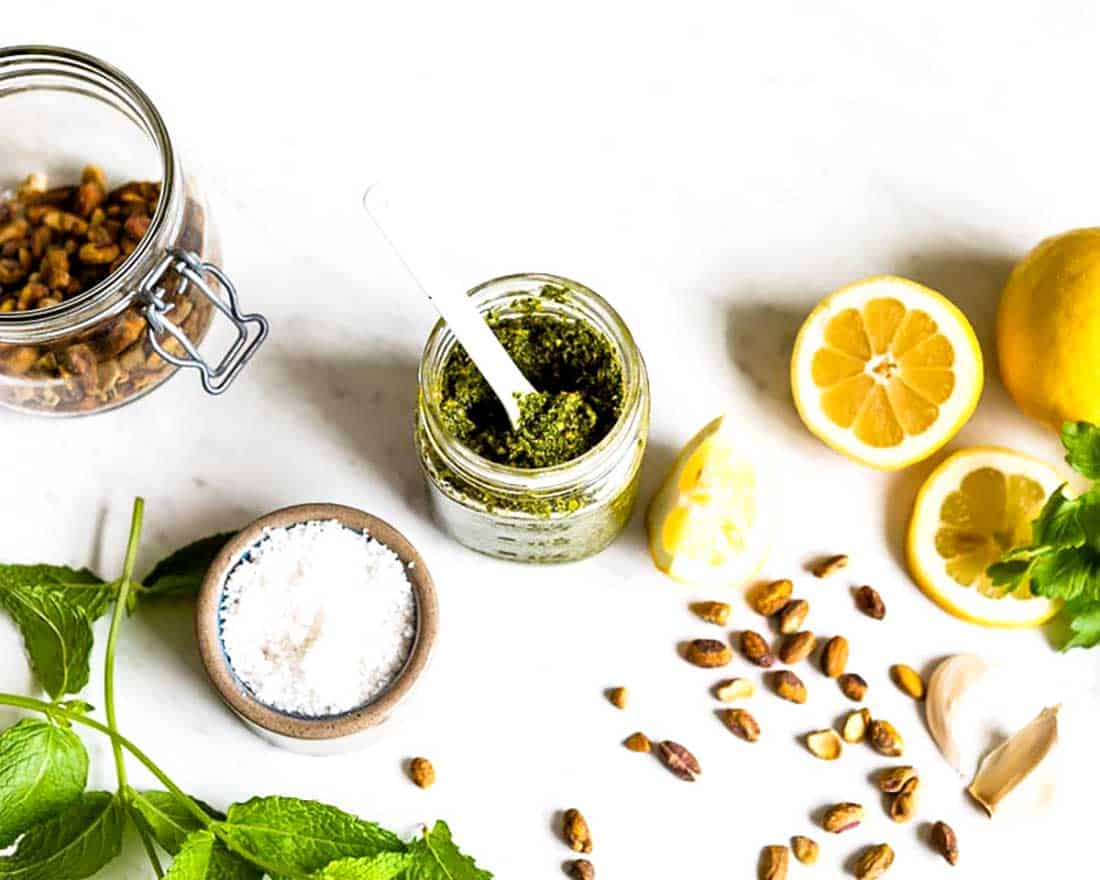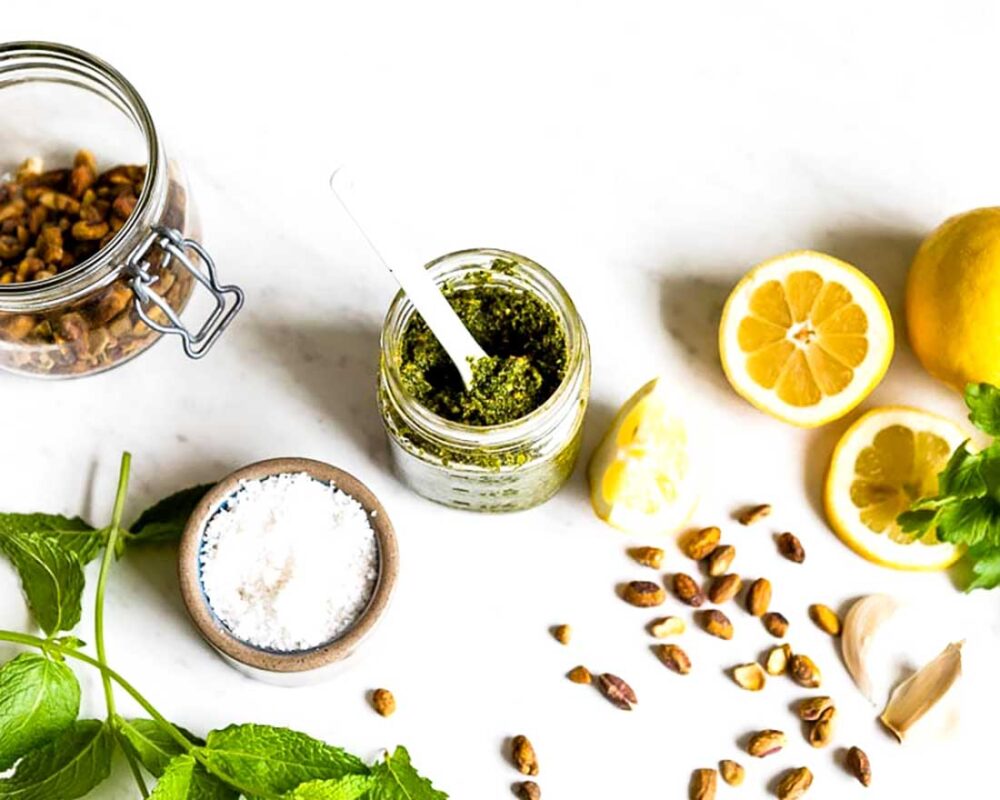 More Plant-Based Pesto Recipes
I love playing with new flavors, and came up with a few other pesto recipes that are equally delicious to this pistachio pesto. Check them out and let me know which one sounds good to you:
I want to know what you thought about the taste + texture of this recipe, so leave a rating and review below with your thoughts.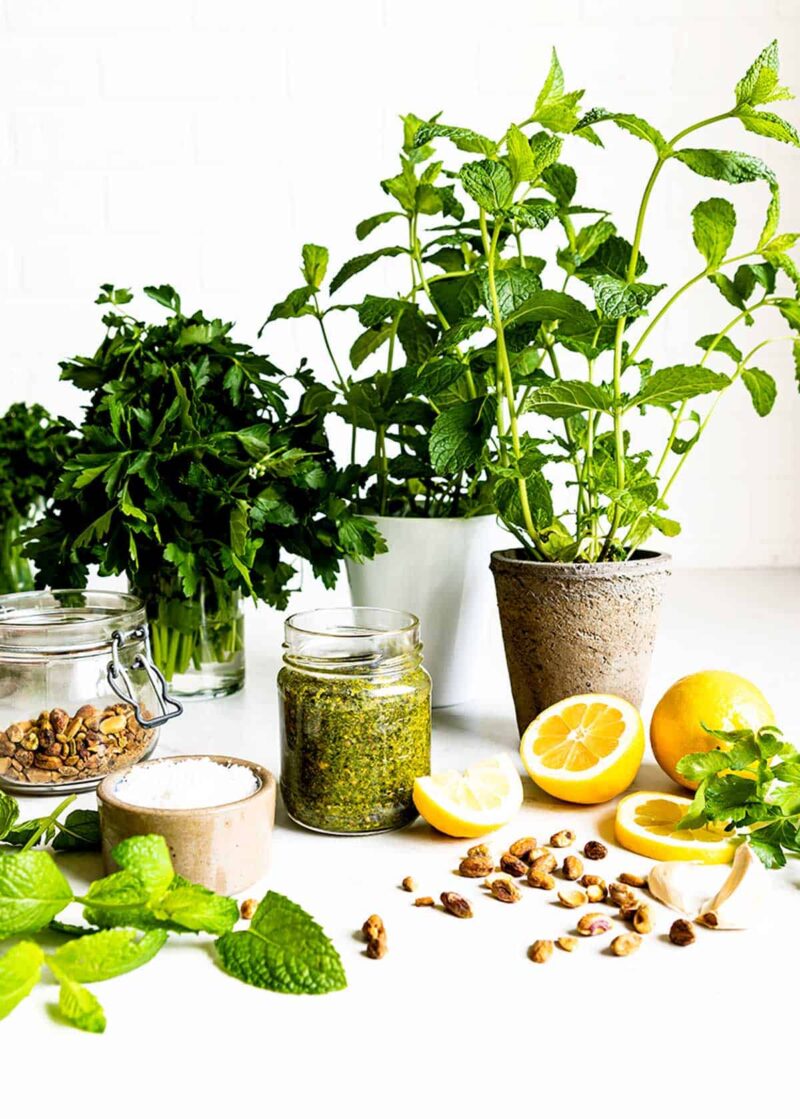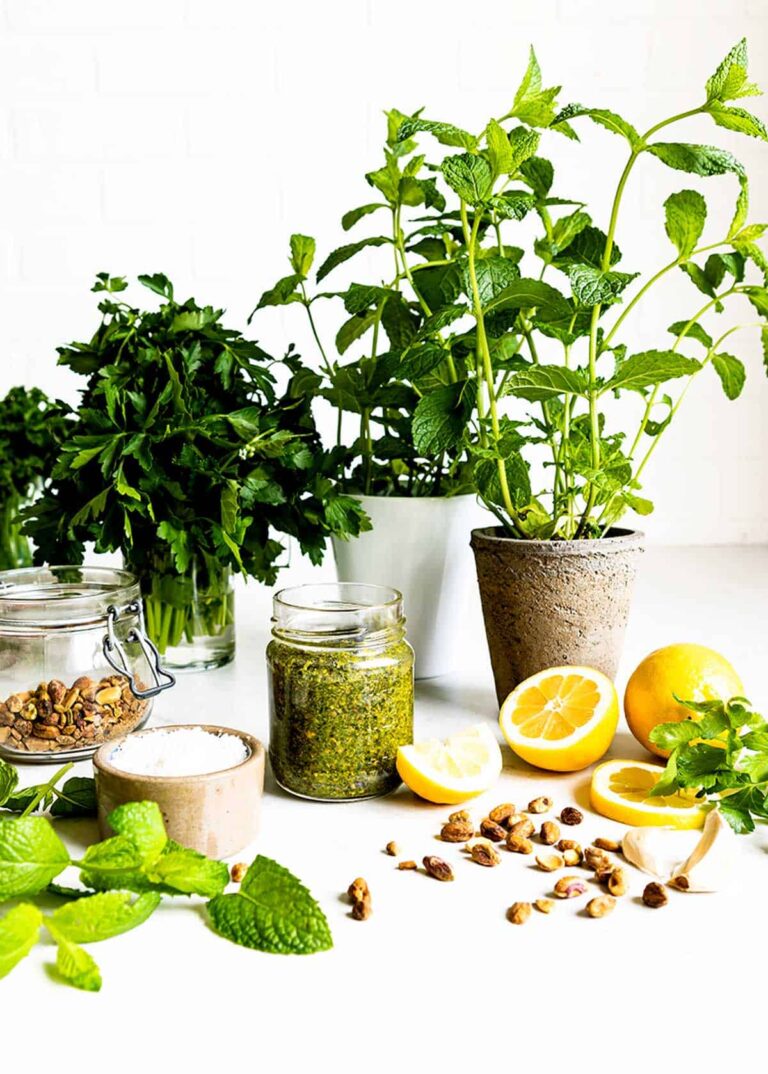 Pistachio Pesto
Plant-based pistachio pesto recipe combines parsley and mint with roasted pistachios and lemon juice for a sauce that is vibrant and fresh.
Ingredients
¼

cup

pistachios

shelled

2

garlic cloves

peeled and halved

1

cup

fresh mint

loosely packed

3

cups

fresh parsley

loosely packed

2

tbsp

lemon

juice

½

cup

olive oil

sea salt

to taste
Instructions
Place pistachios and garlic cloves into the bowl of a food processor fitted with the chopping blade. Pulse until finely chopped.

Add mint and parsley to the food processor. Pulse a few times to combine.

With motor running, add lemon juice and olive oil through the feed hole. Stop and scrape down sides as needed. Once pesto is the consistency of a slightly chunky paste, stop the food processor and add a good pinch of sea salt. Pulse a few times. Taste and add a little more salt, if needed.

Transfer to a jar with a tight-fitting lid. Store in the refrigerator for up to 1 week.
Notes
Try substituting cilantro or basil for the mint and parsley, or another leafy herb, to create a unique pesto.
Can be frozen for up to 2 months.
Nutrition
Calories:
310
kcal
,
Carbohydrates:
8
g
,
Protein:
3
g
,
Fat:
31
g
,
Saturated Fat:
4
g
,
Polyunsaturated Fat:
4
g
,
Monounsaturated Fat:
22
g
,
Sodium:
30
mg
,
Potassium:
406
mg
,
Fiber:
3
g
,
Sugar:
1
g
,
Vitamin A:
4301
IU
,
Vitamin C:
67
mg
,
Calcium:
101
mg
,
Iron:
4
mg