It's pumpkin season and I can't wait to blend this pumpkin smoothie with you. It's a delightful blend of sweet and warming flavors, just like a pumpkin pie!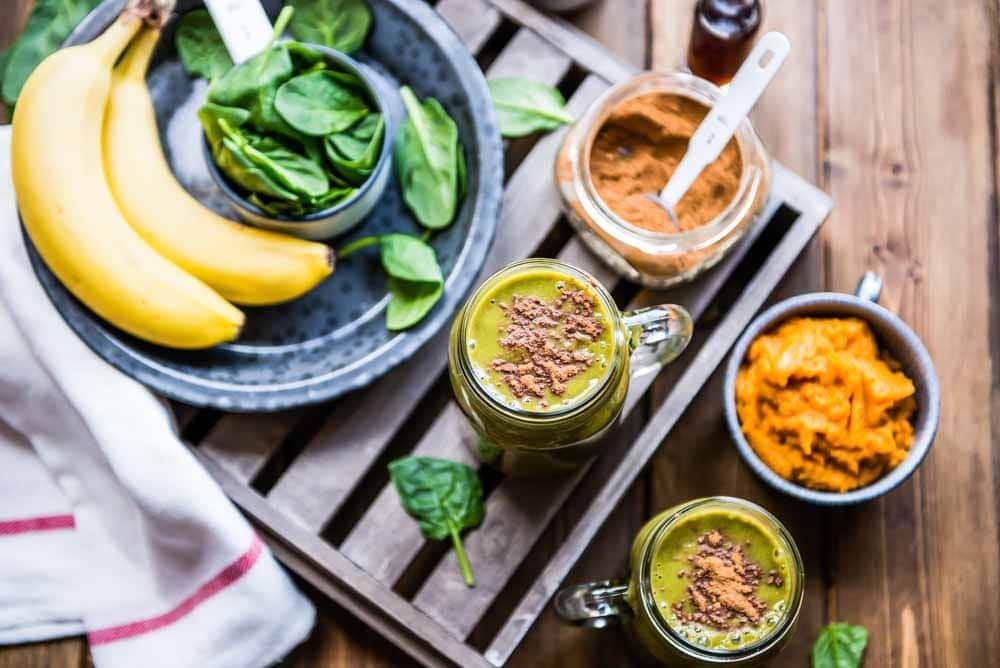 Start the season off right with this pumpkin smoothie. It's got the perfect blend of sweetness, as well as some warming spices. The fact that it tastes like a pumpkin pie in smoothie form will make you forget you're drinking a green smoothie! Fall is my fav time of year, from the weather to the food. I can't wait for you to try this smoothie and watch your day transform into the fall-est of fall experiences.
How to Buy Pumpkin Puree
Did you know that not all pumpkin puree is created equal? Even on a product as simple as this, don't forget to check the ingredient list. Companies have been known to add in other squash as filler in their 'pumpkin puree.' Also, make sure to grab 100% pumpkin puree, not pumpkin pie filling. The pie filling can looks super similar, yet actually contains spices + sugar as it is meant for pie filling.
Homemade pumpkin puree for this pumpkin smoothie recipe
Making homemade pumpkin puree is also an option, and it can be frozen as well! Some say that pie pumpkins, or the cute, tiny ones you see at grocery stores, make the best puree. I've roasted some big ones and honestly can't tell the difference.
To make puree, slice open a pumpkin from top the top stem to the bottom. Scoop out all the seeds, then place on a baking sheet lined with parchment. Drizzle the cut sides with a little olive oil, then place face down on the baking sheet.
Bake at 350 degrees for about 45 minutes, or until the pumpkin halves are soft.
Scoop out the orange flesh from each pumpkin halve, and place in a cheese cloth.
Squeeze out as much excess water as you can. I like to weigh out 15 oz batches when storing my puree, so that I can grab 1 to thaw for baking. This can be stored in mason jars or reusable silicone bags. Don't forget to leave some puree out for this pumpkin smoothie!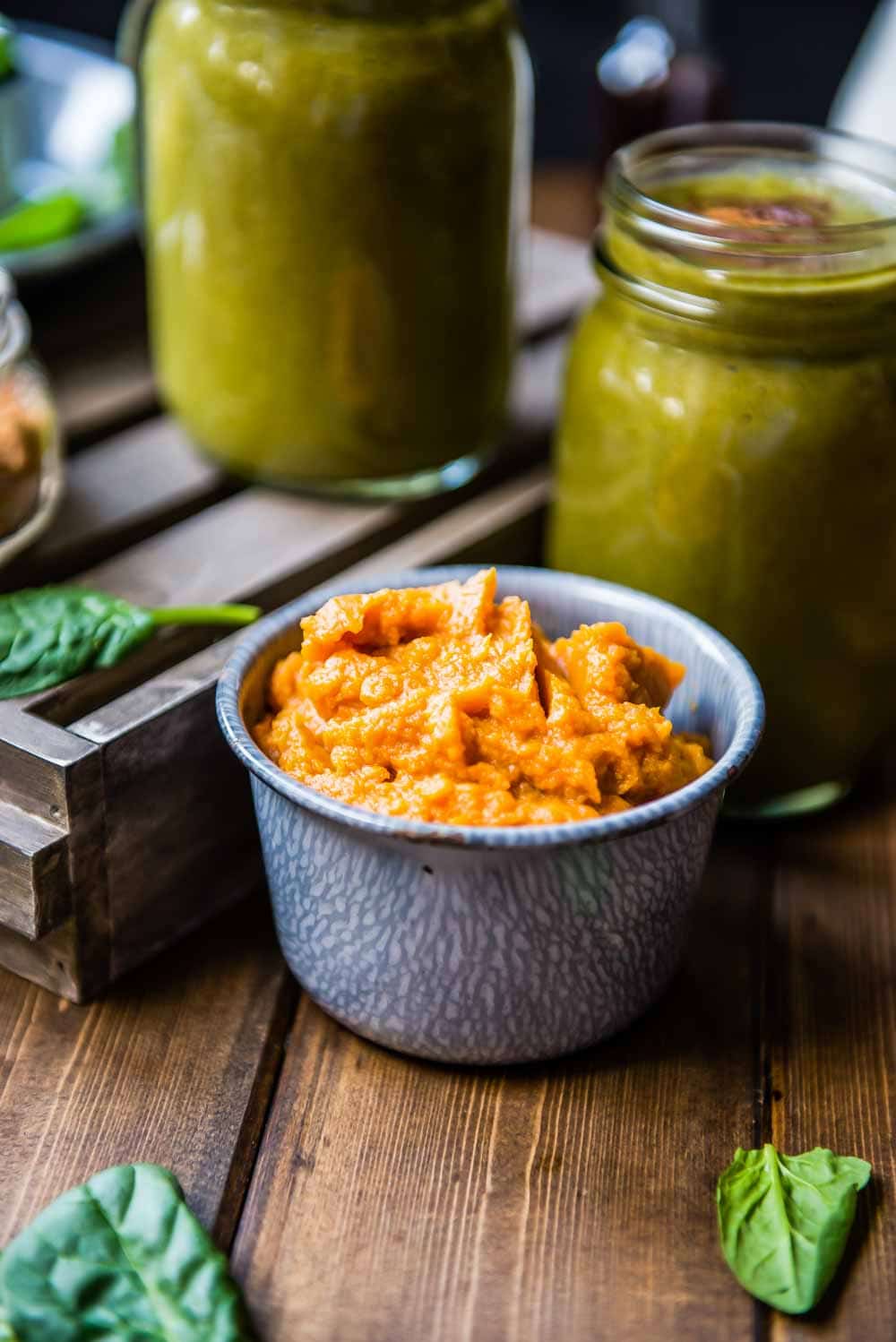 Pumpkin smoothie ingredients
Even festive smoothies can be nutritious, and this pumpkin pie smoothie is no exception!
Spinach: This leafy green is full of health benefits AND doesn't affect the taste of the smoothie. Sure the smoothie is green, yet if you closed your eyes you'd have no clue. Spinach is a great leafy green to blend into smoothies for this very reason!
Almond Milk: I use almond milk to create a creamy texture and also add a little bit of protein. Need to swap for another kind of plant milk? Whether it's coconut, oat, or more, I've got you covered.
Banana: This fruit is a great natural sweetener as well as helps make a creamy smoothie. They contain dopamine, which is an antioxidant that helps reduce free radicals.
Mango: Frozen mango blends the pumpkin and banana together well. It's also frozen which helps chill down this pumpkin smoothie.
Pumpkin: This powerhouse ingredient contains 245% of the recommended daily intake of vitamin A. It is also 94% water, making it a great, low calorie option.
Pro tip: If you want to cut down the amount of sugar in this pumpkin smoothie recipe, then you can swap the 1/2 banana for 1/4 cup of cashews or cauliflower. This way your smoothie stays creamy, and your blood sugar stays happy.
Homemade Pumpkin Spice Blend
This pumpkin smoothie recipe calls for 1 teaspoon of pumpkin pie spice, which can be store bought or homemade. If you don't have any on hand, then whip some up at home! My simple recipe includes:
1/4 cup ground cinnamon
3 tablespoons ground ginger
1 teaspoon ground nutmeg
1/2 teaspoon ground cloves
1/2 teaspoon ground allspice
1/4 teaspoon ground cardamom (optional)
Just add these spices to a jar and shake, then it's ready to use. Don't be afraid to adjust the spice amounts based on taste preferences. The cardamom adds a bit of complexity to the flavor of the mix, which I like. And, you can use this spice blend for other recipes too!
How to add pumpkin spice to everything
This spice blend is a super fun way to add fall flavor to a multitude of dishes. Here's how (and where) I like to add it:
You can even add this spice blend to your coffee or oatmeal; just have fun with it! Does this pumpkin smoothie sound like something you want to try? Drop a comment to let me know!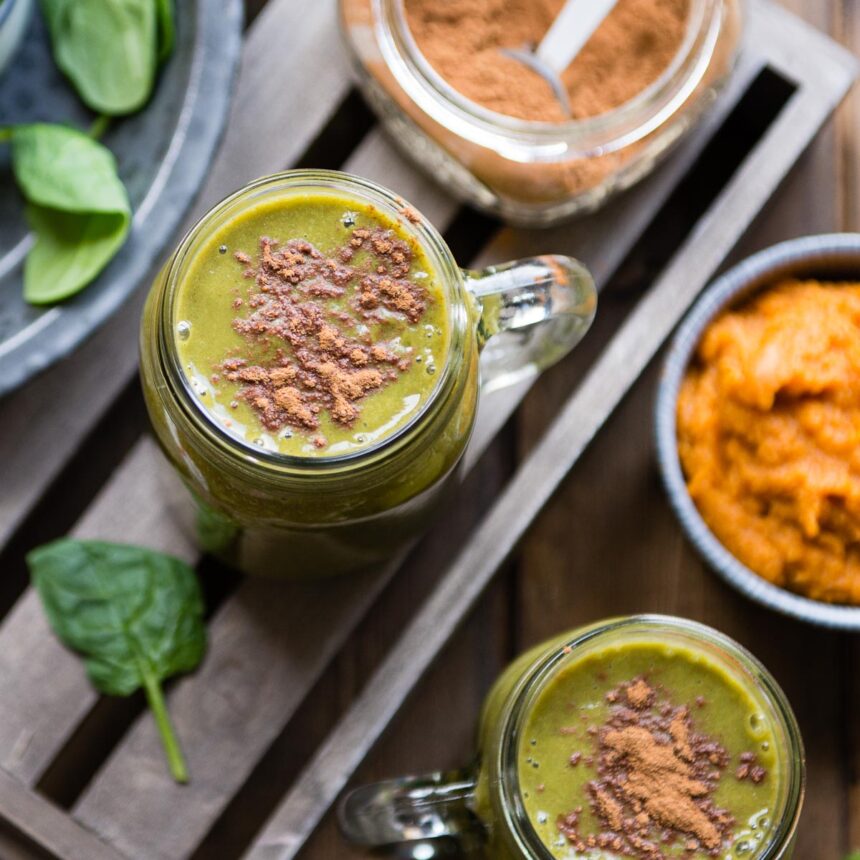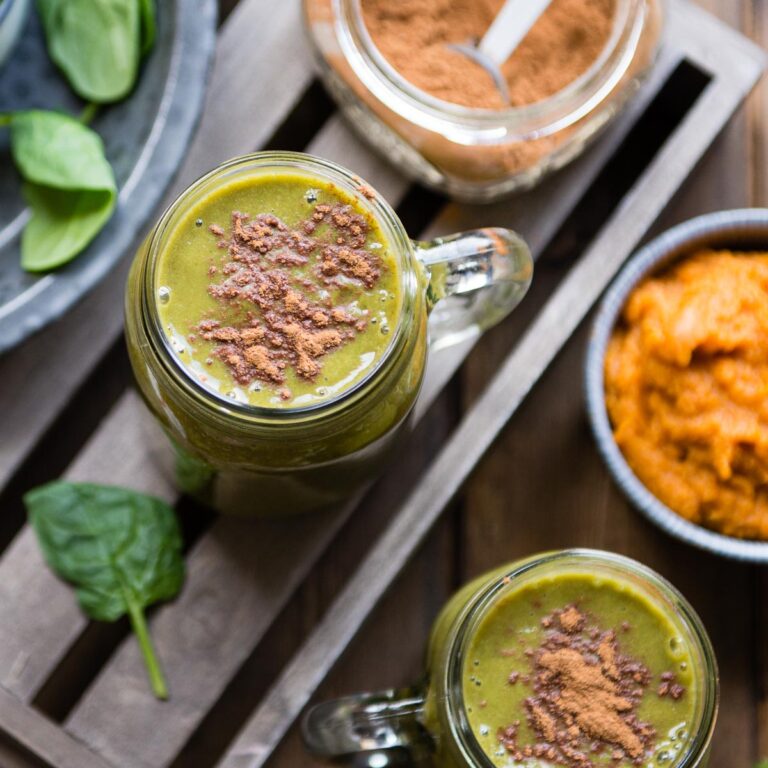 Pumpkin Smoothie
This Pumpkin Smoothie is packed with fiber (great for digestion and feeling fuller longer), vitamin A (great for your eyes), and iron (great for healthy blood). Autumn has never tasted and felt so good!
Ingredients
1

cup

spinach

1

cup

almond milk

unsweetened

½

cup

pumpkin puree

unsweetened

½

banana

frozen

½

cup

mango

frozen

1

tsp

pumpkin spice

½

tsp

vanilla extract

1

serving

homemade protein powder

optional
Instructions
Blend spinach and almond milk until smooth.

Add remaining ingredients and blend again until smooth.
Notes
Feel free to use fresh pumpkin puree instead of canned.
Swap the spinach with the leafy greens of your choice. 
To lower the natural fruit sugar, swap the mango with 1/4 an avocado or 1/2 cup cauliflower.
If you can't find pumpkin pie spice, use my homemade blend: 1/4 cup ground cinnamon, 3 tablespoons ground ginger, 1 teaspoon ground nutmeg, 1/2 teaspoon each ground cloves, ground allspice and ground cardamom. You can keep this in a jar with your other spices and use in smoothies, cookies, pancakes, and more!
Add in plant-based protein powder to turn this smoothie into a meal replacement.
Swap almond milk with the unsweetened, dairy-free milk of your choice.
Nutrition
Calories:
172
kcal
,
Carbohydrates:
33
g
,
Protein:
4
g
,
Fat:
4
g
,
Saturated Fat:
1
g
,
Polyunsaturated Fat:
2
g
,
Monounsaturated Fat:
2
g
,
Sodium:
352
mg
,
Potassium:
731
mg
,
Fiber:
5
g
,
Sugar:
21
g
,
Vitamin A:
8686
IU
,
Vitamin C:
49
mg
,
Calcium:
368
mg
,
Iron:
2
mg