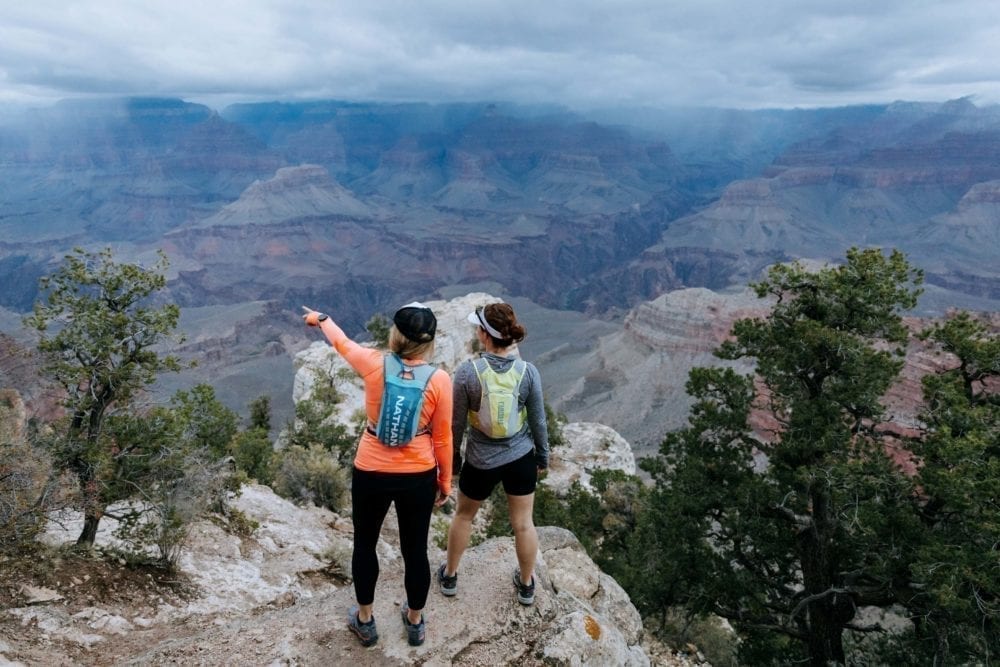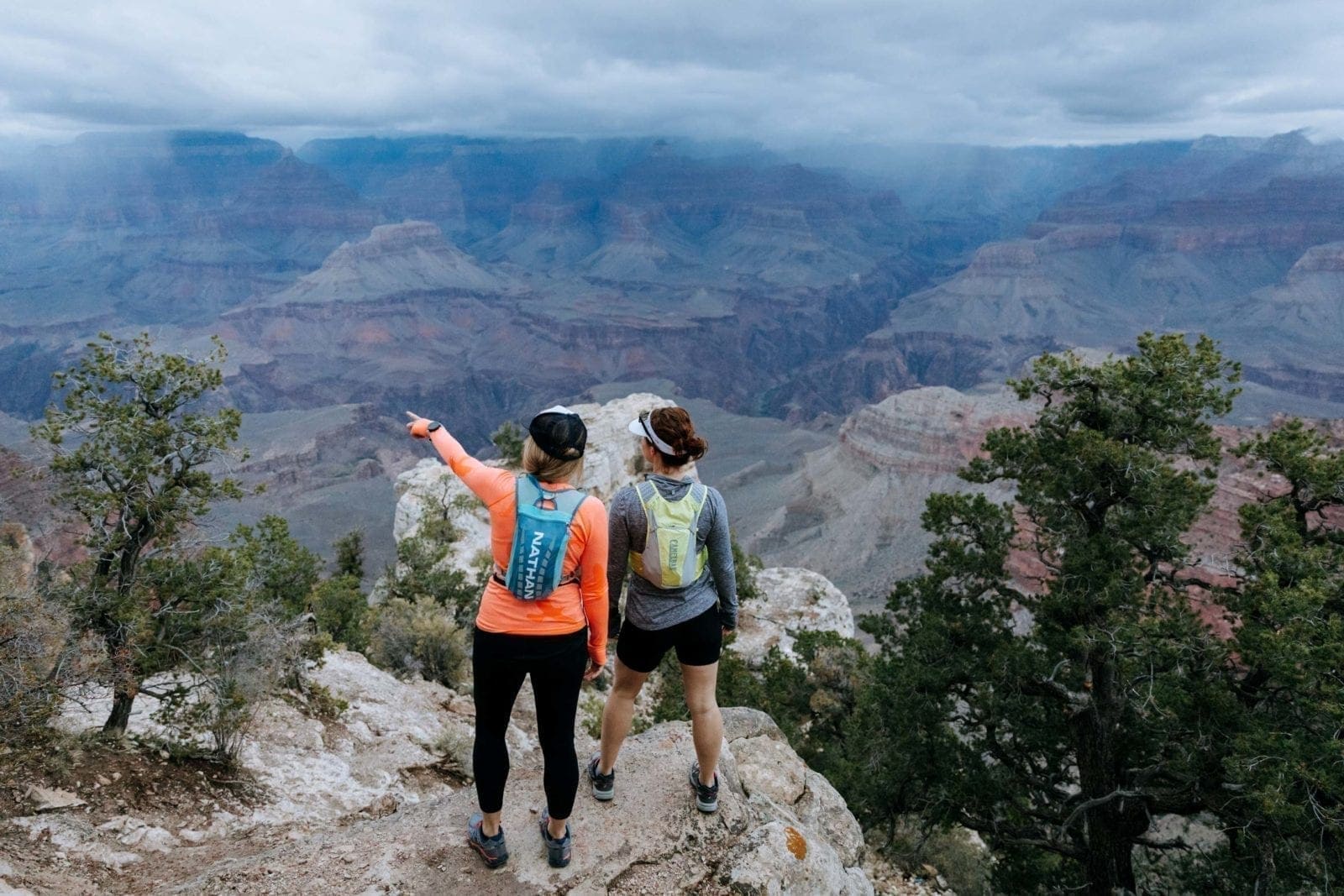 Last October, I did this epic journey with my friend Carissa— with just a running pack to sustain us for 45+ miles. Since then, I've started training people + hosting events where we do this epic adventure together. 
If you feel like you want to do this same trip, I'd love to invite you to join me on my next one. Click here to learn more the Grand Canyon Rawkstar Adventure.
Yet before you decide if it's right for you, check out my journey...
There are very few words that would do the Grand Canyon Rim-to-Rim-to-Rim any sorta justice. There's nothing like experiencing it for oneself— you MUST do it!!! Yet I do believe the photos and video we captured are second best and still give me chills and tears in my eyes as I look through them all.
I'll try to keep it short and sweet and let the video and photos do most of the talking.
I've always felt a deep connection with the Grand Canyon— and no where else has it been like this. My family knows that when I die, that's where my ashes go. Yep— down in the canyon (just don't tell the rangers!).
I want my loved ones to hike down into it's belly, breath in the beauty and release the little that is left of me into the wild. That's how I want to go out.
That's how special this canyon is to me.
I asked my friend Carissa, who got into ultra running at the same time as me if she'd want to go on an epic adventure and run the whole Grand Canyon.
45 miles (or so we thought. It was actually 47 miles when we finished).
10,000 feet in elevation gain.
Carrying everything we needed on our backs.
No one in their right mind would say yes to that.... which is why she did.
(And that explains why we're best friends 🙂
We started our adventured by catching a cheap flight to Vegas and renting a car from there. We drove over the Hoover Dam (stopped to do some running!) then cruised down Route 66 and stopped along the way to take photos and grab a quick bite.
The drive to the Grand Canyon was 4 hours from Vegas and well worth it. We had a blast!
Running the Grand Canyon Rim-to-Rim-to-Rim
As for our actual run of the Grand Canyon, we knew we needed a strong game plan to even attempt something like this. So our first day we went and talked with some rangers and learned that it would be best to head down South Kaibab trail, cross the Colorado River and climb up North Kaibab Trail. Then turn around, go back down North Kaibab, cross the Colorado River and climb out through Bright Angel Trail (which is a little less steep).
So that was the plan... for one day.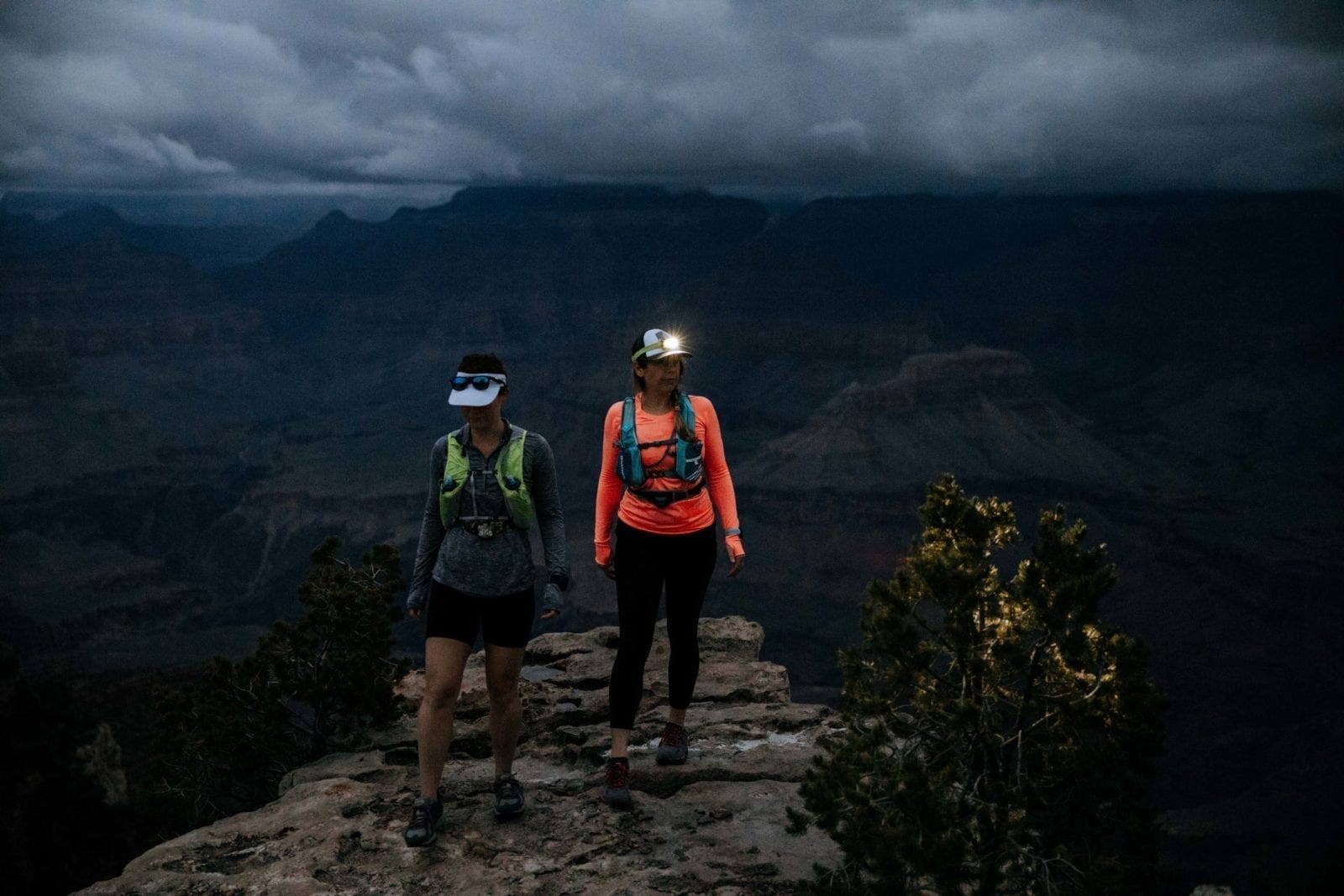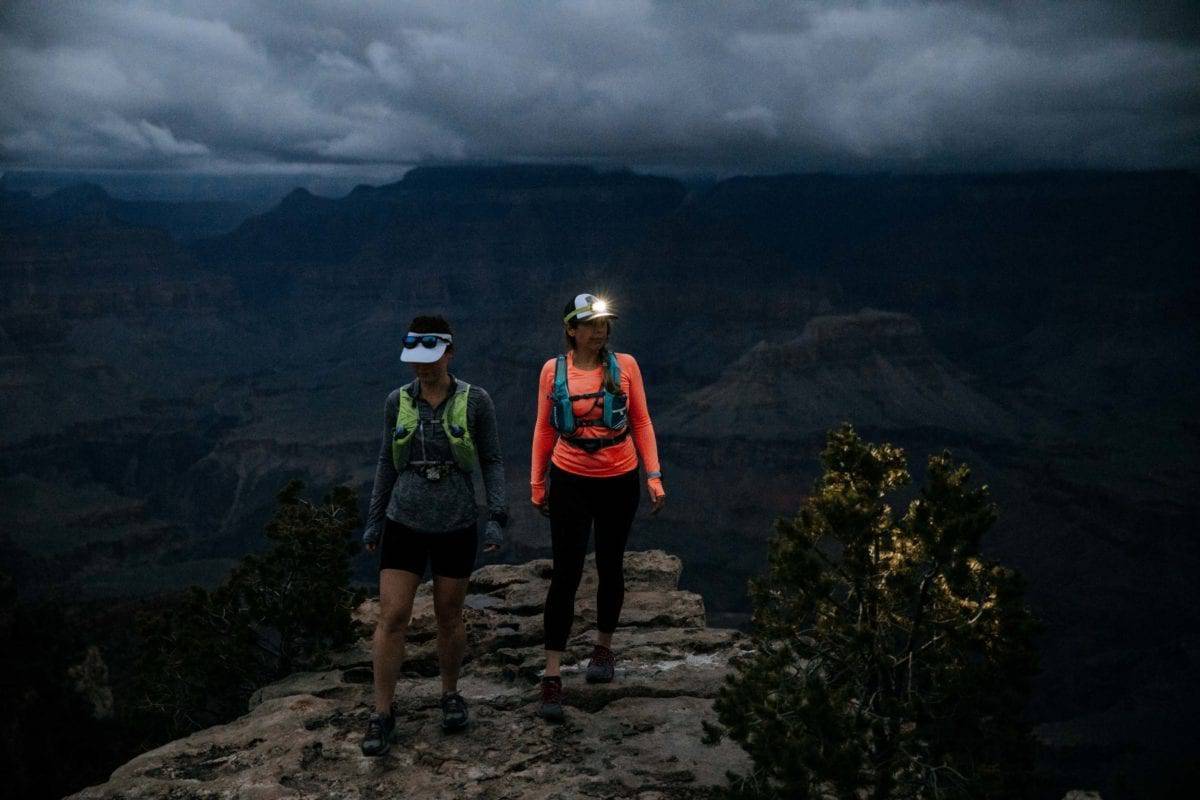 We caught the first shuttle to the trail head, which was 5am. Since it was dark, we brought our trail lamps to light our path. As the sun came up over the rim, we began to see colors and shadows and the canyon was painted with colors. Eventually we turned off our lights and were guided by the sun.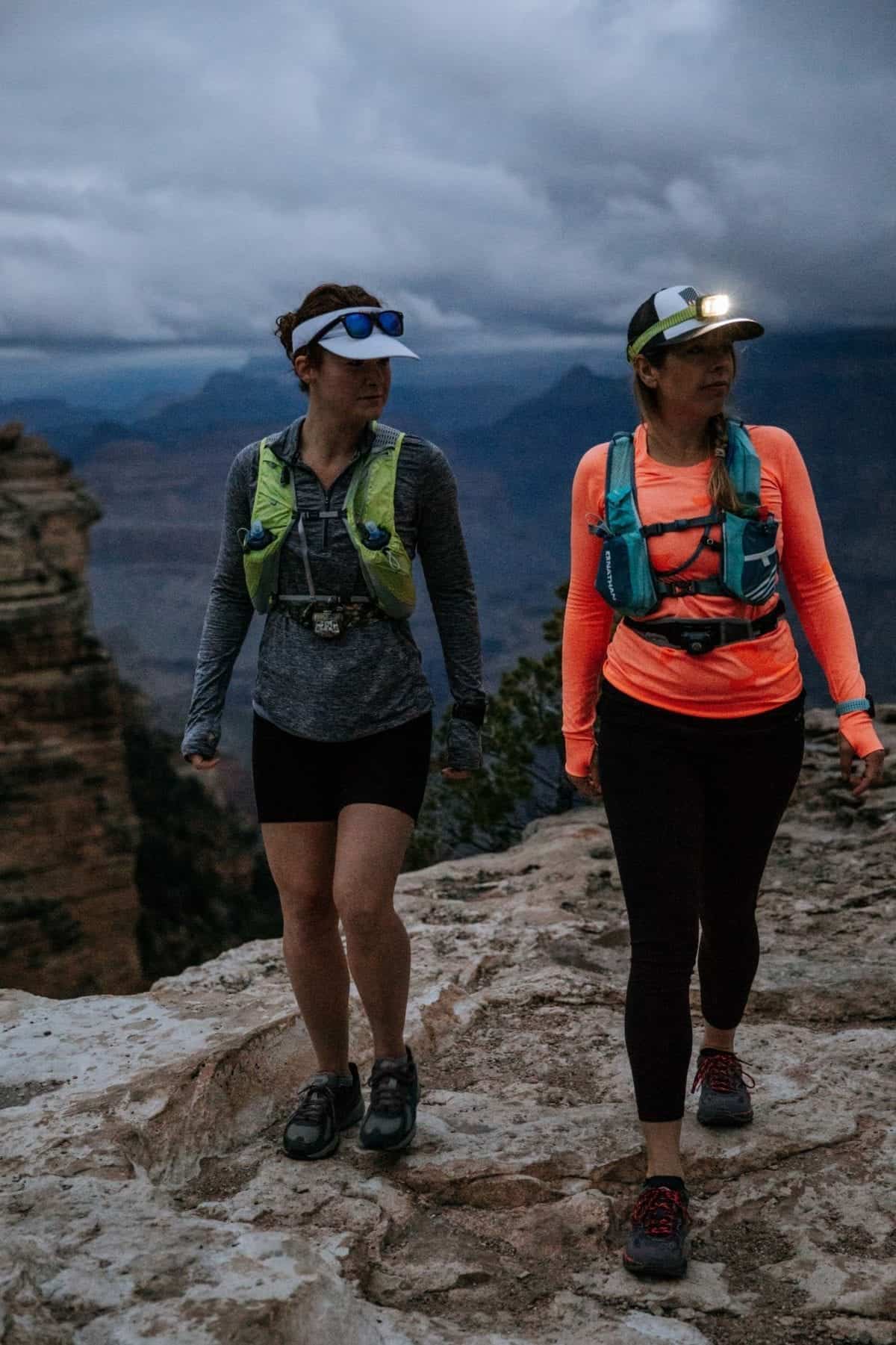 What gear to use for the Rim-to-rim-to-rim
When it came to gear, Carissa and I both had hydration vests. Mine allowed me to carry 2 liters of water and Carissa had about 1 liter of water on her. When I run, I'm always thirsty. So I wanted to have as much water as possible.
Yet let me tell you— that extra weight was intense going up the canyon! I felt like each step was a weighted squat!
We carried water and chia fresca endurance drink in our bottles for the long run ahead. We also packed dried mango, cashews, peanut butter and jelly sandwiches, Sports beans, Clif bars and Clif chews to keep us nourished and energized.
( My favs are dried mango and Clif chews. )
As for shoes, I have loved my New Balance since my first marathon in 2003.
I haven't been injured when I wear my New Balances shoes— and I've done 5 marathons, 2 ultras and countless half marathons in them.
The ones I wore for our Grand Canyon hike were the Leadville model I found on REI Garage for half the price. Carissa wears Aasics and feels really good about them too.
Everyone has a favorite— you just have to try a few pairs out to know what's right for you. I recommend going to a running shoe store where actual runners work, watch you run and fit you for the perfect shoe.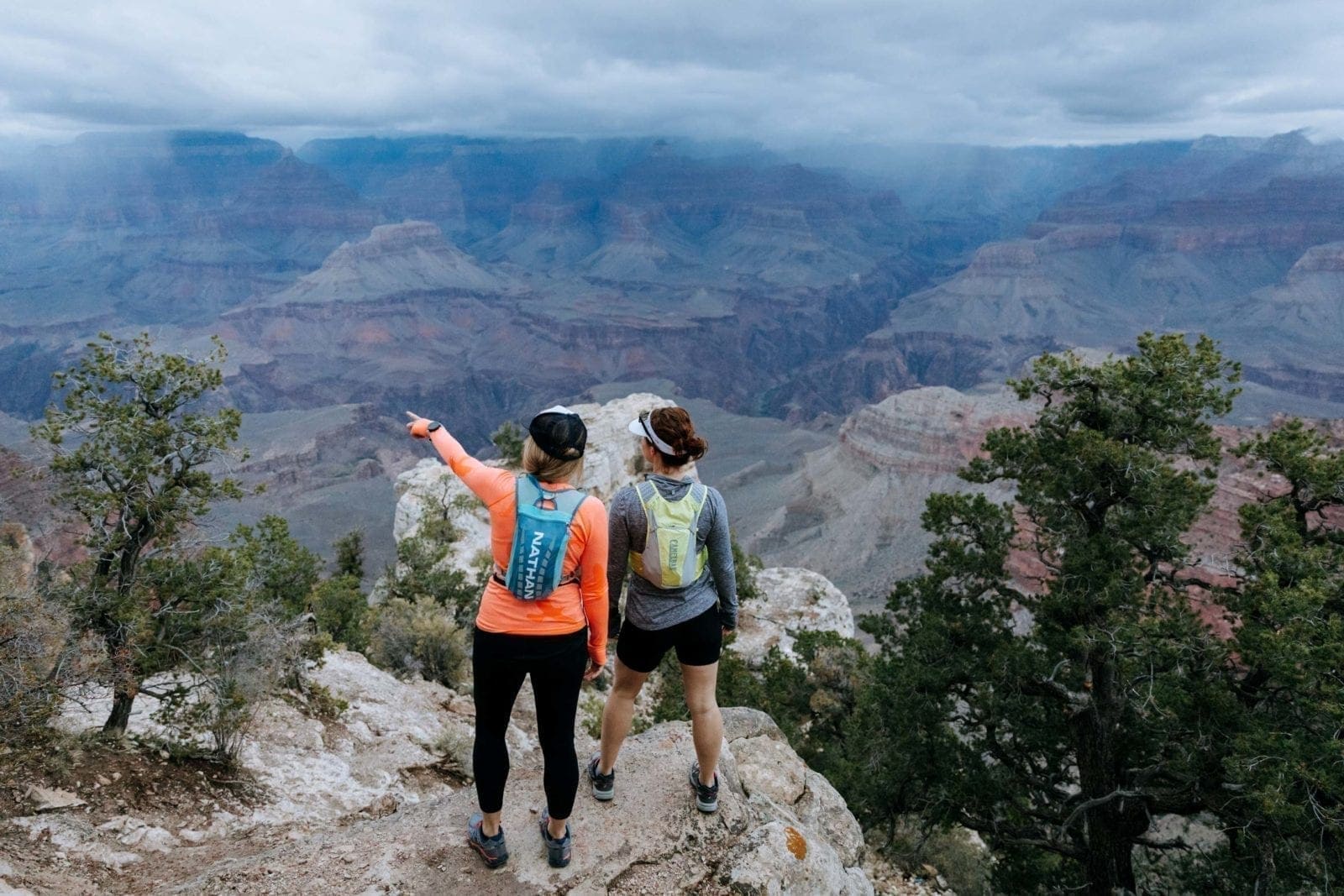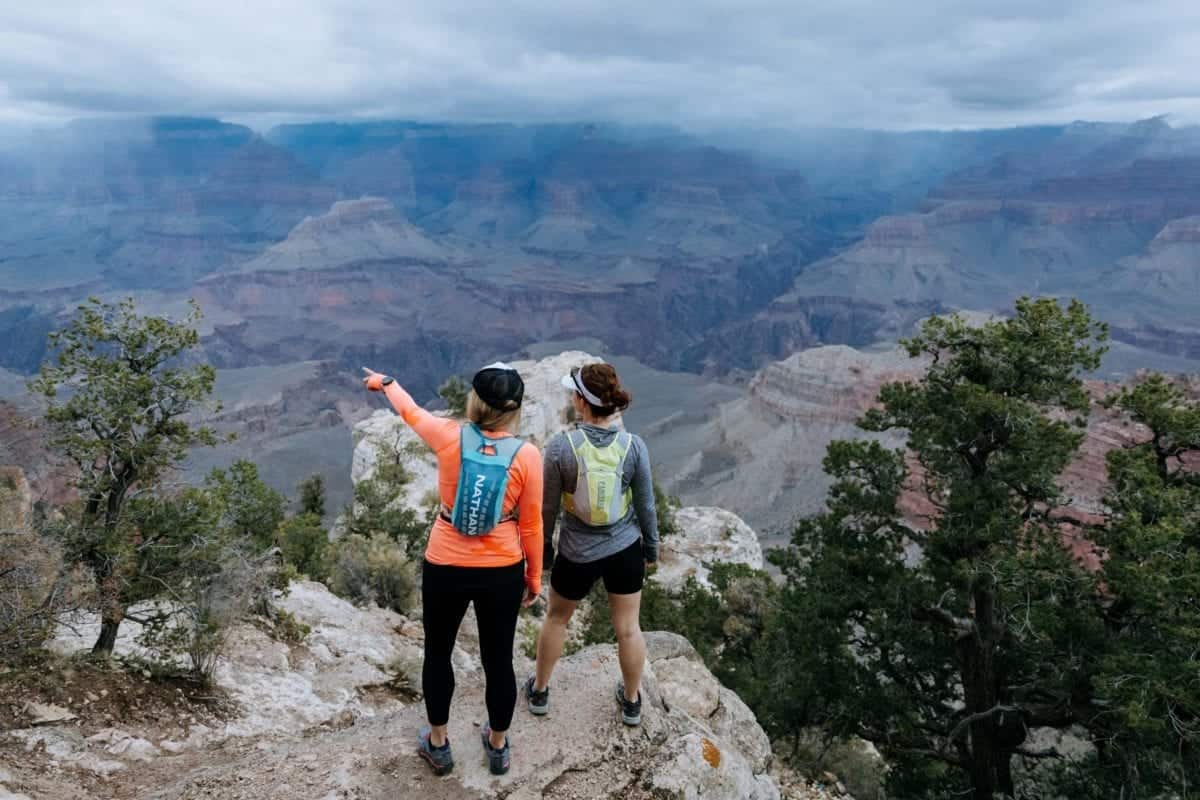 As for clothes, I wear a lot of Oiselle right now. I love how it looks and feels— so what's not to love? My pants are lululemon... and the first time I ran in them was race day (which is a huge "no no"). You should always try them out before your big day. But I knew they worked great as travel day pants and would work well for this... and they did!
I chose pants over shorts to help with thigh chafing. You may not notice is on a 6 mile run, but let me tell you it's for reeeeal on a 47 mile run!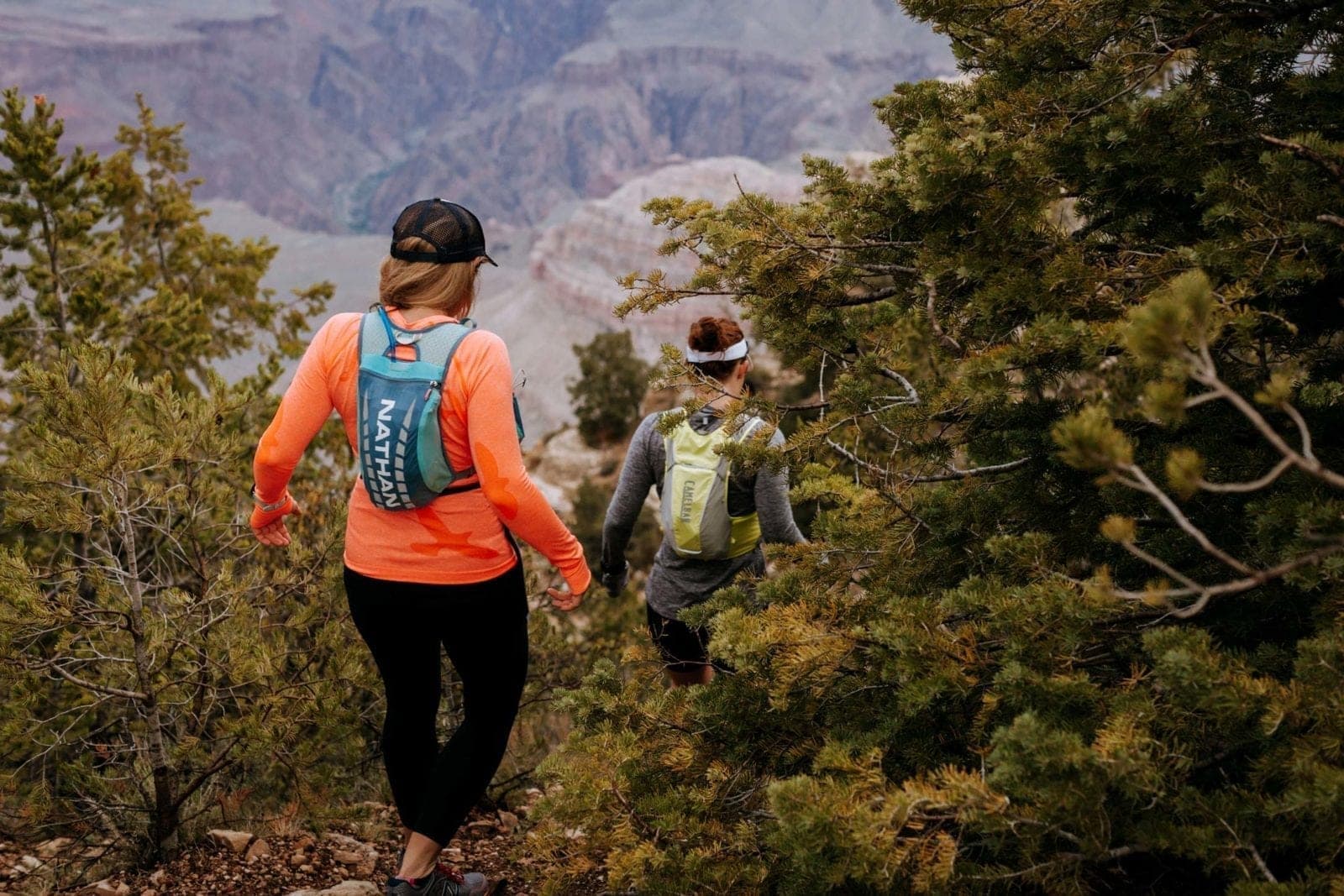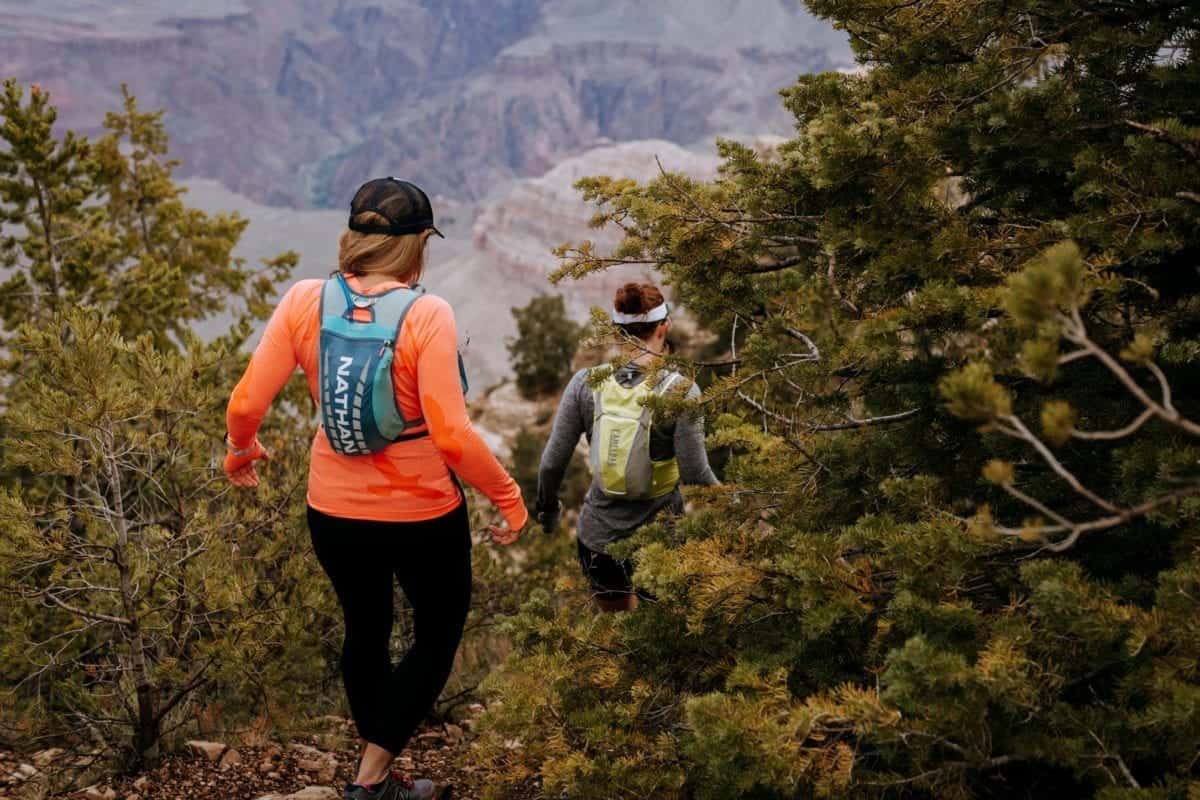 Obstacles of the Grand Canyon
One of the hardest parts of hiking the Grand Canyon is the amount of down hill and uphill. It feels like it will never end. Your quads, hamstrings, knees and calves will scream in rebellion. Yet our heart + willpower always kept us going. With ultra distances, you just learn to ignore the pain and focus on the beauty that lies ahead.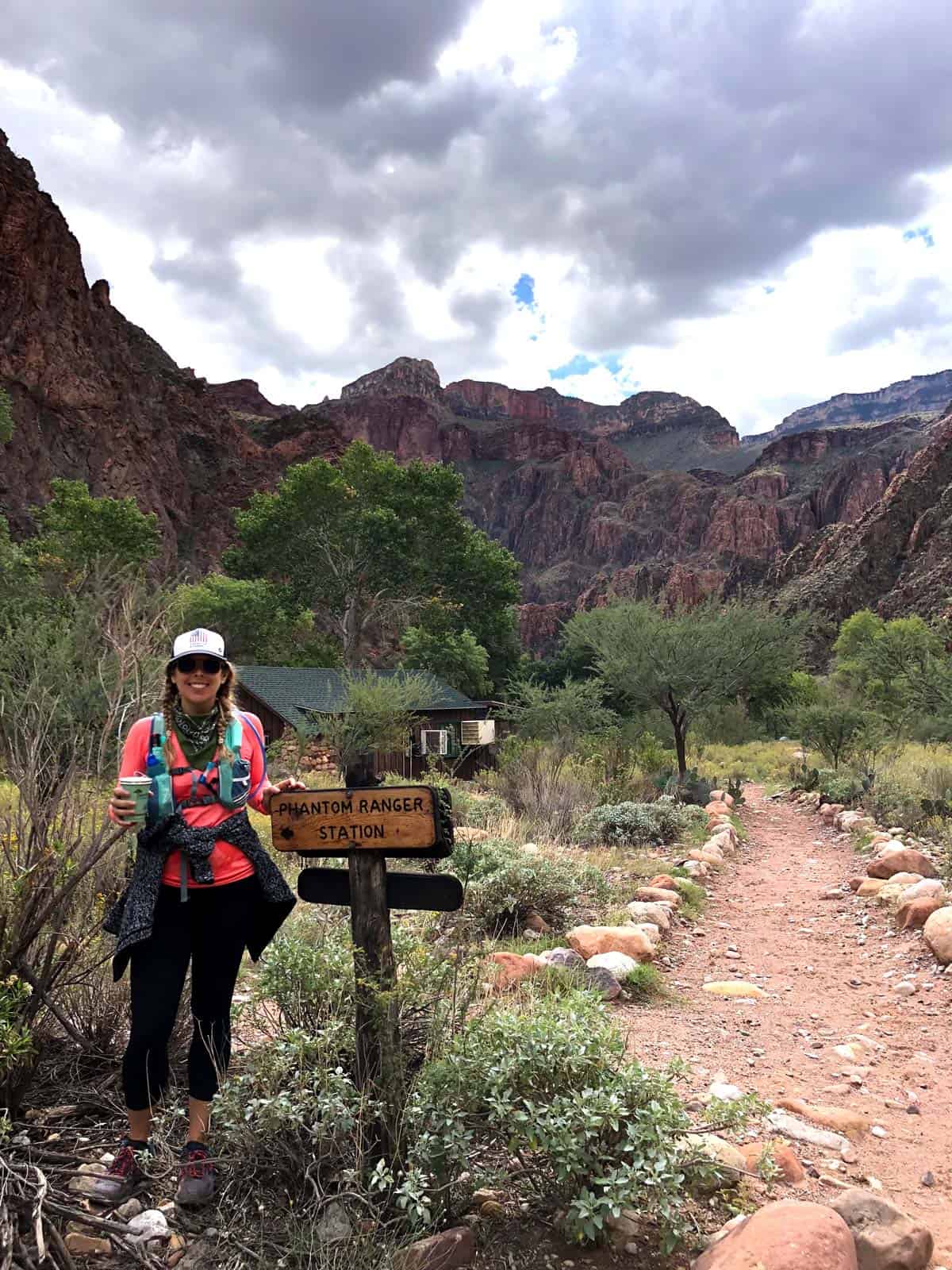 Phantom Ranch— Bottom of the Grand Canyon
After 7 miles of straight downhill, we found our way across the Colorado River and into Phantom Ranch. I've wanted to get to this place ever since I read Through Painted Deserts by Donald Miller. And it was even more beautiful and special to see it in person. Carissa and I didn't want to leave— we had coffee, made new friends and soaked our feet in the cool spring.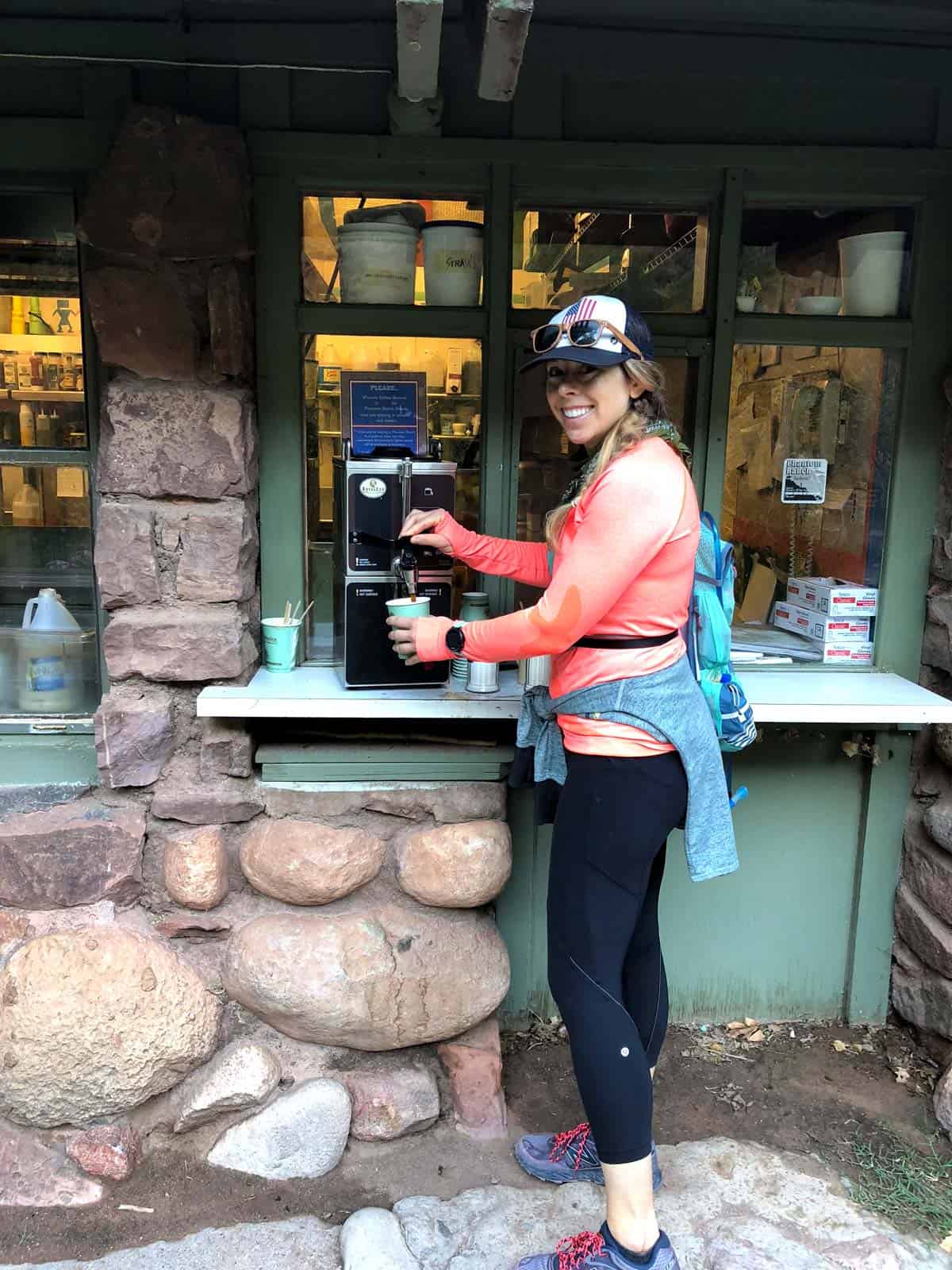 Yet we need we had to keep going if we wanted to make it through this journey. So we took off again... and were thankful for a few miles of flat trails. Our bodies were flying and we felt so energized!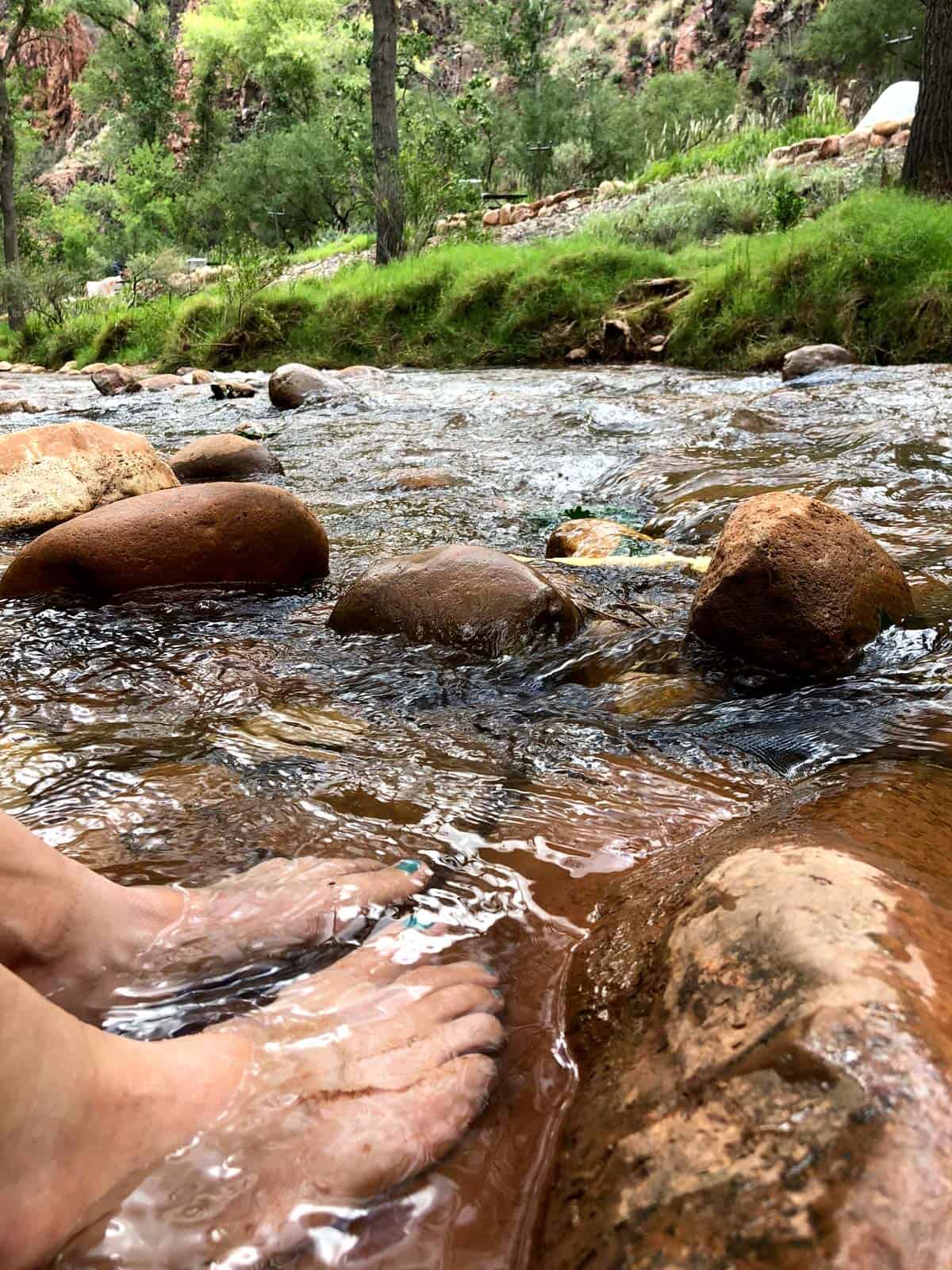 Grit is going farther than you trust
We were loving every moment of it. The canyon walls closed in around us and the sun warmed our bodies... until eventually it got too hot. Thankfully we had hats, sunglasses and lots of water to combat that!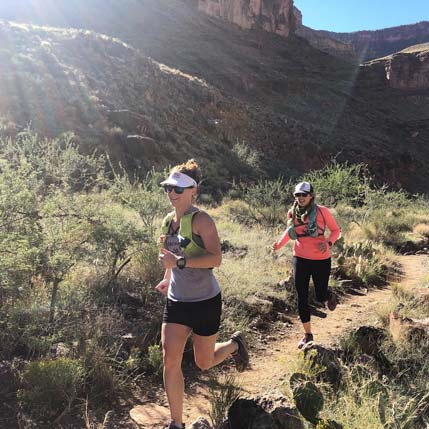 Eventually the flat trail ended and we began to climb back up... and up... and up. When hitting the North Kaibab Trail, we literally ran, hiked, walked uphill for 13.5 miles! It was unreal!
At one point, my quads were in so much pain that it took me 40 minutes to do a mile. I was slowing down and hurting... yet I forced my body to keep going. Slow and steady was my motto the last 4 miles of the North Rim.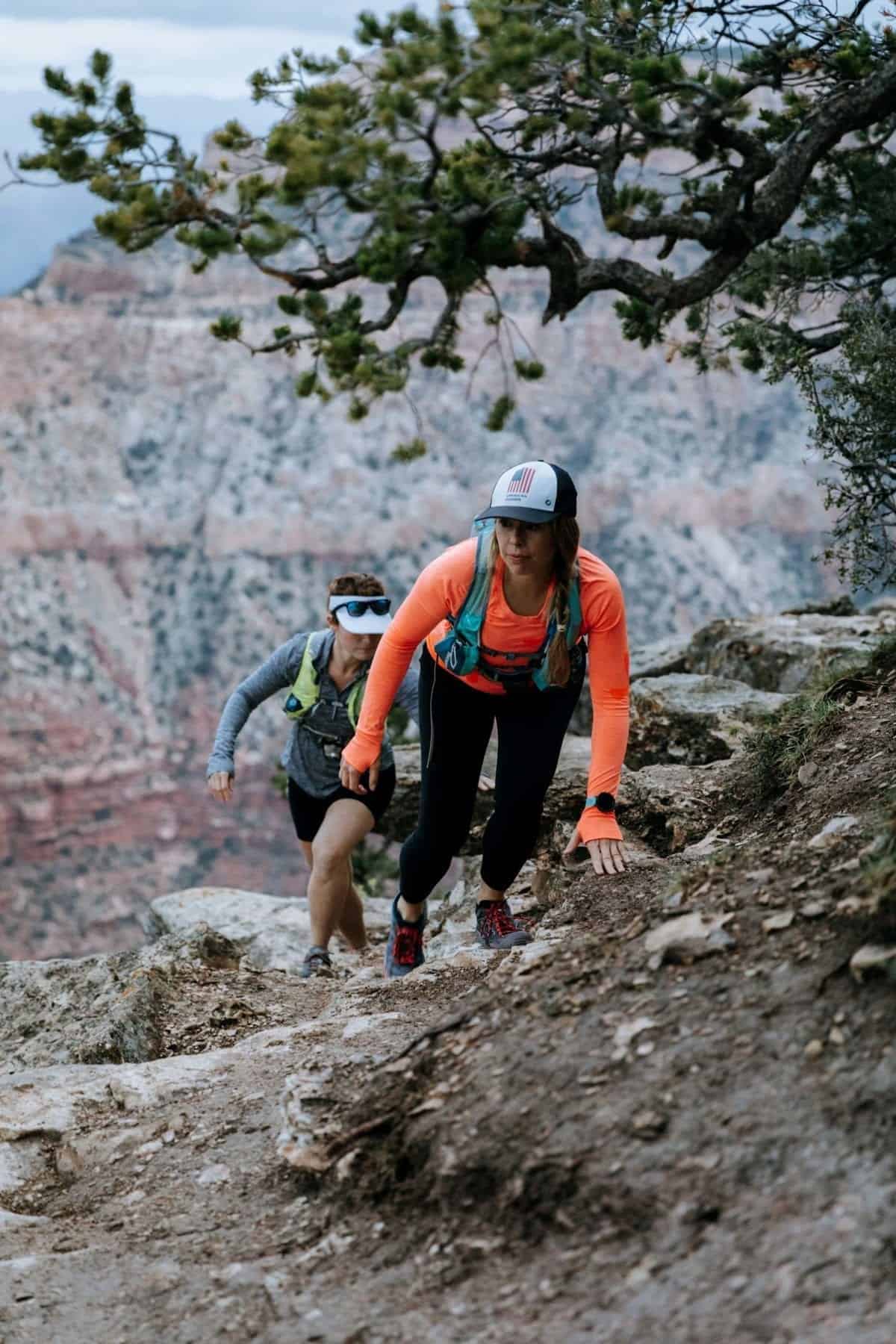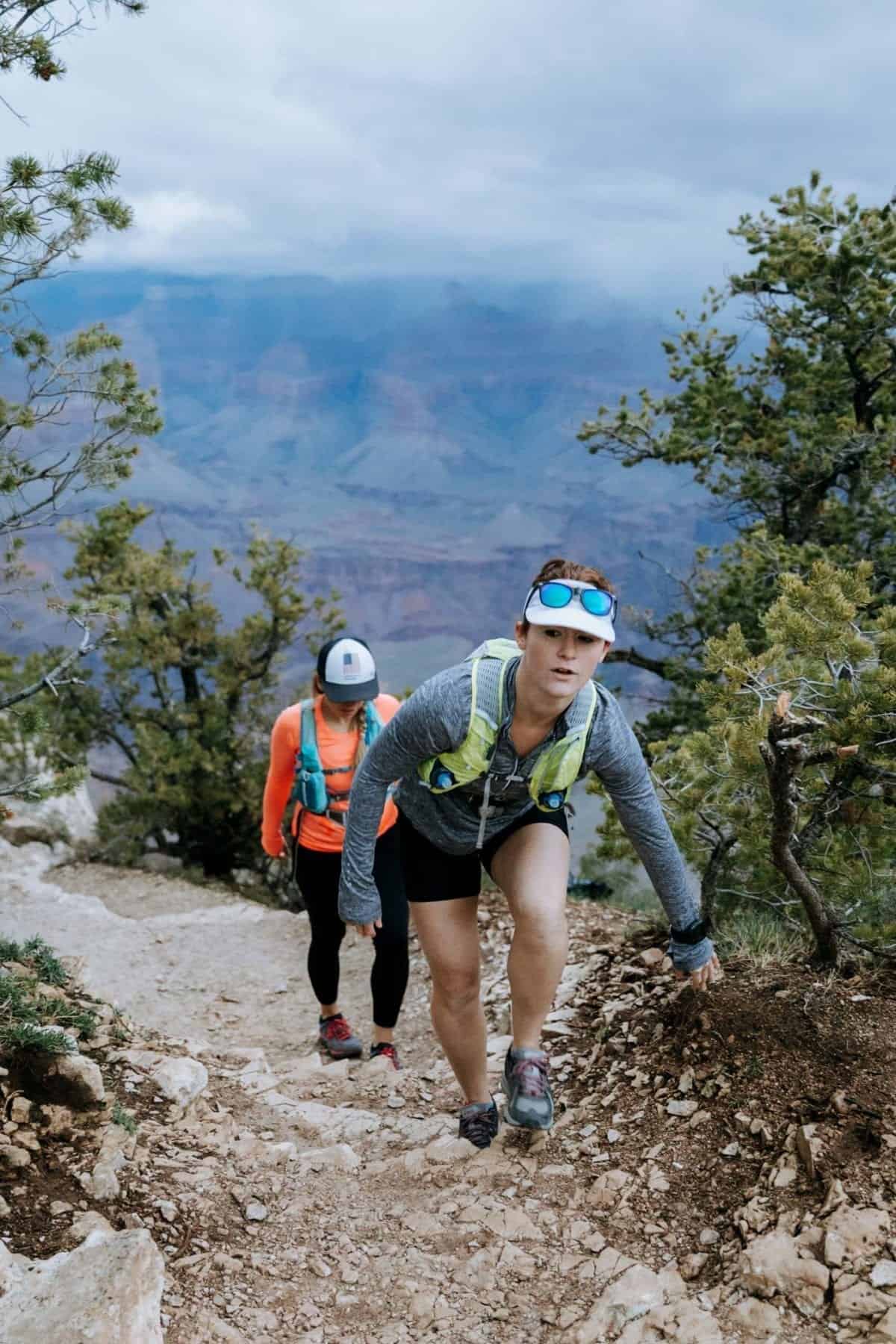 South Kaibob to North Kaibob Trailhead
After miles and miles of elevation gain, we finally made it to the top and were able to celebrate. We had done 24 miles in one day, with 5,000 feet of elevation gain, and 4,000 feet of elevation descent. My body was trashed. We were so tired that we hitched a ride to the lodge, rested for a bit and decided we better stay the night on the North Rim before heading 23 miles back in the morning.
Unfortunately this wasn't our original plan. We hadn't prepared to stay a night on the North Rim.
We had no clothes to change into. No toothbrushes. No deodorant. We were able to get a few things from the lodge. An amazing lady, Annie, offered to buy us some extra warm clothes for the night since the temps were dropping into the low 30's.
Annie was our trail angel.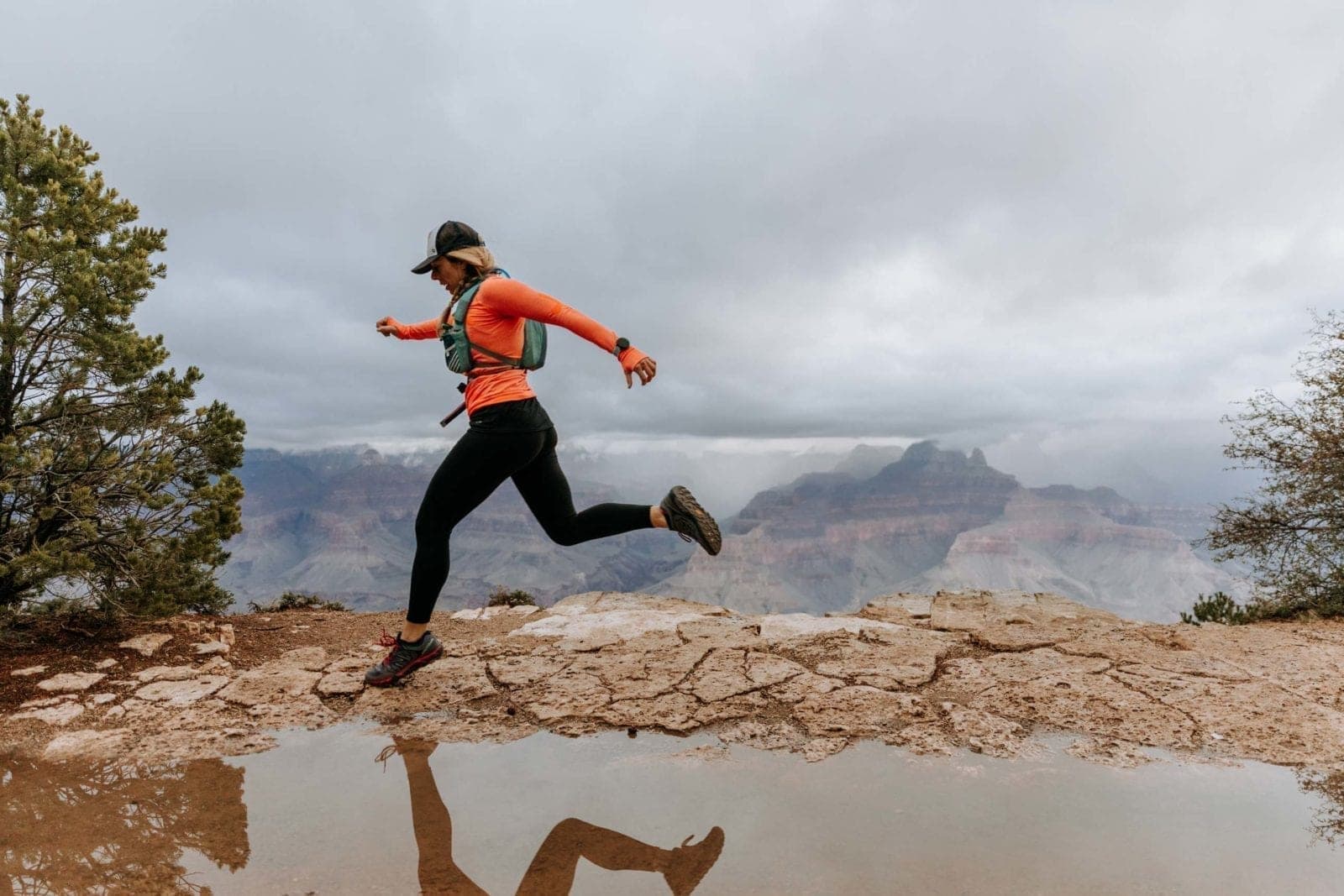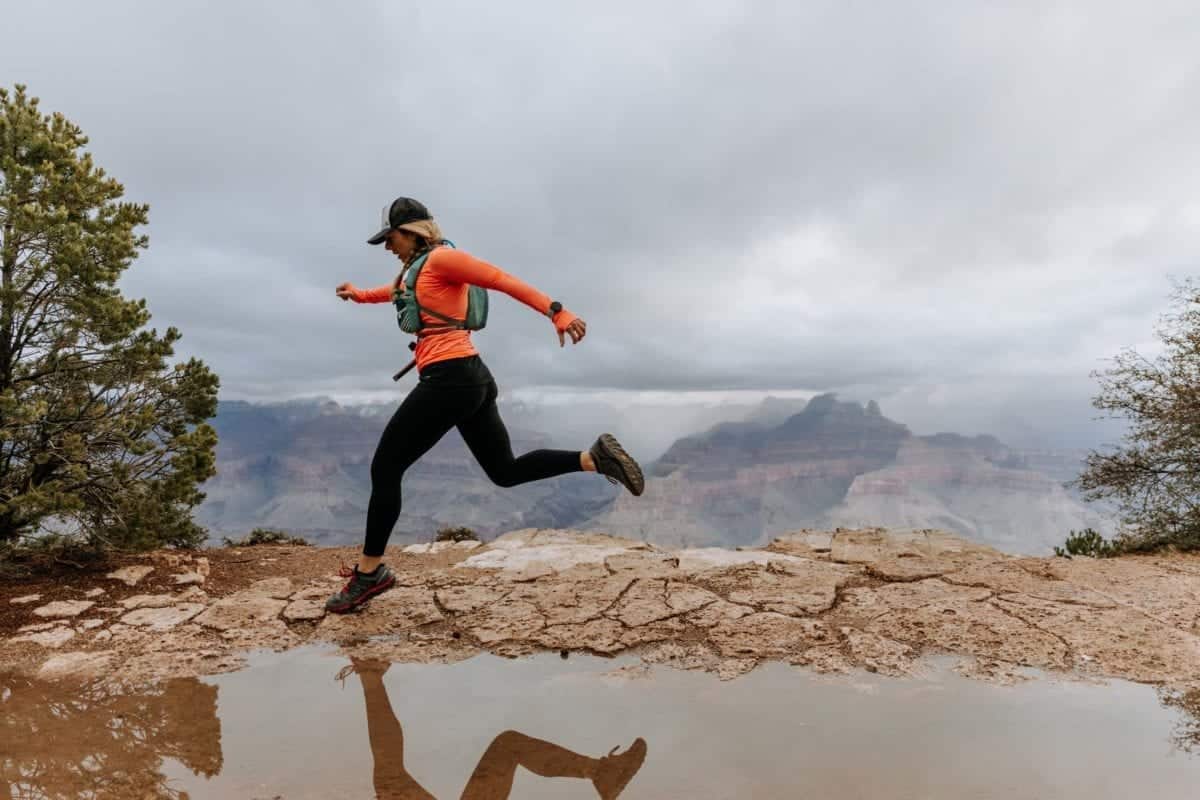 The next morning, we headed out at 5:30 to begin the 23 miles back to the South Rim. Our bodies were stiff, slow and tired as we forced them down the side of the canyon. One step at a time. Eventually the sun came up and the colors on the canyon walls came to life. The steep cliffs also came to life too and we clung to the trail as carefully as we could. The Grand Canyon is no joke! Death is around every corner if you trip, slip or aren't paying attention!
There was also quite a bit of water on the trails that we had to jump over or cut the trail to avoid. Water in your shoes = blisters... and that was the last thing I wanted!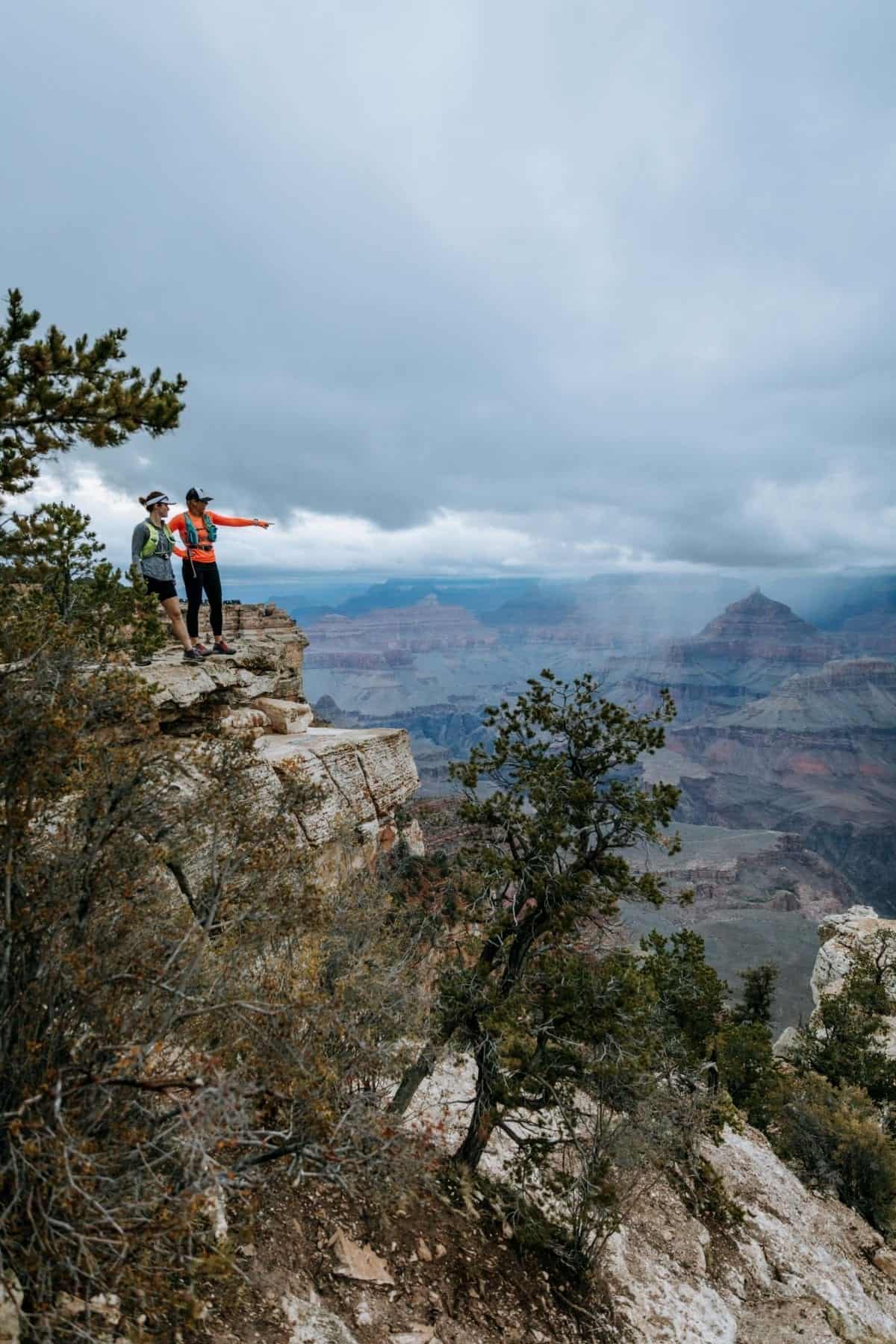 The Final Stretch... that felt like eternity
After a second visit to Phantom Ranch, we started up the Bright Angel trail with 80 degree temps. It was a hot hot hot trail! We for 7 miles to climbed our way through switch backs. It felt like it would never end... and the canyon rim never seemed to get close enough to give us hope. Yet we knew the only way out was up, so we kept on going.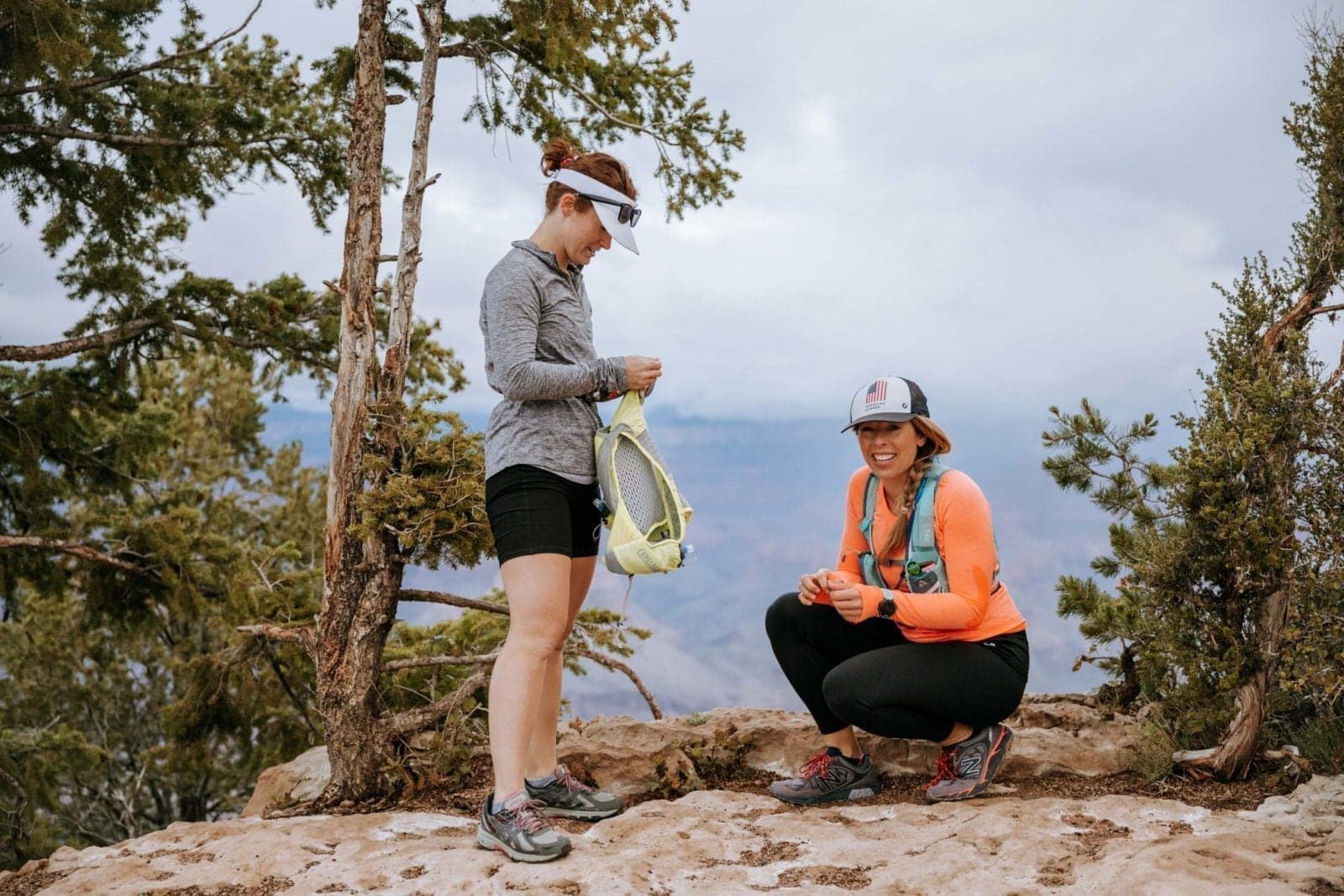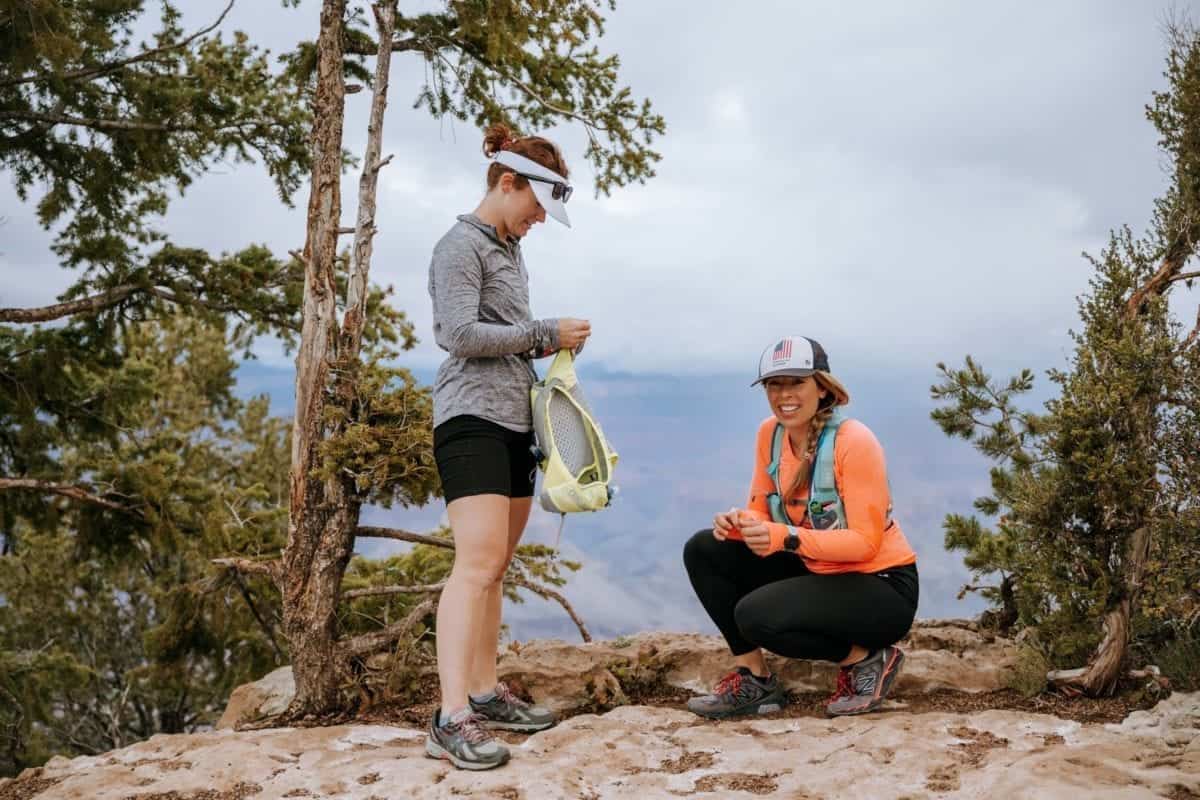 Going up the Canyon
We distracted ourselves from the pain by talking with fellow hikers. There were very few people who were doing rim-to-rim... let alone rim-to-rim-to-rim. We were some amazing women doing this! I had to keep reminding myself of this as the moments got harder and harder.
Yet eventually, we made it up to the top of the Canyon.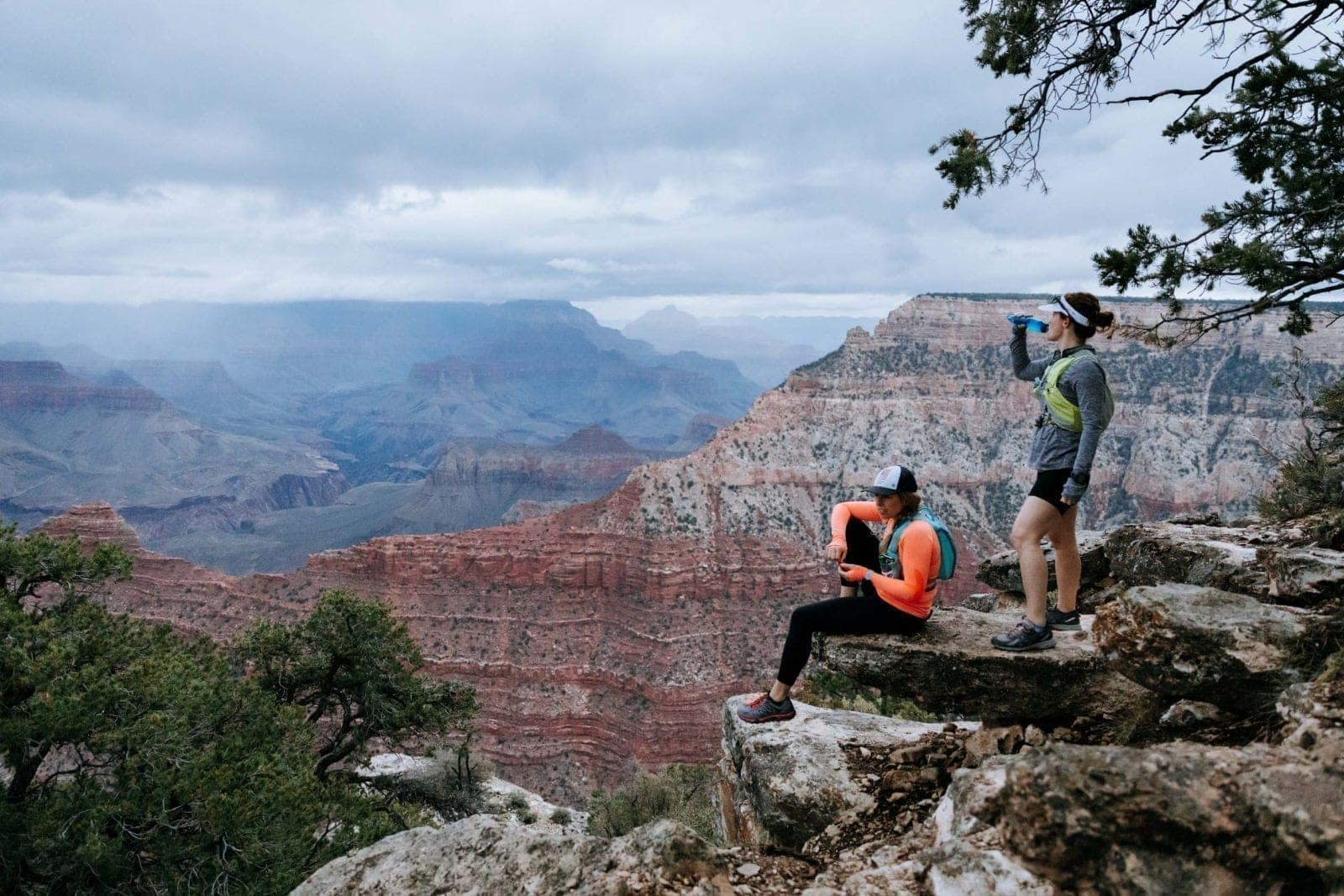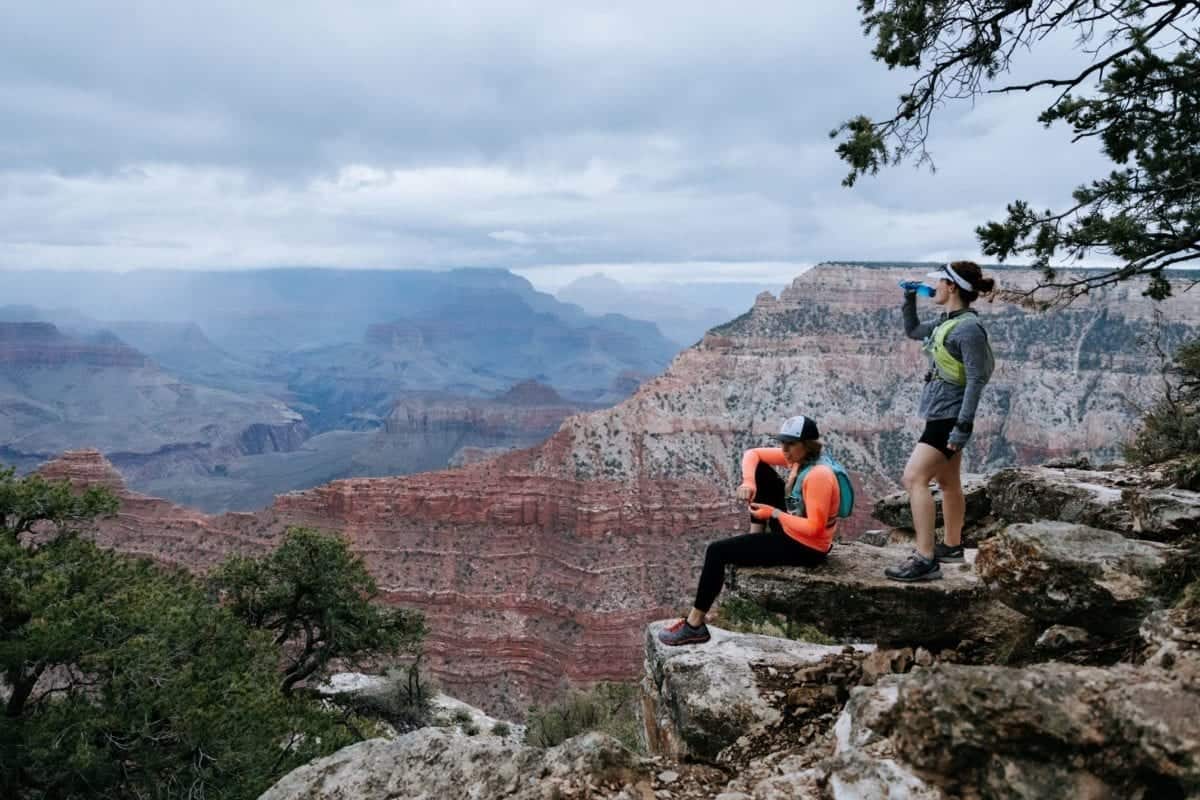 When we reached the top we were in disbelief we were there. It left us in tears and we wrapped arms as we took our last step of our 47-mile adventure together.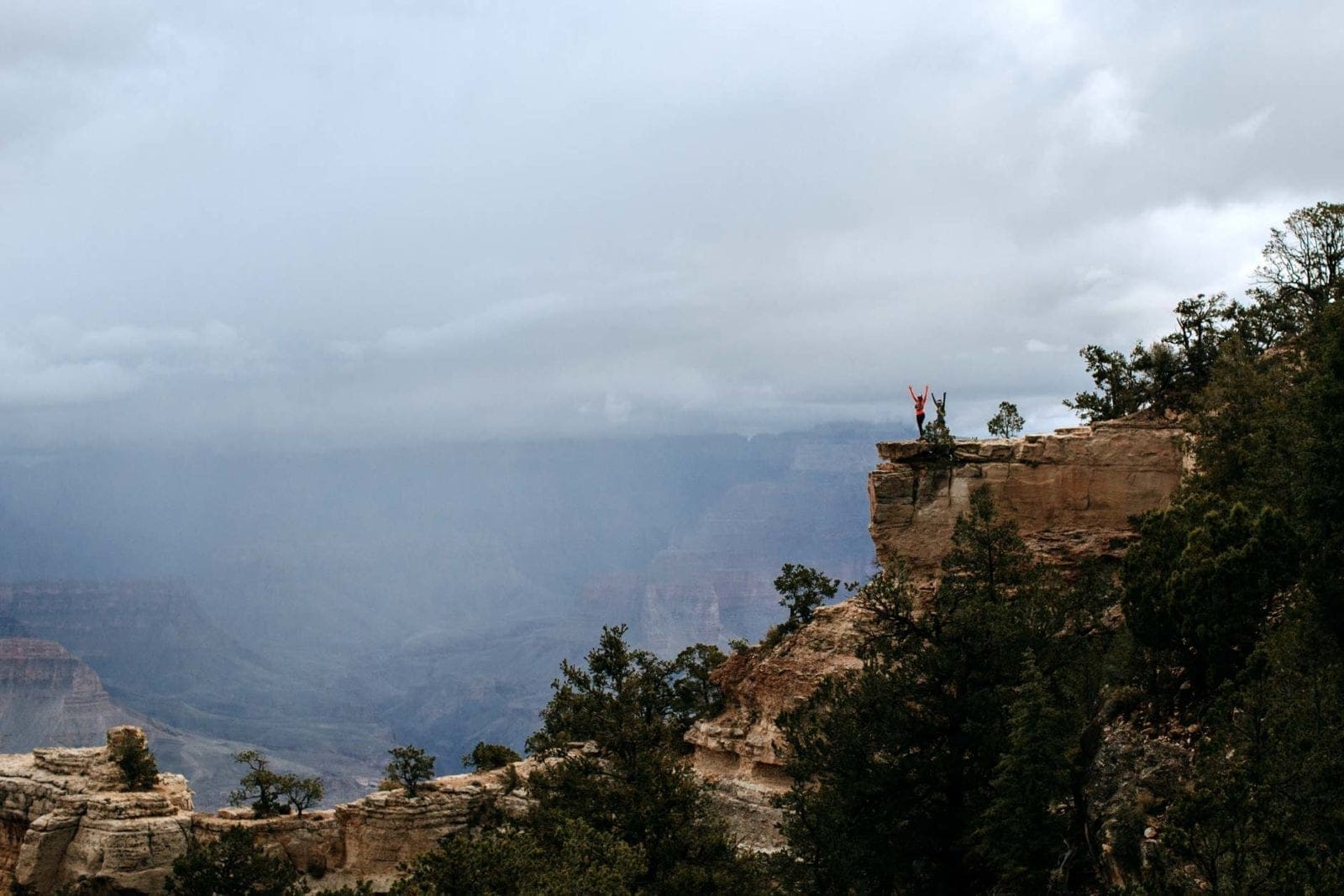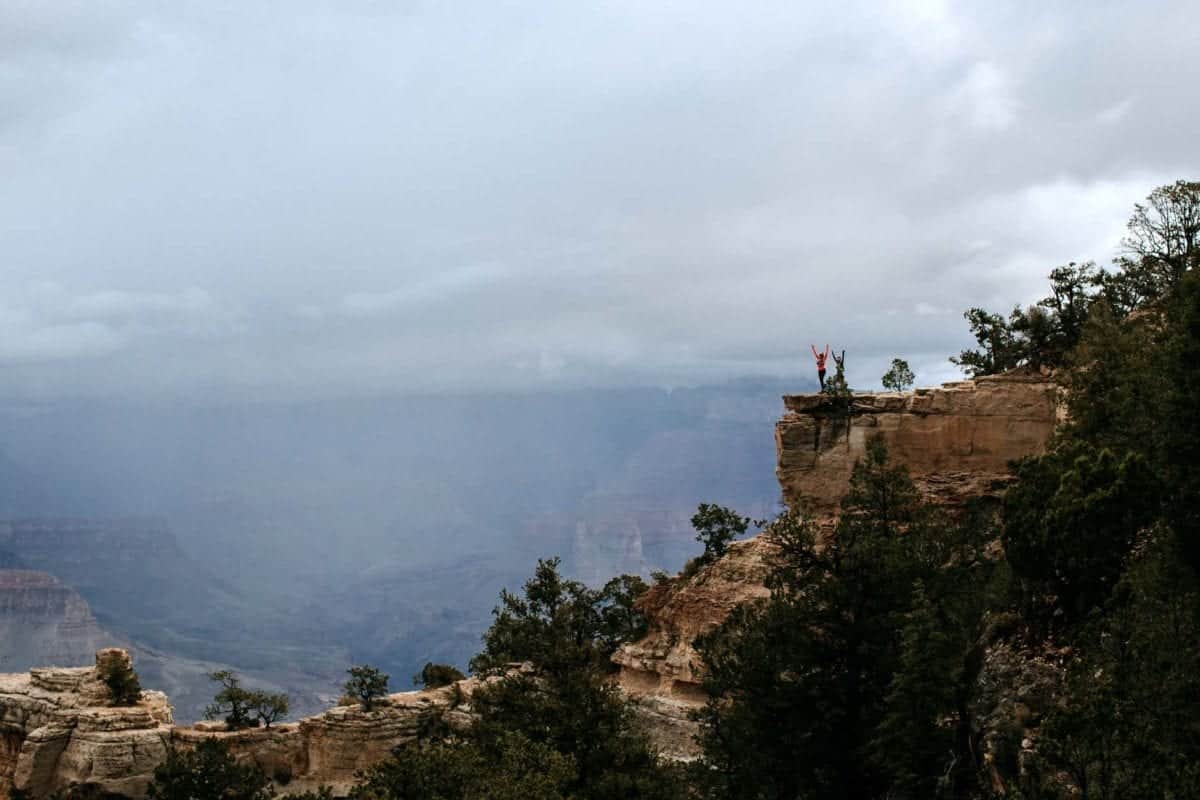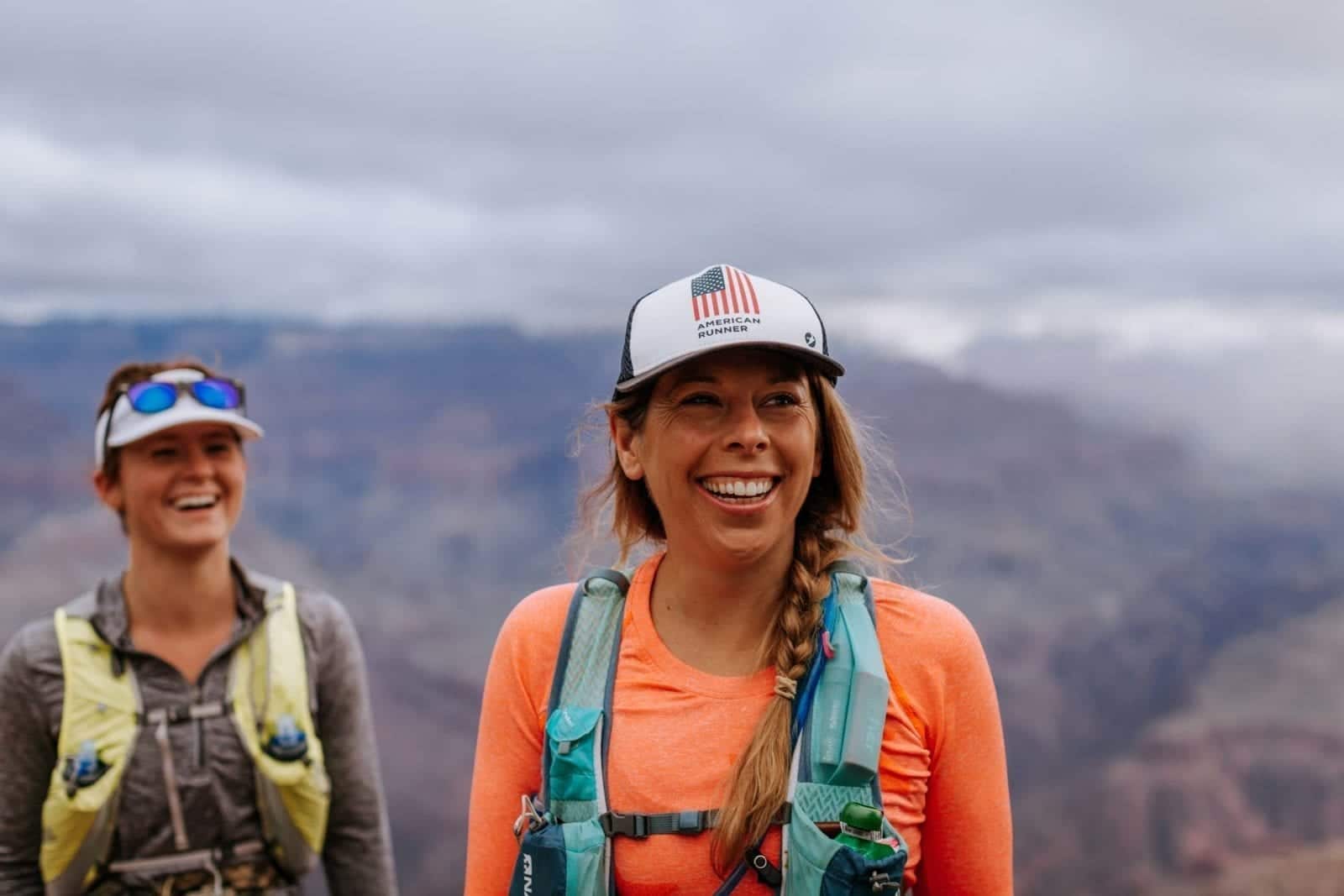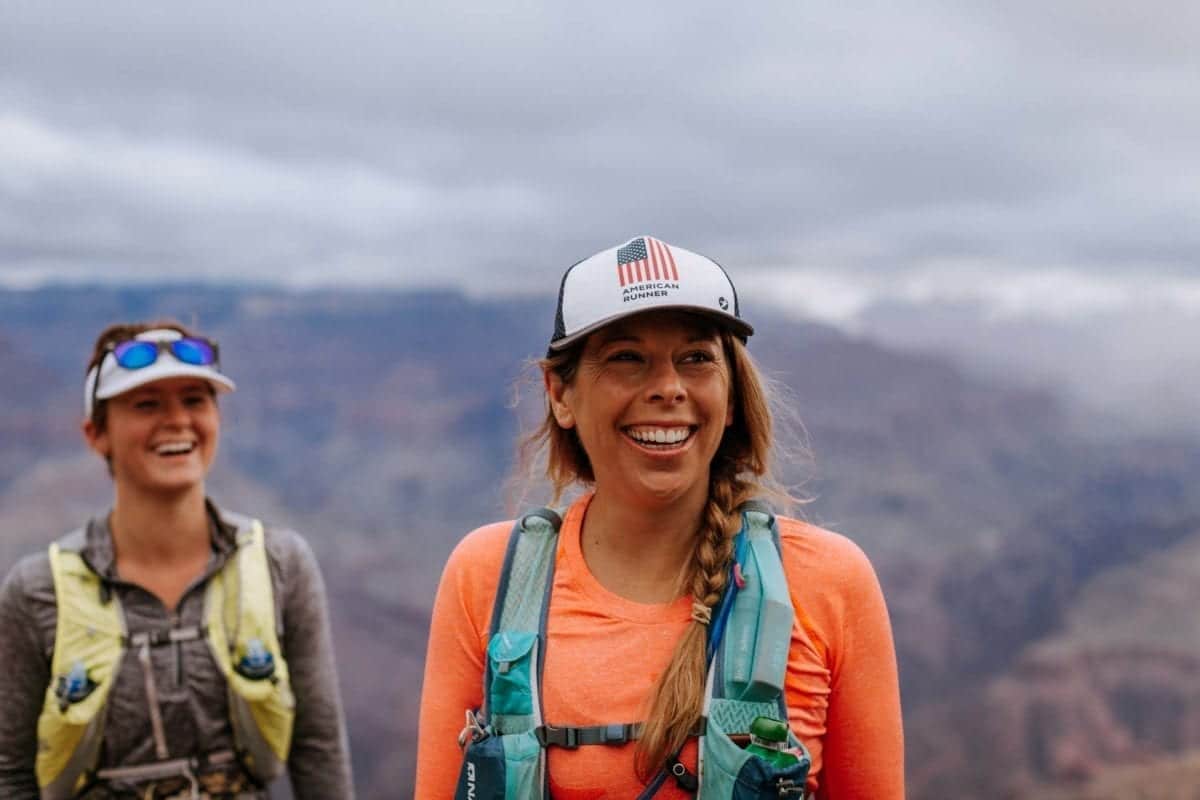 Where we stayed at the Grand Canyon
We did a lot of research and the Red Feather Lodge was only 15 minutes from the park entrance and half the price of most hotels. For us, it was the right choice and we had a great time there. The rooms were clean, the staff was great and the location was perfect. I definitely recommend staying here for your trip to make it affordable, convenient and nice.
We took a few pics of the place and the room so you can see what it was like: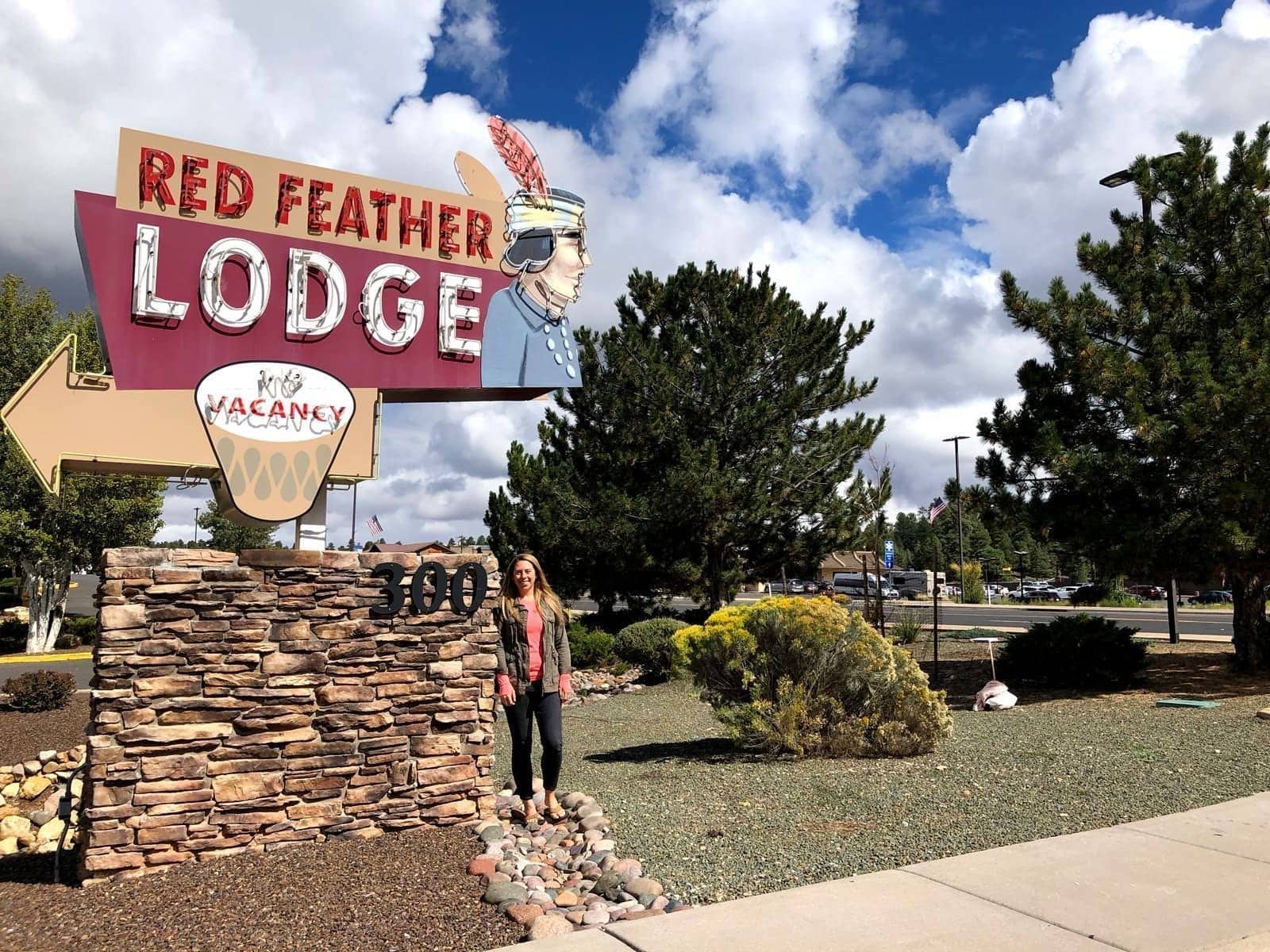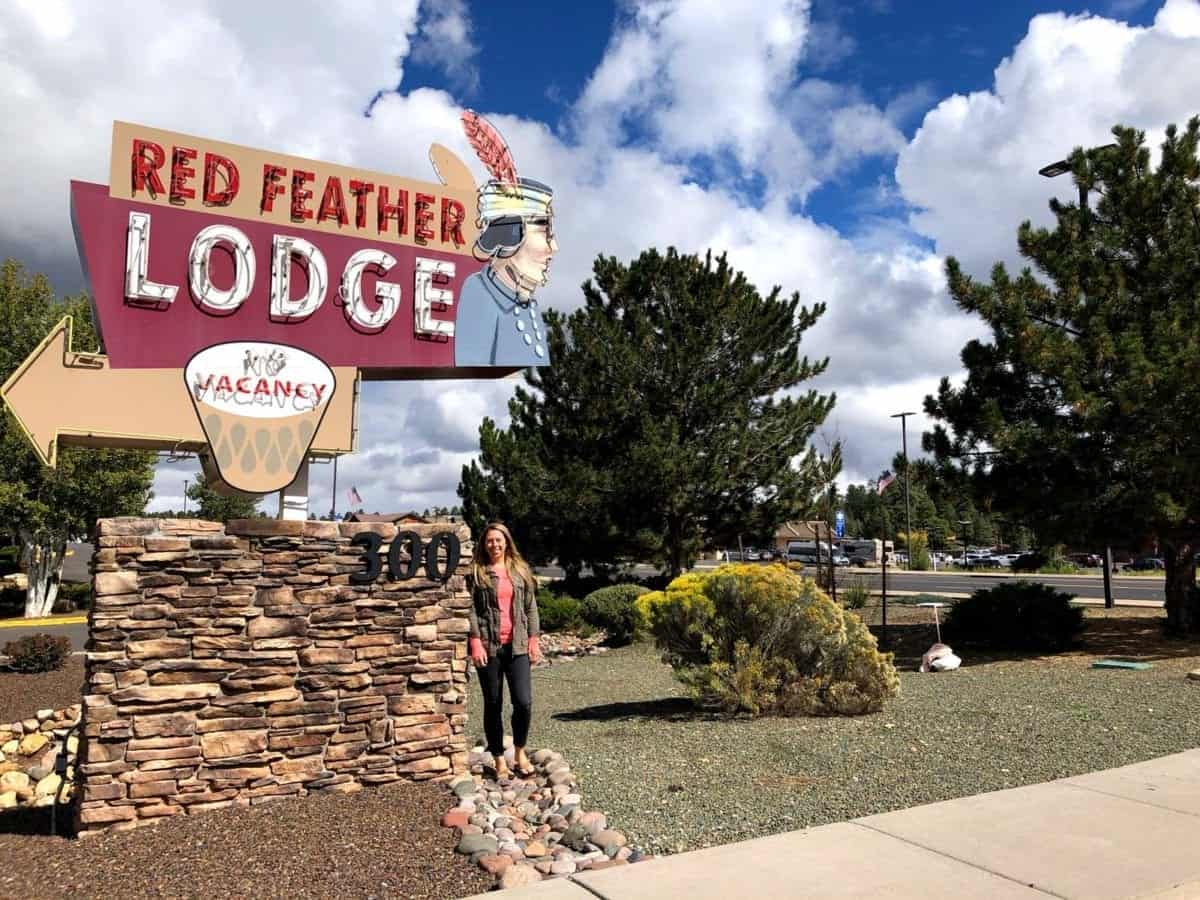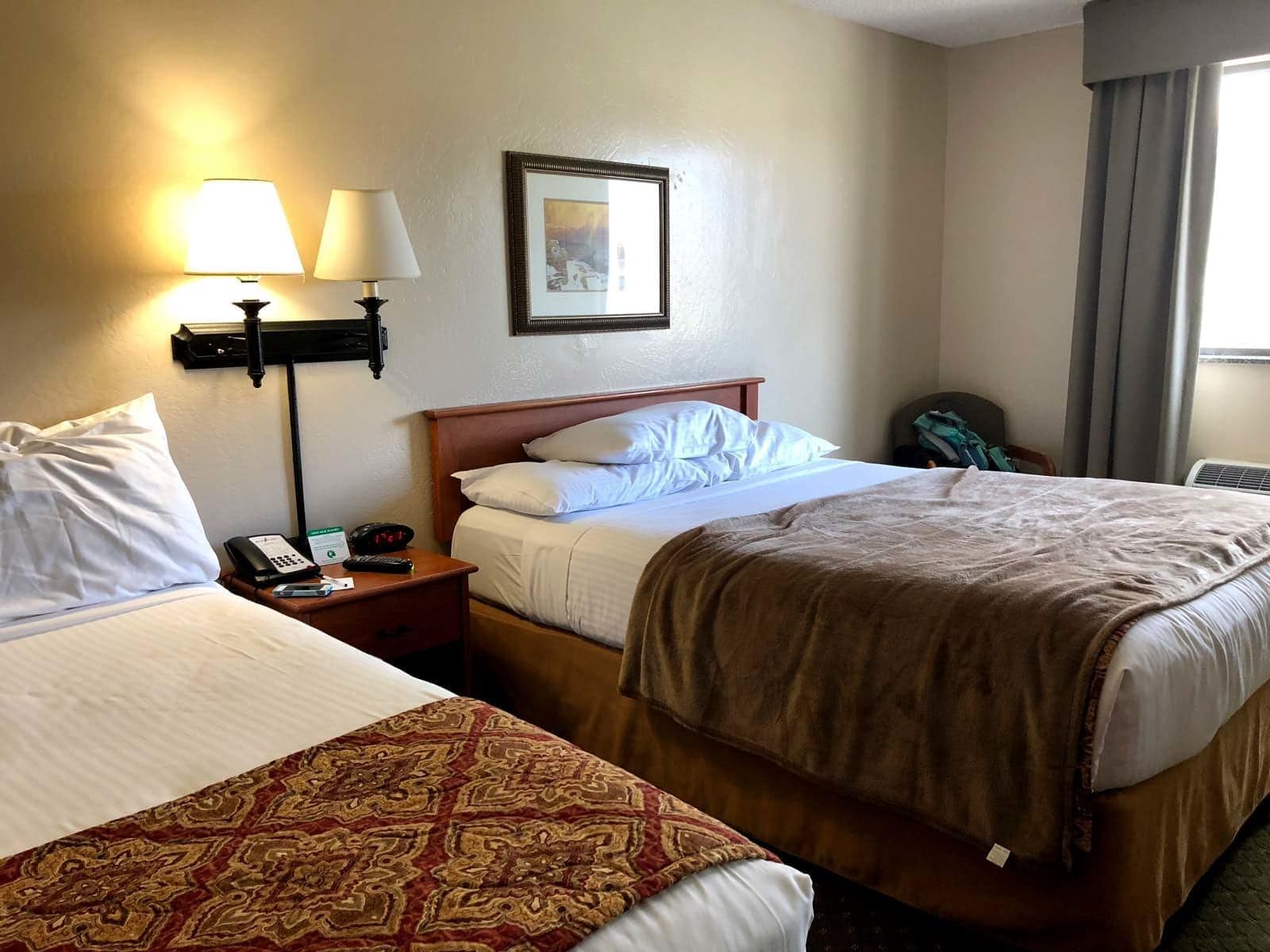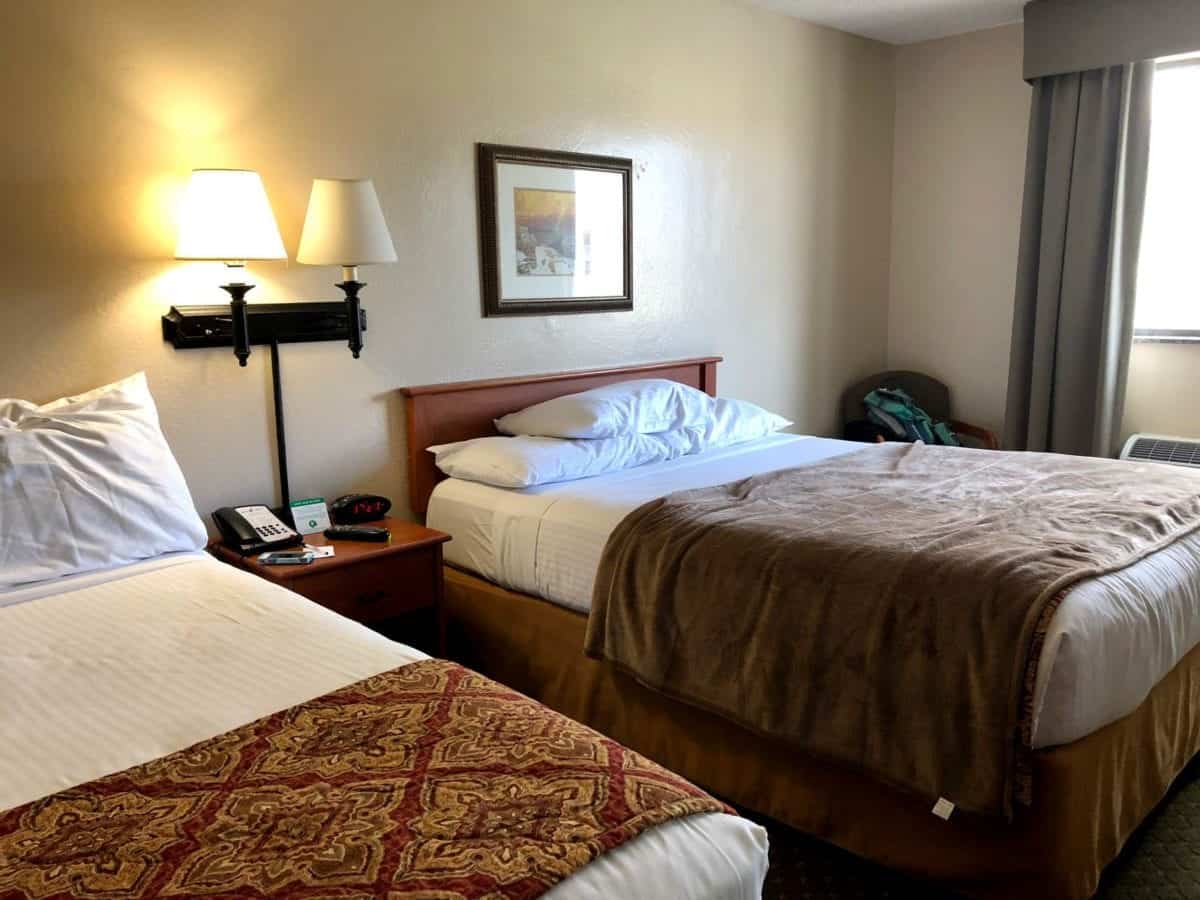 Do the Grand Canyon rim-to-rim-to-rim with me!
After finishing the Grand Canyon rim-to-rim-to-rim in 18 hours (with one night over in a hotel), I feel so grateful for a body and family that allows me to do this.
I know not everyone is as lucky as I am...which is why I wanted to share this journey with you. I hope it inspires you to do your own kind of adventure— no matter how small or big that is.
If you feel like you want to do this same trip, I'd love to invite you to join me on my next one. I've started hosting trips to the Grand Canyon — we do a 12-week training program and then spend 5 days in Arizona where we conquer the Grand Canyon rim-to-rim-to-rim together.
Click here to learn more the Grand Canyon Rawkstar Adventure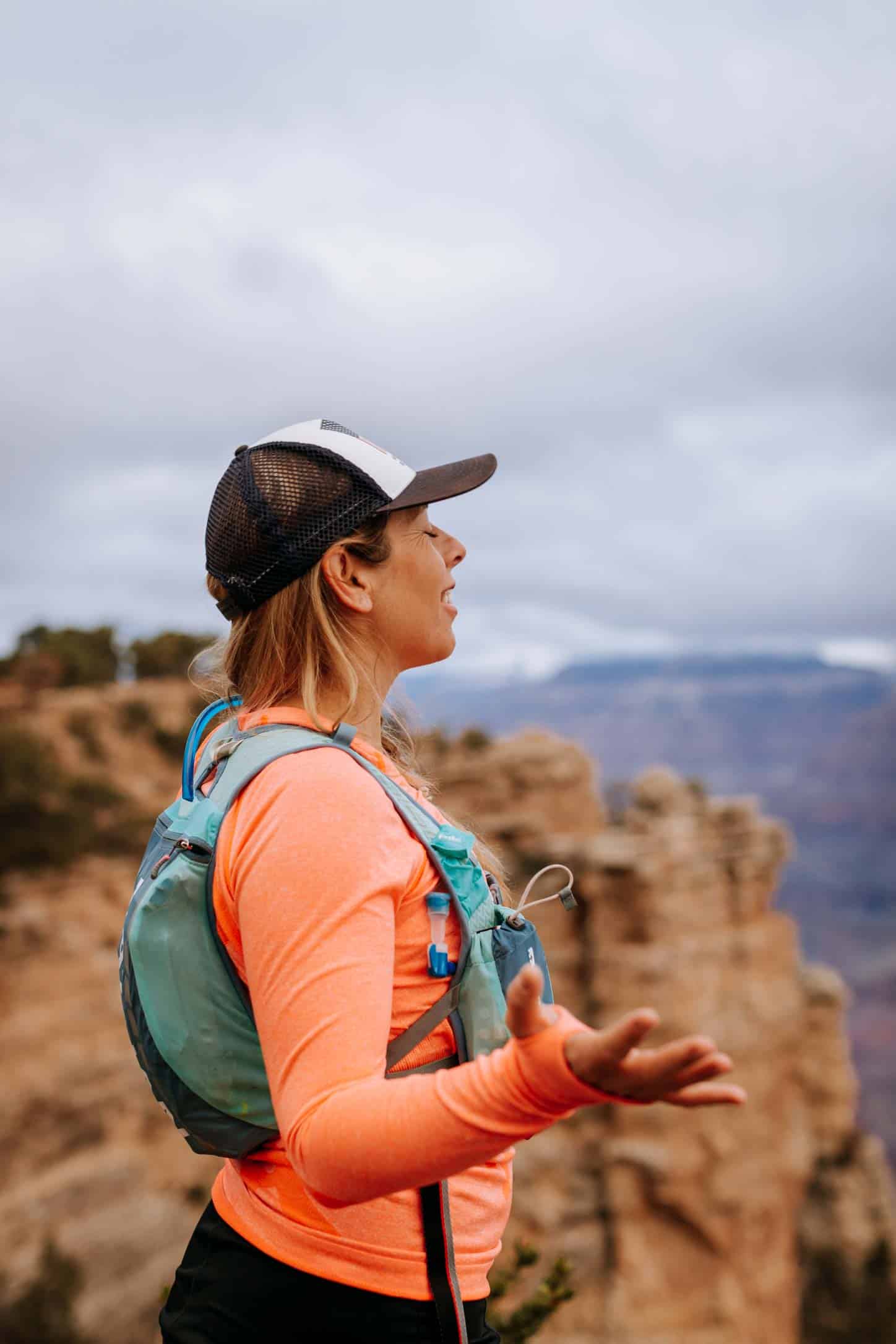 I've been away a bunch lately and it's getting a little hard on me (and I'm sure them too!) Yet I know they love seeing my living my life to the fullest and it helps spark their own dreams.
Life is all about seasons— changing it up so you can feel most alive and do the things that matter most to you. Right now I need that rest. What do you need? I hope you go after that.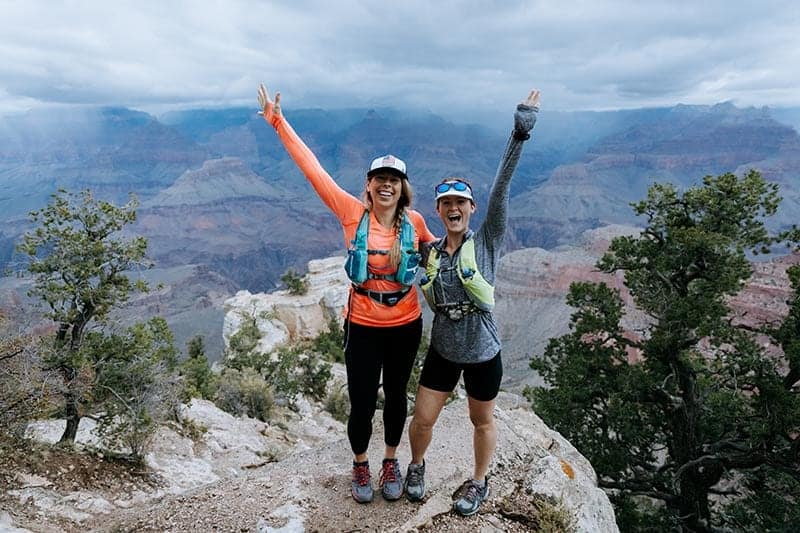 ---
---
Special thanks to Red Feather Lodge for helping us get a room, for Annie our trail angel, for Nicole Rupe Photography for capturing some truly epic photos and for for my husband, Ryan, who put together the video for us.