Oven roasted Brussels sprouts are a holiday fav, and a crowd-pleaser. I've perfected this recipe over the years, and can't wait to share it. I like side dishes that pack a flavor punch without a lot of effort, like my Skillet Green Beans and Roasted Cabbage Wedges.
These sprouts are the same kinda deal… easy to make and 100% a crowd-pleaser.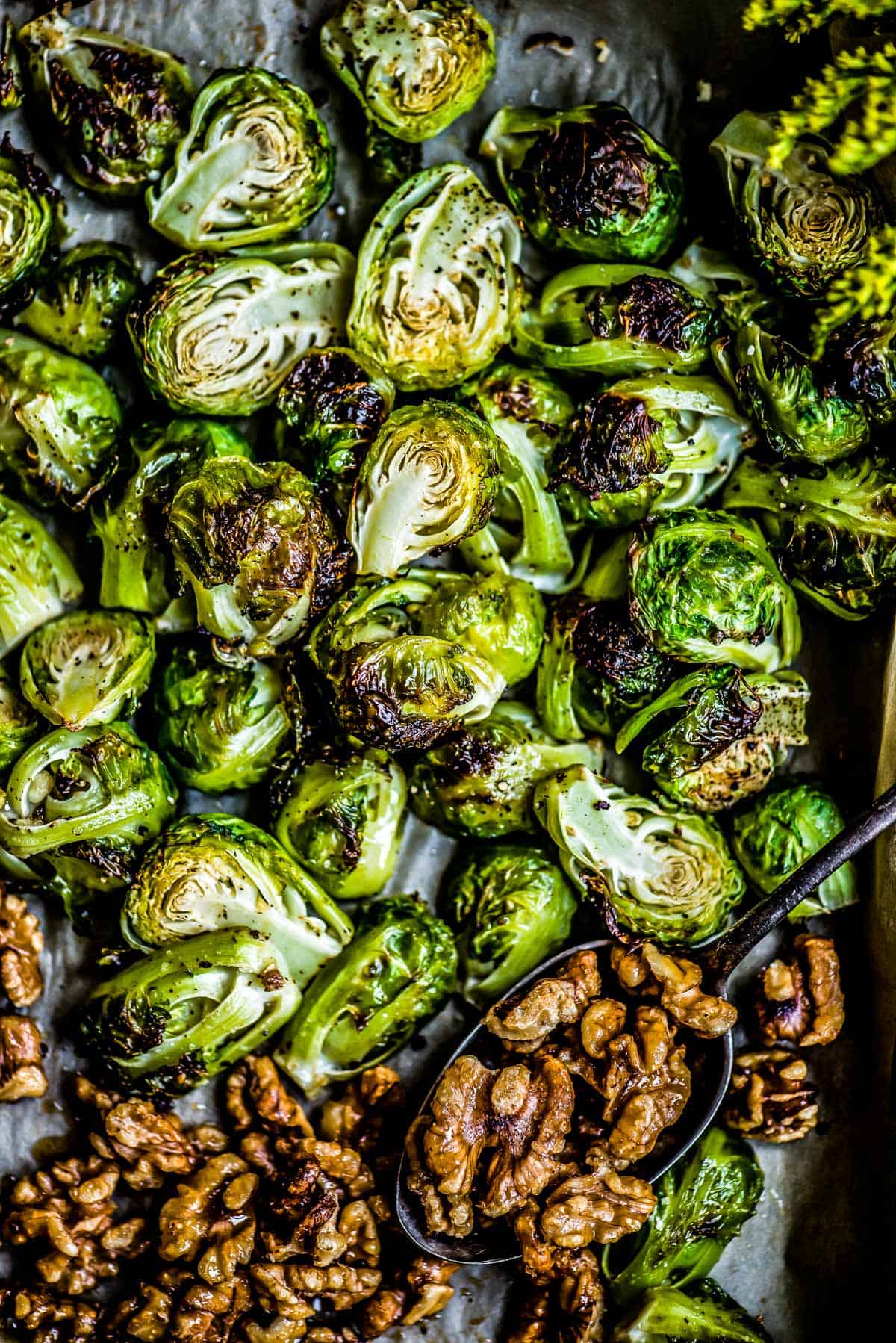 You're about to make the most delicious roasted Brussels sprouts… and there's no going back from here. They are roasted to perfection, crispy, not mushy, and packed with flavor…. insanely addictive. (There, you've been warned.) Oven roasted Brussels sprouts are absolutely irresistible.
Once upon a time this strange vegetable sent children (and adults!) running from the table out of fear. Now you'll be making double or triple batches of this roasted Brussels sprouts recipe, then popping these into your mouth like candy!
Table of Contents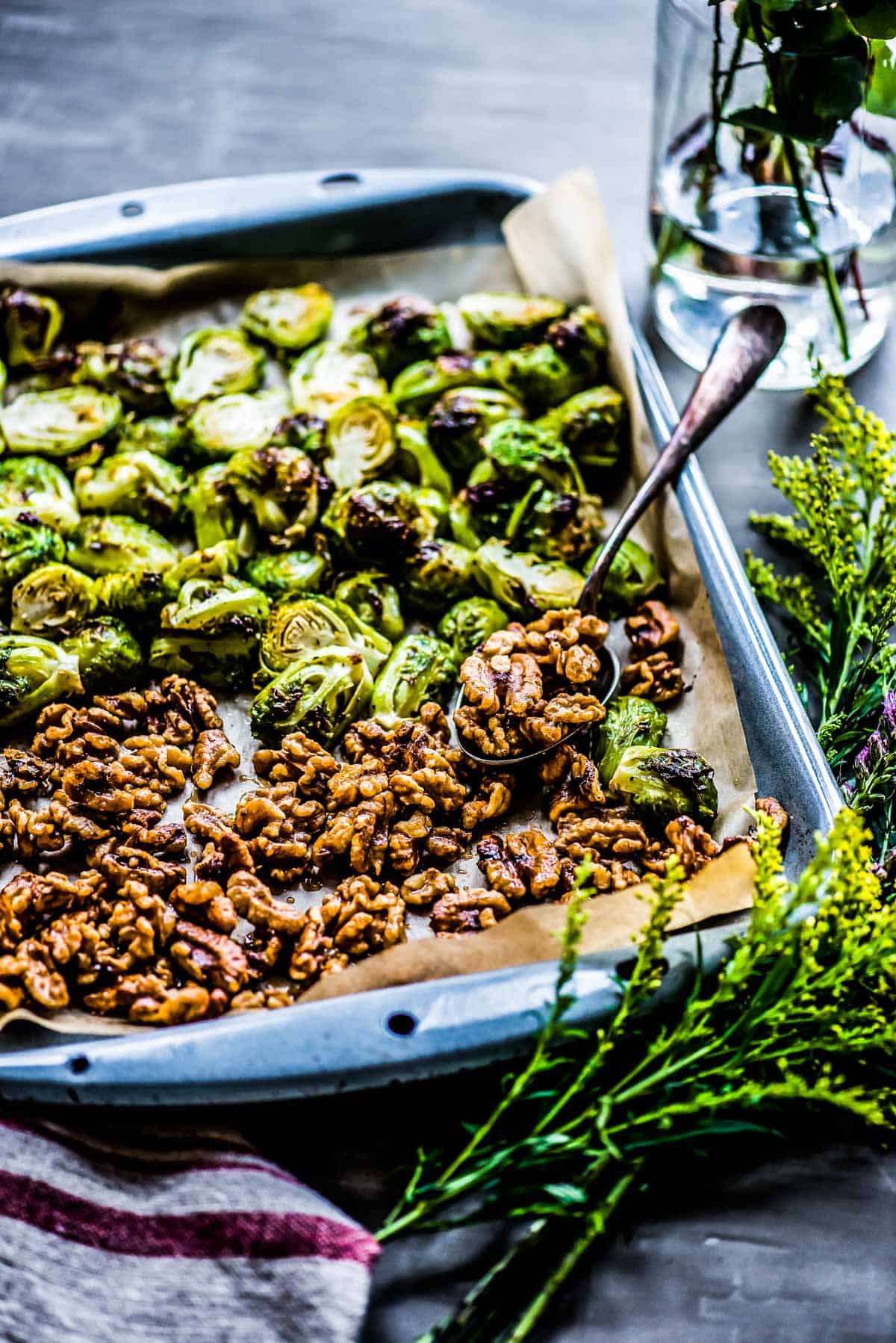 Brussel Sprouts or Brussels sprouts?
When it comes to Brussels sprouts, I've gotta address a common question first… I grew up calling them "brussel sprouts" (with no 's' at the end), yet realized I'd been mistaken (thanks to Google). This vegetable got its name from the Belgian city, Brussels… which explains why we capitalize and have an 's' at the end. That's your history/English lesson for the day…. now on to the food!
Roasted Brussels Sprouts Recipe
I like this recipe best with a little charring on top, as well as just a touch of sweetness. I sometimes make this recipe, then we sit on the driveway eating it right off the baking sheet for dinner.
Yet roasted Brussels sprouts also makes a great vegetable side dish any time of the week, Thanksgiving feast side or as a veggie bowl topping. If you find that this recipe isn't perfect for you, then adjust to your preferences! If these are new to you, then read on for my pro tips.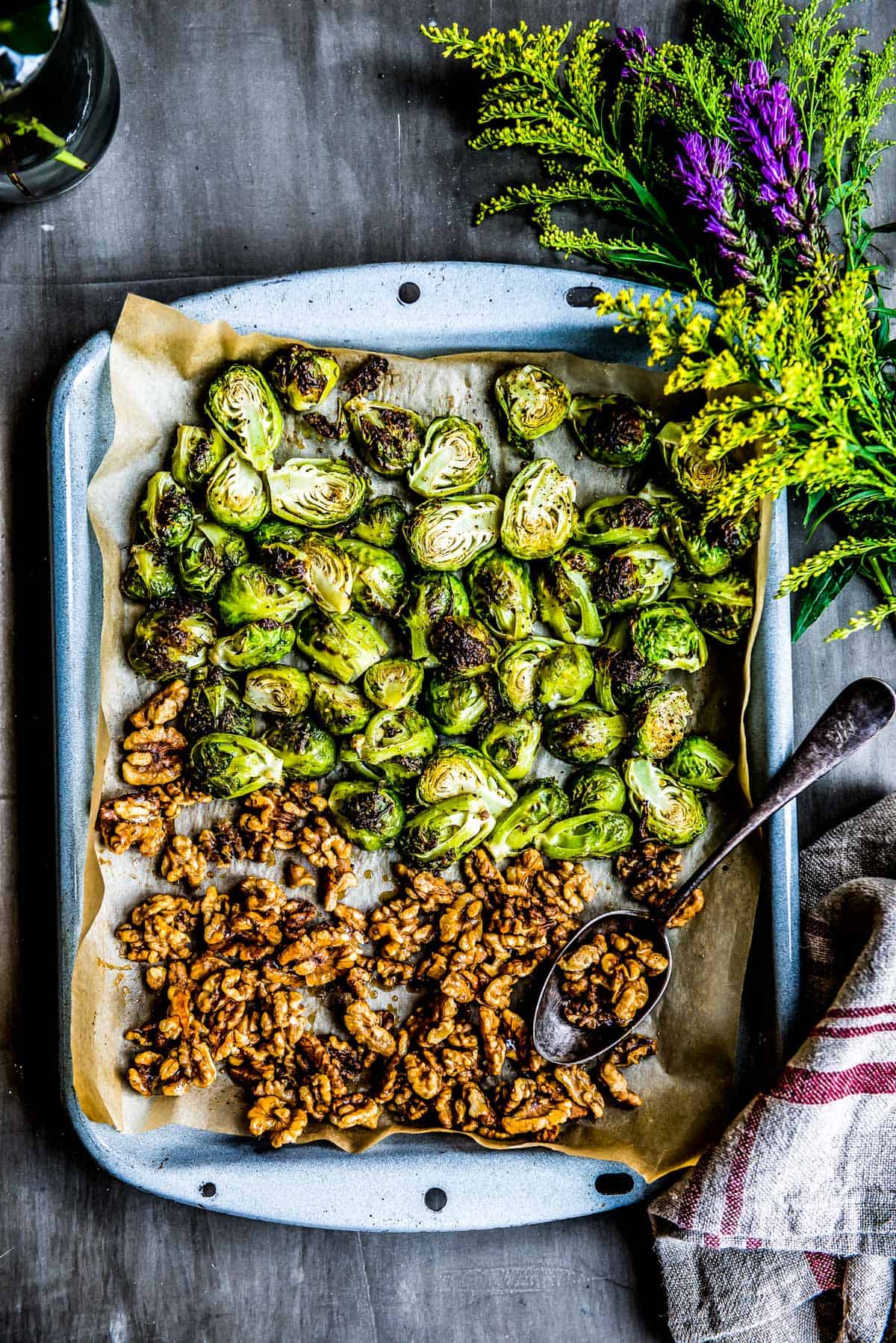 Do I cut off the bottoms?
This is really up to you. If I buy them in a bag, they sometimes look a little splotchy around the base. So yeah, I would cut that off. Yet other times the bottoms looks perfect and don't need it. Plus, the hard bottom roasts up nicely! Trader Joes sells them on the stalk when they're in season, so I roast whatever I break off. If the leaves appear splotchy with mold or mildew, then just remove the outer layer of the leaves.
How do I reduce the bitterness?
In the 80's, Brussels sprouts were all about the microwave and Velveeta cheese… and I was one of the strange kids that actually enjoyed them. Yet they did have a bitter taste associated with them, which can be quite off putting. When you make my roasted Brussels sprouts recipe with a natural sweetener like honey or maple syrup, you create a caramelized effect and the bitterness goes away.
More Plant-Powered Dishes
Brussels sprouts are high in fiber, so no need to make them the main dish to enjoy the benefits (and eating too many may increase your trips to the bathroom). Now for more more incredibly tasty dishes fueled by whole food, plant based ingredients:
If roasted Brussels sprouts have never really been "your thing", I still challenge you to try this recipe. We all need to be eating more vegetables and this is such a simple + tasty way to do that.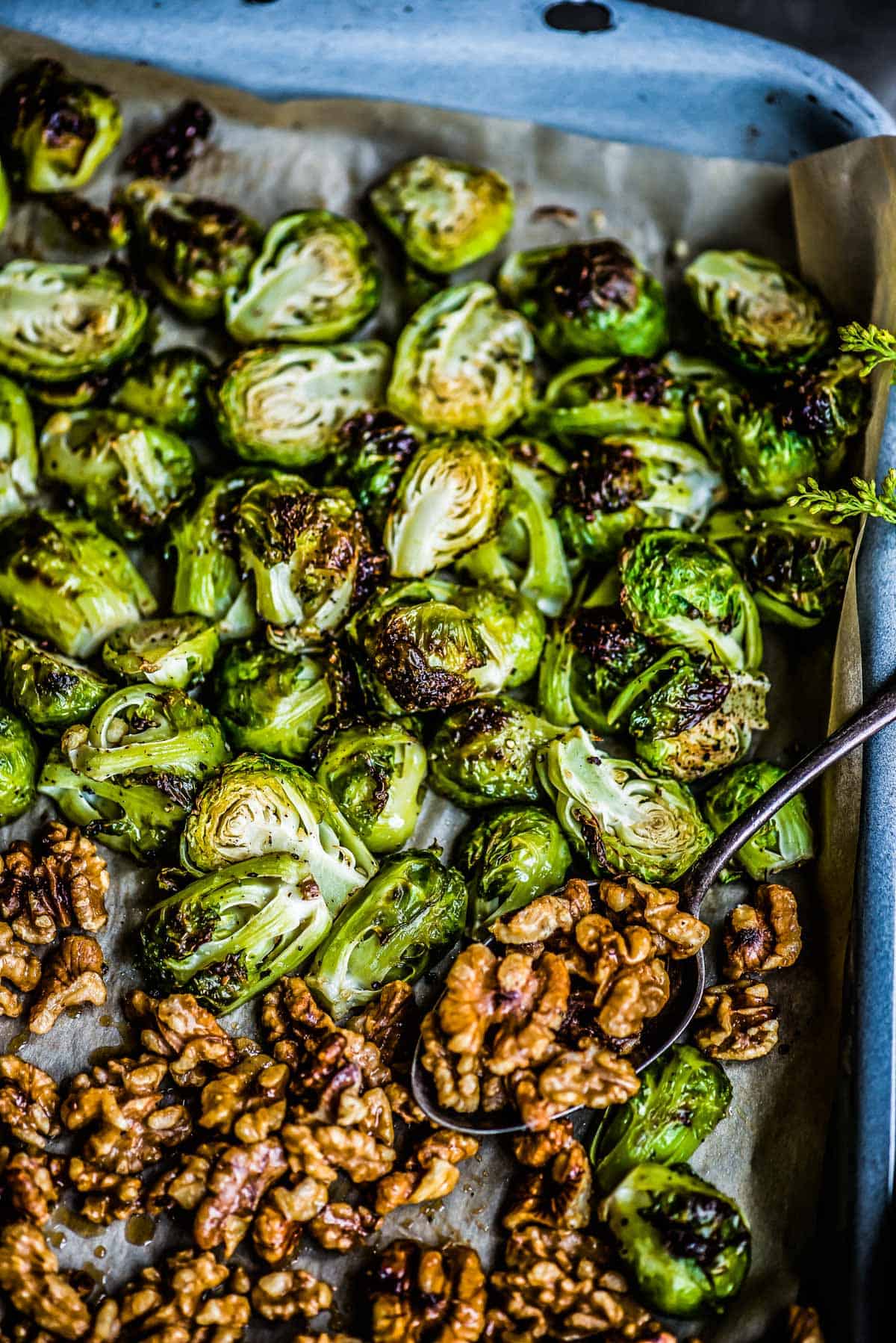 Brussels Sprouts and So Much More!
This recipe is 100% plant based and from my best selling recipe book, Simple Green Meals. With hundreds of 5-star reviews on Amazon, it's packed with plant powered recipes that make you look and feel your best. If you're looking for more incredible recipes like this one, then grab a copy today!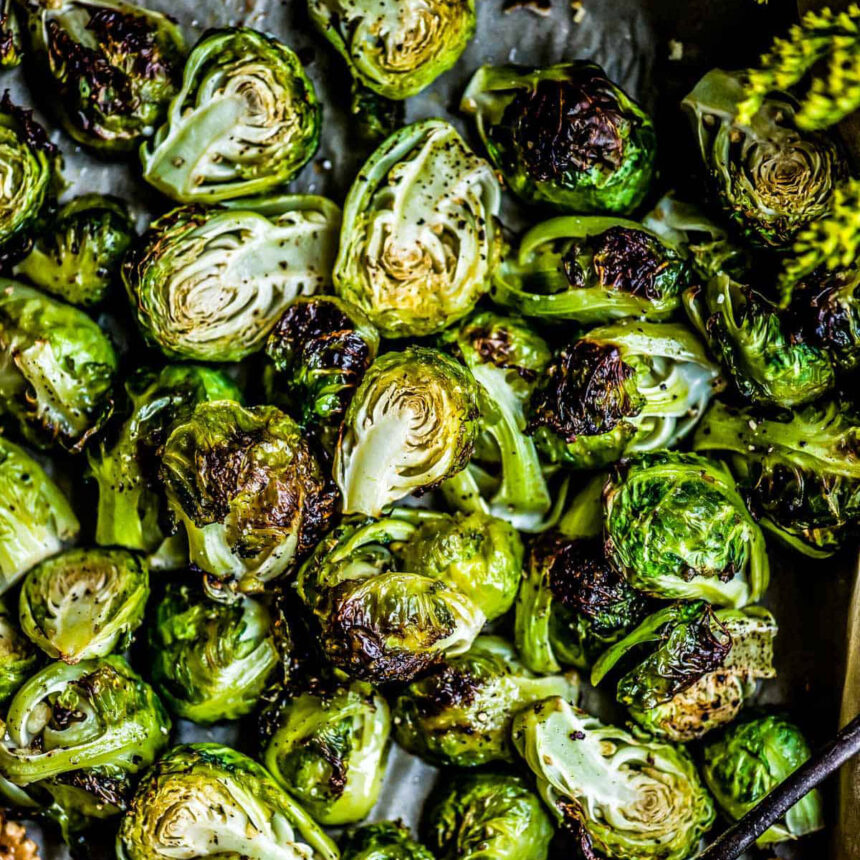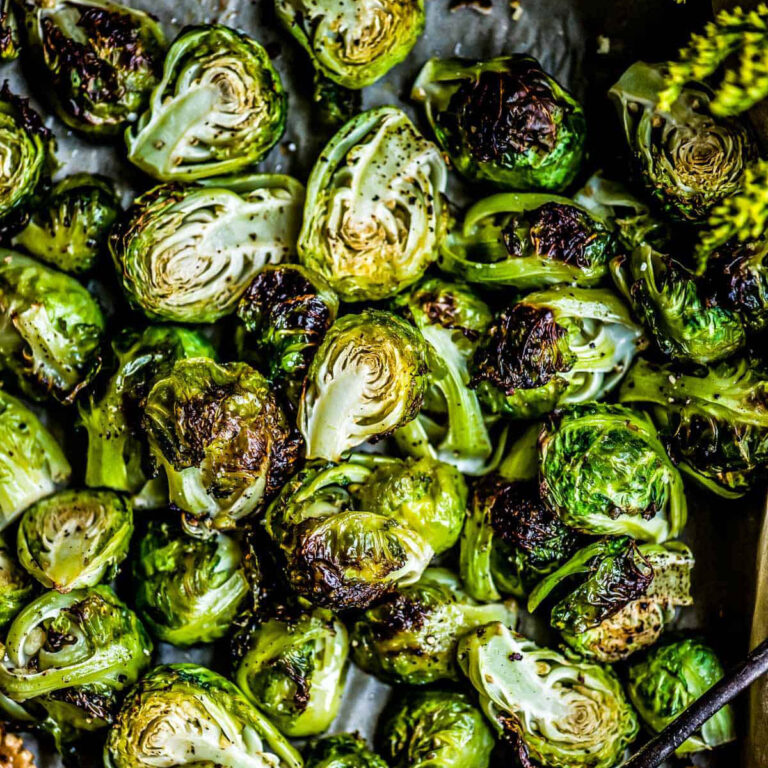 Oven Roasted Brussels Sprouts
Brussels sprouts are my favorite vegetable of all time. It started as a kid when I would pretend they were Barbie doll sized cabbages and play with them. Over the years, I learned to love Oven Roasted Brussels Sprouts paired with Maple Walnuts and caramelized to perfection. It's like eating candy! I serve them for Thanksgiving and Christmas every year, and never have leftovers.
Ingredients
2

tbsp

avocado oil

1

lb

Brussels sprouts

halved, about 8 cups

1

cup

raw walnuts

halves

1

tbsp

maple syrup

⅛

tsp

sea salt

⅛

tsp

black pepper

ground
Instructions
Preheat oven to 425° and line a baking sheet with parchment paper.

Place the halved Brussels sprouts in a large bowl and toss well with avocado oil, salt and pepper.

Arrange in a single layer on the prepared baking sheet.

Bake for 20 minutes, or until edges start to nicely blacken and the middle turns golden and crispy. 

Meanwhile, place the walnuts in a bowl and drizzle with maple syrup.

Toss until well coated and add to roasting Brussels sprouts the last 3 minutes of cooking. 

Remove from oven once walnuts are lightly caramelized and the sprouts are perfectly roasted.

Let cool slightly before serving. 
Notes
Replace maple syrup with honey for a non-vegan version.
Swap avocado oil with olive or coconut oil.
No walnuts on hand? No problem! You can use pecans instead.
Store any leftovers in an air-tight container in the fridge and store for up to 5 days. 
Originally featured in my Simple Green Meals cookbook. 
Nutrition
Calories:
316
kcal
,
Carbohydrates:
18
g
,
Protein:
8
g
,
Fat:
26
g
,
Saturated Fat:
3
g
,
Polyunsaturated Fat:
15
g
,
Monounsaturated Fat:
8
g
,
Sodium:
102
mg
,
Potassium:
582
mg
,
Fiber:
6
g
,
Sugar:
6
g
,
Vitamin A:
861
IU
,
Vitamin C:
97
mg
,
Calcium:
82
mg
,
Iron:
2
mg