Dive into cooler seasons with this super simple roasted butternut squash recipe. Learn how to cube, roast and season this lovely dish. This roasted cubed butternut squash is a staple in my family meals when squash is fresh and ready at the farmer's market. I can't wait to share it with you.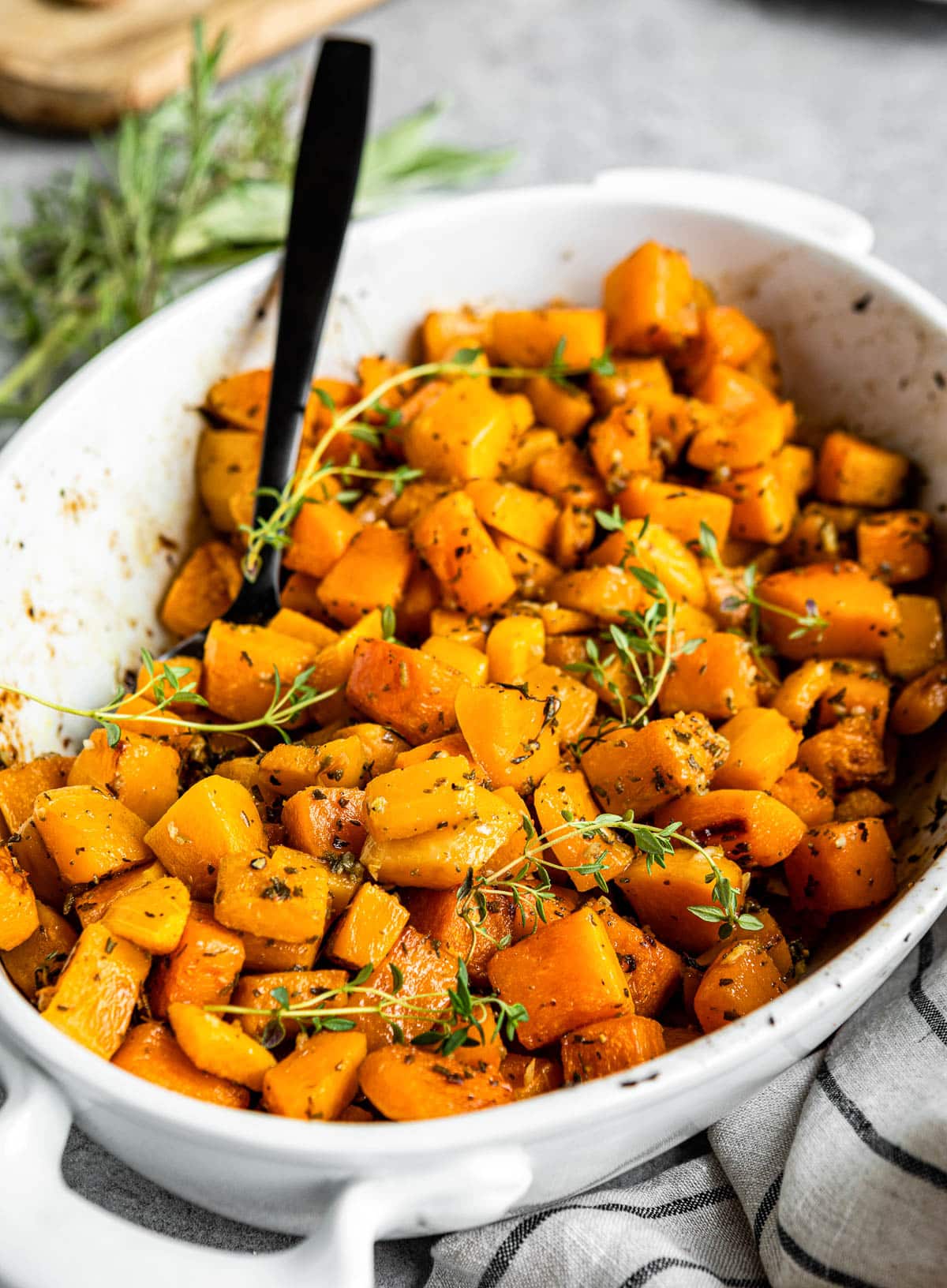 I know many people think of pumpkins when talking about seasonal squash. Yet butternut squash is a warm, often less expensive way to enjoy buttery, slightly sweet seasonal produce and it is a little easier to manage.
You can roast it whole, halved or cubed. I like cubed the best since it ensures that each piece is crispy and seasoned to perfection.
Table of Contents
Roasted Squash Ingredients
I love a simple side dish that highlights the natural flavor of the vegetable. I need something easy if I'm using this for a holiday gathering. Here's what I use in roasted cubed butternut squash.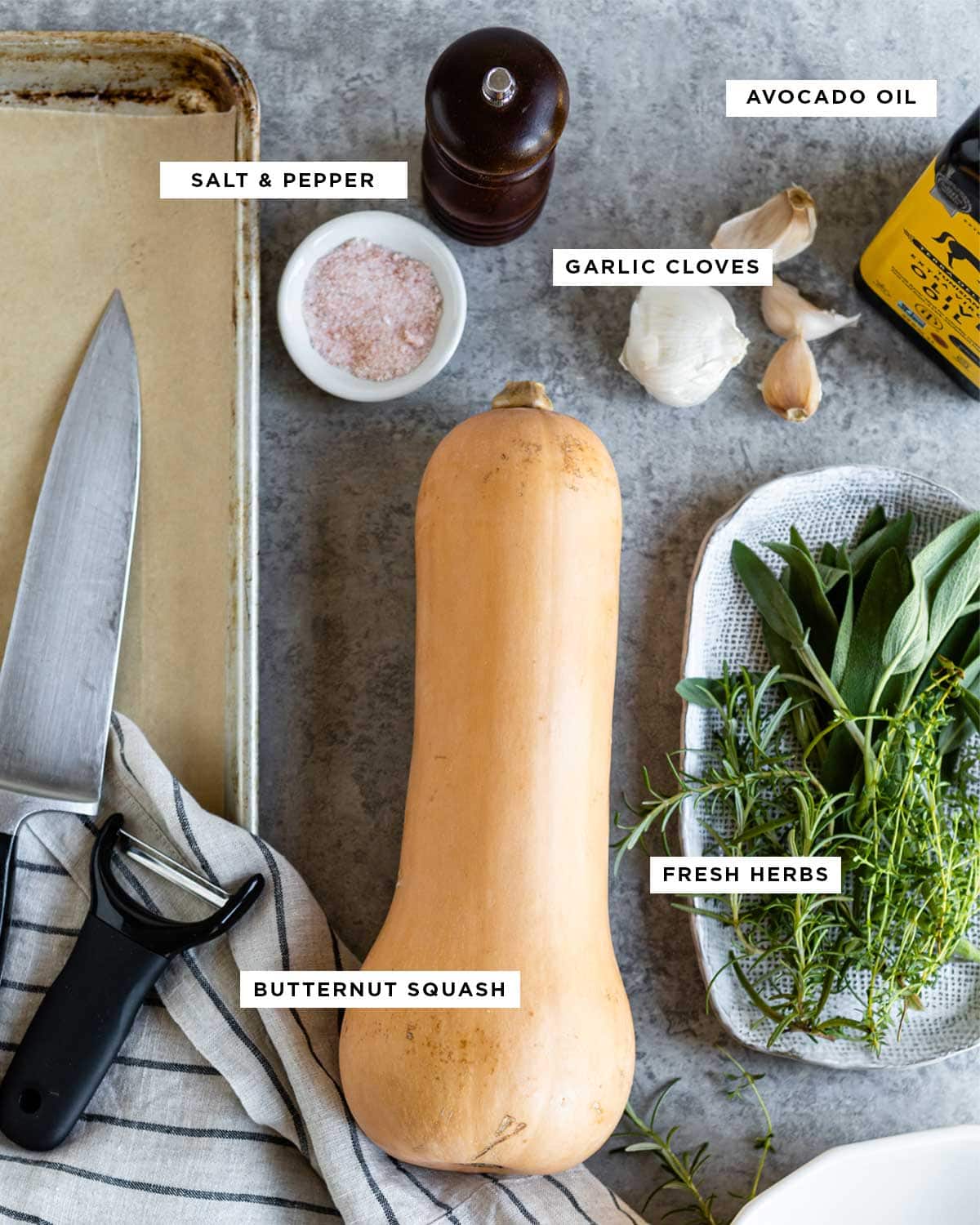 Butternut Squash: I love getting these in my produce box or grabbing one at a local market. When they are in season, they are a great, inexpensive squash option!
Avocado Oil: I like using avocado oil instead of olive oil in this recipe as it can withstand a higher temperature without burning. Feel free to use the oil of your choice.
Salt and Pepper: Start with a light seasoning of each and let your guests add more if needed.
Fresh Herbs: Fresh herbs outshine dried, and rosemary, thyme and sage are ones I love to showcase with squash.
Garlic Cloves: Minced garlic roasts nicely along with the squash, helping bring a bold warmth to the slight sweetness of the main ingredient.
Alternative Flavor Combinations
One great thing about this roasted butternut squash recipe is its versatility. Whether you want sweet or savory, my base recipe accommodates any flavor preference.
Sweet Squash: Start with cubed butternut squash and mix well with melted coconut oil, maple syrup and cinnamon. Spread evenly in a pan and bake at 400°F for 15 minutes. Carefully remove the pan and top with pecans and marshmallows and turn to broil for 2-3 minutes, watching closely so that the top browns instead of burns.
Spicy Squash: Cube butternut squash then mix well with avocado oil, chili powder, cumin, salt and pepper. Bake as directed below then carefully remove from oven and stir. Return to oven to broil for 3-5 minutes for crispy cubes. Use in tacos with coleslaw, or serve with tortilla chips and black beans.
How to Make Roasted Cubed Butternut Squash
I avoided butternut squash because I wasn't sure how to prep or cook it. Then I had it at a restaurant one Autumn and I was hooked. It's slightly sweet, warm and buttery, and can be used in a variety of dishes. So I quickly learned how to properly prepare it to enjoy whenever it's in season.
See the Prep Tips section for step-by-step instructions (and photos!) on how to peel and cube this unique plant, and read on for how to roast it to perfection.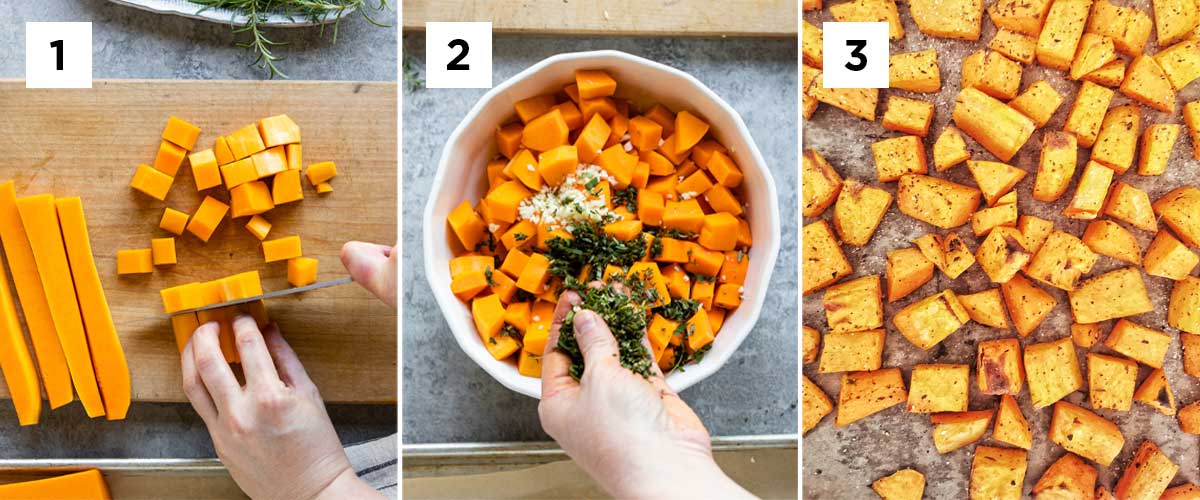 Peel and cube the butternut squash. Chop the fresh herbs and mince the garlic cloves.
In a large bowl, combine the cubed squash, avocado oil and all seasonings. Toss well to coat evenly. The best roasted cubed butternut squash has an even coating of oil, so don't just quickly toss and be done! Make sure all the cubes are evenly coated for maximum flavor and ease of roasting.
Preheat the oven to 400° F and line a baking sheet with parchment paper. This keeps the squash from sticking to the bottom of your pan. You can also line your baking sheet with a silicone baking mat, yet I would also increase the baking temp to 415° or 425° F to accommodate the thicker sheet. Roast the squash for 15-20 minutes. You want the cubes to be fork-tender and even slightly browned on the outside.
If you're looking for super crispy cubes then once they are completely baked, switch your oven to broil and broil for 3-5 minutes to caramelize the butternut squash. Watch closely to avoid burning the squash!
Once the cubed squash is completely roasted, remove it from the oven and top it with fresh parsley. You can serve warm, room temp, or even cold, depending on your preference. This reheats nicely in the toaster oven or works great as cold leftovers.
Prep Tips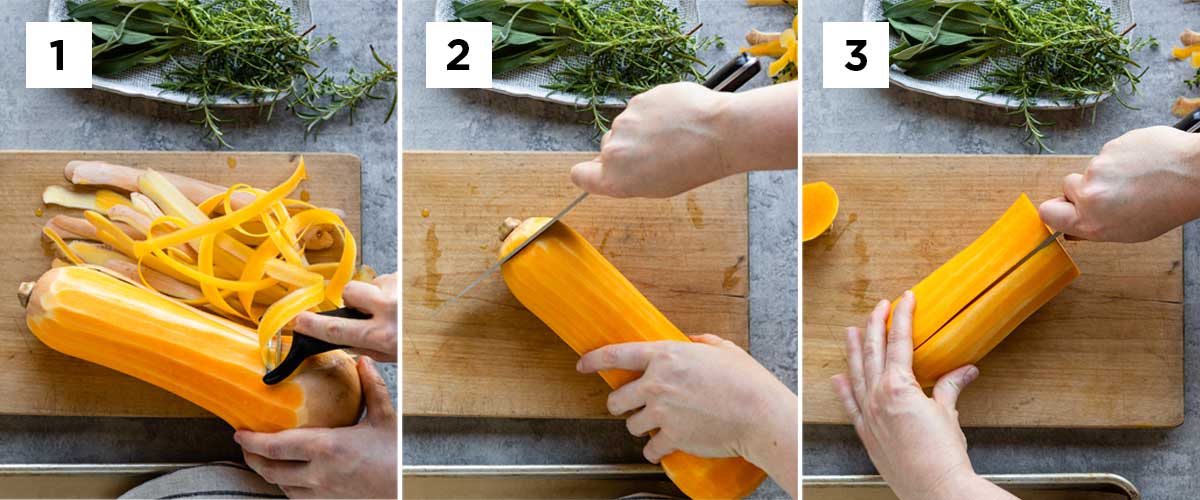 Since my roasted butternut squash recipe needs peeled and cubed, let's dive into the best way to accomplish this. I don't know if you've ever peeled a butternut squash, but when I do, my hands blister. It's called contact dermatitis and while it doesn't affect everyone, I recommend getting wearing some gloves while you handle raw butternut squash to avoid any irritation.
Now that we're properly covered, let's get prepping!
Use a vegetable peeler and peel the whole butternut squash lengthwise.
Once peeled, use a large knife and carefully cut off the top of the squash as well as the bulbous part. Cut the bulbous part in half and scoop out the seeds and any stringy bits.
Cut the long neck portion in half, then proceed to cube the whole squash (both the neck and the bulbous portions).
Once this is complete then you can move on to chopping up the fresh herbs and garlic cloves.
Butternut Squash FAQs
How long does it take for butternut squash to soften in the oven?
I roast my cubed squash at 400° F for 15-20 minutes. If I want to keep the cubes softer, I then remove them from the oven. If I want crispy squash I will gently stir up the cubes, then return to oven and broil for 3-5 minutes to caramelize the edges.
Do you need to peel butternut squash before roasting?
If you are cubing your squash then yes! Peel, remove the seeds and dice the squash before baking. If you are pureeing the squash or want it soft, then you can roast simply by cutting the squash in half lengthwise, then scoop out the seeds. Once baked you can scoop the flesh out of the skin.
What is the best way to cube butternut squash?
I start by peeling the whole squash. Once peeled, I use a large cutting board and a large knife to carefully cut the squash in half lengthwise. Scoop out the seeds from the bulbous part, then cut each half into sections to cube.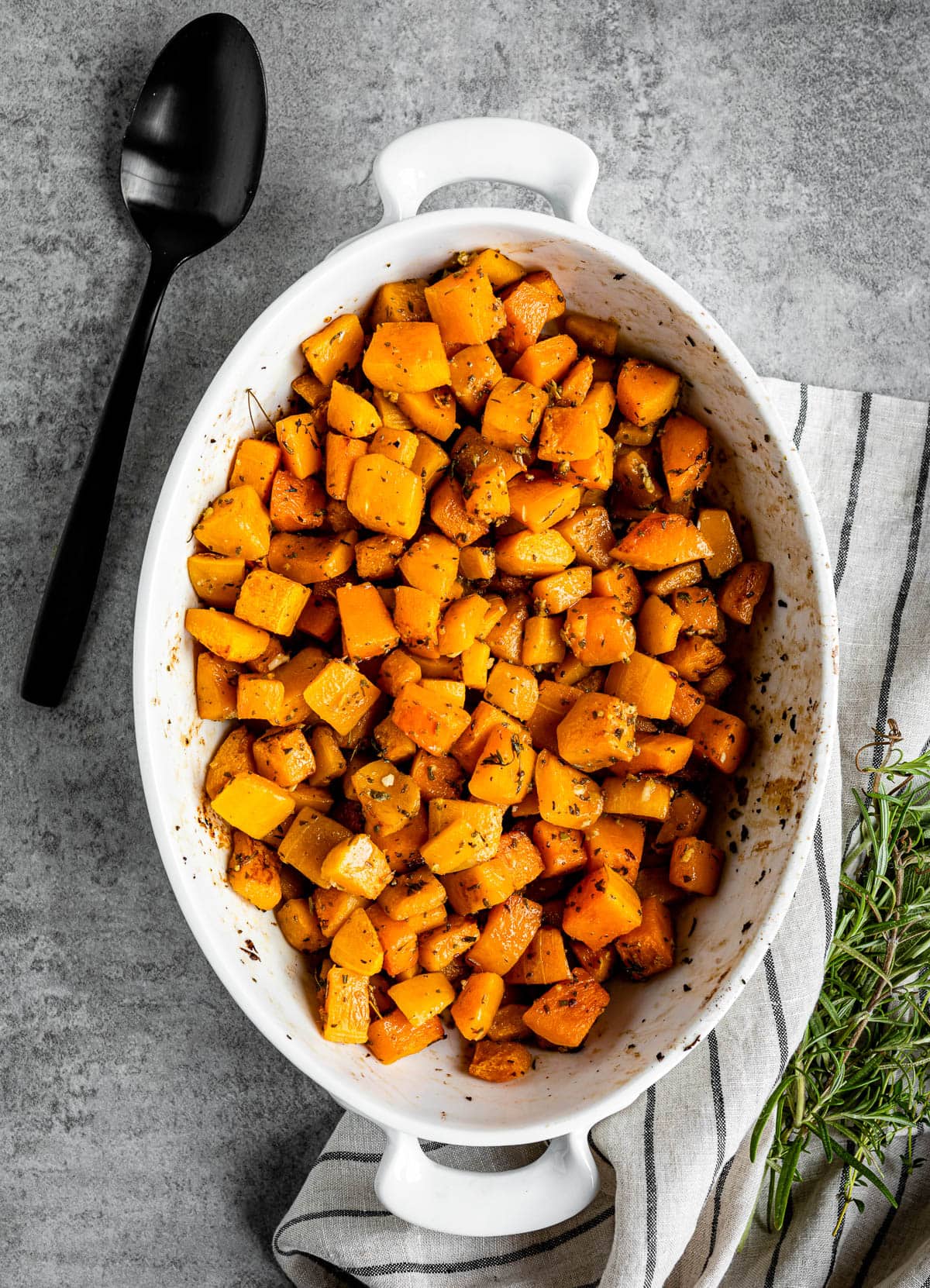 More Delightful Side Dishes
As the holiday season approaches, you might be looking for some fresh recipe inspiration. I'm here to help! Here are a few of my favorite vegetable side dishes for the season: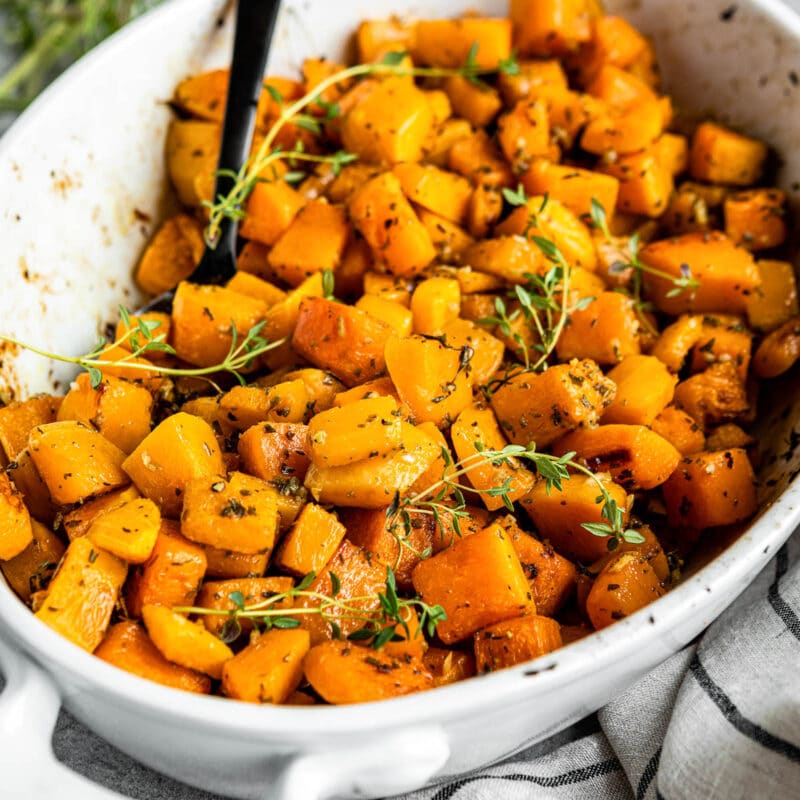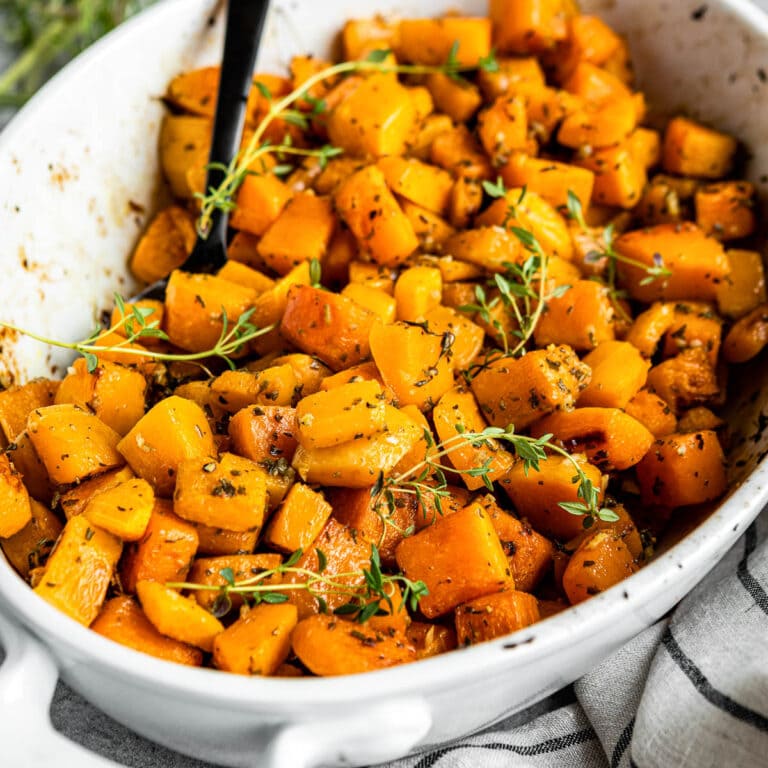 Roasted Butternut Squash
Enjoy this gorgeously simple, side dish by cubing and roasting butternut squash in a few easy steps. You can use this recipe to enjoy softened or crispy squash, your choice! This is a great side dish for the cooler months and works well for the holidays, too.
Ingredients
2

lb

butternut squash

1 whole squash

2

tbsp

avocado oil

¼

tsp

sea salt

¼

tsp

black pepper

ground

1

tbsp

rosemary

fresh, finely minced

1

tbsp

thyme

fresh, leaves

1

tbsp

sage

fresh, finely minced

3

garlic cloves

minced
Instructions
Preheat oven to 400° F and line a baking sheet with parchment paper.

Peel butternut squash. On a large, flat cutting board, cut the butternut squash in half, lengthwise. Remove the seeds from the bulbous part.

Cut the butternut squash halves into 1 inch cubes.

Toss the cubes with avocado oil and all seasonings. Spread out evenly on prepared baking sheet and Roast 15-20 minutes or until the pieces are fork tender.

For crispier butternut squash cubes: Carefully remove baking sheet from oven and stir the cubes. Return to oven and broil 3-5 minutes to caramelize the edges. Watch closely so the cubes don't burn.

Serve warm.
Notes
To turn this into a sweet butternut squash recipe, omit the seasonings and oil listed above and instead use: 2 tbsp melted coconut oil, 2 tbsp maple syrup and 1 tsp cinnamon. Roast as directed. Once done, top evenly with marshmallows and pecans then broil 3-5 minutes until marshmallows are melted. 
You can also make a balsamic glaze to go over the top of the roasted squash: combine 1 cup balsamic vinegar with 1/4 cup honey in a saucepan. Bring to a boil then lower heat to simmer. Continue cooking, stirring occasionally, until the vinegar thickens and becomes syrupy. Transfer to a jar and refrigerate until ready to use. 
Nutrition
Calories:
182
kcal
,
Carbohydrates:
28
g
,
Protein:
3
g
,
Fat:
8
g
,
Saturated Fat:
1
g
,
Polyunsaturated Fat:
1
g
,
Monounsaturated Fat:
5
g
,
Trans Fat:
0.01
g
,
Cholesterol:
3
mg
,
Sodium:
179
mg
,
Potassium:
834
mg
,
Fiber:
5
g
,
Sugar:
5
g
,
Vitamin A:
24211
IU
,
Vitamin C:
51
mg
,
Calcium:
127
mg
,
Iron:
2
mg