I started experimenting with savory smoothies a long time ago and I must admit, I love them! Try this cauliflower smoothie for a filling and quick dinner.
While I'm not afraid to try new flavor combos like my fiesta savory smoothie or my ruby red tomato smoothie, or even a truly green smoothie like the fruit and vegetable smoothie, this smoothie with cauliflower is perfect for a beginner.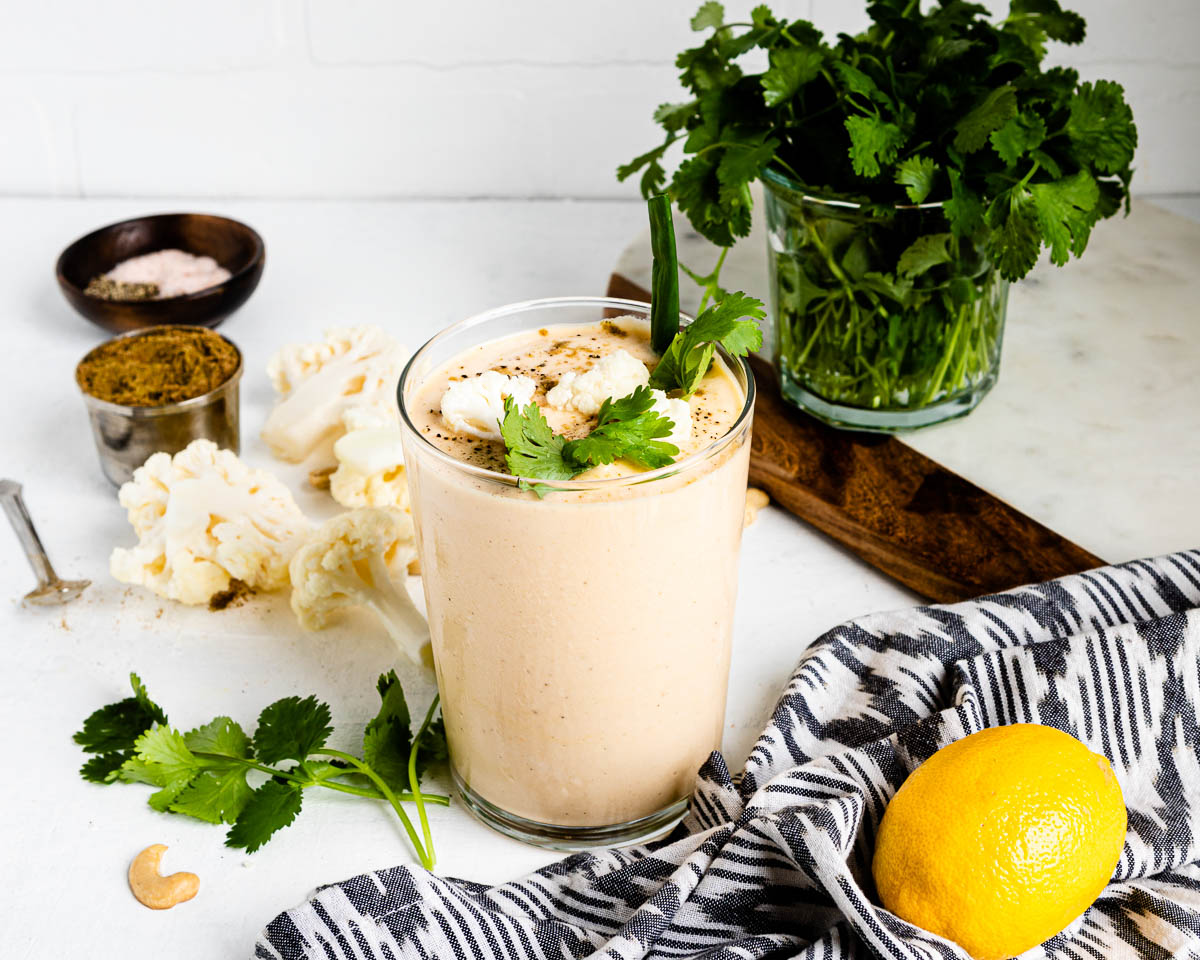 Smoothies are a way of life for me and I don't like getting into a rut with ingredients. Every once in a while, I just start shopping in my kitchen for new things to blend. That's how this fun beverage came to be!
There is nothing new about cauliflower in smoothies, but this is a savory take that is incredibly creamy and satisfying.
Table of Contents
Recipe Ingredients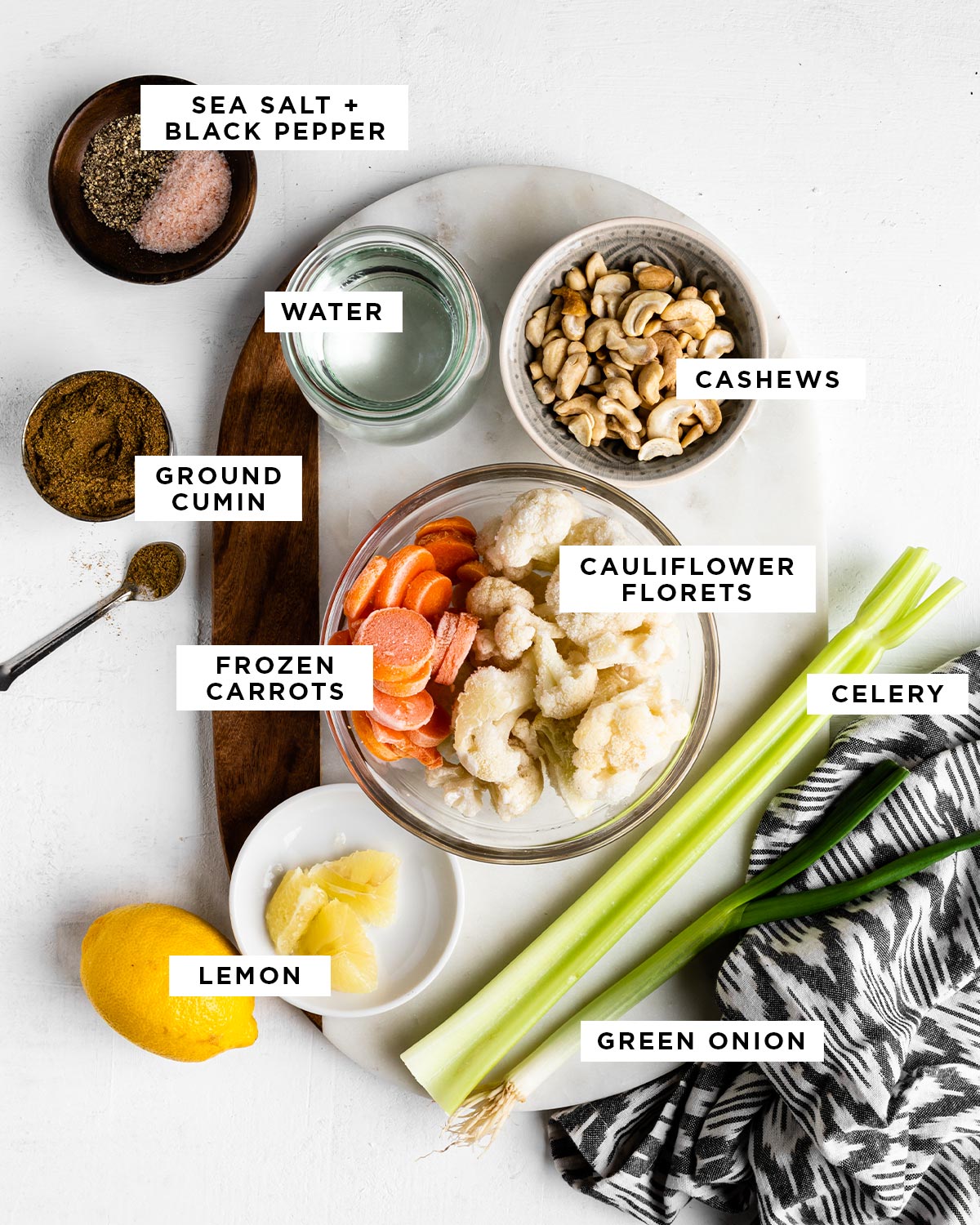 I know that savory smoothie recipes aren't the most popular kind to make but hear me out. You are never too old to try something new, and this may surprise you! I chose ingredients that are easy to find and blend well together. Here's what I came up with:
Water: The easiest liquid base you'll find!
Raw cashews: This adds creaminess, healthy fats and nuttiness.
Cauliflower florets: This mild vegetable provides fiber, vitamin C, vitamin K, folate and more. You can eat it to fight inflammation and cancer. Plus when it's frozen, it is virtually tasteless!
Frozen carrots: A little sweet and a little earthy, carrots also contain beta carotene, vitamin B6, biotin and potassium.
Celery: I added this for the benefits. Celery can help fight inflammation and aid in digestion while helping keep blood sugar in check.
Green onion: I chose green onion over yellow onion because of its lighter, brighter flavor, and I don't have to chop it up!
Lemon: You could add juice to brighten up the whole beverage, but adding whole pieces of lemon gives your body tools to fight high cholesterol.
Ground cumin: This simple spice brings warmth and a slight nuttiness without overpowering this drink.
Sea salt and black pepper: These are both flavor enhancers that make for the tastiest result.
Easy Ingredient Swaps
I'm all for customizing this smoothie to fit my taste preferences. I love adding a little heat to savory smoothies and think hot sauce would be a great addition. You can also add in a premade mix like taco seasoning or the flavoring of your choice.
Swap the cashews with the nut or seed of your choice. Feel free to add up to 1 cup of leafy greens.
Plant-Powered Protein Boost
All on its own, this savory beverage contains 9 grams of plant-based protein. Sometimes that's not enough! If I'm blending this smoothie after a workout or busy day then I like adding in a serving of my own protein powder recipe.
This great plant-powered protein adds an additional 10 grams of protein, 5 grams of healthy fat and 6 grams of fiber. Now that would make a filling dinner!
How to Blend a Cauliflower Smoothie
While this smoothie with cauliflower contains no leafy greens, I still recommend blending in two steps to get the creamiest result.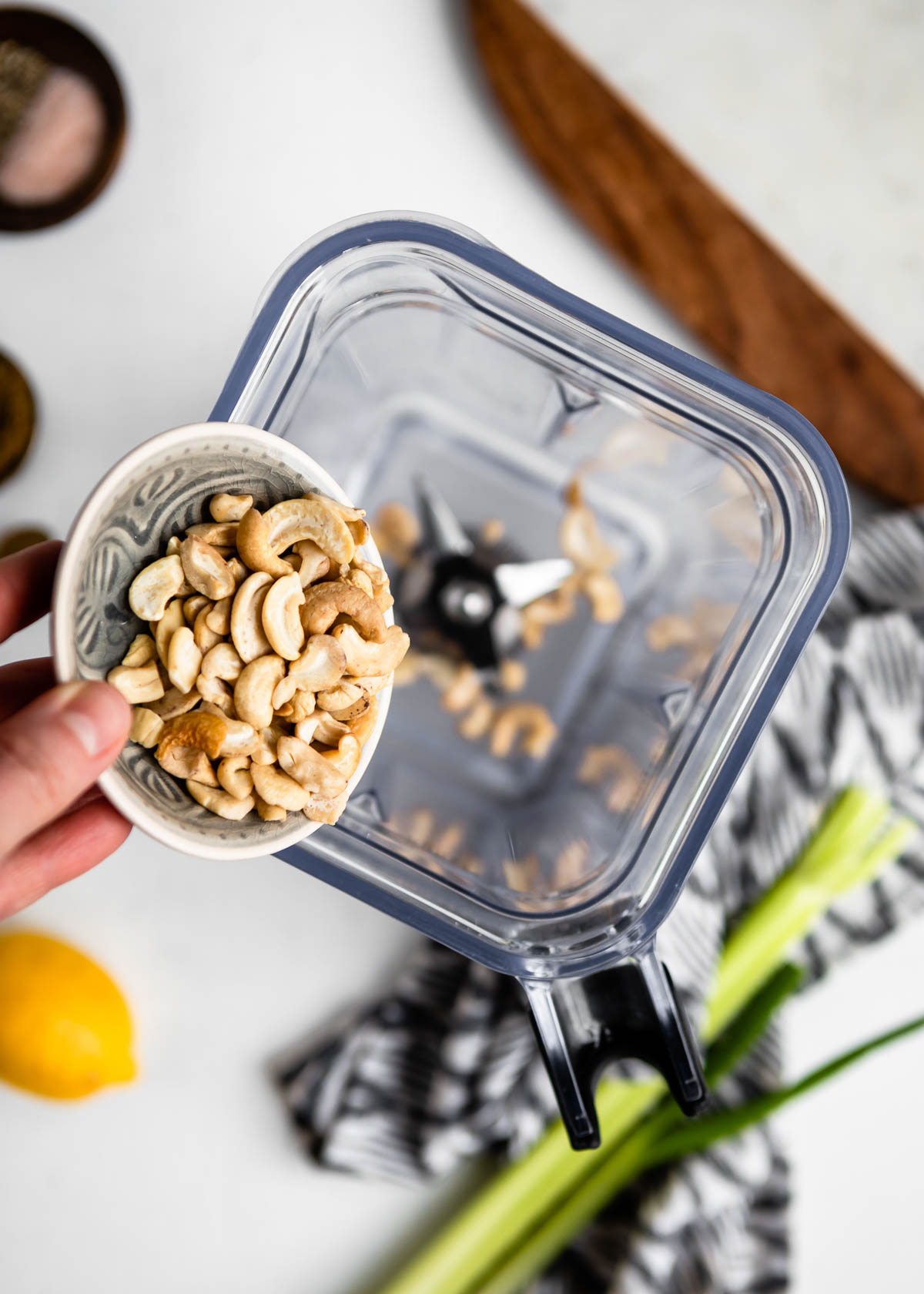 Step 1: Blend water and cashews until smooth. To make sure the cashews completely break down, you can soak them for two hours beforehand. Just be sure to drain and rinse them prior to adding to the blender.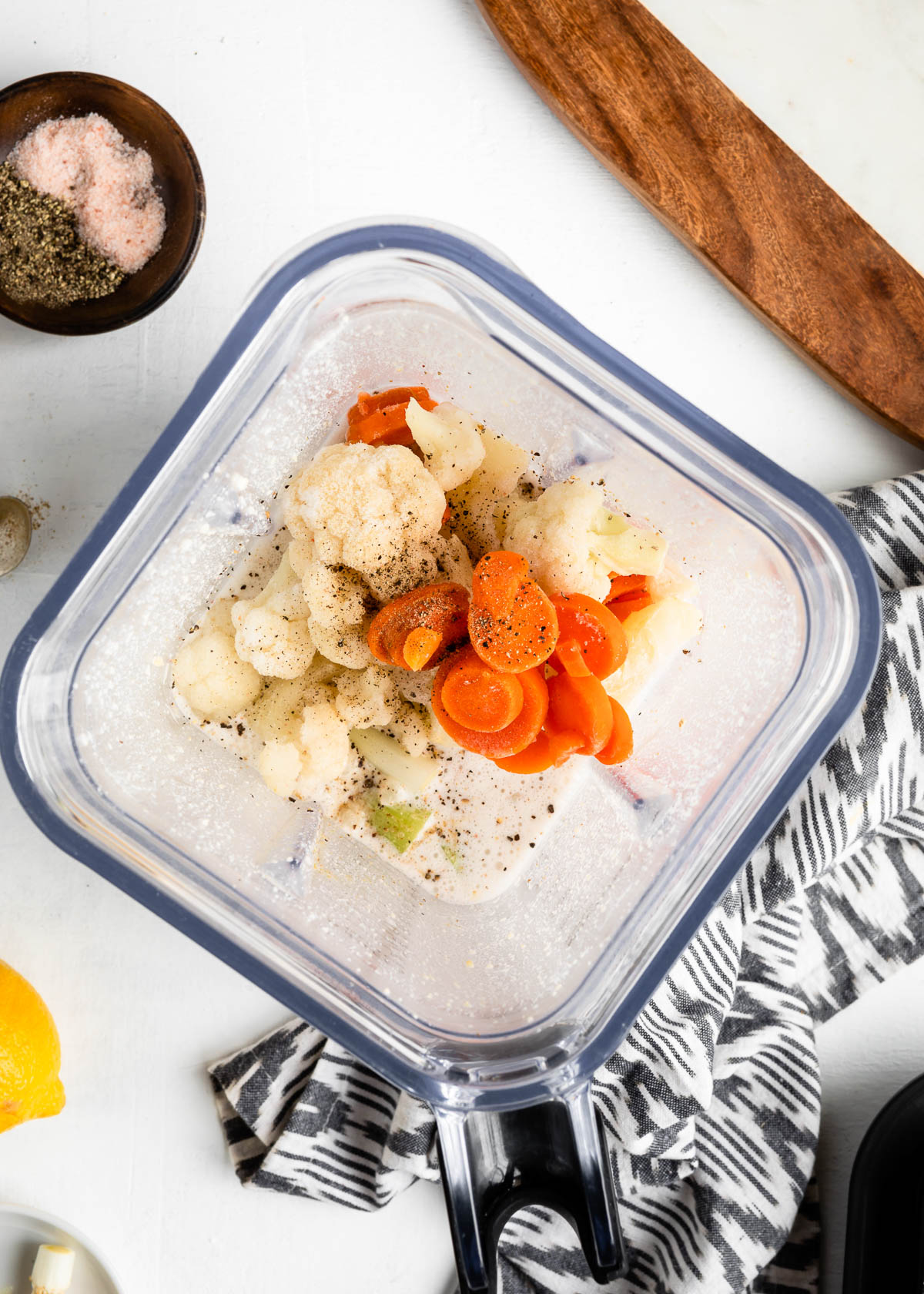 Step 2: Add the remaining ingredients and blend again. You know you're done when there are no chunks flying around the blender container.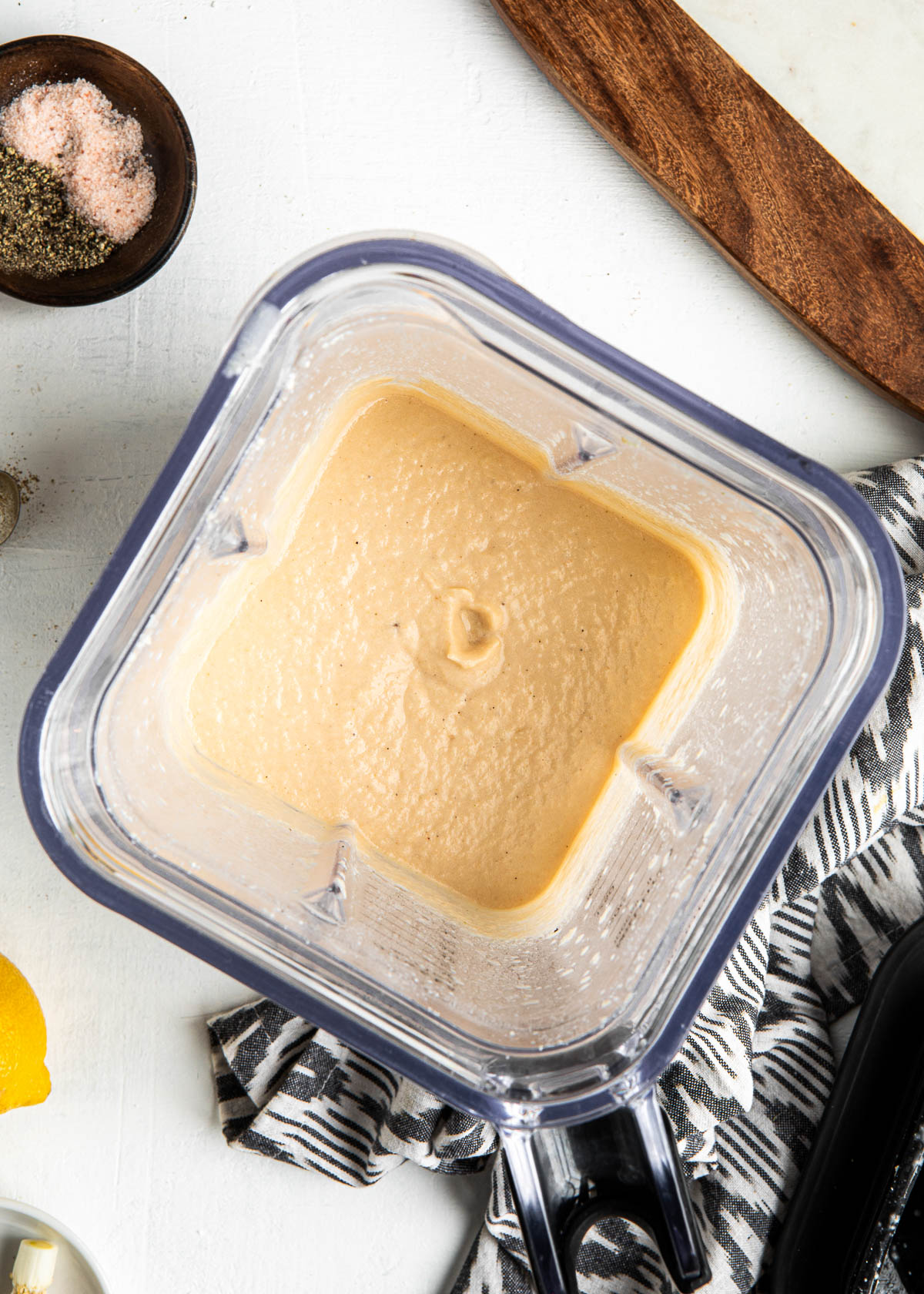 I recommend tasting this smoothie before pouring it into a glass, then adding more seasoning if desired and blending again before serving. That way you get the exact flavor you want without trying to mix spices in afterward.
FAQs
Is cauliflower good for smoothies?
Cauliflower is a great addition to smoothies. It provides extra creaminess for a thicker result in both smoothies and smoothie bowls. It also contains vitamin C, vitamin K, folate and fiber (among other nutrients).
Why would I put frozen cauliflower in smoothies?
I find that fresh cauliflower has a distinct flavor, but frozen cauliflower is virtually tasteless. It's a great way to add another vegetable to smoothies without altering the taste of them. All the benefits without any weird flavor!
How do I blend frozen vegetables?
Frozen fruits or vegetables are great in smoothies. If you're using a high-powered blender, they can go right in from the freezer. If you are using a non-high-powered blender then allow frozen ingredients to thaw for 15 minutes before blending to give them a little time to soften.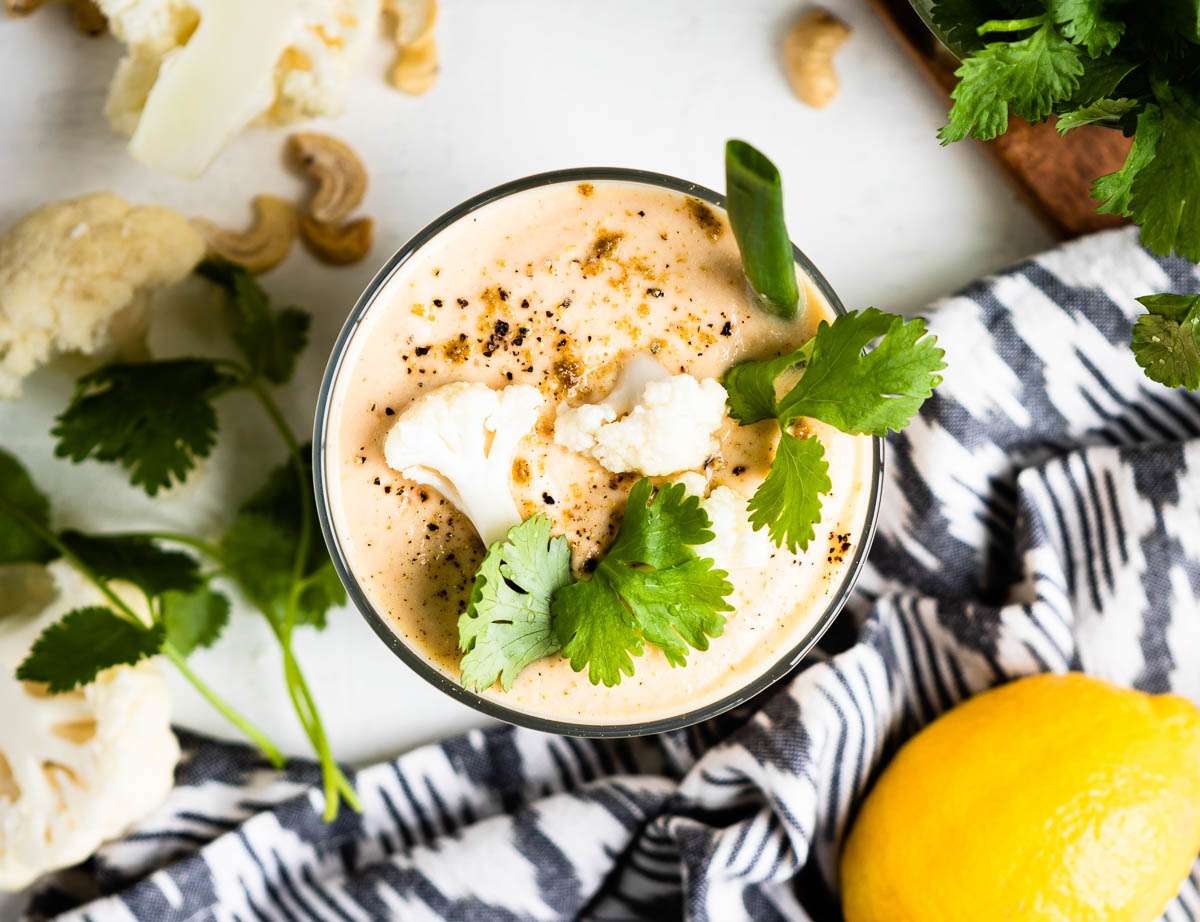 More Smoothies with Cauliflower
This isn't the first, nor the last, time I use cauliflower in smoothies. When frozen, it is almost tasteless and yet provides creaminess and nutrition. Here are some more ways to use this unique vegetable:
Can you believe all the combos of cauliflower in smoothies? I just love it when a veggie works so seamlessly with other ingredients.
Would you please rate + review this smoothie once you try it? I'd love to get your feedback.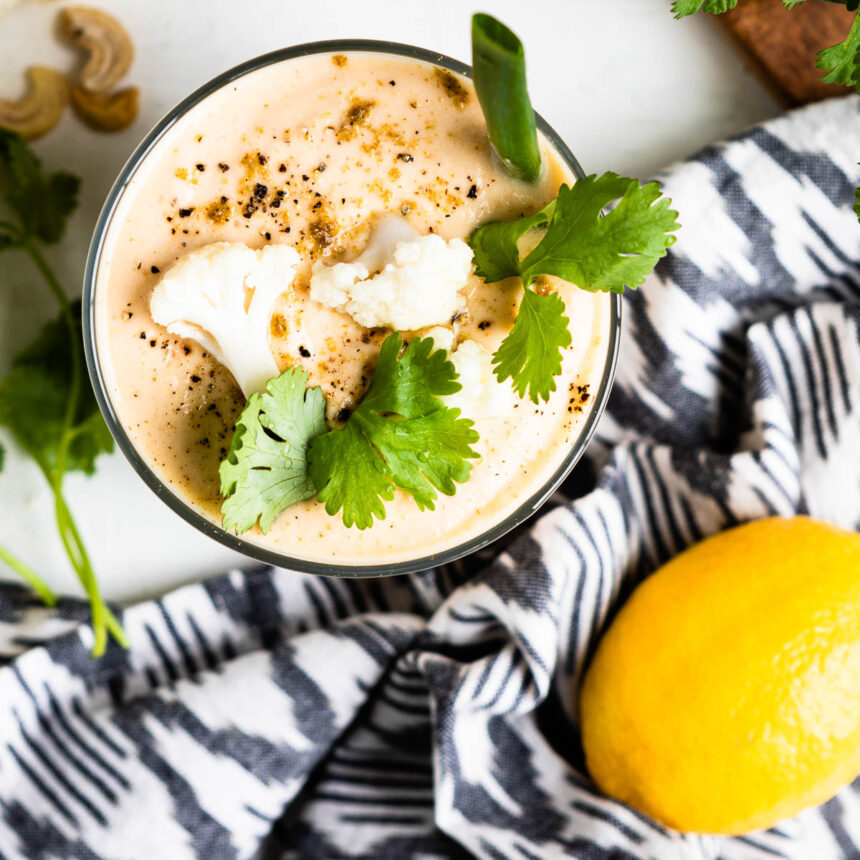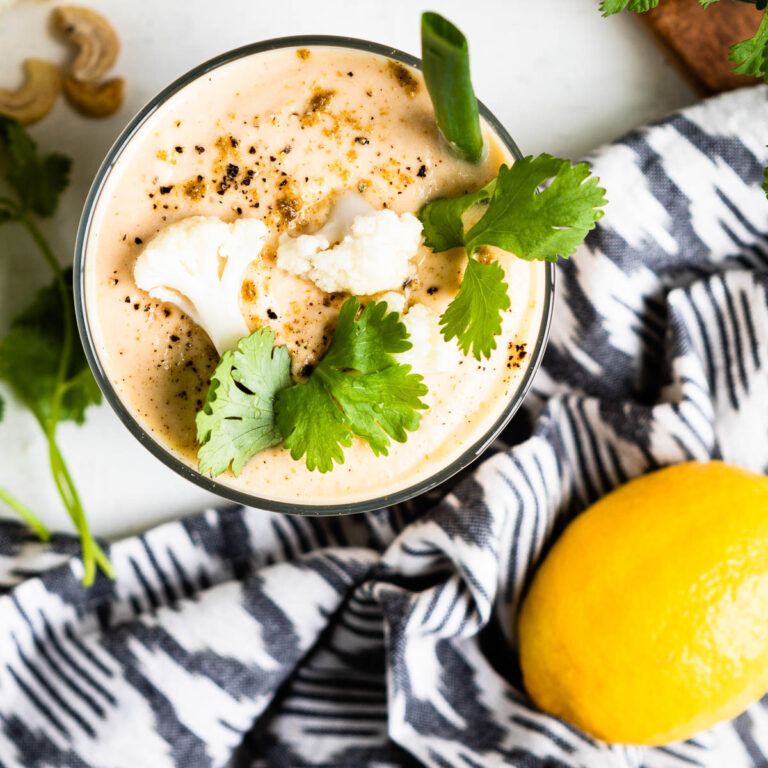 Savory Cauliflower Smoothie
I can't wait for you to try this ultra-creamy, perfectly seasoned cauliflower smoothie. It is bursting with flavor and is a fun departure from my usual sweet creations. Enjoy!
Ingredients
1

cup

water

¼

cup

raw cashews

1

cup

cauliflower florets

frozen

½

cup

carrots

frozen

1

celery stalk

½

green onion

¼

lemon

peeled

⅛

tsp

cumin

ground

⅛

tsp

sea salt

⅛

tsp

black pepper

ground

1

serving

homemade protein powder

optional
Instructions
Blend water and cashews in blender until smooth.

Add remaining ingredients and blend again until smooth.

Pour into a glass and enjoy!
Notes
For a creamier smoothie, soak the cashews for two hours before blending. Drain, rinse then blend as instructed in the recipe.
Use at least one frozen ingredient for a refreshingly cool smoothie.
Add in one serving of my homemade protein powder and boost this recipe by an additional 10 grams of protein.
Nutrition
Calories:
241
kcal
,
Carbohydrates:
24
g
,
Protein:
9
g
,
Fat:
15
g
,
Saturated Fat:
3
g
,
Polyunsaturated Fat:
3
g
,
Monounsaturated Fat:
8
g
,
Sodium:
386
mg
,
Potassium:
789
mg
,
Fiber:
6
g
,
Sugar:
8
g
,
Vitamin A:
10780
IU
,
Vitamin C:
68
mg
,
Calcium:
79
mg
,
Iron:
3
mg