I can never resist fresh green beans at the farmer's market. They are so vibrantly green and crisp! I want them to stay that way even when cooked, so I use this recipe for sautéed skillet green beans which produces the most perfectly blackened green beans you've ever tasted.
I often boast about my Roasted Brussels Sprouts, yet this dish is even easier and also a crowd-pleaser.
They're lightly seasoned and are quickly sautéed in a cast iron skillet, making a great side dish to almost any meal.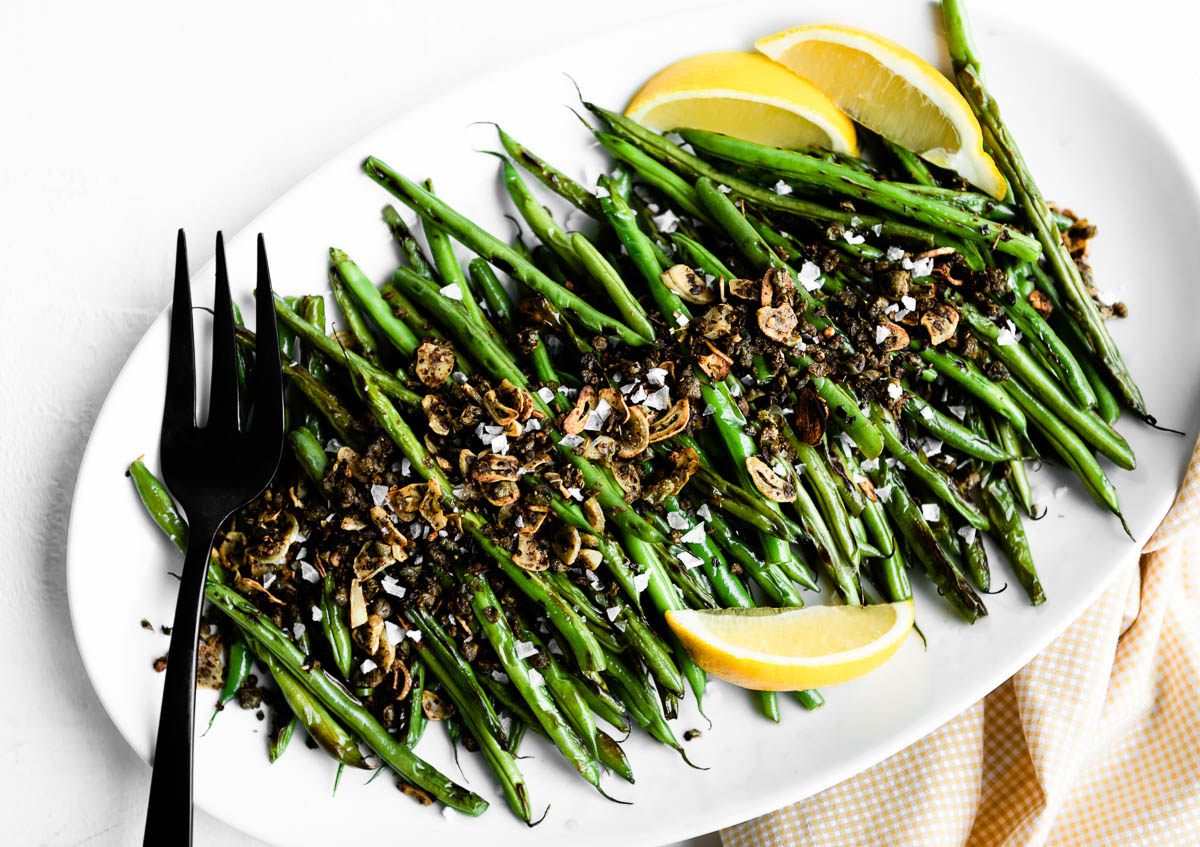 This tasty green bean recipe is seasoned with red pepper flakes, garlic, capers and salt for the ultimately flavored side. Also, blackened green beans keep their bright green color and can colorfully grace any table-scape alongside Black Bean Burgers, Portobello Mushroom Burgers or Vegetarian Shepherd's Pie.
Table of Contents
Eat these with a fork or go wild and dip them into a Garlic Lemon Aioli and have a party in your mouth.
Recipe Ingredients
This recipe uses a few ingredients to create a show-stopping dish. Most of the ingredients are for flavor! Here's what I'm adding to my sautéed vegetable: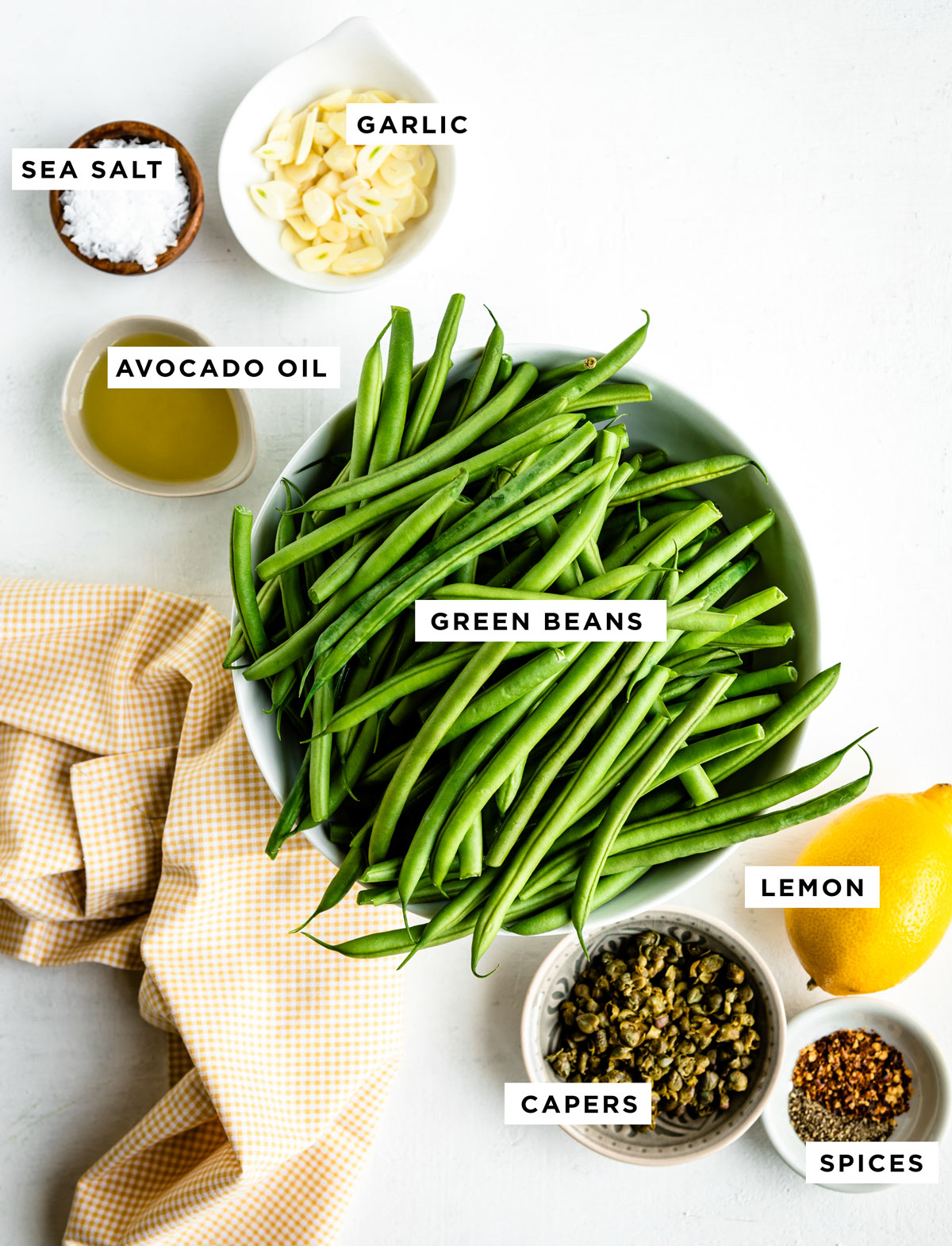 Fresh green beans: Canned green beans are not my cup of tea. In fact, I'd rather not eat them if they come in a can. They are mushy, sour and odd. Fresh, crisp ones are totally my jam and the star of this summery side.
Avocado oil: This oil is milder in flavor than olive oil, which is why I chose it for this recipe.
Sliced garlic cloves: Instead of using minced garlic that burns easily and loses some flavor, I am slicing whole garlic cloves and roasting them in the seasoning, then using them as a topper. It is next-level good!
Capers: This salty addition adds a slight sharpness that is quite lovely.
Seasoning: I'm seasoning this dish with crushed red pepper flakes, sea salt and fresh ground black pepper. This adds a bit of zing without making it too spicy.
Fresh lemon juice: Fresh lemon juice brightens up vegetables like nothing else and I always add it to my recipes.
Easy Swaps
I use avocado oil in my recipe, but you can use olive oil or butter. You choose! Honestly, sautéing the sliced garlic in some grass-fed butter deepens the flavor and pairs perfectly with the blackened green beans. I can almost taste it!
If you love lemon as much as I do, zest the lemon before squeezing the juice out and use that zest to garnish right before serving.
Capers are a salty addition so I know they aren't for everyone. Simply omit and add an extra pinch of salt if capers are a no for you.
While you can use canned green beans, try using fresh if at all possible. You should be able to find these in your fresh produce section or seek out a local farmer! If you fall in love with this recipe, start growing your own beans so you can enjoy this all season long.
Trimming Fresh Beans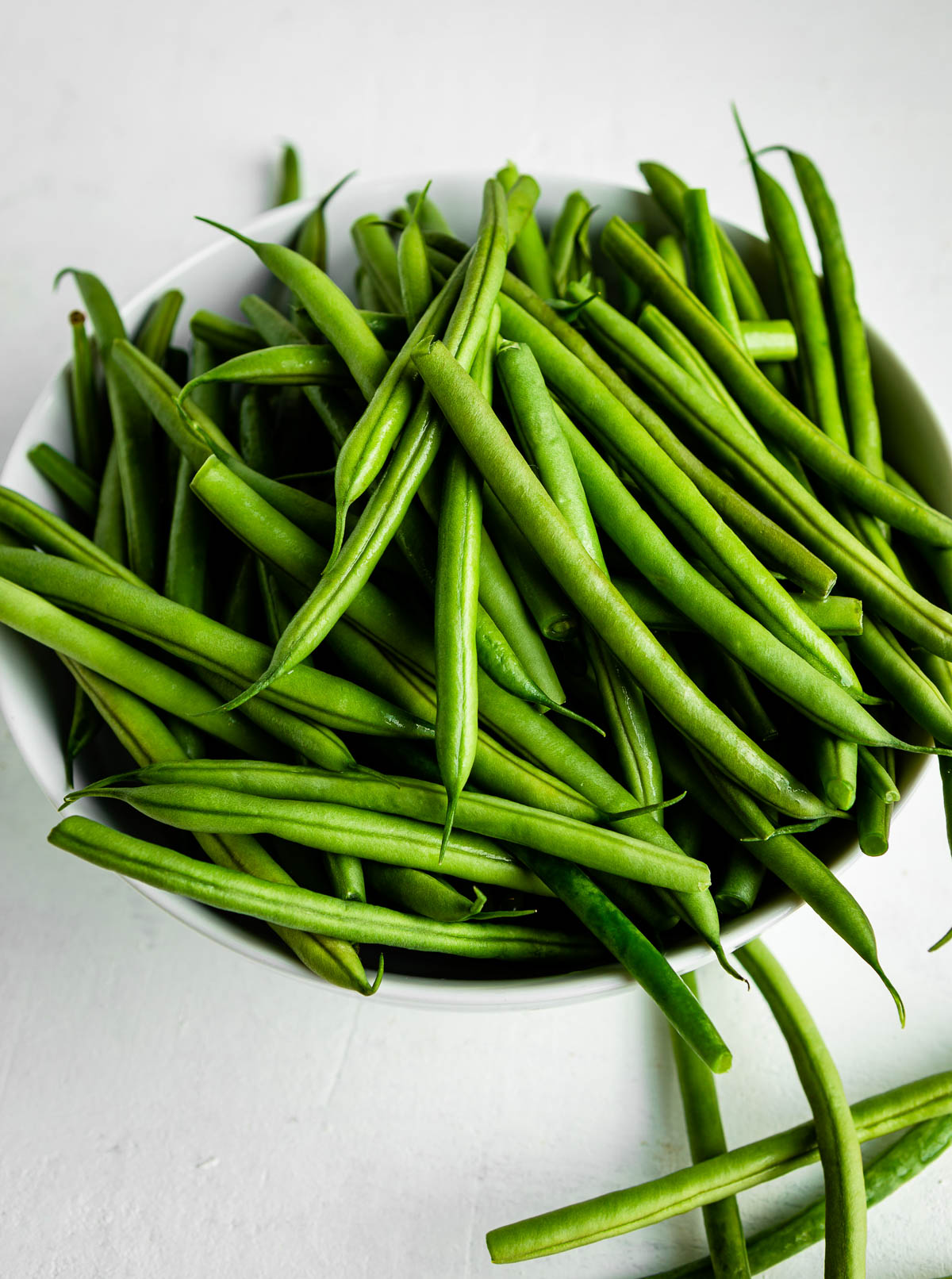 If you've never cooked with fresh green beans then read this section before starting the recipe.
This vegetable comes with a stem end and a pointy end. No need to trim off the pointy end. Make sure you chop off the stem end as it is tough and not enjoyable.
I like to line up my beans in a row with all the stems on the same side, then use a chef's knife to firmly chop off the ends. I try to get a handful lined up at a time so I can trim them and then toss them in the skillet.
Now that you've got nicely trimmed veggies, let's get cooking!
How to Make Sautéed Green Beans
No more soggy beans with this blackened green beans recipe! You'll love the flavor that comes from this easy cooking method, I'm sure of it. Let's get going!
Step 1: Make sure your trimmed green beans are thoroughly dried so that they don't cause a big splatter when adding them to your pan. Heat the oil over medium-high heat in a large cast iron skillet until it shimmers.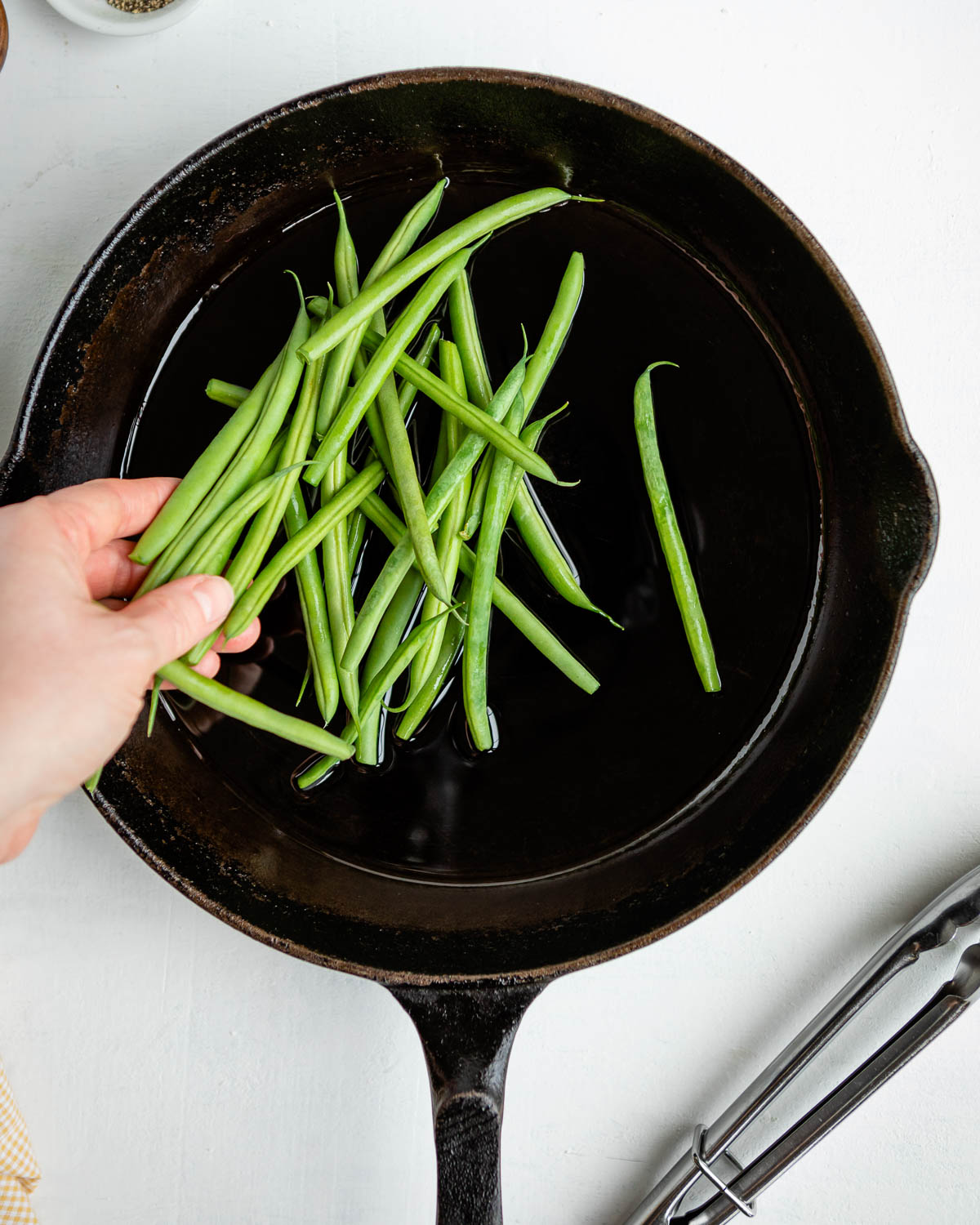 Step 2: Add in the dried green beans and cook for about 3 minutes until the beans are browned on the bottom. Cover while cooking to minimize jumping oil.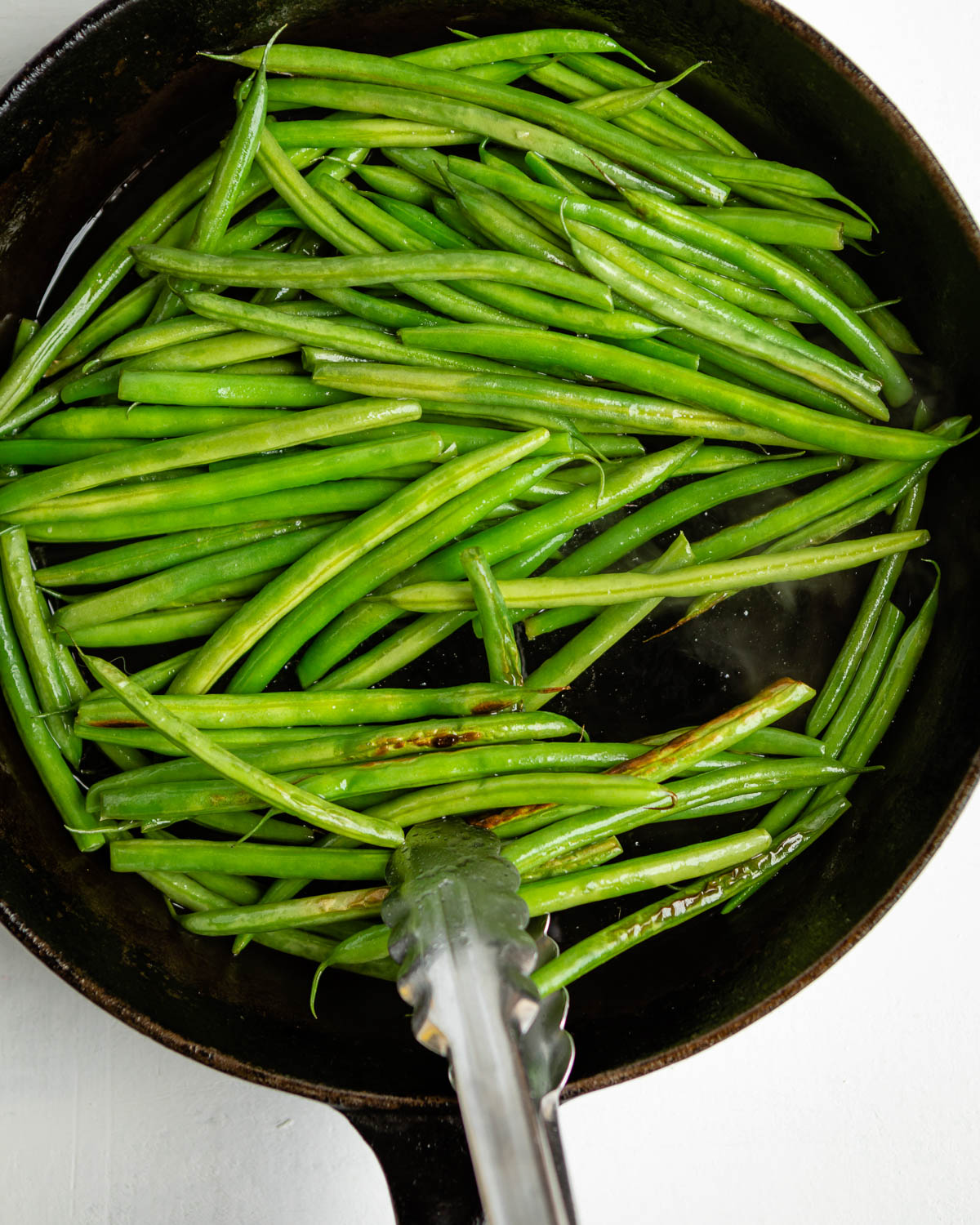 Step 3: Using tongs, turn the beans over and continue to cook until they are evenly browned, about 3-5 minutes. Occasionally move the beans around to help with the browning.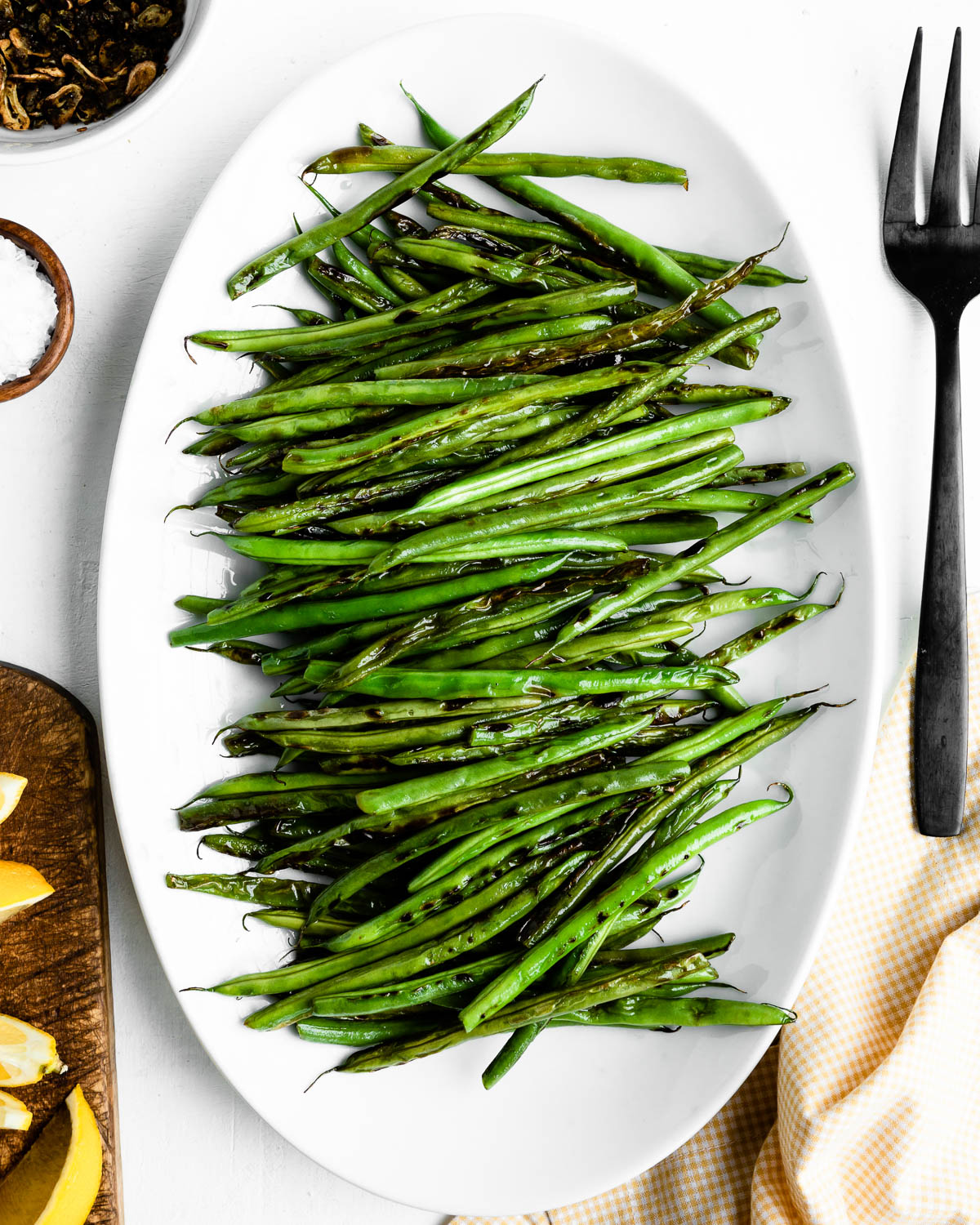 Step 4: Transfer the sautéed green beans to a platter, keeping the cast iron on the hot burner.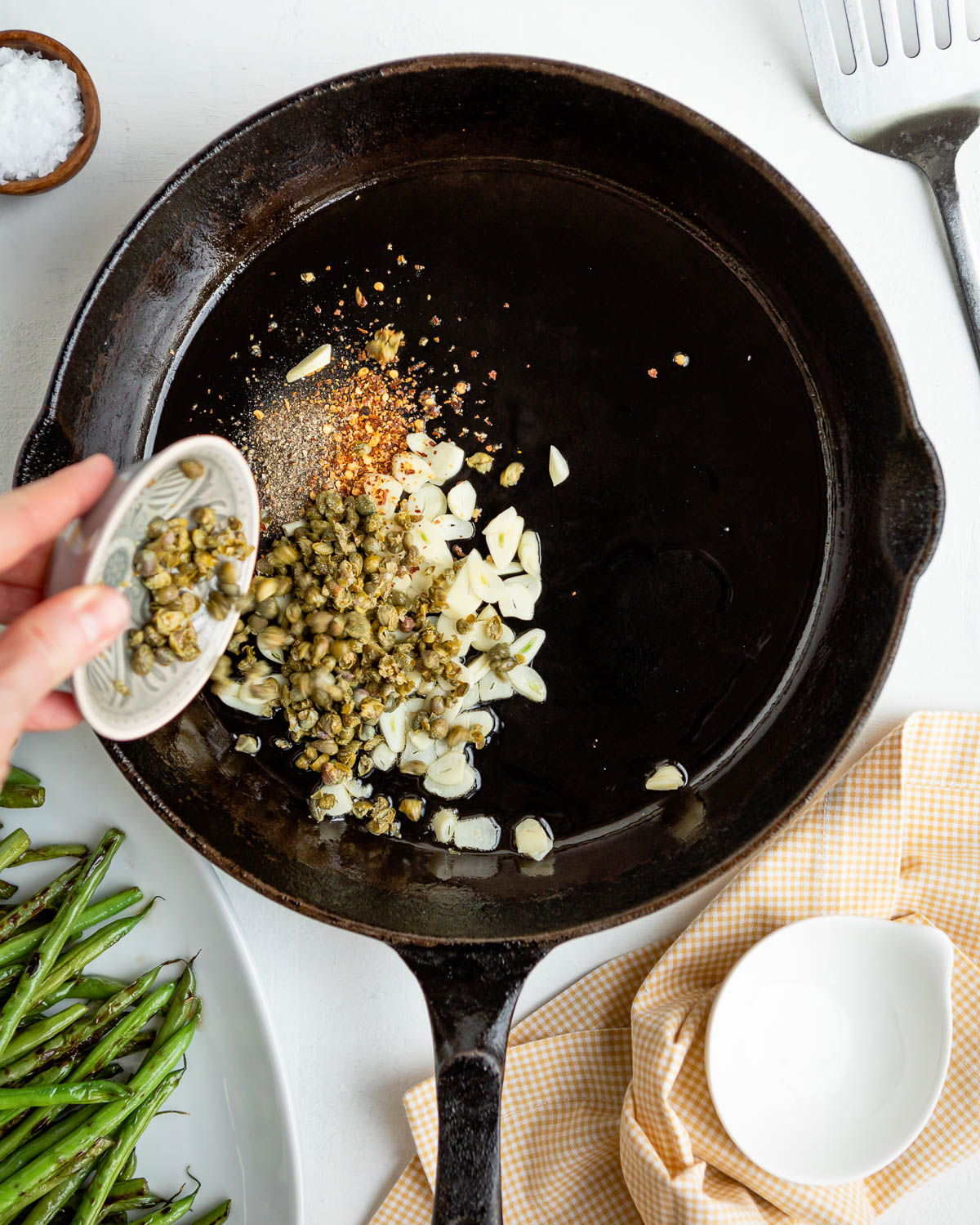 Step 5: Add garlic, capers and crushed red pepper to the skillet and cook until the garlic turns golden, about 1 minute. Stir constantly to avoid burning the garlic.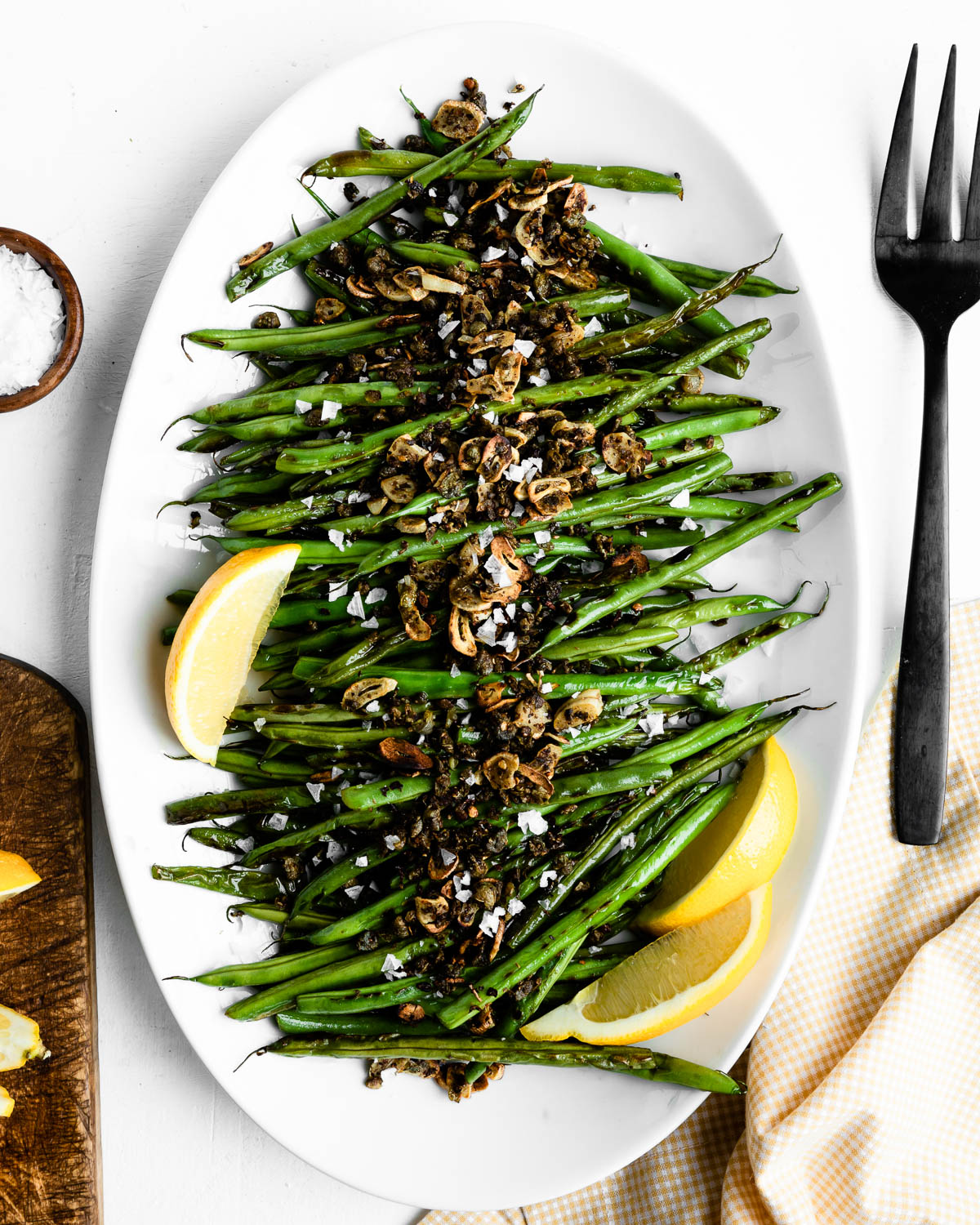 Step 6: Spoon the mixture on top of the green beans, then sprinkle with coarse sea salt, black pepper and a squeeze of lemon juice. Serve immediately.
Any leftover skillet green beans can be stored in the refrigerator in an airtight container for up to three days. To reheat, use a microwave or toss them back into a large skillet just until warm.
Alternative Cooking Methods
If blackened beans aren't your favorite way to eat this lovely vegetable then I've got alternatives! You can achieve that crisp-tender texture through boiling or steaming just as easily as through sautéing.
Steaming: This is where that double boiler can be used if you have one, yet you can still steam vegetables without one. Just grab a larger pot and add about one inch of water to it and get it boiling. Then add a heat-safe bowl to the top of it with your trimmed green beans inside.
The steam from the heated water will nicely steam your beans until tender. Keep an eye on them to determine how tender you want.
Boiling: Add about one inch of water to a large pot and once boiling, toss in the trimmed green beans. Cook until they are the desired tenderness, then pour into a colander to strain out the water. I season them right in the pot so they cook in the flavors a bit but you can toss in seasoning after boiling them as well.
FAQs
How do I cook green beans like a pro?
It's so easy to cook green beans to look like a professional dish. Trim the stem ends off then wash and thoroughly dry. Heat a cast iron skillet on medium-high with good cooking oil, then toss in the green beans. After about three minutes, use tongs to flip the beans over; they should be blackened on one side. Keep moving them around the pan until they are evenly blackened, then arrange them on a platter. Keep the skillet on the heat and add in your sliced garlic, capers and red pepper flakes. Once these are nicely sautéed (about one minute) pour them overtop the green beans and season with coarse sea salt and some fresh lemon juice.
What can I add to green beans for flavor?
Plain green beans taste a bit earthy. Add sautéed garlic, crushed red pepper and capers and you've got a delicious-tasting dish! I also like to use avocado oil for cooking them and sprinkle just a bit of coarse sea salt on the top to finish. If you've got some fresh lemon juice on hand then feel free to squeeze that over top at the end as well to brighten all the flavors.
How long does it take to cook green beans in a skillet?
I love how quickly this dish cooks. Once the skillet is heated, you can cook these green beans in less than ten minutes total, including the garlic sauté for topping.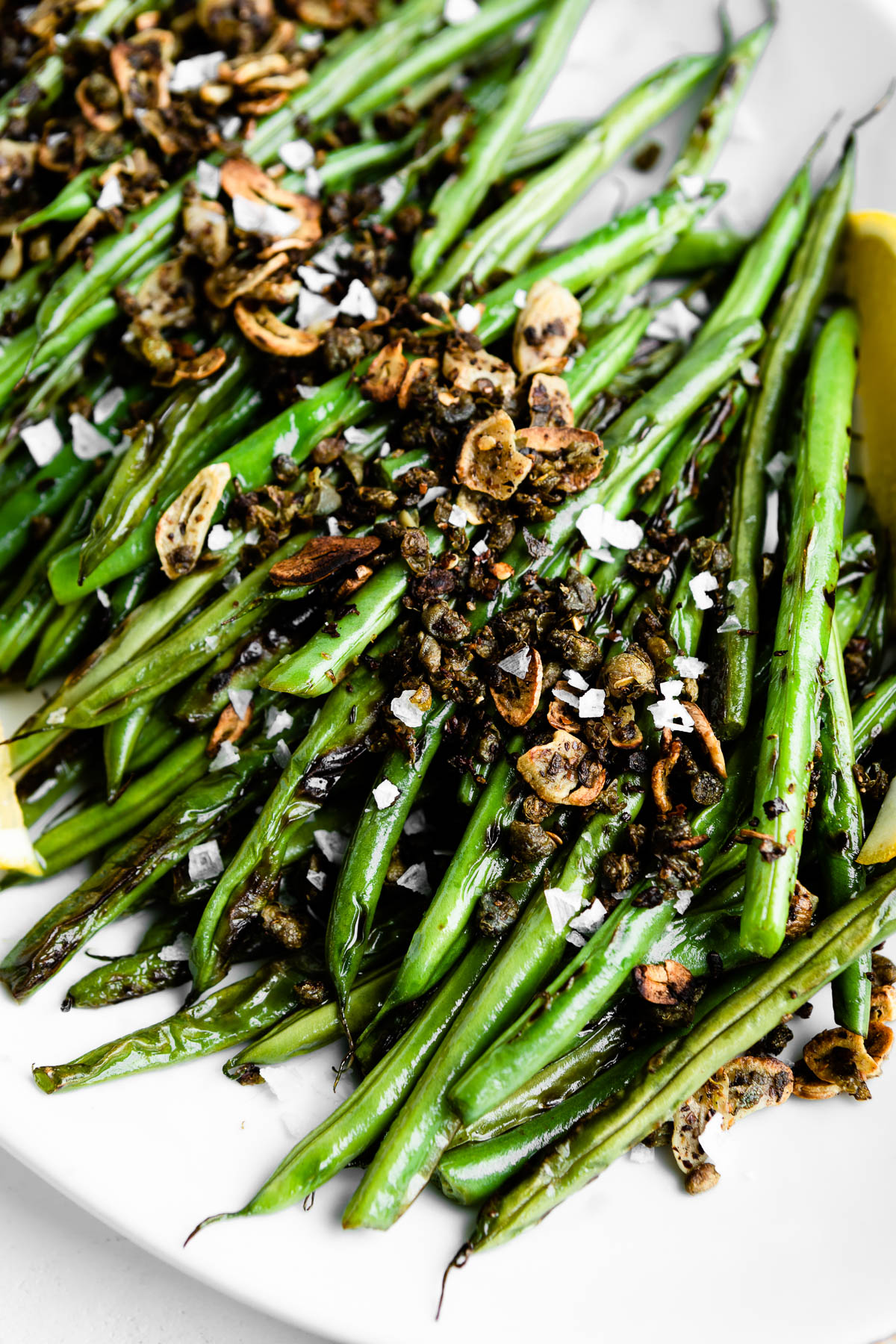 More Vegetable Side Dishes
I love vegetable sides that let the produce shine. Just a bit of the perfect seasoning makes them easy to make and include in a variety of dinners. Here are a few of my go-to recipes:
I can't wait for you to try this savory recipe! Will you please rate + review it once you try it and let me know how it turns out? Thanks!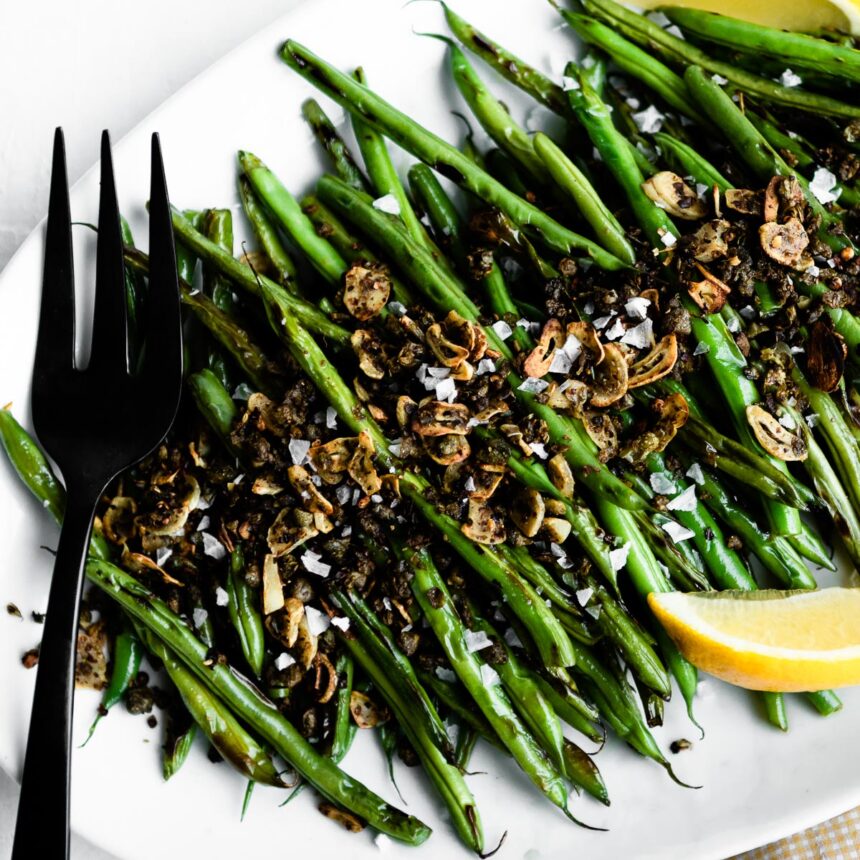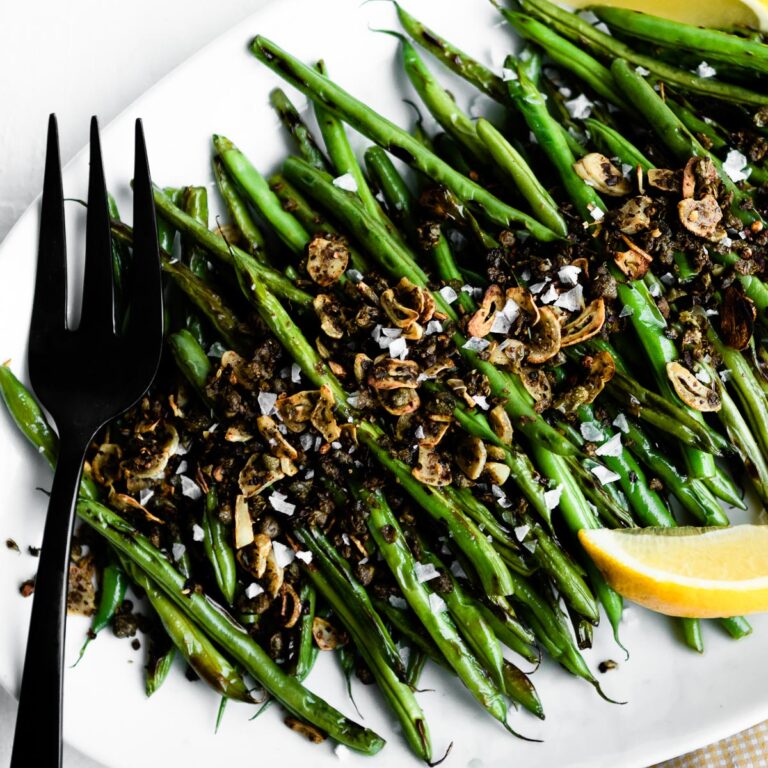 Skillet Green Beans
Whip up an elevated version of a classic side in no time with these beautifully blackened skillet green beans. They are topped with fresh sautéed garlic and capers to bring a salty, warm flavor to a vibrantly green vegetable. Easy to prepare and a joy to eat.
Ingredients
1

lb

green beans

fresh, trimmed

2

tbsp

avocado oil

6

garlic cloves

peeled and sliced

2

tbsp

capers

drained and chopped

1

tsp

crushed red pepper

¼

tsp

black pepper

ground

⅛

tsp

sea salt

coarse

¼

tsp

lemon

juiced
Instructions
Heat oil in large cast iron skillet over medium-high heat until shimmering. Add trimmed green beans, cover and cook about 3 minutes or until the beans are browned on the bottoms.

Turn the beans with tongs and continue to cook 3-5 minutes, turning occasionally to ensure they brown evenly. Transfer blackened beans to a platter.

Add garlic, capers and crushed red pepper to cast iron. Cook, stirring often, until garlic turns golden, about 1 minute.

Spoon mixture on top of beans and sprinkle with sea salt and ground black pepper, then lightly squeeze some lemon juice overtop the whole dish. Serve immediately.
Notes
Make sure the green beans are as dry as possible before placing them in the hot oil to minimize the splatter.
Choose a pan that can easily accommodate the beans so they can evenly blacken.
Watch garlic closely and stir constantly once they are in the pan as they can burn easily.
If you don't have coarse sea salt, use regular sea salt; just a light sprinkling overtop will be fine.
If you want to add chopped almonds or walnuts to the dish, add them to the pan with the garlic to lightly toast before using as a topping.
Nutrition
Calories:
71
kcal
,
Carbohydrates:
7
g
,
Protein:
2
g
,
Fat:
5
g
,
Saturated Fat:
1
g
,
Polyunsaturated Fat:
1
g
,
Monounsaturated Fat:
3
g
,
Sodium:
133
mg
,
Potassium:
180
mg
,
Fiber:
2
g
,
Sugar:
3
g
,
Vitamin A:
625
IU
,
Vitamin C:
10
mg
,
Calcium:
36
mg
,
Iron:
1
mg