I've found that eating seasonally provides me with the freshest produce and the least expensive grocery bill. So I created a free meal plan based on my fav recipes from Spring and I'm sharing them with you! Check out this Spring Meal Plan with some vegetarian recipes that are as flavorful as they are gorgeous.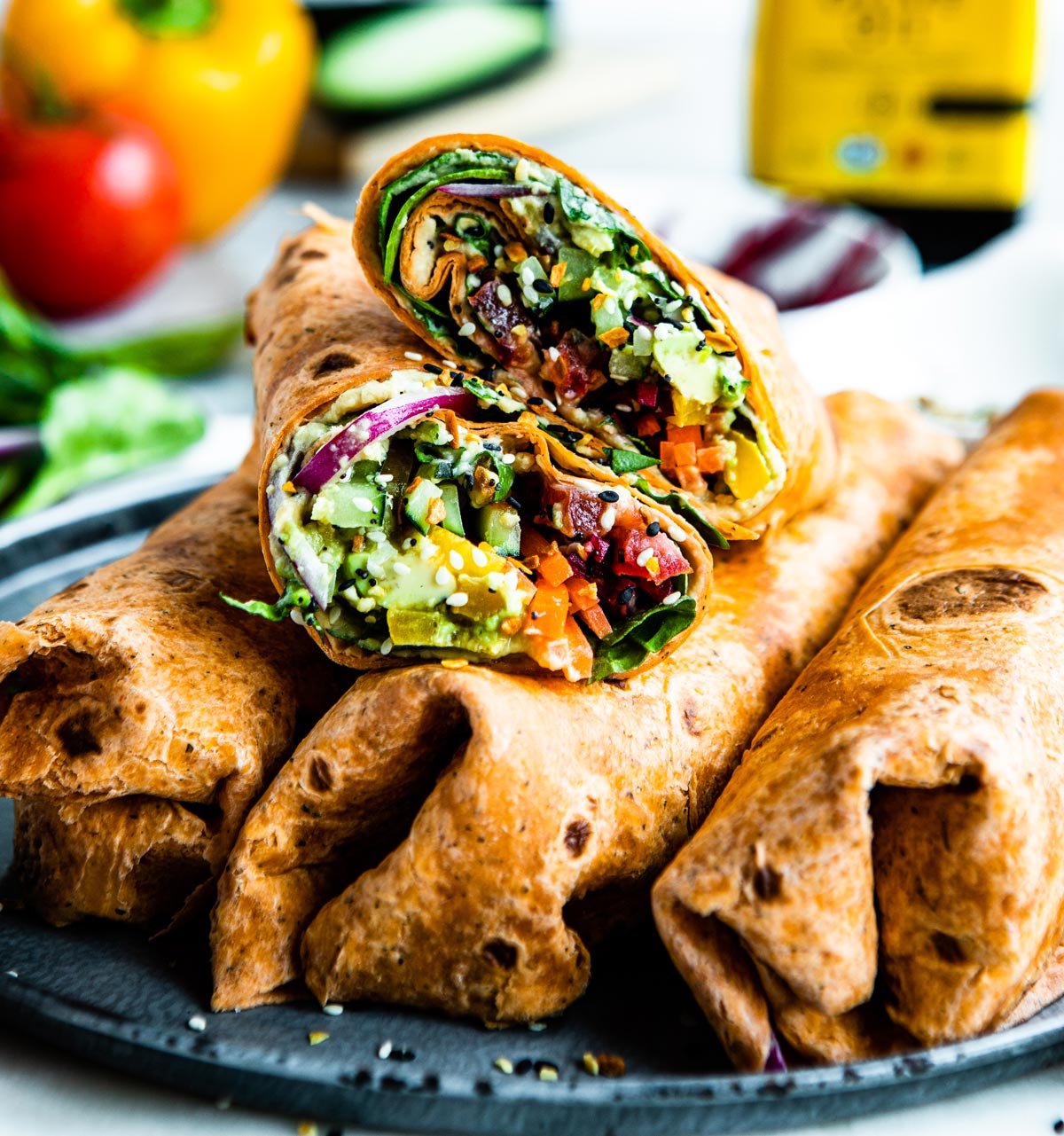 Winter's end ushers in a natural time of new beginnings every year. No matter how my year is going, Spring is a time when I shake off the cobwebs of winter (both figuratively and literally!), and prepare for all things fresh and new.
Today I'm sharing a few of my favorite things to do this time of year, as well as my favorite springtime meal plan using fresh produce.
Table of Contents
Fresh Produce This Season
While you're planning out and dusting off that kitchen garden, I encourage you to check out this list of seasonal produce that you'll use often.
I love cooking/eating seasonal food, and there are so many great Spring vegetables and fruits that are at their peak in the coming months. Did you know that produce grown in season is actually higher in nutrition than produce grown outside its natural season?
| | |
| --- | --- |
| Apricots | Leeks |
| Artichokes | Lettuce |
| Arugula | Onions |
| Asparagus | Peas |
| Beets | Potatoes |
| Bok Choy | Radishes |
| Carrots | Rhubarb |
| Cherries | Salad Greens |
| Fennel | Scallions |
| Garlic | Spinach |
| Herbs | Strawberries |
I know that not all these foods are available all over the world this time of year, yet it's not hard to Google some local resources to help you find what's fresh in your area. Or, just stop by the next farmer's market to check out what's getting harvested right now.
Some of the best Spring meals start with the produce that catches my eye at a roadside stand.
Download: Free Spring Meals 7-Day Plan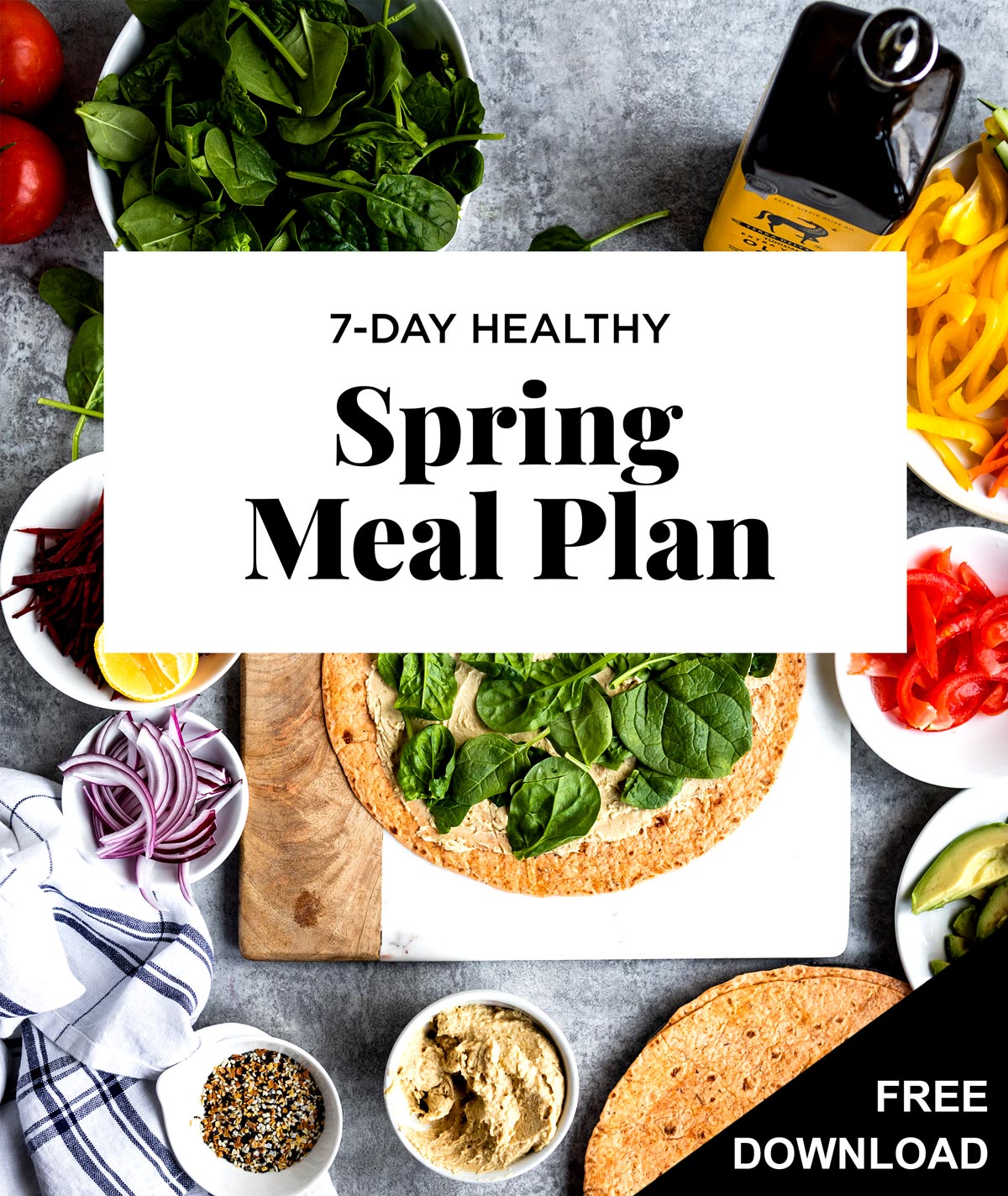 With so much goodness growing, I had to share my favorite springtime recipes as well. This meal plan will make cooking as well as eating seasonal Spring foods a breeze.
With this free guide, you'll get access to four smoothie recipes, three snack recipes and seven dinner recipes to make seven total breakfast smoothies, fifteen snacks and fourteen meals that can be made once and eaten the next day for lunch leftovers.
You'll also get a full shopping list and menu to take all guesswork out of what to feed yourself and your people this week. Feel free to double (or triple) these recipes to fit your needs.
Berry Breakfast Smoothies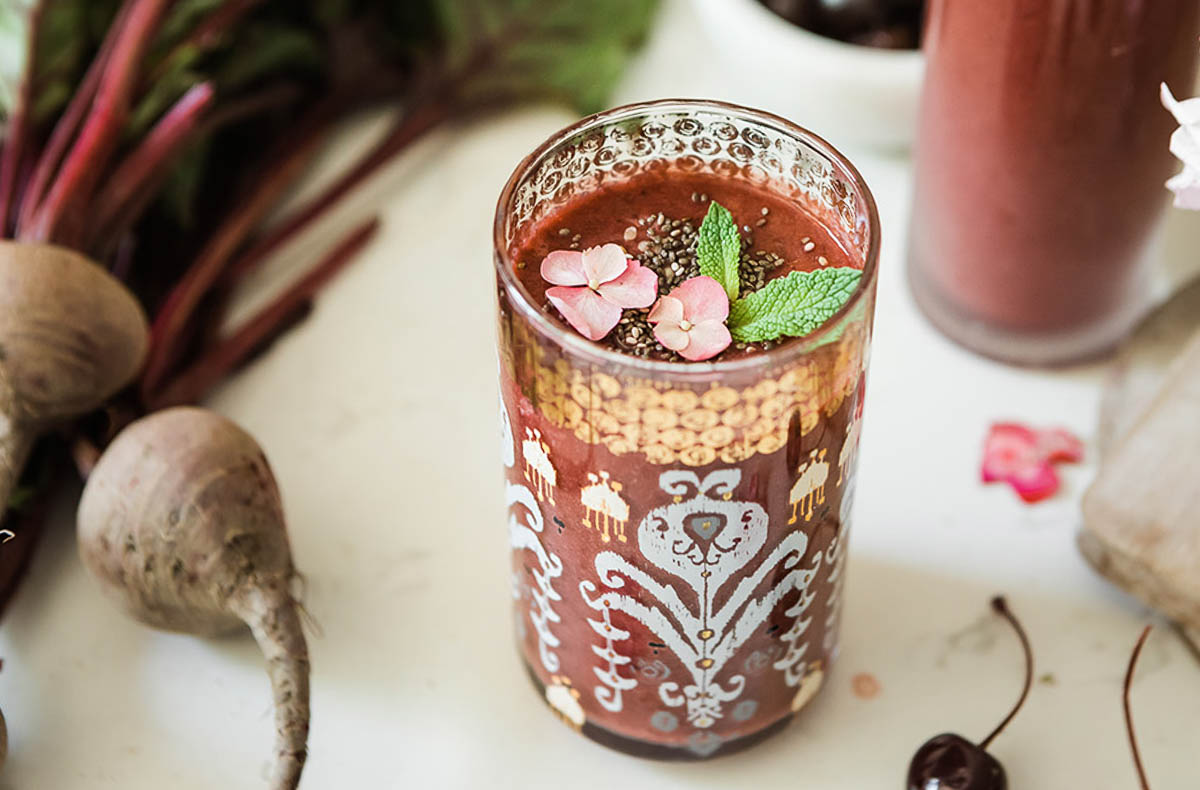 Capitalize on all the fresh berries this season by adding them to your daily smoothie! I honestly can't get enough berries in my life so I stock up whenever I see them on sale. Pick your own, grab them from a roadside stand or browse your local farmers market for the freshest berries around.
To make these smoothies work the best for filling and energy-fueled breakfasts, I add one serving of Homemade Protein Powder to boost the protein, healthy fat and fiber in each one.
Filling Snacks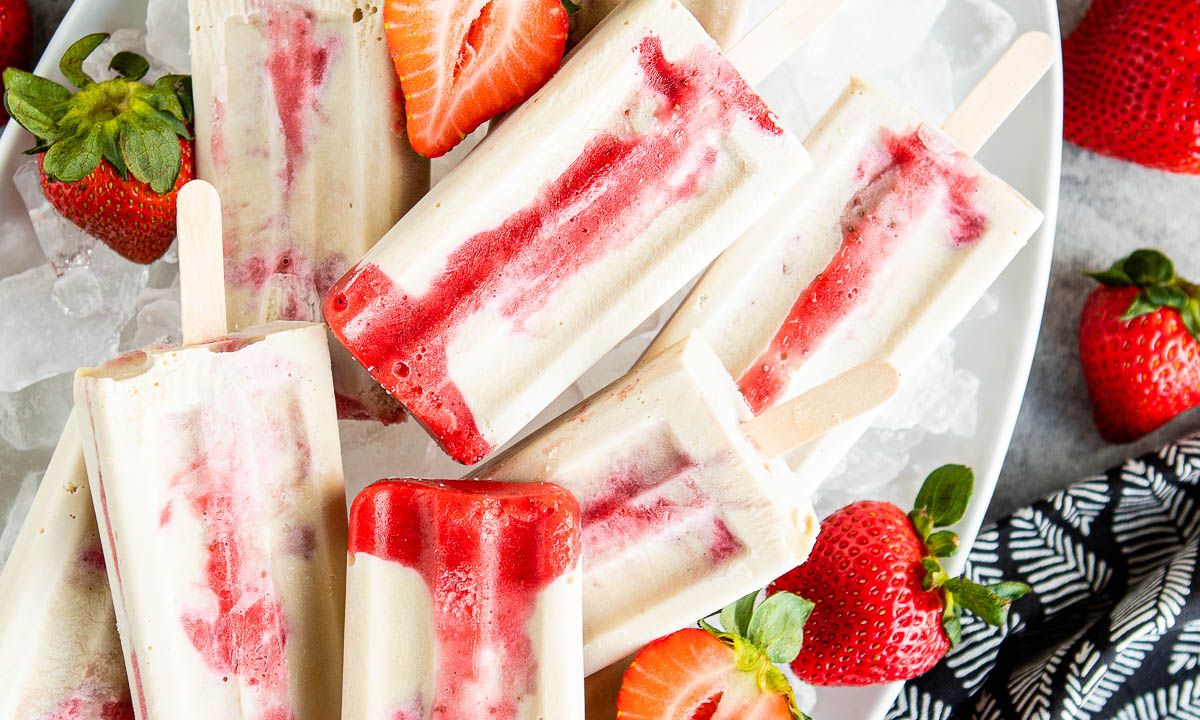 While these snacks take a bit of prep, they will net 15 servings that you can grab whenever you need a pick-me-up. Just like with my other free meal plans, these will give you energy as well as make you feel good about your food choices.
Pro tips: I like using this popsicle mold since it's easy to store. You can swap in any citrus for the grapefruit in the berry salad if it's hard to find where you shop.
Spring-Fresh Dinners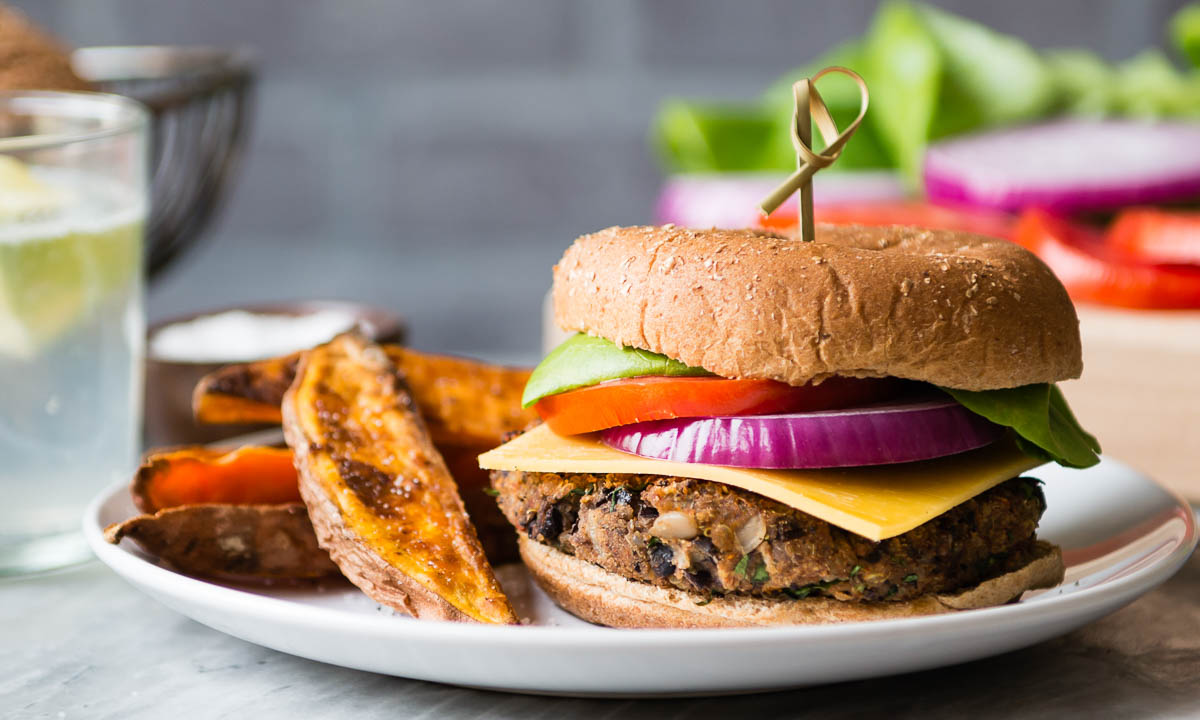 These Spring vegetarian recipes are where your kitchen garden can really shine. Fresh herbs, leafy greens like arugula and fruits and veggies like strawberries and carrots will all be on the menu this week:
Spring Veggie Soup: featured in the Spring Cleanse
What to Do This Spring
Grow a kitchen garden: While my garden may never look as incredible as Ashlie of The Mocha Gardener's, I'm all about supplementing meals with garden produce this year. If you need some help starting your garden, then reach out to my friend Nicole of The Gardenary Co. She, along with her team of incredibly talented gardening consultants, will teach you the ins and outs of creating a beautiful Spring garden.
Springtime smoothie challenge: My super fun app Daily Blends, has a 30-Day Spring Green Smoothie Challenge (as well as challenges for each season). Download the app, grab a few friends, and then get blending some great Spring recipes!
Start a new hobby: My family decided to start mountain biking this Spring and so far it's so fun! We've got some great trails in the Withlacoochee State Forest, perfect for practicing our new skills. It's definitely a good workout, as well as an activity my entire family enjoys.
Get outside and get active: This winter I've been continually challenged by Anna Mae Groves to get outside every day. She posts weekly in her Insta stories asking whether her followers have gotten outside, rain or shine, cold or warm weather. It is so vitally important both mentally and physically, so I challenge you to get outside this Spring!
Whole food cleanse: I like to start this season with a Seasonal Cleanse, which helps my body recharge as well as prepares me for the season ahead. I use seasonal produce for a completely plant-based, whole-food menu so that you can transform from the inside out.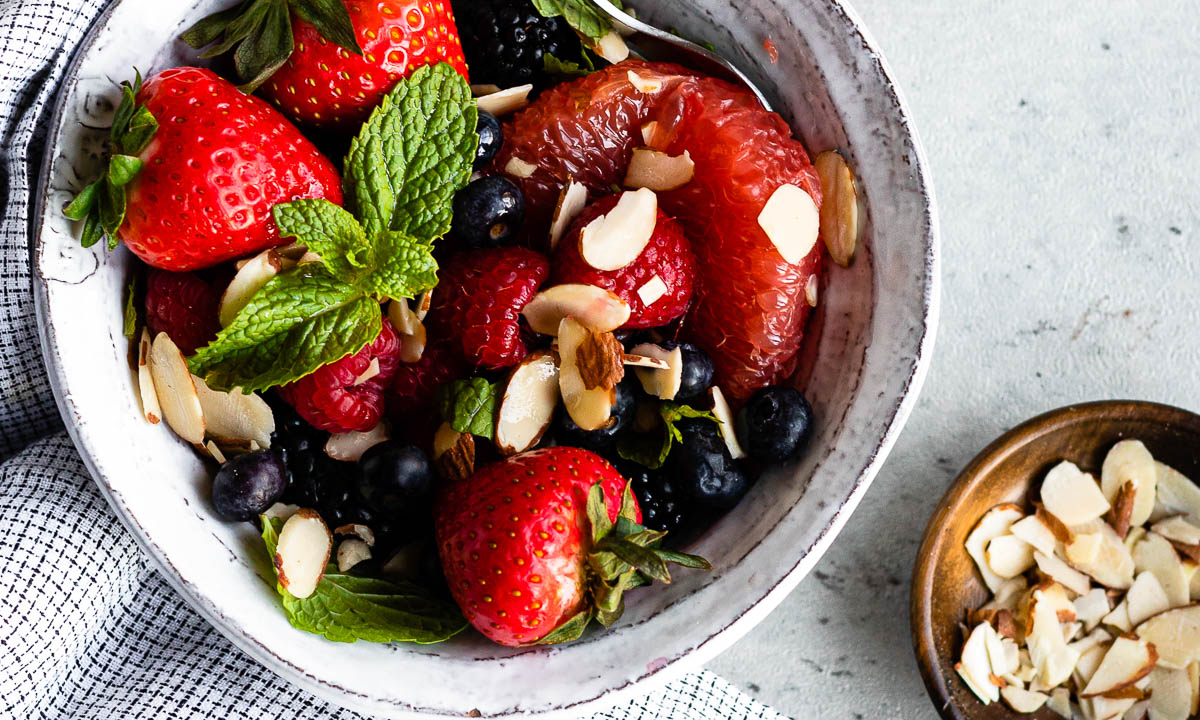 Meal Planning Made Easy
If you loved these Spring vegetarian recipes and want an easy way to feed your family nourishing meals throughout the week, then you need to check out my meal planner, Rawk the Year.
It's laid out in the format of this free menu and gives you access to hundreds of plant-based recipes for every season and every occasion. I was so sick of trying to come up with a weekly menu for my family and the hours of meal planning it took.
So I started this meal planner for every tired person who wants to include more plants into their diet and it has worked wonders! Try it for free right now with a 14-day free trial!
More Free Meal Plans
If you loved this plan and want more week-saving plans then check out some other meal plans I've created:
Leave a comment and let me know your favorite Spring meals. If you've got a new recipe combo using the best Spring produce around you, then let me know what's in it! I'm always in the mood for a new recipe, especially when it's been tested and approved by you!