If you like tacos and potatoes then this is the recipe for you! Tacos de Papa, or Crispy Potato Tacos, is a popular traditional Mexican street food. I've never met a taco I haven't loved. I hope you enjoy this dairy-free, plant-powered recipe as much as I do.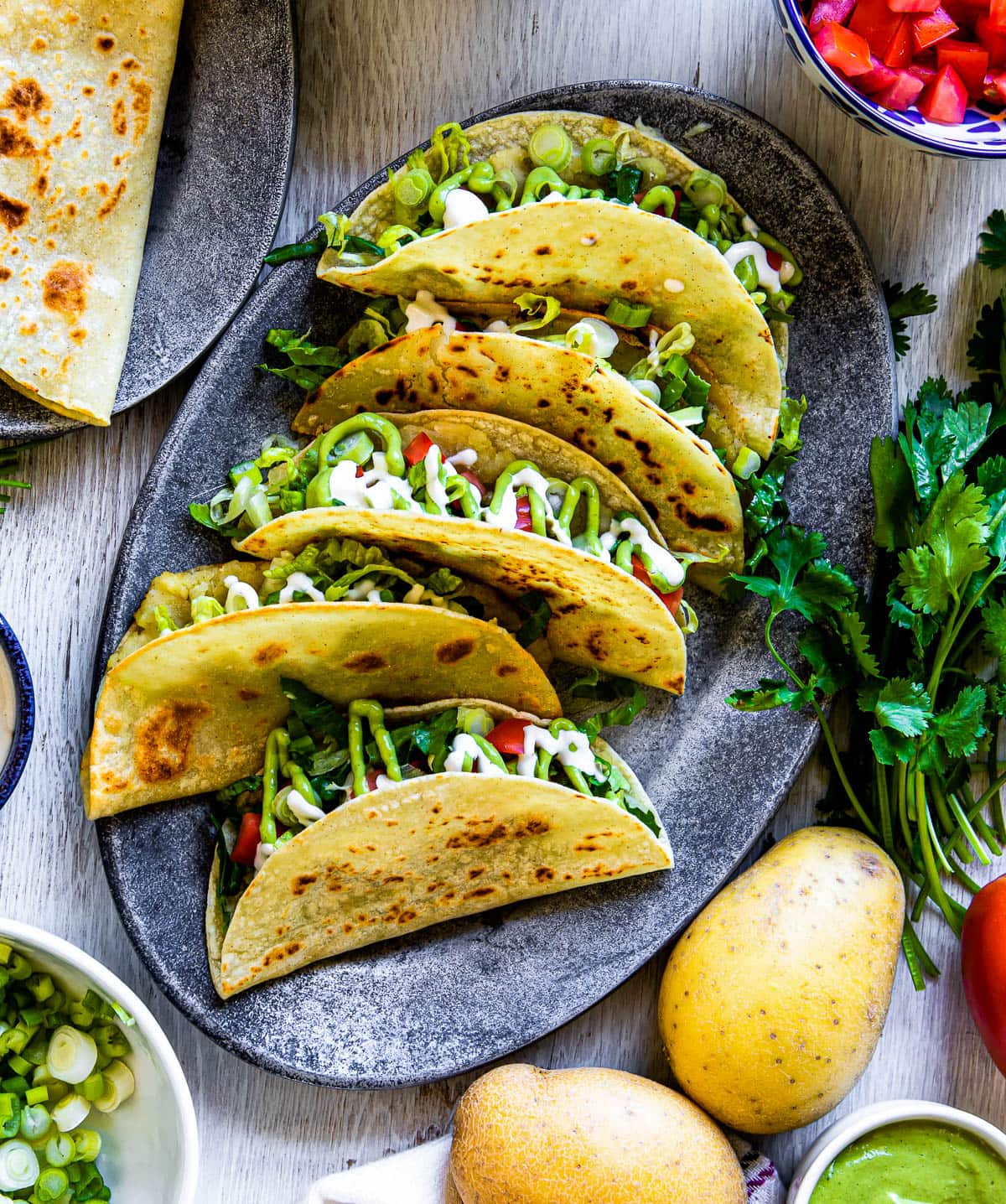 Read on to find out how to make these delicious, crispy potato tacos as well as more about their origins. I love finding new recipes to try and I hope you find these as fun and delicious as I do.
Table of Contents
Tacos de Papa Ingredients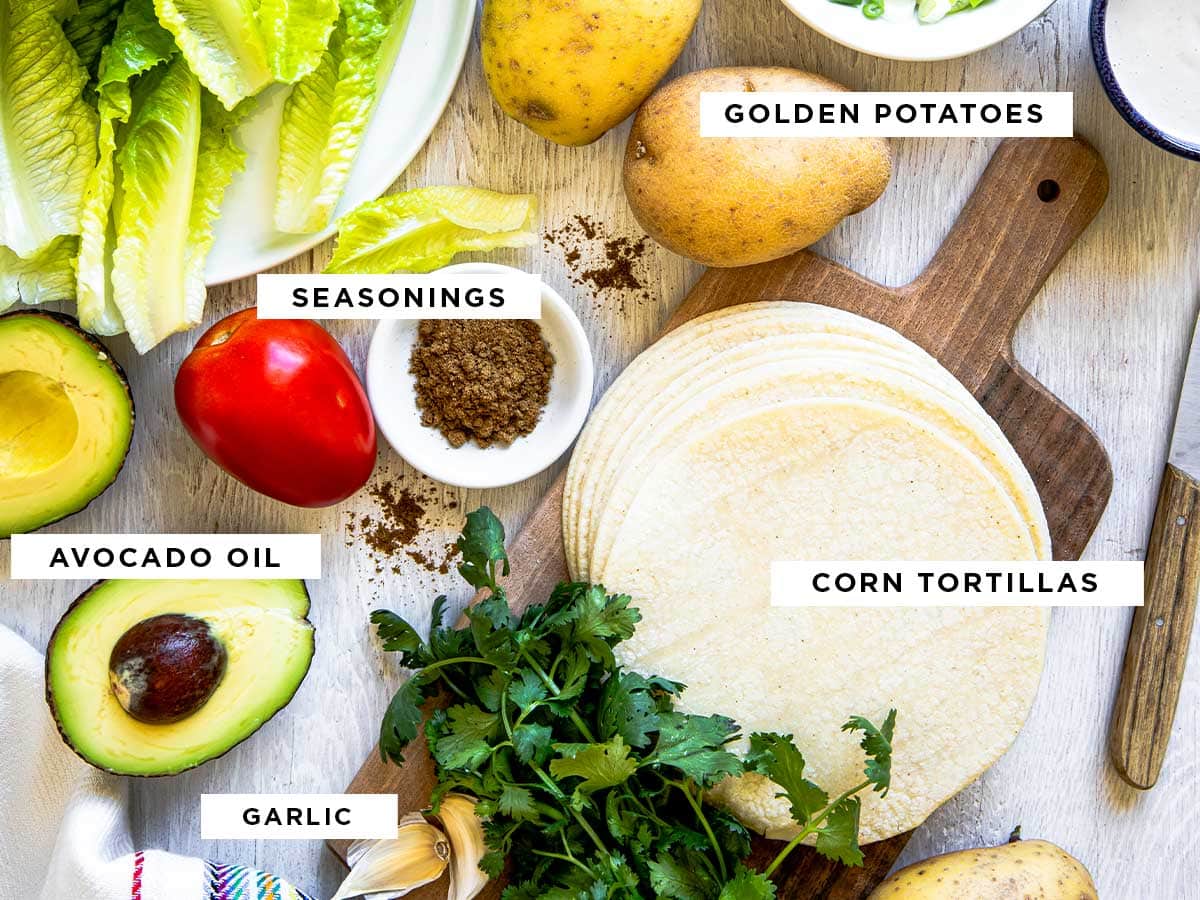 This delicious meal is fairly simple to make and is a great base recipe to dress up with sauces, seasonings and more.
Golden potatoes: using non-waxy potatoes give you the best results. Plus, I love the buttery flavor of golden potatoes.
Garlic: Mince some fresh garlic to add a punch of flavor.
Seasonings: I add cumin, sea salt and fresh ground black pepper to the potato mixture for a simple yet delicious taste.
Corn tortillas: Since gluten causes inflammation I stick to corn tortillas for this recipe. Look for them at a Hispanic grocer (fresh if you can find them!) for the best-flavored ones that won't crumble.
Avocado oil: Since we are cooking our tacos on high heat, we need an oil that won't burn easily. Avocado oil is great for high-heat cooking, and a little goes a long way!
What to Serve with Potato Tacos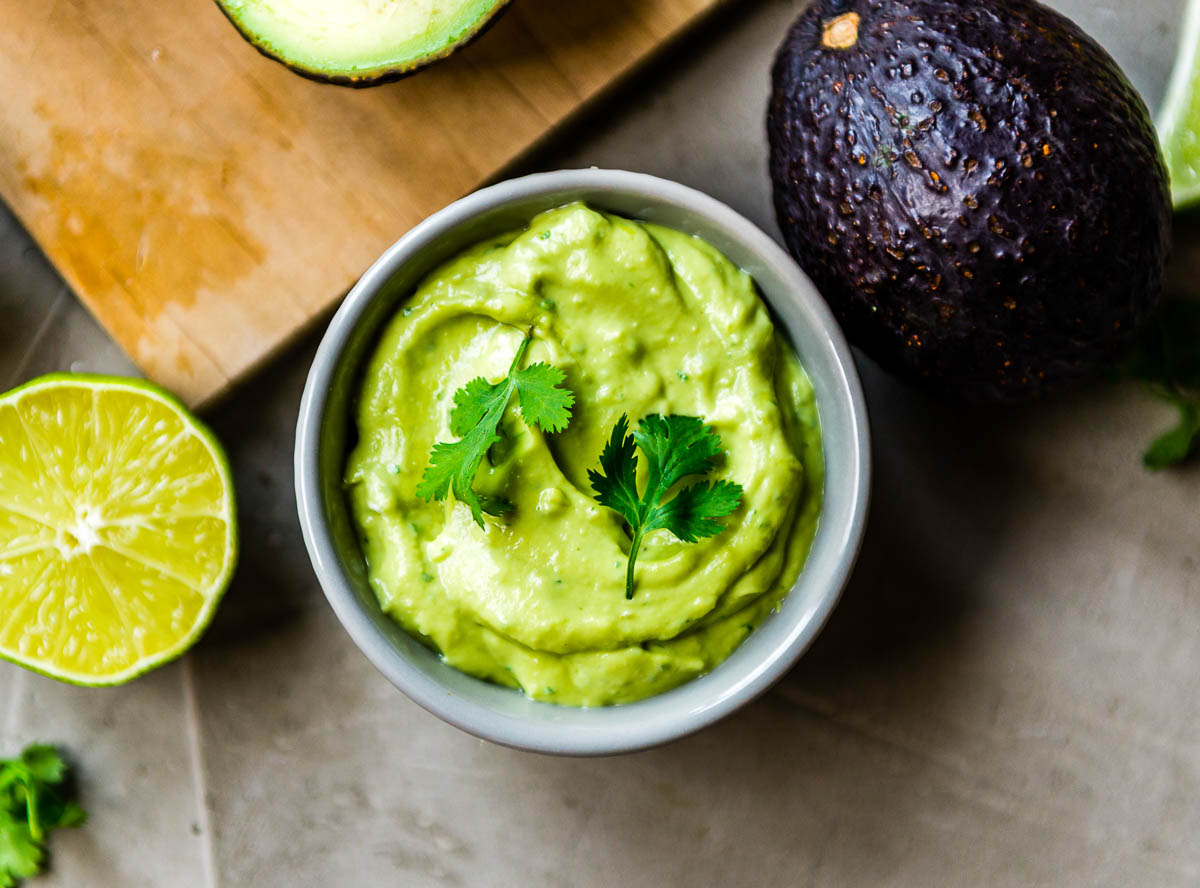 For my dairy-free version of this Mexican-Inspired dish, I top it with avocado crema and zesty cashew cream. These are both creamy, oh-so-delicious toppings for any tacos you create.
I also love loading my potato tacos up with fresh veggies like cilantro, shredded lettuce, green onions and tomatoes. Since my love for spice is never-ending, I also add on some hot sauce. Feel free to use your favorite taco seasoning inside the potato mixture and whatever toppings you want!
Best Potatoes for Tacos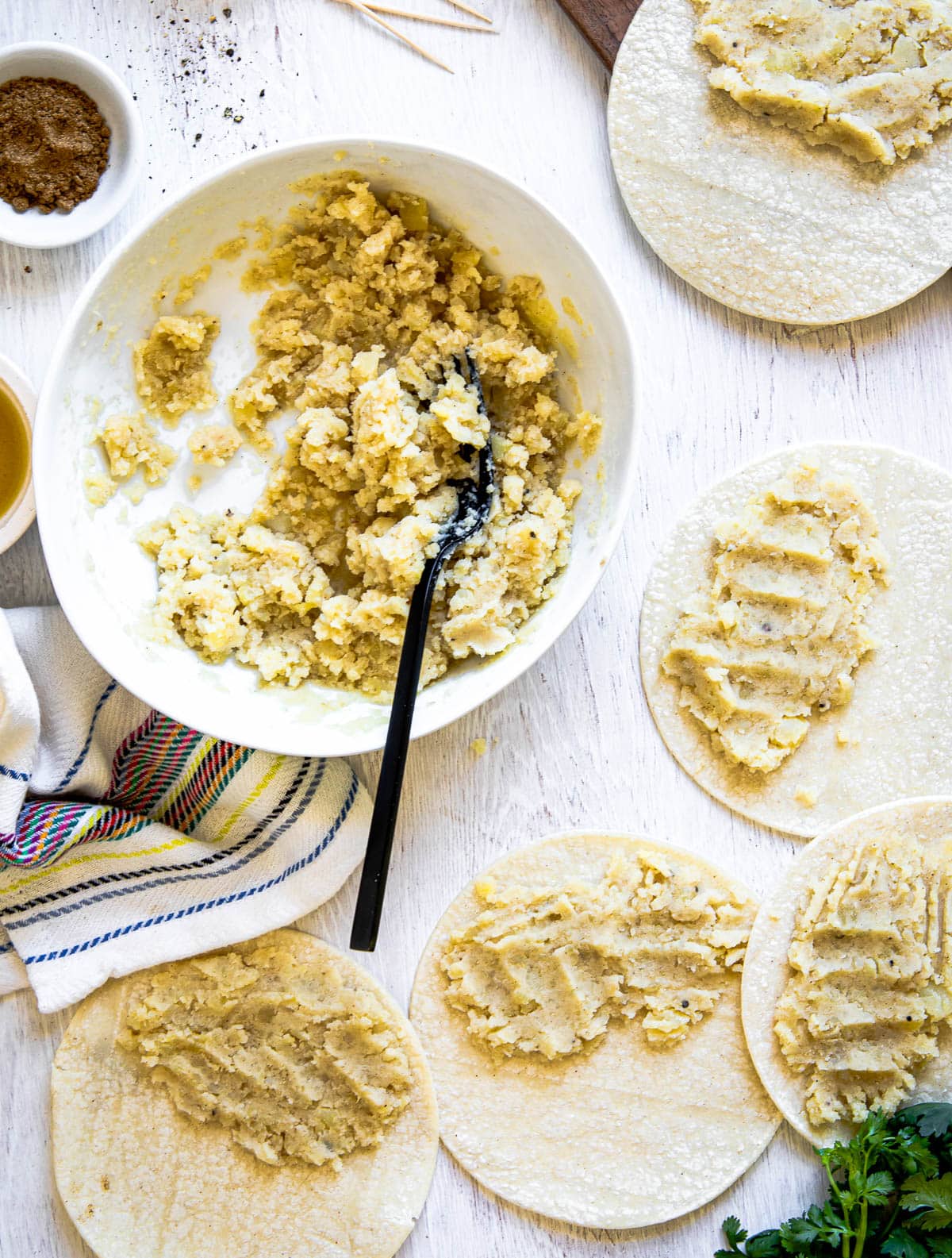 I specifically chose golden potatoes for this recipe as they are easy to cook and have a natural buttery taste. Sweet potatoes are a great swap if you tolerate them better, and work just as well in a savory dish like this one.
Pro tip: Avoid waxy-skinned potatoes like red potatoes as they crumble more easily and won't hold up like their non-waxy siblings.
How to Make Crispy Potato Tacos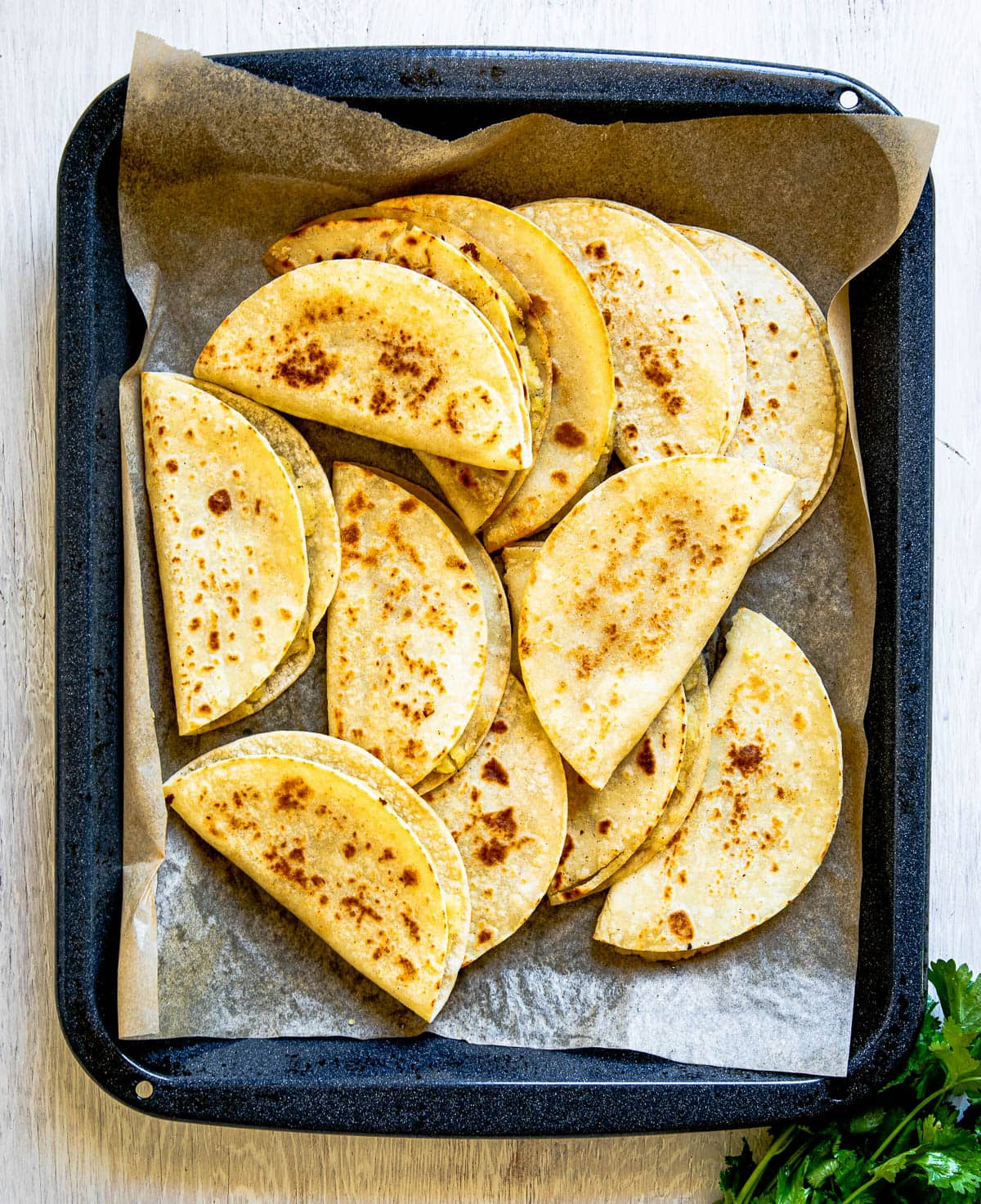 These tacos take a bit of prep work to get the potato mixture just right but are quick to heat up and serve once that part is done.
I start by boiling potatoes until they are fork-tender. This makes them easier to mash and eat. Once cooked, let them cool slightly (so you don't burn your fingers while peeling!), then peel and mash them in a bowl.
Mix the cumin, salt and pepper into the mashed potatoes and set aside. Heat the corn tortillas on medium-high heat in a skillet with a little bit of avocado oil. This makes them easy to fold without breaking. Fill 1/2 of each tortilla with about a tablespoon of the potato mixture.
Fold the filled tacos in half and using the same heated skillet, crisp them in batches. Make sure to add a little oil to the pan between each batch to avoid sticking. It takes mine about 2-3 minutes per side to crisp the way I like them.
Once all the tacos are crispy feel free to fill/top them with the fillings of your choice then serve immediately so you can enjoy them while they're still warm.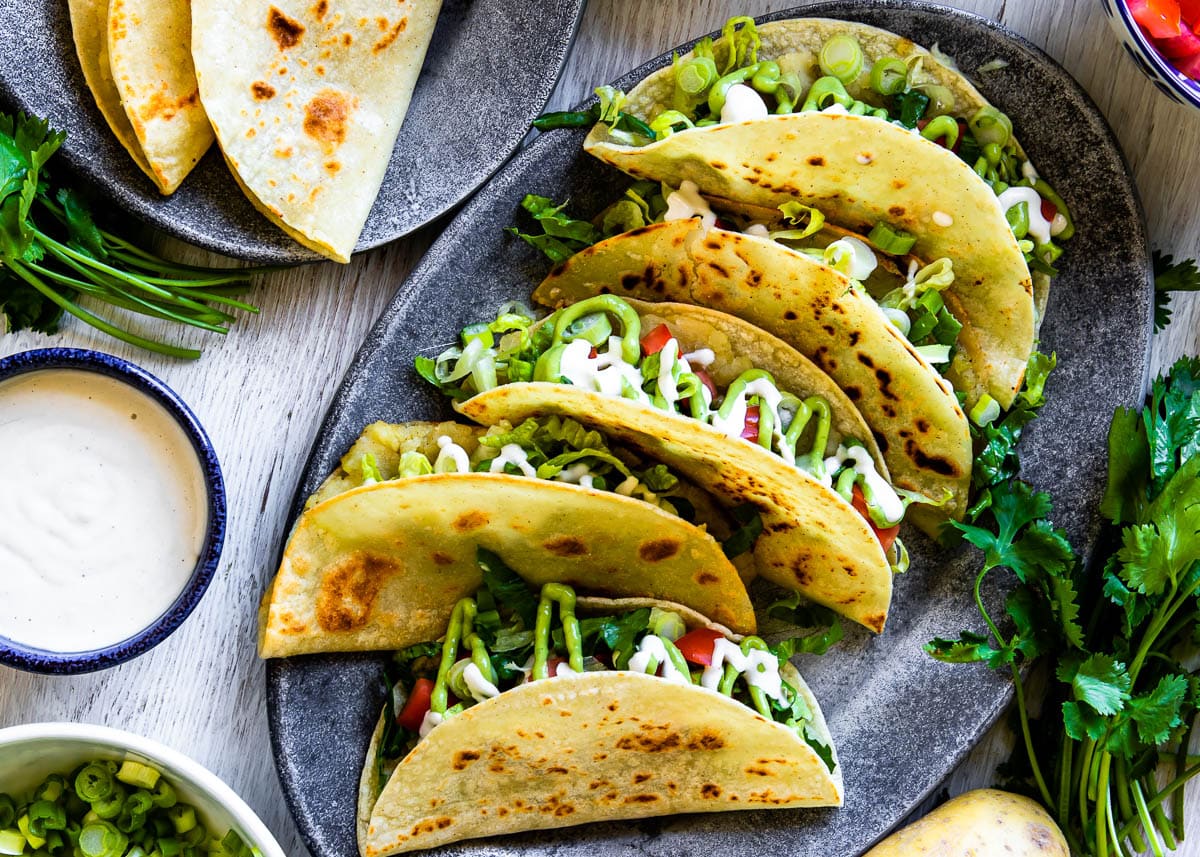 Crispy Tacos FAQs
How long can potato tacos be stored?
I store mine in an airtight container in the fridge for up to three days. Reheat in a skillet or toaster oven to get them crispy again before serving.
Do you need to fry Tacos de Papa?
It takes very little oil to 'fry' my potato tacos! No need to dunk them in an oil bath, just use a good skillet on medium-high heat with a high-heat oil like avocado. I use about a teaspoon of oil per taco.
How do you make street tacos?
I boil golden potatoes until fork tender, then peel and mash. I then warm corn tortillas in a skillet on medium-high heat and add the potato filling to each shell, fold over and cook until crispy on each side. To serve, I either fill them or just load the toppings right on top of each taco before digging in.
More Plant-Based Taco Recipes
If you're trying to eat less meat and more plants then you're in the right place! Here are a few more recipes to help you fall in love with plant-based eating, as well as get your loved ones on board too!
Don't forget to leave a rating and review once you've tasted these incredible tacos. I can't wait to hear how you topped yours.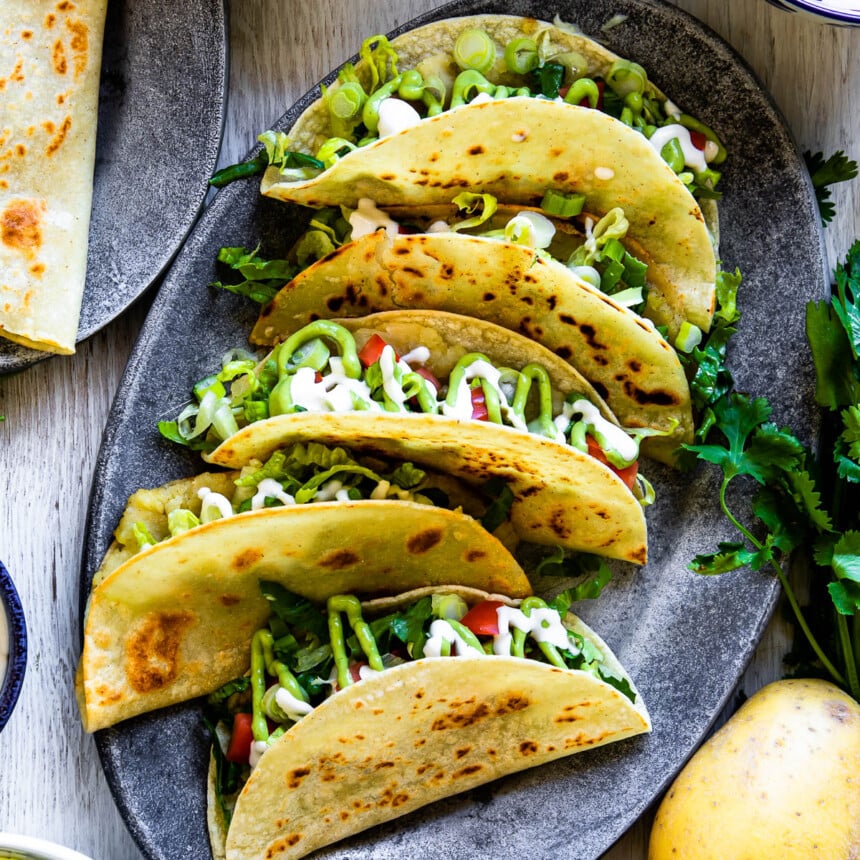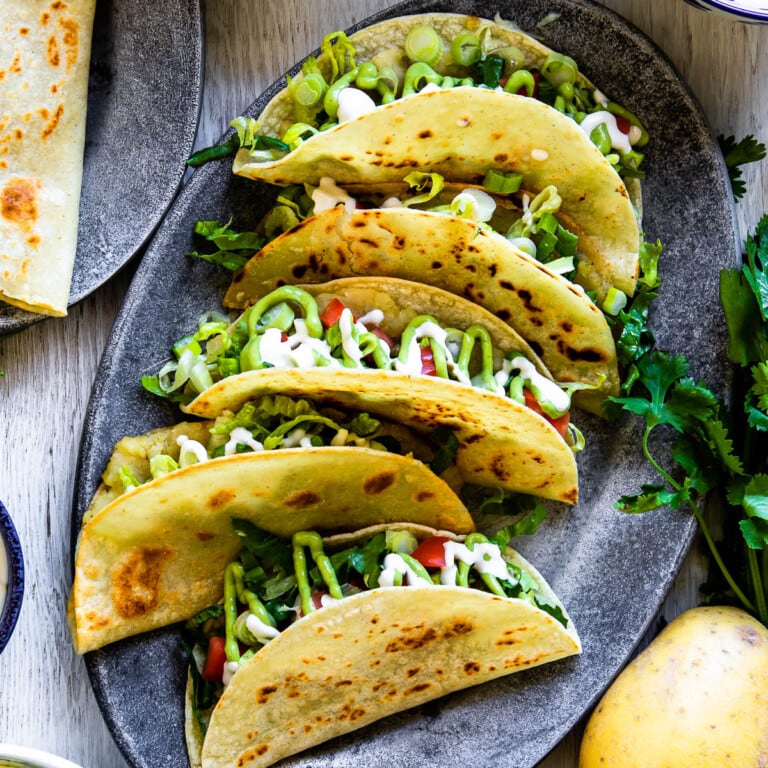 Tacos de Papa (Crispy Potato Tacos)
Tacos de Papa is a Mexican street food classic that you'll not want to miss making at home. What could be better than well-seasoned mashed potatoes folded into a corn tortilla and lightly fried until crispy?
Ingredients
4

quarts

water with 1 teaspoon salt

4

golden potatoes

whole and unpeeled

2

garlic cloves

minced

½

tsp

cumin

ground

sea salt

to taste

black pepper

ground, to taste

12

corn tortillas

2

tbsp

avocado oil

plus more if needed
Toppings
shredded lettuce

tomatoes

diced

green onions

fresh cilantro
Instructions
Fill a large pot with water and salt and add whole, unpeeled potatoes. Allow water to come to a rolling boil on high heat, then lower heat to a simmer. Cover and cook for 20-25 minutes, or until potatoes are fork tender.

Remove potatoes from cooking water and allow to cool slightly. Peel the skins from the potato and discard (or leave peels on potatoes, if desired). 

Place cooked potatoes into a bowl and gently mash with a fork until almost smooth. Add minced garlic and cumin to mashed potatoes and stir well. Add salt and pepper to taste.

To assemble the tacos, heat a skillet over medium-high heat. Add a small amount of oil to the pan and gently heat the tortillas on each side, one at a time, adding a little more oil as needed. Keep tortillas covered so they stay warm and pliable. 

Spoon a heaping tablespoon of the potato mixture onto one half of each of the tortillas and fold over. (If desired, secure with a toothpick to prevent them from opening back up during cooking.)

Once all of the tacos have been filled, add a little more oil to the skillet with heat still at medium-high. Working in batches and adding a little more oil in between as needed, cook the tacos on each side until crisp and golden, about 2-3 minutes per side. Transfer to a plate and keep warm.

To serve, fill or top tacos with desired toppings. Serve immediately.
Notes
Swap golden potatoes with sweet potatoes or the potatoes of your choice.
Feel free to add extra spices for a bigger kick! 
If avocados aren't your thing then try dipping these in cashew cream.
Store leftover tacos in an airtight container in the fridge for up to 3 days. 
Nutrition
Calories:
366
kcal
,
Carbohydrates:
65
g
,
Protein:
8
g
,
Fat:
9
g
,
Saturated Fat:
1
g
,
Polyunsaturated Fat:
2
g
,
Monounsaturated Fat:
6
g
,
Sodium:
46
mg
,
Potassium:
871
mg
,
Fiber:
9
g
,
Sugar:
2
g
,
Vitamin A:
8
IU
,
Vitamin C:
34
mg
,
Calcium:
89
mg
,
Iron:
2
mg