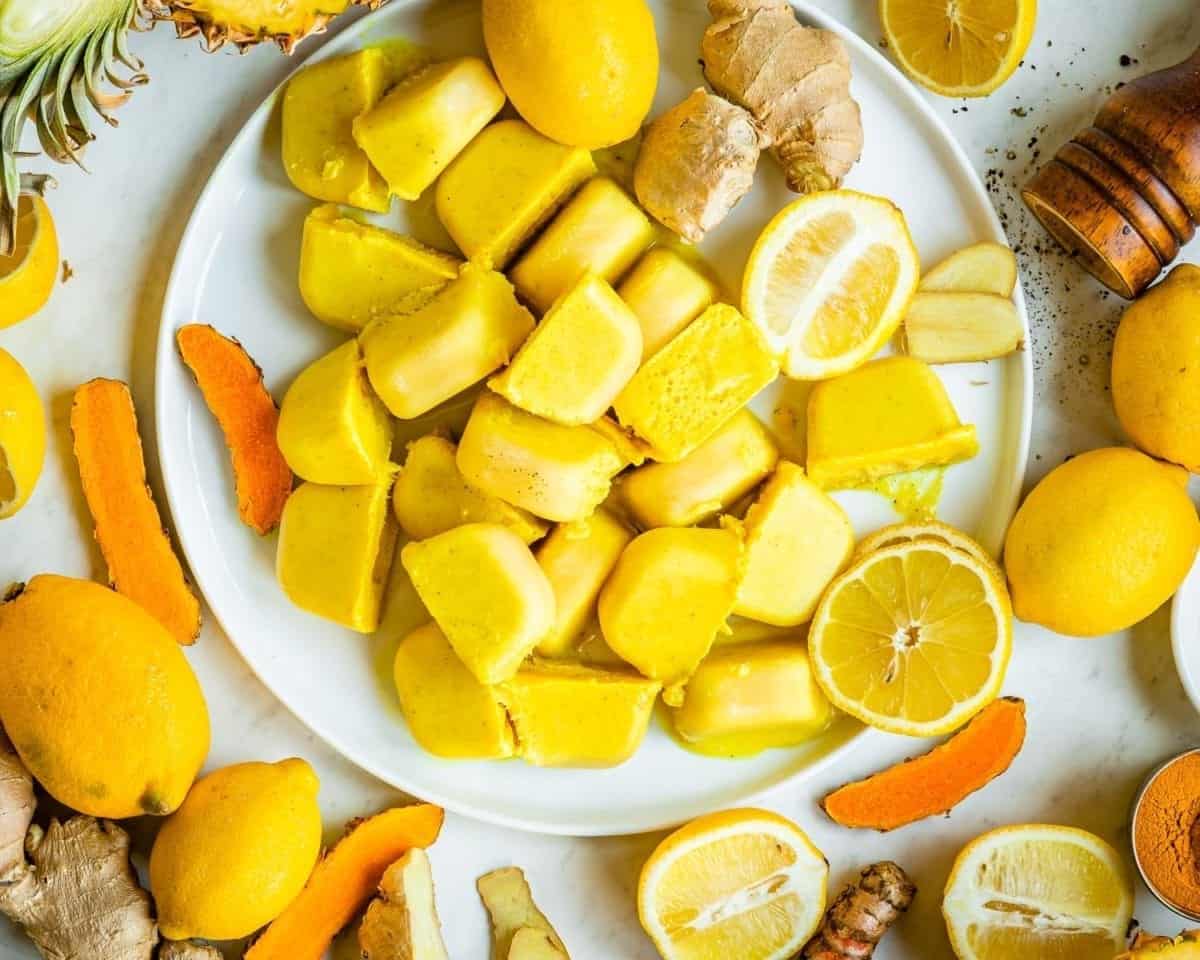 These Anti Inflammatory Turmeric Smoothie Cubes are intended for those fighting problematic inflammation and pain. They are made with plant-based ingredients that contain naturally occurring anti-inflammatory compounds, vitamins, and minerals. Read more below for an explanation of inflammation and how to fight it when needed.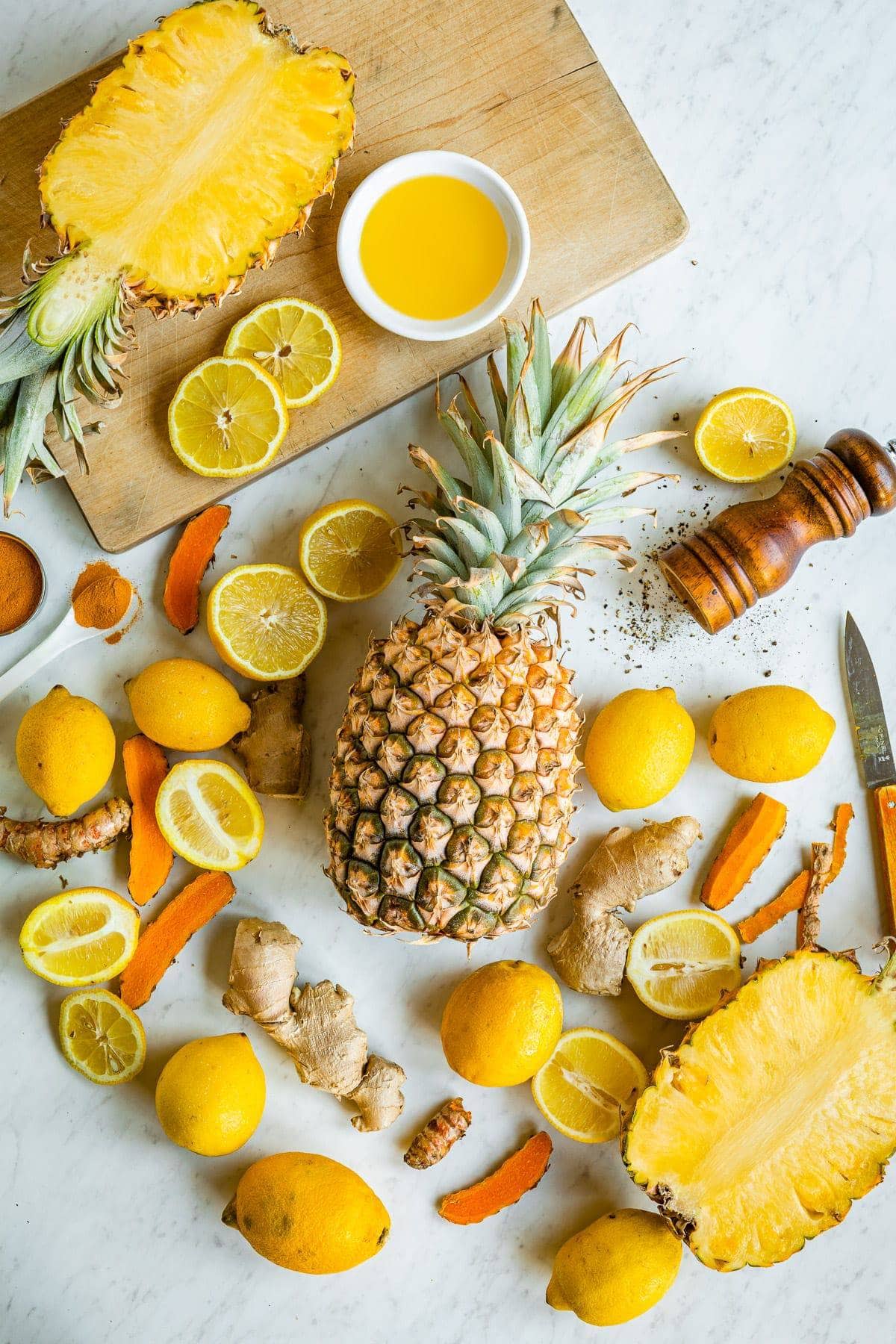 What is inflammation?
Inflammation is a buzzword these days, but what is inflammation exactly? In reaction to a stimulus, the body's normal and healthy response is inflammation. The inflammation may take the form of a skin rash, sore or swollen joints, redness, tenderness, fatigue, and an increased susceptibility to illness.
Inflammation-causing stimuli includes allergens in the external environment whether touched, inhaled, or consumed. The body recognizes the allergen(s) as an invader and responds accordingly. Other stimuli come from physical damage such as a burn, cut, or bruise. Autoimmune diseases result in inflammation caused when the body doesn't recognize itself and treats the body as it would an invader.
Not all inflammation is bad - it's actually a good thing our bodies elicit inflammatory responses because that's how the body heals itself. It's when there is an excessive response where the inflammation gets out of hand and causes issues of its own.
The body's mechanism for fighting off an invader is to increase blood flow which brings red and white blood cells to the site, wherever it might be, and there is a release of histamine.
Histamine is a compound cells release in response to an injury or in an allergic reaction. It causes contractions of the smooth muscles and capillary dilation - i.e. redness, swelling, itching, and more.
When you have an allergic reaction such as red and itchy eyes or a skin rash after a bug bite or exposure to an allergen or something you ate, a dose of antihistamines such as diphenhydramine hydrochloride (or commonly known by the brand name of Benadryl), doxylamine succinate, or others are given to reduce the body's inflammatory, or histamine response.
Autoimmune disorders and inflammation
It gets tricky when the body doesn't recognize itself as a friend and treats it like an invader. That's called autoimmunity. Many autoimmune conditions reflect that self-attack such as skin rashes and other conditions, achy joints and muscles, fatigue, digestive issues, nerve problems, and more. The most serious autoimmune conditions are those where the body attacks organs or organ systems that help keep us alive - nervous, digestive, etc.
Inflammation due to autoimmune disorders makes life miserable for those who suffer with the conditions. Supplementing with anti-inflammatory foods and medicines can help calm the autoimmune response.
Myth or Fact: Is Turmeric Anti- Inflammatory?
One of the most powerful inflammation fighters is turmeric. Turmeric is a vibrant root that looks similar to ginger. It is usually dried and ground into a powder. Yellow curries get their hue from turmeric as does yellow mustard. It has a very unique flavor - somewhat bitter, but also kind of warm and spicy. Curcumin, a very powerful anti inflammatory and antioxidant, is the active ingredient in turmeric.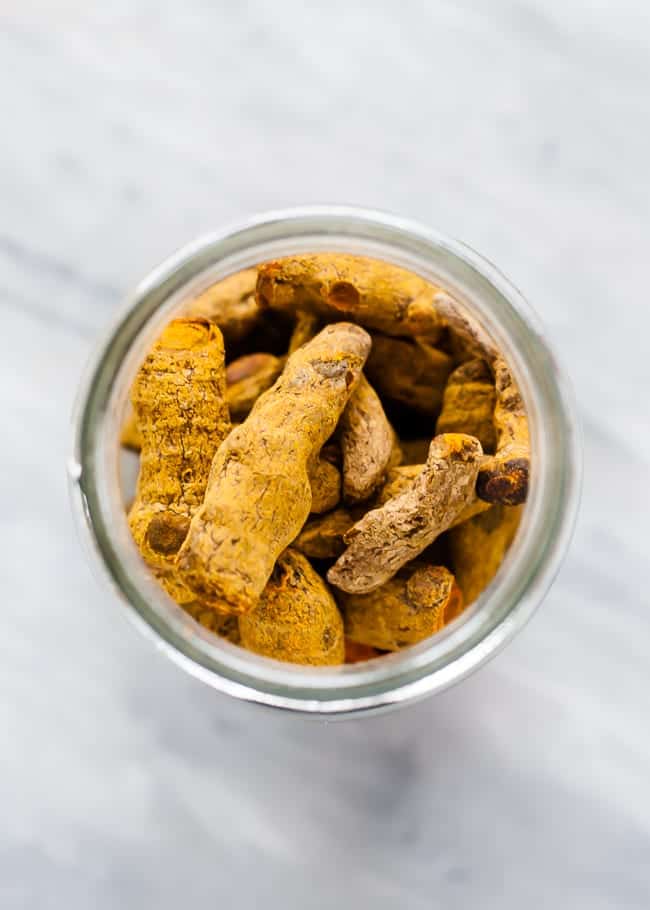 Because turmeric used as a spice doesn't have huge amounts of curcumin, many people supplement to reap the important health benefits. We are of the opinion that including turmeric into your diet on a daily basis is a great protective measure, but certainly if wanting a natural alternative to a pain killer and such, a turmeric supplement will give you that extra boost.
In our recipe, you can use either fresh or dried turmeric. The amount listed is a suggestion, if you can handle more, go for it! Just remember to rinse your blender well so it doesn't stay permanently yellow!
Ginger - Anti Inflammatory Fighter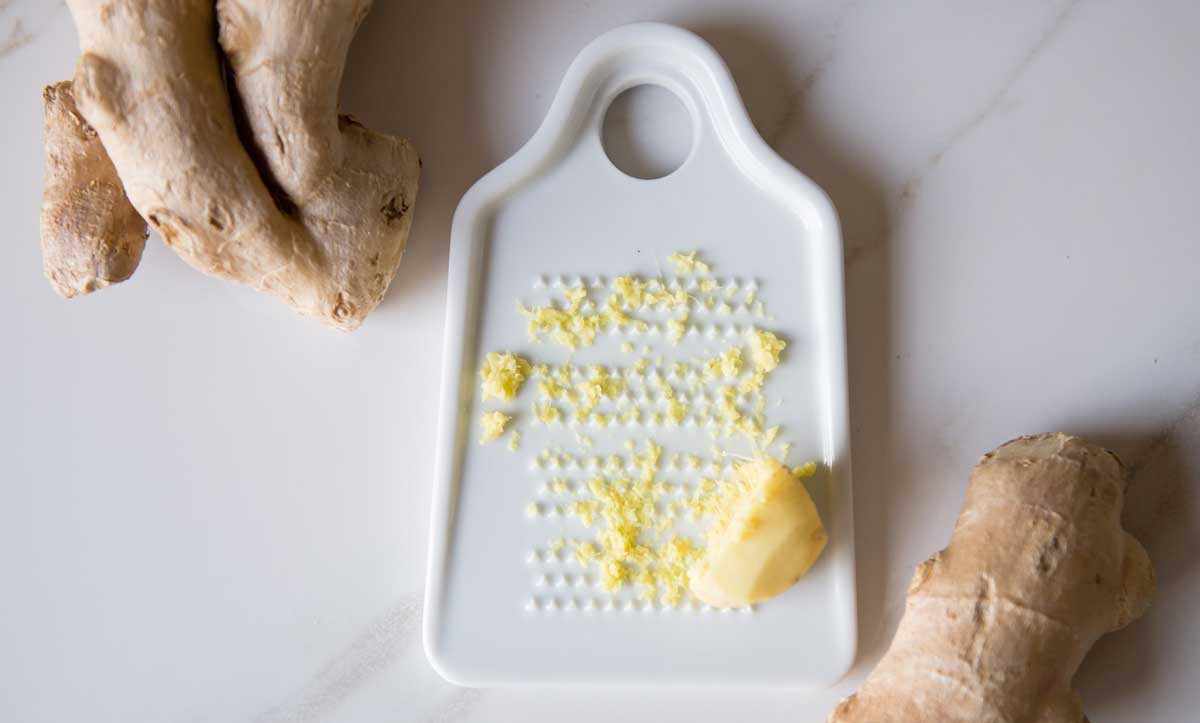 Ginger is also great for many things, including fighting inflammation. It's probably one of those things you reach for when you're digestive system is upset. Gingerol, a chemical found in ginger, and others provide protection against allergic reactions which may also treat or prevent allergic diseases.
In a few studies, a high concentration of gingerol significantly lowered blood glucose levels as well as overall cholesterol levels (including LDL "bad cholesterol"), increased good cholesterol (HDL), and lowered blood triglycerides levels. (source) So, ginger appears to be effective in the fight against diabetes when consumed on a daily basis.
Lemon Juice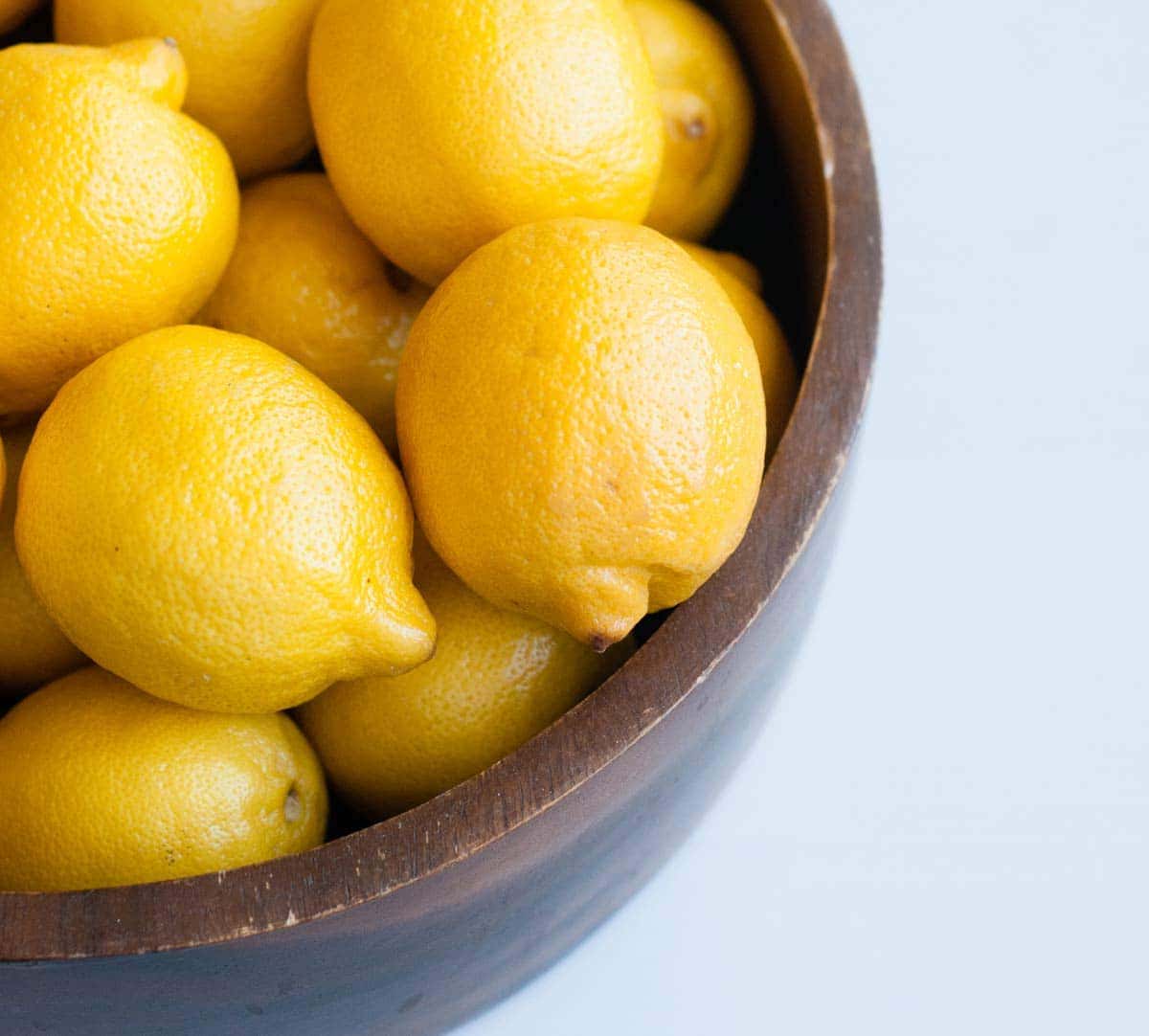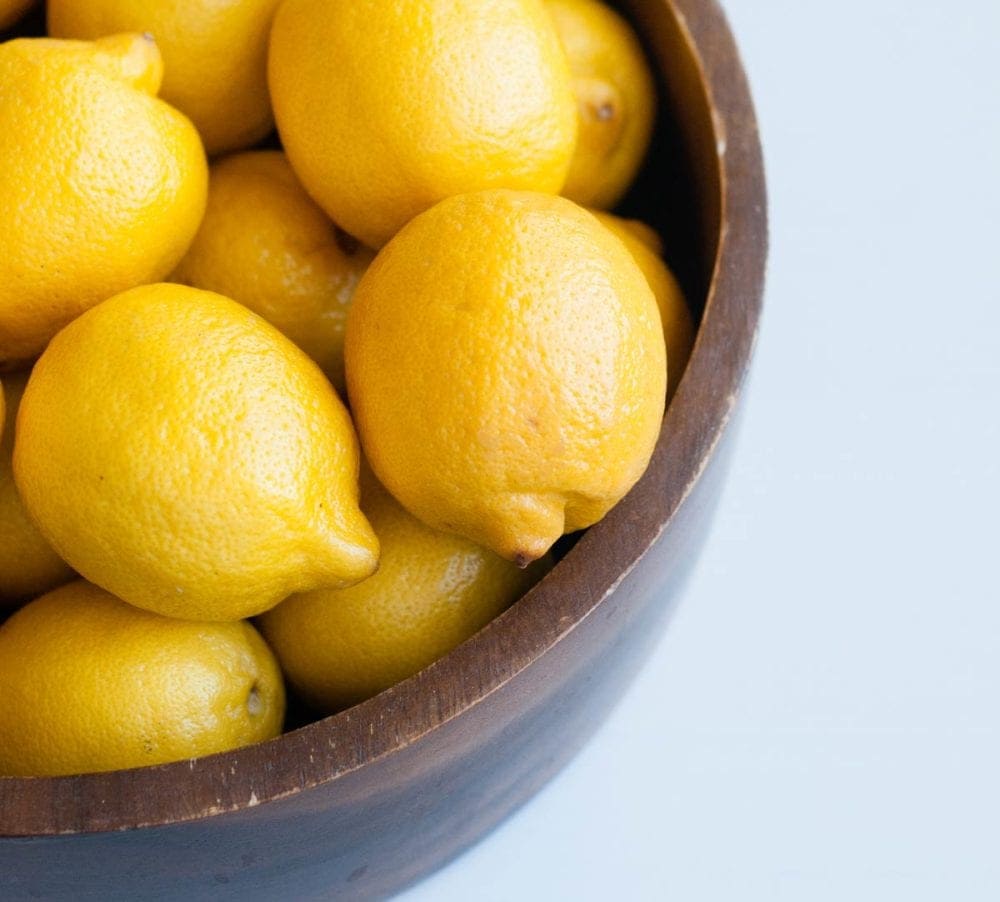 Lemon juice is acidic, but when ingested, becomes an alkaline in the body. It can help reduce inflammation in several ways including reducing stomach acid (if it's out of balance), and muscle and joint pain.
Raw Honey
The chemical makeup of honey isn't as simple as it seems. Water, sugar, and fructose mostly make up the essence of honey, it's true. But other types of sugar don't contain the rich mix of vitamins and minerals, amino acids, antibiotic substances, enzymes, and more.
Raw honey can also help fight inflammation due to the high levels of flavonoids and other polyphenols. Certain types of honey have even greater benefits such as manuka honey from New Zealand and Tualang and Gelam honeys from Malaysia.
I've heard from several suffers of severe seasonal allergies that consuming raw, locally produced honey can help alleviate symptoms.
Flaxseed Oil
Flaxseed oil helps fight inflammation and is especially good for rheumatoid arthritis. One tablespoon of flaxseed oil contains 481% of the recommended daily value (RDV) of alpha-linolenic acid (ALA), which is an omega-3 fatty acid, as well as linoleic acid (LA), an omega-6 fatty acid, and oleic acid (OA), an omega-9 fatty acid.
Pineapple and Bromelain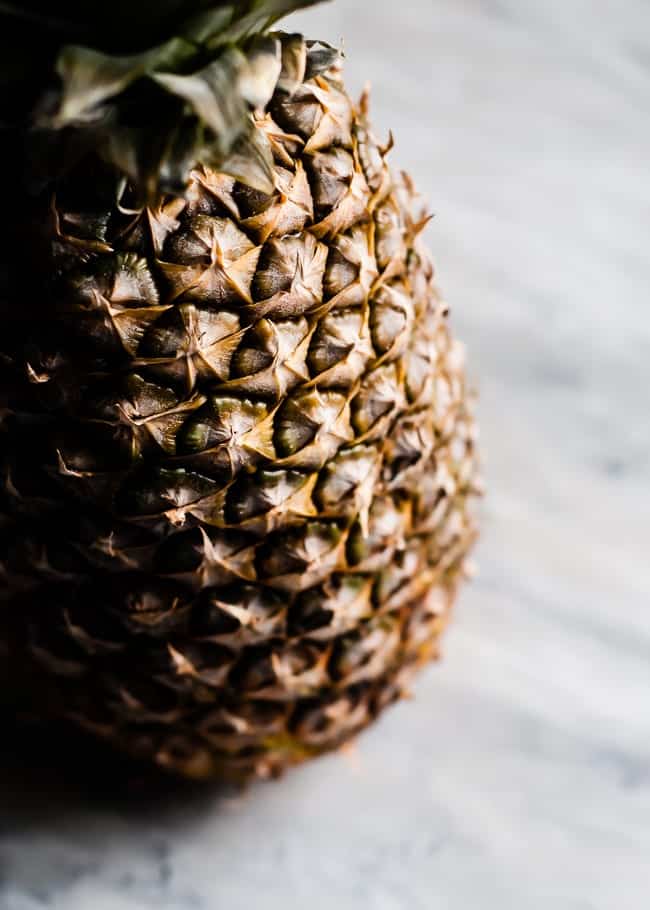 Pineapple is high in vitamin C and bromelain, an enzyme with powerful anti-inflammatory properties that reduces swelling. Supplemental bromelain is particularly useful for reducing arthritic pain and improving knee function. The swelling of the nose and sinuses during illness or allergies may also be improved by supplementing with bromelain.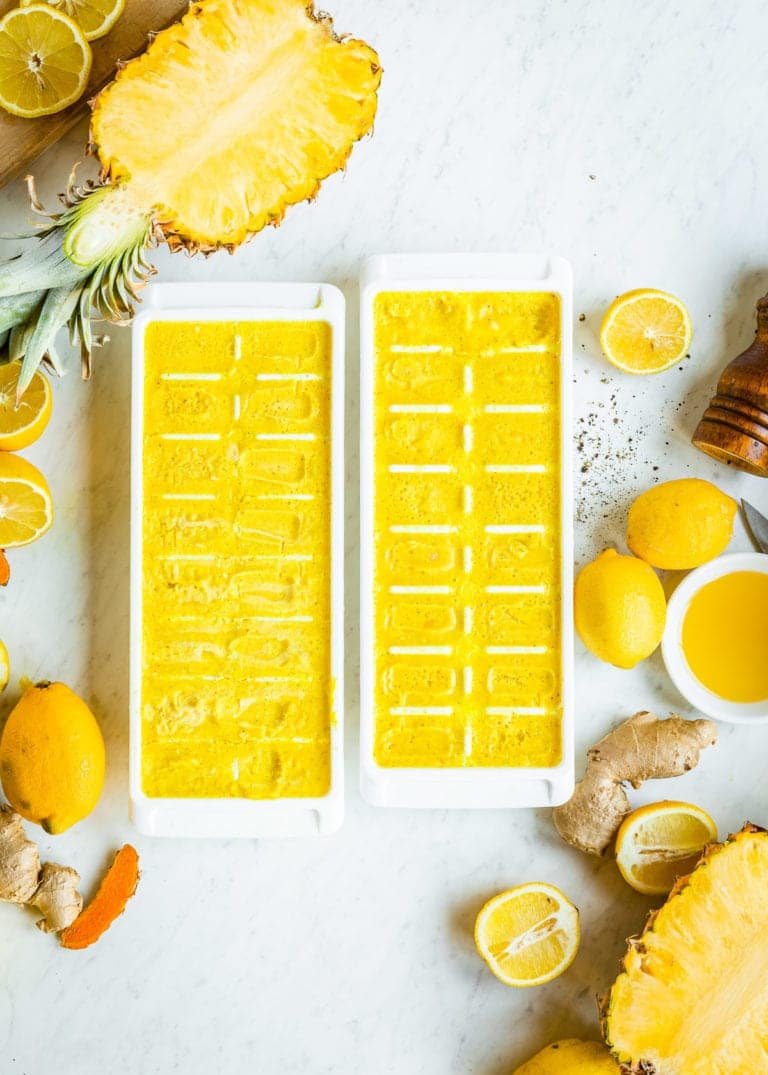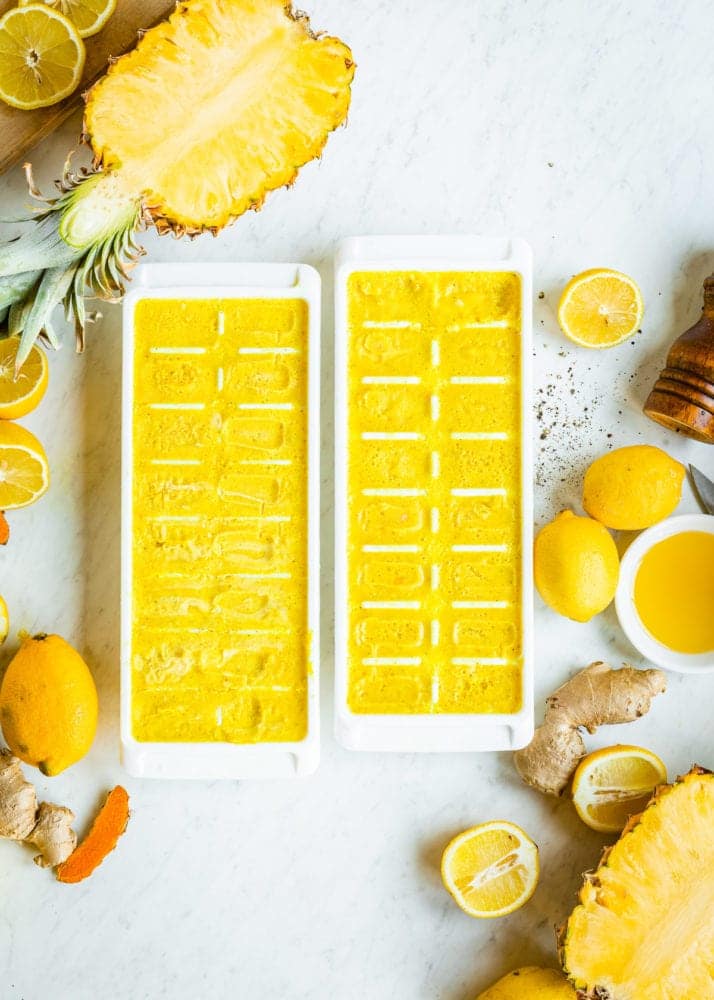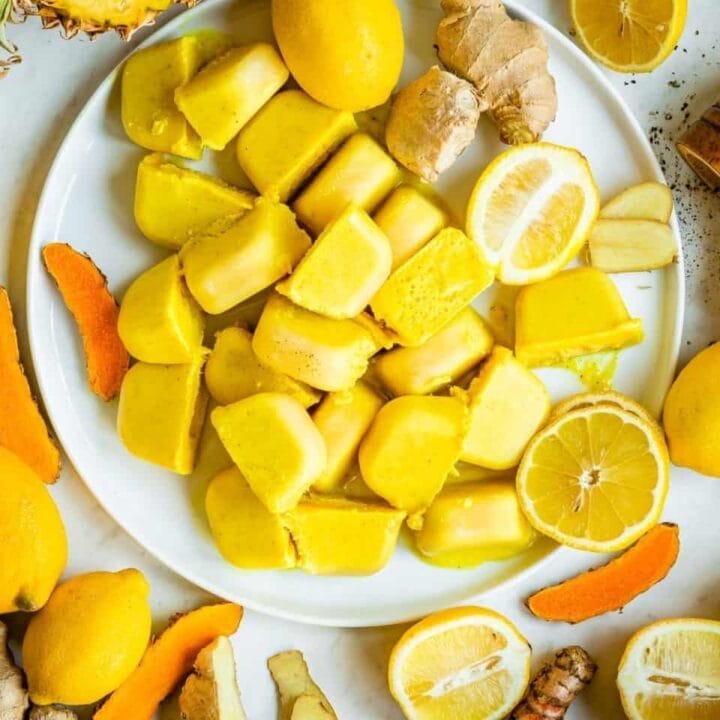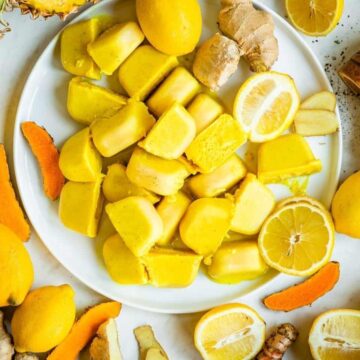 Turmeric Anti Inflammatory Smoothie Cubes
Rate this Recipe
Print Recipe
These smoothie booster cubes may help naturally calm inflammation and pain, as well as provide essential nutrients, thanks to anti-inflammatory superstars turmeric, pineapple, flaxseed oil, lemon, and ginger.
Ingredients
3

cups

pineapple

8

tablespoon

flaxseed oil

8

tablespoon

lemon juice

4

tablespoon

ginger root

(finely minced)

4

tablespoon

honey

(optional)

8

teaspoon

fresh turmeric

(or 4 teaspoon ground turmeric)

1

teaspoon

black pepper

water

(if needed)
Instructions
Place all ingredients into a blender. Puree until smooth. If needed, add a little water. If there isn't 4 cups of puree, add enough water to equal 4 cups.

Pour into two 16-well standard ice cube trays. Place in freezer for at least four hours, preferably overnight, or until frozen solid. Pop cubes out of tray and transfer to a resealable, freezer-safe bag or container.

To use, add 4 cubes to your favorite smoothie in place of ½ to 1 cup fruit. (See notes below for more info.)
Notes
For an extra boost of bromelain, and if using a high-speed blender, don't remove the hard, fibrous core. The core is where the highest concentrations of bromelain are found. The core is completely edible, but is often removed because it is too fibrous to eat for most people.

Olive oil, preferably extra virgin and very high quality can be used in place of the flaxseed oil. Both oils have a bit of a strong flavor, but the other ingredients in the booster cubes will help mask it, particularly the lemon juice.

If allergic to pineapple, swap with the equivalent of fresh apples or pears, including the peels.

Canned pineapple is ok, but the bromelain won't be present anymore due to heat. Use pineapple that is canned in 100% pineapple juice.

Raw honey is optional, but has many benefits. Adjust the amount of sweet fruits in the smoothie recipe to account for the extra sugar, or use low-sugar berries.
Nutrition (estimated)
Calories:
52
kcal
(3%)
Carbohydrates:
5
g
(2%)
Protein:
1
g
(2%)
Fat:
4
g
(6%)
Saturated Fat:
1
g
(6%)
Polyunsaturated Fat:
2
g
Monounsaturated Fat:
1
g
Sodium:
1
mg
Potassium:
39
mg
(1%)
Fiber:
1
g
(4%)
Sugar:
4
g
(4%)
Vitamin A:
10
IU
Vitamin C:
9
mg
(11%)
Calcium:
4
mg
Iron:
1
mg
(6%)
Sources: