Coleslaw is a versatile recipe used in so many American meals. This is my vegan take that's just as creamy + flavorful & fully plant-based. Try a vegan coleslaw recipe with all the comfort and none of the guilt.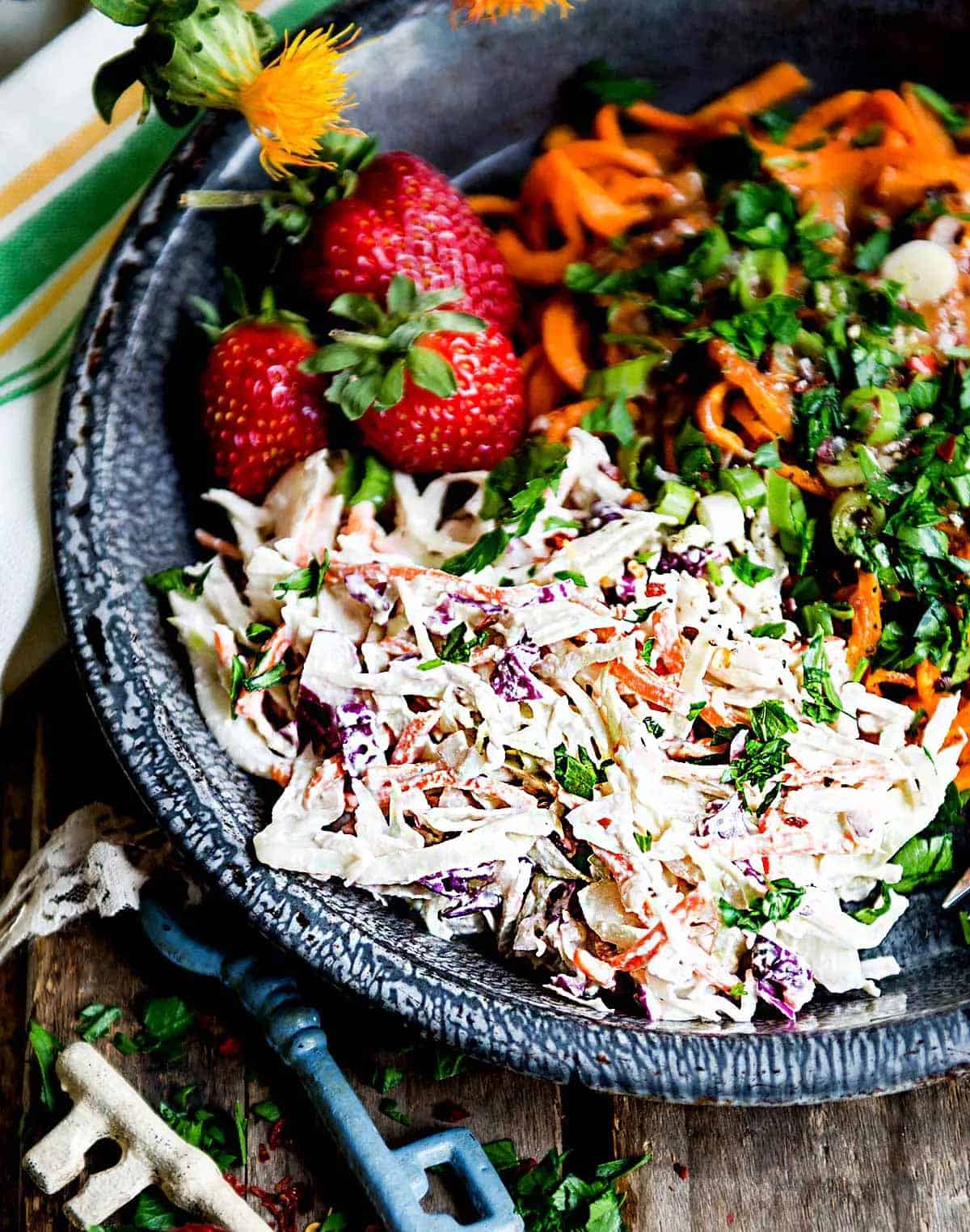 This vegan coleslaw recipe has become a staple dish at Hansard Farm. As easy as it may be to run to the deli and grab a pre-made something, I know that isn't the best choice. It gets old— and then I never feel great after eating a mayonnaise-coated dish.
Because of those feels, it was time to bring in a new dish to these BBQs and actually feel good about going for seconds! Moreover – this vegan coleslaw works great as a topping for tacos and veggie bowls. #summerstaple
Table of Contents
How to Make Homemade Vegan Coleslaw
Making coleslaw traditionally involves mayonnaise. As a result, it's typically highly processed and made with eggs. If you're looking for a plant based option, then you can easily swap in my homemade cashew cream for the mayo.
It's simple, versatile and can be used as a base for all sorts of sauces. You begin this coleslaw by soaking the cashews to create a creamy dressing. Bonus! Those cashews will net you extra protein for your daily total!
Then you'll combine that smooth and tasty cashew cream base with a variety of seasonings and fresh vegetables to create a crunchy zesty side dish that everyone will love.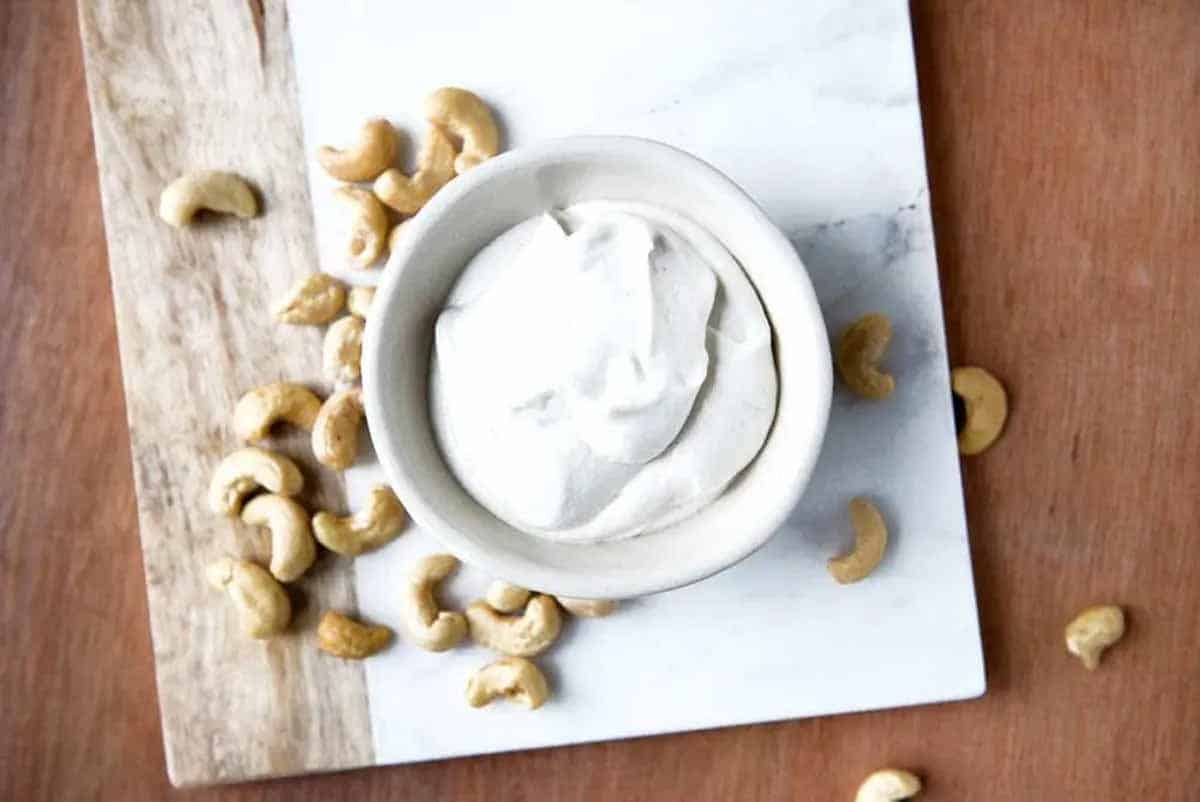 Benefits of Cabbage + Carrot
Gone are the days when cabbage was simply a garnish on your plate! Cabbage comes in tons of colors, like red, purple or even white. However, it's not just there to look cute or for the crunch. Most importantly, cabbage contains large amounts of Vitamins K and C, which make it great for your immune system and helping the body's blood clotting factors.
Carrots are rich in Vitamins C and A, which therefore makes them power houses for your immune system. They too come in a wide variety of colors, including purple, orange, yellow and white. Meanwhile, I'll let you start imagining the fun you could have mixing and matching the different colors of cabbage and carrots for your next batch of vegan coleslaw!
Where'd Coleslaw Come From?
Although in the United States we always think of coleslaw as that perfect side dish for our BBQs, picnics and holiday celebrations, it's didn't get started here. Did you know that the dish we know as coleslaw actually originated in the Netherlands? Coleslaw came from the Dutch 'koosla', which means cabbage salad. So cool to know, right?
To clarify – this updated, Americanized vegan coleslaw recipe is from my book, Simple Green Meals, available now in our Rawkstar Shop. Making it will yield a protein-packed, nutrient-dense side dish without any of the artificial ingredients or refined oils we see in the store bought versions.
What to Serve with Coleslaw
This Vegan Coleslaw Recipe is the perfect healthy BBQ side, a topping for your next batch of Sweet Potato Noodles or making ahead and eating for lunches a quick snack during the week. And if you sneak a spoonful out of the fridge when no one is looking, I certainly won't tell. Here are some of my fav things to pair with coleslaw: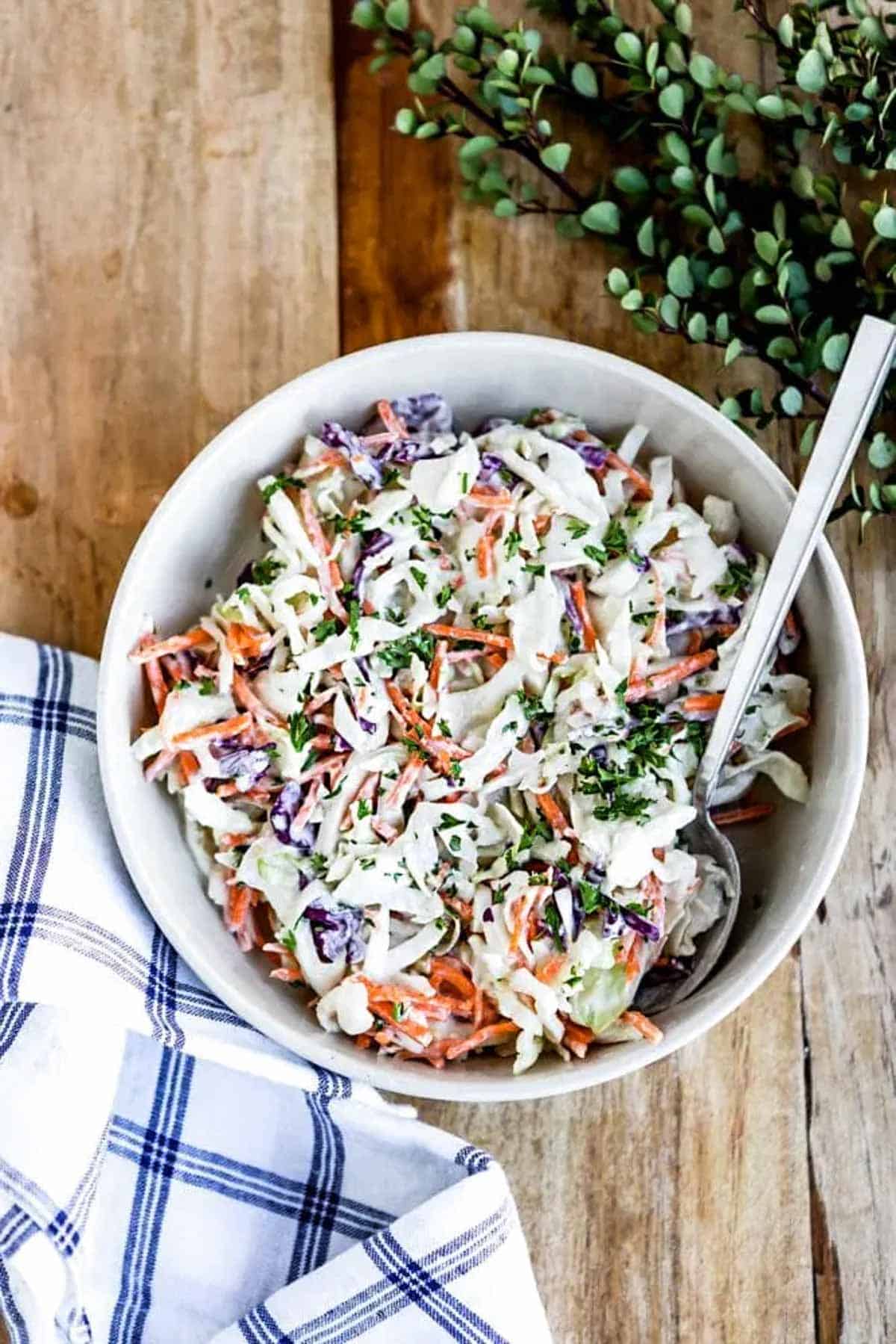 FAQs
What is vegan coleslaw made from?
Traditional coleslaw contains mayo as the dressing, which is usually made with eggs. To make it vegan, you'll need to rawk the perfect egg free dressing to toss your cabbage and carrots with. Our recipe below is a top-notch solution!
How do you make vegan coleslaw from scratch?
Leave that store-bought coleslaw out of your next get together! Homemade vegan coleslaw is as easy as chopping cabbage + carrots, plus adding some seasonings and a simple vegan dressing.
Is coleslaw bad for you?
With this healthy, whole food recipe – absolutely not! My version of vegan coleslaw contains simple ingredients, and replaces white refined sugar with better-for-you coconut sugar. Lastly, to make it even healthier, opt for organic versions of the ingredients as your location and budget allow. Delicious and nutritious!
So now that you're ready to rawk some crunchy coleslaw, let's get shopping and chopping! Drop us a comment below after you've made it to share what you liked and which color combos of cabbage and carrot you tried.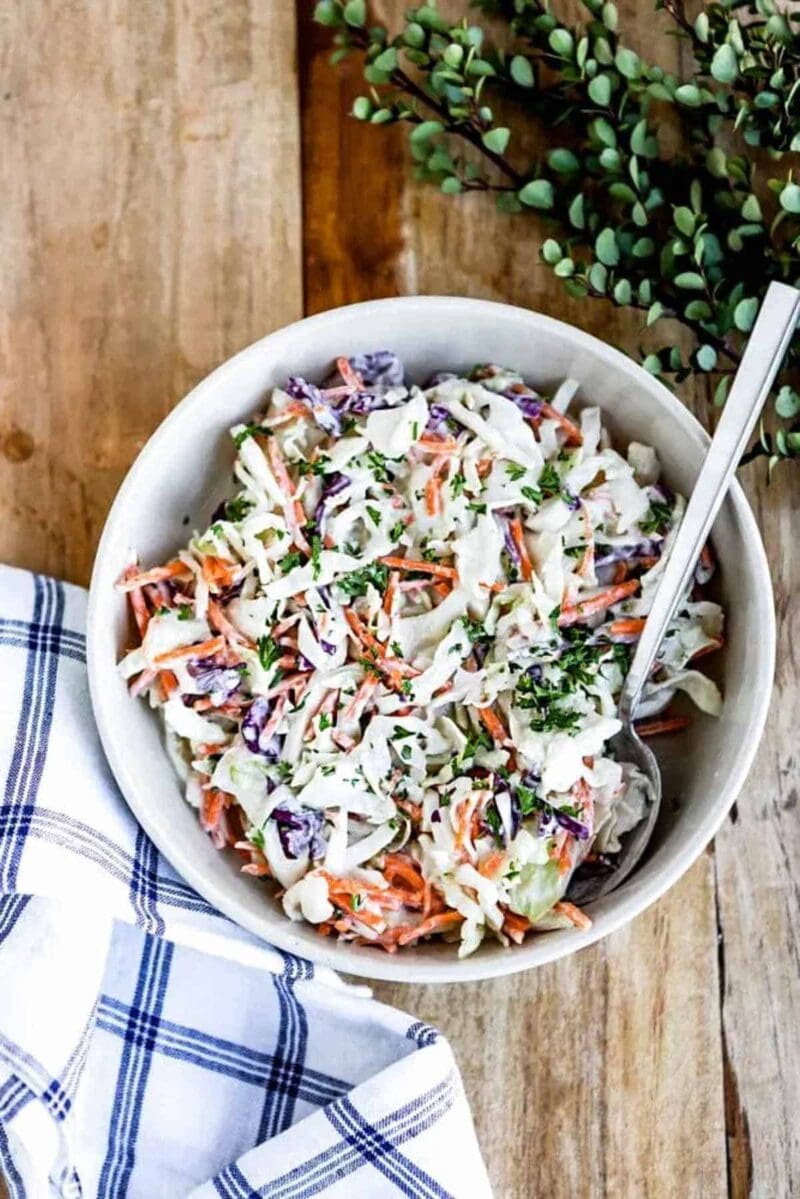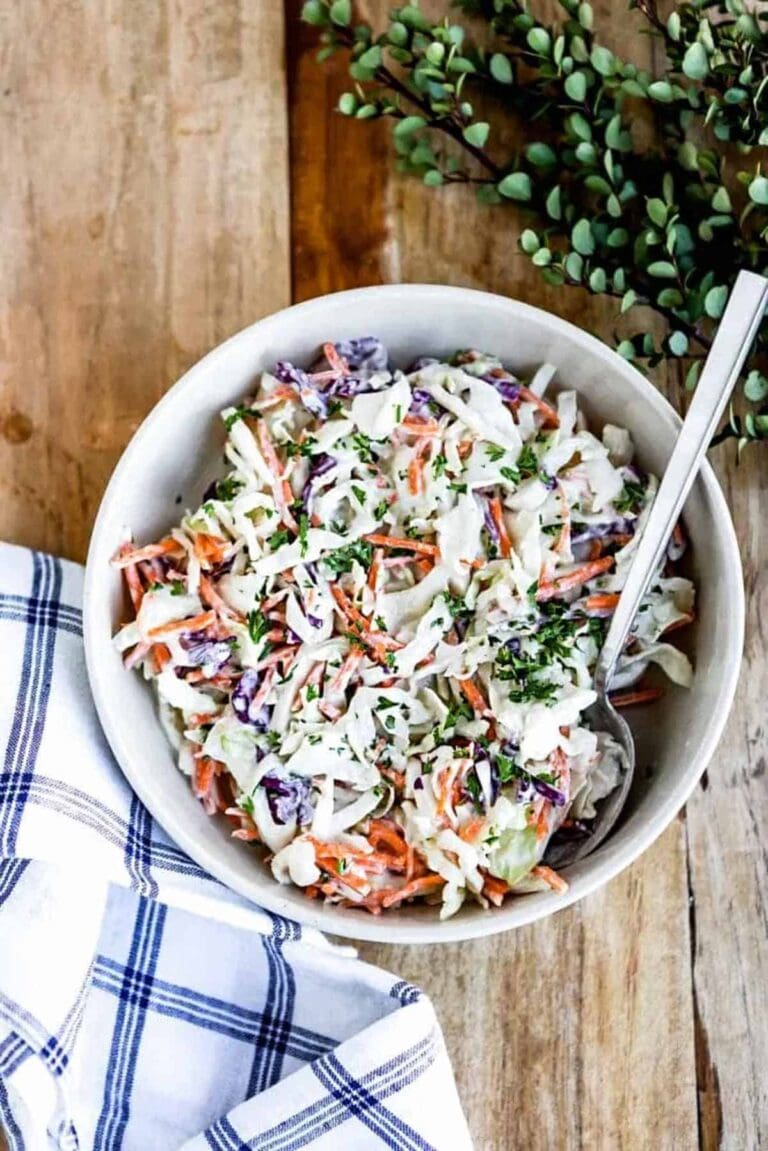 Simple Vegan Coleslaw
I've always been a coleslaw lover, but struggled these last few years as I've been moving away from mayonnaise and most processed foods. This vegan coleslaw has an amazing crunch and a sweet and creamy bite that tastes even better than traditional coleslaw to me, and it's perfect for topping any taco.
Ingredients
Cashew-Garlic Aioli Sauce
1

cup

raw cashews

1

tsp

dijon mustard

5

tbsp

lemon

juice, divided

¼

tsp

sea salt

to taste

3

garlic cloves
Vegan Coleslaw
½

head

napa cabbage

cored and shredded

¼

cup

carrot

shredded

½

cup

Cashew-Garlic Aioli Sauce

1

tbsp

apple cider vinegar

or more to taste

2

tsp

coconut sugar

¼

tsp

sea salt
Instructions
Cashew-Garlic Aioli Sauce
Place the cashews in a medium bowl and pour 2 tablespoons of the lemon juice over the top. Add enough water to cover by a few inches. Let soak for 2 hours, then drain and rinse well.

In a blender, combine the cashews, garlic, mustard, salt, and the remaining 3 tablespoons lemon juice. Pulse a few times, then blend on low. If needed, add a few tablespoons water. The mixture should be thick and creamy, sorta like mayonnaise (as much as I struggle with that visual). Taste and add more salt or lemon juice as desired.

Transfer to an airtight container and refrigerate. This keeps well up to 1 week in the fridge or up to several months in the freezer.
Vegan Coleslaw
In a mixing bowl, combine the cabbage and carrots.

Add the Garlic Aioli, vinegar, coconut sugar, and salt.

Toss until well combined.

Refrigerate until ready to serve.
Notes
GLUTEN FREE, NUT FREE

(replace the aioli with 1⁄2 cup vegan mayo),

VEGAN, DAIRY FREE
Nutrition
Calories:
212
kcal
,
Carbohydrates:
17
g
,
Protein:
7
g
,
Fat:
14
g
,
Saturated Fat:
3
g
,
Polyunsaturated Fat:
3
g
,
Monounsaturated Fat:
8
g
,
Sodium:
324
mg
,
Potassium:
513
mg
,
Fiber:
3
g
,
Sugar:
5
g
,
Vitamin A:
360
IU
,
Vitamin C:
39
mg
,
Calcium:
105
mg
,
Iron:
3
mg