Not only do I have an excellent new recipe to share, but it also comes with two bonus topping recipes! Ice cream is my family's go-to dessert, yet my body just doesn't do well with dairy. So I set out to make the most legit version I could using plant-based ingredients, and I got to say, this vegan ice cream recipe lives up to the hype.
While I love fruit frozen treats like my mango sorbet, I also do crave ice cream… and this vegan version just hits the spot.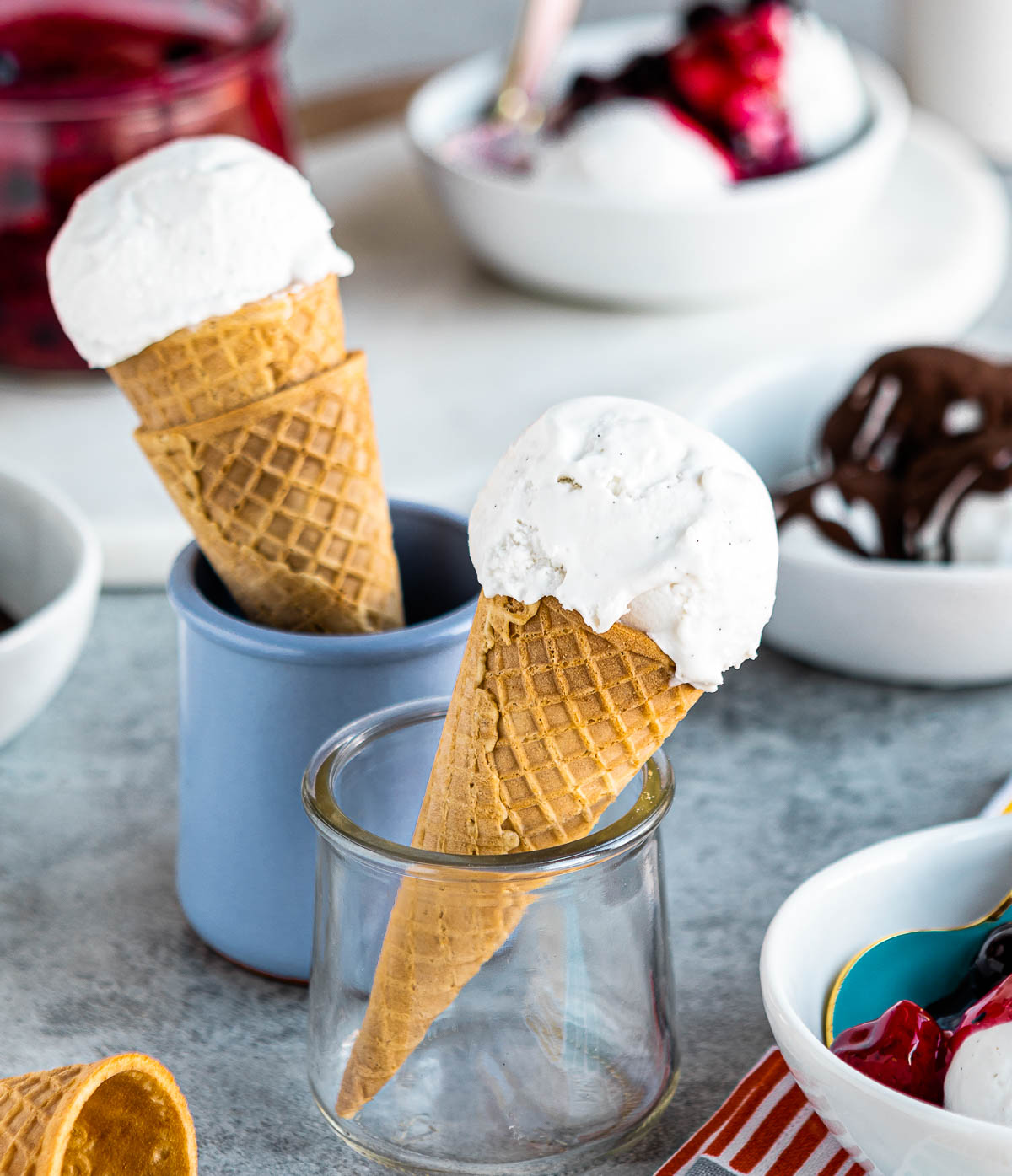 Whether you chose the chocolate crackle, mix berry compote or toppings of your own making, you'll quickly fall in love with this buttery smooth dessert.
Table of Contents
Vegan Ice Cream Ingredients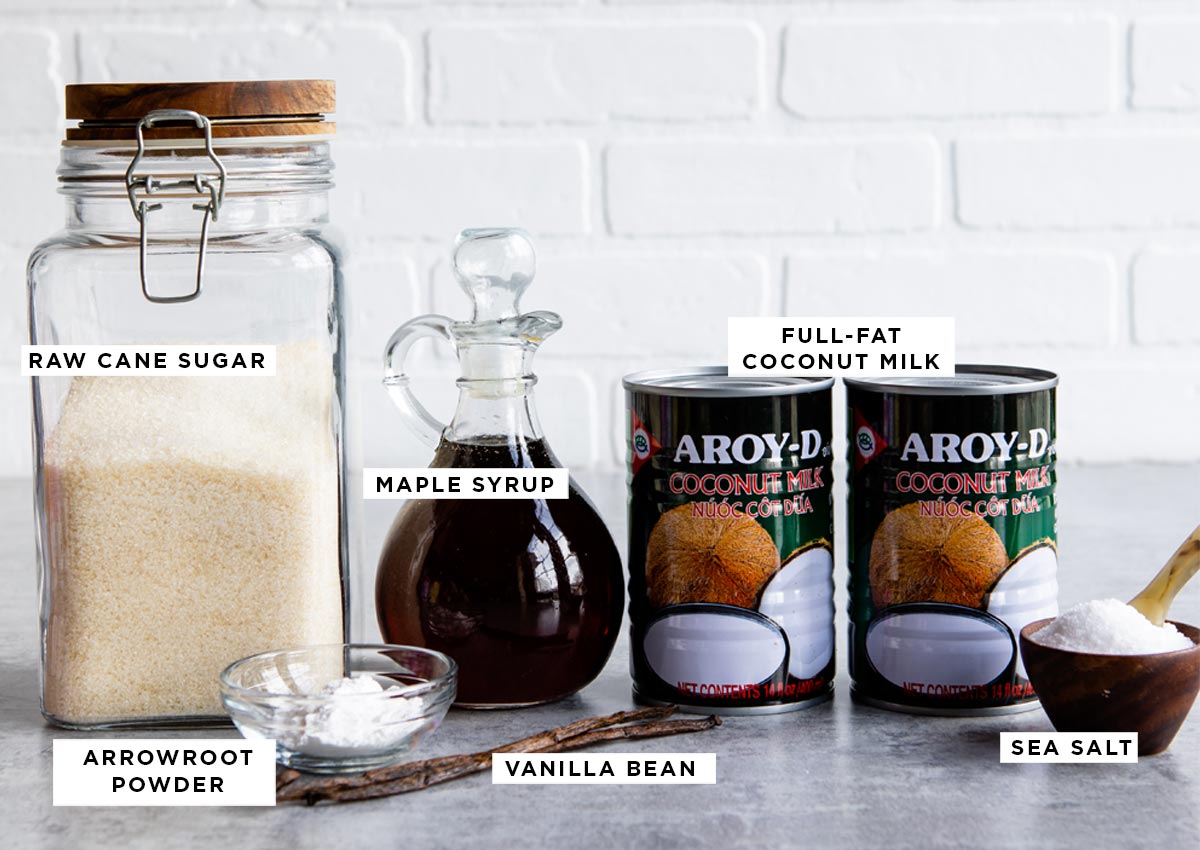 Full-fat coconut milk: Regular ice cream needs at least 10% fat content for the right consistency and texture. Full-fat coconut milk helps mimic this in my dairy-free version.
Raw cane sugar: This version of sugar is less processed and isn't bleached, which helps it keep the sweet flavor without the additives. It still dissolves nicely without any gritty texture.
Maple syrup: I like the darker flavor of maple syrup, yet this recipe doesn't use too much. This is vanilla, not maple ice cream after all.
Vanilla bean: While you can use vanilla extract or vanilla powder in this dessert, a whole vanilla bean provides a more robust flavor.
Arrowroot powder: This lovely powder freezes and thaws without changing (or becoming lumpy). It helps thicken the ice cream without making it gritty.
Sea salt: Just a pinch brings a nice balance to this rich dessert.
Store Bought vs Homemade Plant-Based Desserts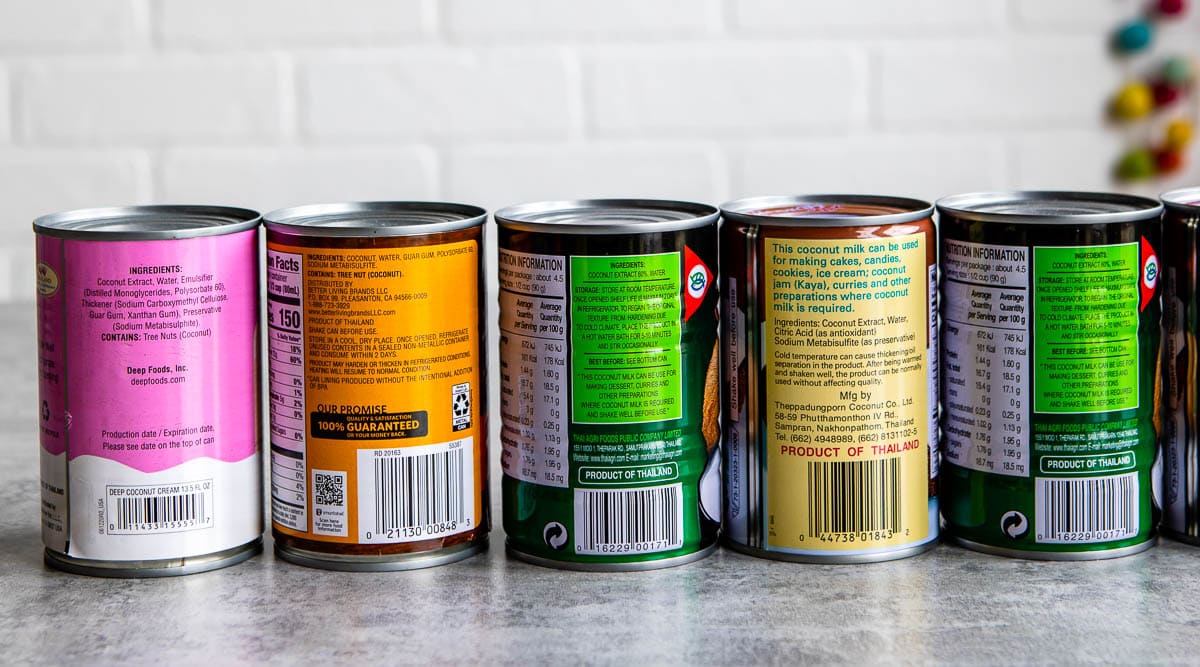 There are entire sections of grocery stores dedicated to plant-based offerings, which I love. However, when you look at the labels of some of these 'green' items, you'll find quite a few unpronounceable ingredients and additives.
Avoid all that nonsense with this vegan ice cream recipe. It's only six ingredients, all easily found at your local grocer and all minimally processed. Yes, ice cream is a dessert (no health food claims here!), yet one made with real ingredients. Even when I treat myself, I want to feel good afterward.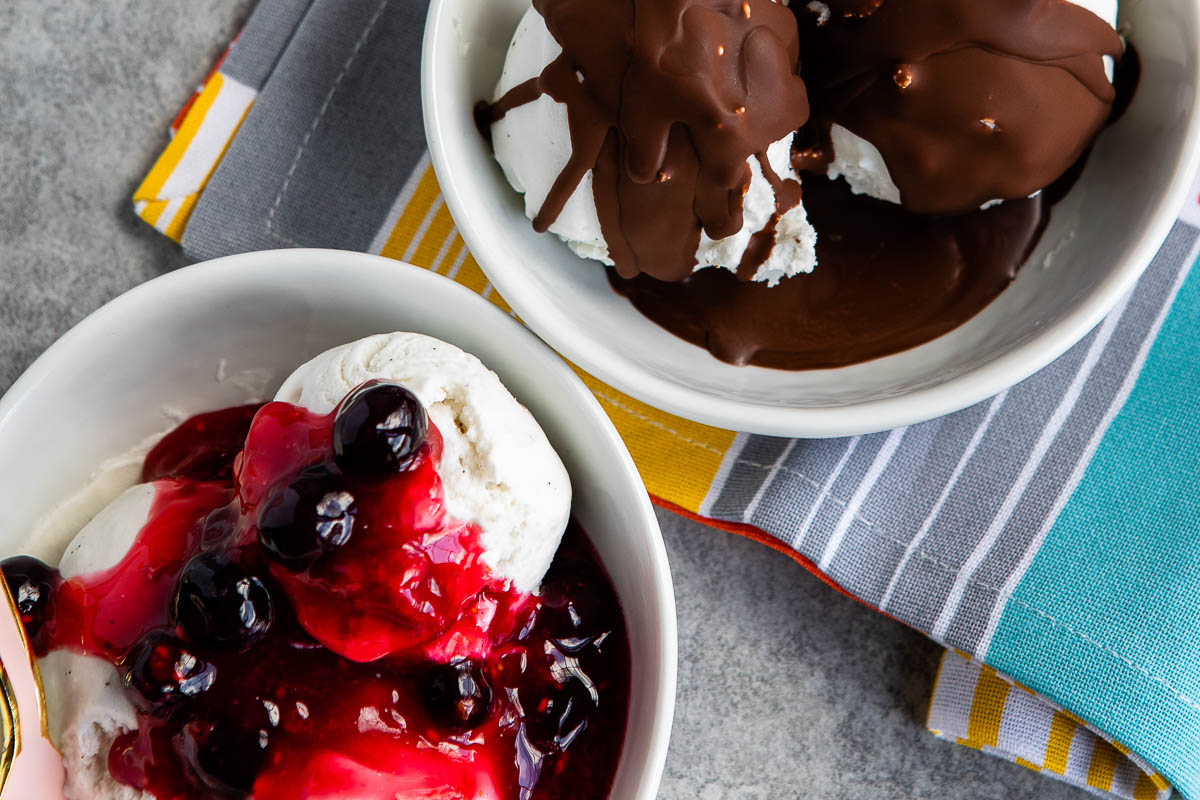 Perfect Ice Cream Toppings
This vanilla ice cream recipe is a great base for a plethora of toppings, and I'm sharing two ways I love to top my desserts. The recipes for both of these options are below, and they are super easy to make!
Chocolate Crackle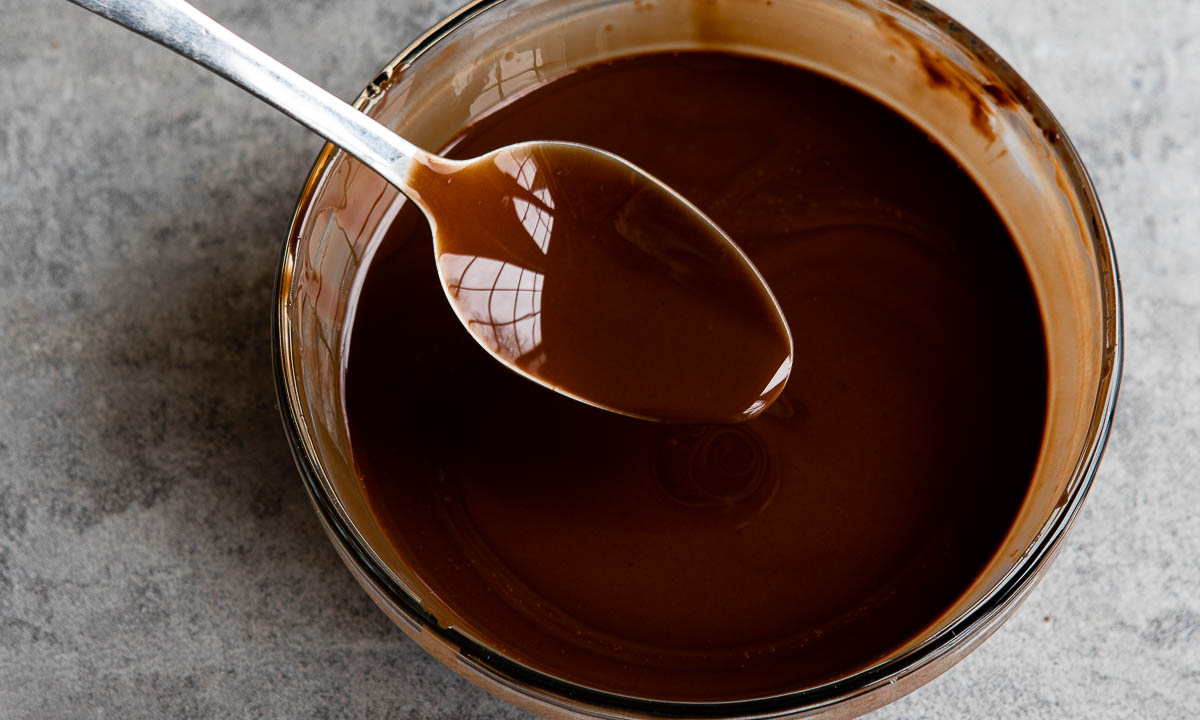 This two-ingredient topping just needs to be heated and mixed a short time before serving. I love how simple dark chocolate and coconut oil is as well as how delicious it is on my ice cream. Watch the magic of pouring your slightly cooled crackle onto the ice cream and it instantly forms a hard shell that your spoon can crack through when you dig in.
Simple Berry Compote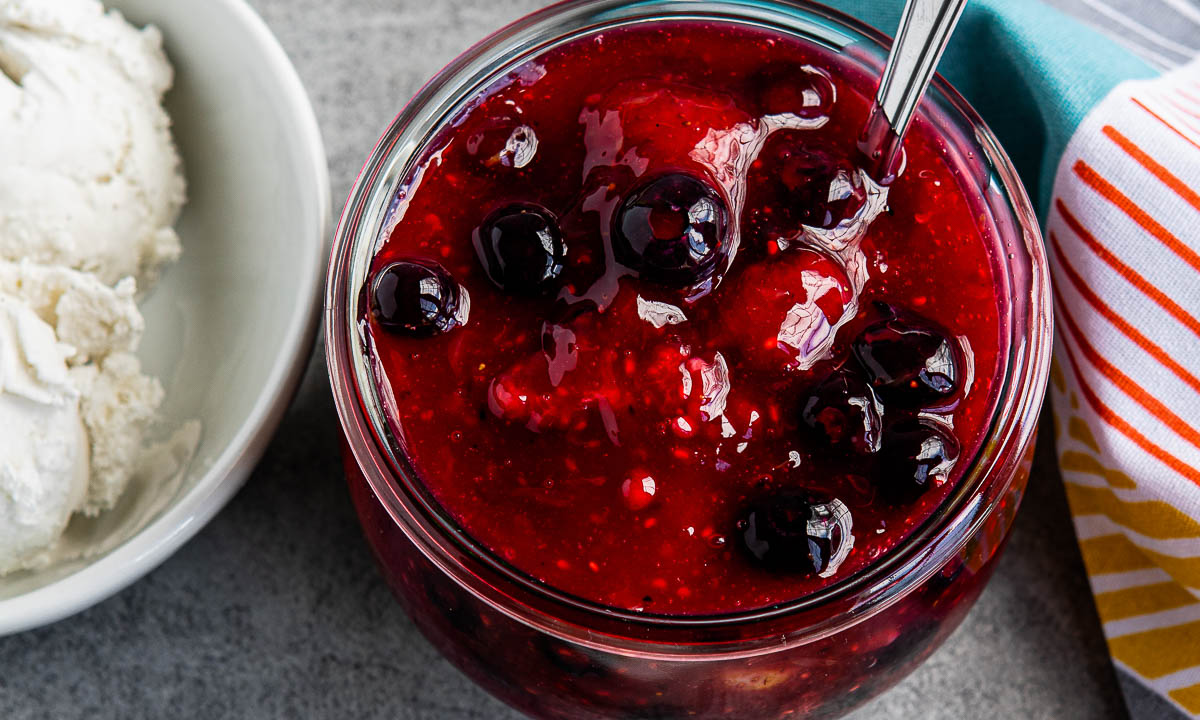 This berry compote can be used to top vegan pumpkin pancakes, vegan waffles, steel-cut oats, vegan yogurt and more. It's easy to make as well as a great way to use those summer berries. I use mixed berries for a brighter flavor, yet you can just pick your favorite and keep it to one berry.
Vegan Ice Cream Recipe FAQs
Which milk is best for vegan ice cream?
I use coconut milk as its high-fat content is similar to dairy milk, and it doesn't get frosty like almond or cashew milk.
Can you use an ice cream maker to make vegan ice cream?
Yes! I love the way my ice cream maker works, so I definitely use it when making the dairy-free version as well.
How do you make healthy vegan ice cream?
While 'healthy' can be subjective, I do believe in using real, whole food ingredients for the best results. I use raw cane sugar in my recipe as ice cream does need a sweetener, yet raw cane sugar is much less processed and isn't bleached.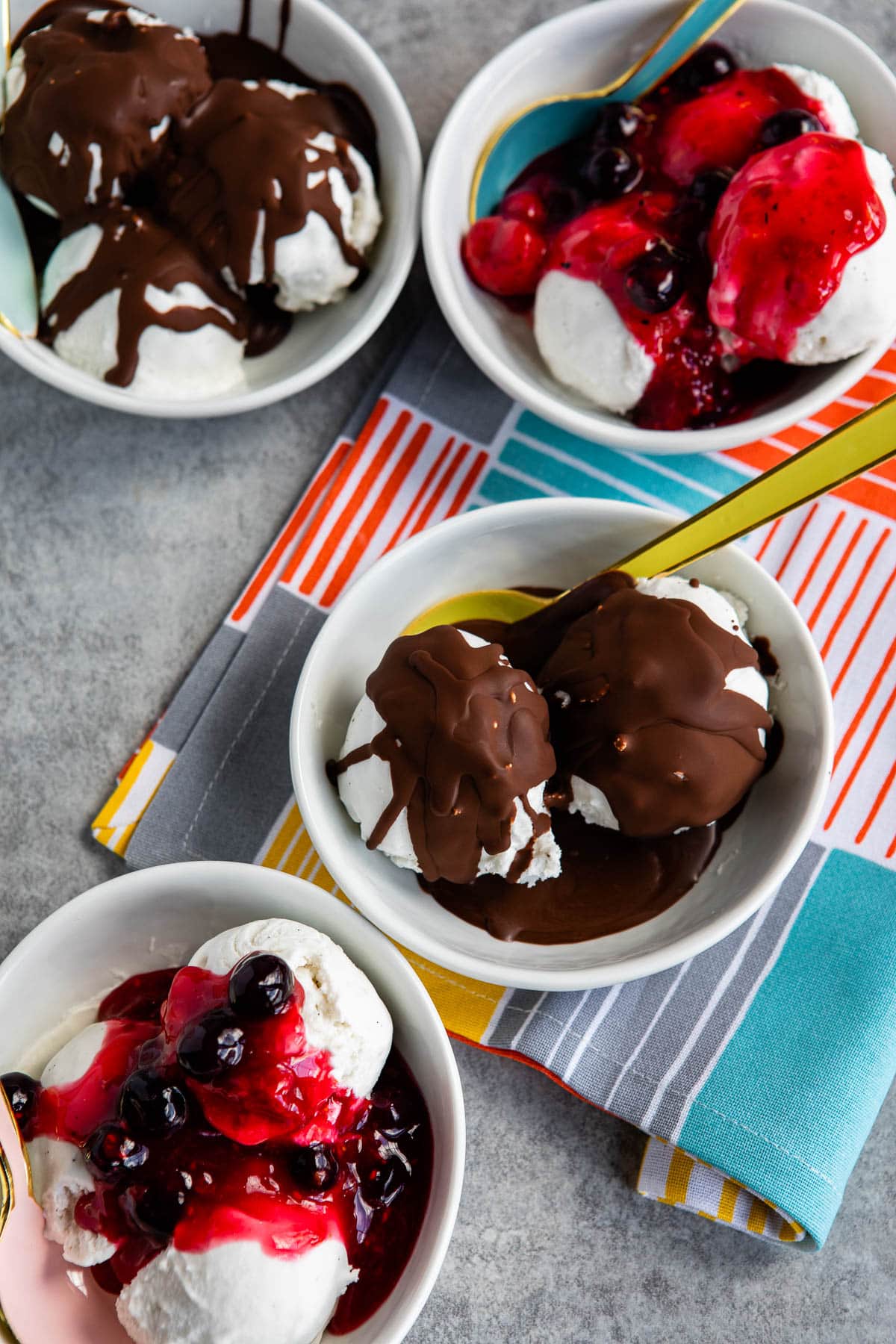 More Plant-Based Desserts
Since dairy isn't my body's friend, I'm always on the hunt for great dessert recipes sans dairy. Here are a few I use on the regular for family game nights, parties, holidays and more:
Don't forget to rate this recipe and if you've got feedback, leave a review!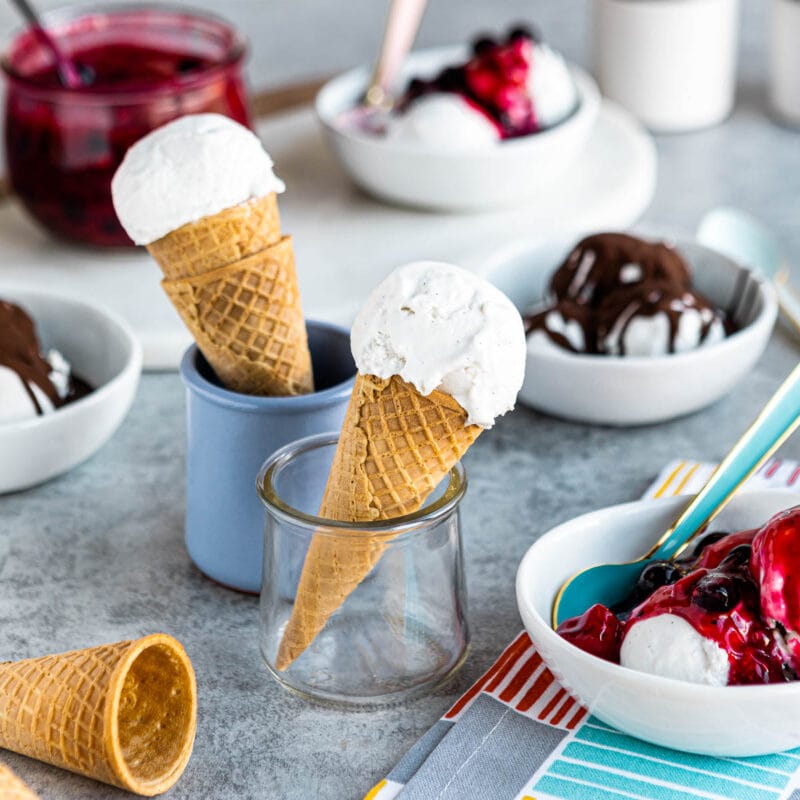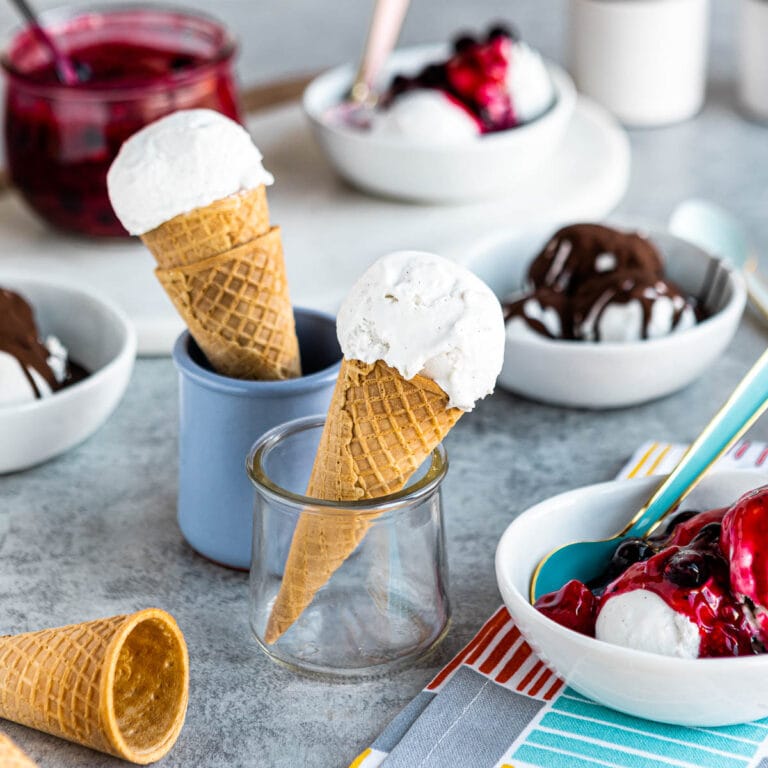 Vegan Ice Cream Recipe
Take summer by creamy storm with this decadent vegan ice cream recipe. I use just six ingredients to create a chilled dessert that scoops like the real thing. And because I love ice cream so much, I've also included two bonus recipes for the perfect toppings!
Ingredients
2

cans

coconut milk

full-fat

½

cup

cane sugar

1

tbsp

maple syrup

1

vanilla bean

split lengthwise and seeds scraped out

1

tbsp

arrowroot powder

pinch

sea salt
Chocolate Crackle
4

oz

bittersweet chocolate

chopped

2

tbsps

coconut oil

unrefined

pinch

sea salt
Fruit Compote
¼

cup

orange juice

¼

cup

coconut sugar

1

tbsp

arrowroot powder

1

tsp

vanilla extract

pinch

sea salt

2

cups

mixed berries
Instructions
For Ice Cream:
Place coconut milk, cane sugar, maple syrup, vanilla bean and seeds, arrowroot powder and sea salt into sauce pan. Whisk until smooth. Heat over medium, whisking constantly until mixture comes to a gentle boil. Boil 1-2 minutes, continuing to whisk constantly. Pour into a clean bowl and allow to cool to room temperature. Cover and chill until very cold.

Follow manufacturer instructions for churning ice cream. Transfer to an airtight, freezer-safe container. Freeze until firm enough to scoop, preferably overnight.

Serve with desired toppings.
For Chocolate Crackle:
Set a heat-safe glass bowl over a pan of simmering water. Melt the chocolate with coconut oil. Add a pinch of sea salt. Remove from heat and allow to cool a bit before using. If the sauce is too hot, it won't solidify quickly enough to form the shell. If it gets too cold, it will be too gloppy for a thin enough shell.
For Fruit Compote:
Combine all ingredients except fruit in a saucepan. Whisk until combined. Bring to a boil and cook, whisking constantly, for 1-2 minutes. The mixture will be very thick. Remove from heat and add the fruit. Stir well. Transfer to an air-tight jar and store in the refrigerator until ready to use. Best if used within 3-4 days. Serve chilled or warmed.
Notes
Swap arrowroot powder with cornstarch or tapioca starch.
Not all coconut milk brands have the same amount of fat. Choose one with high-fat content, or use coconut cream.
For the fruit compote, use mixed berries or the berry of your choice.
Nutrition
Calories:
59
kcal
,
Carbohydrates:
15
g
,
Protein:
1
g
,
Fat:
1
g
,
Saturated Fat:
1
g
,
Polyunsaturated Fat:
1
g
,
Monounsaturated Fat:
1
g
,
Sodium:
1
mg
,
Potassium:
6
mg
,
Fiber:
1
g
,
Sugar:
14
g
,
Calcium:
2
mg
,
Iron:
1
mg