I'm back with another free meal plan, this time a seven-day Vegan meal plan that is the opposite of plan or salad heavy. While I love a good lemon arugula salad, vegans don't just eat leafy greens!
Instead, this free meal plan will hopefully open your eyes to the world of colorful, bright flavors as well as rich and filling recipes made entirely of plants.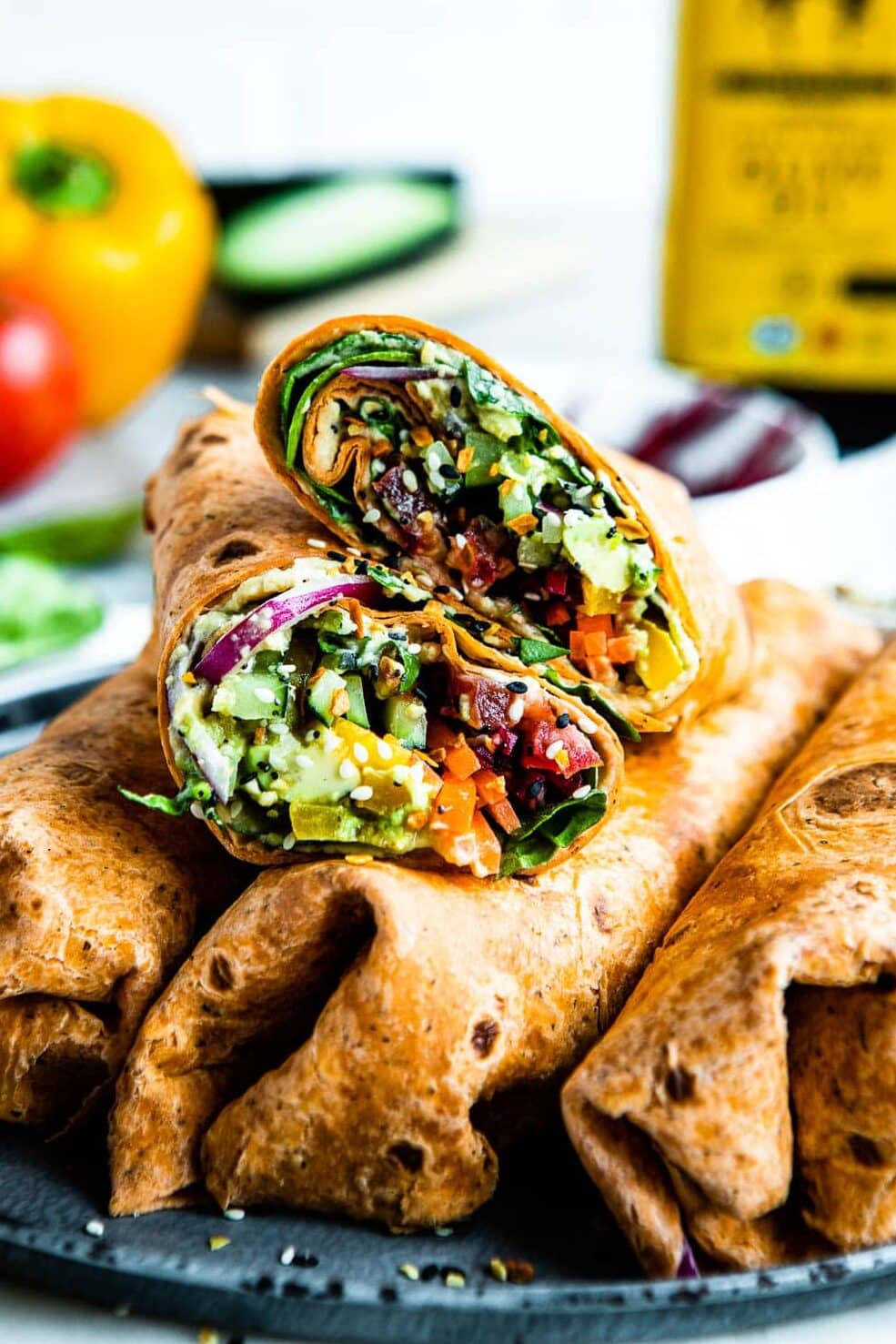 I'm also offering a few non-smoothie breakfast recipes to help you incorporate even more tasty options to your morning routine. I like to change it up every now and again, and I bet you do too!
Table of Contents
Download: Free 7-Day Vegan Meal Plan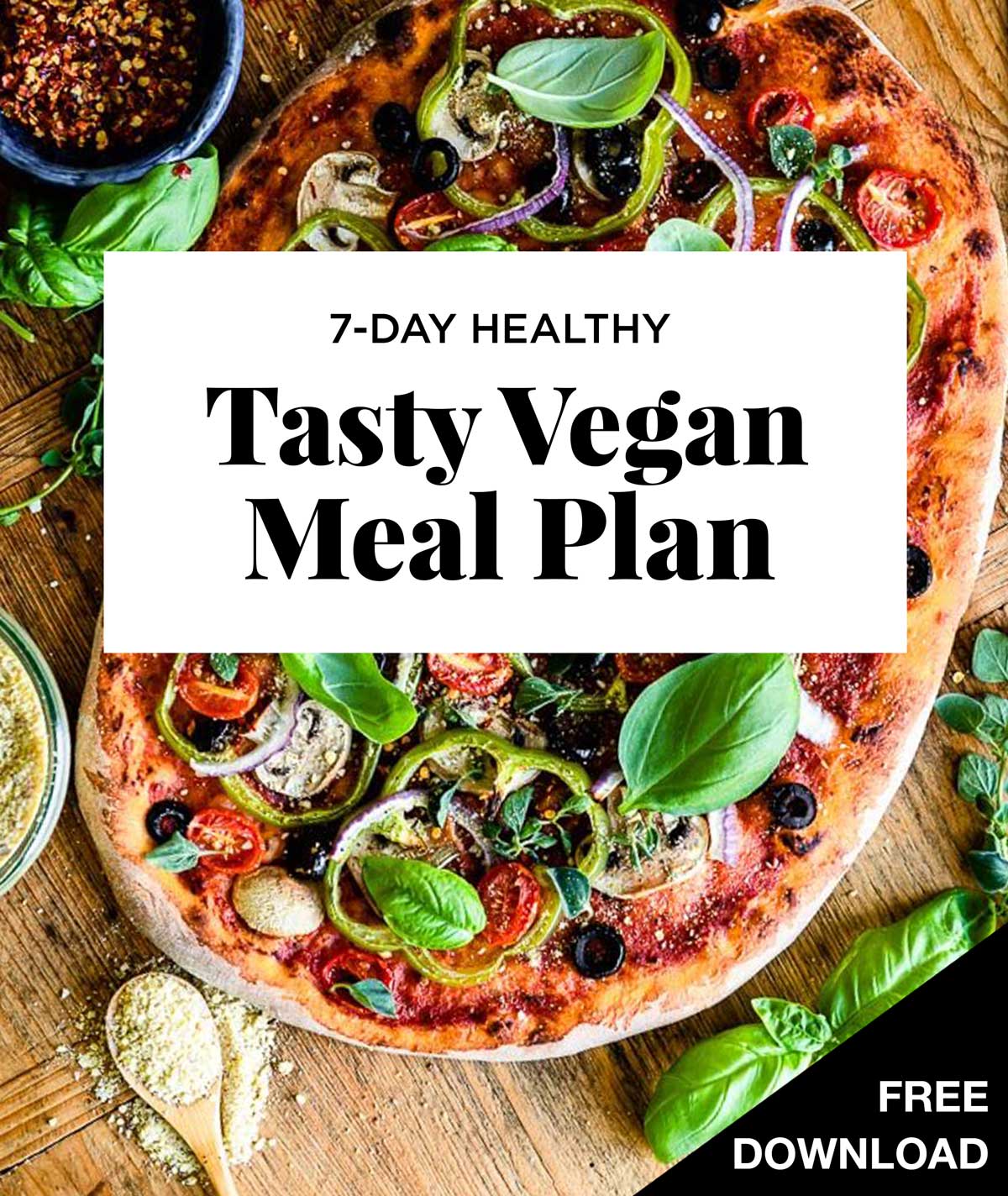 While most of my recipes are considered vegan, I do incorporate some vegetarian ingredients at times (namely, eggs and honey). For this plan, I chose recipes that are specifically vegan with no alterations needed. Plant-based living looks different for everyone. If you're looking to incorporate more plants into your diet then this free digital guide is a great place to start!
Easy Vegan Breakfasts

Breakfast gives you a new opportunity each day to fuel your body the right way. The vegan recipes below focus on providing the right kind of pro-energy nutrition you need to seize the day. Pro tip: Feel free to make the waffles ahead (they even freeze well!) if you know you'll be crunched for time on day two.
Tasty Vegan Snacks

Snacks aren't just for kids. When you are eating a vegan diet, they can also help ensure you get the proper nutrition each day. The snack recipes below were created to be delicious as well as provide you with the protein needed to fuel your day. Feel free to swap out the almond butter with the nut or seed butter of your choice.
Filling Dinner Recipes

No rabbit food (aka salads) here! These seven meals will open your eyes to eating more plants and feeling full afterwards. I love variety in my food and these meals def bring the flavor and interest. Which one of these recipes sounds right up your alley?
Vegan Meal Plan FAQs
What should a vegan eat in a day?
If you are following a strictly vegan diet, ensure you're getting enough protein (plants are full of protein!) as well as eat a variety of plants. Different colored plants provide different nutrients. Stick to as many whole foods as you can vs processed options, as these will give you the most nutrition.
Can you lose weight by eating vegan?
Yes. However, there is so much more that goes into losing weight than just what you feed yourself. If you want to get healthier in terms of sleep quality, energy, weight and more then incorporating more plants is definitely the way to go. Yet just because someone is 'vegan' doesn't mean they are eating healthy, whole foods. So focus on variety, real food vs processed food, and eating protein-rich foods that will help you feel full and ready to take on each day.
What are typical vegan meals?
You'll see in my free vegan meal plan that there are no salads! Instead, I'm bringing you delicious smoothies, protein and healthy fat-powered snacks and filling dinners that are richly delicious and full of colorful, beautiful plants. Go with variety, whole food, and options that have a balanced amount of protein, healthy fats and carbs to ensure your body gets what it needs to feel and perform at its best.
Free Plant-Based Meal Plans
If you loved the ease and flavor of this week, then try out my other free meal plans:
Love these plans but want the ability to customize them? They were all created within Rawk the Year, my meal planner. Sign up for a 14-day free trial right now!
Don't forget to drop a comment and let me know how you liked this meal plan. I'd love to get your feedback!