After Taco Bell took away my fav menu item, I knew I had to make my own version. This Vegan Mexican Pizza is similar to how I order it at the actual restaurant and yet it tastes even better! Make a homemade Mexican pizza right in your kitchen.
Tex-Mex is one of my fav food groups and works its flair into a lot of the recipes I share. You'll often find my family dining on dairy-free options like Tacos de Papa or my Austinite Vegan Tacos.
I keep the chickpea mixture for these Chickpea Tacos in my freezer for whenever the mood strikes (it warms up so well in the toaster oven!). So naturally I had to make a version of my fav fast food order!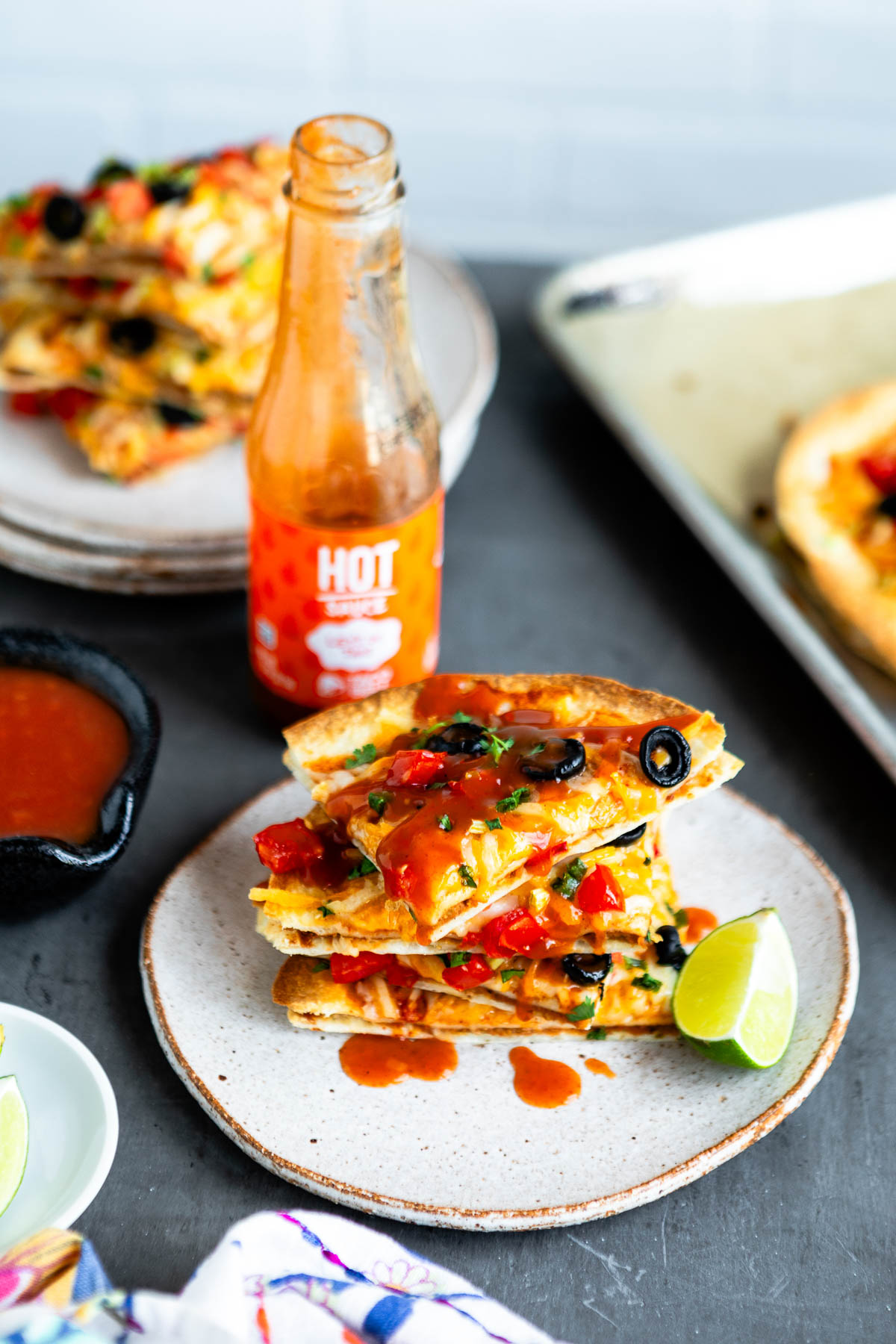 Table of Contents
Ingredients in a Vegan Mexican Pizza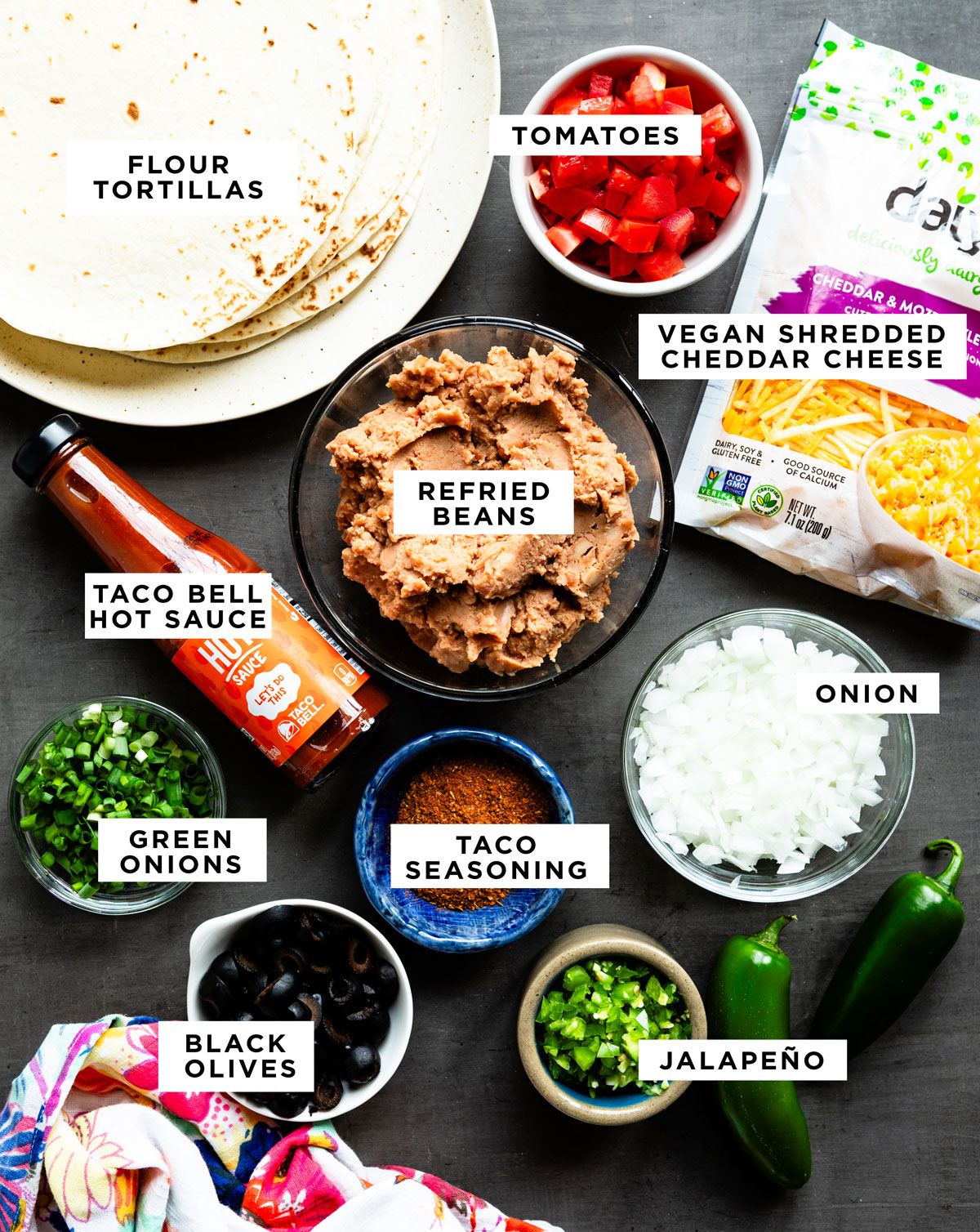 This recipe is fun to make and so good; you're family may start requesting it on a regular basis. They don't need to know it's vegan or plant-based… it's just so good! Here's what I'm putting in mine:
Yellow onion: This is the base of flavor in this recipe and easy to sauté for the exact right flavor.
Jalapeño: Remove the seeds when chopping for less spice, or keep them in for the full experience. If you can't handle spicy peppers then swap for green or red bell peppers.
Taco seasoning: I make my seasoning and keep it in a jar in my spice cabinet. That way I can grab it whenever the mood strikes. You can also use premade seasoning and measure it out.
Refried beans: Double refried pinto beans is how I replace the meat in the real deal, so it's going into my homemade version, too.
Flour tortillas: Taco Bell uses corn tortilla shells in their recipe yet I wanted a slightly bigger surface so swapped them for flour in my version.
Taco Bell Hot Sauce: To really achieve the authentic flavor, you gotta go with the authentic sauce. Yet feel free to use red enchilada sauce if that's more your style.
Vegan shredded cheddar cheese: If you've never tried vegan cheese before, cheddar is a great place to start! It's got a distinct flavor and most shredded varieties I've tried seem to melt which is what we want.
Tomatoes: Diced tomatoes are the only veggie topping on the original version, so I include them on mine… along with some other fabulous additions you'll love.
Green onions: I ask for green onions when I order the Mexican Pizza so you better believe I'm adding them to this homemade recipe as well.
Black olives: My love for black olives has me putting them on a wide variety of dishes and they pair perfectly with this pizza as well!
I like to serve mine with either guacamole or vegan avocado crema and some cashew cream. All these options make for great dipping or drizzling over the pizzas.
Vegan Mexican Pizza Meat Substitutes
If you want the texture of meat or the flavor it adds to your pizza without the real thing then I've got some options for you to try.
Walnut Taco Meat
Honestly while the walnut might throw some people, my vegan walnut taco meat is a great sub in any recipe that uses ground beef. It magically has the texture and weight of beef without any animal products in it.
Toss it with your fav taco seasoning and you've got the perfect substitute.
Tofu Taco Crumbles
If you want a nut-free option then try the tofu taco crumbles from Make it Dairy Free. I've made this version, too and its great!
Layer either one of these options in on top of the refried beans when assembling your homemade Mexican pizzas, just like Taco Bell does.
How to Create a Vegan Mexican Pizza
This may sound like a lot of steps yet it's really just making sure all the components are heated properly before assembling for the final bake. Not hard!
Step 1: You'll use both the stovetop and the oven for this recipe so go ahead and preheat the oven to 400°F while you also heat a skillet over medium-high heat. Add avocado oil to the skillet, just enough so the diced onions won't stick.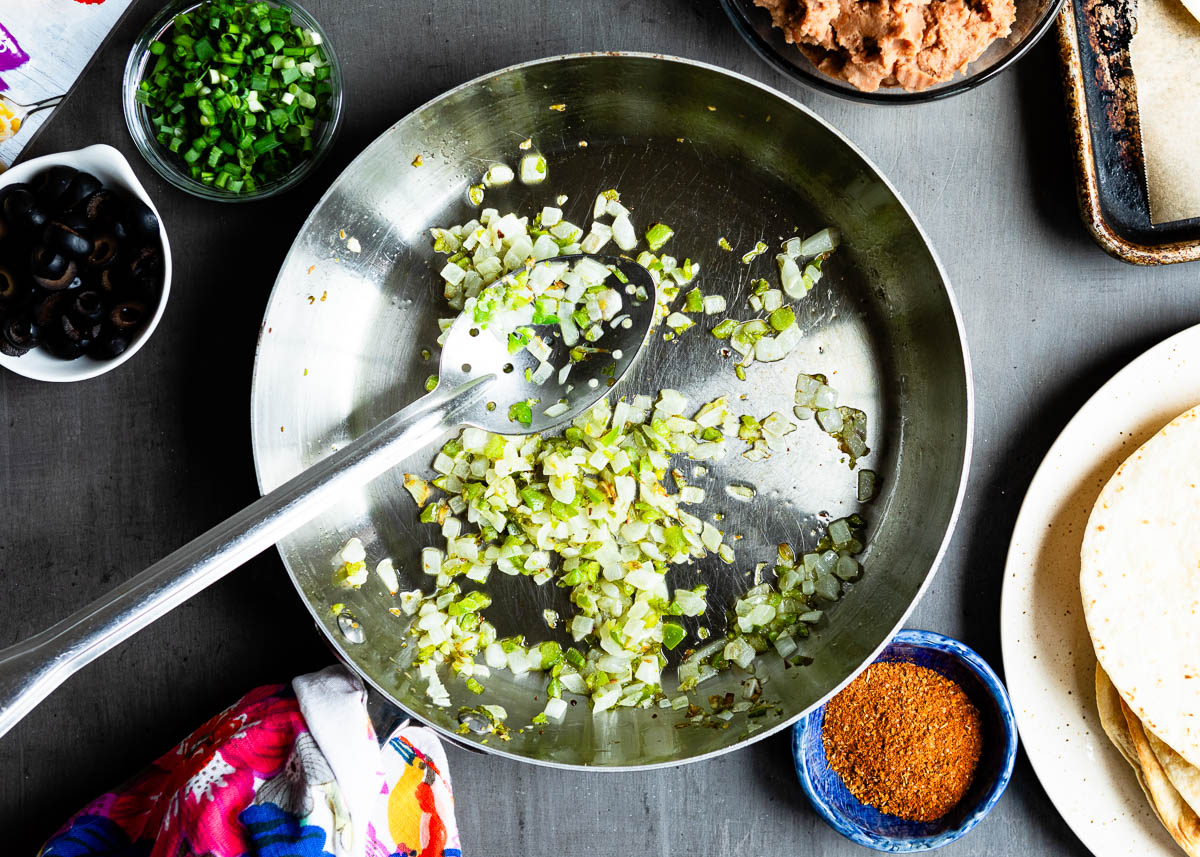 Step 2: Sauté the onions and jalapeños for 5 minutes or until the onions are translucent and golden brown.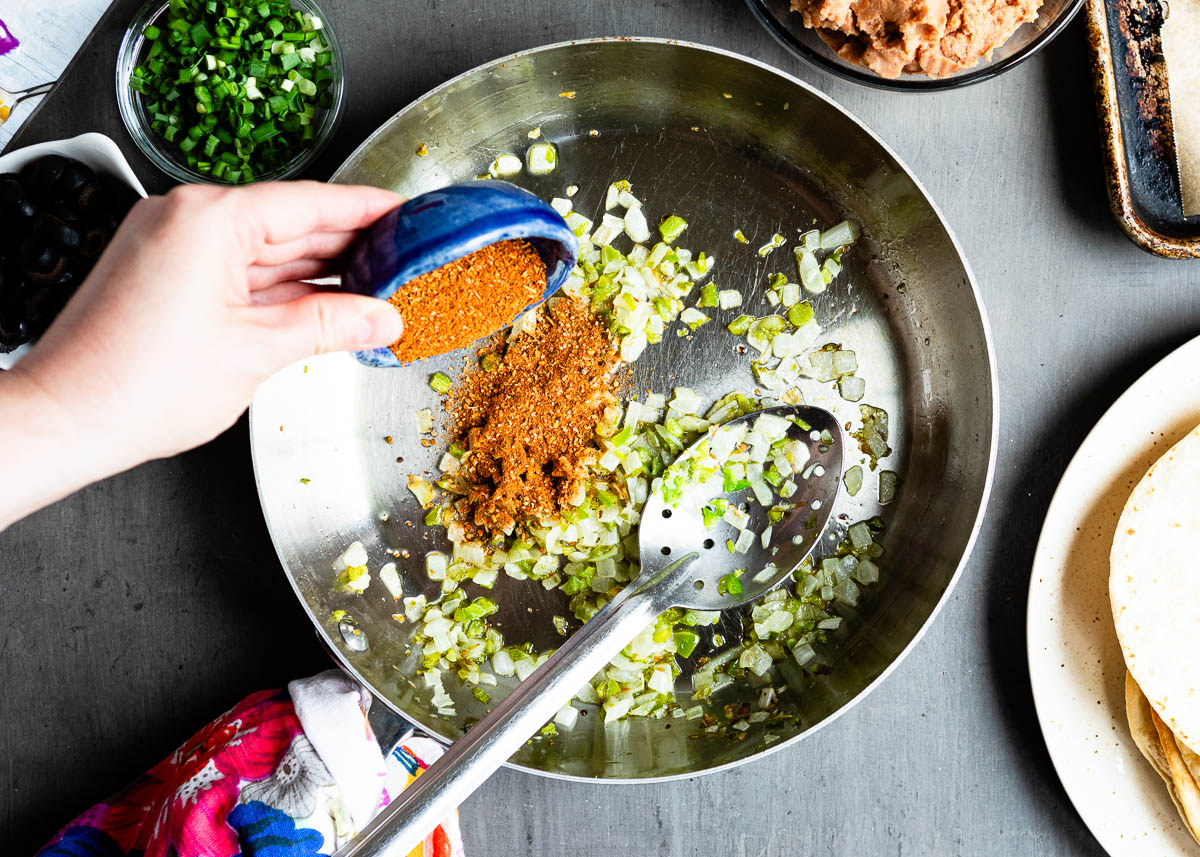 Step 3: Stir in the taco seasoning with a bit of water and the refried beans. Depending on how dried out your beans are, you may need to add a bit more water to get a creamy consistency. Remove this mixture from the heat.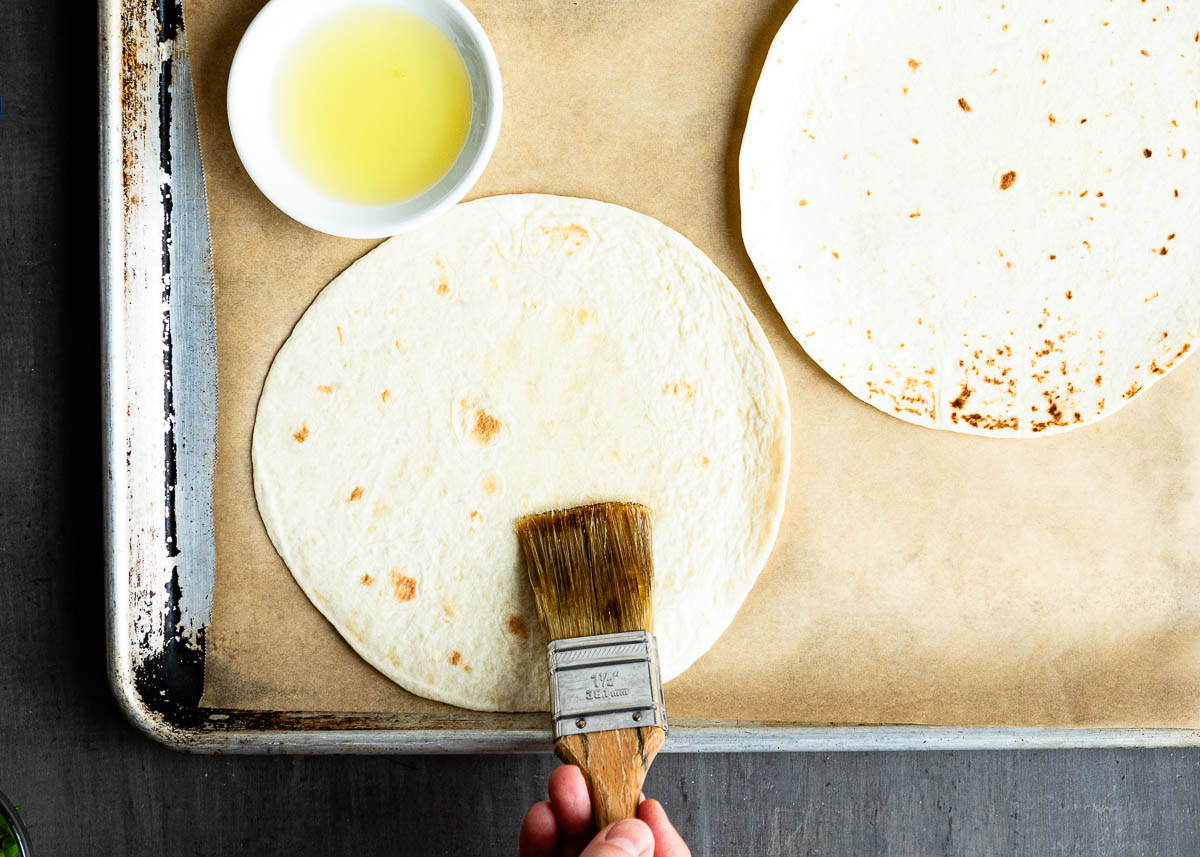 Step 4: Brush avocado oil on both sides of all your tortilla shells then place each shell in the prepared baking trays. They should be split between the 2 trays evenly and arranged in a single layer so they can crisp equally.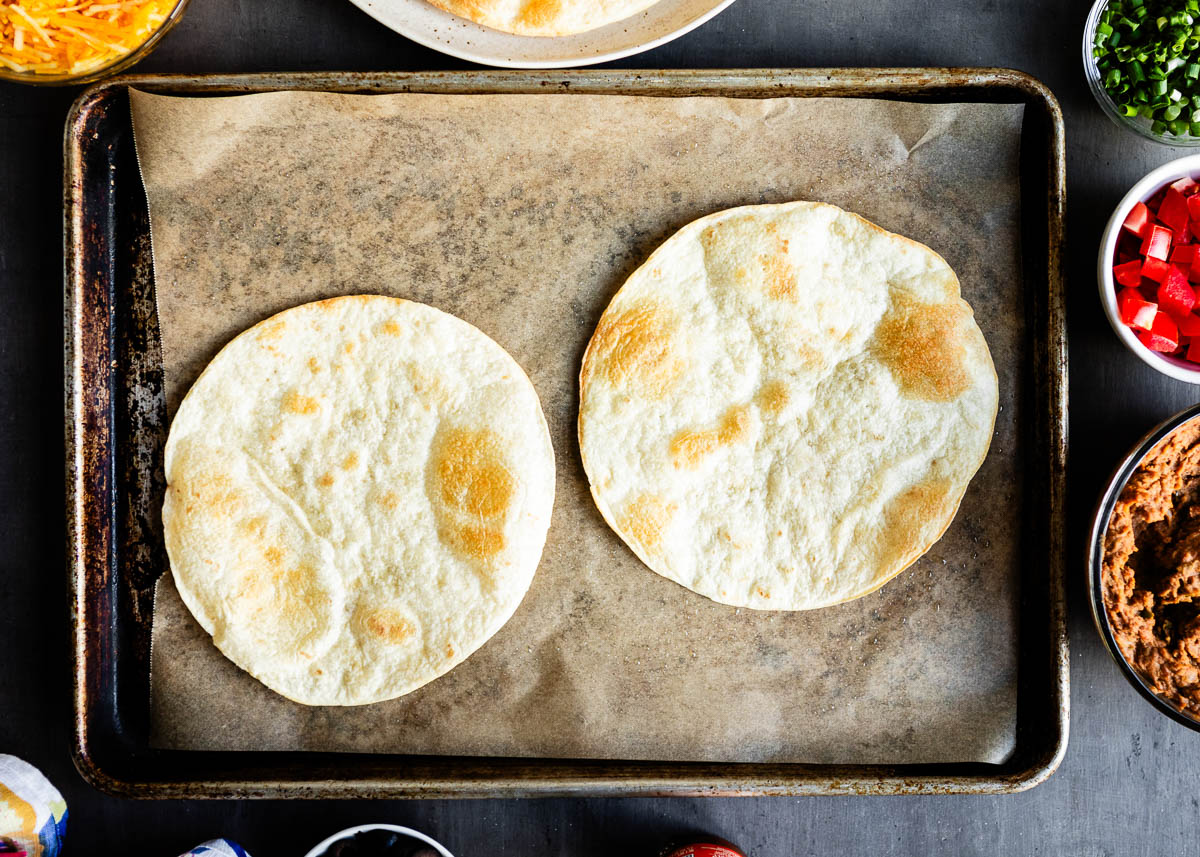 Step 5: Bake the tortilla shells for 5 minutes then flip and bake for 3 more minutes, or until all the shells are toasted.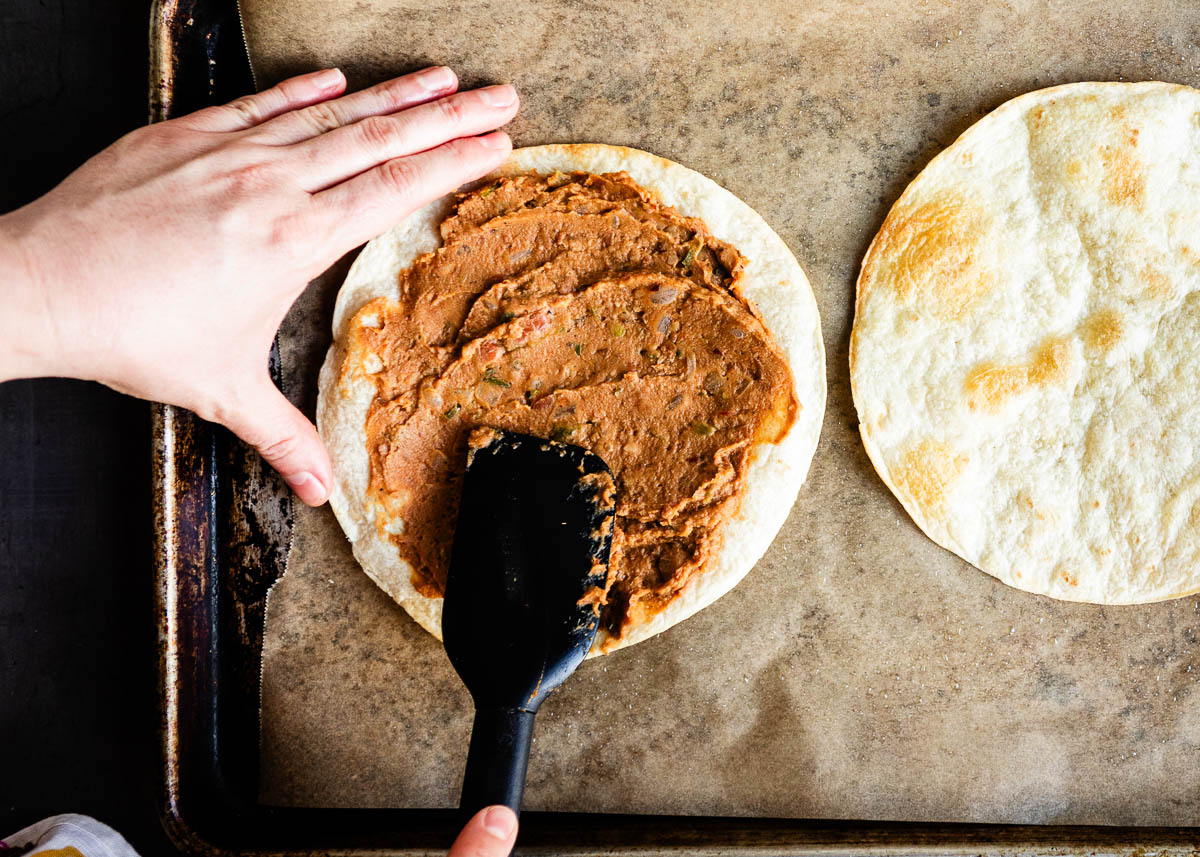 Step 6: Spread the refried bean mixture over the tops of half the toasted shells then cover the beans with the other toasted shells.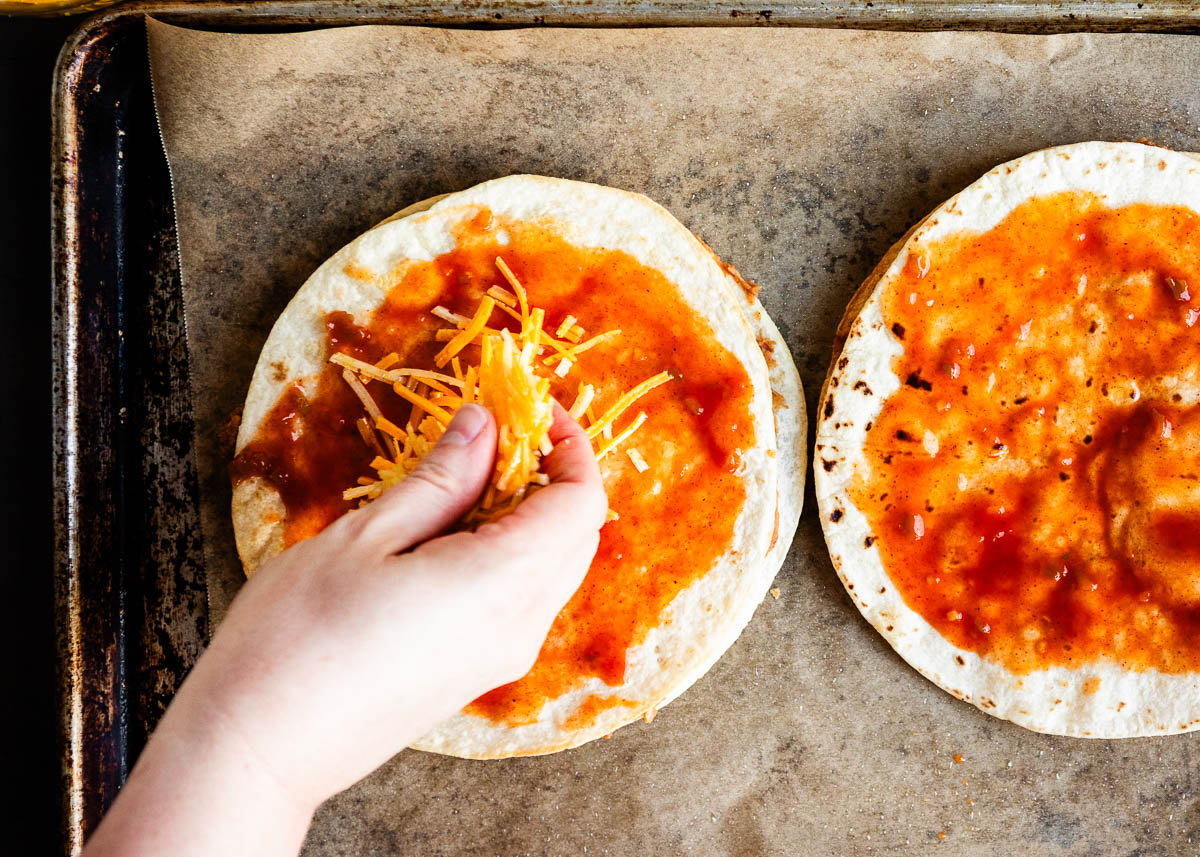 Step 7: Layer on the sauce, cheese, tomatoes, green onions and olives. Bake again in oven for 5 minutes or until the cheese is melted. Since vegan cheese varies from brand to brand, your melting time will also vary.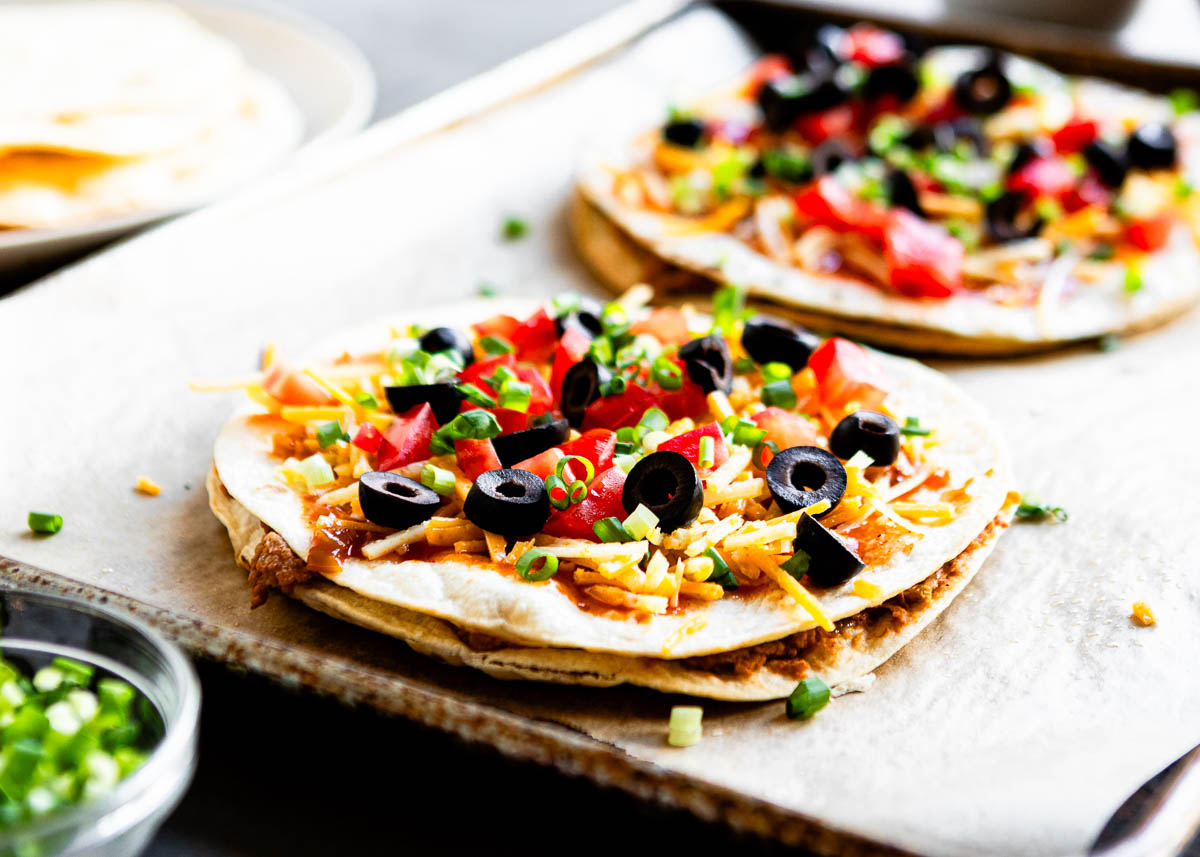 Step 8: Remove the pizzas from the oven and cut each one into 4 slices. Enjoy!
Homemade Mexican Pizza FAQs
Can the Mexican Pizza be vegan?
If you are at Taco Bell and want vegan version of the Mexican Pizza then swap the meat for refried beans and omit the dairy. Yet if you want an even better version that is completely animal-free then give my Vegan Mexican Pizzas a try. They use refried beans and vegan cheddar cheese. You can even use cashew cream as a vegan sour cream dipping sauce.
What are the Taco Bell Mexican pizza shells made of?
The Taco Bell Mexican pizzas are made using corn tortilla shells. You can use these in your homemade version, or swap them with toasted flour tortilla shells, whatever your preference.
Is Taco Bell's Mexican Pizza vegan?
No, Taco Bell's Mexican pizza isn't vegan. If you omit the meat for refried beans then you still have the cheddar cheese on it. Omit the cheese if you're at the restaurant, or consider making your own version using a vegan cheddar cheese.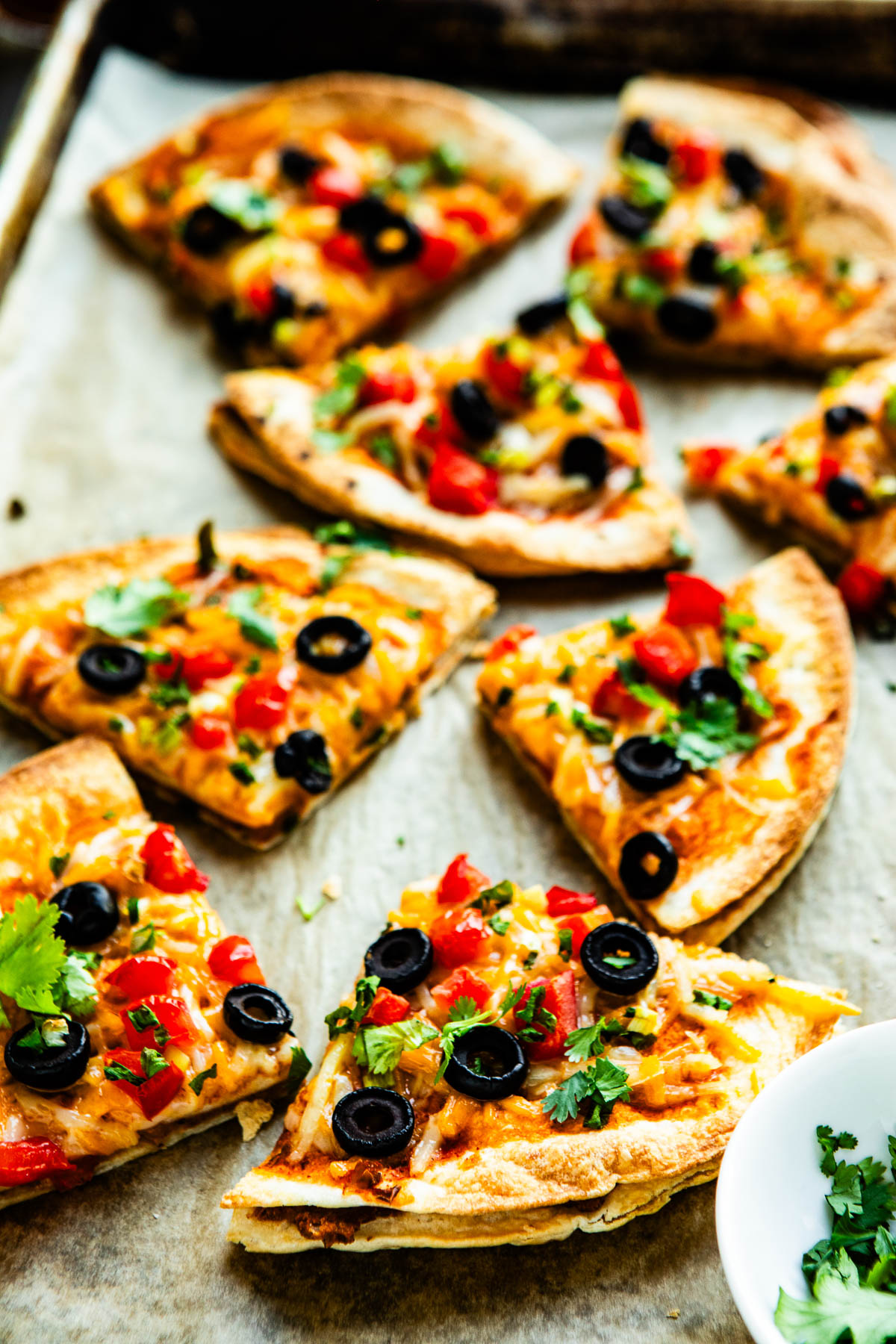 More Vegan "Fast Food" Ideas
I enjoy eating plant-based meals yet that often means more prep time. While I love calling green smoothies the best fast food since most of them take 5 minutes or less to throw together, I also wanna get down with some comfort food from time to time.
That's when I turn to my Vegetarian Ramen recipe, or this Chipotle Veggie Bowl. They're both fast and delicious! I've also got a freezer stash of the filling for these Thai Lettuce Wraps so I can grab a serving whenever I want PF Changs to-go.
What other fav menu items do you have from Taco Bell, or want as a vegan version? After rating this recipe, drop a comment and let me know!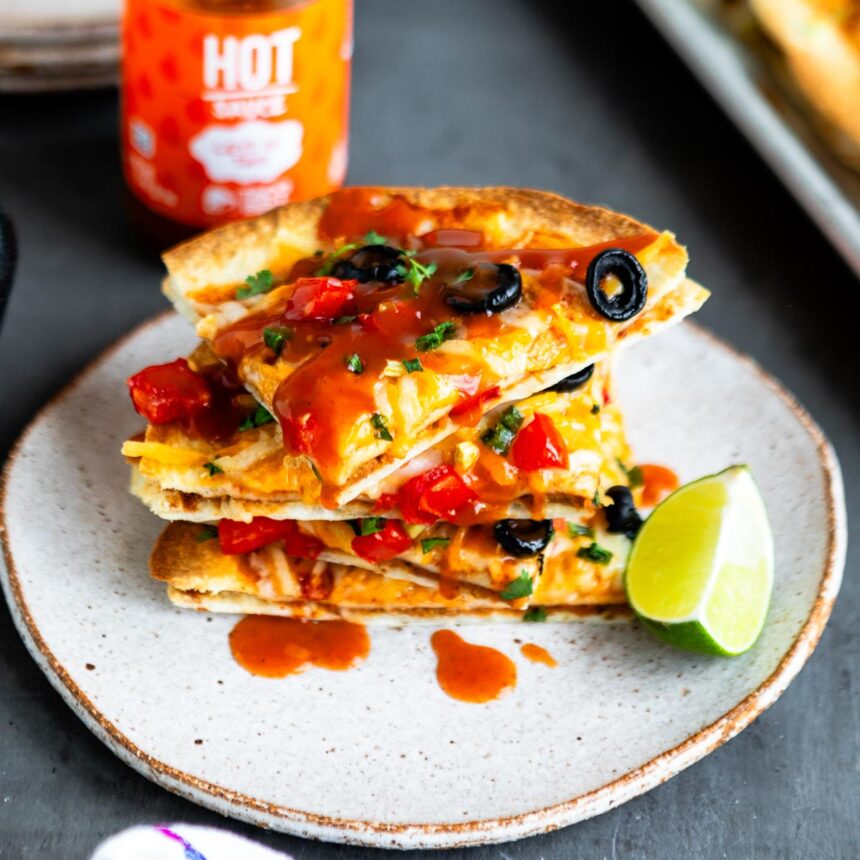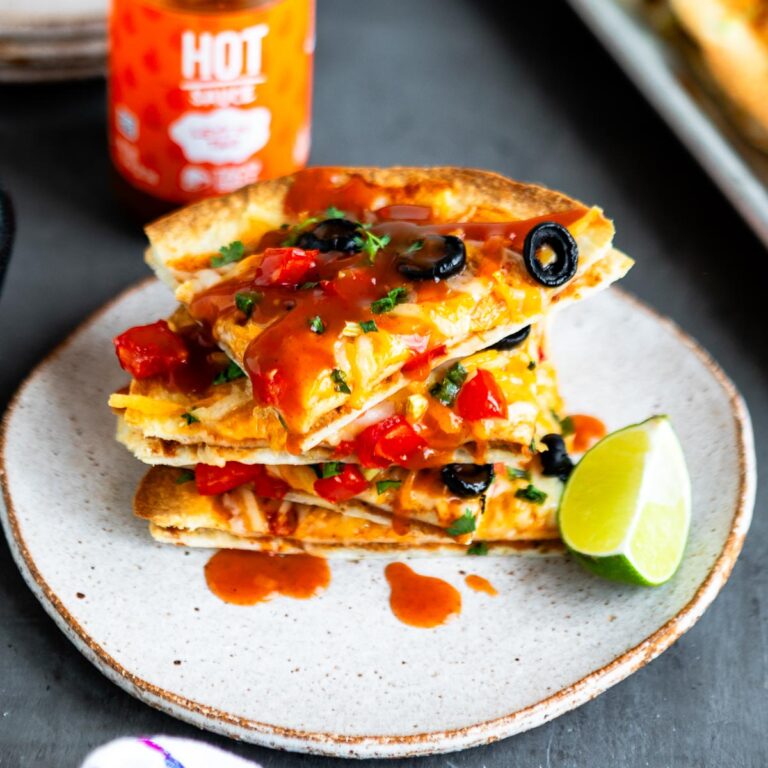 Vegan Mexican Pizza (Taco Bell Copycat)
If you love the idea of the Taco Bell Mexican Pizza yet want to make it vegan then try this fabulous version! It's got all the layers you want yet uses refried beans instead of meat and vegan shredded cheese. Top with tomatoes, green onions and olives and you'll feel just like you're eating fast food!
Ingredients
3

tbsp

avocado oil

½

yellow onion

chopped

1

jalapeño

chopped

1

tbsp

taco seasoning

1 ½

cups

refried beans

8

flour tortillas

¼

cup

Taco Bell Hot Sauce

2

cups

vegan shredded cheddar cheese

1

cup

tomatoes

chopped

¼

cup

green onions

sliced

¼

cup

sliced black olives
Instructions
Preheat oven to 400°F. Line 2 baking sheets with parchment paper.

Heat skillet over medium-high heat with 1 tablespoon avocado oil.

Sauté chopped onion and jalapeño for 5 minutes or until onions are lightly golden.

Stir in taco seasoning and refried beans. If it's really thick then add a little water and stir until the mixture reaches a creamy consistency. Remove from heat.

Brush avocado oil on both sides of each tortilla shell. Split the shells between the 2 prepared baking sheets and bake for 5 minutes (there should be 4 shells on each sheet in a single layer; if you double or triple the recipe, you'll need to bake the shells in batches). Flip and bake for 3 more minutes, or until tortillas are toasted. Remove from oven.

Spread the refried bean mixture on the tops of half of the baked tortilla shells. Place the remaining plain tortilla shells on top of the beans. Each one be tortilla shell, refried beans then tortilla shell.

Layer the Taco Bell Sauce, shredded cheese, tomatoes, green onions and olives on the tops of the tortilla shells. You should end up with 4 total pizzas.

Return the baking sheet full of layered pizzas to the oven for 5 minutes, or until the cheese is melted and golden. Depending on the vegan cheese you use, the melt time may vary. Remove from oven and cut each pizza into 4 wedges to serve.
Notes
Swap fresh jalapeños with pickled jalapeños or for a no-spice option, green bell pepper.
Swap yellow onion with purple onion for sharper taste.
You can use enchilada sauce instead of Taco Bell Sauce, or your fav sauce for tacos.
Swap refried pinto beans with cooked black beans.
If you still want that "meat" texture then feel free to add some Walnut Taco Meat instead of or alongside with the refried beans.
You can use corn tortilla shells instead of flour, yet they will be smaller so you'll make a few extra "pizzas".
For Serving: 
If you want a dairy-free sour cream option then use my Cashew Cream to dip/drizzle when serving.
Vegan Avocado Crema also works as a delicious dipping sauce.
Nutrition
Calories:
547
kcal
,
Carbohydrates:
58
g
,
Protein:
11
g
,
Fat:
29
g
,
Saturated Fat:
7
g
,
Polyunsaturated Fat:
3
g
,
Monounsaturated Fat:
9
g
,
Sodium:
2101
mg
,
Potassium:
234
mg
,
Fiber:
9
g
,
Sugar:
7
g
,
Vitamin A:
601
IU
,
Vitamin C:
23
mg
,
Calcium:
175
mg
,
Iron:
4
mg