You're in for a treat with our latest healthy meal plan that includes breakfast, lunch, dinner…and snacks. If you're looking for the best weekly weight loss meal plan, look no further. All of our recipes use clean ingredients and embrace plant-based whole foods.
If you stick with this meal plan for 7 days, you should see weight loss. All of our recipes are high in fiber, low in fat and packed with nutrients. This Weight Loss Meal Plan is for those trying to quit sugar, gluten, meat, or dairy. Removing these common inflammatories from you diet can enhance weight loss results, improve skin conditions, energy levels and overall health. The power of food is real! Experience it with me!
Table of Contents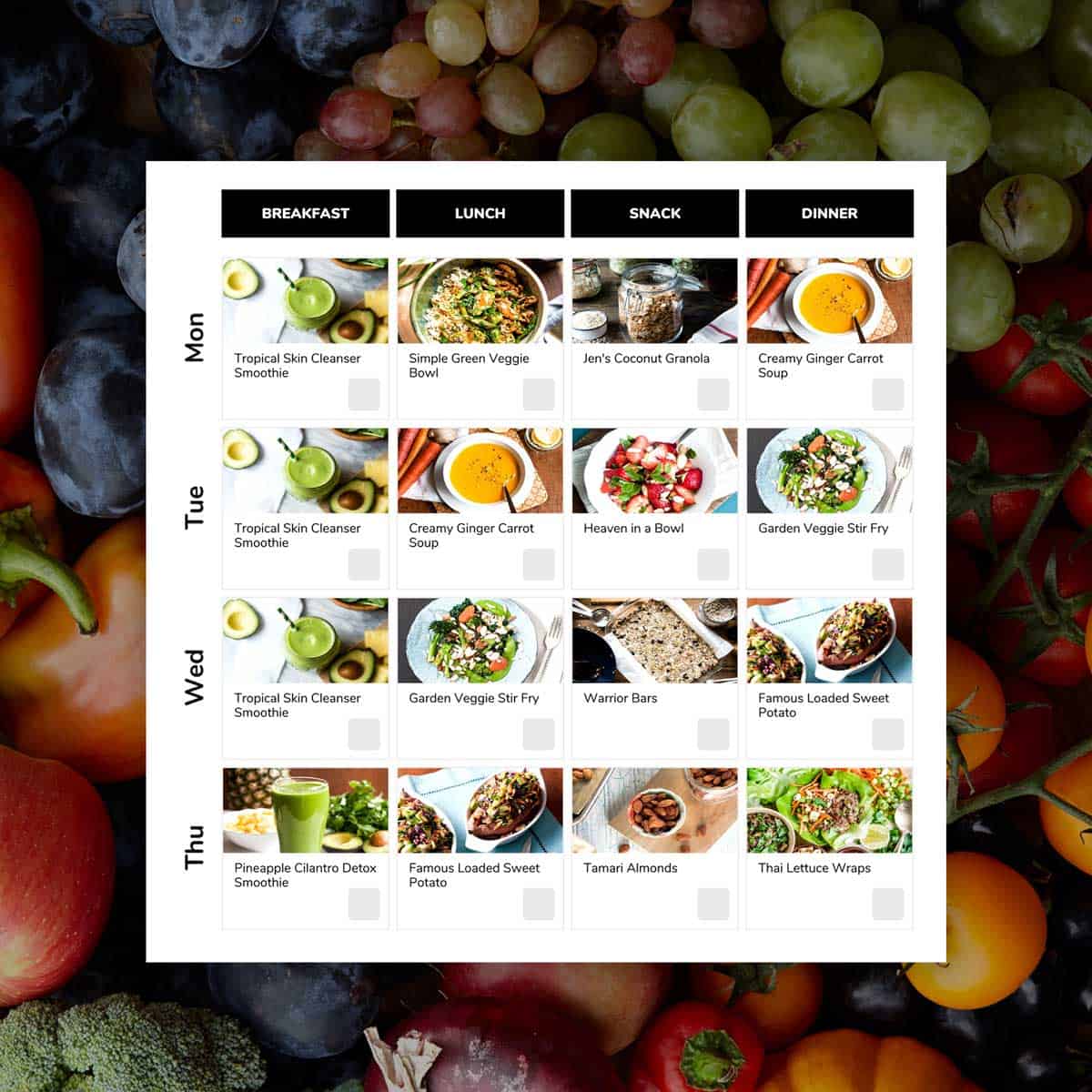 If you want something super fast to help your body reset, then try the 3-Day Smoothie Diet Plan. Yet if you want a week's worth of nourishing meals then keep reading.
Understanding the Meal Plan
I'm just transitioning out of our Seasonal Cleanse where I've lost 9 pounds (and gained a TON of energy). We gave up sugar, gluten, meat, dairy and caffeine for 21 days and reset our bodies with 100% plant-based whole foods. I plan to keep the momentum going and lose my "COVID 15", which is where this weight loss meal plan comes into play.
Weight Loss Meal Plan Framework
Here's the key features to help reduce inflammation, nourish the body and promote weight loss:
Gluten free
Vegan
Dairy Free
Low in sugar
I created this 7-day meal plan using Rawk the Year, making sure to include tasty recipes that are light, energizing and nourishing. You can create your own plant-based meal plans with our free 14-day trial. (You won't regret it.)
Recipes to Promote Weight Loss
Each recipe has been chosen for a specific purpose in the weight loss meal plan. You'll be eating a wide variety of vegetables, fruits, nuts and seeds this week.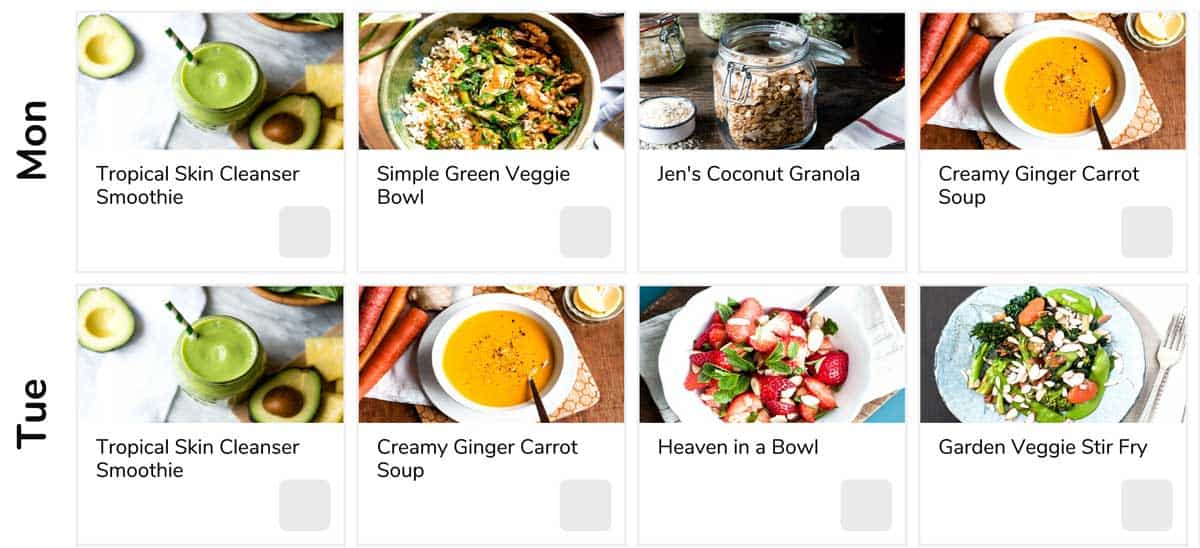 ---
---
---
Sunday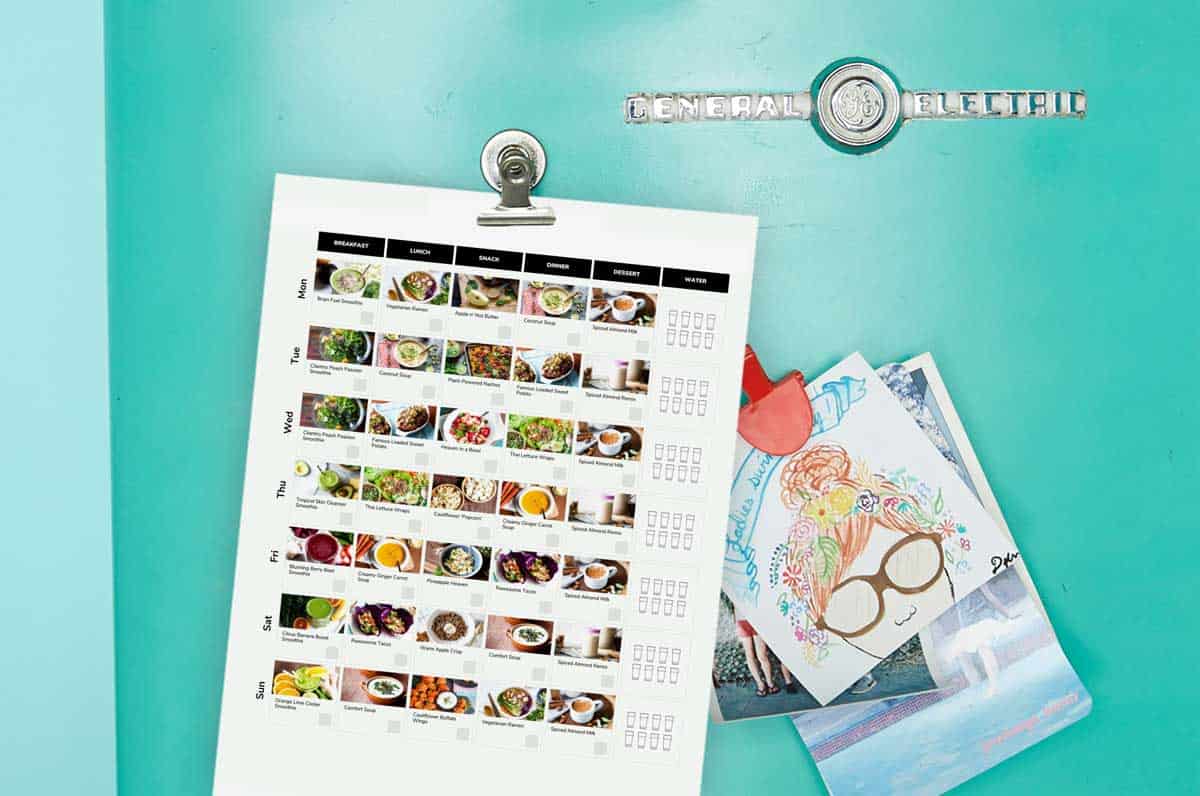 Understanding Portion Sizes
One of the biggest culprits of weight gain is eating more calories than you're burning. It's important than you stick with the measurements and servings to achieve the results you desire: weight loss. I've built this meal for one person (so double if you're doing this with a loved one). Here's some more tips on portions:
Each dinner makes two servings— the second serving is meant for lunch the next day.
When you blend the smoothies, you can store the additional servings in the fridge with a lid so they're ready to go the next day.
Each snack makes a few servings and you can pick which ones to make and enjoy.
Grocery Shop in 30 minutes
With the free grocery list included in the Weight Loss Meal Plan, you can get everything you need in 30 minutes or less. I like to do online grocery pickup to save even more time, yet if you hit the store, you can burn extra calories. So you… do you.
More 7-Day Meal Plans
If you loved this easy meal plan, then try out another free plan for next week! I know how hard meal planning can be so grab one below and put those hours to better use enjoying other things in life than planning what you'll eat. If you have other "meal plan" requests, leave a comment below and let me know. I'm excited to share more of them with you!