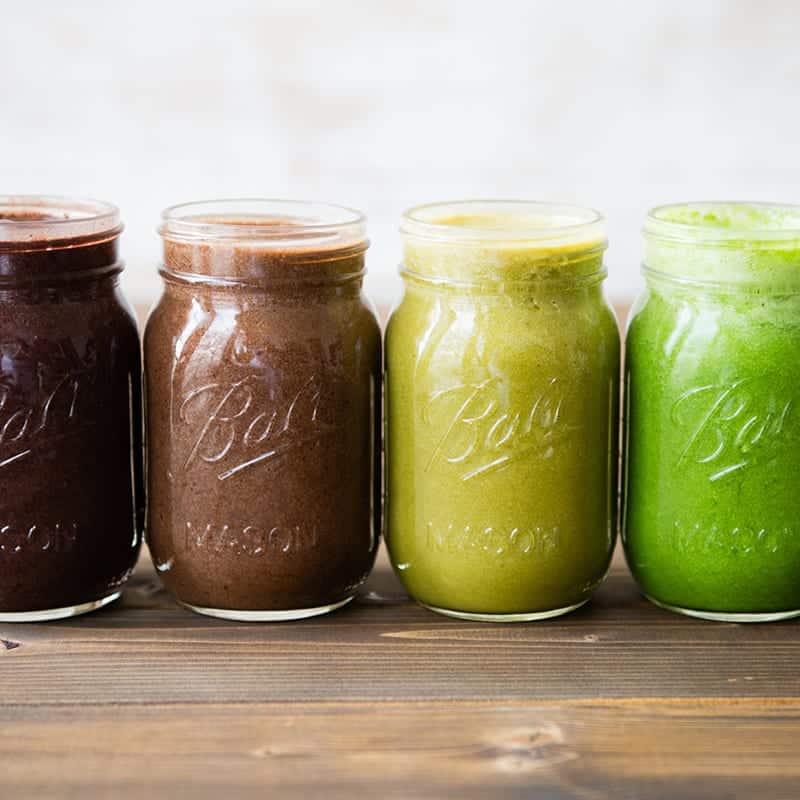 Hello soon-to-be leafy lover!  You may have seen your co-worker downing a glass of green liquid pulp and wondering why would any one drink that. Well, these green smoothies are a quick and easy way to get large amounts of fruits and leafy greens into your daily diet— and give your body the plant-based nutrients it craves. And we promise you they are tasty! We're here to help show you how to make a green smoothie.
What the heck is in there?!
That's always one of the first questions we get when we're sharing how to make a green smoothie — and its a good one! Well, it's a pretty simple (and tasty) combo: leafy greens + fruit +  liquid-base … and maybe some fancy superfood toppings. It may seem like a crazy diet fad, but honestly once you try a green smoothie, you'll most likely become insanely addicted (like us)! And there is nothing better than downing 2 cups of spinach a day in a delightful fashion.
And if you want to get all scientific, dark leafy greens contain: high-quality amino acids, important minerals, vitamins, antioxidants and beneficial phytonutrients. Phytonutrients are plant-based chemicals that support your immune system, improve health and longevity, and may reduce life- threatening diseases. I know that's a mouthful, so that's why when you hang out with us, we try to keep the green smoothie lifestyle simple and fun. I think we can both agree fruits and vegetables are good for you.
Ready to start blending? Try my favorite green smoothie recipe of all time: Beginner's Luck Green Smoothie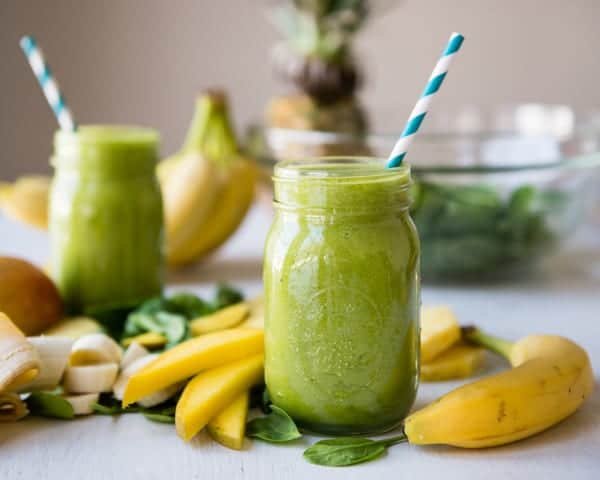 5 Reasons we love green smoothies
1. Natural energy booster to keep a little pep in your step in the morning (and during those afternoon slumps).
2. Natural weight loss can be a happy side effect of gulping these in place of a typical breakfast (just make sure to include healthy fats and protein to make it a more complete meal).
3. Stay healthy all-year-long. Simple way to boost your immune system when you're feeling under the weather.
4. Packed with disease-fighting antioxidants. The phytonutrients in leafy greens boost your body's immune system and keep it functioning properly.
5. Hands down— The best fast food. It takes less than 5 minutes to make a green smoothie (and clean up!) and they're super easy to take on the go– especially when you prep ahead.
Green smoothie blending tips:
1. Tightly pack 2 cups of leafy greens in a measuring cup and then toss into blender.
2. Add 2 cups of water and blend together until all leafy chunks are gone.
3. Add 3 cups of fruit and blend again until smooth.
4. Pour into a mason jar (or cute cup of your choice).
5. Gulp or sip like a rawkstar!
The Best Formula: How To Make a Green Smoothie
PSSST! Got an allergy to mango or pineapple, or not a big fan of bananas? You can substitute any fruit with another fruit with a one to one ratio.
Jump on the green smoothie bandwagon!
Join us for our always free Simple 7 : Your kick start to healthy habits. Get access to more green smoothie recipes, a shopping list, and a rawkin' community of people cheering you on for 7 straight days –> sign-up here.