During the summer I make sure my smoothies are loaded with natural energy and healthy fats to help my skin stay happy in the hot sun. When school starts, my smoothie is full of immunity-boosting plants to keep my family as healthy as possible. Around holidays or other heavy-food events, I want a smoothie with natural heartburn relief ingredients so that I can eat without care. Today's acid reflux smoothie recipe is just that, a soothing beverage using food to heal your body of those uncomfortable heartburn symptoms.
While smoothies are a great way to start my day off with the right nutrition and energy boost, I also utilize smoothies as a way to fuel my body with targeted ingredients. I can't wait to share this soothing smoothie recipe with you!
This recipe is sponsored by Boiron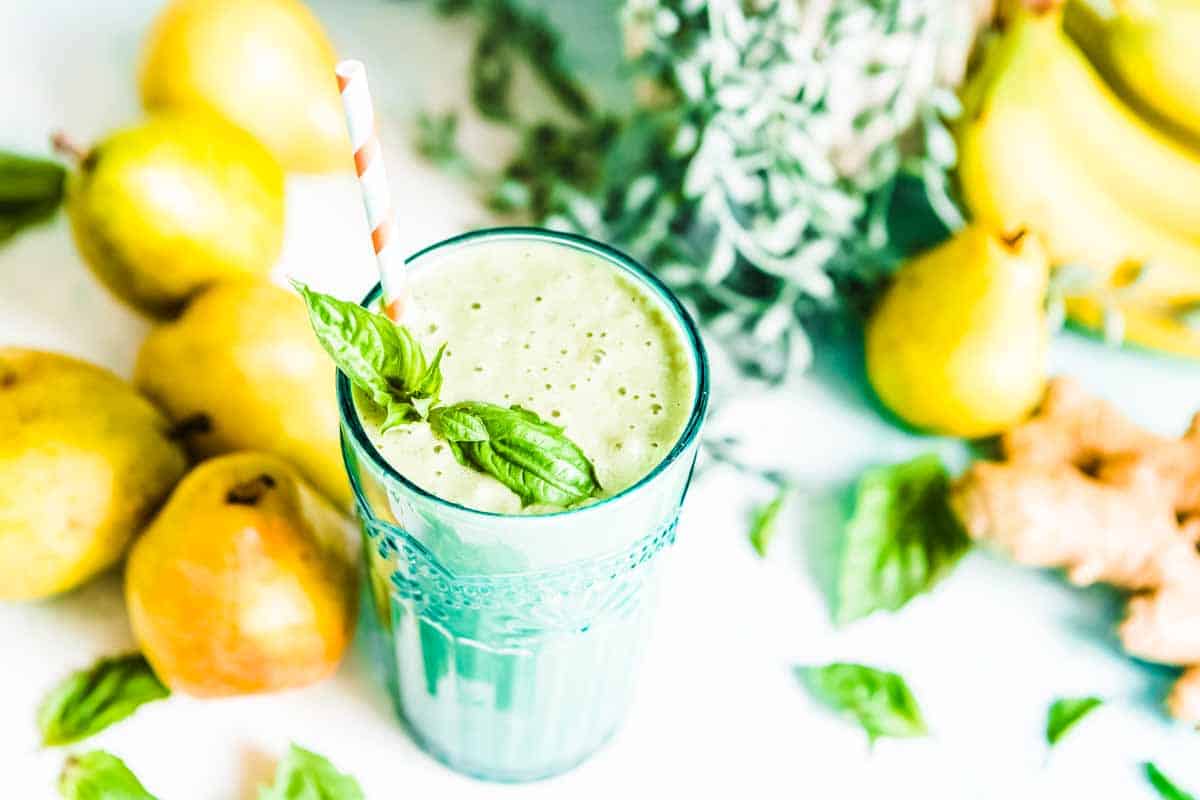 Table of Contents
Sipping Smoothies to Help with Heartburn
The acid reflux smoothie I created below is made with ingredients that help provide natural heartburn relief. They go down pleasantly, stay down, and soothe.
Cashew milk and basil help minimize stomach acid.
Spinach reduces stomach acid secretions because it's naturally low in fat + sugar.
Pear adds fiber and natural sweetness. Just make sure it's super ripe.
Ginger is naturally anti-inflammatory, and is therefore used in many natural heartburn treatments.
Banana is a non-acidic food known to soothe the esophagus and stomach.
Oatmeal is naturally high in fiber, and diets high in fiber have fewer instances of heartburn.
Hopefully this acid reflux smoothie can help soothe your esophagus along with calming your whole body. It tastes light and is just the right amount of sweet for anyone with a sensitive palate.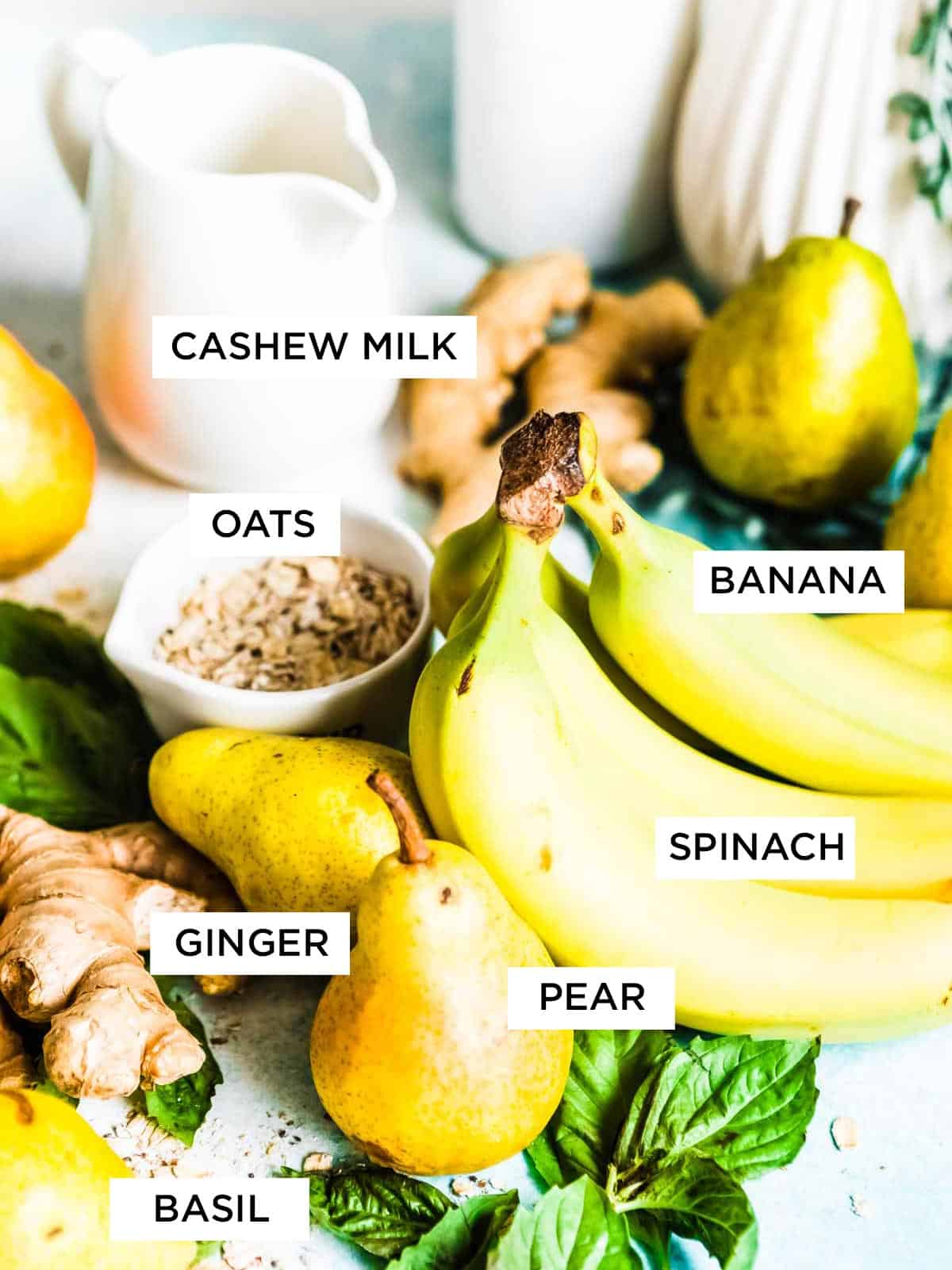 What to Drink for Acid Reflux
If the smoothie recipe below helps naturally provide heartburn relief, then try these drinks as well:
Herbal tea– Herbs are great for a variety of ailments, and can assist with acid indigestion as well. Look for a stress relief chamomile or a tea targeting digestion if you want natural heartburn relief.
Low-acid smoothies– fruits like bananas, coconuts, dates + figs, melons, papaya, berries and stone fruits like nectarines and peaches are low acid options. The smoothie recipe below is also a great option!
100% fruit juice– Juice made from 100% fruit like peaches, berries and coconut can keep symptoms at bay.
Water– While this seems like an odd choice, hear me out! Water really does help the body process food, and keep things moving down (instead of up).
Golden milk– turmeric is naturally anti inflammatory and can help soothe.
Dairy-free milk like almond, oat or coconut- if dairy becomes too heavy for you, then switching to a plant milk can help calm down heartburn symptoms. My acid reflux smoothie contains cashew milk, yet swap in the preferred milk of your choice.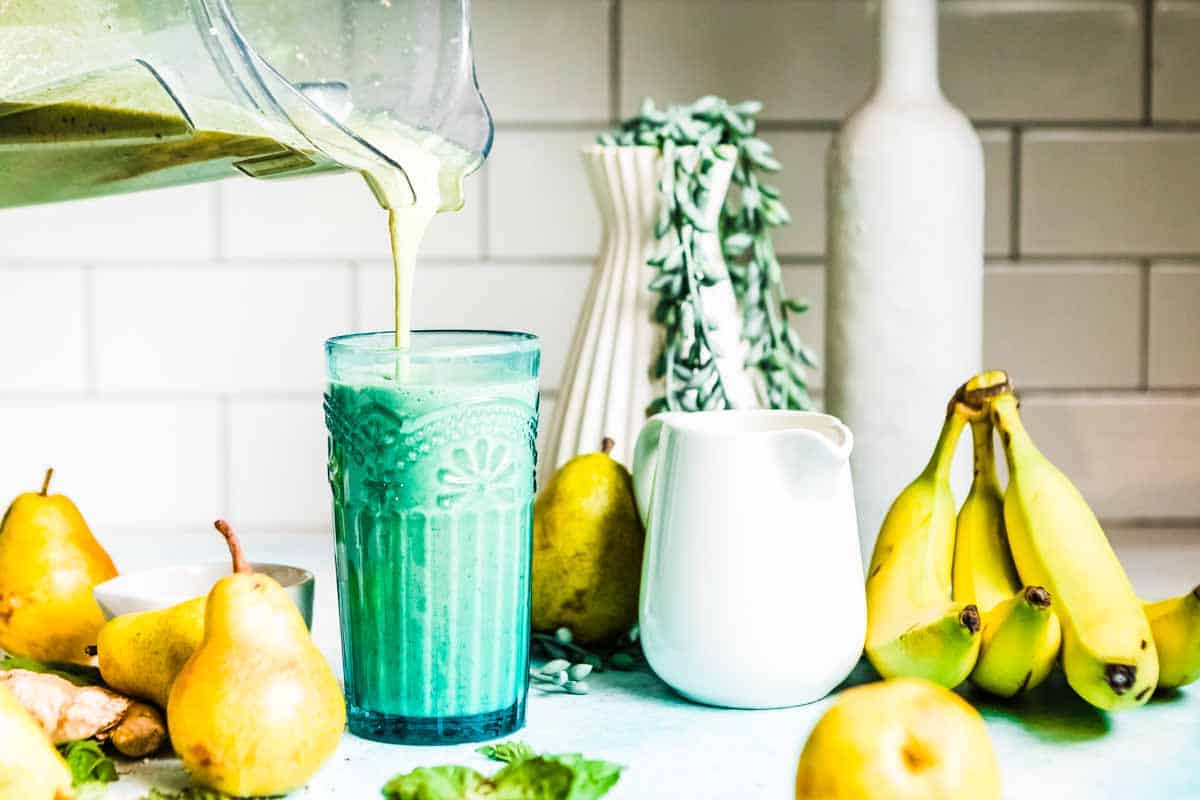 Foods That Aid in Natural Heartburn Relief
If you're looking to get some natural heartburn relief, then look for foods like the following:
High fiber foods: oatmeal, brown rice and other whole grains as well as root veggies like carrots and sweet potatoes, and green veggies like leafy greens, asparagus, and green beans
Low acidic foods: bananas, melon, cauliflower, fennel, and nuts
Foods with a lot of water: cucumbers, celery, lettuce, watermelon, broth, tea
Avoid highly processed, fatty, and acidic foods, as these cause more instances of acid indigestion and a lot of discomfort.
More Indigestion Relief Recipes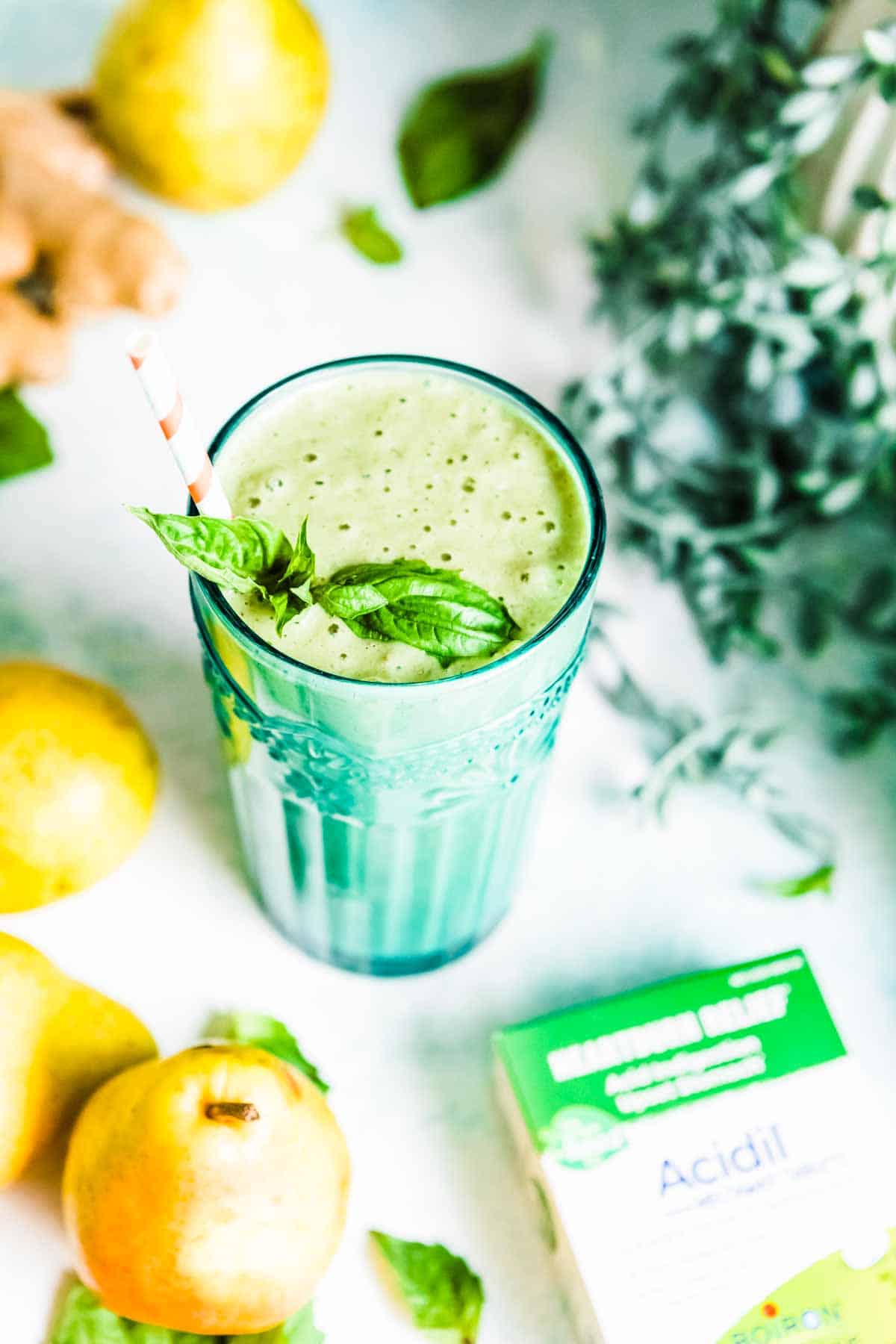 If you're ready to use the power of plants for natural acid reflux relief, then check out these recipes below. My goal is to provide ways to nourish you as well as help you feel better, and these recipes can do just that:
Eating doesn't have to be a dreaded task! Food should be delicious as well as help you fuel your passions instead of holding you back. Even this acid reflux smoothie tastes great while also helping you feel your best.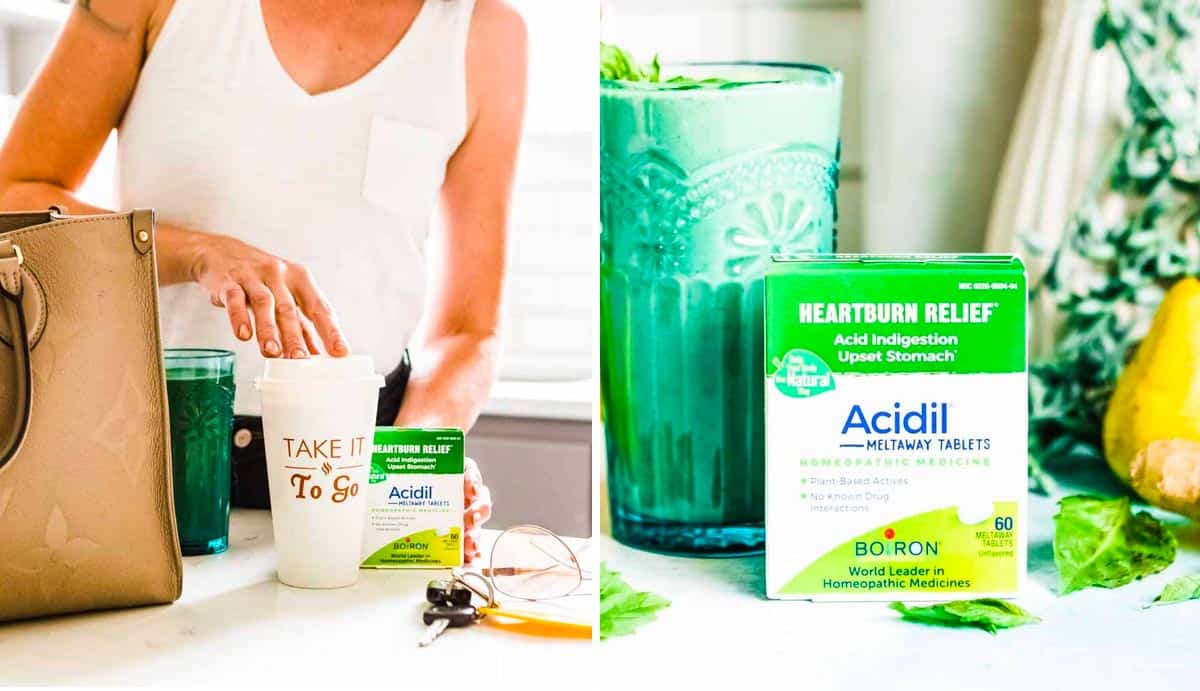 Homeopathic Remedies
Aside from the soothing smoothie recipe we're sharing today, Acidil is a homeopathic acid indigestion/plant powered heartburn relief aid that can help as well, especially when you're out and about. I always bring their Arnica into the Grand Canyon. It helps with me to help with muscle aches and have their Oscillococcinum in my home "farmacy" at all times.
Acidil is made with plant-based active ingredients and conveniently dissolve in the mouth to relieve acid indigestion, bloating, and upset stomach. Easy to take without water, Acidil can be used any time symptoms strike, especially when traveling or out on the trail.
FAQs for natural heartburn relief
What home remedy kills heartburn?
chewing on raw ginger, or adding it to a soothing tea with honey can help. Consuming foods that are low acid, and high fiber can also help.
What can I drink to relief heartburn?
herbal tea, low acid smoothies, 100% fruit juice, water, golden milk, and plant milk are all beverages that can help in acid indigestion relief.
What is the best natural antacid?
Baking soda in water is a great way to neutralize stomach acid and stop heartburn symptoms. If you're on the go and need convenient relief, then reach for the homeopathic remedy by Boiron called Acidil as it will dissolve under your tongue with or without water, and easily relieve symptoms.
Don't forget to rate + review this smoothie once you make it! I value your feedback.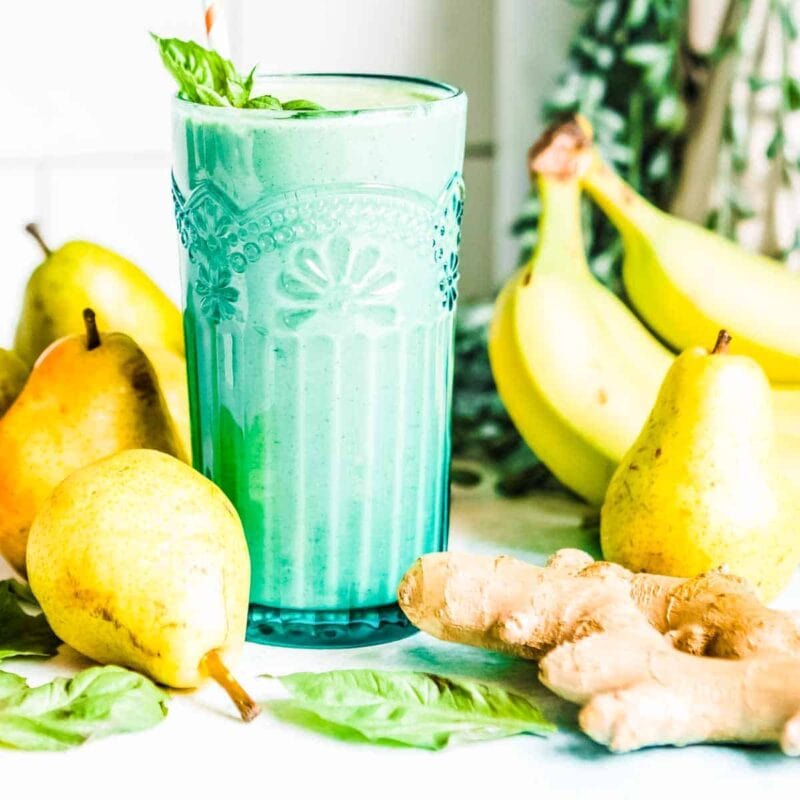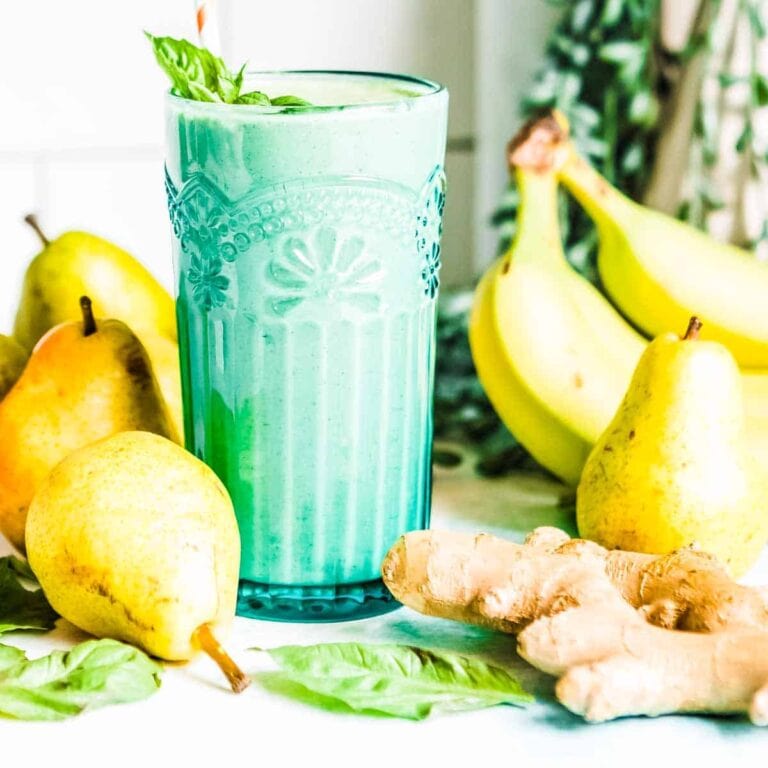 Acid Reflux Smoothie
Stop heartburn in its tracks with this soothing acid reflux smoothie. Calm flavors + ingredients that actively fight acid reflux combined for a pleasant beverage. 
Ingredients
¾

cup

cashew milk

5

fresh basil

just leaves

¼

cup

spinach

½

inch

ginger root

1

banana

frozen

½

pear

⅓

cup

rolled oats
Instructions
Blend cashew milk, basil leaves, and spinach until smooth

Add remaining ingredients and blend again

Serve over ice for a refreshingly cool smoothie
Notes
Use at least 1 frozen fruit for a cold smoothie.
Feel free to add more basil or ginger for a bolder flavor.
Nutrition
Calories:
282
kcal
,
Carbohydrates:
60
g
,
Protein:
5
g
,
Fat:
4
g
,
Saturated Fat:
1
g
,
Polyunsaturated Fat:
1
g
,
Monounsaturated Fat:
1
g
,
Sodium:
130
mg
,
Potassium:
686
mg
,
Fiber:
9
g
,
Sugar:
23
g
,
Vitamin A:
907
IU
,
Vitamin C:
17
mg
,
Calcium:
39
mg
,
Iron:
2
mg