Looking for a simple yet tasty breakfast? Then you've gotta try this apple cinnamon baked oatmeal that can easily be reheated and enjoyed as dessert too! My baked oatmeal recipe can be made once and enjoyed all week long for easy breakfast (or lunch or snack…).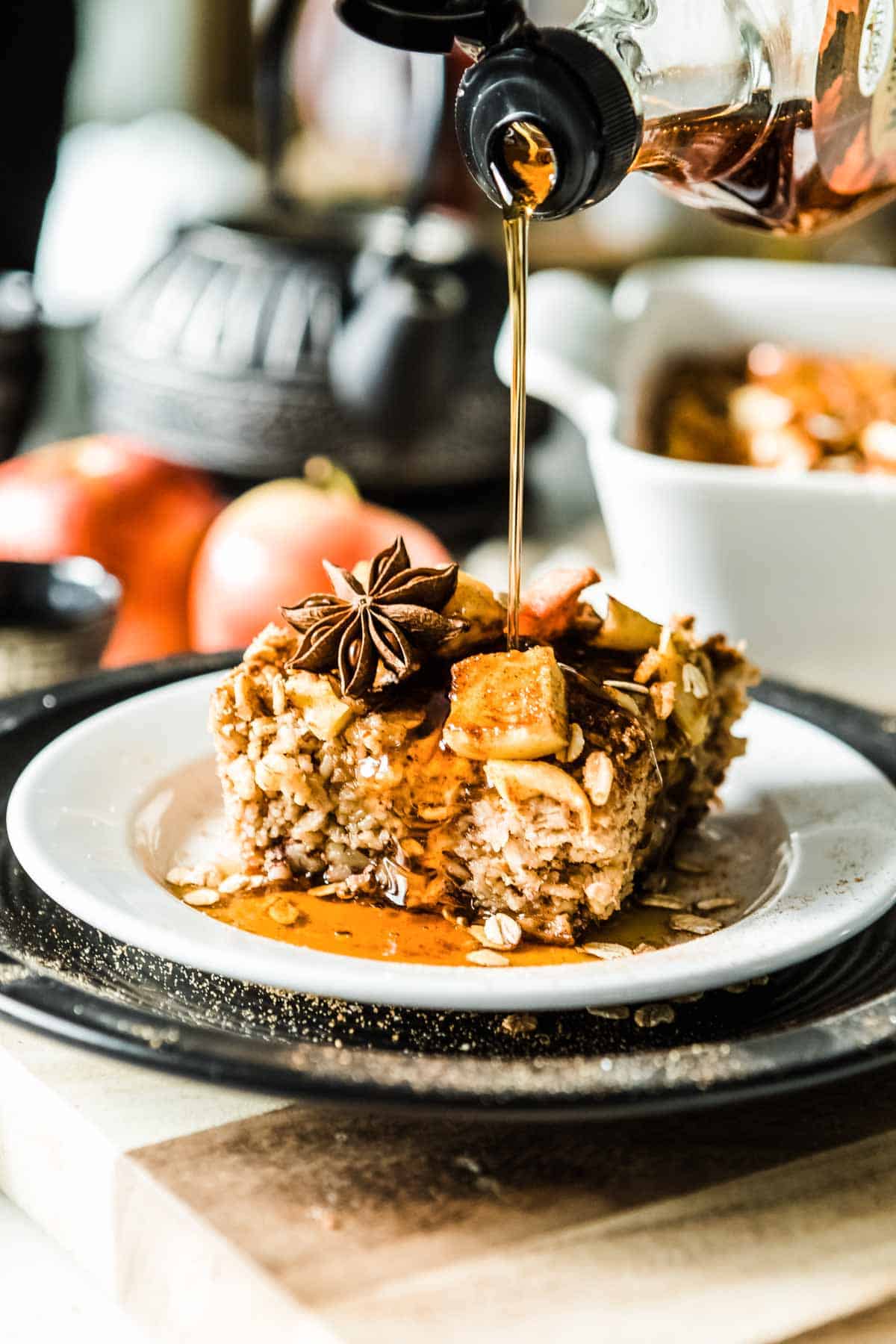 When I'm getting ready for a long morning run, or setting off on a R3 trek of the Grand Canyon, baked oatmeal is my go-to breakfast. It sticks to my body and keeps me full for those hard workouts.
This baked oatmeal recipe is great for a family breakfast… or as a quick meal prep tool (just bake once, then enjoy apple cinnamon oatmeal all week!). Make sure to also check out my Carrot Cake Oatmeal recipe if you're a carrot cake lover… like me.
Table of Contents
Best Oats for Baking
Before we dive into this lovely recipe, let's talk oats. How do I know what kind is the best kind? There are so many to choose from, yet I chose good old-fashioned oats for this recipe. Why? They bake evenly, have a great texture, and a slightly nutty taste that really shines through when baked.
Quick oats can be used in a pinch, yet they will change the overall texture + not fluff up as nicely. So look for old-fashioned or 'regular' oats. Steel-cut oats won't bake correctly for this recipe, plus they will taste off. I know a lot of people like steel-cut, yet I promise you won't be disappointed with my oat choice in this baked oatmeal.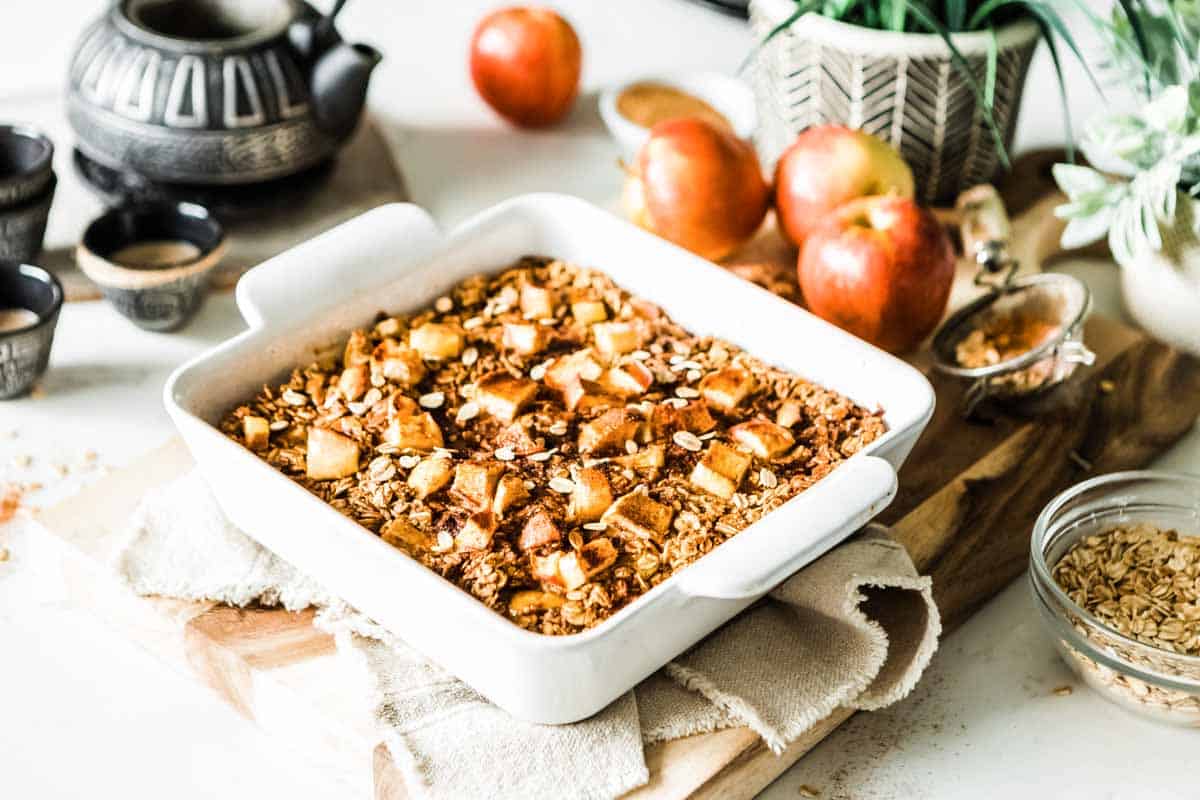 Baked Oatmeal Recipe
To take out a step in this recipe, buy already roasted (not salted) pecans. They lose some nutrients when they are pre-roasted, yet are still delicious. Then you can go straight to preheating + mixing up your ingredients.
Arrowroot powder can be swapped in for the baking powder. If you can't have almond milk, then any kind of dairy free milk works great. Swap out oat flour with all purpose gluten free flour, or almond flour.
Mixing the flaxseed in with the wet ingredients helps turn it into a bonding agent. That's why you want to let the wet ingredients sit for 5 minutes after mixing together.
To make a more streusel-like topping, mix melted coconut oil in a bowl with the pecans, maple sugar, and some cinnamon. Then spoon the mixture over top of the oatmeal mix in the pan before baking.
Easy Variations of Baked Oatmeal
If you want to cut back on the sugar in this recipe, then simply omit the sprinkled coconut sugar on top. Using green apples will also cut back on the natural sugar, making this a slightly tart recipe (which still tastes amazing!).
This can also be made with raspberries or blueberries in place of apples. Just know blueberries might create a bit more liquid at the end – think slightly syrupy finish.
Don't be afraid to play with spices here too! Pumpkin spice would be a great variation, in place of just cinnamon.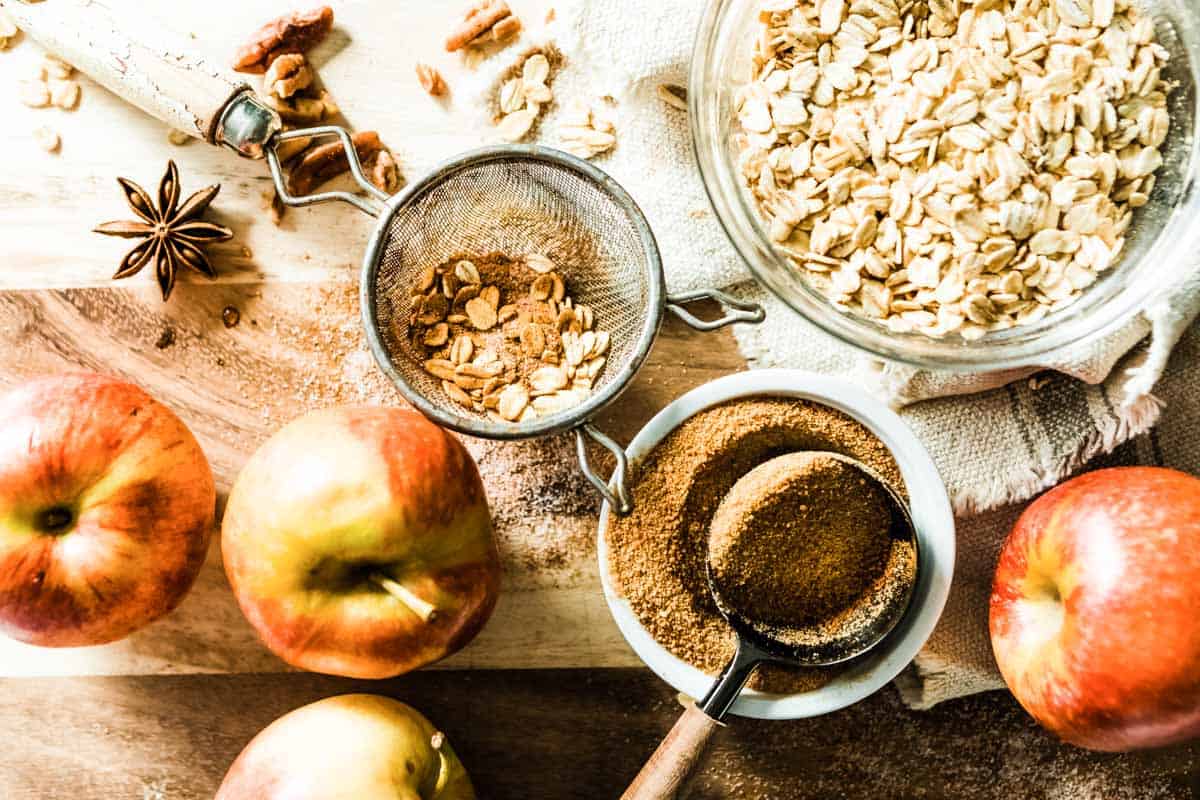 6 More Breakfast Recipes
If you struggle to find great plant based breakfast recipes that actually taste good, then you're not alone! Here are some more great options:
Whether it's quick n' easy or slow and leisurely, I've got breakfasts that will work for you. Or, check out any of my smoothie recipes for the ultimate fast food breakfast. I want breakfast to taste great, so my family has tested + approved all these recipes, including this apple cinnamon baked oatmeal.
Plant Based Breakfast Prep Made Easy
I love fueling my body with nutrient-dense meals, yet it's hard to plan it all out with my family's schedule. So I decided to do something about it! I created Rawk the Year as a practical tool to help make meal planning a breeze. I actually use it too (seriously!).
If you're ready to eat delicious meals on a weekly basis, and have the planning + shopping lists created for you, then this meal planner is for you. And you can check it out for 14 days completely free, right now. You'll get hundreds of plant based recipes as delicious as this baked oatmeal, right at your fingertips.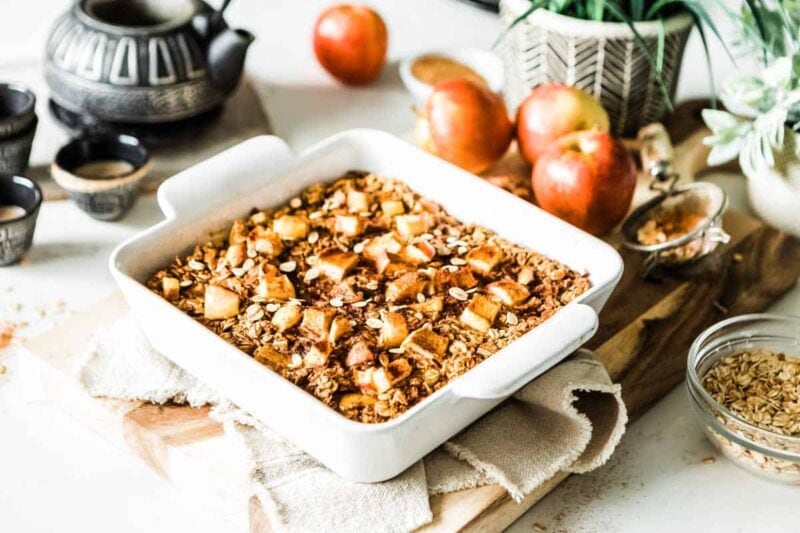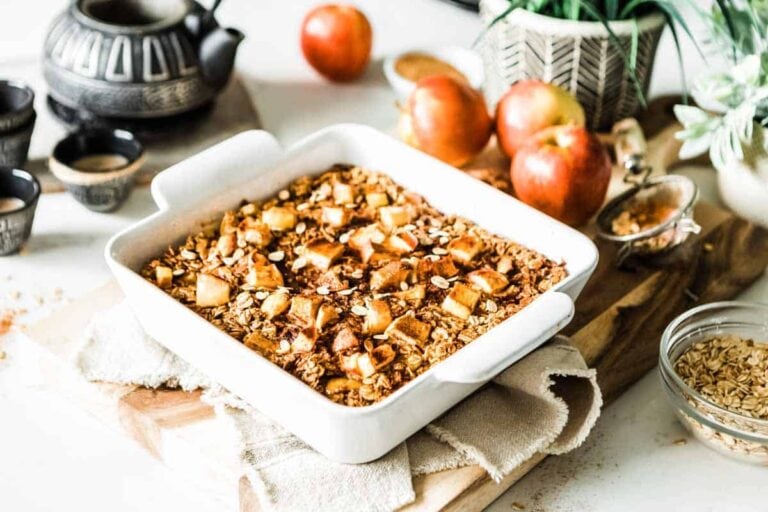 Apple Cinnamon Baked Oatmeal
Enjoy as an easy weekend breakfast or bake at the beginning of the week for a prepped ahead week of nutritious breakfasts. This is an easily loved recipe that tastes much more gourmet than the time it takes to bake!
Ingredients
1

cup

oat flour

2

cups

rolled oats

1

cup

raw pecans

roughly chopped

2

teaspoons

cinnamon

ground

1

teaspoon

baking powder

½

teaspoon

sea salt

2

cups

almond milk

½

cup

maple syrup

2

tbsp

ground flaxseed

ground

2

teaspoons

vanilla extract

½

cup

applesauce

unsweetened

1

apple

diced (leave skin on)

3

tbsp

coconut sugar
Instructions
Preheat oven to 375° F. Grease a 9-inch square baking dish.

Once the oven has preheated, toss the pecans onto a rimmed baking sheet and lightly toast for 3-5 minutes, or until fragrant.

In a medium bowl, whisk together almond milk, maple syrup, applesauce, 1/2 of the diced apples, ground flaxseed and vanilla. Let sit 5 minutes.

Add rolled oats to blender or food processor and pulse until chopped.

In a large bowl, mix oat flour, blended rolled oats, cinnamon, baking powder and salt.

Pour wet ingredients into the large bowl of dry ingredients and stir.

Add roasted pecans to bottom of greased baking dish, spread out evenly across bottom.

Pour oatmeal mixture evenly into greased baking dish (over top pecans) then top with remaining diced apples, coconut sugar, and additional cinnamon (optional).

Bake for 45 minutes, or until the top is nice and golden. Remove from oven and let cool for 5 minutes. 

Drizzle with maple syrup before serving.
Notes
You can swap pecans for walnuts or cashews
Almond milk can be swapped with cashew milk, oat milk or even cow milk, if preferred
Nutrition
Calories:
450
kcal
,
Carbohydrates:
66
g
,
Protein:
9
g
,
Fat:
18
g
,
Saturated Fat:
2
g
,
Polyunsaturated Fat:
6
g
,
Monounsaturated Fat:
9
g
,
Sodium:
395
mg
,
Potassium:
380
mg
,
Fiber:
8
g
,
Sugar:
27
g
,
Vitamin A:
33
IU
,
Vitamin C:
2
mg
,
Calcium:
223
mg
,
Iron:
3
mg