When snack time hits sometimes I'm craving a sweeter treat. That's when I turn to this banana nice cream recipe. It's got the texture of ice cream, yet a lot fewer ingredients plus no dairy.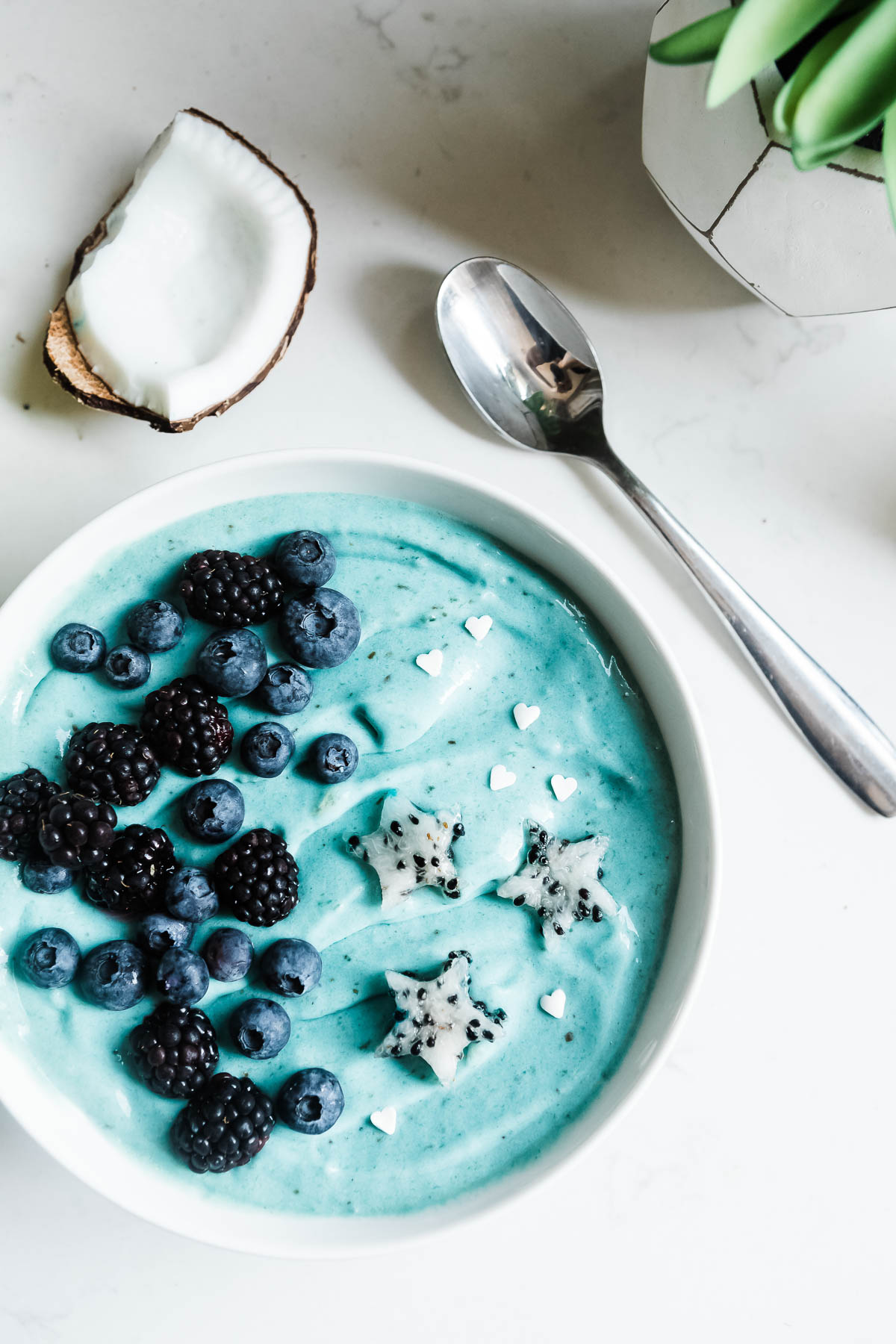 The gorgeous color in this fun nice cream recipe comes from the superfood blue spirulina, which provides vital cell support. Perfect for breakfast or as a midday pick-me-up, banana nice cream is a delicious treat (while still getting healthy nutrients).
Table of Contents
Ingredients for Nice Cream
Nice cream is essentially ice cream made with only plant-based ingredients. There is no dairy, but you can still get that thick and creamy texture with the right plants. Here are the ingredients I use in my homemade banana nice cream: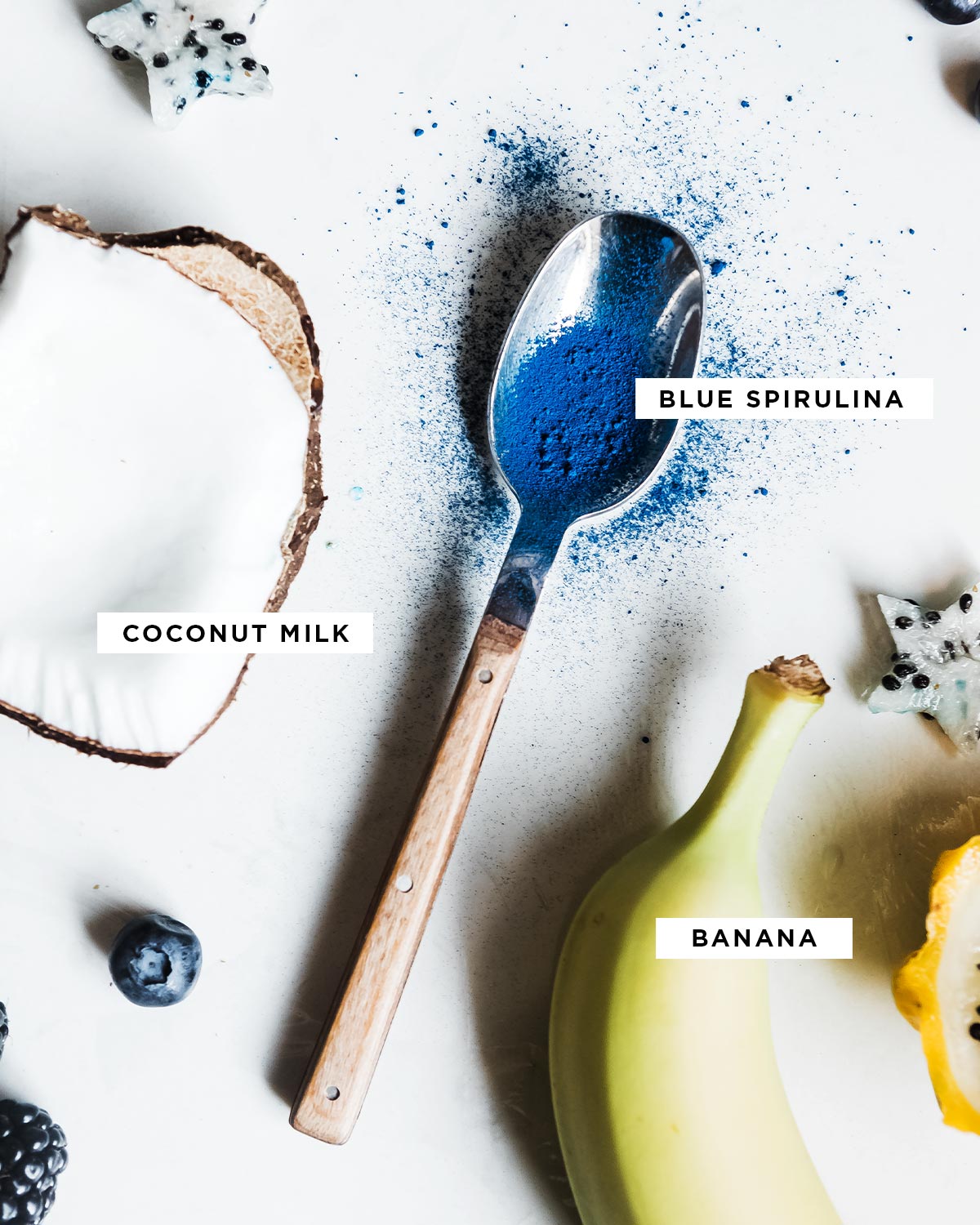 Coconut milk is a great non-dairy base that adds creaminess and healthy fat. I use full-fat coconut milk in this recipe. For an even creamier result, you can use coconut cream.
Frozen bananas give this nice cream recipe an irresistible soft-serve texture. Learn how to freeze bananas since they work so well to give this smoothie bowl a creamy whipped consistency.
Blue spirulina is also incorporated into the whip to give it a fun Mediterranean blue hue and added health benefits. Spirulina is blue-green algae that are harvested from either freshwater lakes or saltwater and then dried in the sun. Aztecs reportedly used it as a source of food in the 16th century. As a natural source of chlorophyll, spirulina provides blood-building properties as well as increased cellular energy production.
That's it! This recipe is super easy to pull together and tastes just the way you want it.
Toppings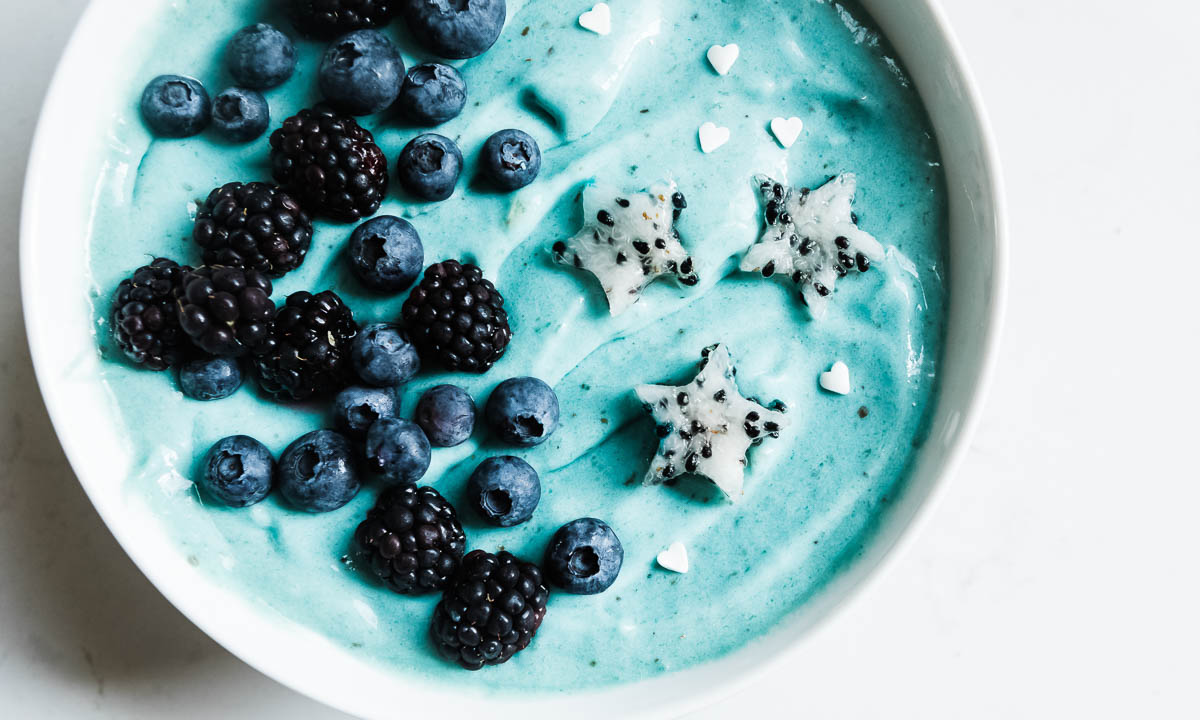 Just like with regular ice cream or a smoothie bowl, the sky's the limit with topping this banana nice cream bowl. I stuck with the blue theme and used blackberries and blueberries, then added in some fun sprinkles and star-shaped dragon fruit.
You can use any berry or fruit you want, as well as healthy granola and superfoods like chia seeds, hemp hearts or cacao nibs. Other fun toppings include coconut whipped cream, coconut flakes, nuts or seeds, and more sprinkles! Freeze-dried fruit is also a great option.
Recipe Variations
I couldn't resist making this with the bright blue added to the bananas + coconut milk, yet you don't have to use spirulina! Take the banana/coconut base and go crazy with flavors. Here are a few winning combos to get you started:
Add 2 tablespoons of peanut butter or the homemade nut butter of your choice.
Add 2 tablespoons of cacao powder for a rich, chocolate flavor.
Combine peanut butter and cacao for a peanut butter cup nice cream.
Add 1 cup strawberries or raspberries and 1/4 tsp beetroot powder for a vibrant pink bowl.
How to Make Banana Nice Cream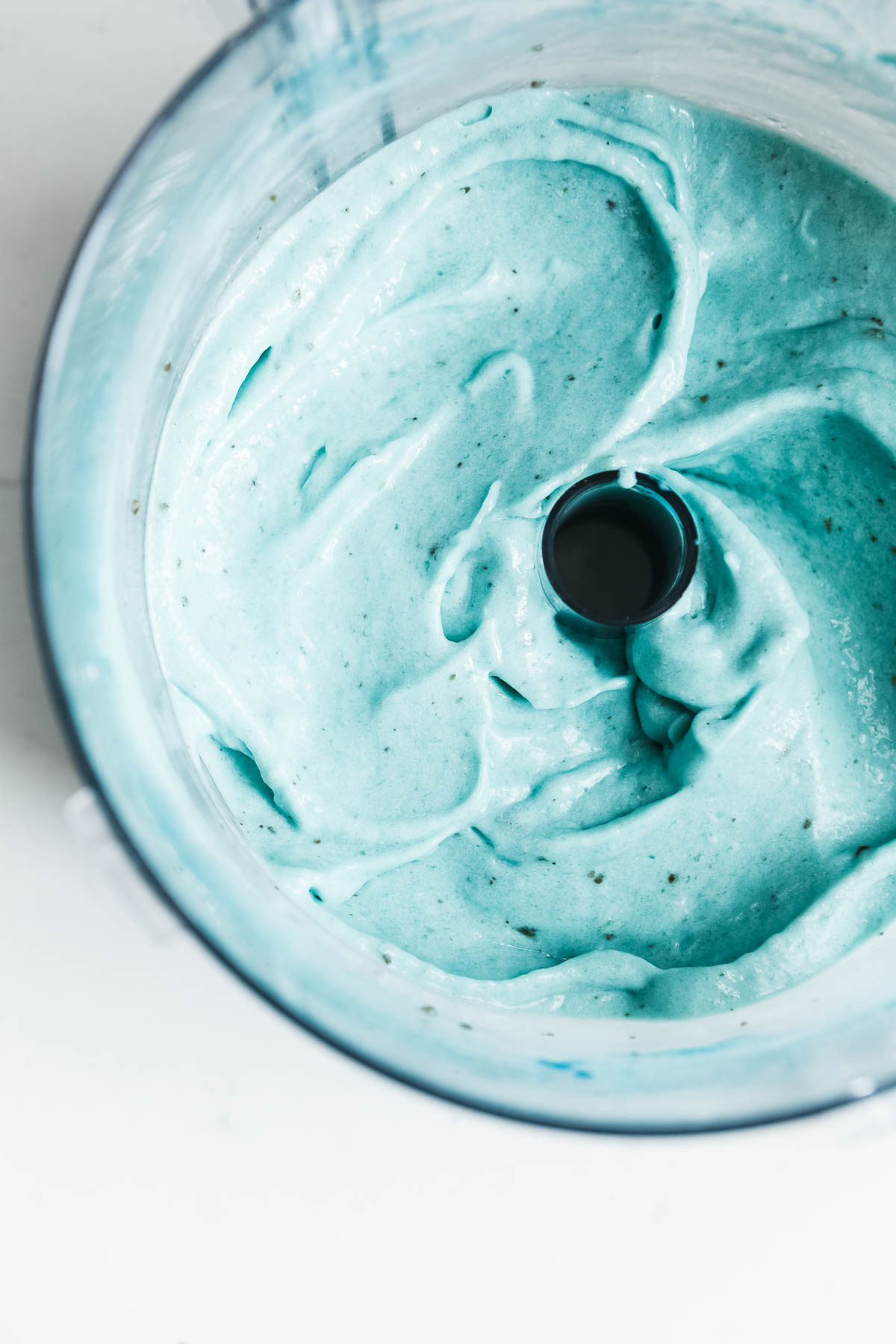 All you need for this recipe is a blender and the above three ingredients. It takes just minutes to make and then freeze (if you want) for the perfect treat.
Add all the ingredients to a high-speed blender. Make sure the lid is secure then blend until the blades stop turning.
Then use the tamper that came with the blender to start pushing the ingredients down towards the blades and do this until the blades start moving on their own. If you are using a non-high-speed blender then you'll need to stop it periodically and use a wooden spoon or spatula to push the ingredients towards the blades.
Once the mixture is thick, creamy and well mixed, pour into a bowl to enjoy or into a freezer-safe container to store until you are ready to eat.
I use frozen bananas for the creamiest, coldest result. If you use fresh then be sure to freeze the mixture for at least 30 minutes before eating.
This recipe doesn't use any extra liquid other than the thick, full-fat coconut milk, so it will definitely give your blender a workout! Avoid adding extra liquid as that will crystalize as it freezes and leave you with a less-than-creamy result.
Nice Cream FAQs
Does nice cream taste like bananas?
Yes, nice cream does have a slight banana flavor. You can easily downplay this if you want by adding other flavorful ingredients as well as toppings. Or let that banana shine!
What is in nice cream?
My nice cream recipe has three ingredients: bananas, full-fat coconut milk and spirulina powder (just a pinch). You can add in ingredients like peanut butter, cacao or berries to change up the flavor and make exactly what you want, or do that through toppings as well. It's basically a blank slate!
Is nice cream good for you?
Nice cream is made with two base ingredients: bananas and full-fat coconut milk. Neither of these has refined sugar in them or other weird additives, making them great dessert options. You can add in other ingredients as you want, yet keep it whole food and plant-based to enjoy a dairy-free option. This recipe provides healthy fat and potassium that regular ice cream doesn't, plus it is a great option for those that have a hard time digesting dairy.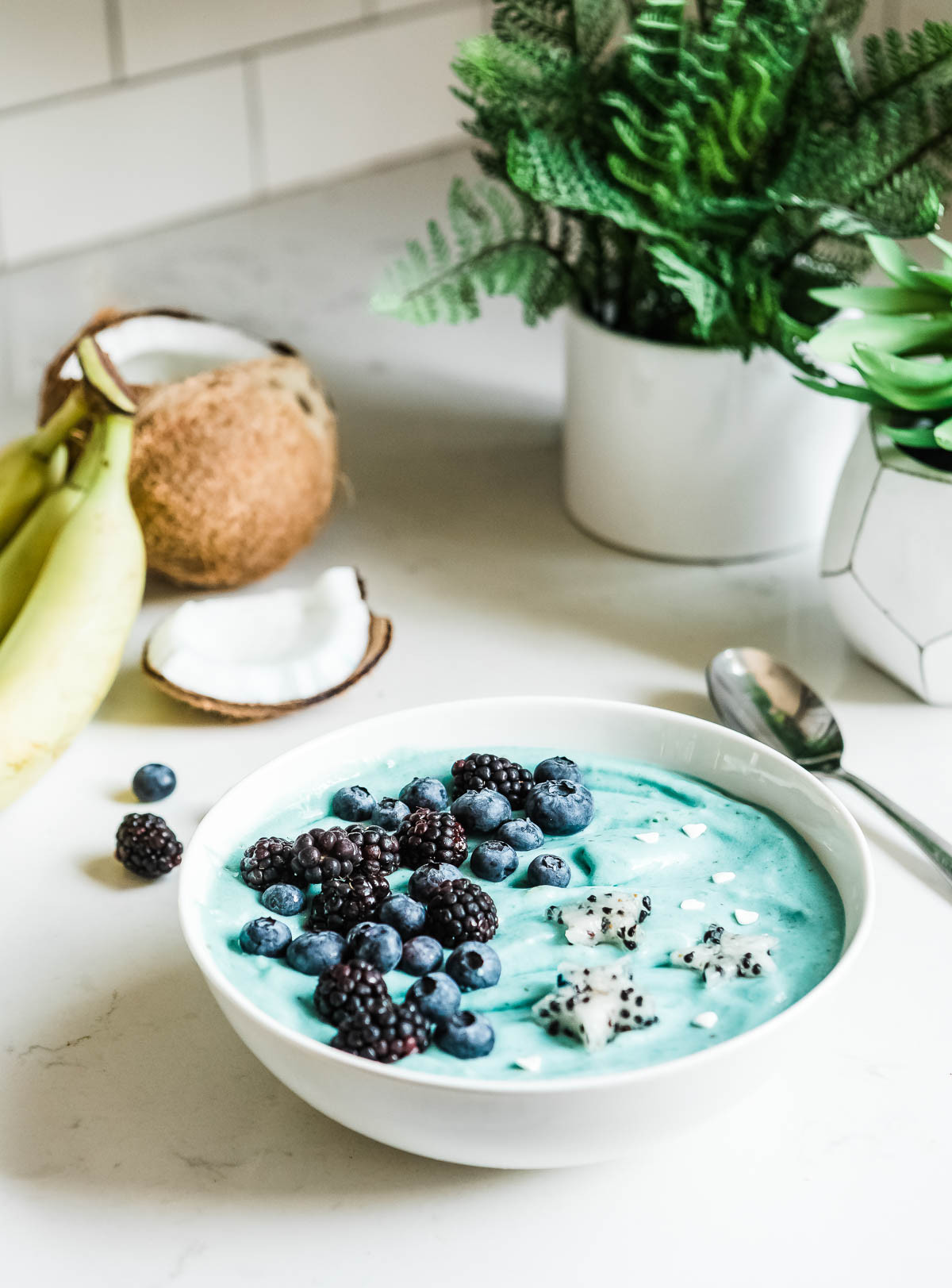 More Easy Healthy Dessert Options
There are so many desserts that are super easy to make, super delicious, and made with whole-food plant-based ingredients. Check these out:
These desserts are all refined-sugar free, yet satisfy the sweet tooth. I can't wait for you to try one! Don't forget to rate + review this recipe once you try it!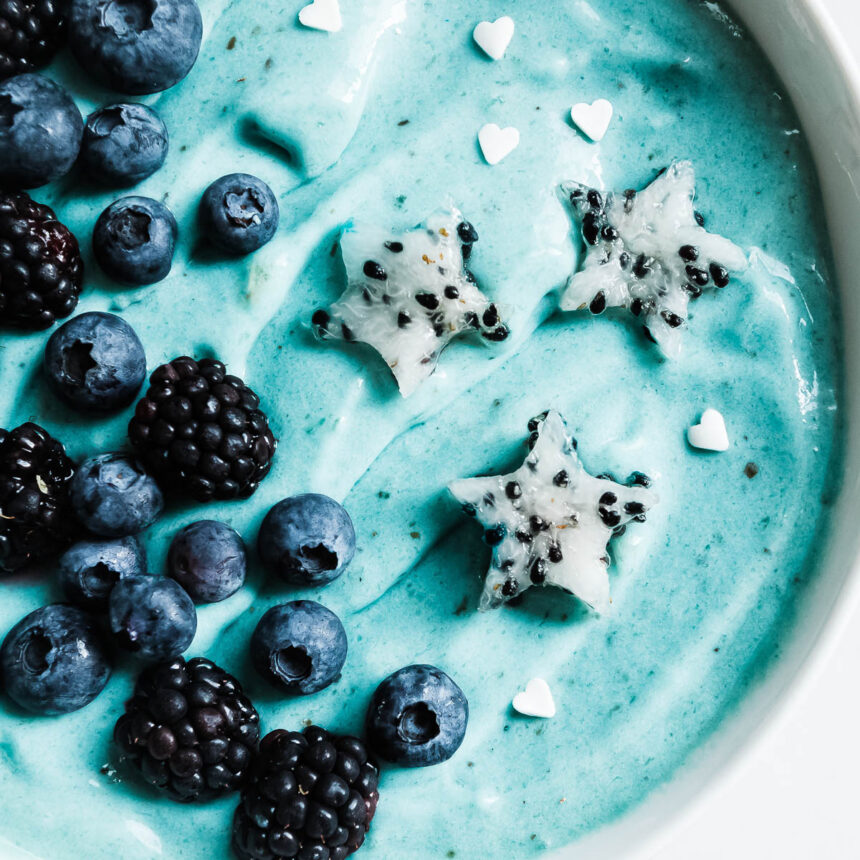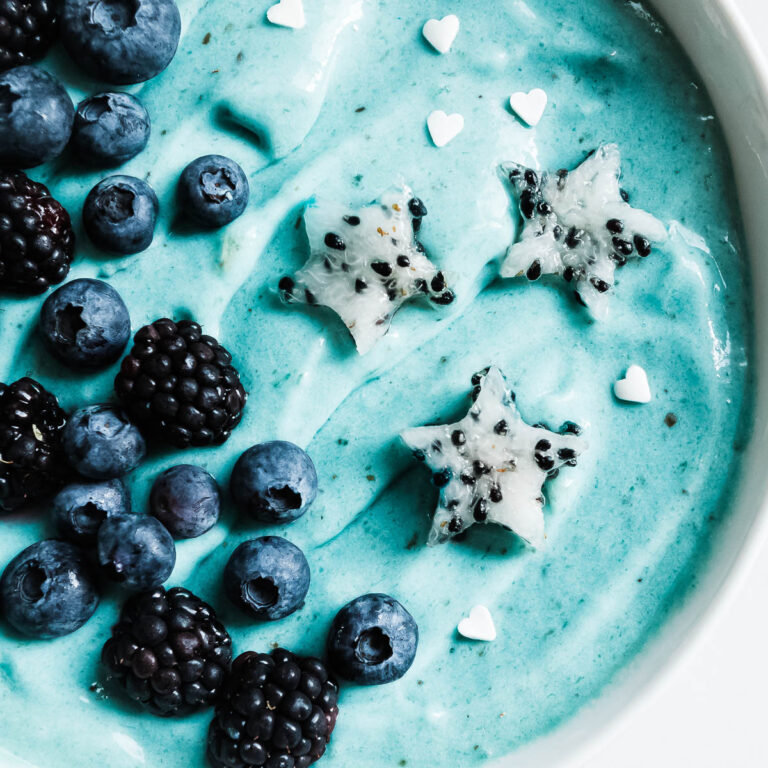 Banana Nice Cream
This vibrant banana nice cream recipe nourishes and satisfies. The gorgeous color comes from the superfood spirulina, which provides vital cell support. Perfect for breakfast or as a midday pick me up, banana nice cream is a delicious treat (while still getting in healthy nutrients).
Ingredients
Suggested Toppings
blueberries

blackberries

dragon fruit

granola

pineapple

strawberries
Instructions
Combine ingredients in a blender.

Use a tamper to push down ingredients into blender while on. This is a super thick blend, so you'll need to help the blender by using the tamper. You can also stop blending periodically and push ingredients down with a wooden spoon (yet be careful!).

Serve immediately or store in a freezer-safe container until ready to enjoy.

When serving, divide into 4 bowls and add toppings.
Notes
To make the cute lil' dragonfruit stars, simply slice a ripe dragonfruit into 1/4" thick slices, and cut with a mini star-shaped cookie cutter.
Use frozen fruit for a colder result, or freeze to make it cold. Learn how to freeze bananas so you've got some on hand.
Freeze 4-6 months. 
Nutrition
Calories:
115
kcal
,
Carbohydrates:
27
g
,
Protein:
1
g
,
Fat:
1
g
,
Saturated Fat:
1
g
,
Polyunsaturated Fat:
1
g
,
Monounsaturated Fat:
1
g
,
Sodium:
12
mg
,
Potassium:
422
mg
,
Fiber:
3
g
,
Sugar:
14
g
,
Vitamin A:
76
IU
,
Vitamin C:
10
mg
,
Calcium:
6
mg
,
Iron:
1
mg