I'm a firm believer in dessert, not just as a reward or a treat-yo-self kind of thing. That is to say, there's not much wrong with enjoying food that tastes good! And I've found that these best vegan desserts are where it's at!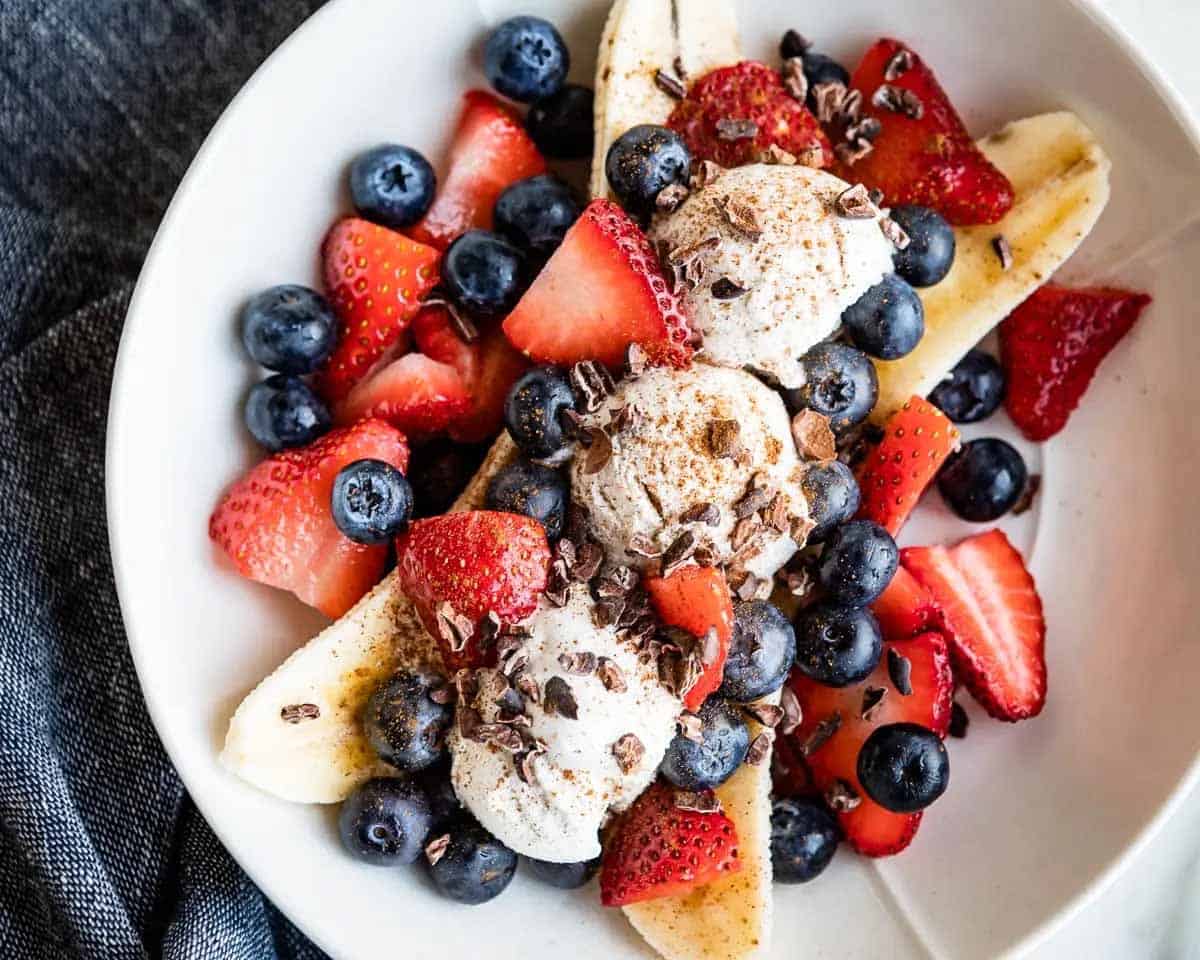 When I eat oh-so-good desserts, I want them to be oh-so-good-for me! Things like animal proteins and dairy often cause my body to feel sluggish and sore, so I choose a lot of vegan options when I can. That's where plant based desserts come into the picture.
Best Vegan Desserts
Here are some of my absolute fav vegan dessert options. They are all plant based + delicious… a winning combo! Dessert without the guilt!
Ginger Cookies – Anyone who knows me, knows how very much I adore ginger. These cookies are a hit with two kinds of ginger, vegan chocolate chips, and an easy egg-free batter. So that makes them the perfect companion for your next cup of tea or a hot detox drink!
Healthy Zucchini Bread – This sweet bread is everything you remember from your childhood, yet is vegan. An afternoon snack you can feel good about, flax eggs are used here instead for a batter that bakes to golden brown perfection.
Rice Crispy Treats – No baking necessary for this vegan dessert! I sweetened this one naturally with brown rice syrup, plus the added almond butter packs in the protein. In addition, vegan chocolate chips are also fun in these, if you can trust yourself not to eat the whole pan after making them.
You had me at chocolate…
Chocolate Coconut Dessert Smoothie Bowl – You'd never know there's avocado, rich with healthy fats, hiding in this chocolate smoothie bowl! Moreover, the decadent chocolate flavors come from cacao powder, which is loaded with antioxidants.
Vegan Chocolate Chip Cookies – The classic after school treat gets a vegan makeover with this recipe! Their gluten free too, so go ahead and enjoy one (or two!) with your next cup of coffee or glass of dairy-free milk.
Frosty vegan treats
Blackberry Coconut Sorbet – This gorgeous, frosty cold delight is tops on my list to make this summer. Fresh or frozen blackberries with coconut milk + a natural sweetener of your choice make this simple sorbet a vegan treat that can't be beat.
Banana Nice Cream – It's blue, beautiful and tastes like banana. What's not to love?! With 3 simple ingredients and your blender, you'll be spooning up this refreshing summer treat in no time. Top with berries for extra flavor and color. You'll certainly be feelin fancy with a bowl of this for dessert!
Mangonada – This spicy, tangy, sweet Mexican-inspired drink is the perfect highlight to a party. Made with a spicy chamoy sauce and even decorated straws, you won't regret giving this fruity beverage a try.
If you're looking to score a new blender, be sure to read my Blender Guide first. I've done all the research for you and take the guesswork out of which machines are best at each size and price point.
Vegan Dessert FAQs
What desserts can vegans eat?
The answer here is many different kinds! From chocolate to fruity and beyond, vegans can eat all kinds of sweet treats. As long as the recipe avoids animal derived ingredients like eggs, dairy and honey -the sky's the limit!
How can you bake without eggs?
A natural next question when baking vegan dessert recipes, of course. Eggs are in baked goods for two reasons – to make things fluffier and to hold them together. Good Housekeeping offers that an acid + baking soda is a great substitute. They suggest 1/2tsp vinegar and 1/4 tsp bicarbonate of soda is an approximate ratio per egg. A flax egg is another popular replacement and can be made simply with flax seed and water. Scroll down for a link to our fav flax egg recipe from Cookie + Kate.
Can you eat sweets on a plant based diet?
Good gravy we hope so! All kidding aside – yes. Plant based sweets are definitely doable, as long as you keep in mind a few simple rules: 1) homemade is best, 2) true natural sweeteners are your friends and 3) it is possible to have too much of a good thing. The point of eating plant based is to offer your body good, nutrient dense, whole food. A sweet treat now and then is great way to help you not get tempted off your plant based goals. Just don't go 'overboard' (like Goldie Hawn! #moviereference).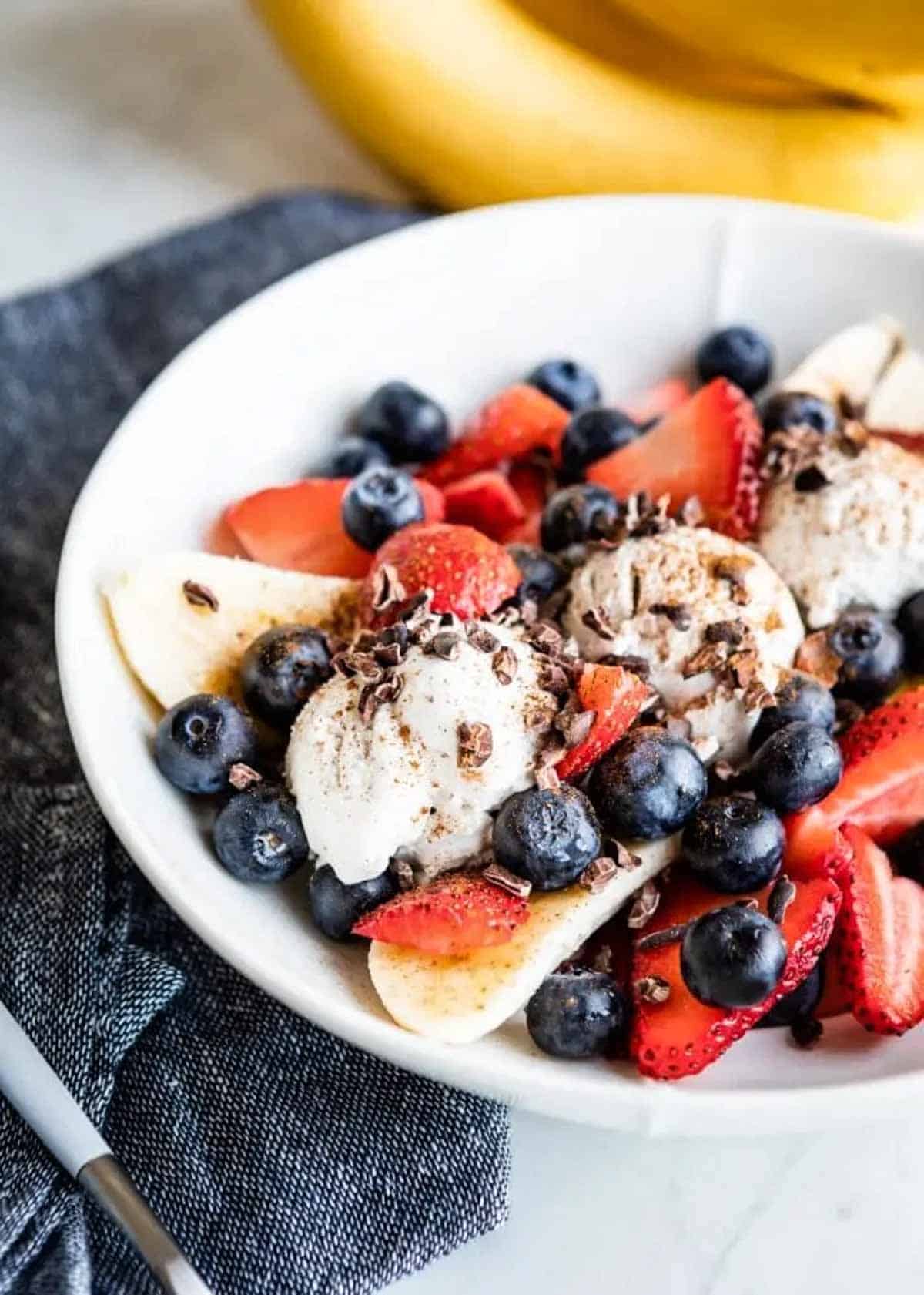 A new twist on an old classic
Vegan Berry Banana Split Ice Cream Sundae – When I was writing my second book, Simple Green Meals, I wanted to make sure we included a section on plant-based desserts. However, this one missed the cut – yet we're excited to offer it here!
This vegan ice cream sundae uses dairy-free coconut ice cream, but preferably naturally sweetened if you can find it, fresh fruit, a sprinkle of cacao nibs, and cinnamon.

If you're looking for more vegan desserts, then check out our Plant-Based Desserts digital recipe book! It boasts 40+ delicious recipes that allow plants to shine as the superheroes they are.
When to give your body a break
And if you've eaten too many desserts (because we can all overdo, even on healthier dessert recipes!), then maybe it's time for a week long detox. Our Seasonal Cleanse is a great way to take a break from all those unhealthy processed foods that tend to creep back into our diets after working to eat healthy (I'm lookin' at you gluten + dairy pizza!).
Most importantly, there are no pills, powders or fasting with this cleanse. It's just good healthy food that you can find at any market near you. As a result, our Thrive 7 Day Reset is def worth a try if you're into things like increased energy, better digestion and good sleep!
Now, back to the dessert at hand… Grab a spoon and let's go!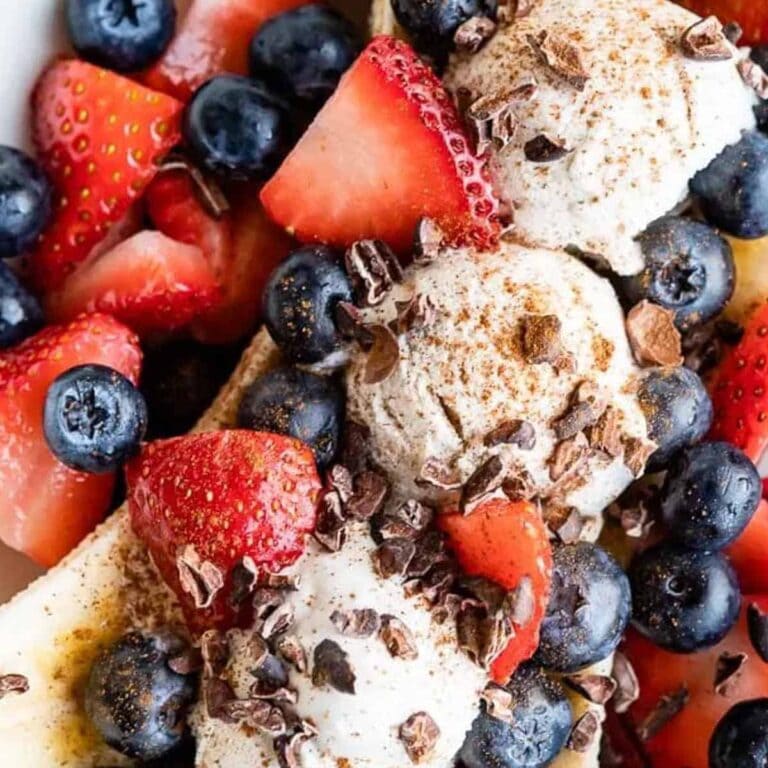 The Best Vegan Dessert
A fresh, healthy vegan take on a classic ice cream sundae, this Very Berry Banana Split is good for you and tastes delicious! Feel free to add some extra pizzazz by adding a dollop of whipped coconut cream and a drizzle of vegan caramel and/or hot fudge sauce. Enjoy!
Ingredients
1

banana

3

scoops

vegan ice cream

½

cup

strawberries

diced

½

cup

blueberries

cacao nibs

for sprinkling

cinnamon

ground, for sprinkling
Instructions
Peel and halve the banana lengthwise.

Place in a shallow serving bowl or sundae dish so the banana halves open like a book.

Place ice cream scoops down the center of the banana.

Top with fresh berries. Sprinkle cacao nibs and cinnamon on top. Serve immediately.
Nutrition
Calories:
176
kcal
,
Carbohydrates:
44
g
,
Protein:
2
g
,
Fat:
1
g
,
Saturated Fat:
1
g
,
Polyunsaturated Fat:
1
g
,
Monounsaturated Fat:
1
g
,
Cholesterol:
1
mg
,
Sodium:
5
mg
,
Potassium:
596
mg
,
Fiber:
6
g
,
Sugar:
26
g
,
Vitamin A:
138
IU
,
Vitamin C:
60
mg
,
Calcium:
27
mg
,
Iron:
1
mg