Breakfast bowls like this one are my jam! They can be changed up based on my mood (and my fridge), + full of delicious, healthy ingredients. Grab this breakfast bowl recipe and get ready to dive into some plant-based goodness.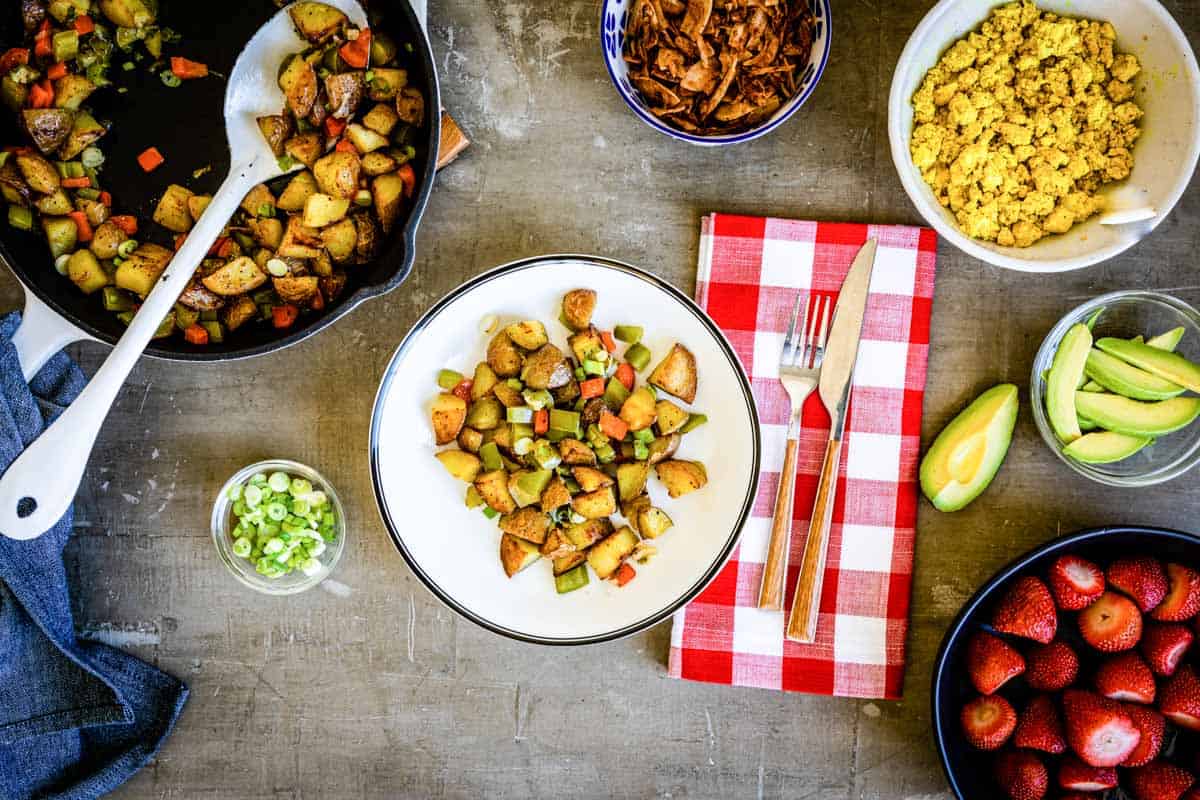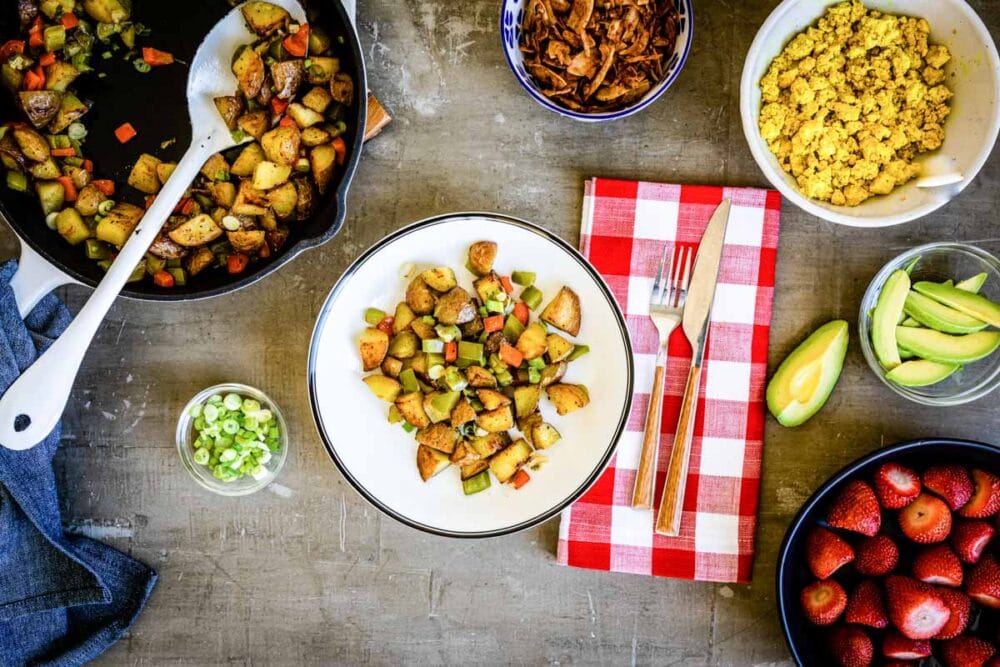 This healthy breakfast bowl recipe is packed with plant-based protein and hearty flavors. It reminds me of a breakfast you'd order at a diner, yet with less grease and way more nutrients. It's the perfect way for your family to start off a Meatless Monday right.
It can be customized per person, so that everyone can enjoy it.
Table of Contents
How to Make a Breakfast Bowl
Making a breakfast bowl is simple: just layer your favorite breakfast sides in a bowl and then add toppings. Bam! You've got yourself a tasty breakfast which can easily be tailored to ingredients you have on hand, as well as what you enjoy the most.
No matter the season, you can swap in ingredients that are fresh for you now, and change up the spices accordingly. Now that's what I call a winning dish!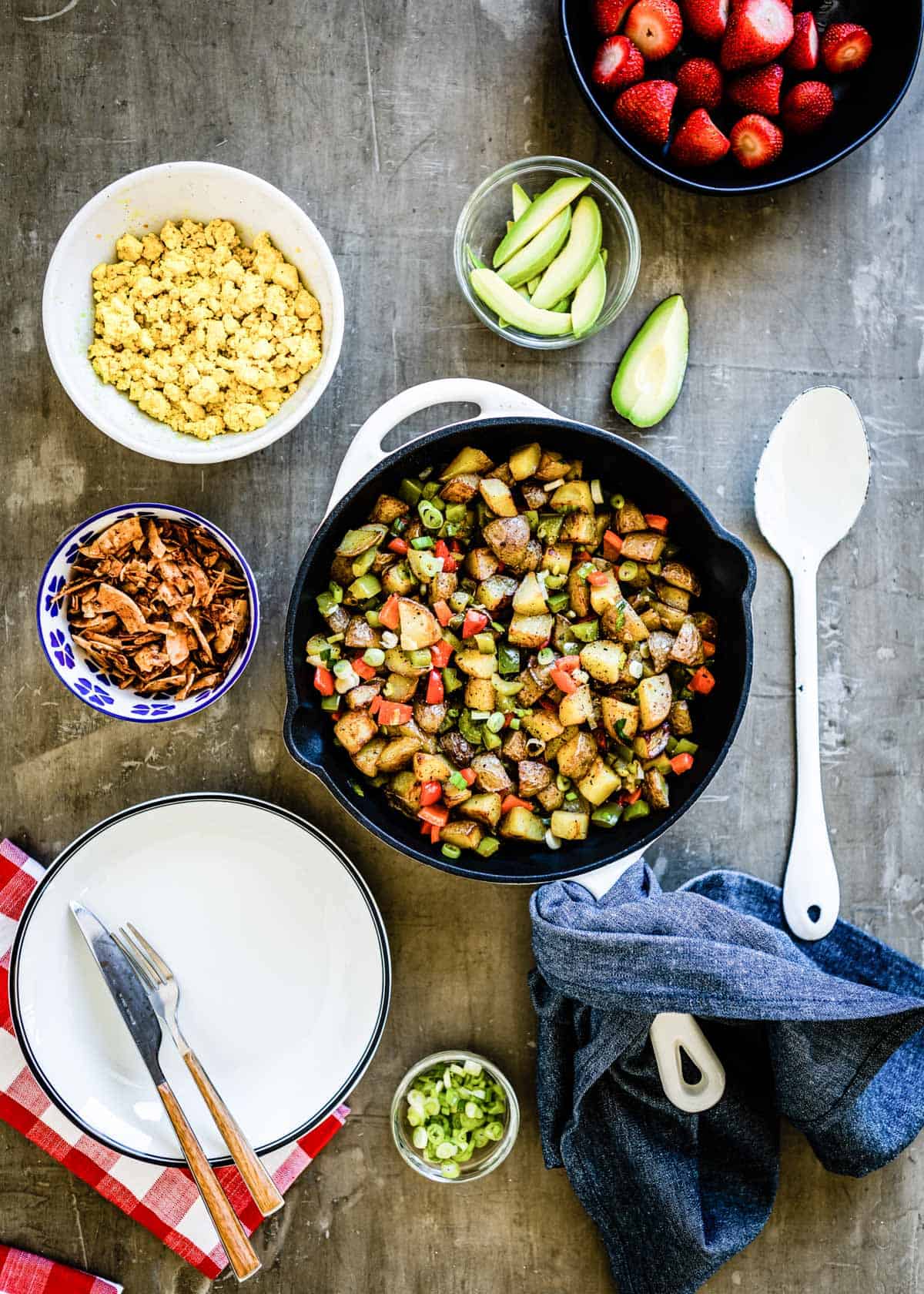 Components of a Good Breakfast Bowl
Base: This healthy breakfast bowl recipe uses a base of homemade hash browns. You can certainly use other bases such as cooked rice or quinoa, riced cauliflower, root veggie home fries, spiralized sweet potato or squash, etc.
Protein: The next component is a protein. I use a delectable tofu scramble. If you want to try other plant-based ideas, then I recommending including cooked beans or lentils, tempeh, seitan, vegetarian sausage or chorizo. The choice is up to you!
Flavors: I like to add other flavors as well as textures to top this breakfast bowl. Be sure to season each component and it will help you build the flavors overall as you go. Feel free to add spices to your hash browns or tofu scramble.
Topping: Avocado is fantastic on breakfast bowls. It adds creamy, rich flavor and texture. A sprinkling of green onions adds color and freshness. You can also add sliced jalapeno, fresh herbs, diced tomato, chopped spinach or kale, slaw, nuts and seeds, or other flavor-packed plant-based toppings. Add a drizzle of hot sauce, a spoonful of salsa, or another favorite sauce to make this bowl complete.
How Much Protein for Breakfast?
We've all heard about the importance of starting off the day with a good breakfast. But why is that? And does it matter what you eat for breakfast? The short answer is yes! After a night's sleep, it's important to get your metabolism revving again to give you energy as you start your day. The time you eat breakfast is up to you – yet studies show that starting your day with a protein-dense breakfast actually helps you eat less throughout the day, and feel full longer. Plus you gain better, sharper focus throughout the day.
Typical Adults Needs 15+ Grams
For the typical adult, 15-25 grams of protein is the general recommendation for breakfast. If you want to calculate how much protein you need every day, then multiply your body weight in kilograms by 0.8 grams (or .36 grams for every pound of body weight). This number will of course change according to your specific needs and activity level.
This healthy breakfast bowl gives you 15 grams of protein thanks to a big boost from the tofu scramble. If you've never had tofu scramble before, or if you aren't usually a fan of tofu, I implore you to give it a try! It's amazing how the texture + flavor combo mimics eggs. And of course, if you prefer, you can totally substitute eggs for the tofu scramble. (You've gotta make it work for you!)
Health Benefits of Breakfast
I've covered plant-based protein, but what about all the other nutrients? This breakfast bowl recipe is loaded with vitamins, minerals, dietary fiber, and all that other good stuff. I like to aim for a balance of nutrients with my meals, so I like to add veggies and fruit to every meal.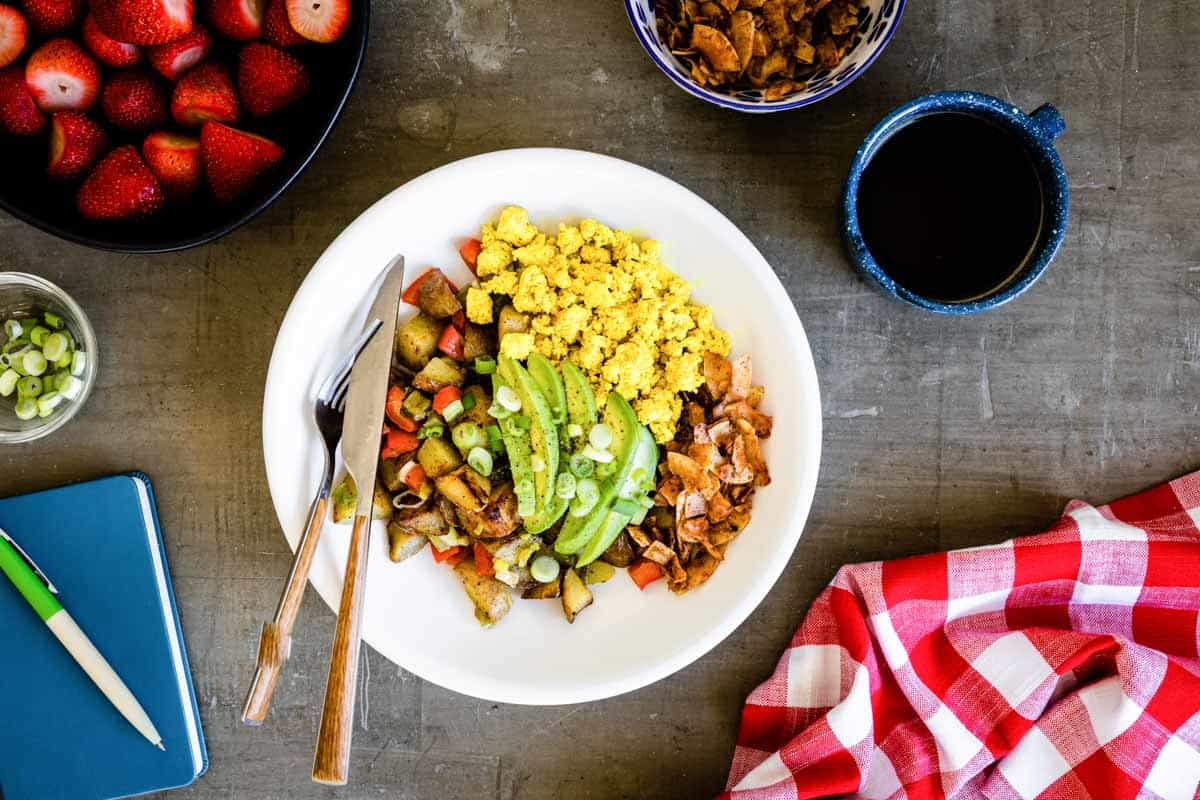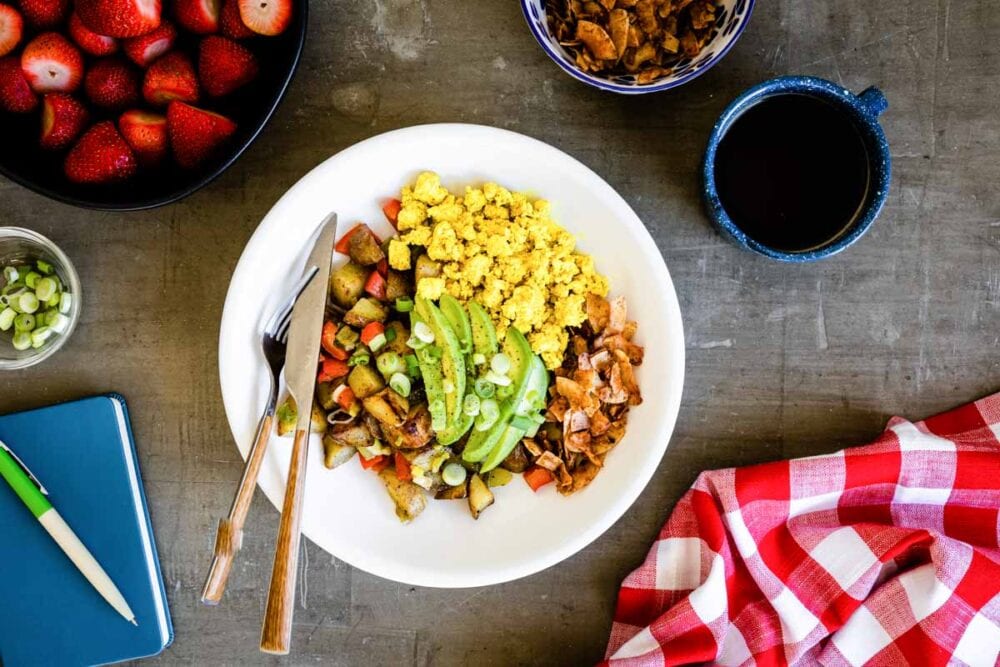 Golden potatoes are a good source of vitamins, particularly if you don't peel them. They tend to be less starchy than russet potatoes and brown nicely with creamy centers. Yum, yum!
Bell peppers add a lot of vitamin C plus more dietary fiber. Bell peppers are also an excellent source of vitamin B6, vitamin K, and Potassium.
Avocado, of course, is one of my favorite foods and avocados are loaded with dietary fiber and healthy fat. Healthy fat is needed for a balanced diet, so if avocados aren't your thing, then add in 1 tsp of MCT oil per serving to still get that healthy fat (and you won't even taste it!).
Other Plant-Based Breakfast Recipes
Breakfast is a beloved meal at my house, and we love to get creative with what we have in the morning. Here are some of my family's fav breakfast recipes:
This recipe can be the main event or a savory part of a delicious brunch… you choose! Don't forget to rate + review the recipe below, as well as let me know how you made this recipe your own!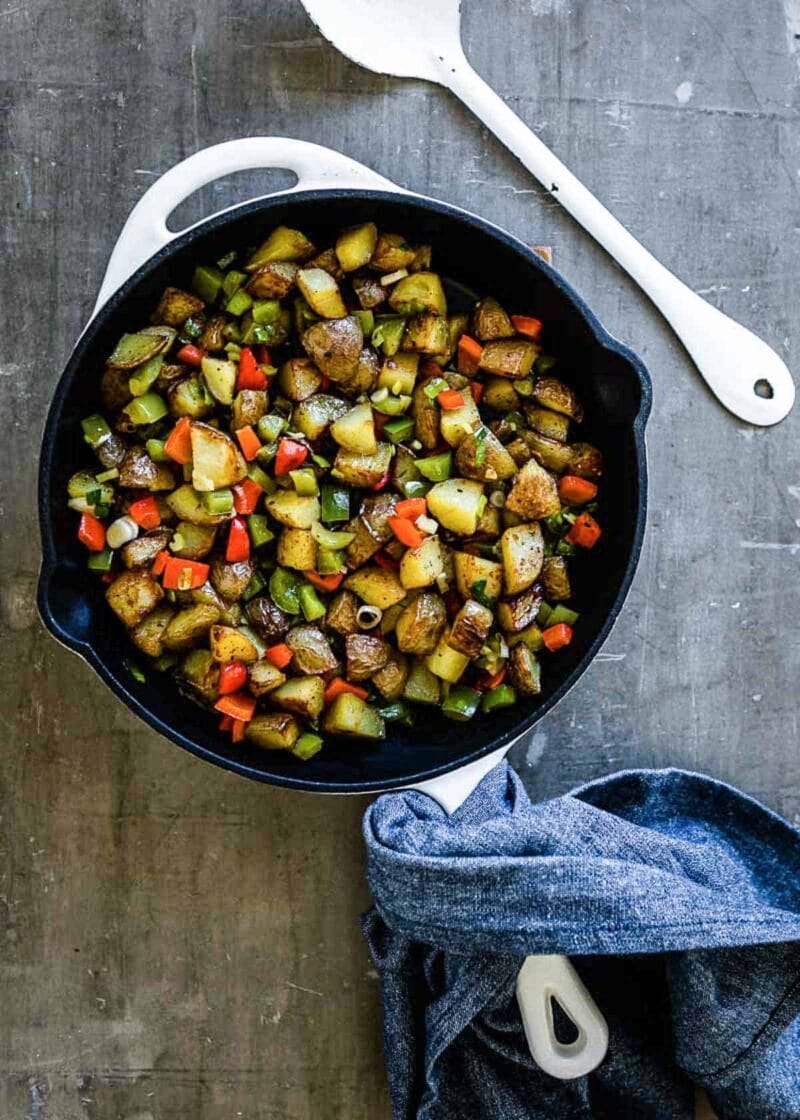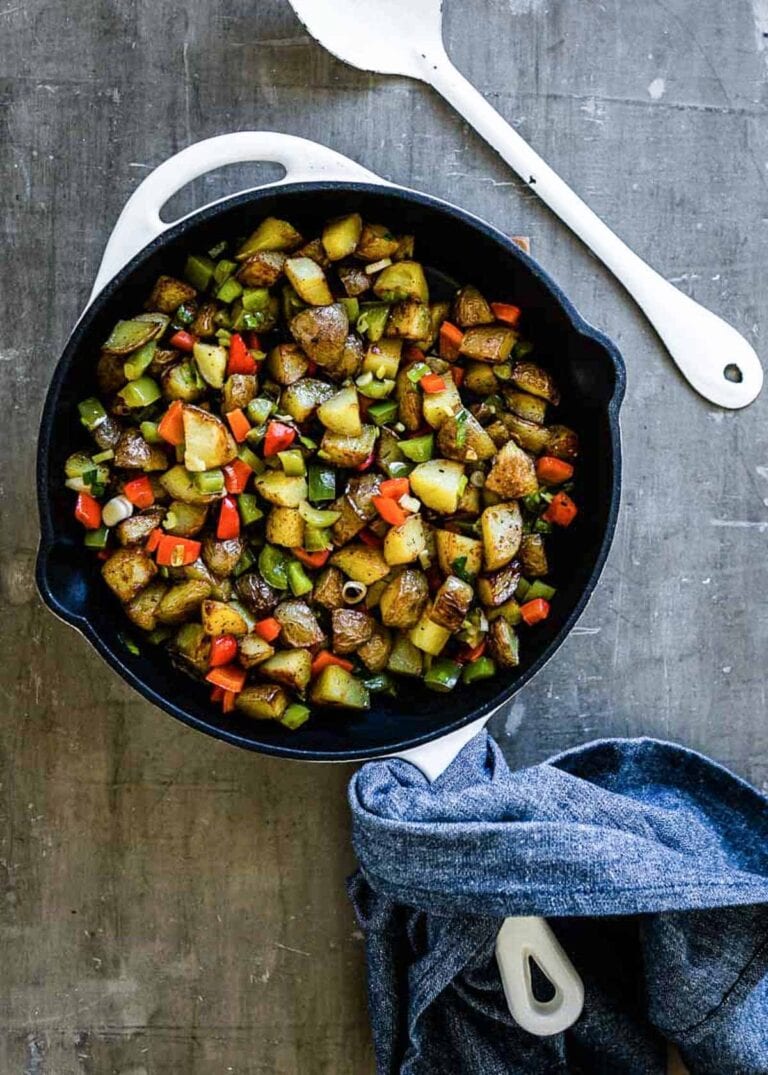 Healthy Breakfast Bowl
Take your breakfast game to the next level by giving it a healthy, plant-powered upgrade. This healthy breakfast bowl combines homemade hashbrowns, bell pepper, a yummy tofu scramble, and avocado for a hearty meal to fuel your morning.
Ingredients
2

tbsp

olive oil

divided

14

oz

extra firm organic tofu

crumbled

2

tbsp

nutritional yeast

½

tsp

Dijon mustard

any variety

½

tsp

sea salt

½

tsp

ground turmeric

¼

tsp

garlic powder

¼

tsp

black pepper

2

lbs

golden potatoes

cubed

½

cup

red bell pepper

diced

½

cup

green bell pepper

diced

4

green onions

thinly sliced

1

avocado

sliced
Instructions
Drain tofu. (No need to press excess water out for this.) Crumble tofu into a medium mixing bowl. In a small bowl, stir together nutritional yeast, mustard, turmeric, salt, garlic powder, and black pepper. Add 2 teaspoons olive oil plus a little water and stir to make a smooth paste. Add to the crumbled tofu and stir well to coat. Let stand for 10-15 minutes while preparing the hash browns.

Heat 1 tablespoon olive oil in a large non-stick skillet or well-seasoned cast iron skillet. Add the potatoes and season with a little sea salt and black pepper. Cook, turning potatoes over occasionally, until they start to brown and are just tender when pierced with the tip of a knife. Transfer to a bowl or plate and keep warm.

Add remaining olive oil to the same skillet. Add the bell pepper and half of the green onions. Saute over medium-high heat until the peppers start to turn golden on the edges and have softened a bit. Add the partially cooked potatoes back to the pan. Continue cooking for another 10-15 minutes, or until potatoes are tender and nicely browned. Transfer the potatoes to a bowl or plate and cover to keep warm. 

 Use the same skillet to cook the crumbled tofu. Place the tofu in the still-hot skillet and cook, turning the crumbles over frequently until warmed through completely.

To assemble bowls, divide the hash browns between four bowls along with the tofu scramble. Top with avocado slices and a sprinkle of the remaining green onions. Serve immediately.
Notes
All components of this bowl can be prepared in advance. Store in airtight containers until ready to serve. Reheat on the stovetop in a skillet or in microwave.
Golden potatoes are used because they are buttery and soft, yet use the potatoes of your choice.
Feel free to flavor this using taco seasoning, everything bagel seasoning or whatever you like best.
Nutrition
Calories:
430
kcal
,
Carbohydrates:
51
g
,
Protein:
17
g
,
Fat:
19
g
,
Saturated Fat:
3
g
,
Polyunsaturated Fat:
4
g
,
Monounsaturated Fat:
11
g
,
Sodium:
322
mg
,
Potassium:
1388
mg
,
Fiber:
11
g
,
Sugar:
4
g
,
Vitamin A:
850
IU
,
Vitamin C:
91
mg
,
Calcium:
170
mg
,
Iron:
4
mg