Check out this list of cacao powder recipes and get blending, baking and making these delicious dishes. Chocolate lovers, here we come! Let's talk about how to use this powder in the best way possible.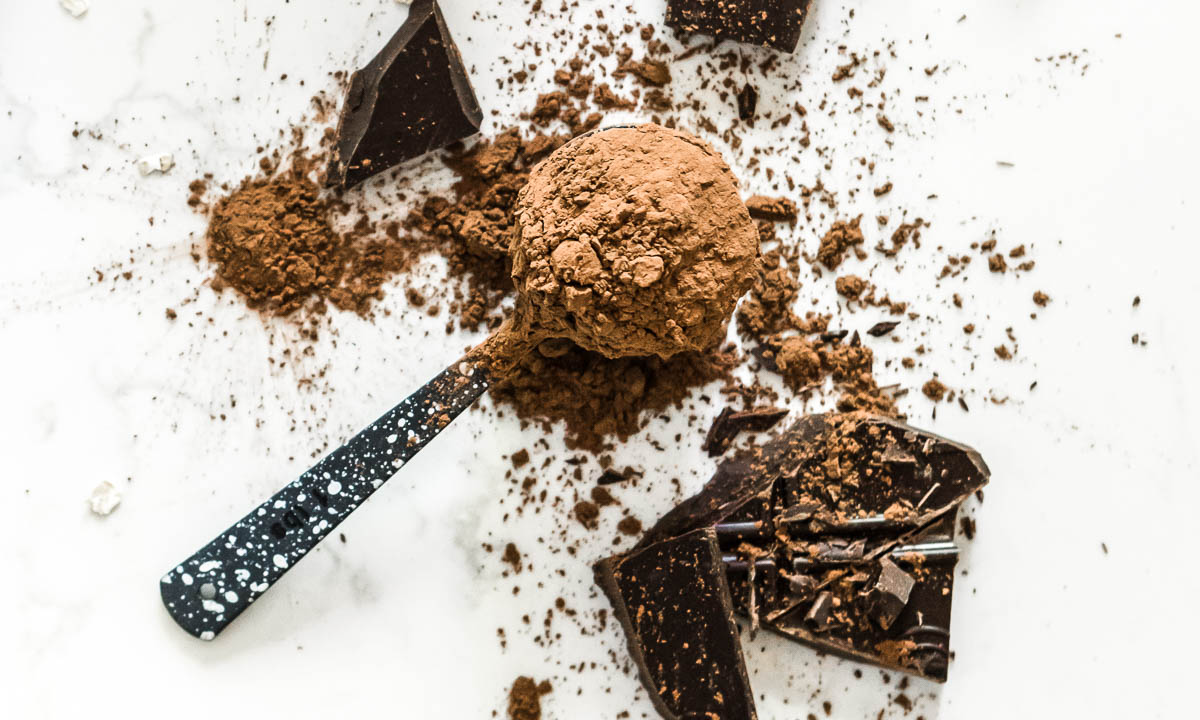 More natural, less processed forms of chocolate are gaining popularity, so let's learn how to use cacao powder and discover the best ways to use it in food. I've got 16 recipes that are just plain good. They will fill any chocolate cravings you have with 100% plant-based ingredients and whole food.
I'm not crazy in love with chocolate, so it's got to be a great recipe for me to want to eat it. That said, my fudgy brownies and chocolate peanut butter smoothie are on repeat in my house. They are #worthit. Which one of the below recipes are you excited to try?
Table of Contents
Cacao Powder Recipes
When looking for cacao at the grocery store, you may come across cocoa powder. They are similar, yet cocoa powder often has sweetener or gums added to it. So as always, read your labels.
No matter which powder you use, make sure it only has one ingredient. I love using Mountain Rose Herbs Roasted Cacao Powder since it has the best flavor in my opinion.
Since this plant-derived ingredient is naturally unsweetened, it's great for smoothies and desserts. You are going to add in other natural sweeteners like fruits or maple syrup, so cacao can focus on providing a deeply rich, dark flavor to your recipe. Now, on to the recipes!
Smoothies with Cacao
Adding a scoop of cacao powder transforms smoothies into chocolate shakes. It's a great natural energy boost (be careful if you're sensitive to caffeine). Pretty much any 'chocolate smoothie' recipe I make uses this natural ingredient as it's the least processed and fairly easy to find at your local grocery store.
Chocolate Dessert Recipes
Cacao isn't just for smoothies. Use it in dessert bowls, drinks and more! I love the rich flavor it brings to my homemade hot chocolate recipe and these fudge brownies are next-level good. How do you like to use this fun ingredient? Drop your favorite cacao powder recipe in the comments below!
How to Use
Any recipe that calls for cocoa powder can easily be switched to cacao powder (though the unsweetened cocoa powder is fine, too!). I like using a tablespoon of cacao in smoothies to turn them into chocolate creations. This powder pairs well with berries and cherries, as well as nut/seed butter.
Make 'chocolate milk' by adding this powder and a squirt of maple syrup to a cup of your favorite plant milk and stirring until dissolved. I also use it in my homemade hot chocolate recipe for a rich flavor.
Questions About Cacao Powder Recipes