Let's take breakfast up a notch with some healthy carrot cake oatmeal. Step aside bland, sad stovetop oatmeal and insert a lightly sweetened, gorgeously spiced offering that will fuel you for a busy day ahead.
My oatmeal is topped with a gorgeous candied pecan topping, raisins and coconut flakes for the true taste of your favorite spiced cake yet packed with fiber and protein and lower in sugar so you won't crash.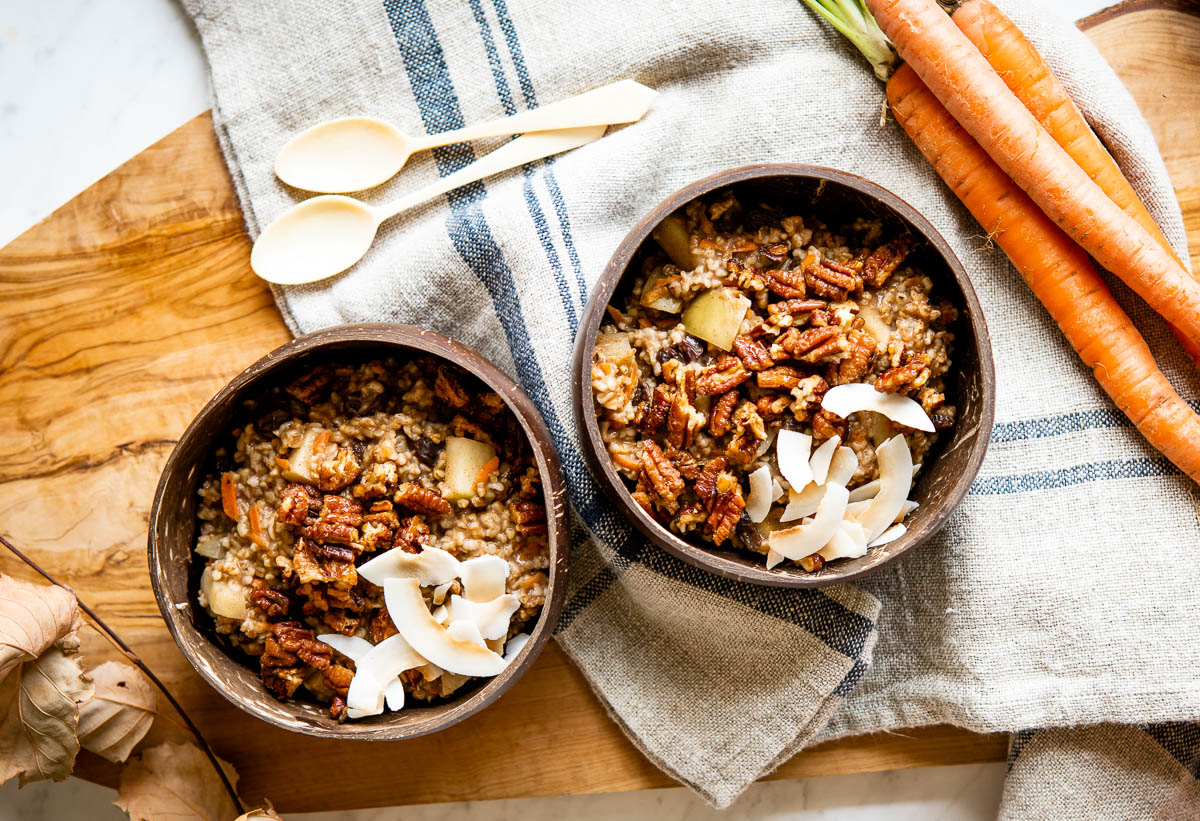 When I'm looking for a filling breakfast that's both hearty and warm, my first choice is oatmeal. I love this recipe as it contains both fruits and vegetables along with real spices and just tastes like a warm hug.
Table of Contents
Ingredients for Healthy Carrot Cake Oatmeal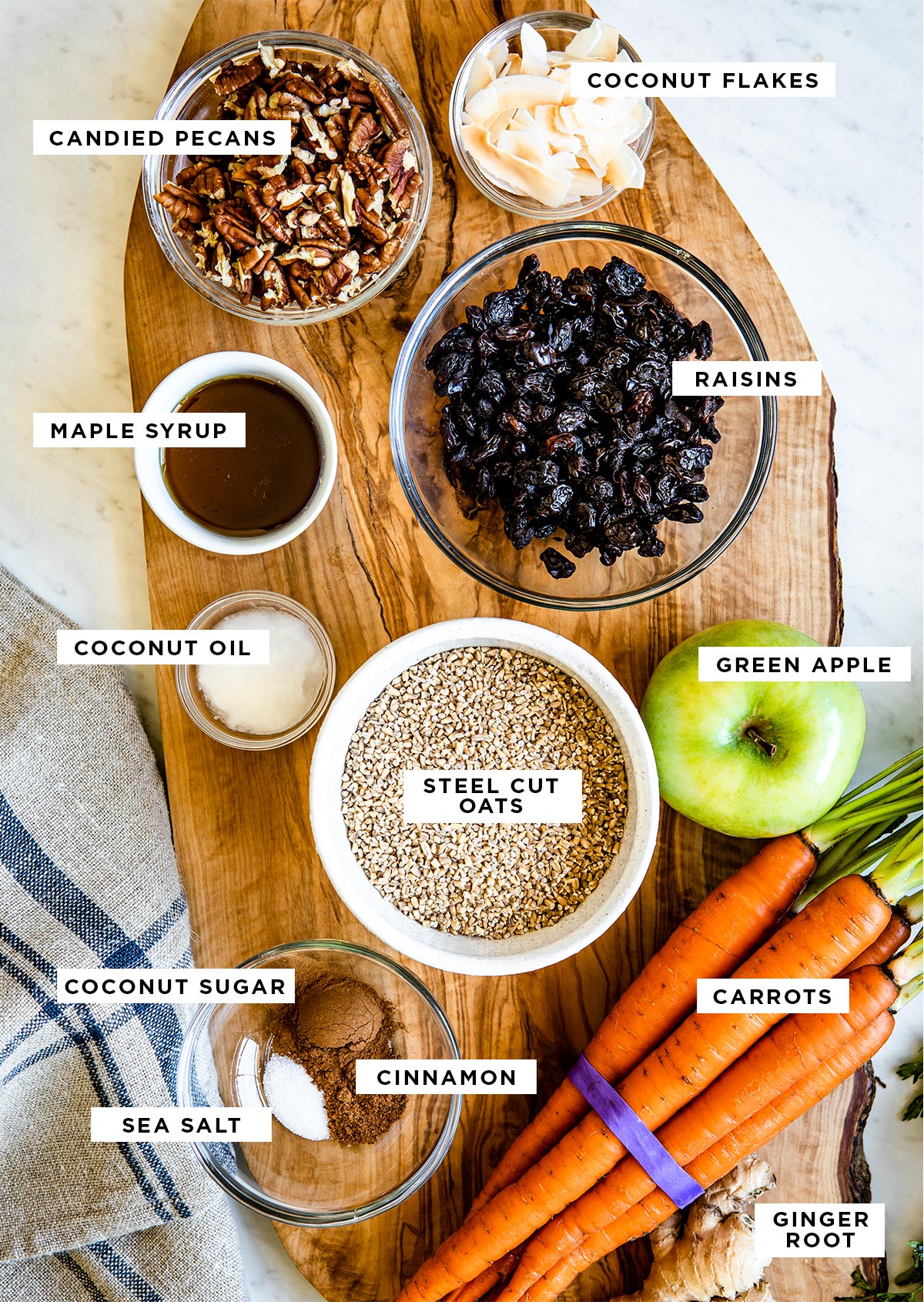 This stovetop oatmeal can be made once and enjoyed multiple times throughout the week. The ingredient list is fairly simple and mostly spices to achieve the perfect taste:
Steel cut oats: These are my favorite breakfast oat because they have a nutty flavor. Steel cut oats have slightly more fiber and protein than quick oats or rolled oats.
Green apple: These won't be crunchy unless you add them when serving, yet they add a tartness that balances out the coconut sugar.
Carrots: Grate or buy pre-grated for a great flavor. I won't tell if you double the amount in this oatmeal. There is no right or wrong way to carrot!
Ginger root: You can use ground ginger, yet fresh adds a little kick and elevates the spice perfectly. Plus, I use fresh ginger in carrot cake so it's going in this oatmeal version as well!
Sea salt: Just a sprinkle of salt will bring out the other flavors in this dish nicely.
Coconut sugar: I love using this less sweet option over brown sugar as it is still sweet, nutty and more granulated yet warm.
Cinnamon: Fresh ground or not, cinnamon adds warmth.
Raisins: Dried fruit contributes to the sweetness in this recipe so use as much as you want.
Coconut flakes: I love adding these flakes to a variety of dishes and they work well in this dessert-like breakfast.
Candied pecans: The topping to end all toppings! I use these in salads, squashes and more. They add the perfect crunch here as well.
Candied PEcan Topping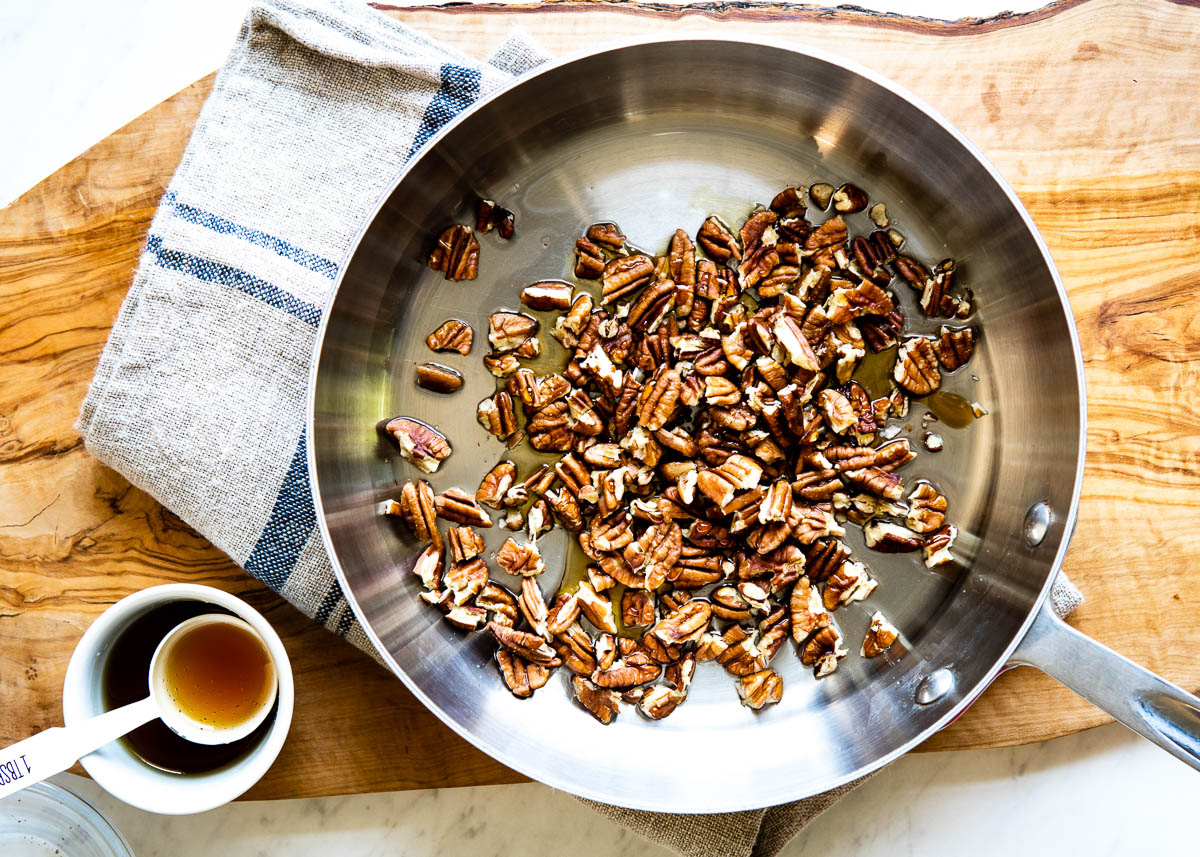 This is a fun recipe to start with, yet the perfect finish comes from the candied pecan topping. This versatile topping can be used on stovetop oatmeal and salads alike. It's so good. It requires a little extra effort and is totally #worthit.
While your steel cut oats are cooking, heat up a skillet over medium-high heat then melt some coconut oil. Once melted, add the pecans (chopped or whole) and lightly toast them for 2-3 minutes.
Sprinkle with coconut sugar, maple syrup and sea salt. Lower the heat to medium and constantly stir until a thick syrup forms and turns a dark amber color.
Once the sugar caramelizes, turn off the heat and add in vanilla and cinnamon, stirring well to combine.
If you want the pecans to dry out without clumping, transfer them to a silicone or parchment-lined baking sheet to cool. Store in an airtight container until ready to enjoy.
Easy Ingredient Swaps
Oatmeal is super versatile, so make this your own! If you add certain spices to your carrot cake then add those to this healthy carrot cake oatmeal for a taste of home. Swap the green apple with red if you prefer and use ground ginger if there is no fresh available.
Coconut sugar can be swapped with maple syrup to keep the nuttiness. Raisins are great, but feel free to use chopped dates, cranberries or the dried fruit of your choice. Some people like pineapples in their cake so those work great, too!
To easily boost the protein and healthy fat in this recipe add in a homemade protein powder. Your blood sugar will thank you and you'll feel full all morning long!
Oat Options
I use steel cut oats in this recipe since they have slightly more protein and fiber per serving than rolled, yet you can use rolled oats if that's your preference. I would stay away from any quick-cooking oats (steel cut or otherwise) since they will cook too quickly for this version.
No matter which oat you use, know that every kind will soak up a different amount of liquid while cooking. If you notice the liquid evaporating too quickly then don't be afraid to add a bit more so that yours doesn't dry out.
Stovetop Oatmeal Recipe
Everything is cooked in the same pot so make sure you have one that can handle expanding oatmeal before you get started. You can chop up the other ingredients while the steel cut oats are cooking so no need to prep those ahead of time. Now let's make some breakfast!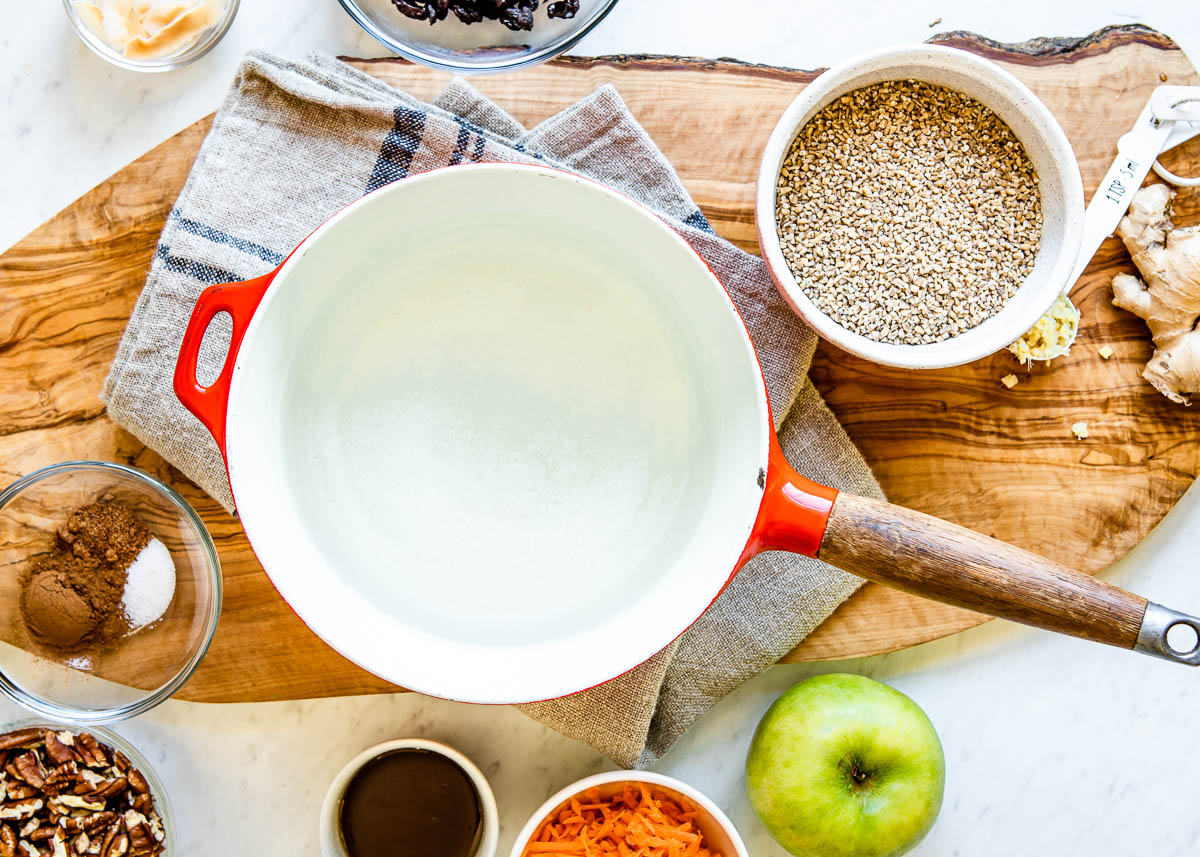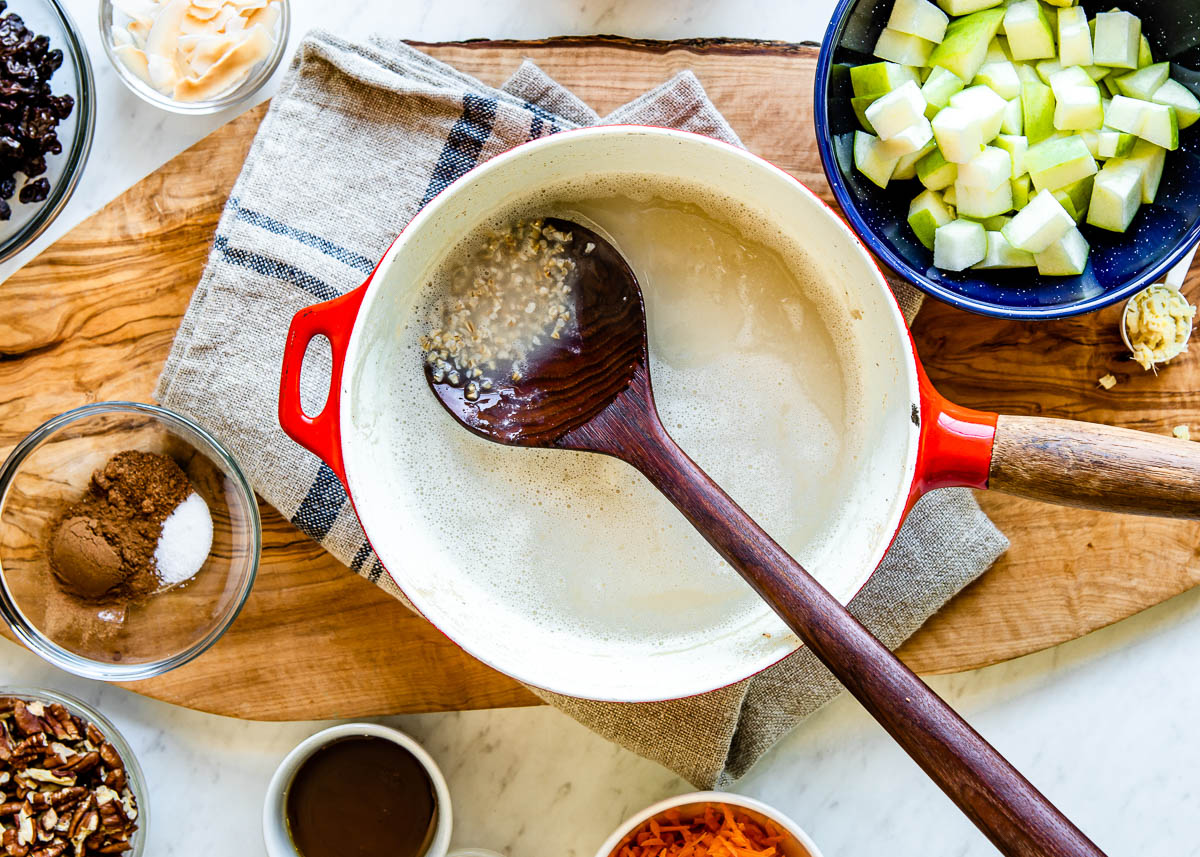 Step 1: Simmer water in a medium to large saucepan over medium heat.
Step 2: Add the oats to the simmering water and reduce the heat to medium-low, adjusting as necessary to keep a gentle simmer. Cook for 20 minutes, stirring occasionally, until the mixture is very thick.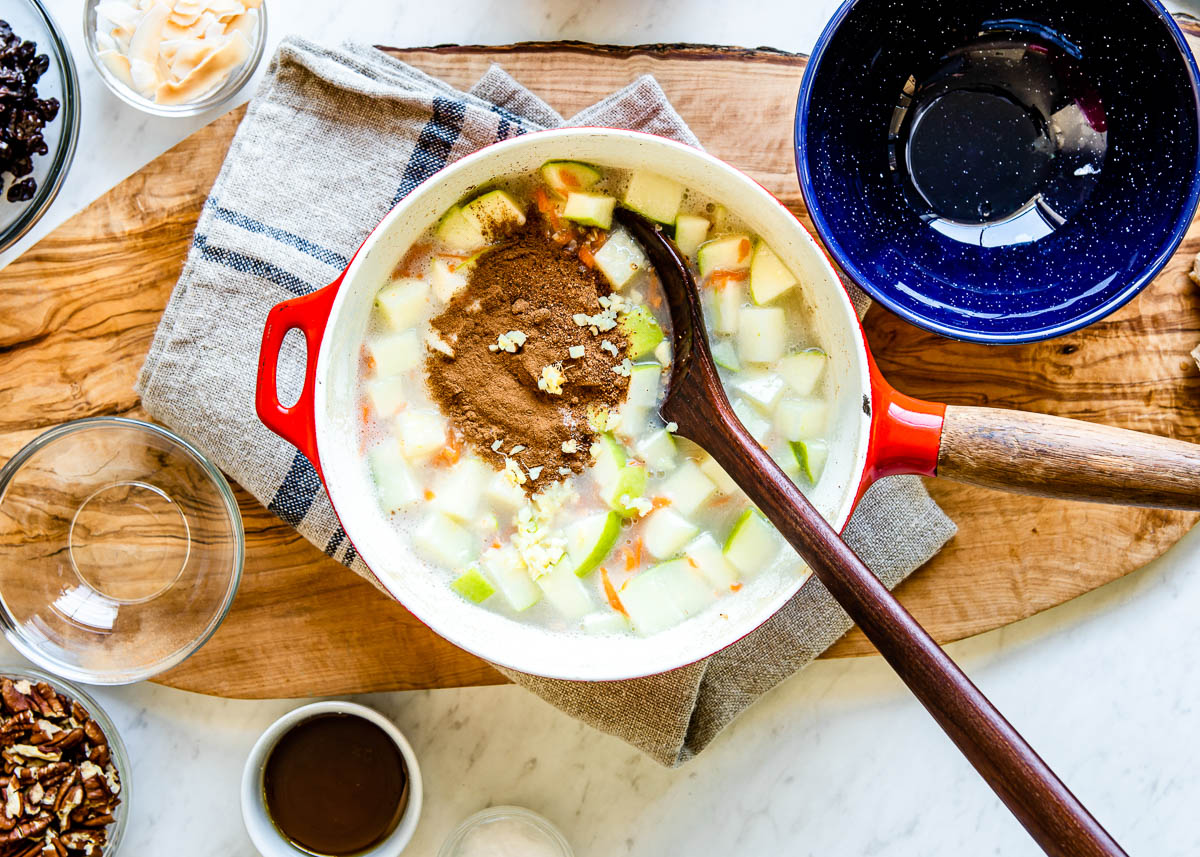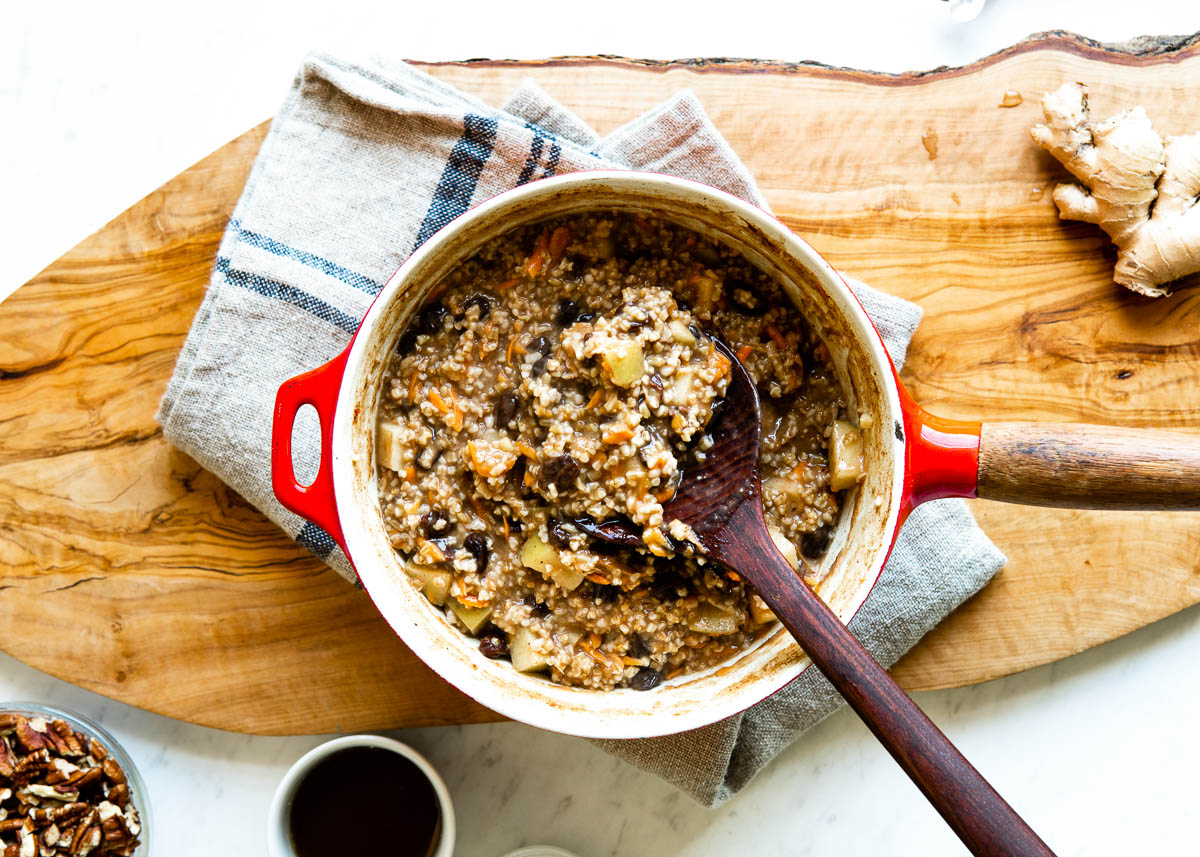 Step 3: Stir in the apple, shredded carrot, ginger root, sea salt, coconut sugar and cinnamon. Continue to simmer for 10 minutes, or until liquid is absorbed, stirring occasionally.
Step 4: Remove from heat and stir once more to thoroughly mix. Portion into bowls and add candied pecans, raisins and coconut flakes on top. If you like your oatmeal a little less thick or want to cool it down faster to eat then add a splash of dairy-free milk.
Any leftovers can be stored in airtight containers in the fridge. When you reheat them, add a bit more liquid to help them break apart and keep the right consistency.
Healthy Carrot Cake Oatmeal FAQs
Is oatmeal a healthy breakfast option?
It can be! If you are watching your glucose, the key to enjoying oatmeal at breakfast is fiber and protein. Oats, even steel cut, contain carbs naturally that can lead to a blood sugar spike, so adding in the apples and carrots will help increase the fiber. Don't forget to add a scoop of your favorite plant-based protein powder to add more protein, healthy fat and fiber to that oatmeal and curb that spike. And my secret weapon? Add 1/4-1/2 cup of riced cauliflower per serving of oatmeal! It will add even more fiber to keep your glucose happy and even all morning long.
Is oatmeal gluten-free?
Yes and no. Oats are gluten-free however they are often processed with other grains that are not gluten-free. So if this is important to you then look for the certified gluten-free logo on your oats packaging to ensure you have a safe option.
How do I make oatmeal taste like carrot cake?
It's so easy! Everything you love about carrot cake is in my breakfast recipe: carrots, ginger, apple, raisins, pecans and cinnamon. If there is a spice you typically add to your carrot cake then add it to this stovetop recipe!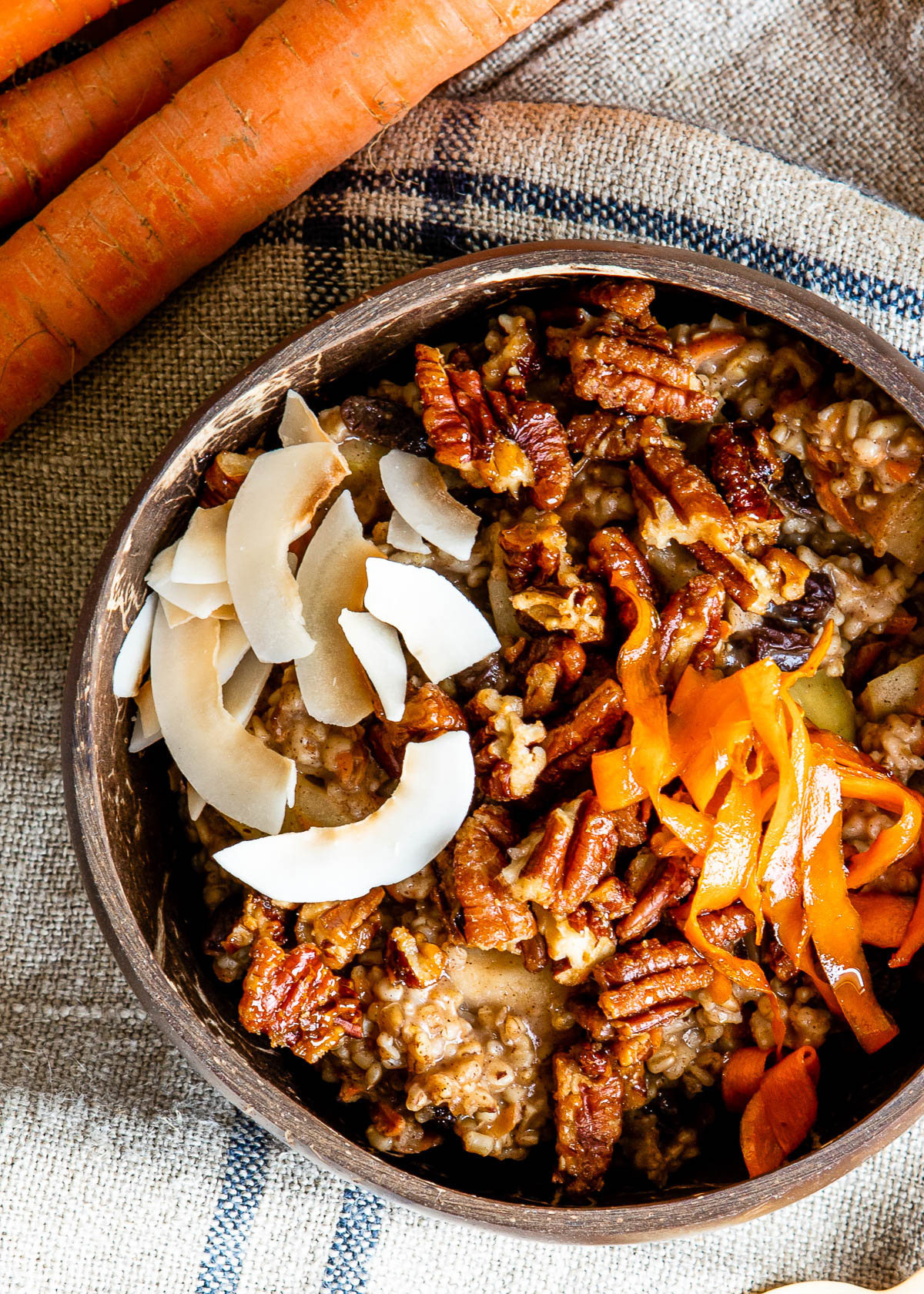 More Oatmeal Recipes
If you want to hop on the oatmeal train and switch up your morning routine then I've got you covered! You make these recipes ahead of time and reheat them as needed for some great, hearty breakfast options:
Will you please rate + review this recipe once you try it? I love getting your feedback and it means so much to me to know your thoughts!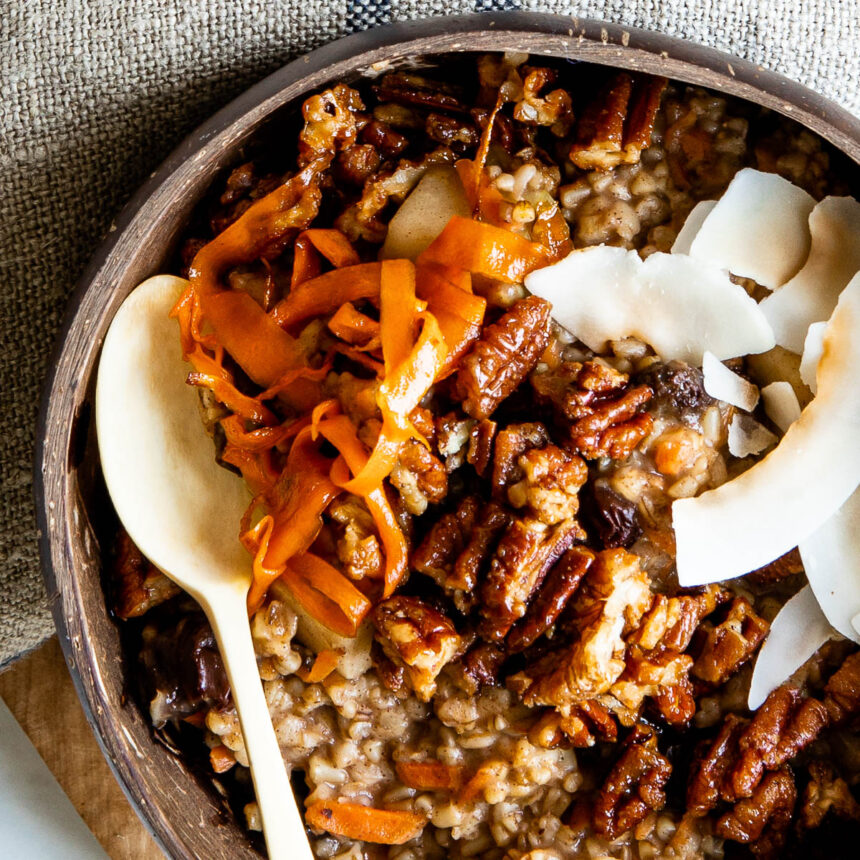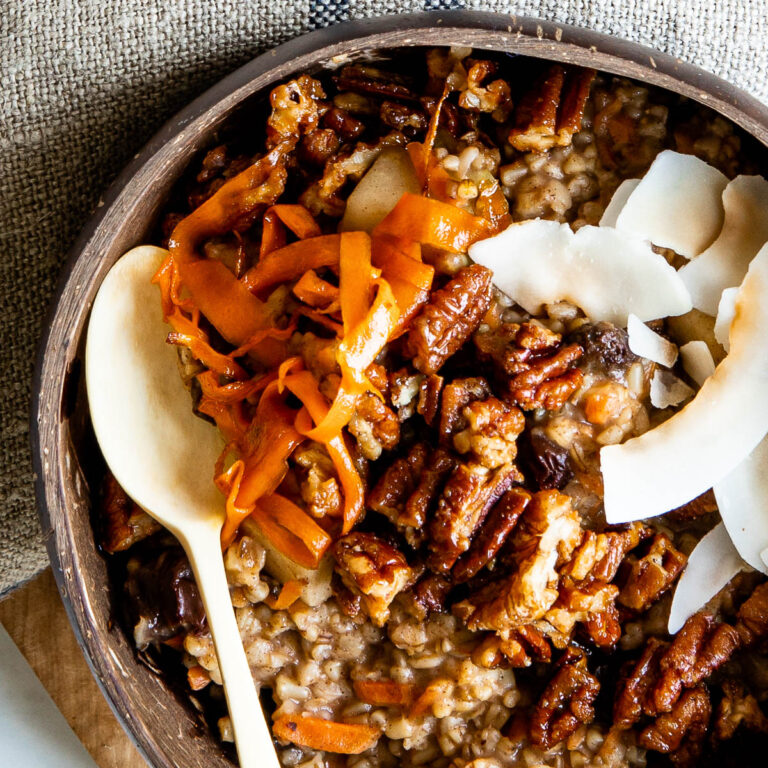 Carrot Cake Oatmeal
Start your morning off happy with this lovely carrot cake oatmeal. It's hearty, warming and oh-so-delicious with real ingredients + spices. Grab a large pot and make enough for the whole week.
Ingredients
1

cup

steel cut oats

4

cups

water

1

green apple

diced

½

cups

carrots

peeled and shredded

1

tsp

ginger root

peeled and grated

⅛

tsp

sea salt

3

tbsp

coconut sugar

1

tsp

cinnamon

ground
For Topping:
½

cup

raisins

optional

¼

cup

coconut flakes

optional

½

cup

candied pecans

optional
Instructions
Simmer water in a saucepan over medium heat.

Add oats to simmering water. Reduce heat to medium-low, adjusting as necessary to keep a gentle simmer. Cook for 20 minutes, stirring occasionally, until the mixture is very thick.

Stir in apple, shredded carrots, ginger root, sea salt, coconut sugar and cinnamon. Continue to simmer, stirring occasionally for 10 minutes or until the liquid is absorbed.

Remove from heat and stir once more to thoroughly mix.

Portion oatmeal mixture into bowls then add candied pecans, raisins and coconut flakes to top. Serve immediately.
Notes
You can make candied pecans while the oats are cooking. 
Swap the steel cut oats with the oats of your choice and follow the package directions for cooking.
The ginger is a bit spicy, so omit if you do not want that much spice or swap it with 1/4 tsp ground ginger.
Swap the raisins with chopped dates, cranberries or the dried fruit of your choice. 
Nutrition
Calories:
289
kcal
,
Carbohydrates:
57
g
,
Protein:
9
g
,
Fat:
4
g
,
Saturated Fat:
1
g
,
Polyunsaturated Fat:
0.1
g
,
Monounsaturated Fat:
0.01
g
,
Sodium:
153
mg
,
Potassium:
139
mg
,
Fiber:
8
g
,
Sugar:
15
g
,
Vitamin A:
3599
IU
,
Vitamin C:
4
mg
,
Calcium:
54
mg
,
Iron:
2
mg