Have you ever wondered what to do with those beautiful leafy tops from fresh carrots? They do so much work helping bring nourishment to the growing carrot root, then often get chopped off and discarded. Instead, I am using those gorgeous leaves in carrot top recipes like smoothies, salads, and sauces to bring better flavor and nutrients to my dishes.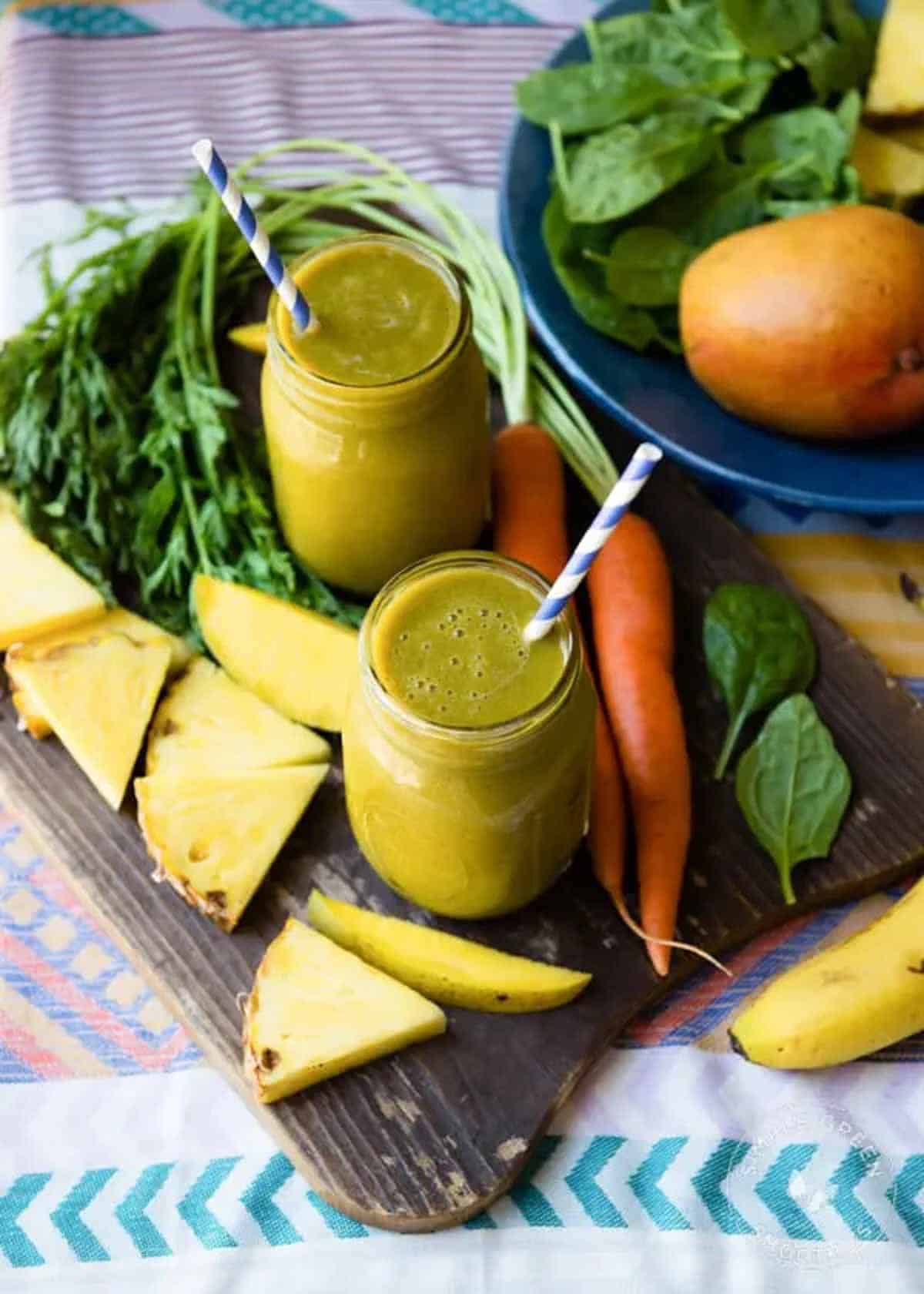 Table of Contents
Best Carrot Top Recipes
I fell in love with chimichurri sauce while recipe testing for my very first 21-Day Cleanse program. So when Love and Lemons created this carrot top recipe for chimichurri, I had to give it a try. And let me be the first to say… it does NOT disappoint.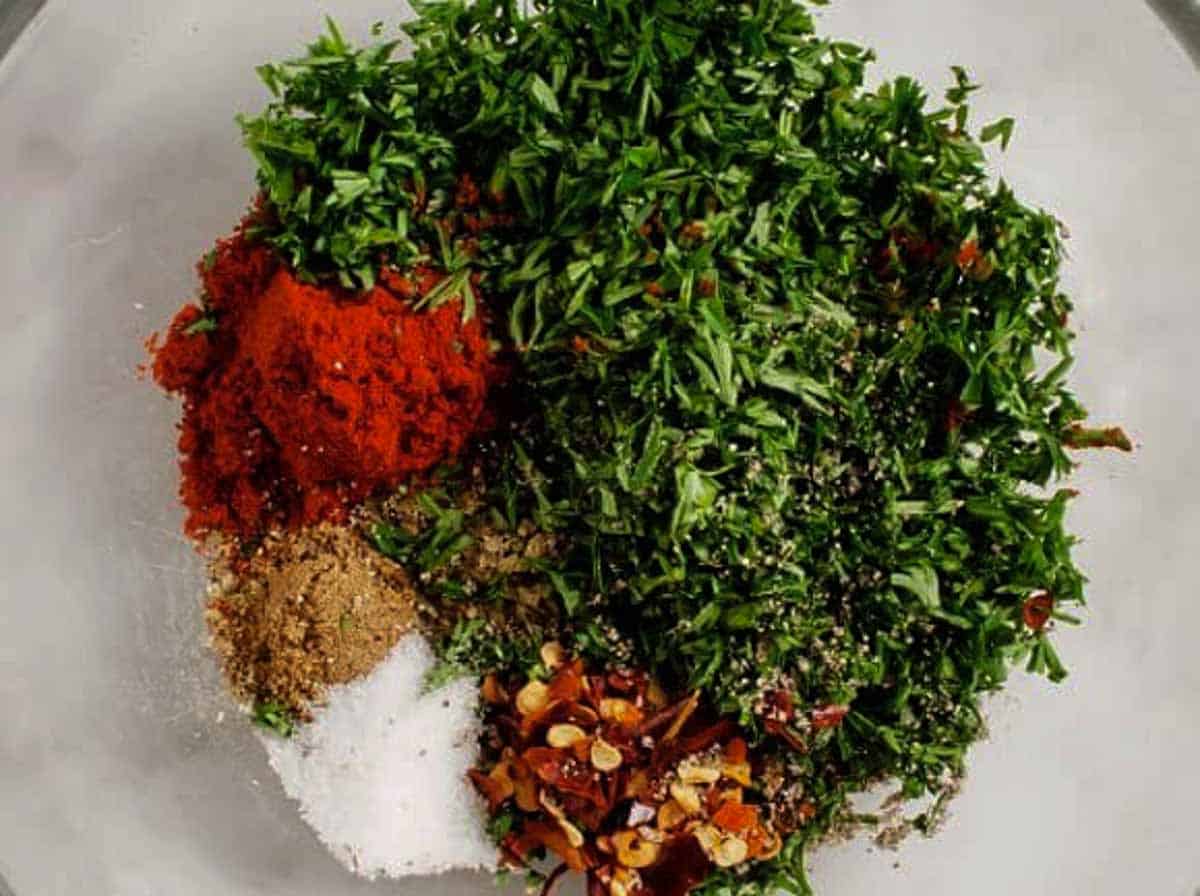 Sauté leafy greens and you've got a scrumptious side dish, beautiful topper for a bowl of veggies or protein, or a simple yet nourishing warm snack. These sautéed carrot greens by Kristina from Fork in the Road are a delicious blend of carrot tops and spices.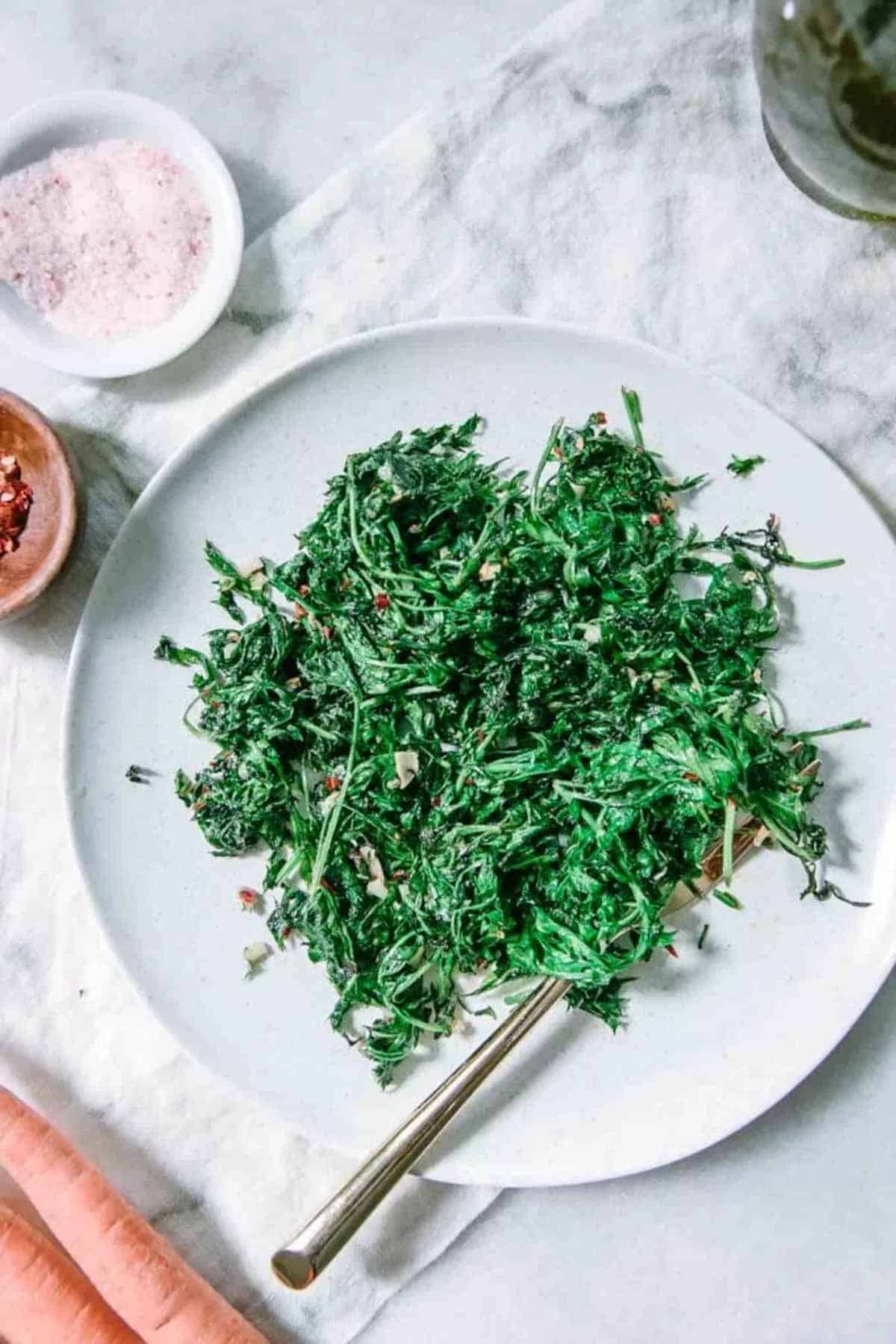 The final dish in this carrot top recipes round up is, of course, a smoothie! You can grab the recipe below. Carrot greens contain vitamin C, fiber, magnesium, and chlorophyll. Avoid if you're allergic to celery + parsley, since they're in the same family. Use them as a great way to switch up your leafy greens, and see if you even notice them in your next smoothie!
FAQs
Can carrot tops be cooked and eaten?
Yes! Use carrot greens like you would any other leafy green; add to a salad for color and flavor, a smoothie, a sauce like an herb, and more.
How do you prepare carrot tops to eat?
Carrot tops can be washed and eaten raw (think salads, smoothies, sauces), or cooked, sautéd, or baked into warm meals. Check out the carrot top recipes above for some easy inspo!
Easy Ways to Eliminate Food Waste
I love fruits and vegetables, and buying them fresh gets me the most nutrients. Yet I always seem to be tossing wilted greens, fuzzy berries, and soft carrots by the end of the week. So I decided to take action to eliminate food waste in creative ways.
Compost– I have a small trash can in my kitchen just for compost. Any produce I can't salvage (or chopped ends of produce, rinds, etc.) goes in. A few times a week I take this bin to the backyard compost bin. I then use this compost for the garden. With these great carrot top recipes, you'll never toss those greens again!
Smoothie prep– I find that prepping my smoothies for the week or month helps me keep up the daily green smoothie habit, as well as keeps me from wasting fresh leafy greens and produce.
Freezing individual ingredients– When I don't have time to prep full smoothies, yet the bananas are 1 spot away from getting ugly, I learned how to freeze bananas individually. This applies to that wilted spinach too! Freezing spinach really helps give it a longer shelf life. Simply get out a cookie sheet and line with parchment. Peel, dice, or chop whatever fruits/veggies you're trying to save, then lay out in a single layer on the sheet. Freeze for a few hours, then toss in a freezer-safe storage bag.
Ingredient swaps– I like finding different recipes for dinner (like the carrot top recipes above), yet I also want to use up my produce in the best way possible. So I find the ingredients that need to be used first, then craft a recipe around them. Or if I have my heart set on a certain recipe, I'm not afraid to swap in an ingredient not called for to use it up.
What do you do to help eliminate food waste? I'd love to hear about it in the comments, as well as if you made any of these carrot top recipes!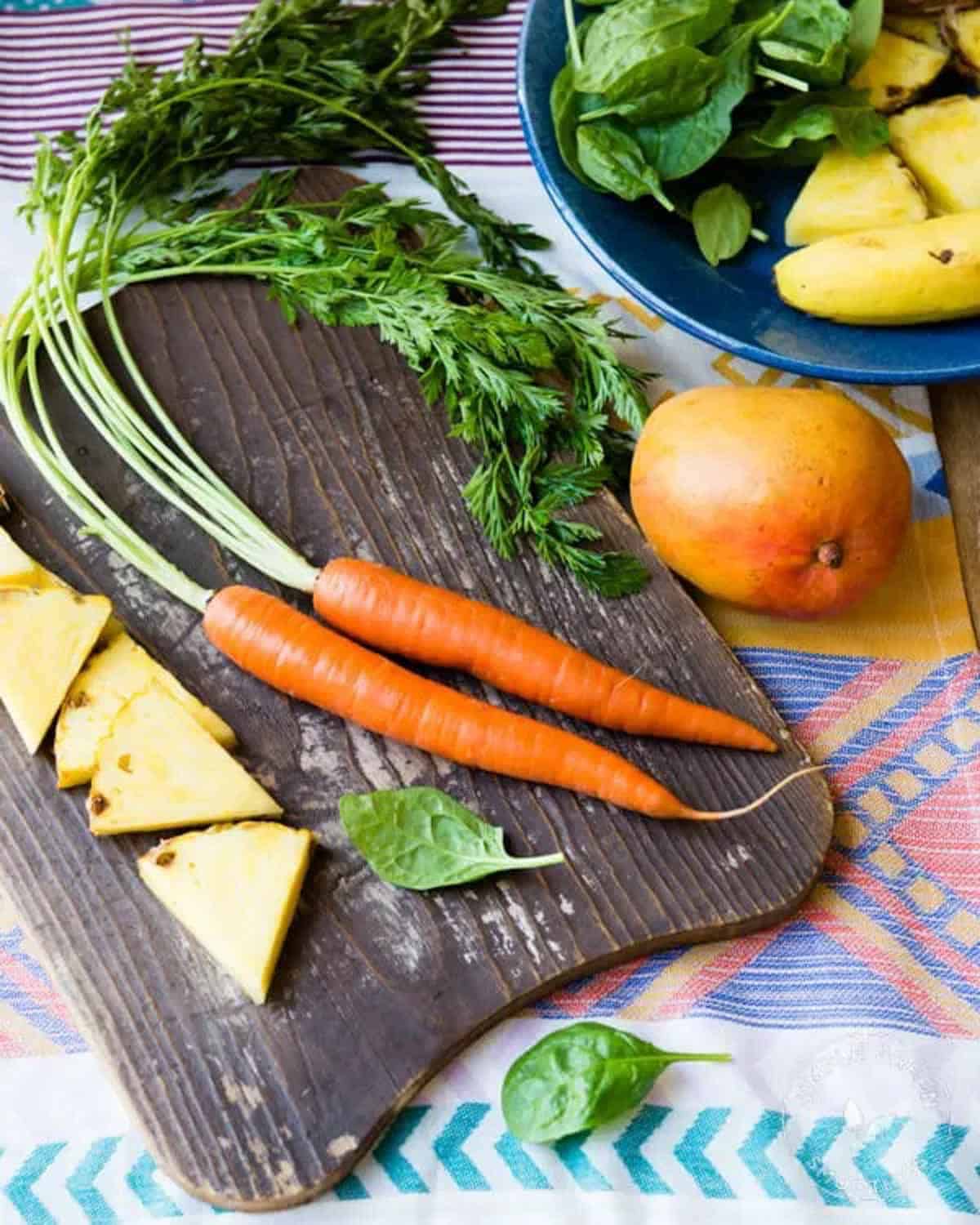 How to save carrot tops for smoothies
I like to use greens any way I can, so when I found out that carrot greens were edible, you better believe I started tossing them into smoothies. If you're going to use them fresh, then first cut the stems off the carrot. Second, cut the leaves off the main stem (like you do with cilantro). Rinse these off well, and toss them right into the blender.
If you want to save your carrot tops for later use, freeze them in ice cube trays for long term storage, or wrap them in paper towel and place in the vegetable hydrator in the fridge for a day or 2. Depending on the carrot top recipe you choose, fresh or frozen greens might work best.
Other easy smoothie swaps
If you wanna blend this smoothie but need to lower the sugar, then swap either mango or pineapple with 1/2 cup cauliflower per serving. If you don't have any carrot greens on hand, then simple add in an extra 1/4 cup spinach (or any other leafy green!).
I add a whole raw carrot to this smoothie recipe because my Vitamix can puree it easily. Yet if you have a non high-powered blender, then shredding the carrot or steaming it before adding to the blender helps. Chunk-free smoothie for the win!
If you make one of the carrot top recipes above, or this delicious smoothie below, let me know how your dish turned out!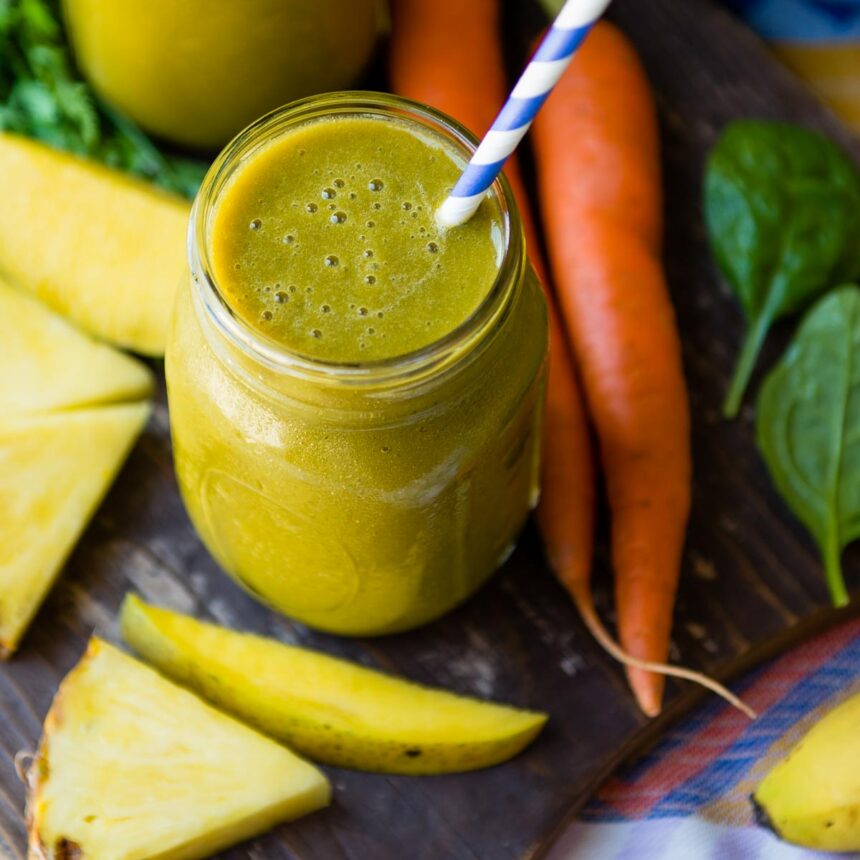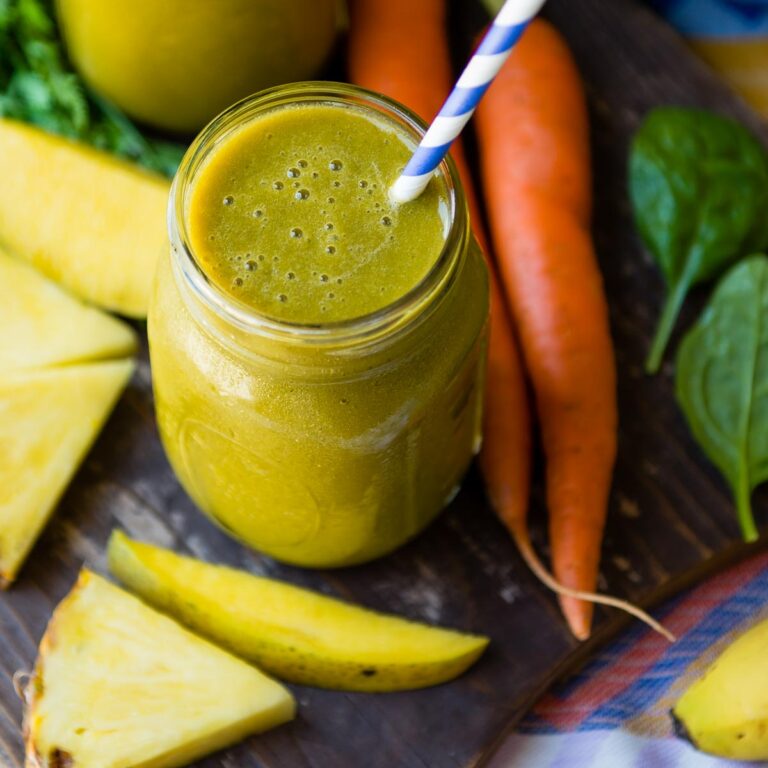 Carrot Greens Smoothie
We are lovers of all things leafy green— even carrot tops! This extremely creamy Carrot Greens Smoothie wastes nothing by using the entire carrot, leafy top and all. A lovely, sweet smoothie with mango, pineapple, banana and carrot tastes more like dessert yet is loaded with leafy greens.
Ingredients
¾

cup

spinach

1

carrot

include leafy tops

1

cup

water

½

cup

pineapple

frozen

½

cup

mango

frozen

½

banana

1

serving

homemade protein powder

optional
Instructions
Blend spinach, carrot top leaves and water until smooth.

Add the remaining fruits and blend again.
Notes
You can grate your carrots with a cheese grater, or steam them to soften them before blending if you aren't using a high-speed blender.
Use at least one frozen fruit to make the smoothie cold.
Feel free to swap the carrot tops with the leafy greens of your choice.
Swap water with coconut water, green tea or any dairy-free milk.
Nutrition
Calories:
173
kcal
,
Carbohydrates:
43
g
,
Protein:
3
g
,
Fat:
1
g
,
Saturated Fat:
0.2
g
,
Polyunsaturated Fat:
0.2
g
,
Monounsaturated Fat:
0.2
g
,
Sodium:
74
mg
,
Potassium:
761
mg
,
Fiber:
6
g
,
Sugar:
30
g
,
Vitamin A:
13279
IU
,
Vitamin C:
85
mg
,
Calcium:
72
mg
,
Iron:
1
mg