Veggie burrito bowls are a family favorite since everyone can make what they want. This take on a Chipotle Veggie Bowl is a delightfully fresh and filling gluten-free dinner loaded with vibrant veggies. A bowl that's both filling and fun to eat, so get ready to dig into a weeknight staple!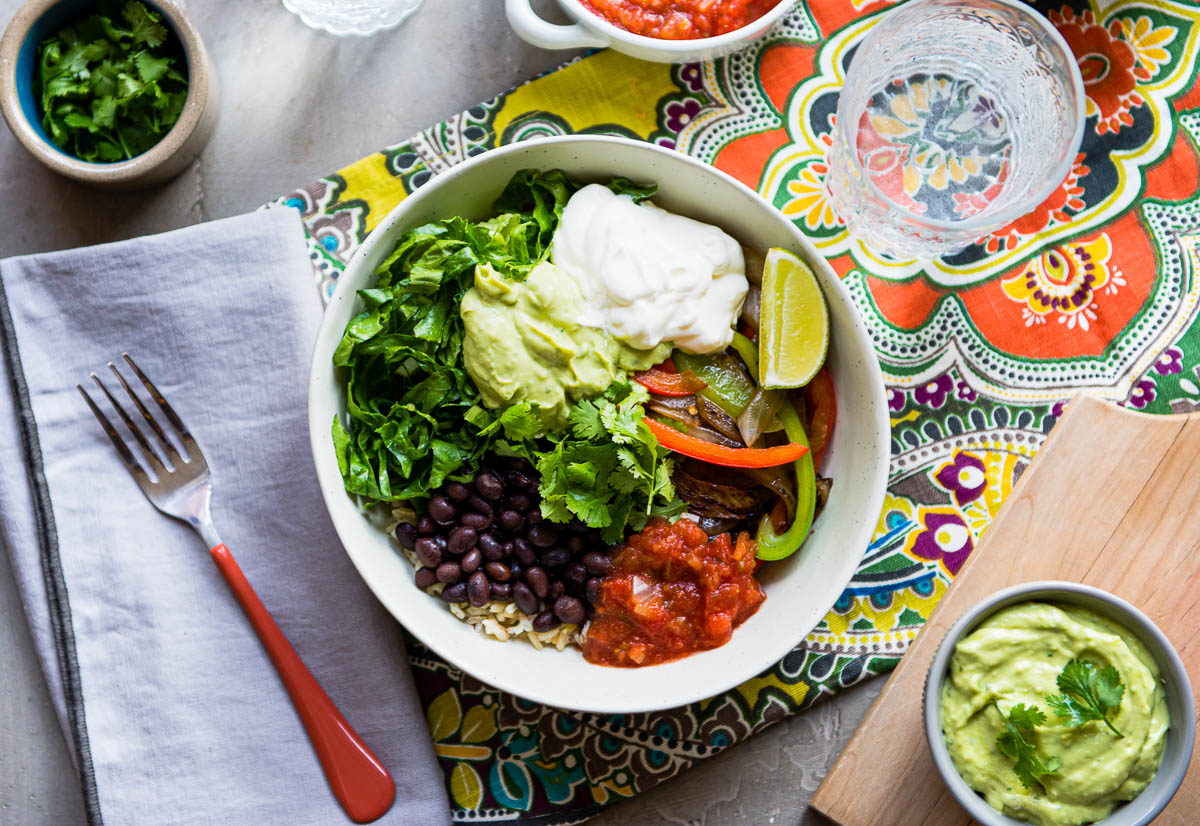 Planning dinner every night, seven days a week, 52 weeks a year gets old really fast. When I can make it easier on myself, I'll totally take that option every time. This chipotle veggie bowl recipe is easy to toss together and can be customized however your family wants. It uses the same process as our fav fast food restaurant yet doesn't carry the price tag.
Table of Contents
Ingredients for a Veggie Burrito Bowl
I often top my bowls based on what is available in the fridge, yet the base ingredients remain the same.
Brown rice: Buying rice in bulk from Costco is a great, cost-effective way to have it on hand anytime you need it. I like the taste and flavor of brown rice and my kids don't mind it, so it's my go-to base.
Black beans: Beans are an easy protein to toss in and they are fairly mild in flavor. Swap with the beans of your choice.
Olive oil: Since we aren't baking in the oven on high heat, this is a great oil to use.
Red bell pepper and yellow onion: This is a classic combo and easily sautéed to add flavor. You *could* add these veggies in raw, yet why would you want to when they taste so much better in a bit of olive oil and heated on the stove?
This base is simple, warm and easy to top in almost any way you want. I also know that my kids will eat these ingredients, so it's an automatic dinner win to get in some plant-based protein and vegetables, no matter how they choose to top theirs.
Other Base Options
My family is big on rice, so that is our go-to base for a variety of meals. If you want another option, I got you! You can easily swap brown rice for white rice, cauliflower rice or quinoa.
If you want other grain-free options, use diced butternut squash, sweet potatoes or white potatoes. You can also use zucchini or yellow squash. There really are so many options.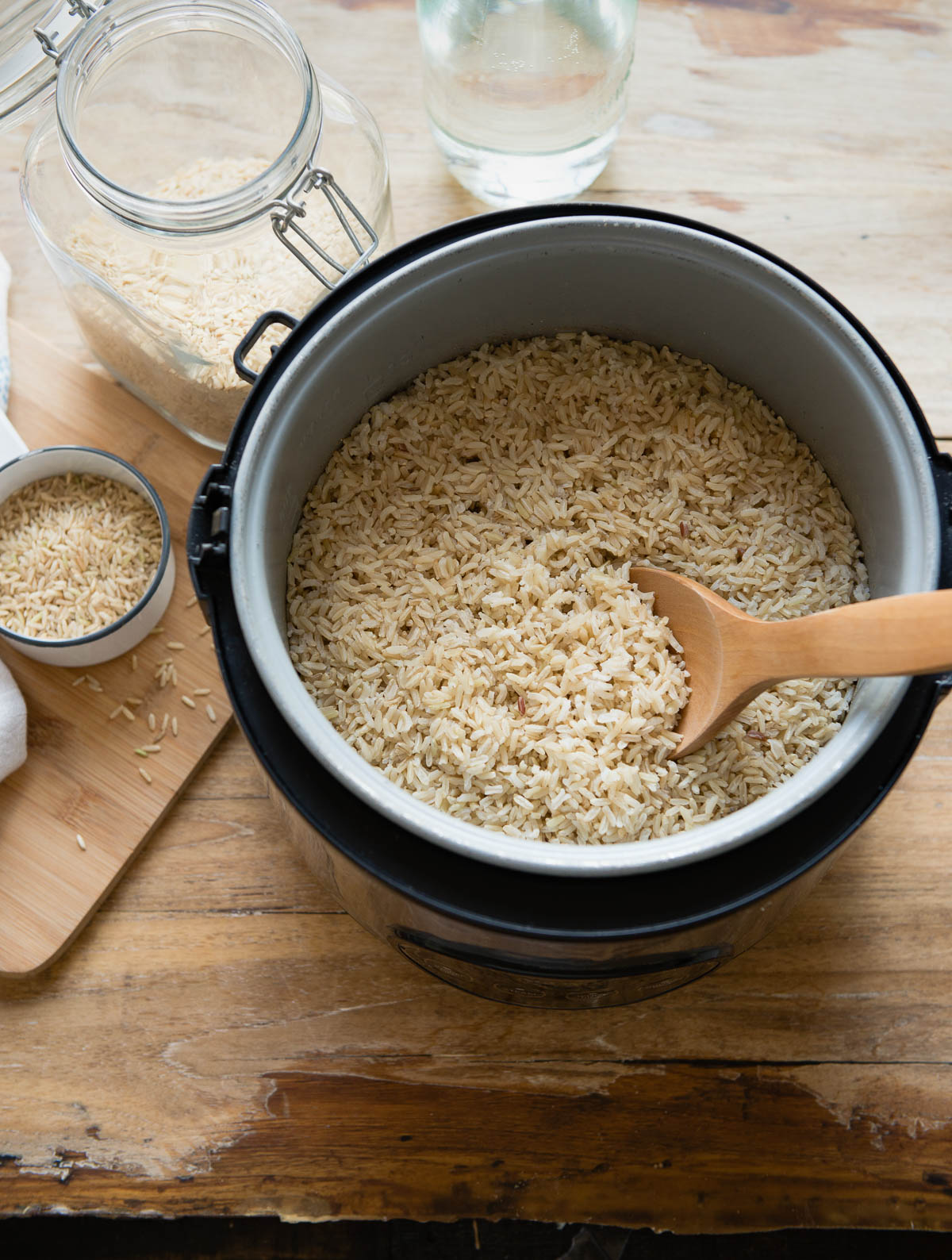 Sauce Options
I live for a good sauce. No matter what veggies are in the bowl, the sauce has to be perfect. I've been known to add my own sauces to takeout food so that I can take it to the next level.
This veggie burrito bowl was originally topped with cashew cream, guacamole and salsa. Feel free to try any of the sauce options below. They're all incredible.
Perfect these sauce recipes and then turn any veggie bowl into a gourmet party in your mouth.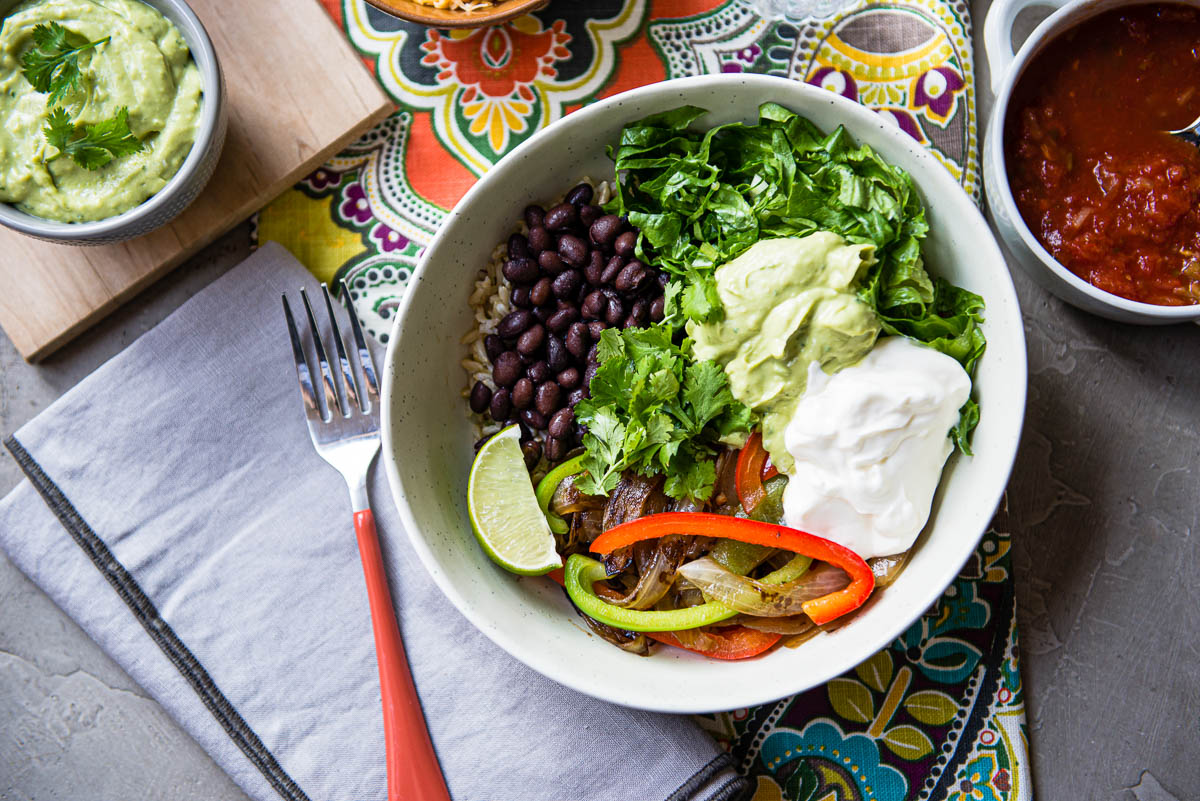 How to Assemble a Chipotle Veggie Bowl
There are a few ways to customize this bowl. Let's start with the basic components and then let you top to your heart's content.
Cook the brown rice according to the package directions. This will take the longest to cook so it should be started first.
While the rice is cooking, heat a skillet over medium heat. Add olive oil and warm for a few seconds then add in chopped bell pepper and chopped onion. Cook until the onions are translucent and the peppers are soft. Remove from heat.
Now you can assemble your bowl. Add brown rice to the bottom of a bowl then layer with cooked veggies, drained and rinsed black beans and lettuce. Top with your preferred toppings and dig in!
Pro Tips: Want more flavorful rice? Use coconut milk or vegetable stock instead of water. If you like a more "refried beans" texture then empty an undrained can of beans into a small pot and heat on medium. Once it starts bubbling, stir well to keep the beans on the bottom from sticking. Once the desired consistency has been reached, remove it from the stovetop and allow to cool slightly.
Chipotle Veggie Bowl FAQs
What is in a Chipotle veggie bowl?
My bowl uses brown rice as the base then layers in black beans, sautéed onions and peppers as well as a good handful of lettuce. I top my bowl with guacamole, cashew cream and fresh salsa for a flavorful and dairy-free finish.
How many calories are in a Chipotle veggie bowl?
It all depends on what you put in it. These are not "low calorie" bowls when you use rice as a base. My recipe is 692 calories and is guaranteed to keep you full of useable energy for hours. Healthy eating doesn't have to be a salad!
Can burrito bowls be healthy?
Yes! Use whole food ingredients, mostly plants and stick to sauces that are as simple as possible. I love making sauces and dressings at home so that I know exactly what's in them and I can control the amount of sugar in them. Use nutrient-dense ingredients with protein and healthy fat to help fill you up and keep you full.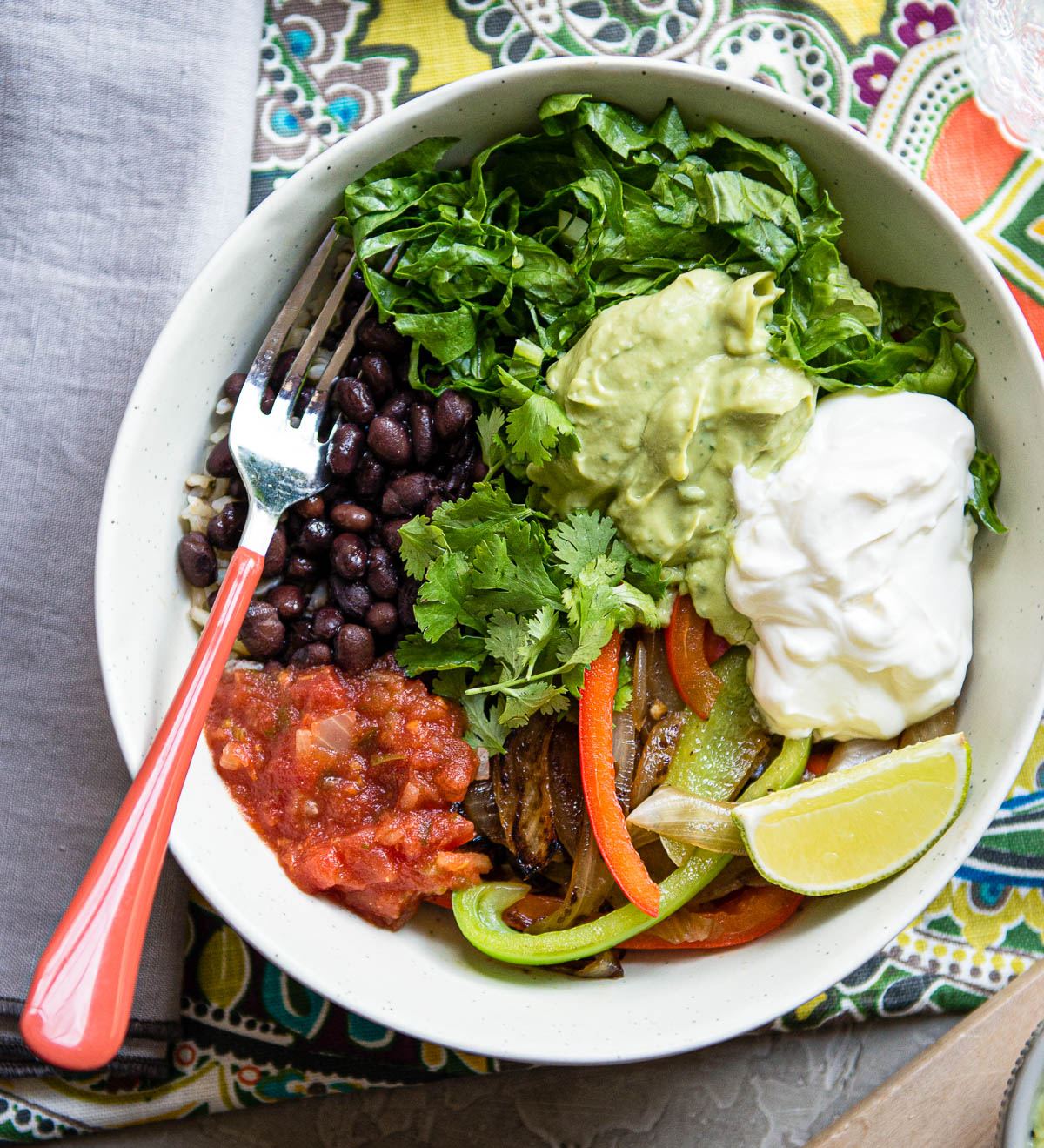 More Savory Dinner Bowls
If you love the idea of an easy dinner win then try any one of these veggie bowls at your next family meal. Your family can decide how to top theirs and everyone enjoys a delicious meal:
Will this veggie bowl recipe make it onto your next meal plan? If so, don't forget to rate + review it below. Especially if you customize it; seriously, I love hearing how you make these recipes your own!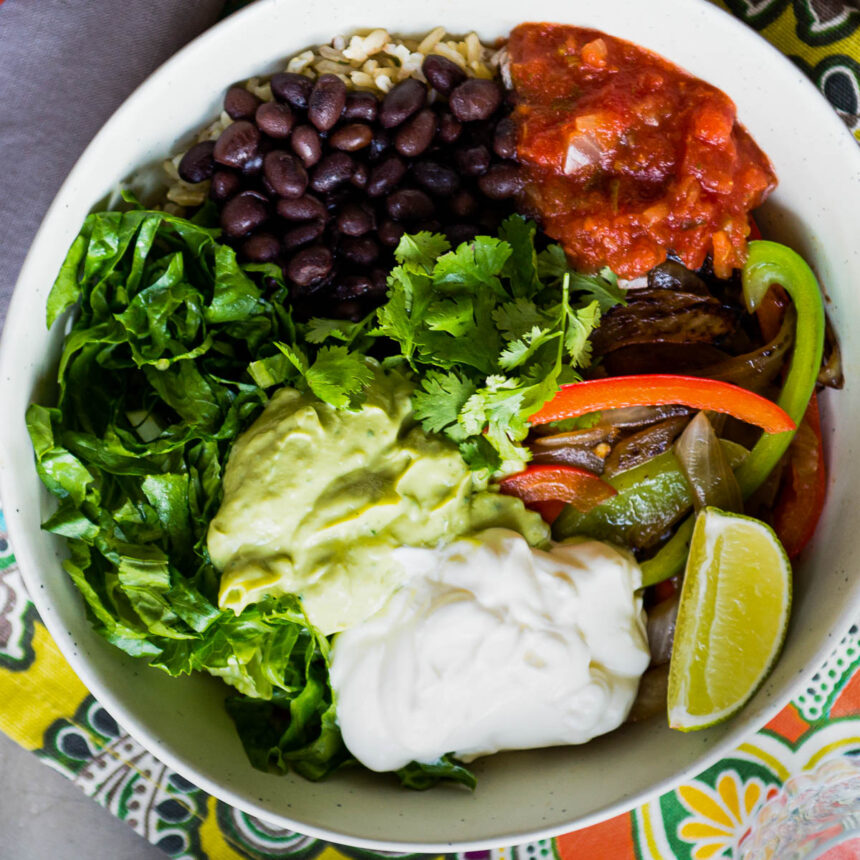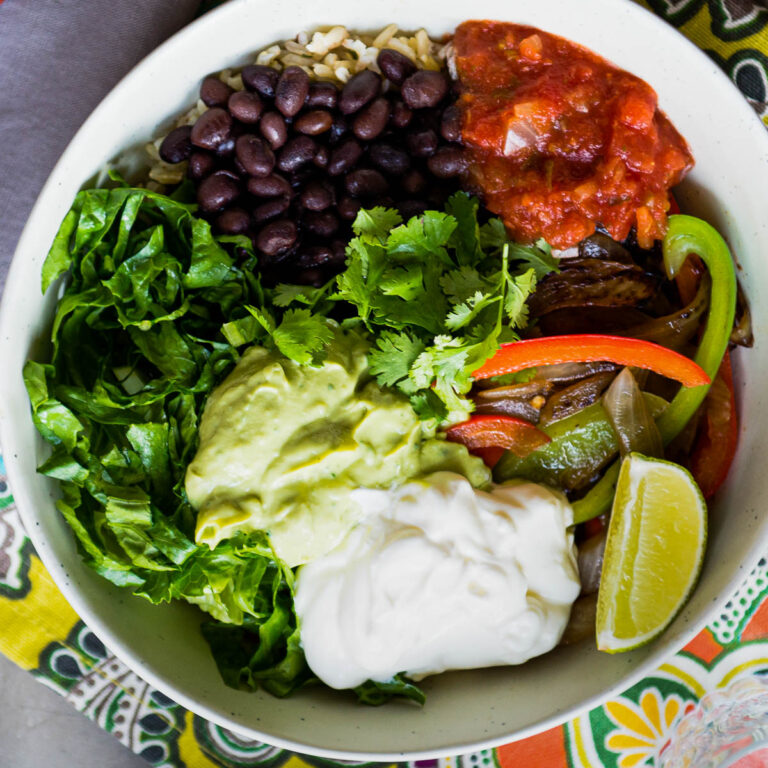 Chipotle Veggie Bowl
This Chipotle Veggie Bowl recipe is super fresh, nutrient-dense and bursting with flavors! It's easy to customize so everyone in your family can chow done on exactly what they want. Use tomatoes of fresh salsa, avocados or guac, bell peppers or jalapeños, the choices are all yours.
Ingredients
½

cup

brown rice

uncooked

¼

cup

black beans

drained and rinsed

1

tbsp

olive oil

½

red bell pepper

cut into strips

¼

yellow onion

cut into strips

¼

cup

romaine lettuce

sliced
Toppings
2

tbsp

guacamole

1

tbsp

cashew cream

or vegan sour cream

1

tbsp

salsa
Instructions
Cook brown rice as directed on packaging.

Heat a skillet over medium heat. Add olive oil, then add chopped bell pepper and chopped onion. Cook until onions are translucent and peppers are soft. Remove from heat.

Assemble the veggie bowl. Start with brown rice on the bottom, then layer with cooked veggies, lettuce, guacamole, cashew cream, salsa and black beans. Don't be afraid to add more of your favs. Add a fresh squeeze of lime juice before serving.
Notes
Swap the rice with white rice, cauliflower rice or quinoa.
Work with the veggies you have on hand. There is no need to buy extra ingredients if you've got some fresh produce at home.
I love making the components of this bowl and then setting them out buffet-style so everyone can choose what they want in their own bowls.
If you want a great vegan meat option for this bowl, add some walnut taco meat. 
Additional toppings include fresh tomatoes, hot sauce, chipotle ranch dressing, sliced avocado, chives and cilantro.
Nutrition
Calories:
607
kcal
,
Carbohydrates:
93
g
,
Protein:
13
g
,
Fat:
22
g
,
Saturated Fat:
3
g
,
Polyunsaturated Fat:
3
g
,
Monounsaturated Fat:
14
g
,
Sodium:
116
mg
,
Potassium:
794
mg
,
Fiber:
11
g
,
Sugar:
5
g
,
Vitamin A:
3012
IU
,
Vitamin C:
82
mg
,
Calcium:
66
mg
,
Iron:
3
mg