Snacks can be both delightfully tasty AND not loaded with sugar and additives. This chocolate covered banana bites recipe is the best of both worlds: super simple + real ingredients. It's really the perfect blend of chocolate, protein and sweetness for a great snack.
Make ahead of time and toss in the beach cooler, or whip up in the morning for a perfect under-the-stars movie snack that evening… This is one treat everyone can enjoy!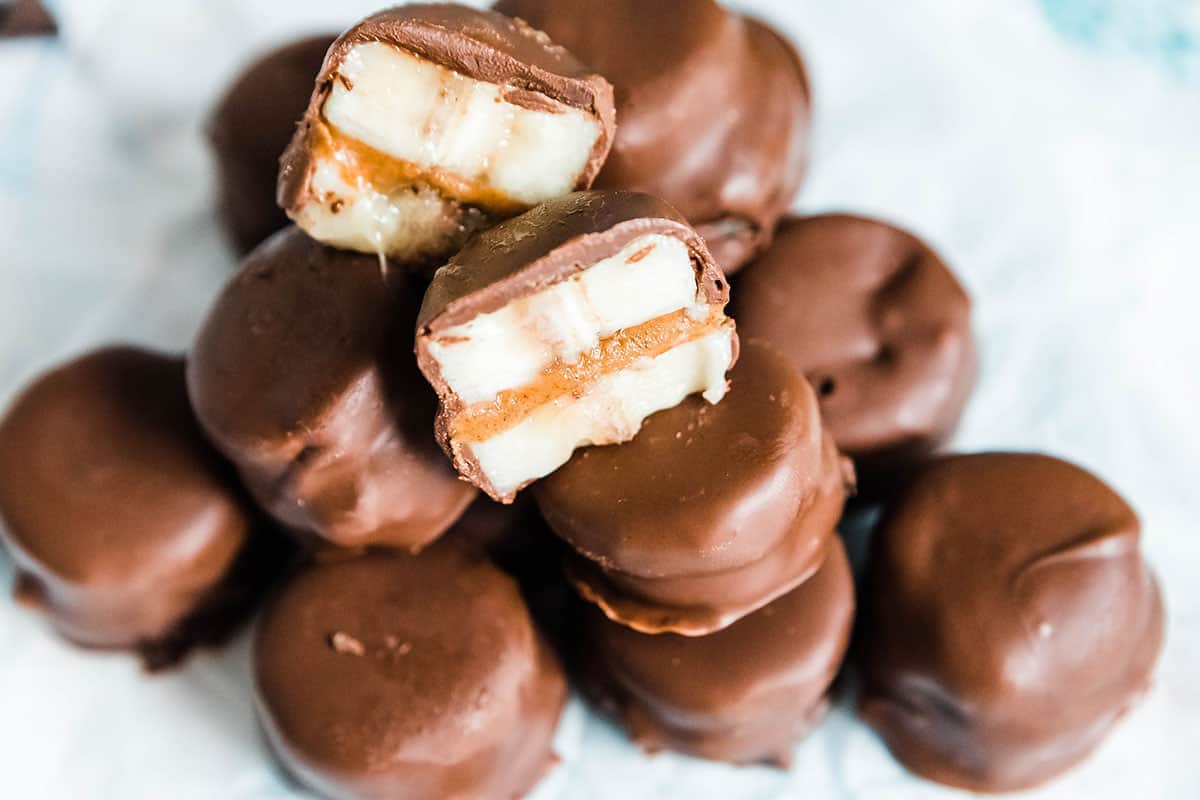 Table of Contents
How to Make Chocolate Covered Banana Bites
While this recipe does take a bit of time for everything to freeze up properly, it's actually super simple to make. You only need 4 ingredients to create this indulgent snack: bananas, chocolate chips, almond butter, and coconut oil.
If you're nervous about the coconut flavor coming through, don't be! I honestly can't taste the oil, and it's added for function instead of taste in these banana bites.
A few tips: Try to cut your bananas in even slices, so they are easy to coat on both sides. It's okay if you don't quite get 30 slices; I know bananas come in all different lengths! If your almond butter is hard to spread, try whipping it up first with an immersion blender. I learned this tip a while ago, and have loved the way it makes my almond butter spread and how creamy it is in my mouth.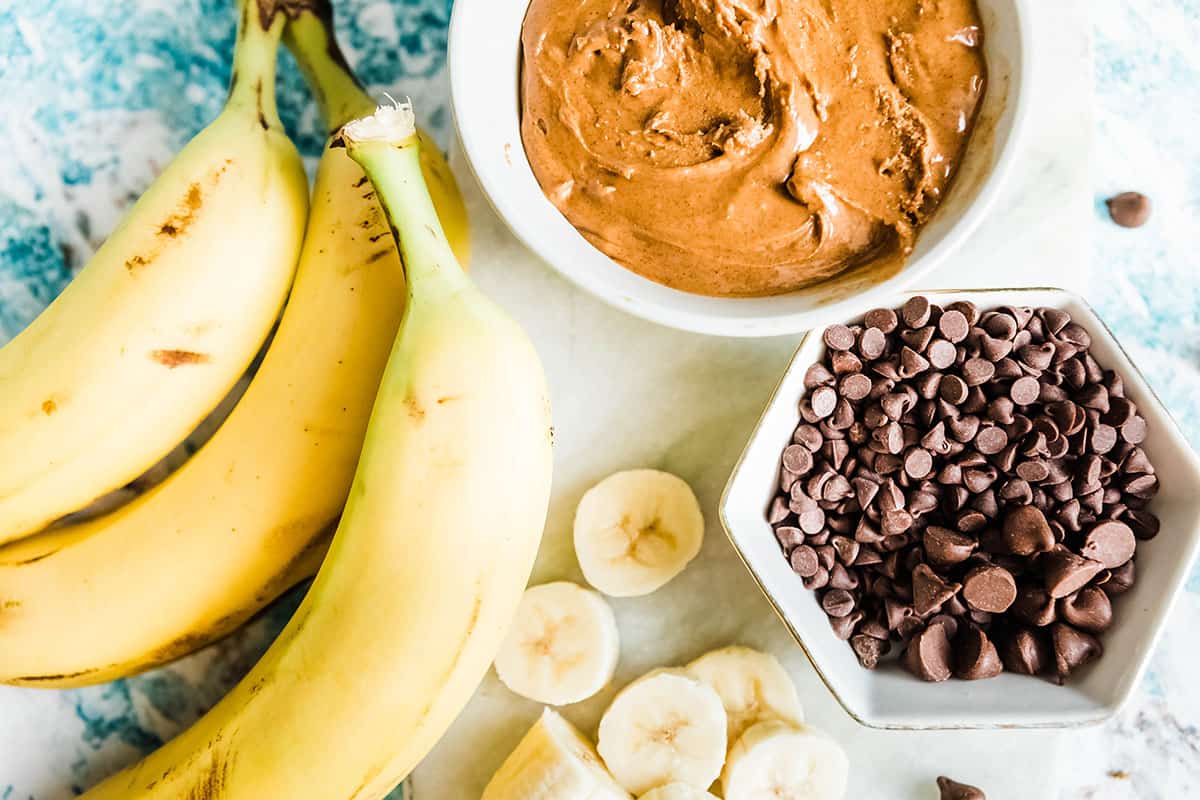 Filling options for banana bites
I love using almond butter in this fun recipe because it's nutty, creamy, and a healthy fat boost. Yet, there are tons of great options for your chocolate covered banana bites! Here are my top picks:
Peanut butter
Chocolate hazelnut spread (Nutella)
Cashew butter
Sunflower butter
If you've got a great filling idea, share it in the comments below! I love how creative ya'll are, and I'm bet you'll make some absolutely delicious bites.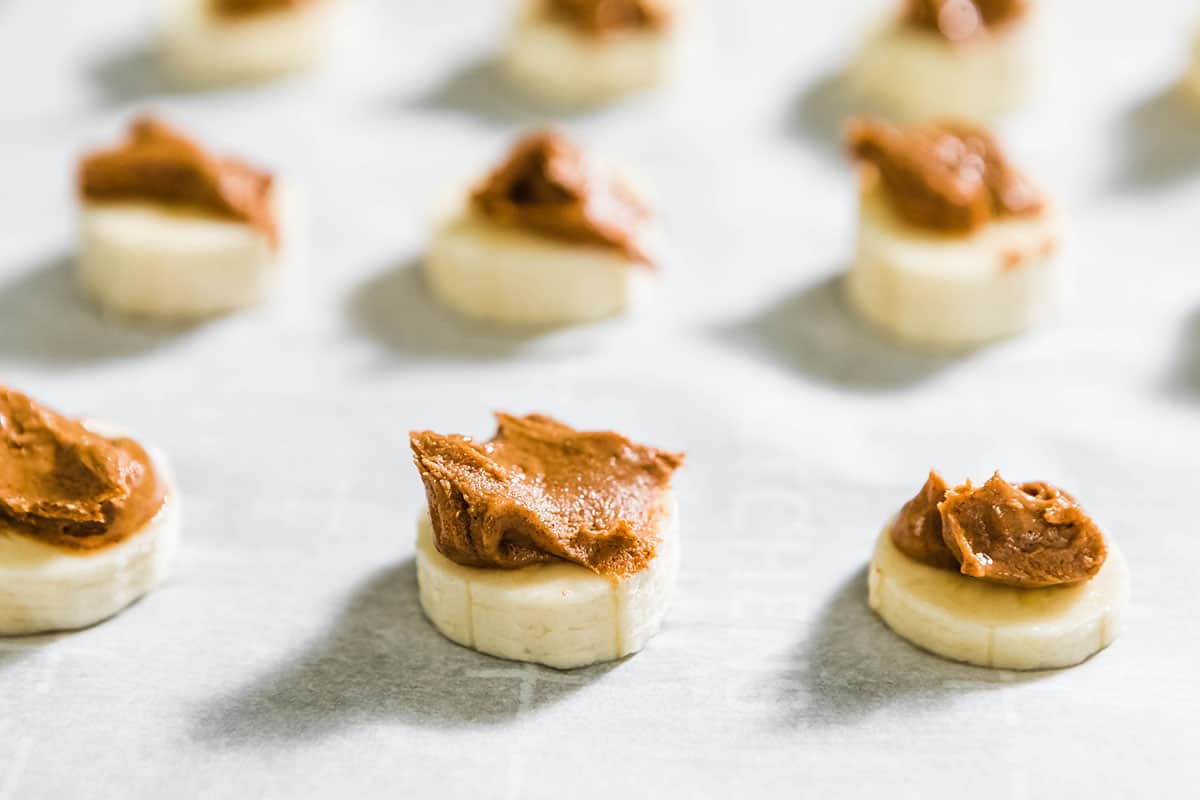 Best chocolate for coating
To keep this recipe vegan, I suggest using Enjoy Life dark chocolate chips or Tollhouse Allergen-Free Chocolate Chips. Trader Joe's also recently came out with a dairy-free chocolate chip option. If you're not vegan, feel free to use traditional chocolate chips– they will work just as well.
If you need a sugar free option then look at Lilly's dark chocolate baking chips. Do you have a fav chocolate chip brand? I'd love to know about it; I'm all for trying new brands and falling in love with new products. These banana bites will be delicious no matter what kind of chocolate you use, so choose your fav and get ready to indulge!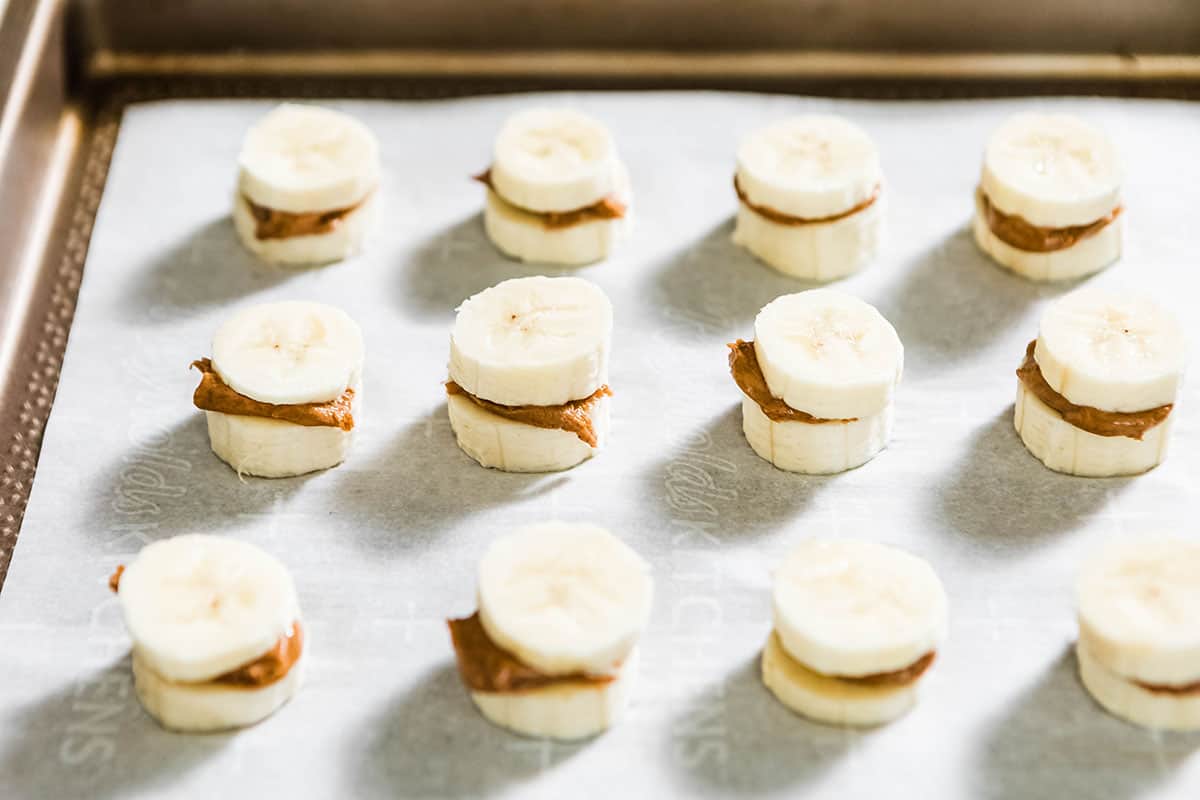 Simple + healthier snacking options
I often snack throughout the day as opposed to eating 3 larger meals. I eat to break up my day in between work and errands, so I need something to provide sustaining energy vs just satisfy my sweet tooth. These snack recipes are all great options for you to have on hand, and will nutritionally make you feel better about snacking:
Sweet snack options
Savory snack options
Whether you're feeling sweet or savory, these snacks will cover you the whole day through.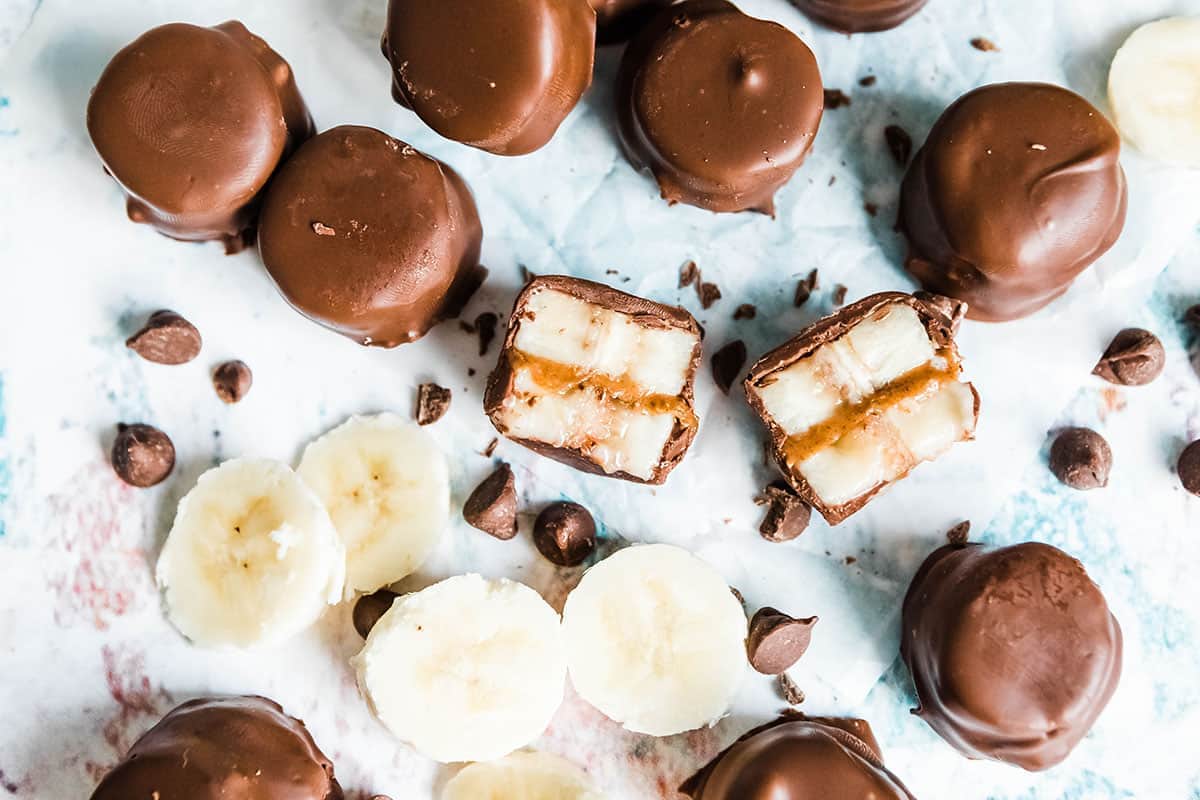 FAQs
Are frozen banana bites healthy?
Yes! If you use the right ingredients, this snack can be both delicious and good-for-you. I choose almond butter with super simple ingredients (and no added sugar) as well as chocolate chips that are allergen friendly and also made with 100% real ingredients.
What's the best filling for chocolate covered banana bites?
My recipe uses almond butter because it is both a healthy fat and flavorful option. Yet use whatever filling you want! Any kind of nut or seed butter can be used, just look at the ingredients to pick the best option for you.
Why can't I just melt chocolate to coat the bananas?
The chocolate 'sauce' needs the coconut oil to create a shell-like casing. This helps them harden properly around the banana sandwiches as well as stay hard when taken out of the freezer.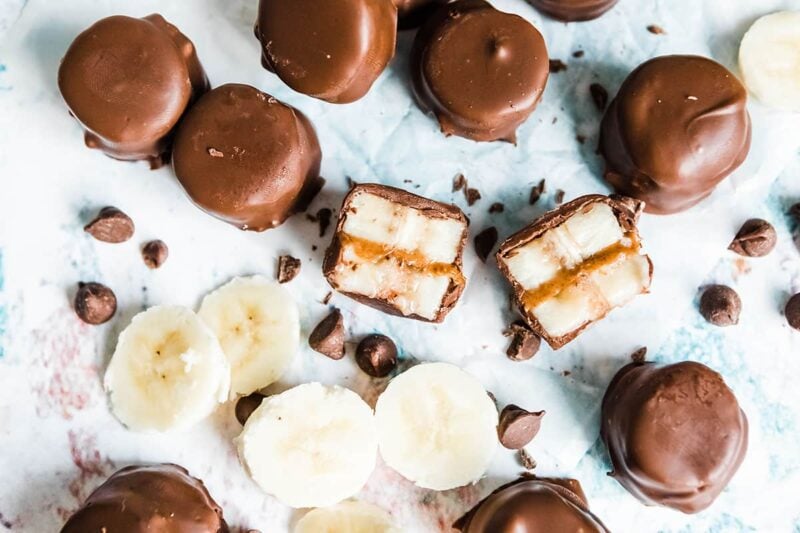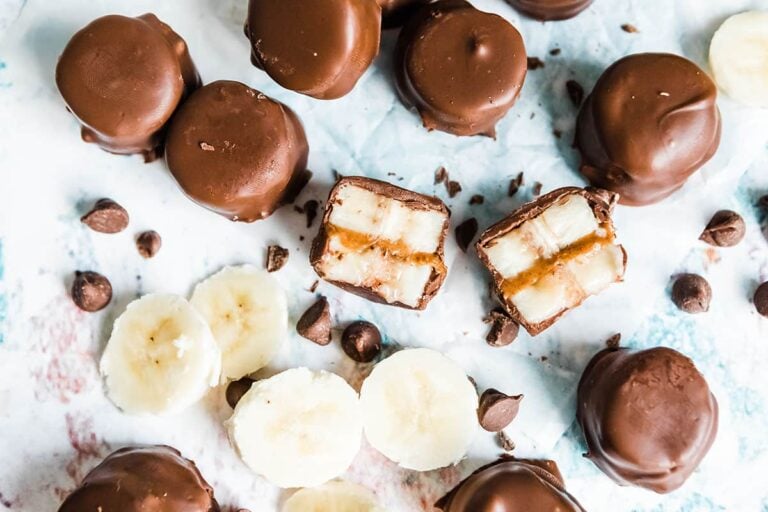 Chocolate Covered Banana Bites
Grab a friend and whip up these delicious bite-sized snacks. Chocolate covered banana bites are super easy to make, and oh so fun!
Instructions
Prepare Banana Bites
Place banana slices on a parchment-lined baking sheet

Top each banana with 1/2 teaspoon of almond butter

Top with another banana slice to make "sandwiches"

Freeze for 1 hour
Prepare Chocolate Coating
Melt coconut oil + chocolate chips in a small saucepan over low heat for 2-3 minutes or until completely smooth, stirring continuously. Remove from heat and allow chocolate to come to room temperature, about 5 minutes.

Dip the frozen banana sandwiches in the chocolate, using a fork, until completely covered. Allow extra chocolate to drip off before setting back on baking sheet

Place dipped sandwiches back in freezer for 1 hour, or until chocolate has set

Store in a freezer-safe container until ready to enjoy.
Notes
These can be stored in freezer for up to 3 months.
You can use normal chocolate chips, if not vegan.
Swap out almond butter for any nut, peanut or seed butter of your choice.
Don't be afraid to double the batch… these are gonna go fast!
Nutrition
Calories:
94
kcal
,
Carbohydrates:
10
g
,
Protein:
1
g
,
Fat:
6
g
,
Saturated Fat:
2
g
,
Polyunsaturated Fat:
1
g
,
Monounsaturated Fat:
2
g
,
Cholesterol:
2
mg
,
Sodium:
3
mg
,
Potassium:
96
mg
,
Fiber:
1
g
,
Sugar:
7
g
,
Vitamin A:
10
IU
,
Vitamin C:
1
mg
,
Calcium:
19
mg
,
Iron:
1
mg