Protein intake is a popular subject with our SGS community, particularly adding protein to shakes or smoothies. This chocolate protein drink is the creme de la creme, when it comes to a tasty, protein-packed simple shakes. And you can rest assured that this chocolate banana protein yumminess contains only plant-based, whole food ingredients!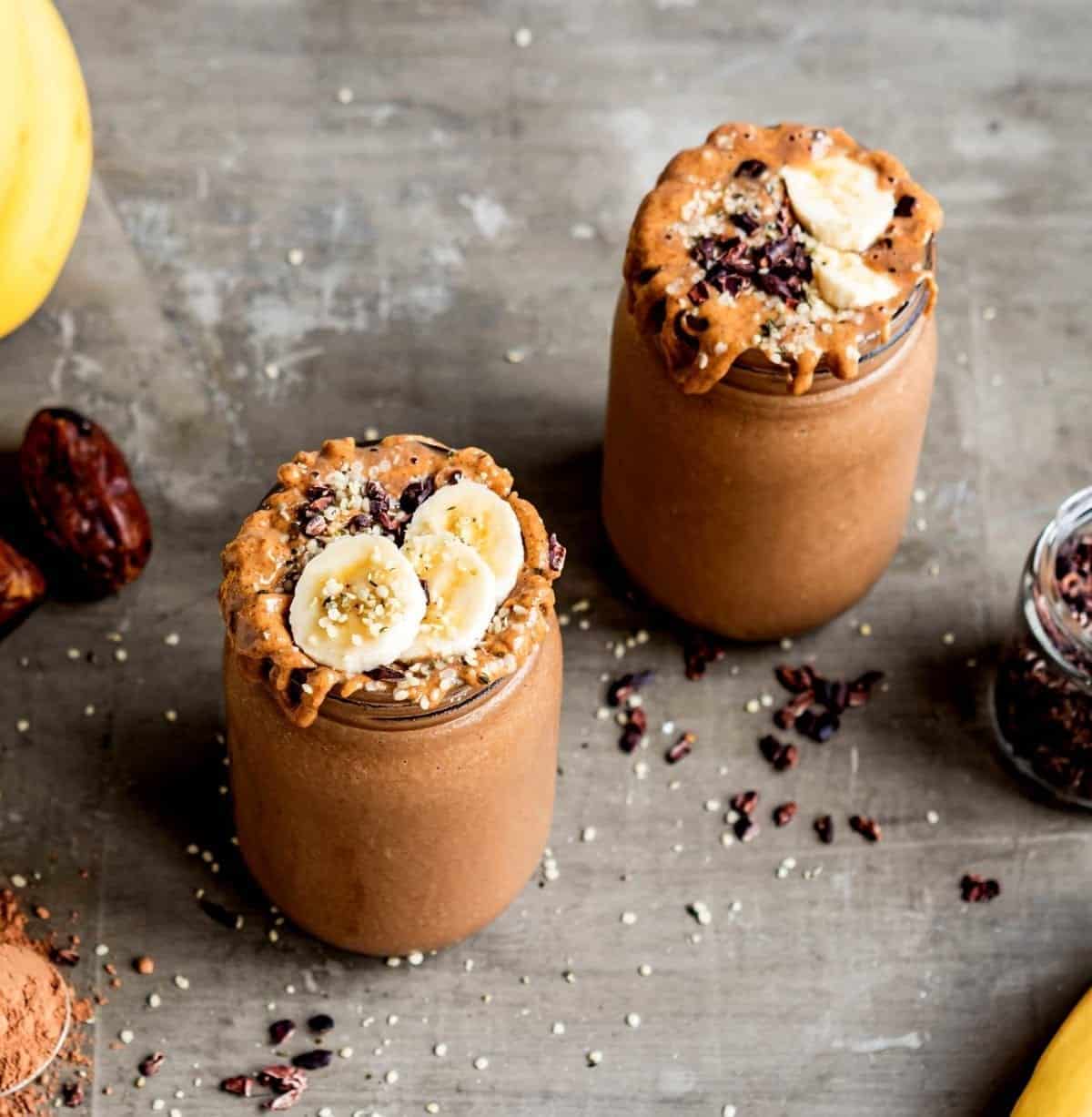 Table of Contents
Can I Really Make a Protein Shake at Home?
You sure can! And this chocolate banana protein shake will taste way better than the one you'd buy on your way home from the gym. Store bought protein shakes often use cheap proteins like whey or pea, as well as tons of additives + chemical sweeteners to try and make them taste good.
Even if you're not short on time, a protein shake or smoothie is still a great meal replacement option. It's pretty amazing what you can pack into a smoothie— like superfood mushrooms from Four Sigmatic.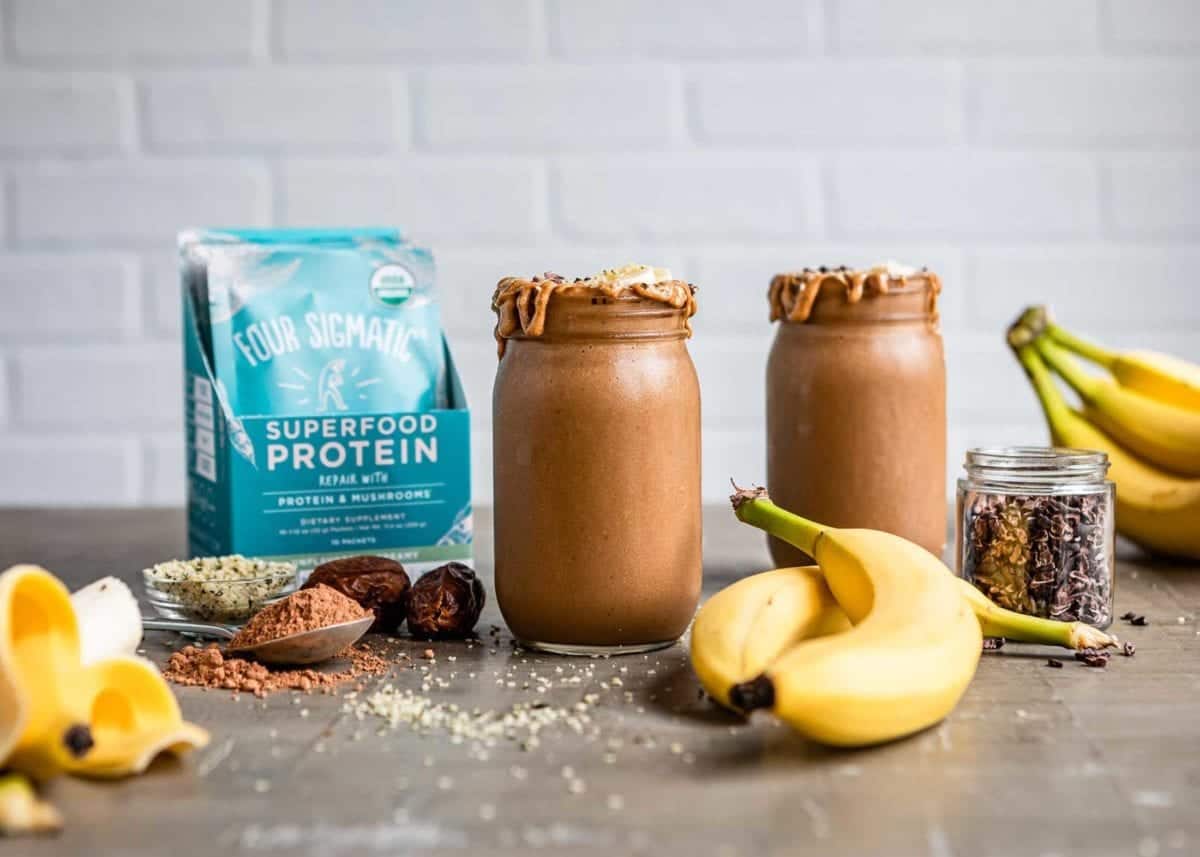 Mushroom Protein Powder = Magic
Now before you say, "mushrooms in a shake???" Let me explain. Certain types of mushrooms are adaptogens. Adaptogens are substances that aid the body and mind in adapting to as well as managing stress.
Stress over a long period of time can cause what's known as adrenal fatigue. This is one of the most common struggles of the American mom, which is why we've made an adrenal fatigue diet smoothie for it too. The adrenal glands excrete chemicals (like hormones) that help our bodies and minds deal with stress.
Fueling your body with whole food plant-based recipes like this chocolate protein shake gives it nutrients to help fight stress naturally.
One of our team members, Lindsey, went back to college and is using this chocolate shake recipe to thrive. By boosting it with Four Sigmatic Superfood Protein Powder, it's possible to enjoy breakfast as well as give her brain + body a healthy boost. (She's also hoping that her classmates will ask her about her daily smoothie so she can share all about her love of smoothies. Ha!)
Plant-based protein options
I only recommend products I personally love and feel our community can benefit from. That's one reason why I love Four Sigmatic products— they back my plant-powered passion.
If you're looking for a plant based protein powder, yet mushrooms aren't really your thing, then give my homemade protein powder a try. It's got 3 ingredients: organic hemp hearts, organic chia seeds, and organic flax seeds. It also adds 10 grams of protein to any smoothie, boosting that smoothie to the perfect meal replacement.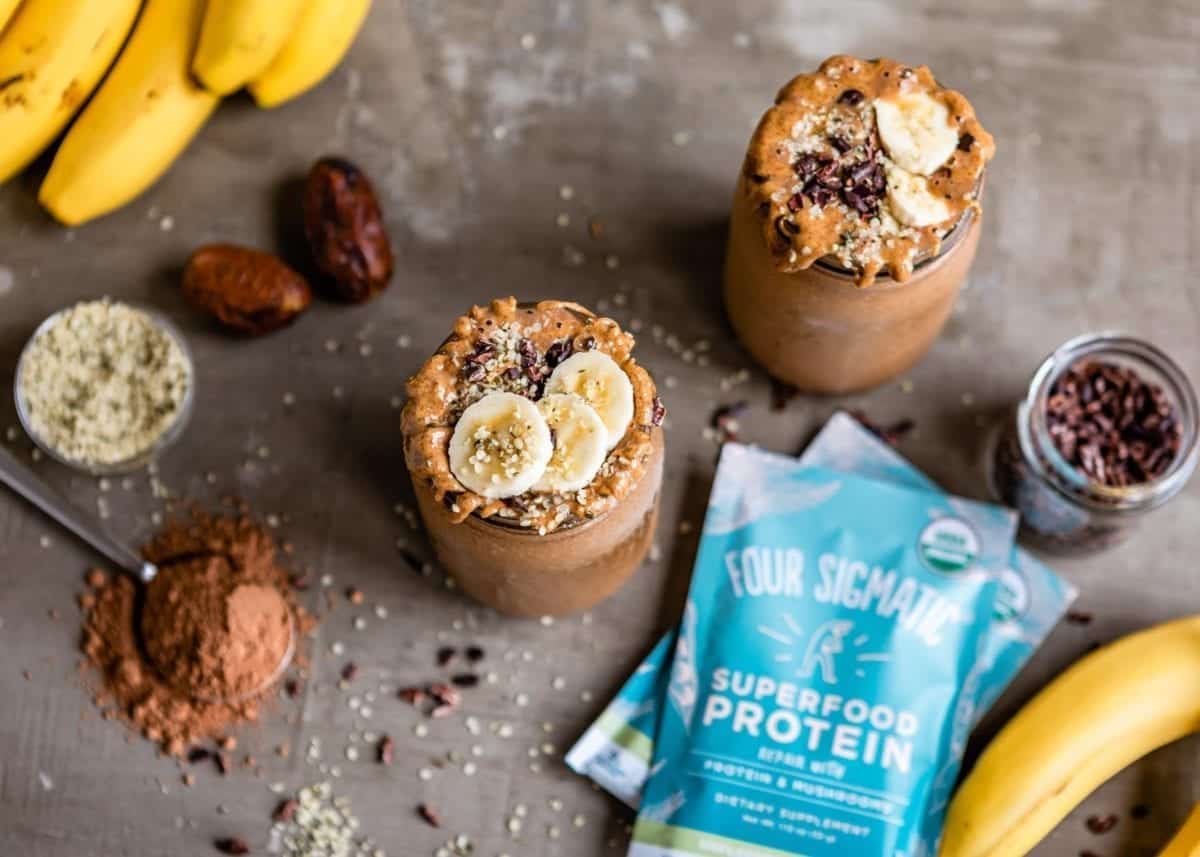 How to Make a Chocolate Protein Shake
To make this plant-powered thick and delicious shake, all you need are a few ingredients:
Almond milk: plant-based milk
Bananas: one of the easiest ways to flavor and thicken a shake
Dates: these natural sweeteners are rich in fiber
Cacao powder: this adds a rich chocolate flavor and a little caffeine to rev your engine
Plant-based protein powder: boost your protein intake
toppings
Now, if you wanna make this chocolate banana protein shake real fancy like I did for this photoshoot, then drizzle it with these additional superfoods:
Almond butter
Hemp hearts
Cacao nibs
sliced bananas
Honestly, you could add a little less liquid than the recipe calls for, then scoop this shake out with a spoon to really enjoy those toppings.
Ingredient swaps
Smoothies offer so many easy swap options, so don't shy away from this chocolate protein shake if you can't do one of the ingredients! Instead, try one of these substitutes:
If you need less natural sugar in this shake, then swap out 1 banana for 1/2 cup of frozen cauliflower. Still super creamy, yet lower in sugar
If you have a nut allergy, then swap out the almond milk for oat milk or coconut milk. Also use a seed butter as a stand-in for the almond butter instead.
No dates on hand? No problem! Swap in a tablespoon of maple syrup (vegan option) or honey (vegetarian option) to keep the natural sweetener flowing.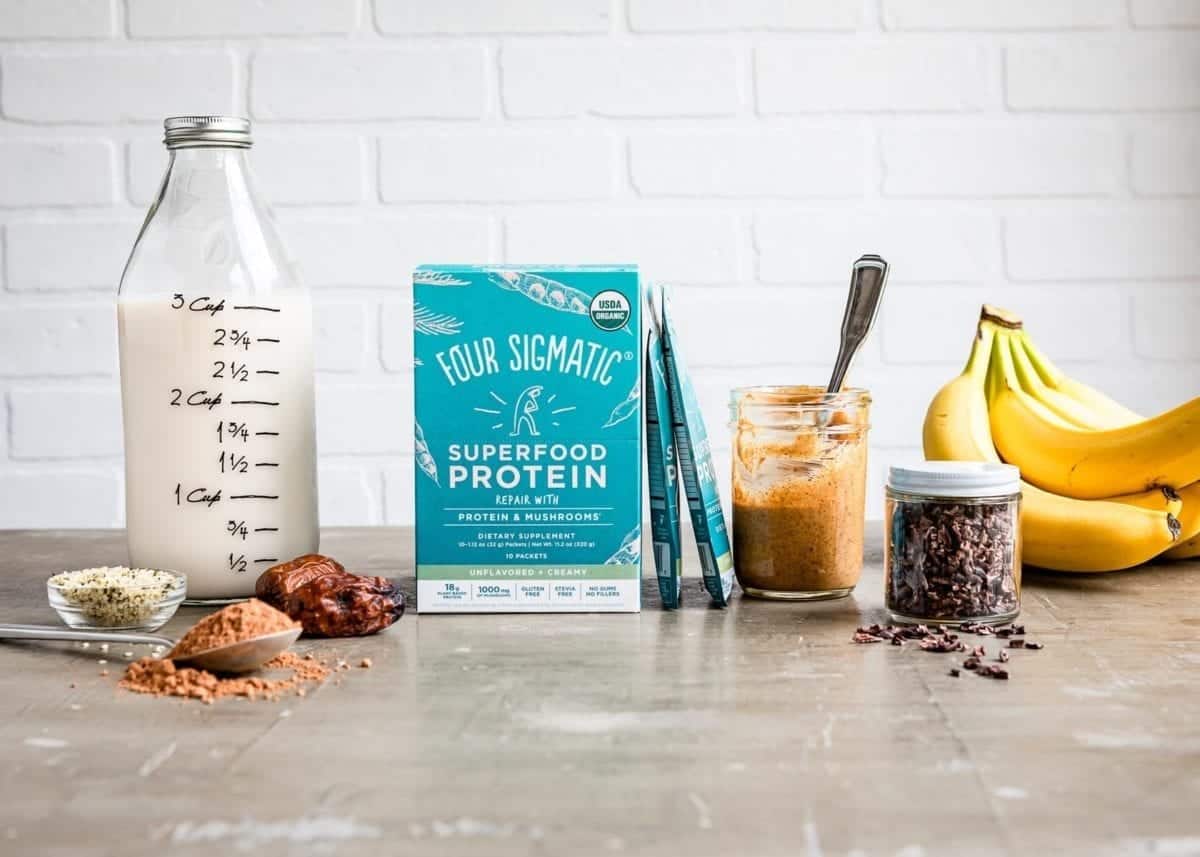 More protein forward smoothies
I don't like to sip the same smoothie every day, so I've got several different smoothie recipes I utilize for workout recovery:
Don't forget to rate + review this smoothie once you make this smoothie; I want to know how it turns out!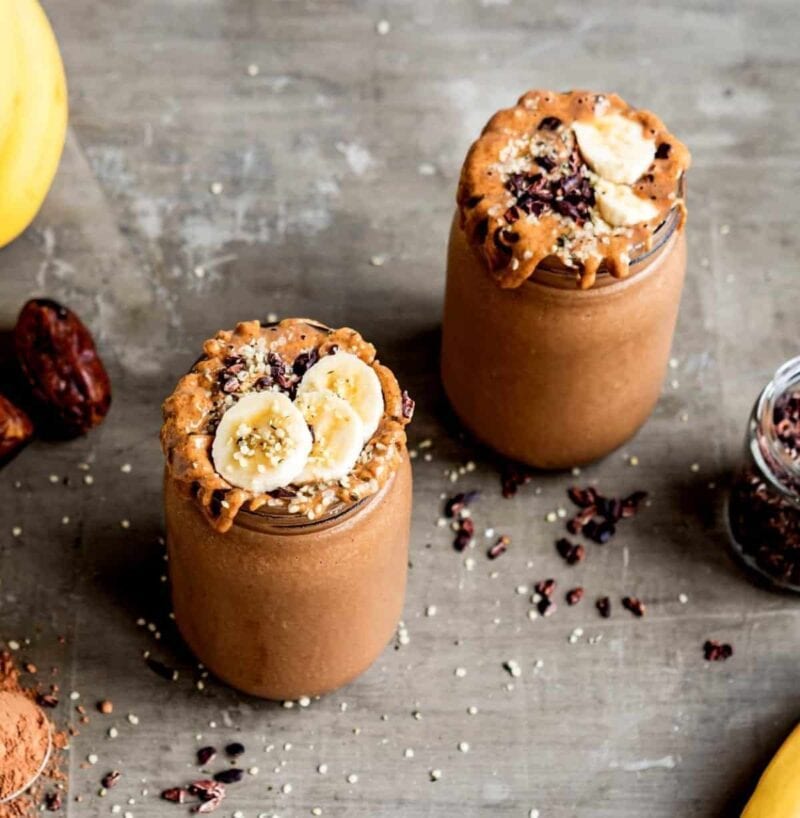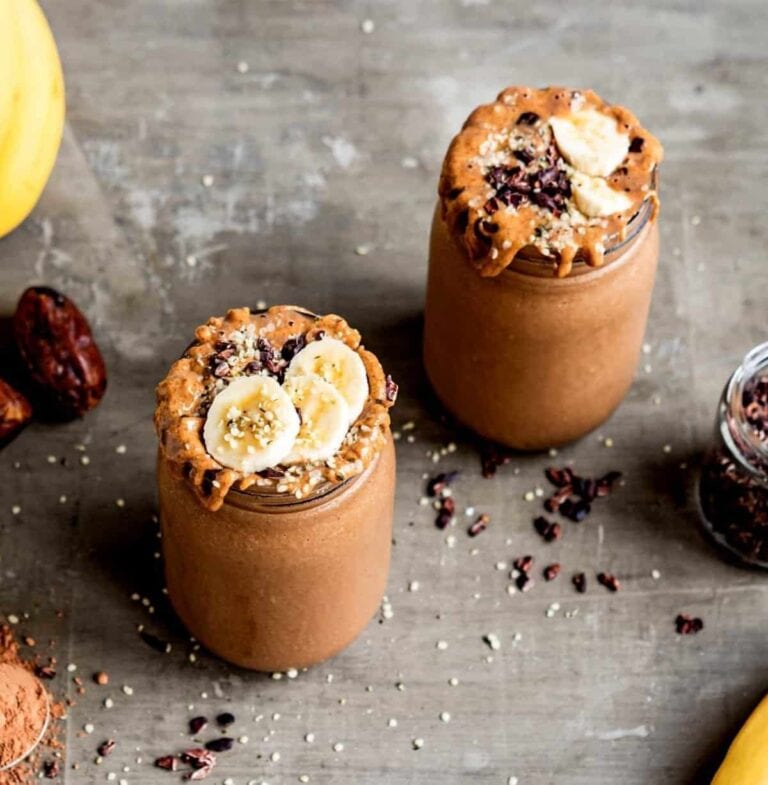 Chocolate Protein Shake
Blend up a creamy, cold chocolate protein shake smoothie made with plant-based superfood protein powder for a delicious meal or snack, or before/after a workout. Includes adaptogens to help ease inflammation.
Ingredients
1.5

cups

almond milk

chilled

1

serving

homemade protein powder

2

tbsp

cacao powder

unsweetened

1

medjool date

pitted

1.5

bananas

sliced or halved, frozen if desired

Ice

optional
Instructions
Blend all ingredients, except for toppings, until smooth. Add ice to make smoothie colder, if desired.

Divide between two glasses or jars. Top each with a drizzle of almond butter and sprinkle with hemp hearts and cacao nibs. Drink immediately.
Notes
Nutrition info doesn't include optional toppings, which will add another ~100 calories per serving
For powder, I suggest using Four Sigmatic Adaptagens or my Homemade Protein Powder
To cut down on the natural sugar, swap the banana with avocado
Nutrition
Calories:
376
kcal
,
Carbohydrates:
67
g
,
Protein:
9
g
,
Fat:
13
g
,
Saturated Fat:
2
g
,
Polyunsaturated Fat:
5
g
,
Monounsaturated Fat:
5
g
,
Sodium:
492
mg
,
Potassium:
990
mg
,
Fiber:
12
g
,
Sugar:
38
g
,
Vitamin A:
175
IU
,
Vitamin C:
15
mg
,
Calcium:
511
mg
,
Iron:
3
mg