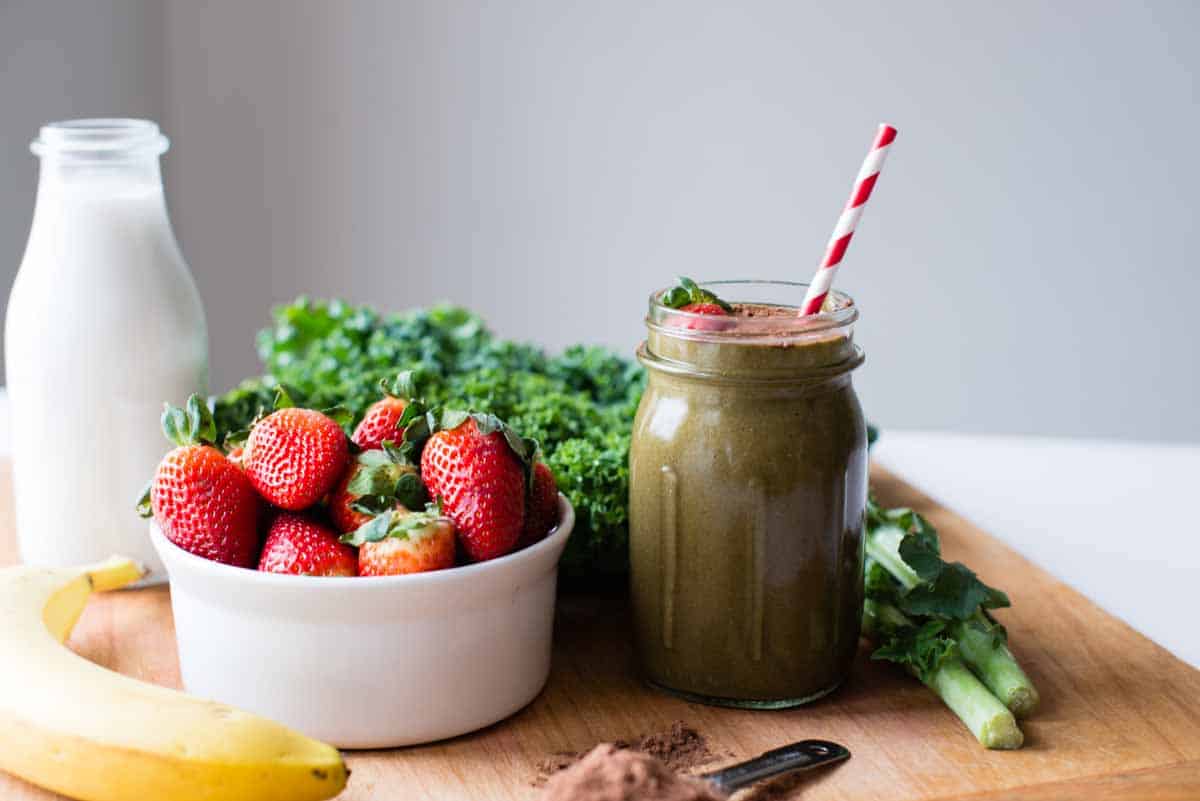 Blend up this Chocolate Strawberry Smoothie for breakfast or a tasty snack.
If you're a chocolate lover, this is a great smoothie for you. Feel free to boost it with your favorite protein powder. I recommend using an unsweetened powder that has simple + pure ingredients.
Why I Prefer Naturally Sweetened Smoothies
Sugar gets a really bad rap. And it's true, we all probably take in too much sugar in our daily diet. While I'm not a fan of processed sugar, I am a fan of natural sugars contained in fruit.
I never limit how much fruit I consume because it is so healthy and I'd be giving up loads of fiber and nutrients. That being said, we have a formula that works. Enough fruit to be tasty without going overboard.
Banana super star when it comes to adding natural sweetness. They are also low glycemic meaning that eating (or blending one up) won't dramatically affect blood sugar. Thanks to the fiber and pectin in bananas, they also keep your digestive tract humming along.
If you do find that your smoothie isn't sweet enough for your taste, check out our guide to natural sweeteners that can give a smoothie a little sweet boost without added processed white sugar.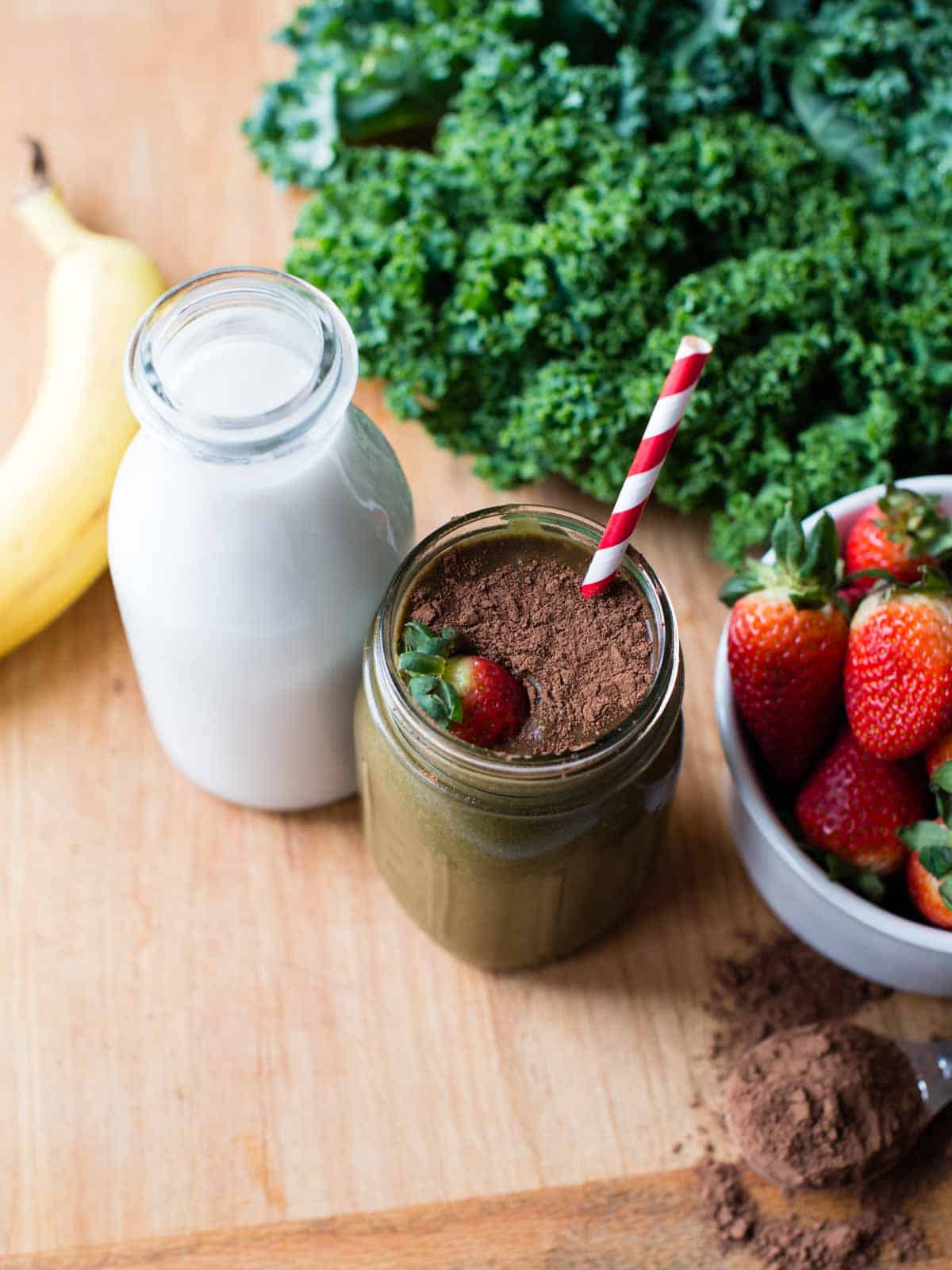 Cacao Health Benefits
Cacao is another superstar in this chocolate strawberry smoothie. Raw cacao powder is what I prefer to use, though cocoa powder (it's different!) can be substituted without sacrificing flavor.
As a superfood, cacao has more antioxidants than blueberries - 40x more to be exact! Cacao is also one of the best plant-based sources of protein pound for pound. It's also high in calcium and magnesium, for healthy bones, heart, and brain. The flavonols in cacao yield anti-inflammatory benefits that also help to protect the heart.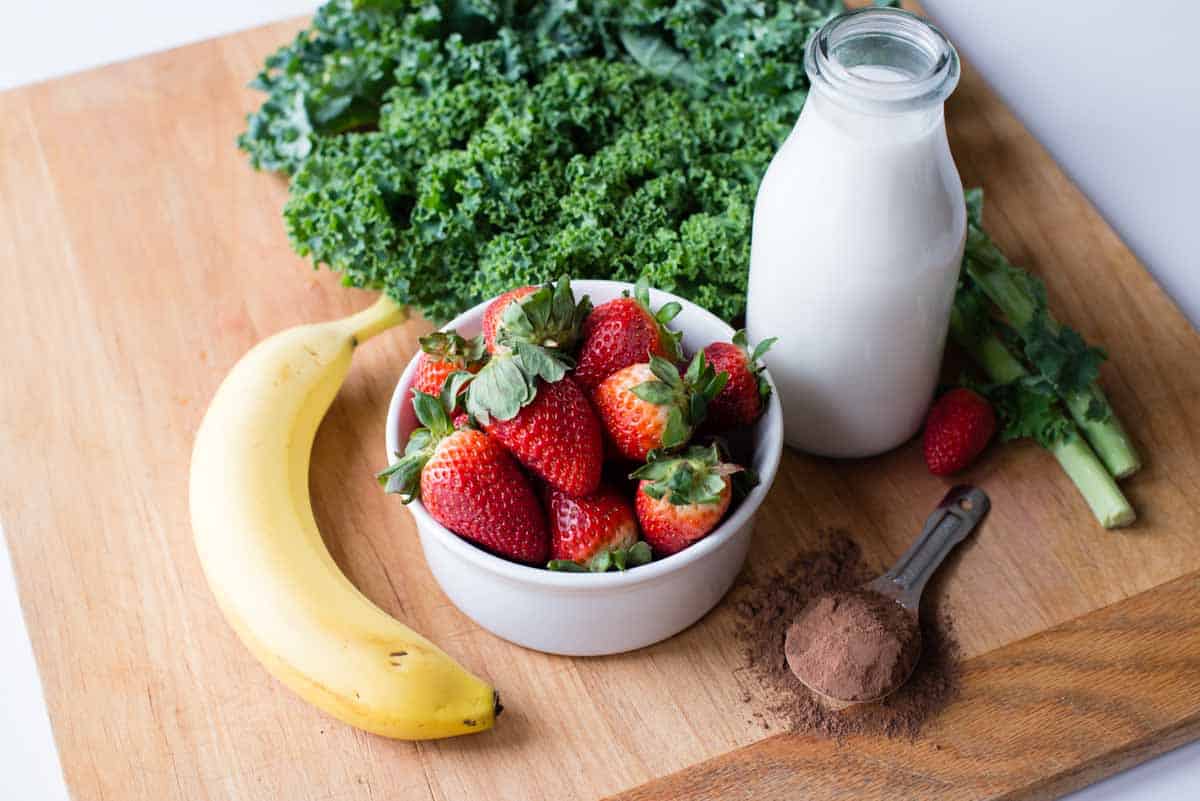 Do you ever eat chocolate when you're feeling a little sad and it makes you feel better? It's not in your head! Cacao is a source of neurotransmitters serotonin, tryptophan, tyrosine, and phenylethylamine which help elevate our mood by combatting depression, a sense of wellbeing, and happiness. The minerals in cacao (and the caffeine too!) can give you a boost of energy and help prevent fatigue, thanks especially to magnesium.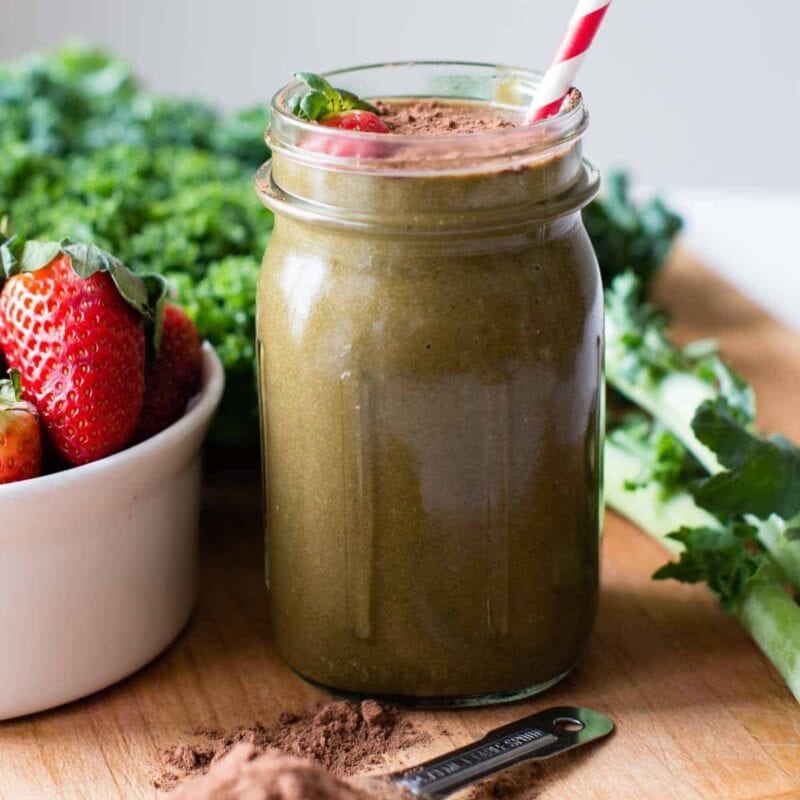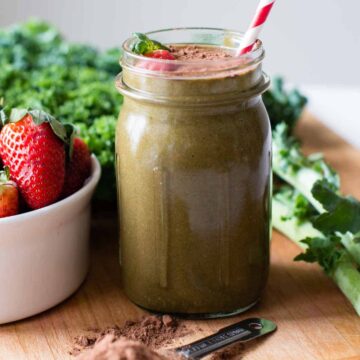 Chocolate Strawberry Smoothie
Rate this Recipe
Print Recipe
If you're a chocolate lover, this Chocolate Strawberry Smoothie a great smoothie for you. Sweet bananas, nutty almond milk and ripe strawberries make this plant based dessert win.
Instructions
Place spinach and almond milk in blender. Puree until smooth.

Add fruit and cacao, and blend again.
Notes
Use at least one frozen fruit to make smoothie cold.
Swap in unsweetened cocoa powder for cacao powder.
To lower the natural sugar, use ½ banana and ¼ avocado.
Use the plant milk of your choice in place of the almond milk.
Use the leafy greens of your choice in place of the kale.
Nutrition (estimated)
Calories:
163
kcal
(8%)
Carbohydrates:
32
g
(11%)
Protein:
6
g
(12%)
Fat:
5
g
(8%)
Saturated Fat:
1
g
(6%)
Polyunsaturated Fat:
2
g
Monounsaturated Fat:
2
g
Sodium:
353
mg
(15%)
Potassium:
751
mg
(21%)
Fiber:
9
g
(38%)
Sugar:
15
g
(17%)
Vitamin A:
2868
IU
(57%)
Vitamin C:
98
mg
(119%)
Calcium:
368
mg
(37%)
Iron:
3
mg
(17%)