If you're a fan of chocolate covered strawberries, then this chocolate strawberry smoothie is for you. A naturally sweet, indulgent dessert.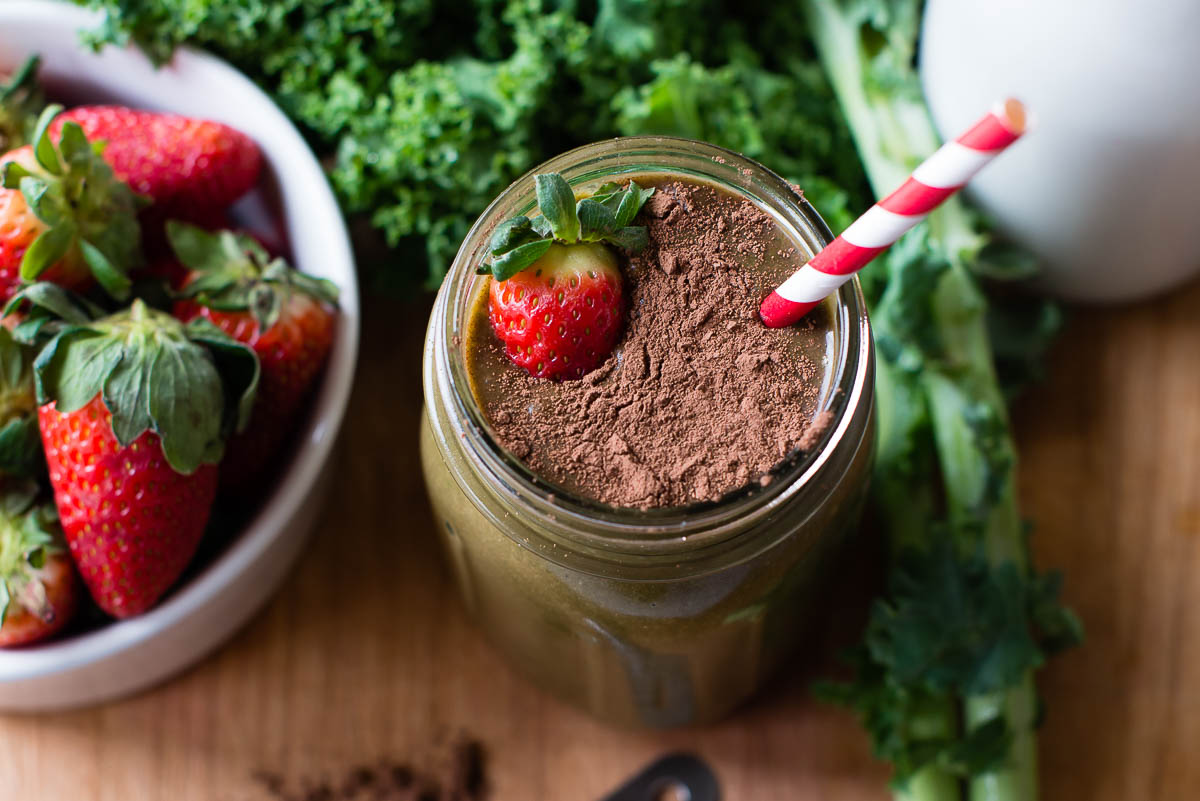 I love mixing flavors and coming up with new combos for delicious smoothies. Don't let the leafy greens in this one scare you. This chocolate strawberry smoothie has the texture of a milkshake and will satisfy all those sweet chocolate cravings.
Smoothies with a milkshake texture are my jam, but dairy is not my friend. Most of my smoothie recipes use plant-based ingredients, yet still blend together into a creamy treat.
Table of Contents
Chocolate Strawberry Smoothie Ingredients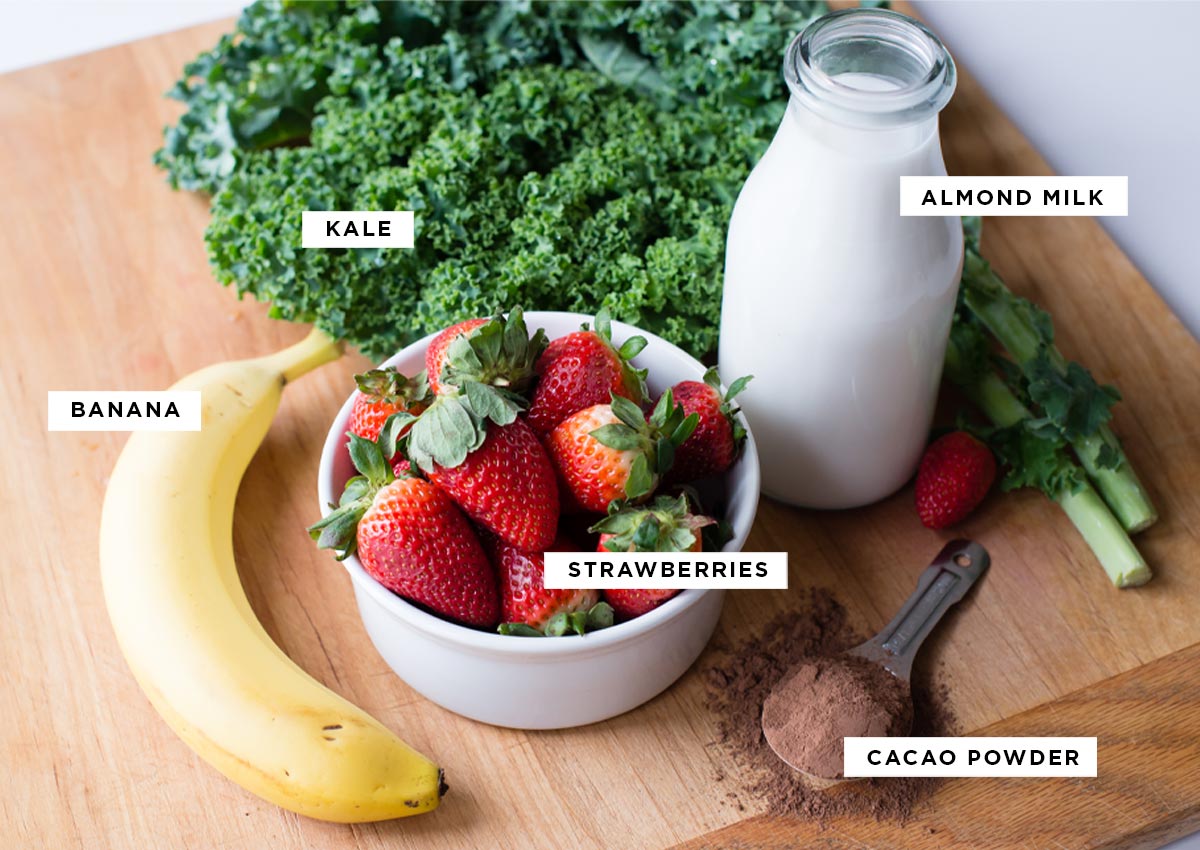 Kale: A leafy green in a dessert?! Kale YEAH. Massage the kale and de-stem before adding to the blender to cut down on the bite. Tip: Baby kale is a milder kale option.
Almond Milk: Unsweetened plant milk is a great way to thicken a smoothie. Almond milk provides a bit of protein and a mild, nutty flavor that compliments both the fruit and cacao.
Strawberries: During strawberry season, use fresh for the sweetest taste. If you're blending this smoothie during the winter months, frozen strawberries will give you the best flavor.
Banana: I love freezing bananas to have on hand for tasty treats. Bananas provide natural sweetness as well as the milkshake flavor I want.
Cacao Powder: Unsweetened cacao powder is a chocolate-lovers paradise. No need for extra sweetener since you're using other fruity ingredients. Surprisingly, cacao also helps balance the bite from the kale.
Simple Ingredient Swaps
This dreamy chocolate smoothie will stay dreamy, even with a few easy swaps. Use the dairy-free milk of your choice in place of almond milk. Strawberries can be swapped with any berry you choose. Use unsweetened cocoa powder in place of cacao powder.
Cut back on natural sugar by using 1/2 the banana and adding 1/4 an avocado. Boost protein, healthy fat and fiber by adding in this homemade protein powder.
Why I Add Leafy Greens to Smoothies
Surprisingly, this dessert-like chocolate strawberry smoothie only has 15 grams of natural sugar. It also boasts 9 grams of fiber, helping to process that natural sugar into a smooth energy boost that won't leave you jittery.
This comes from the mighty kale leaves. Adding leafy greens to smoothies provides protein and fiber to break down the sugar from the fruit into useable energy for your body.
Pro Tip: Add 1 cup of leafy greens to any fruit smoothie to help cut down on the natural sugar. If you're new to leafy greens, start with a small amount! Then as you get used to adding them, start increasing the amount to a healthy giant handful (one cup).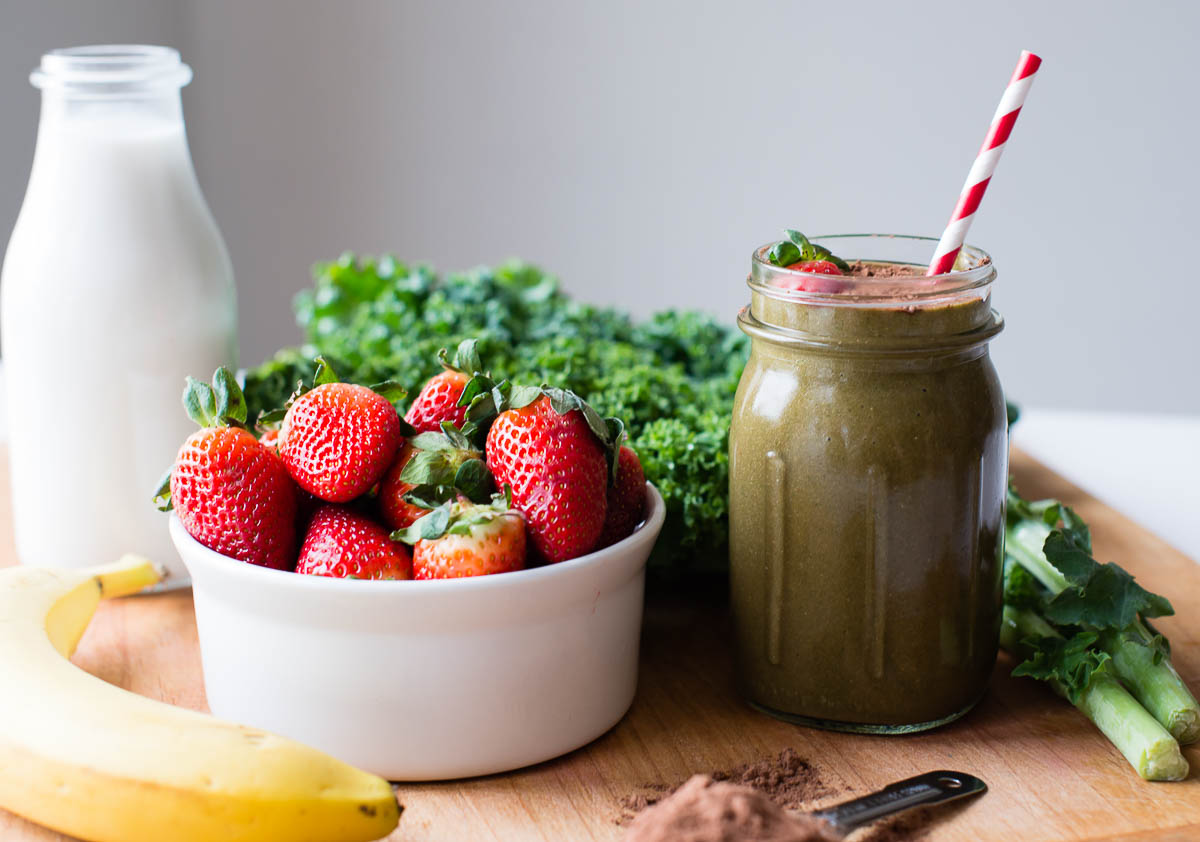 Tips for Blending
Smoothies can sometimes get a little thin, which is harder to enjoy (in my opinion). I always make sure to blend an ingredient that naturally thickens my smoothie. This chocolate strawberry smoothie uses almond milk as the base (thicker than water) and banana.
Other easy thickeners include vegan yogurt, cauliflower or avocado. You can also swap out almond milk for cashew milk, oat milk or coconut milk for a creamier liquid base.
Chocolate Strawberry Smoothie FAQs
Do chocolate and strawberry go well together?
Yes! While this might be an opinion, chocolate typically goes well with most berries. Strawberries provide a sweet balance to the bitterness of cacao powder.
How do you make a chocolate strawberry milkshake?
My version of a chocolate strawberry milkshake uses a banana as a natural sweetener and thickener and cacao powder for a less processed, yet still chocolatey flavor. Plant milk makes this delightfully dairy free.
Can I swap cacao powder with cocoa powder?
Yes! Just make sure the cocoa powder is 100% unsweetened and the only ingredient listed is cocoa powder.
More Dessert Smoothie Recipes
I love the idea of a dessert that gives my body a natural energy boost instead of putting me to sleep. Smoothies like my chocolate strawberry smoothie taste like a sweet treat yet use plant-based ingredients. Here are a few more favorite 'desserts'.
I'd love to know how this smoothie turned out for you; will you leave a rating + review once you've tried it?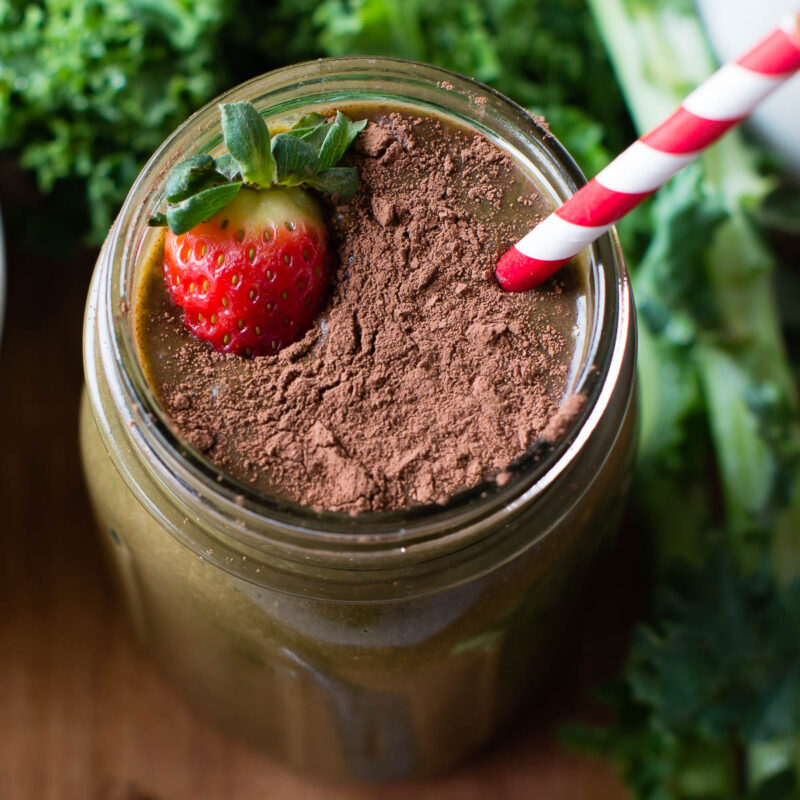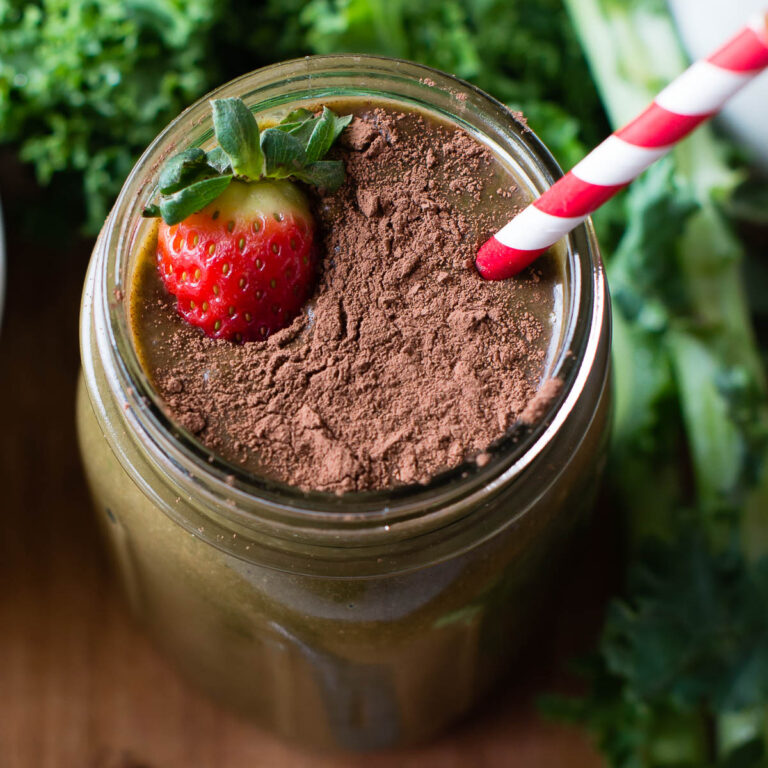 Chocolate Strawberry Smoothie
If you're a chocolate lover, this Chocolate Strawberry Smoothie a great smoothie for you. Sweet bananas, nutty almond milk and ripe strawberries make this plant-based dessert win.
Instructions
Place kale and almond milk in blender. Puree until smooth.

Add fruit and cacao, and blend again.
Notes
Use at least one frozen fruit to make the smoothie cold.
Swap in unsweetened cocoa powder for cacao powder.
To lower the natural sugar, use 1/4 banana and 1/4 avocado.
Use the plant milk of your choice in place of the almond milk.
Use the leafy greens of your choice in place of the kale.
Nutrition
Calories:
163
kcal
,
Carbohydrates:
32
g
,
Protein:
6
g
,
Fat:
5
g
,
Saturated Fat:
1
g
,
Polyunsaturated Fat:
2
g
,
Monounsaturated Fat:
2
g
,
Sodium:
353
mg
,
Potassium:
751
mg
,
Fiber:
9
g
,
Sugar:
15
g
,
Vitamin A:
2868
IU
,
Vitamin C:
98
mg
,
Calcium:
368
mg
,
Iron:
3
mg