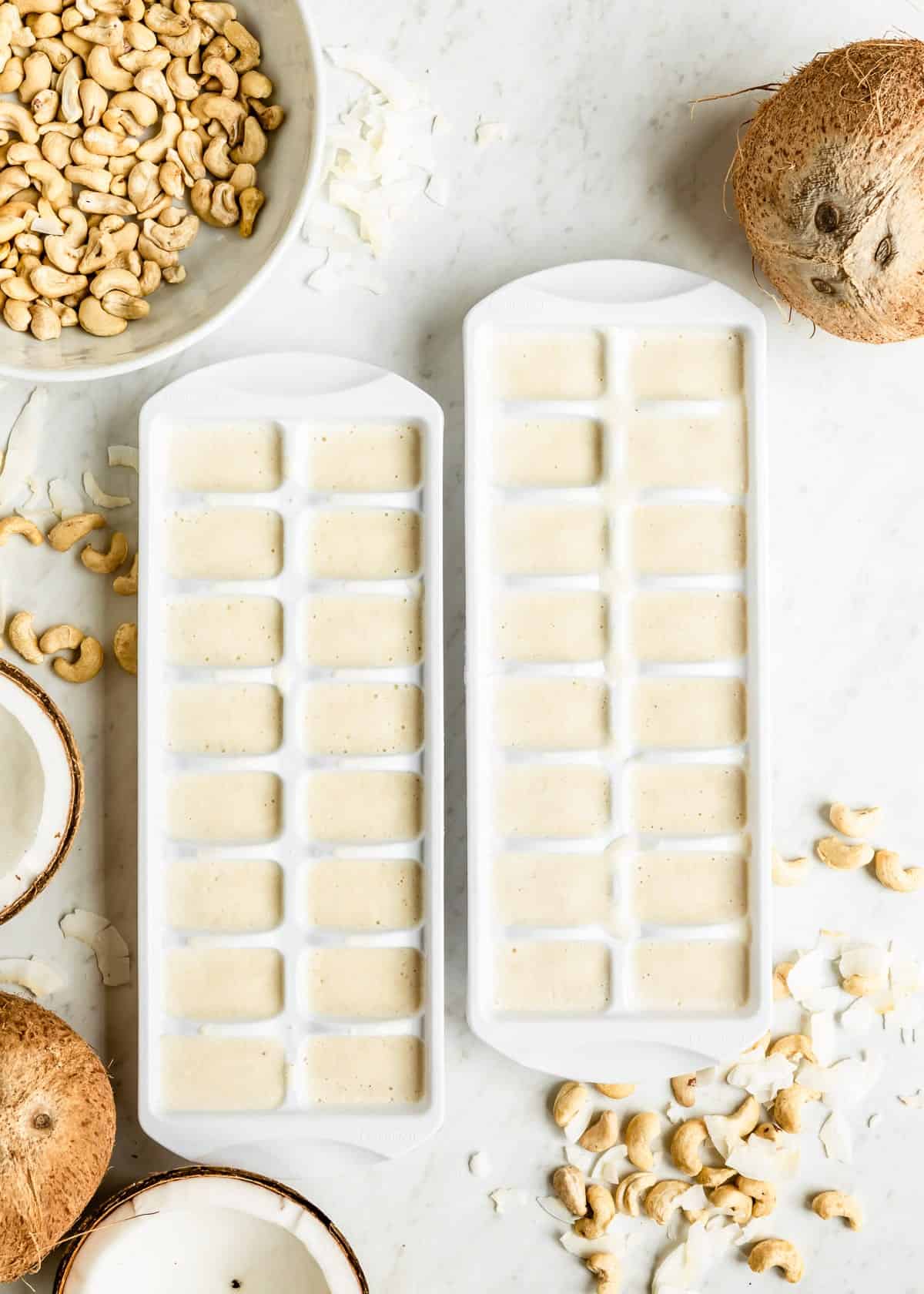 Healthy fats are an important part of a healthy diet. We've created these Coconut Milk Smoothie Cubes to add to your favorite smoothie. Find out more below about the ingredients we've included and why we choose to include them in our diets.
Why use MCT oil in coconut milk smoothie cubes?
MCT is kind of a buzzword right now in the health and wellness sphere, so chances are you've heard of them and know what they are, or you've heard of them and don't know what they are. Either way, here's a quick refresher.
Medium-Chain Triglycerides (MCTs) are at type of fatty acid derived from coconut and palm oil that is metabolized by the body differently than other types of fat. MCTs go straight to the liver from the digestive tract where they are quickly converted into energy.
Bottom line? MCTs are a good source of quick energy.
Who should use MCT oil?
Athletes may particularly benefit from MCTs. This type of fat may aid in decreasing overall body fat and increasing lean muscle, and increasing endurance.
For the rest of us, MCTs are beneficial because they may help lower bad cholesterol and triglyceride levels in the blood. Because of they way they are used by the body directly through the liver, MCTs may be used medically for certain illnesses or disorders as a nutritional supplement. Those with absorption disorders such as Crohn's, celiac disease, a shortened bowel (surgically or otherwise), stomach or other digestive issues. There is even some evidence that MCT oil may help fight against brain degenerative diseases like Alzheimer's.
MCT oil is typically a huge part of the keto diet, but it isn't just for keto. 😉 Our brains run on both carbs and fat. For those non-keto people, it's important to have a balance between all of the macronutrients (carbs, fats, proteins), and MCTs can fit into a regular way of eating.
Those who follow the keto (high-fat, low-carb) lifestyle are able to hack the body's metabolism so that the brain and body stop burning carbs for fuel, and use fat instead. (There's more to it than that, we'll save that discussion for another time.)
To sum up, MCT oils are metabolized differently in the body which is good for athletes in need of quick energy, those with digestive and malabsorption issues to provide much needed nutrients, and anyone who wants to reap the benefits of this quick-energy type of fat. (Whew!)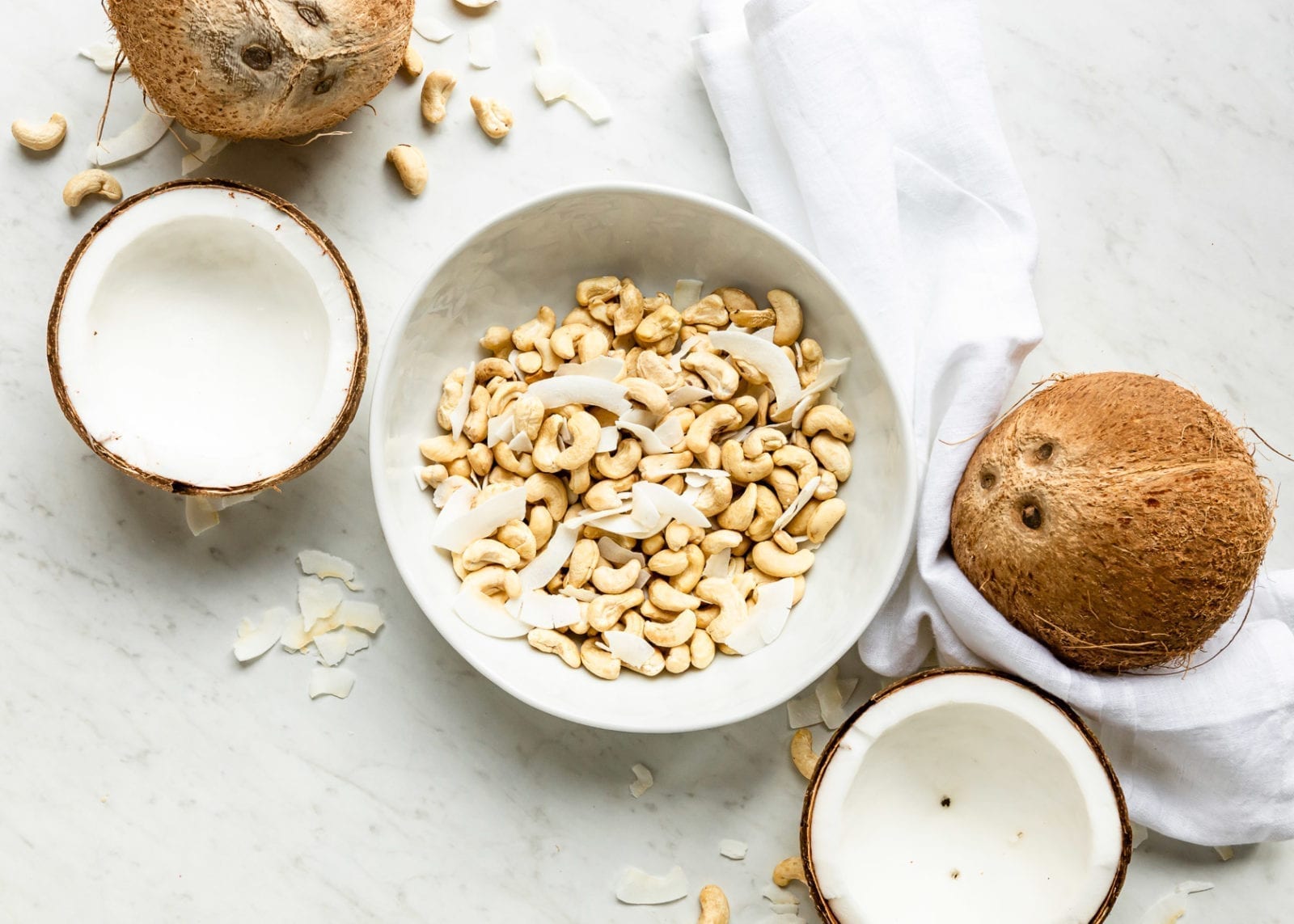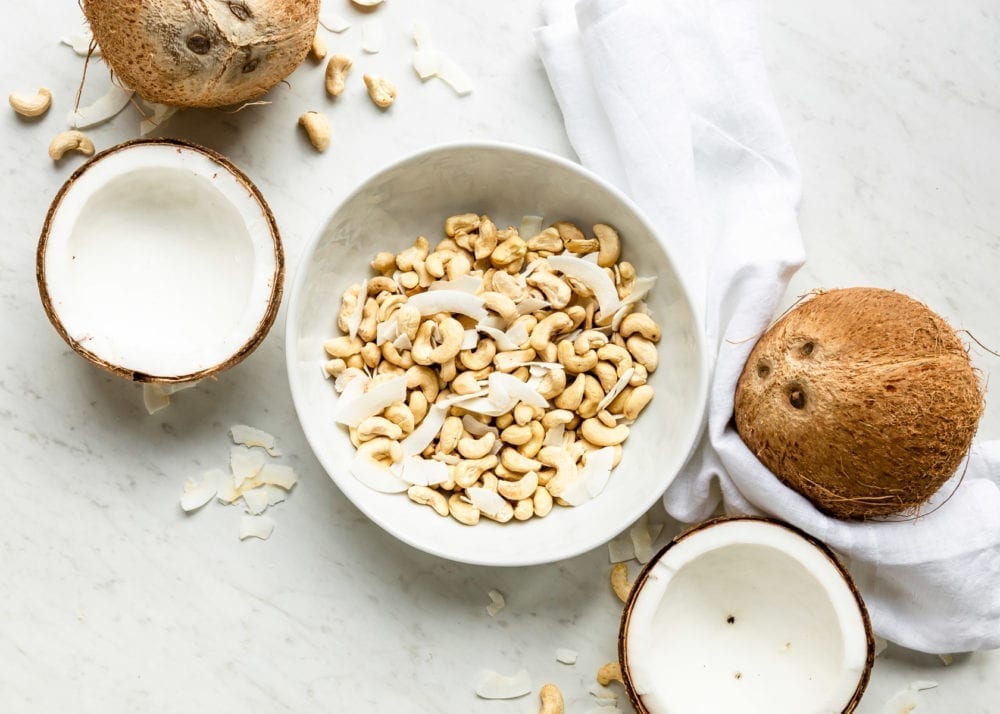 What are the health benefits of cashews?
Cashews are definitely one of our favorite nuts here at Simple Green Smoothies. We love how versatile cashews are. Besides eating them as a healthy snack, as a topping for salads and oatmeal (and everything in between), cashews can be transformed into a decadent nut butter. They've can also be blended with water to become a luscious "cream." Use them to replace dairy sour cream, heavy cream, yogurt, and be thinned out as a milk alternative.
Adding nuts and seeds to your diet adds not only protein and healthy fats, but also lots of vitamins, minerals, and trace-minerals. A one-ounce serving of cashews provides 10% of the daily recommended value of both protein and iron, plus 3% RDV dietary fiber and 20% magnesium.
The fats in cashews are predominantly mono- and polyunsaturated, which are the types of fat that actually help protect the heart. Magnesium is important for healthy bones and helps prevent muscle cramps and can also have a relaxing effect. There's also evidence that eating nuts can aid weight loss.
Even More Nuts for Coconuts!
From the coconut fruit itself are derived many food and beauty products many of use on a daily basis - coconut water, coconut oil, coconut butter, coconut meat (both young and mature), coconut milk, coconut flour, coconut nectar and sugar. The wood, bark, leaves, outer coconut husks and empty shells are also used to produce household products like bowls, cutlery, thatching for roofs, fibers to create rope, baskets, fuel for fire for cooking and heating, etc. The blossoms are even used as medicine in some places. And as explained above, a source of MCT oil.
Saturated fat gets a really bad reputation thanks to the fat-free craze of decades past.
Don't let the saturated fat scare you away from adding coconut into your diet! Studies show that a diet that includes coconut and/or coconut oil may actually help raise levels of good cholesterol. Furthermore, eating coconut meat (fresh, dried, or floured) may lower bad (LDL) cholesterol levels.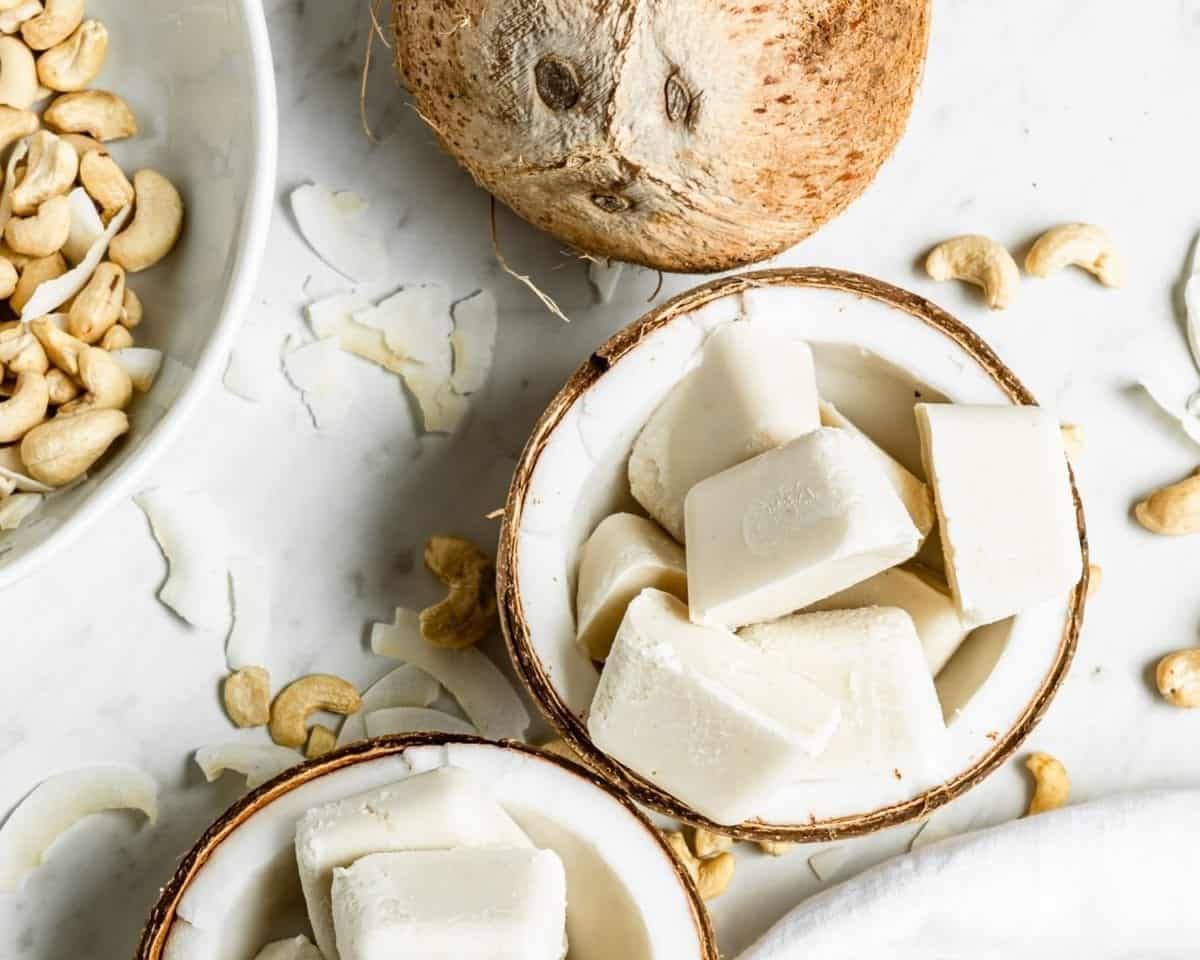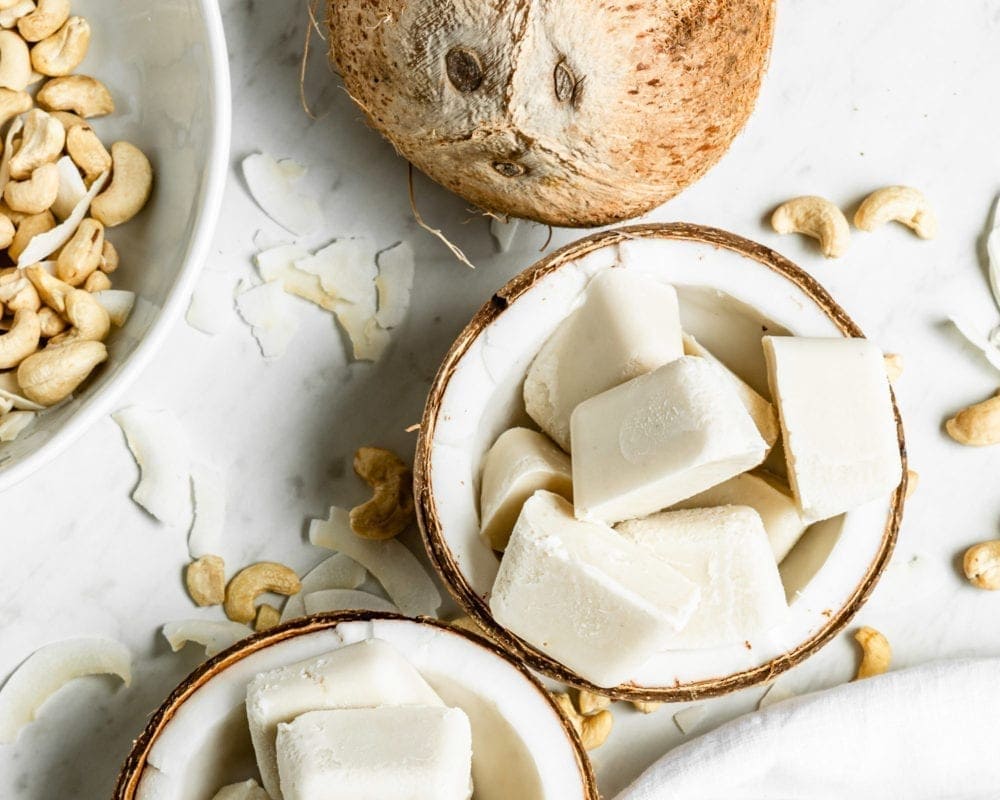 Why You Should Make These Coconut Milk Smoothie Cubes
One of our most asked questions by our community is about turning a green smoothie into a meal. Our smoothie recipes are chock full of nutrients, but depending on the recipe, it may not include any fats or protein. Many of ours do—we even have a recipe for a really delicious Meal Replacement Smoothie.
But for the ones that don't, that's where these little cubes come in handy.
Fat and protein help keep our hunger satisfied longer than carbs. When used together, it creates a complete meal. All that fiber in the fruits and leafy greens helps too.
These coconut milk smoothie cubes were created with the goal of adding a serving's worth of healthy fats plus a little protein too. You can certainly add a serving of your favorite plant-based protein powder to any of our smoothies and use it in conjunction with these cubes.
Making the smoothie cubes in advance is a time-saver. Just pop 1 cube per 16 ounce serving into the blender along with the other ingredients. It will also help the smoothie be extra creamy and delicious.
Here are some recipes I recommend using with Coconut Milk Smoothie Cubes: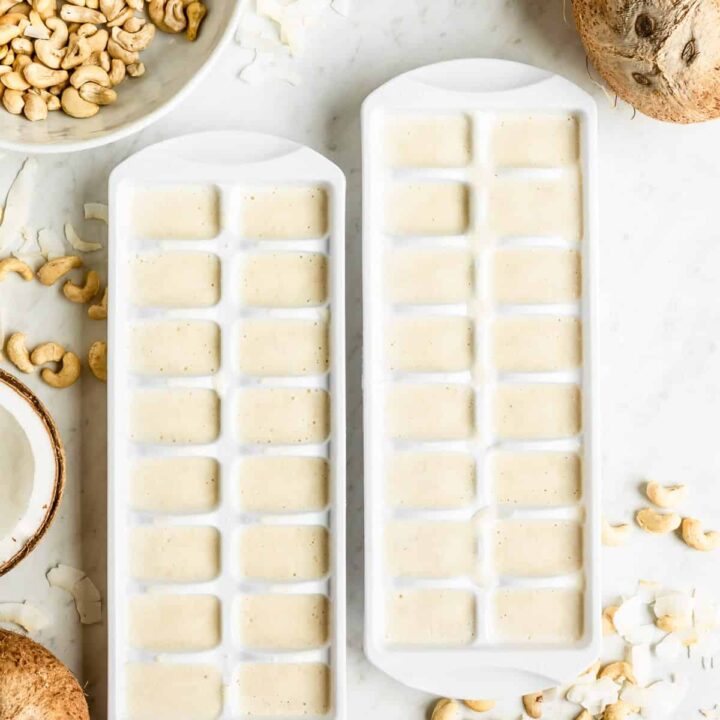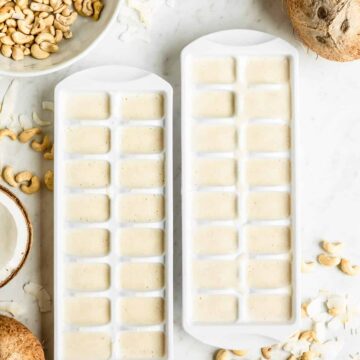 Coconut Milk Smoothie Cubes
Rate this Recipe
Print Recipe
Adding healthy fats to your smoothies with coconut milk smoothie cubes can help keep you fuller for longer! This recipe is completely plant-based and takes minutes to make.
Instructions
Place raw cashews into a blender. Pulse about 10 times for 1-2 seconds each, or until cashews are finely ground.

Add coconut milk and MCT oil. Blend again until smooth and creamy. You should have about 4 cups of liquid.

Fill two, 16-well standard ice cube trays or equivalent molds, with the coconut milk mixture. Each well should hold about 2 tablespoons each. Rap on counter to remove air bubbles. Place in freezer for several hours or overnight. 

Remove frozen coconut milk smoothie cubes from the tray and store in an airtight container or bag in the freezer for up to 1-2 months.

To use, add 1 cube per 16 ounce serving in your favorite smoothie recipes. (Our SGS recipes would use 2 cubes.)
Notes
Other nuts or seeds could be substituted for the cashews such as macadamia nuts, almonds, peanuts, walnuts, pecans, pumpkin seeds, hemp hearts, sunflower seeds, etc. Use 1 ¾ cup seeds to replace 2 cups raw nuts.
Coconut milk can be substituted with ½ cup unsweetened shredded coconut plus 1 cup water. Blend dried coconut with cashews during first step, then add the water along with the MCT oil.
For those allergic to coconut, substitute another healthy oil such as flax, avocado, or other nut/seeds oils that can be tolerated. And substitute coconut milk with other non-dairy milk.
Substitutions will change the nutrition information.
Nutrition (estimated)
Calories:
116
kcal
(6%)
Carbohydrates:
3
g
(1%)
Protein:
1
g
(2%)
Fat:
11
g
(17%)
Saturated Fat:
8
g
(50%)
Polyunsaturated Fat:
1
g
Monounsaturated Fat:
2
g
Sodium:
11
mg
Potassium:
53
mg
(2%)
Fiber:
1
g
(4%)
Sugar:
1
g
(1%)
Vitamin C:
1
mg
(1%)
Calcium:
3
mg
Iron:
1
mg
(6%)
Sources: