Try some frozen coconut cubes in your next smoothie for the ultimate healthy fat boost. Adding healthy fats to smoothies can help nourish your skin and help your body break down the carbs for longer-lasting energy.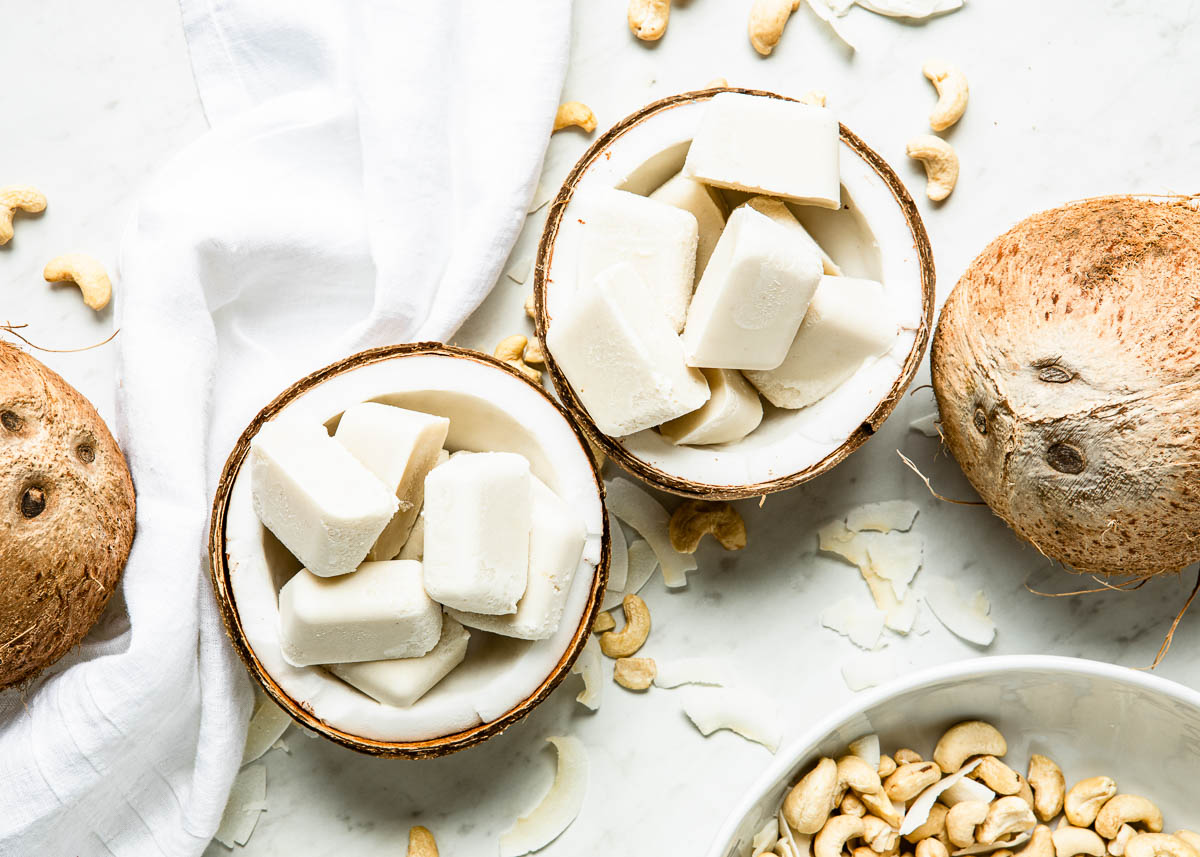 Healthy fats are an important part of a healthy diet. I created these smoothie cubes to toss into your favorite smoothie whenever you need a boost. Smoothie cubes of all kinds are great additions to smoothies depending on the boost you need.
Table of Contents
You already know how much I love coconut oil benefits and use it in my food and home in so many ways. But coconuts aren't just full of oil! Let's talk about how to use other parts of coconuts as well as how to create a useful smoothie booster.
Recipe Ingredients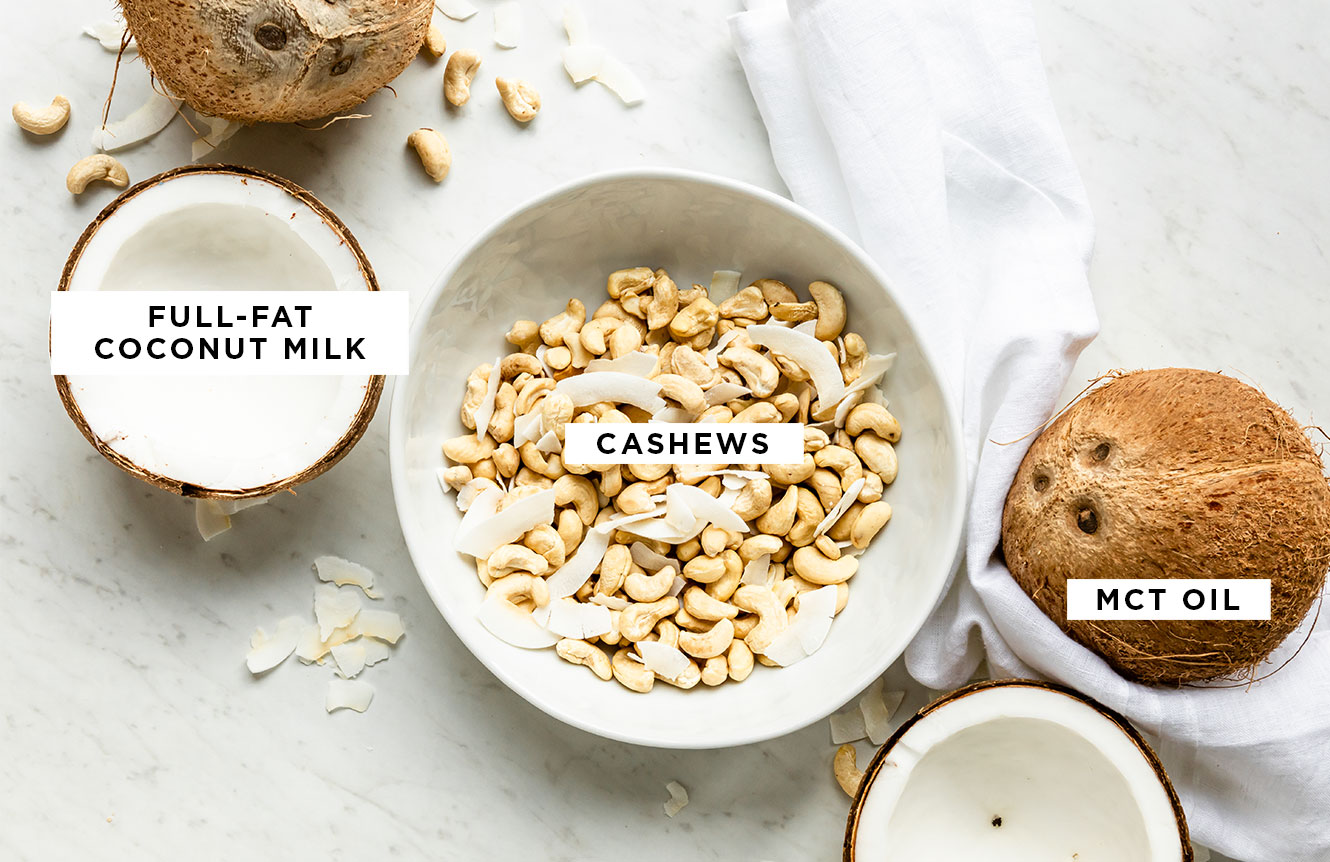 You could just freeze ice cube trays of full-fat coconut milk yet I want these to work harder for me, so I added 2 other ingredients to make them the ultimate smoothie booster:
How to Make Frozen Coconut Cubes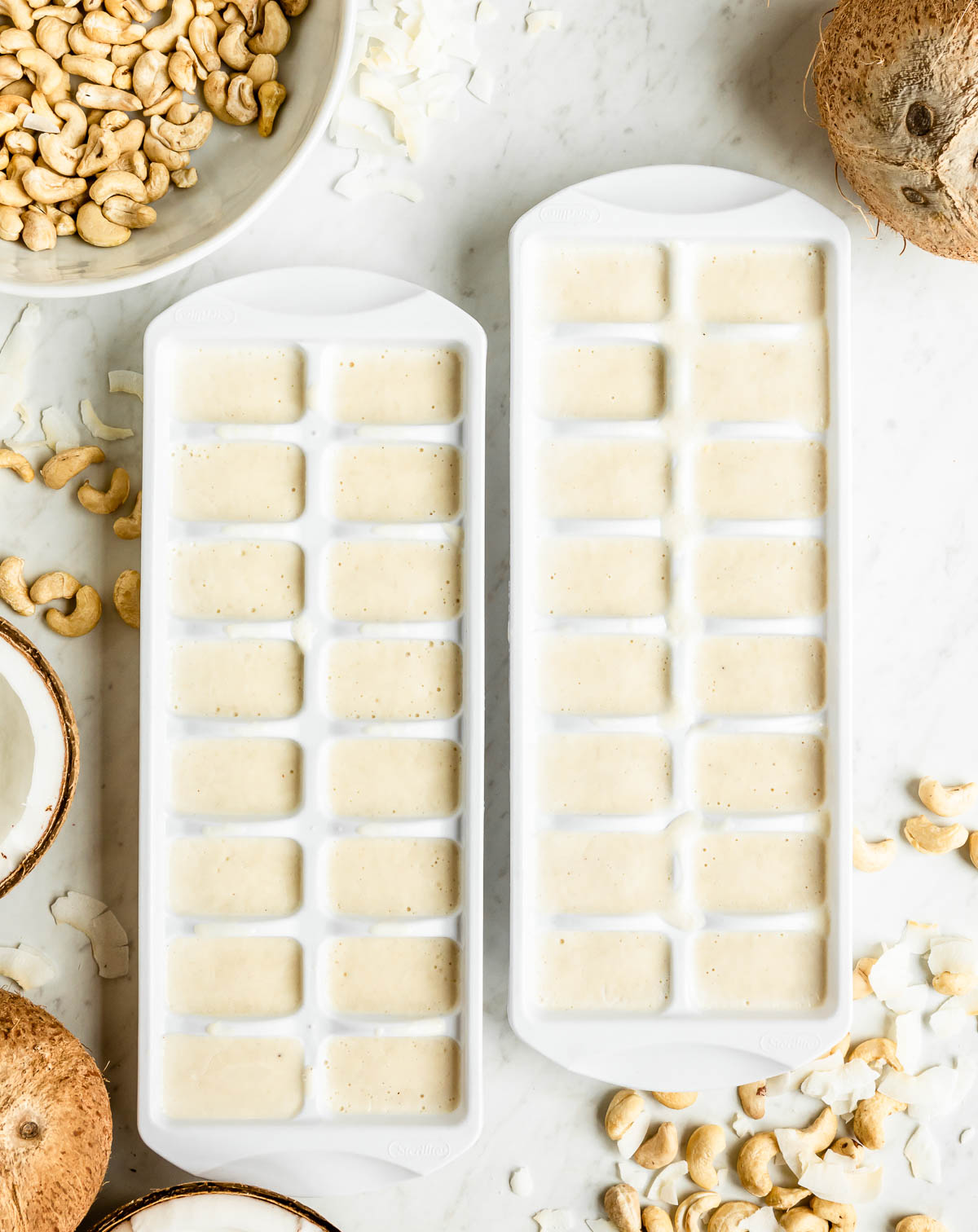 With my busy life, I like easy. This recipe delivers! These smoothie cubes are super easy to make and store. Here's how I make mine:
Pulse raw cashews in a blender about 10 times until the cashews are finely ground. Doing this before adding the other ingredients helps to break them down more before fulling blending for a smoother result.
Add coconut milk and MCT oil. Blend again until smooth and creamy. This should make about four cups of liquid.
Fill two, 16-well standard ice cube trays with the blender contents. Gently rap the filled trays on the counter to remove any air bubbles. Place flatly in the freezer for several hours or up to overnight.
Remove the cubes from the trays and store them in freezer-safe bags for up to six months.
To use, add one cube per serving of smoothie when you are ready to blend the ingredients.
One cube adds eleven grams of fat as well as a small amount of potassium, fiber and more to a smoothie.
More Smoothie Cube Recipes
As I said before, I love making easy smoothie boosters to add as needed to my daily beverage. You can make a few of these recipes and store them to have on hand whenever you need them.
With these recipes, you've got a whole rainbow of nutrients that can give you real vitamins and minerals to cure what ails you. Use food to your benefit!
Coconut Cubes FAQs
What are coconut cubes?
Coconut cubes are frozen ice cubes full of full-fat coconut milk, cashews and MCT oil. They are an easy way to add healthy fat and nutrients to smoothies to help your body break down the smoothie ingredients for long-lasting energy.
How do you make frozen coconut cream cubes?
It's so easy to make frozen coconut cream cubes! My cubes blend full-fat coconut milk, raw cashews and MCT oil until creamy and smooth. Then pour the contents into ice cube trays and freeze. Once frozen, transfer the cubes into a freezer-safe bag and pull 1-2 out to add to smoothies as you want a healthy fat boost.
Is coconut cream the same as coconut milk?
When you open canned coconut milk you'll notice there is a thick top layer of cream, then milky liquid at the bottom. Shake or stir up the contents to combine and have coconut milk. Coconut cream is just that top layer without the liquid at the bottom of the can. It's not really "drinkable" but can be used in place of full-fat coconut milk in a variety of recipes.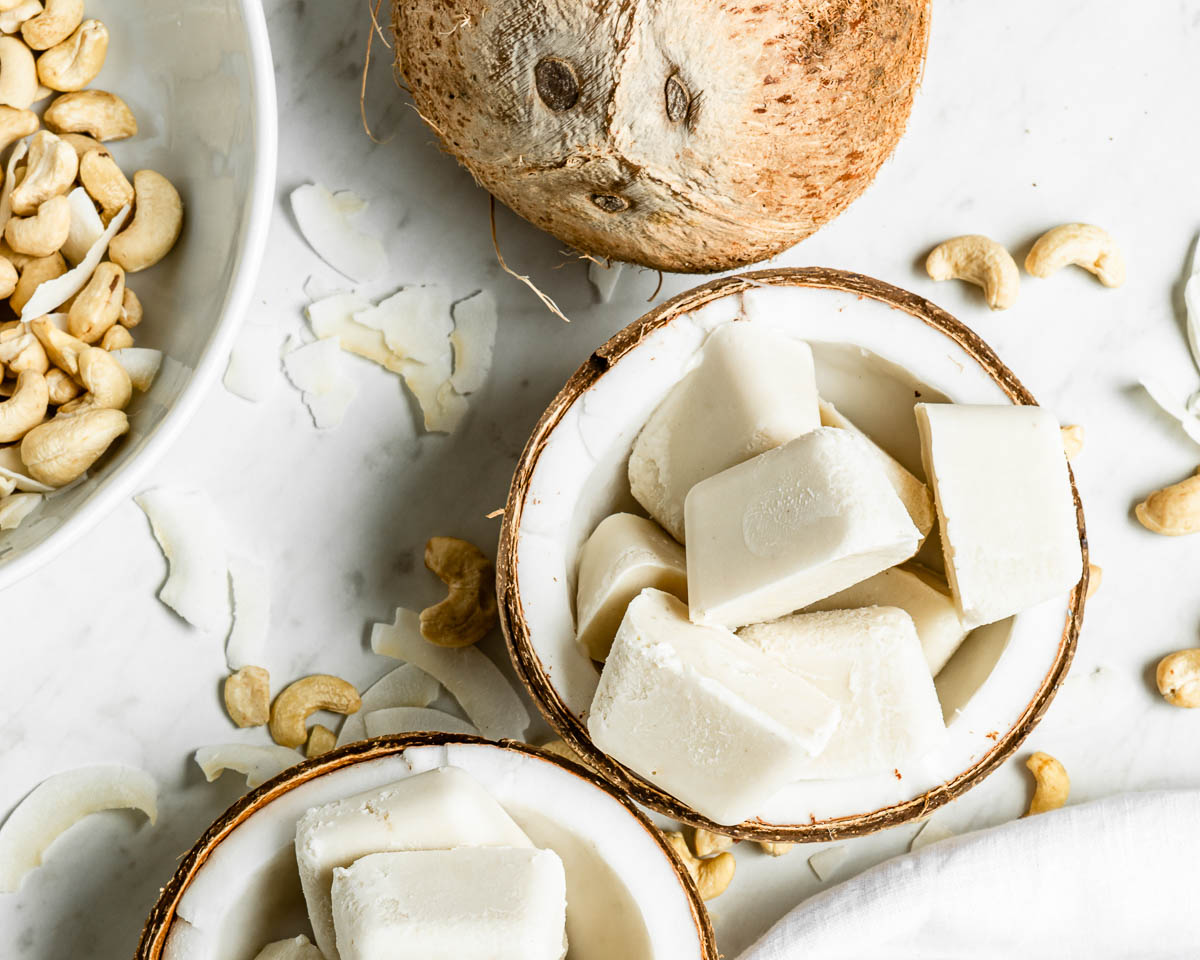 How to use Healthy Fat Bombs
One of the most asked questions by this community is how to turn a green smoothie into a meal. My smoothie recipes are chock full of nutrients yet depending on the recipe, it may not include many fats or protein. When they do, they look like this deliciously filling Meal Replacement Smoothie.
But for the ones that don't, that's where these little cubes come in handy.
Fat and protein help keep our hunger satisfied longer than carbs. When used together, it creates a complete meal. All that fiber in the fruits and leafy greens helps too.
These keto cubes were created with the goal of adding a serving's worth of healthy fats plus a little protein too. You can certainly add a serving of your favorite plant-based protein powder to any smoothie and use it in conjunction with these cubes.
Here are some recipes I recommend boosting with these healthy fat boosters to start:
Will you rate + review this recipe once you try it? I can't wait to hear how yours turned out!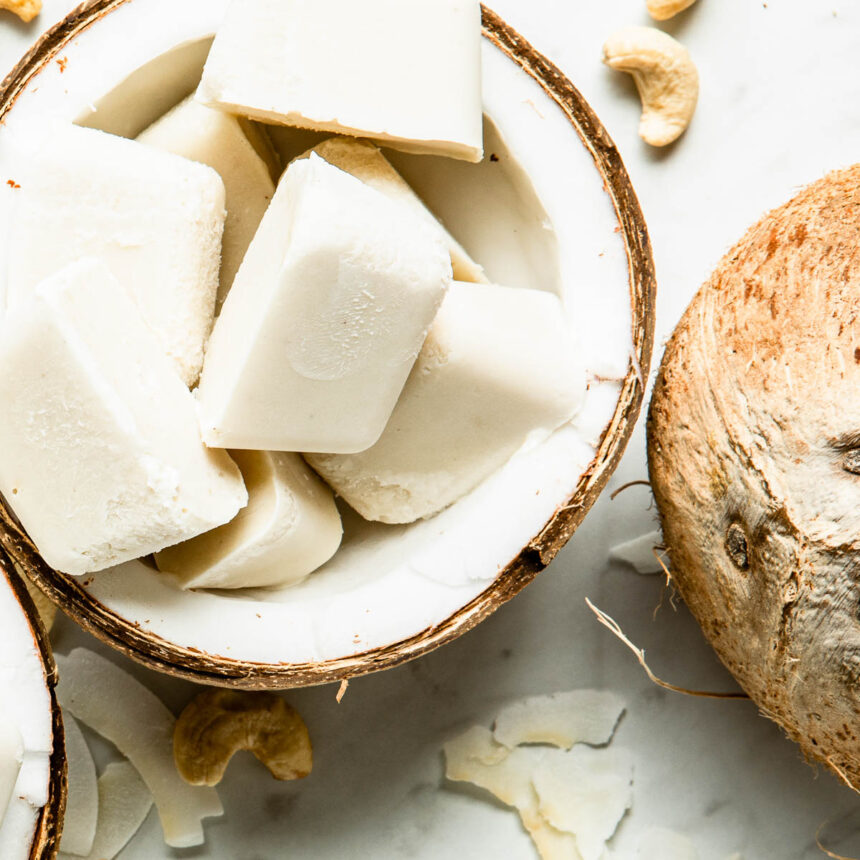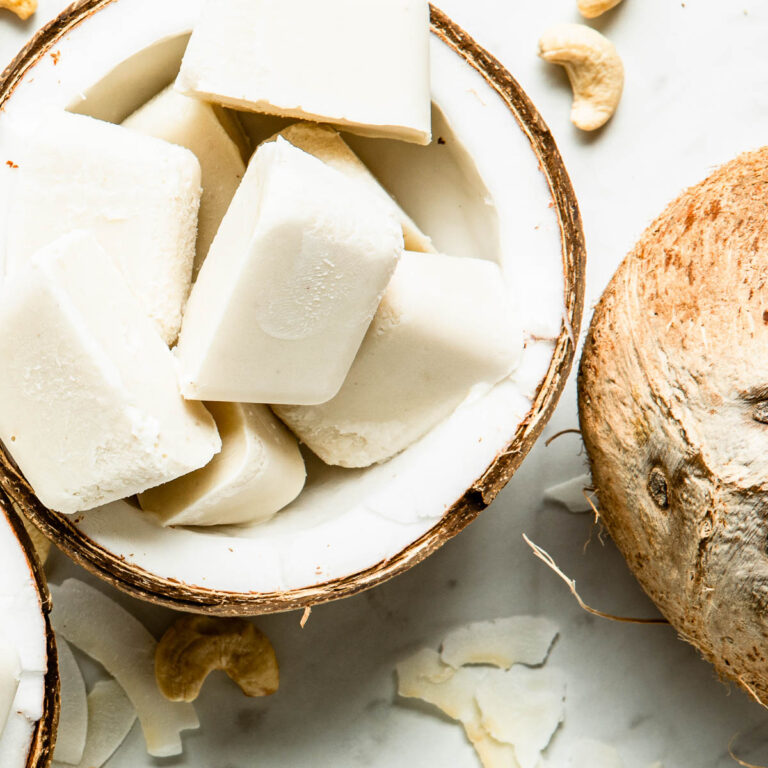 Frozen Coconut Cubes
Adding healthy fats to your smoothies with coconut cubes can help keep you fuller for longer! This recipe is completely plant-based and takes minutes to make. You can easily toss them into any smoothie for a boost.
Instructions
Place raw cashews into a blender. Pulse about 10 times for 1-2 seconds each, or until cashews are finely ground.

Add coconut milk and MCT oil. Blend again until smooth and creamy. You should have about 4 cups of liquid.

Fill two, 16-well standard ice cube trays or equivalent molds, with the coconut milk mixture. Each well should hold about 2 tablespoons each. Rap on counter to remove air bubbles. Place in freezer for several hours or overnight. 

Remove frozen coconut milk smoothie cubes from the tray and store in an airtight container or bag in the freezer for up to 6 months.

To use, add 1 cube per 16 ounce serving in your favorite smoothie recipes.
Notes
Other nuts or seeds could be substituted for the cashews such as macadamia nuts, almonds, peanuts, walnuts, pecans, pumpkin seeds, hemp hearts, sunflower seeds, etc. Use 1 3/4 cup seeds to replace 2 cups raw nuts.
Coconut milk can be substituted with 1/2 cup unsweetened shredded coconut plus 1 cup water. Blend dried coconut with cashews during first step, then add the water along with the MCT oil.
For those allergic to coconut, substitute another healthy oil such as flax, avocado, or other nut/seeds oils that can be tolerated. And substitute coconut milk with other dairy-free milk.
Substitutions will change the nutrition information.
Nutrition
Calories:
116
kcal
,
Carbohydrates:
3
g
,
Protein:
1
g
,
Fat:
11
g
,
Saturated Fat:
8
g
,
Polyunsaturated Fat:
1
g
,
Monounsaturated Fat:
2
g
,
Sodium:
11
mg
,
Potassium:
53
mg
,
Fiber:
1
g
,
Sugar:
1
g
,
Vitamin C:
1
mg
,
Calcium:
3
mg
,
Iron:
1
mg