Start your morning with a whole new kinda energy from a coffee smoothie. All the taste and sweetness of those fancy iced drinks you love without the artificial sugars and weird ingredients.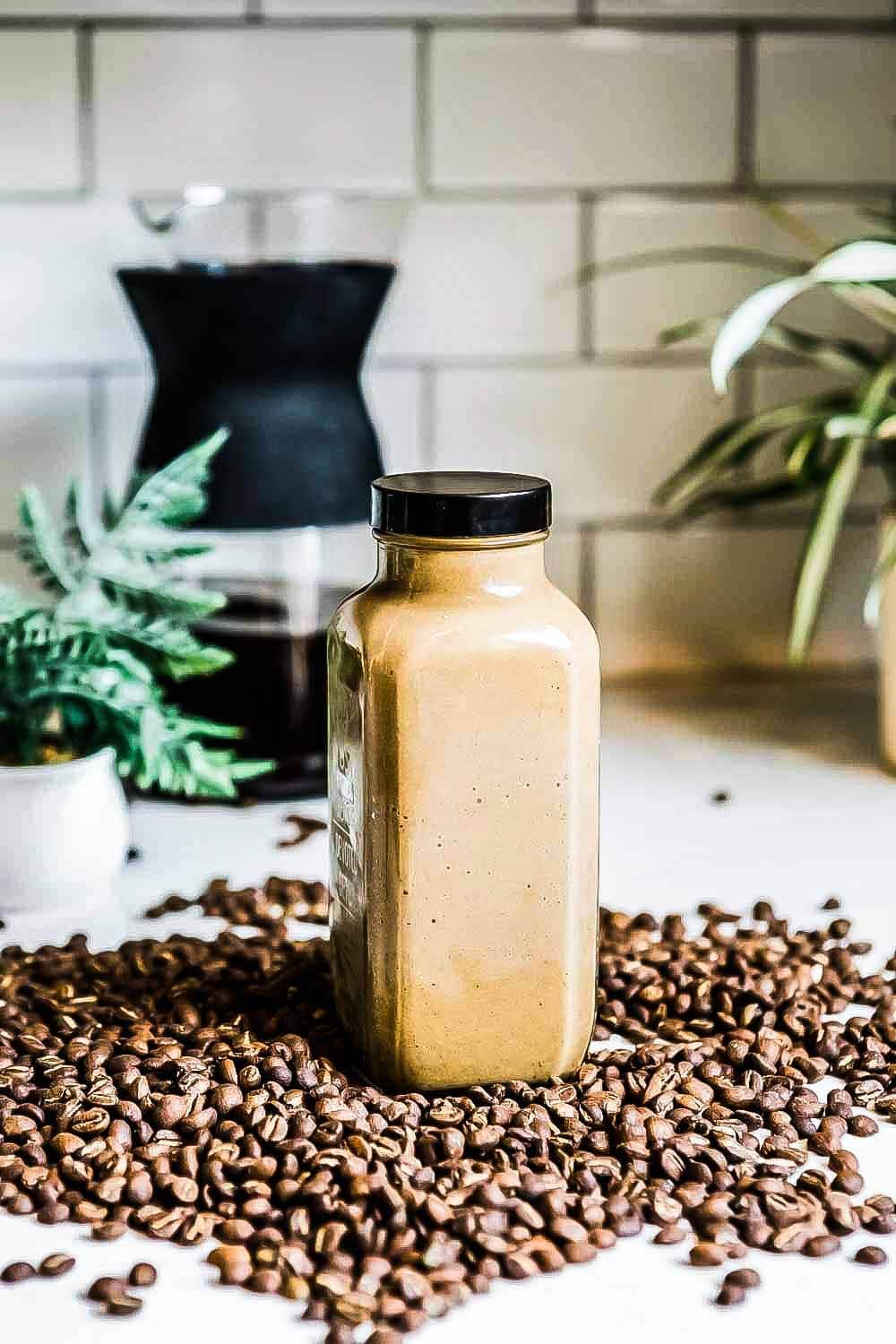 Coffee in moderation is a great way to boost your morning energy levels, but a plain cup of joe isn't enough to carry you through until lunch. With this coffee smoothie, you get all the benefits of coffee along with the perfect pairing of good-for-you, nutrient-packed ingredients.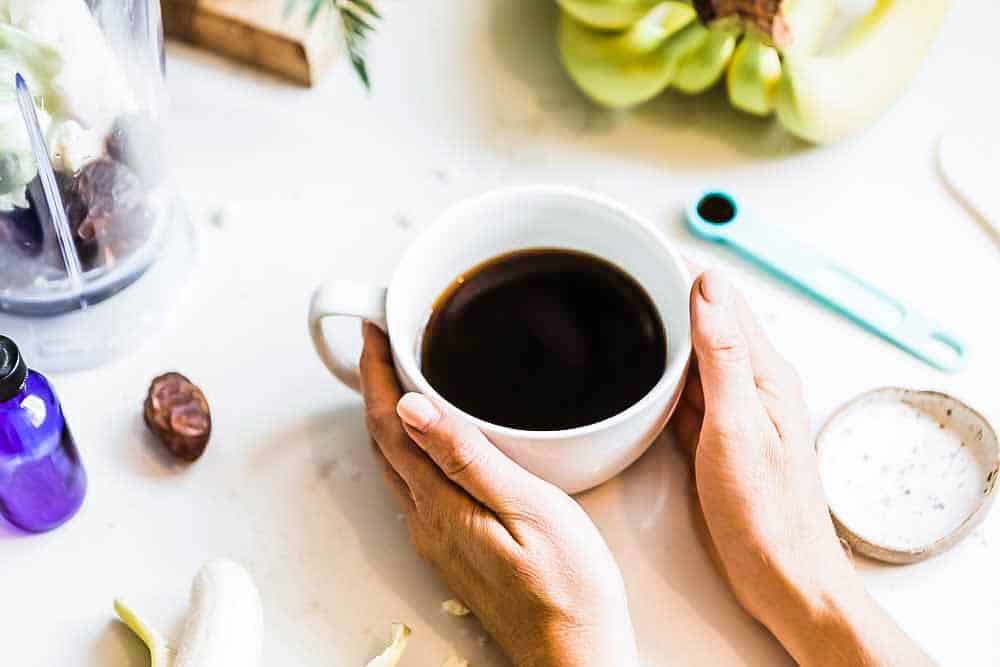 Health benefits in coffee banana smoothie
Frozen cauliflower – Yes, you read that right! Frozen cauliflower thickens this smoothie while adding a ton of health benefits (it's a cruciferous veggie). Trust us, you won't even notice it's there.
Protein powder – A scoop of plant-based protein powder helps you feel full longer and prevents loss of lean muscle mass. It's also a great way to get in your daily protein requirement.
Banana – Adds natural sweetness and creaminess to the smoothie, and it's a great source of potassium and vitamin B6.
Dates – Naturally sweetens the smoothie and adds a little fiber.
Coffee – Caffeine in moderation is not a bad thing. It can improve energy levels, boost your metabolic rate and may help protect against Alzheimer's disease.
Oat Milk – This non-dairy alternative contains beta-glucan, which has been linked to improved gut health. Make sure to check out the Best Oat Milk Brands of 2020 before hitting the store. You can also use cashew milk and almond milk if you prefer.
Cacao Powder – An antioxidant-rich powder that adds a chocolate-y flavor and pairs so well with coffee. This is where we got the mocha part of the name…. and will never ever take it back. It's soooo good!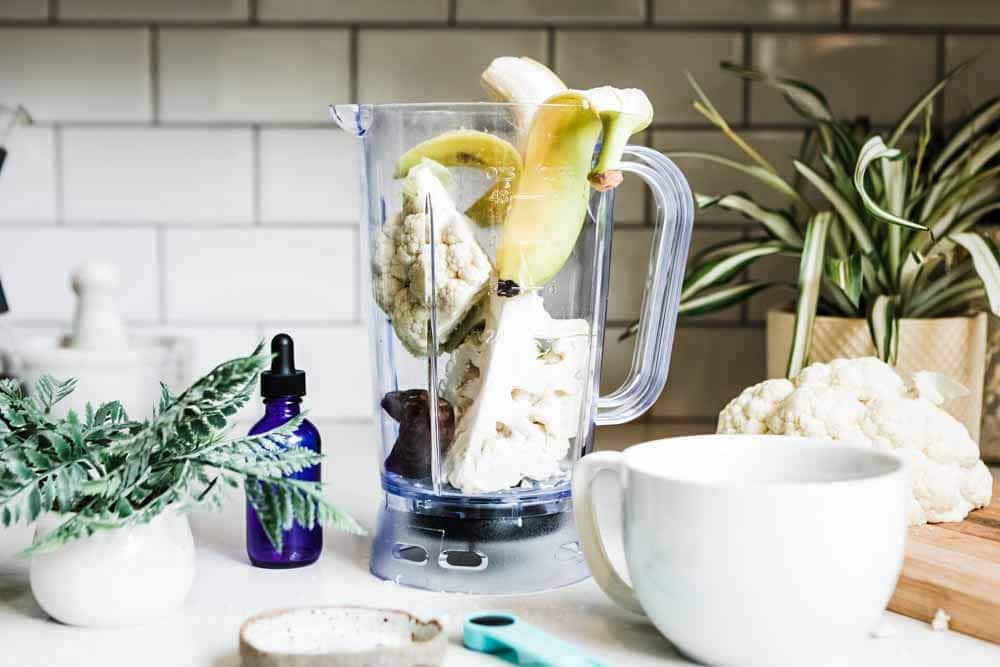 How to make a coffee smoothie
Now, this isn't any coffee smoothie— this is a breakfast smoothie that'll keep you full and energized (and satisfy your coffee craving). You will need…
cauliflower
banana
cacao
vanilla extract
oat milk (or other non-dairy milk)
dates
brewed coffee (or cold brew)
It's important to make sure the coffee is cold for this recipe. Cool it in the fridge before adding to the blender (or put a few ice cubes in it). When ready, place all of the ingredients in a high-powered blender and blend until smooth and creamy.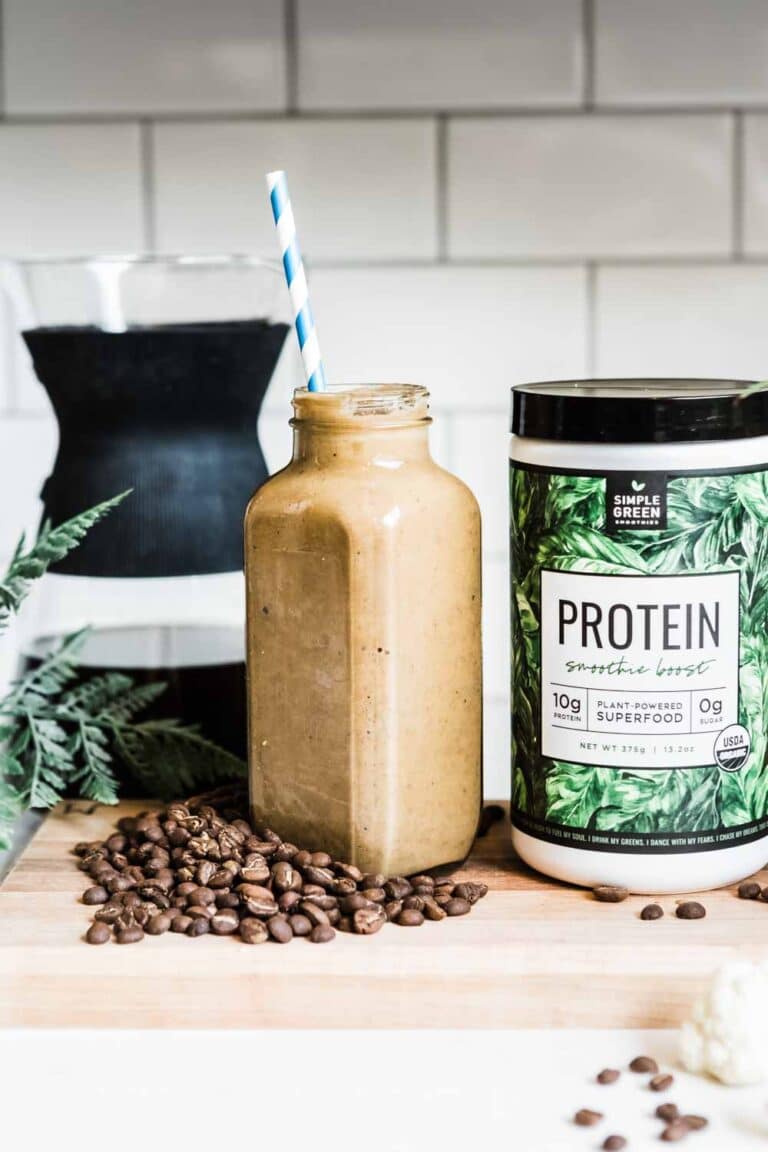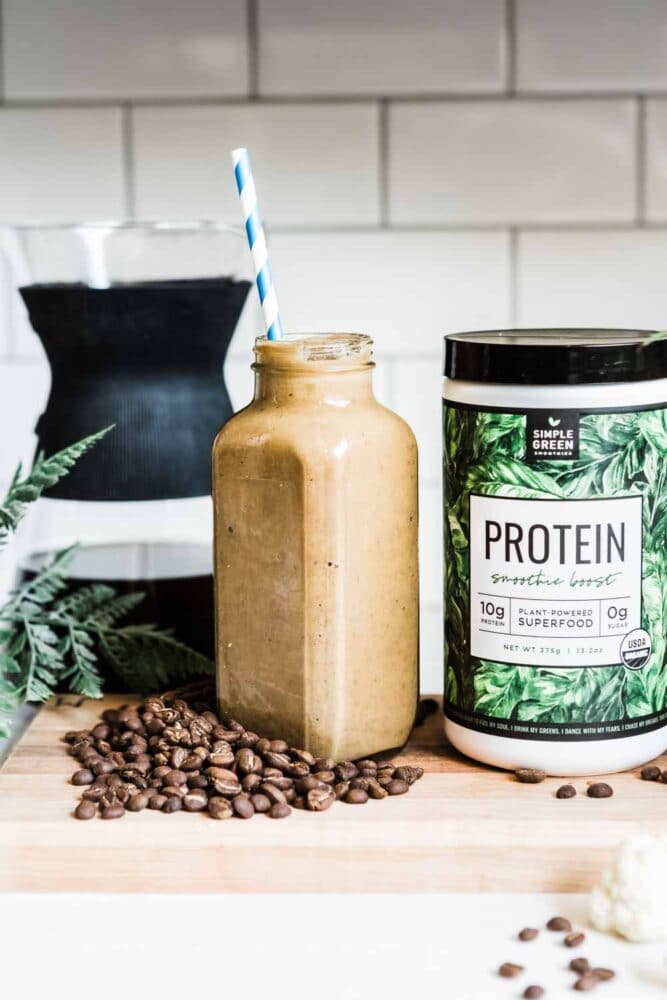 What kind of coffee to use
There are a few different methods for making coffee for your smoothie:
If using a drip coffee maker, brew a pot of coffee and reserve a few cups for making smoothies. Cool the coffee to room temperature before using in the smoothie. Pour any extra coffee in a mason jar or glass container and store in it the fridge for up to 5 days. Or pour the room temperature coffee into an ice cube tray and freeze for future smoothies.
As for beans, I always recommend supporting your local coffee roaster. For me, that's Mountaineer Coffee Roaster in our central Florida small town.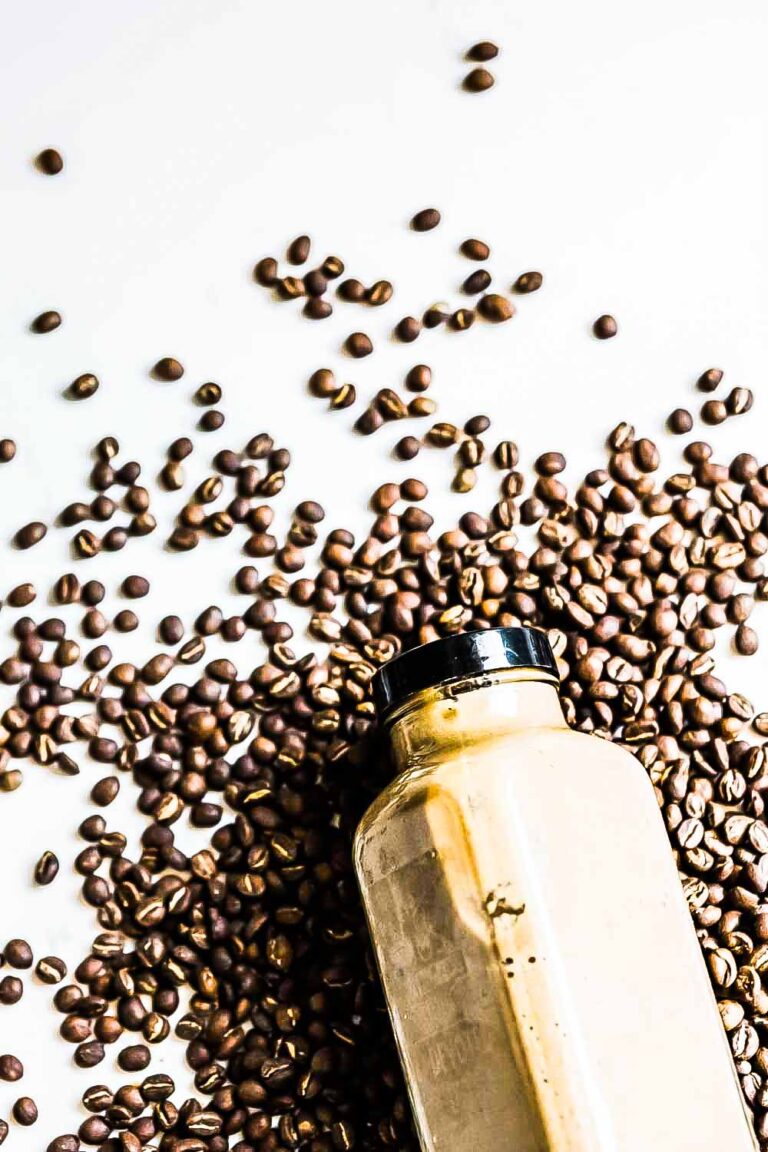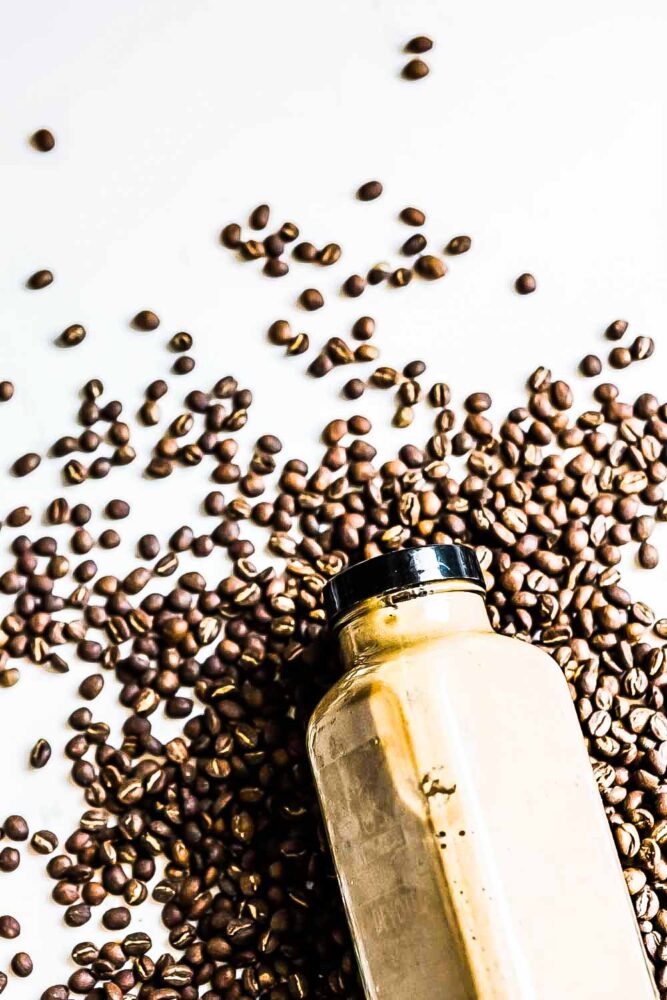 You can use instant coffee if that's what you've got on hand. Simply make a cup of instant coffee according to the directions on the package. For stronger coffee flavor, add an extra serving of instant coffee granules. Let the coffee cool to room temperature before using it in a smoothie. You can also add instant coffee granules directly to your smoothie. Add 1-2 tsp of instant coffee to your blender along with the rest of the ingredients.
If using store-bought cold brew coffee, follow the instructions on the bottle to make ¾ cup coffee. It's usually a 1:4 ratio of coffee to water.
Healthy Coffee Alternatives
If you're trying to be more mindful of what you put in your coffee (or even drinking caffeine in general), we've been there! Here's a few tasty options that I think you might like to play with:
Green Tea Smoothie: This recipe not only gives you a pep in your step, it also has ingredients that help burn fat and boost your metabolism. Now talk about a great way to start the day!
Healthy Coffee: How I turned a cup of coffee into a substantial meal that keeps me full until lunch.
Spiced Almond Milk: This warm and soothing beverage is what I drink when I'm trying to taper off of coffee. It's warm, tasty and nourishing.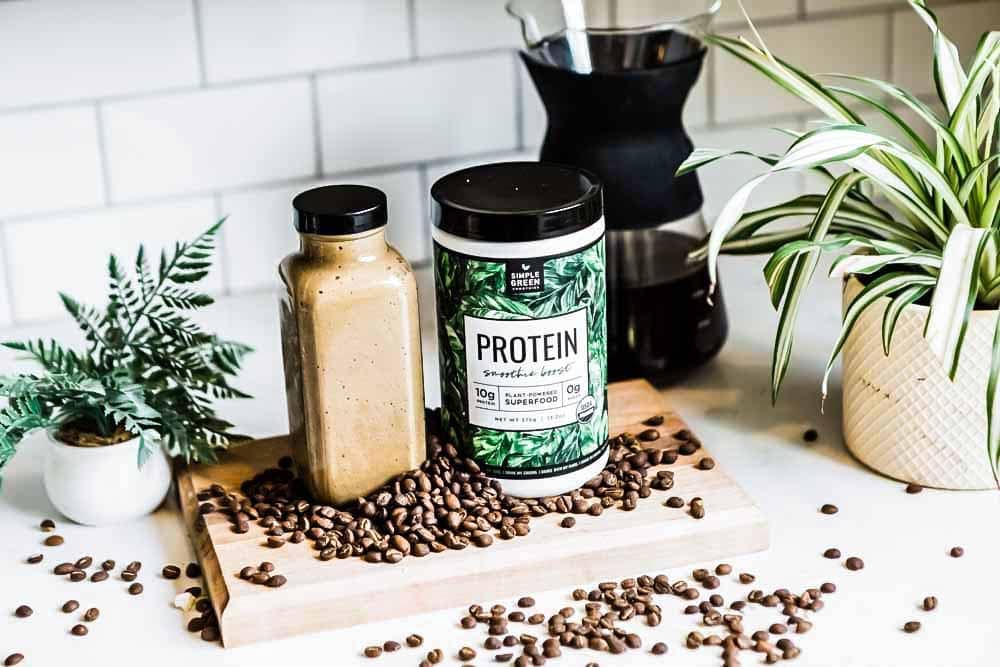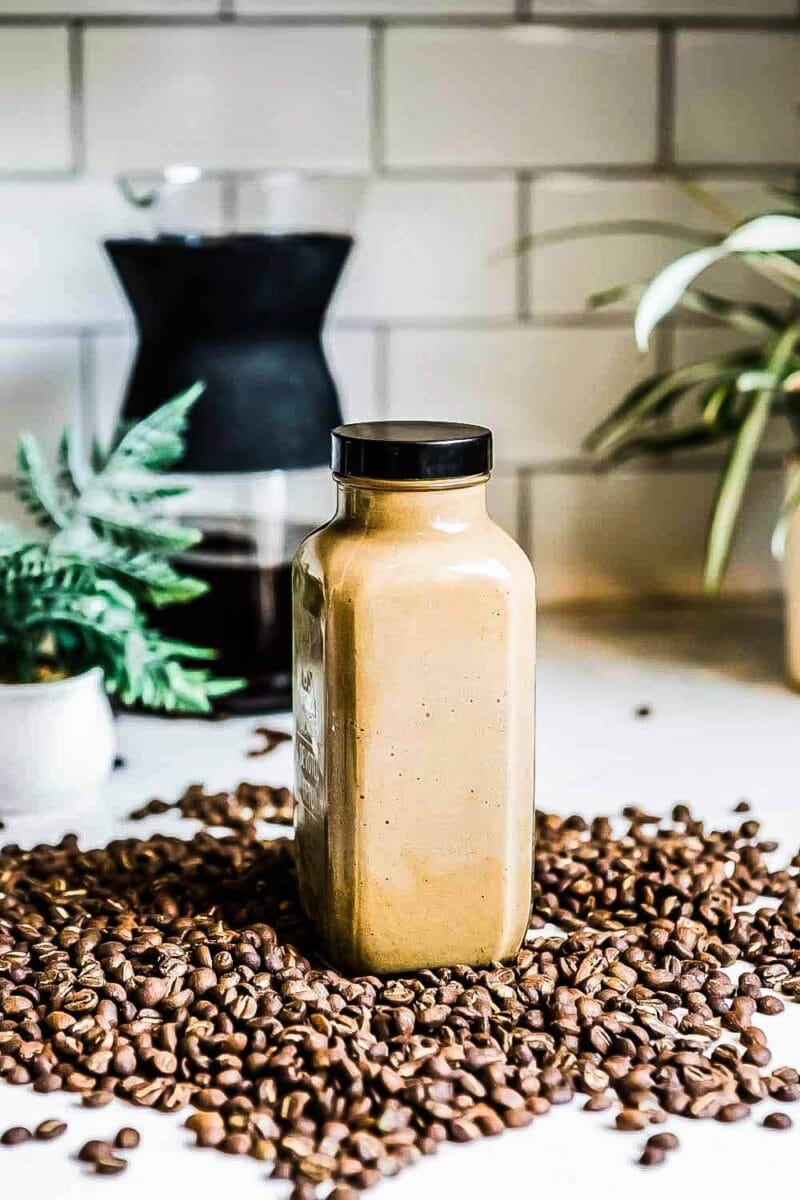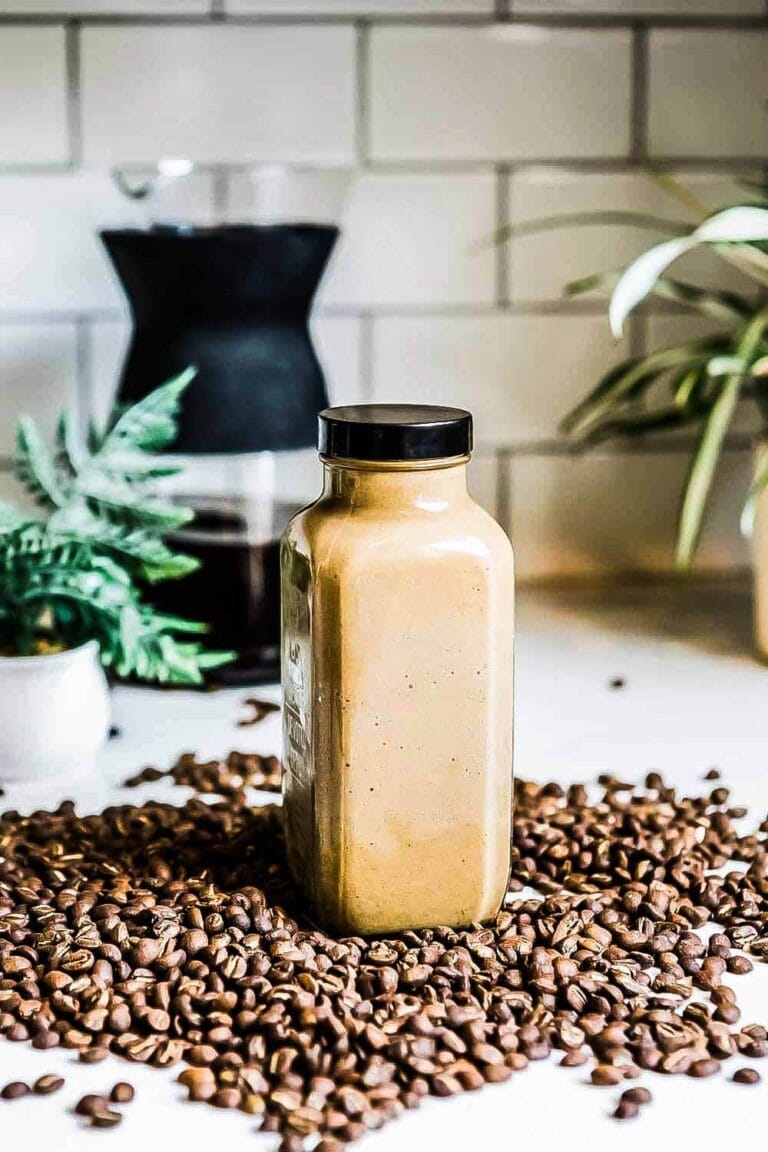 Energizing Mocha Coffee Smoothie
Sip on this cool and creamy coffee smoothie for breakfast or as a mid-afternoon pick-me-up. 
Ingredients
¾

cup

brewed coffee

cooled in the fridge

1

banana

frozen

1

medjool date

pitted (or 1 tsp maple syrup)

1

tsp

vanilla extract

¾

cup

cauliflower

frozen

¼

cup

oat milk or other plant milk of choice

½

tbsp

cacao powder

1

serving

homemade protein powder

optional
Instructions
Add all ingredients into the blender.

Blend on high until creamy.

Pour into a glass and enjoy immediately. 
Nutrition
Calories:
241
kcal
,
Carbohydrates:
57
g
,
Protein:
5
g
,
Fat:
2
g
,
Saturated Fat:
1
g
,
Polyunsaturated Fat:
1
g
,
Monounsaturated Fat:
1
g
,
Sodium:
57
mg
,
Potassium:
974
mg
,
Fiber:
8
g
,
Sugar:
37
g
,
Vitamin A:
234
IU
,
Vitamin C:
46
mg
,
Calcium:
131
mg
,
Iron:
2
mg