I've got the perfect cranberry smoothie for you! Made with winter fresh ingredients, this cranberry orange combo will delight the tastebuds. This is a very wintery cranberry smoothie – and one of my favs. I love cranberries and oranges, so enjoying them together is a major bonus.
This festive smoothie tastes delicious as well as contains ingredients to boost your urinary tract health and gut health too. It's also healthier than most cranberry smoothies because we've added iron-rich spinach (which you can't even taste!)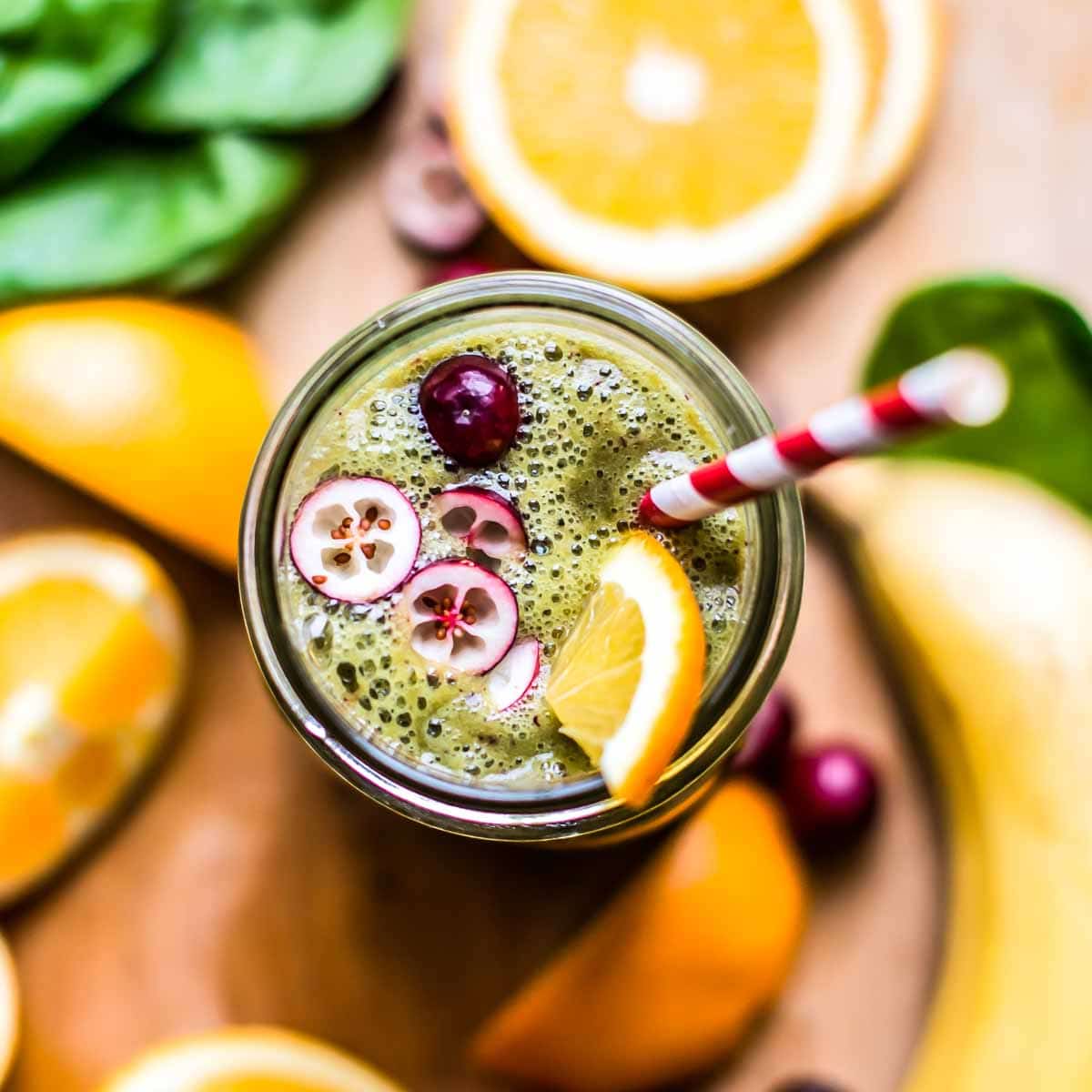 Table of Contents
Where are Cranberries Grown?
Cranberries thrive in cooler temps. They're commonly grown in the Northeast United States, the Pacific Northwest, and in the Canadian provinces of Quebec and British Columbia. They grow on low-lying bushes in bogs that are flooded during the yearly harvest.
While you'll only see fresh cranberries in the late fall and early winter, they are available year-round frozen. Cranberry bushes actually need the cool, dormant period of winter to produce a crop the following year.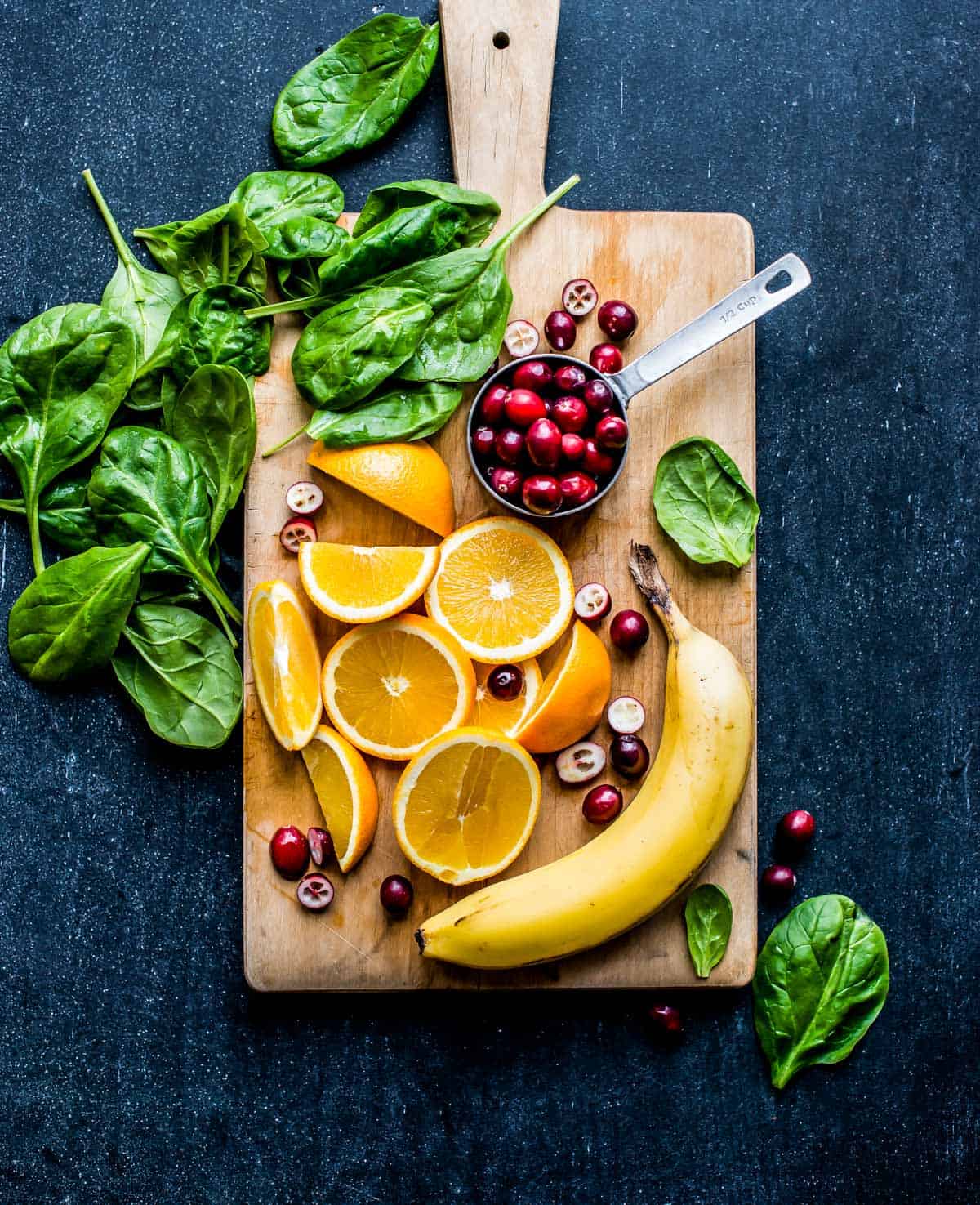 Cranberry Health Benefits
If you're prone to urinary tract infections, then keep this cranberry smoothie in regular rotation as natural preventative care. Yet urinary tract health isn't the only thing cranberries can do!
Cranberries also:
contain powerful antioxidants, vitamins, and minerals – especially fiber, calcium, magnesium, iron, potassium, vitamin C, folate, and several B vitamins.
contain over two dozen phytonutrients, mostly in their skin, so blend into a cranberry smoothie instead of a juice!
improve digestion
reduce bad cholesterol
prevent gum disease
boost the immune system
are low in sugar and overall calories
have anti-inflammatory properties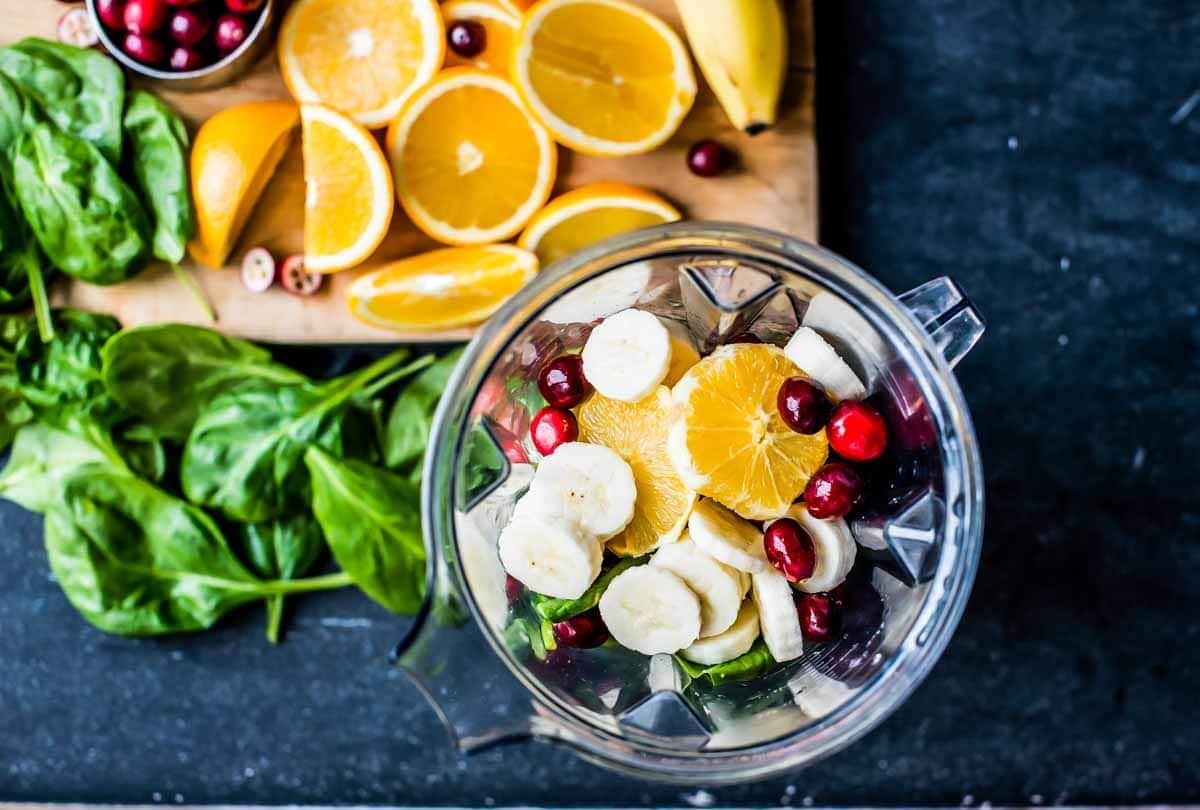 Cranberry Orange Smoothie Recipe
I'm all about seasonal eating, and this smoothie ticks some great boxes! Winter brings cooler temps, and also cold + flu season. Cranberries and oranges are great natural flu fighters, and also have the most nutrients when picked fresh.
This recipe also uses spinach as the leafy green, yet you can swap in any green of your choice. Bananas provide a bit of sweetness to balance out the tang of the cranberries. Yet they can be halved if you want to lower the sugar content.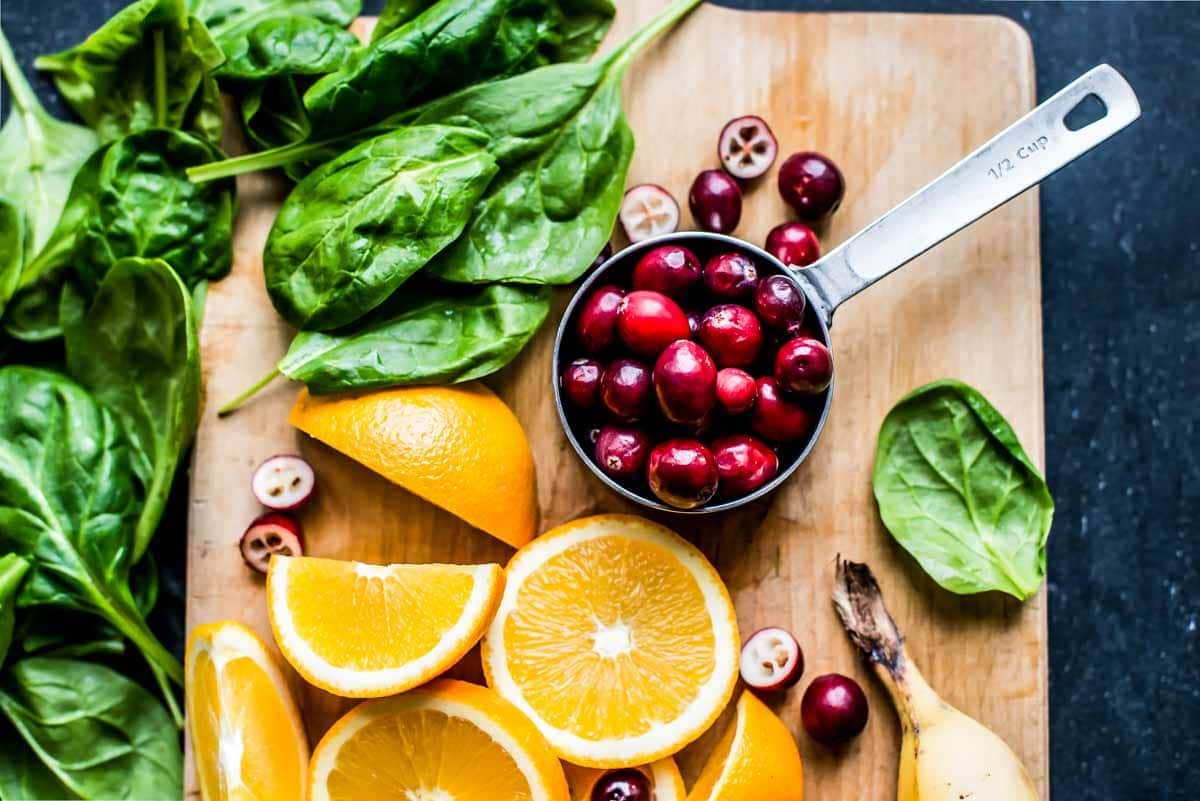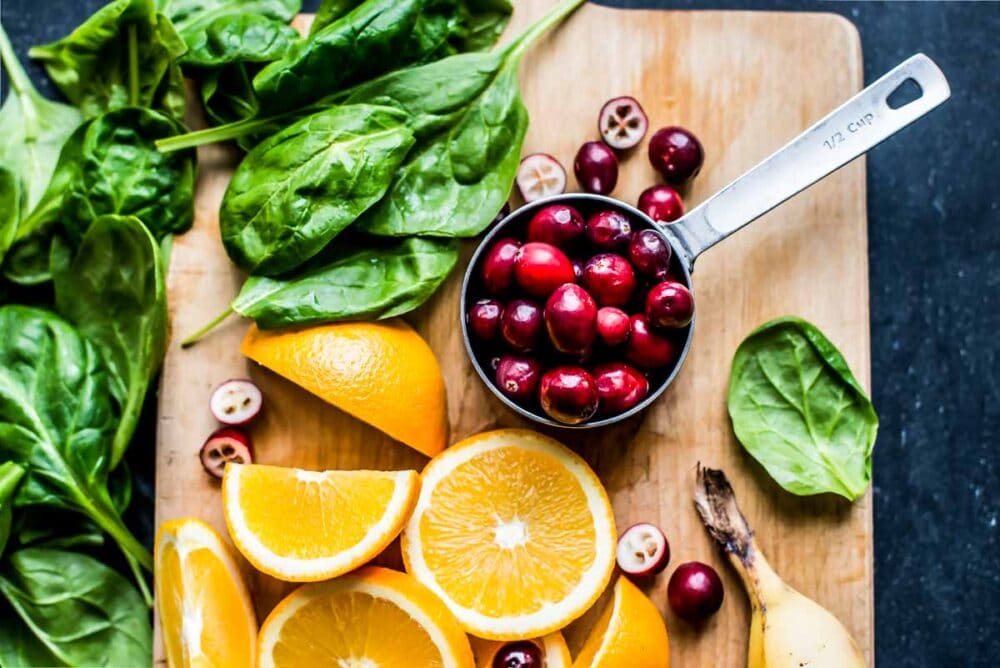 Fresh vs. Frozen Cranberries
Fresh or frozen cranberries both work fine in this recipe. If you use frozen cranberries, then they will help chill your smoothie. And freezing doesn't greatly affect the nutrient content of the fruit, though fresh will give you the most nutrients.
When you buy a bag for Thanksgiving dinner, add a few more to the cart and freeze them to use all year long.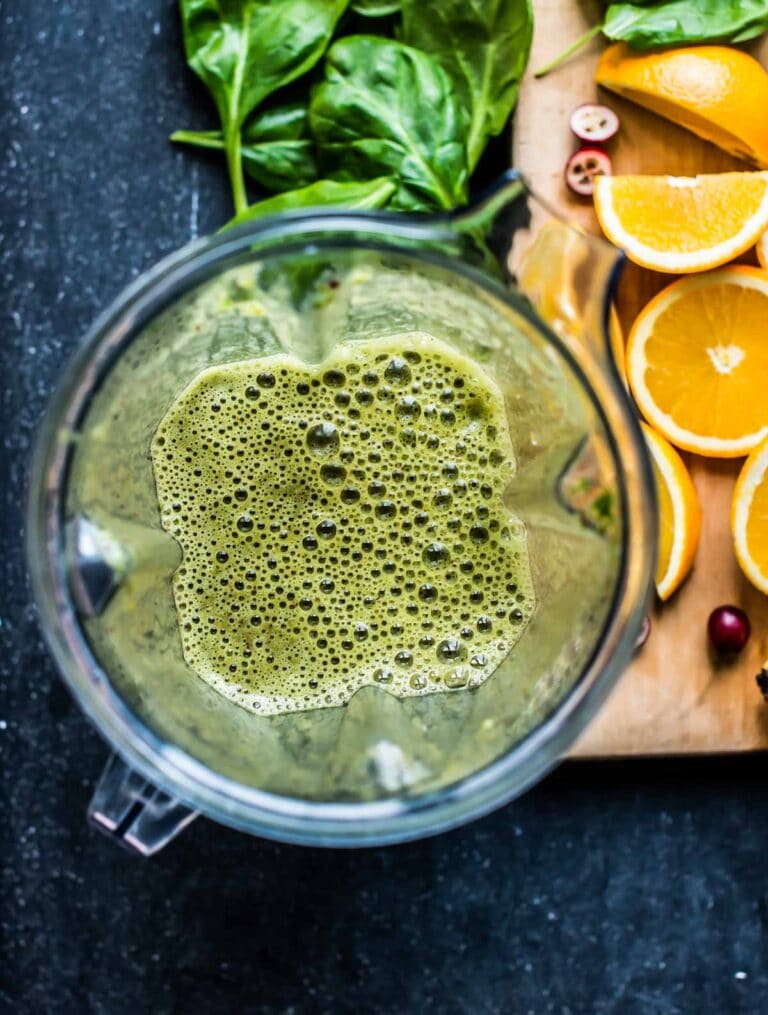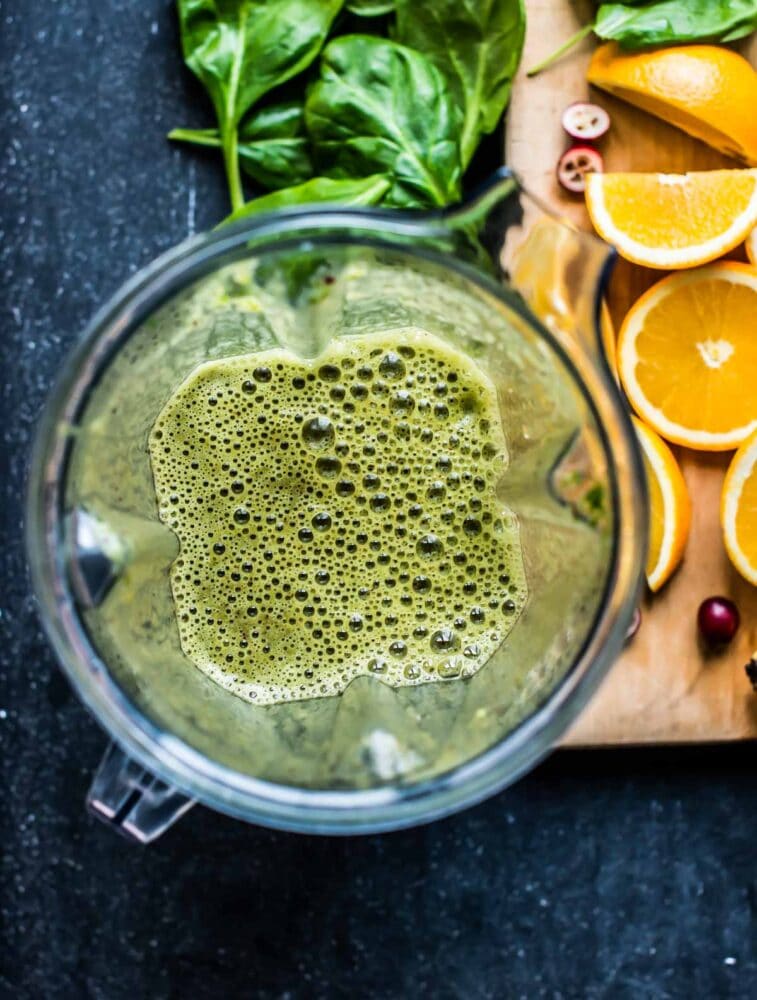 How to boost your cranberry smoothie with protein
Most of our plant-powered smoothie recipes don't include any extras in them. That allows our community of smoothie drinkers to customize their smoothie to fit their lifestyle. If you'd like to turn this smoothie into a powerhouse breakfast, add 1 serving of plant-based protein, like Homemade Protein Powder, to give it an extra 10 grams of protein + healthy fat.
More Natural Remedies This Holiday Season
Every winter I pull out all the natural remedies I have, to protect my whole family all season long. These remedies actually WORK, or I wouldn't waste my time with them. If you're looking to find some more natural ways to heal your body, check out this great list:
Don't forget to rate + review this recipe once you make it! I love getting your feedback.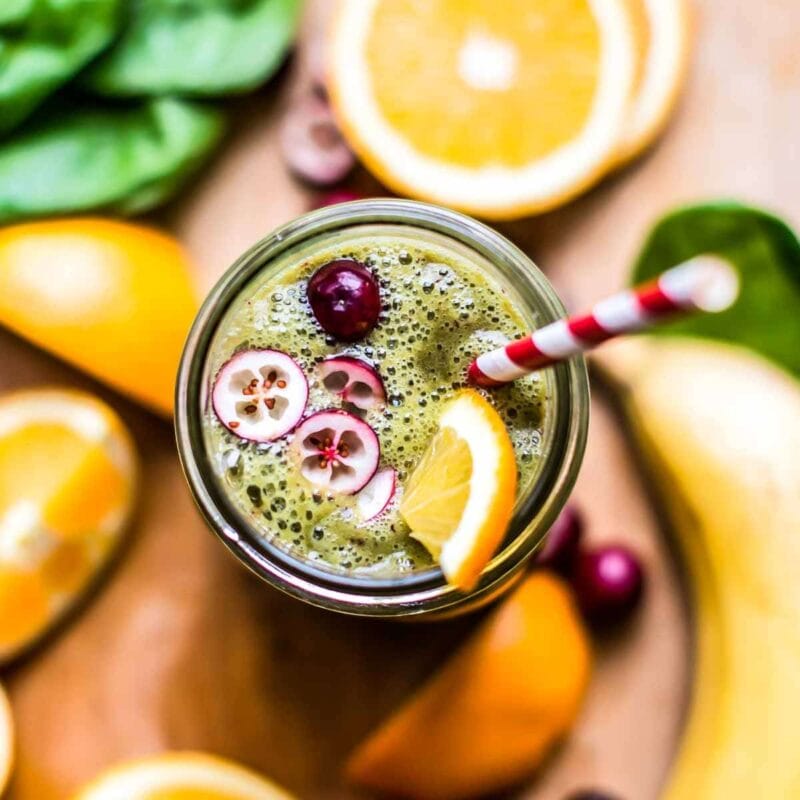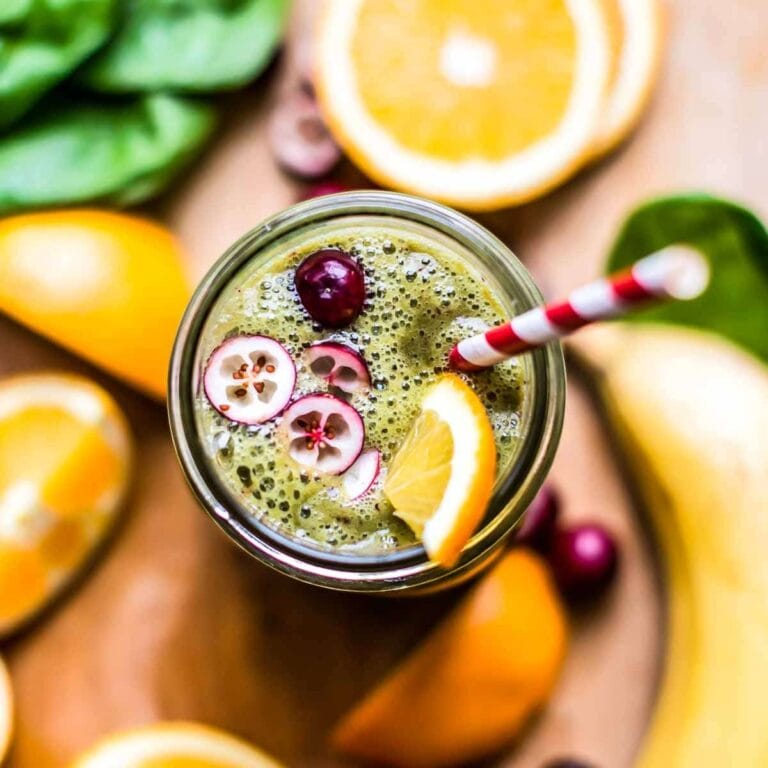 Holiday Cranberry Smoothie
This is a very wintery cranberry smoothie—and one of my favorites. I love cranberries and oranges! Feel free to add 1 tsp MCT oil to get an energy boost and increase your metabolism.
Instructions
Place spinach and water in blender. Puree until smooth.

Add fruit and blend again.

Serve over ice if you want it colder.
Notes
Use at least one frozen fruit to make the smoothie cold or serve over ice.
Swap in any leafy green of your choice for the spinach.
Nutrition
Calories:
144
kcal
,
Carbohydrates:
36
g
,
Protein:
3
g
,
Fat:
1
g
,
Saturated Fat:
1
g
,
Polyunsaturated Fat:
1
g
,
Monounsaturated Fat:
1
g
,
Sodium:
37
mg
,
Potassium:
658
mg
,
Fiber:
8
g
,
Sugar:
22
g
,
Vitamin A:
3176
IU
,
Vitamin C:
90
mg
,
Calcium:
96
mg
,
Iron:
1
mg