Here's the crispy hash browns recipe you've been waiting for. It's crunchy all the way through (no soggy middle!) and perfectly seasoned.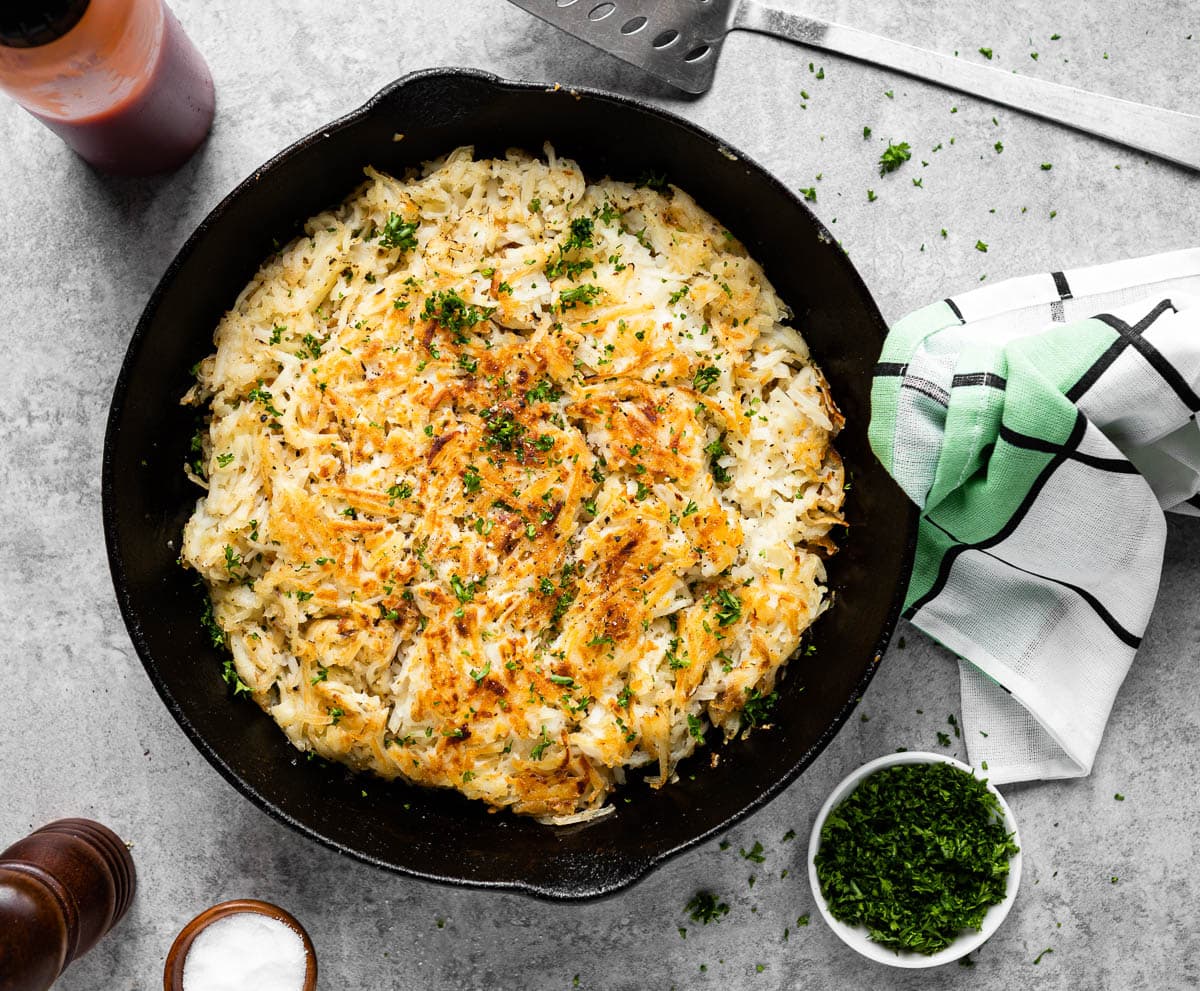 My family lives for a great potato recipe, so I knew I had to get this crispy hash brown recipe perfect before sharing with you all. It definitely doesn't disappoint! My restaurant-style crispy hash browns are delectably crunchy and simple to make.
Get ready to whip up a breakfast side to beat all breakfast sides!
Table of Contents
Ingredients for Crispy Hash Browns
My crispy breakfast potatoes can be created with five simple ingredients and topped however you want. I love this recipe as a base that is delicious on its own or elevated with the toppings of your choice.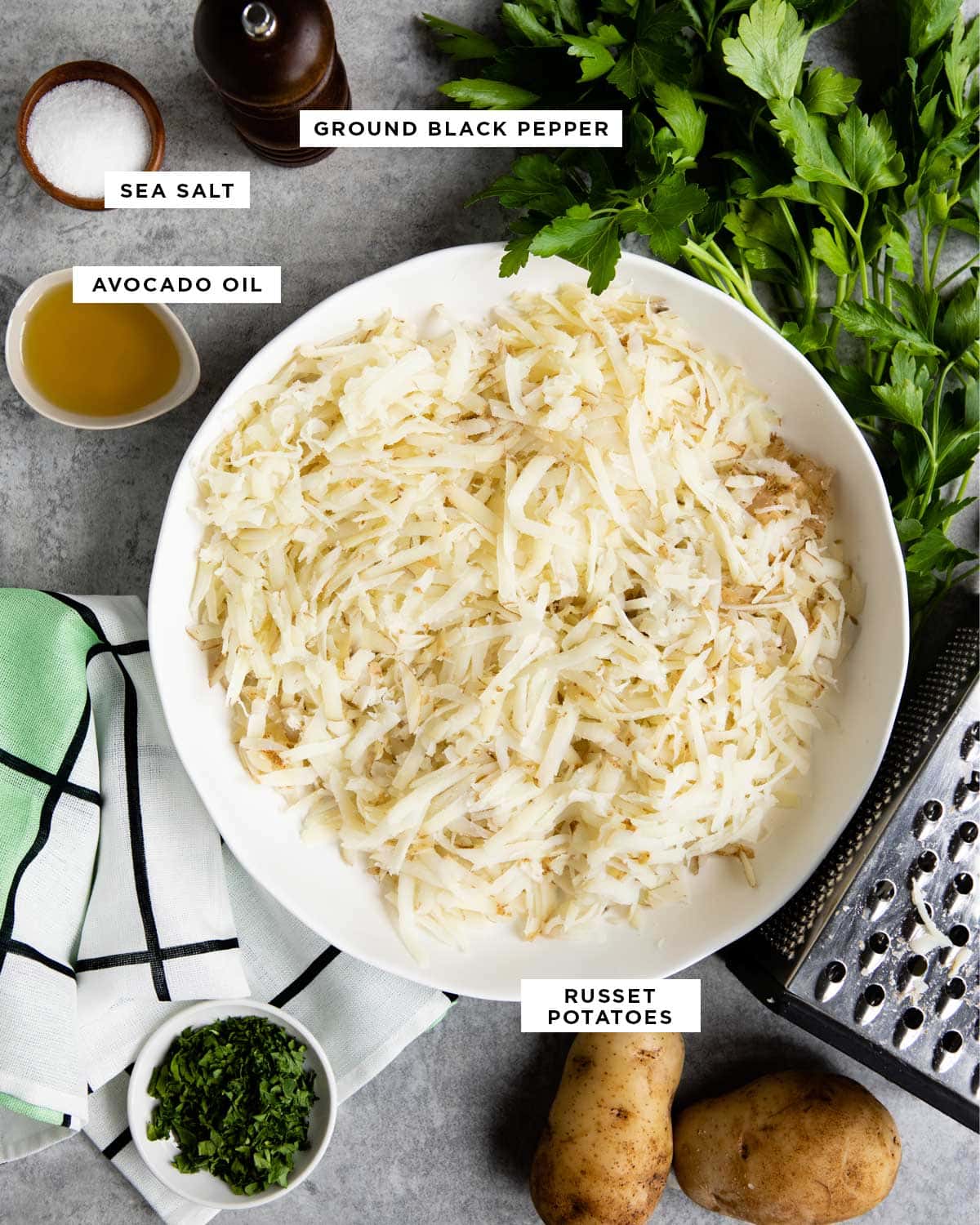 Russet Potatoes: I find this type of potato is truly the best when a crispy result is what you're looking for.
Sea Salt: Salt helps bring out a lovely flavor in the potatoes as well as helps them crisp up. Don't skip this ingredient!
Ground Black Pepper: Freshly ground pepper is a game changer when it comes to flavor, so it's all I use in cooking.
Avocado Oil: While you can use olive oil in this recipe, it will get smoky really fast. Meanwhile, avocado oil works well in higher heat and won't immediately evaporate in your pan.
Optional Toppings
While this five-ingredient recipe tastes great as-is, it's also perfect for toppings! Here's what I would add:
Tex-Mex: Top immediately with shredded cheese (so it melts over the hash browns) then top with your favorite salsa. To bump up the flavor more, add taco seasoning to the shredded potatoes and mix together well before cooking.
Cheesy Potatoes: Once you've gently flipped the hash browns in the skillet and cooked for about five more minutes, add shredded cheese across the top. Once the cheese has melted, remove it from heat.
Herb-y Potatoes: Bump up the flavor by adding fresh chopped chives, rosemary and thyme to the finished hash browns.
Easy Hash Brown Recipe
This recipe is not hard or ingredient-heavy, but it does take a few steps that you don't want to skip if you're looking for the crispiest potatoes around.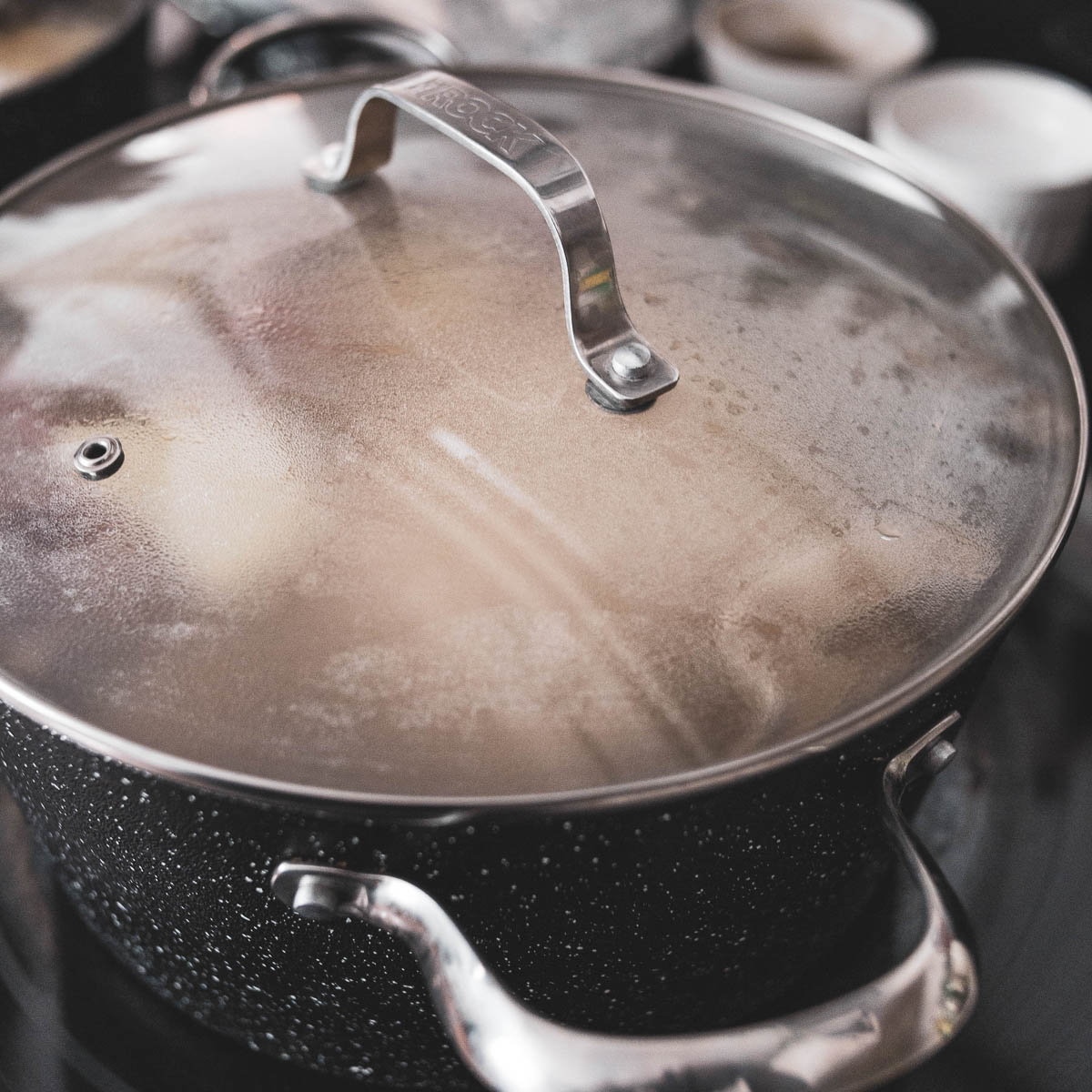 Step 1: Boil clean, scrubbed, skin-on potatoes. They don't need to be fork tender like you make for mashed potatoes, they just need to be softened. Make sure the water completely covers the potatoes and you're using a pot with a lid to make this step as quickly as possible. Once boiled, immediately transfer the potatoes to an ice bath to cool down.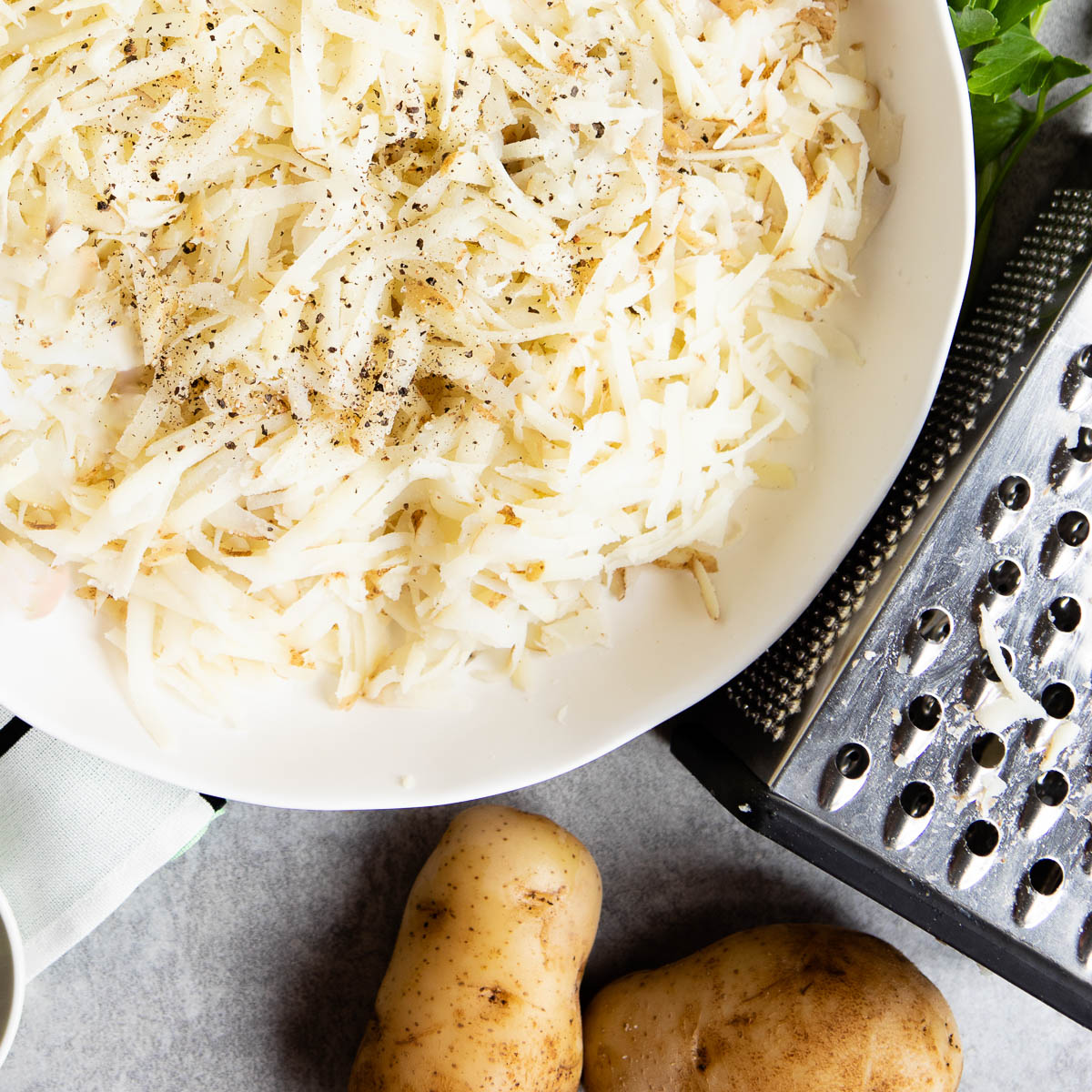 Step 2: Grate your potatoes skin-on or skin-off, whichever is your preference. I just use a sturdy cheese grater for this step, yet if you've got another way to easily shred then go for it! I know some food processors have a grate option.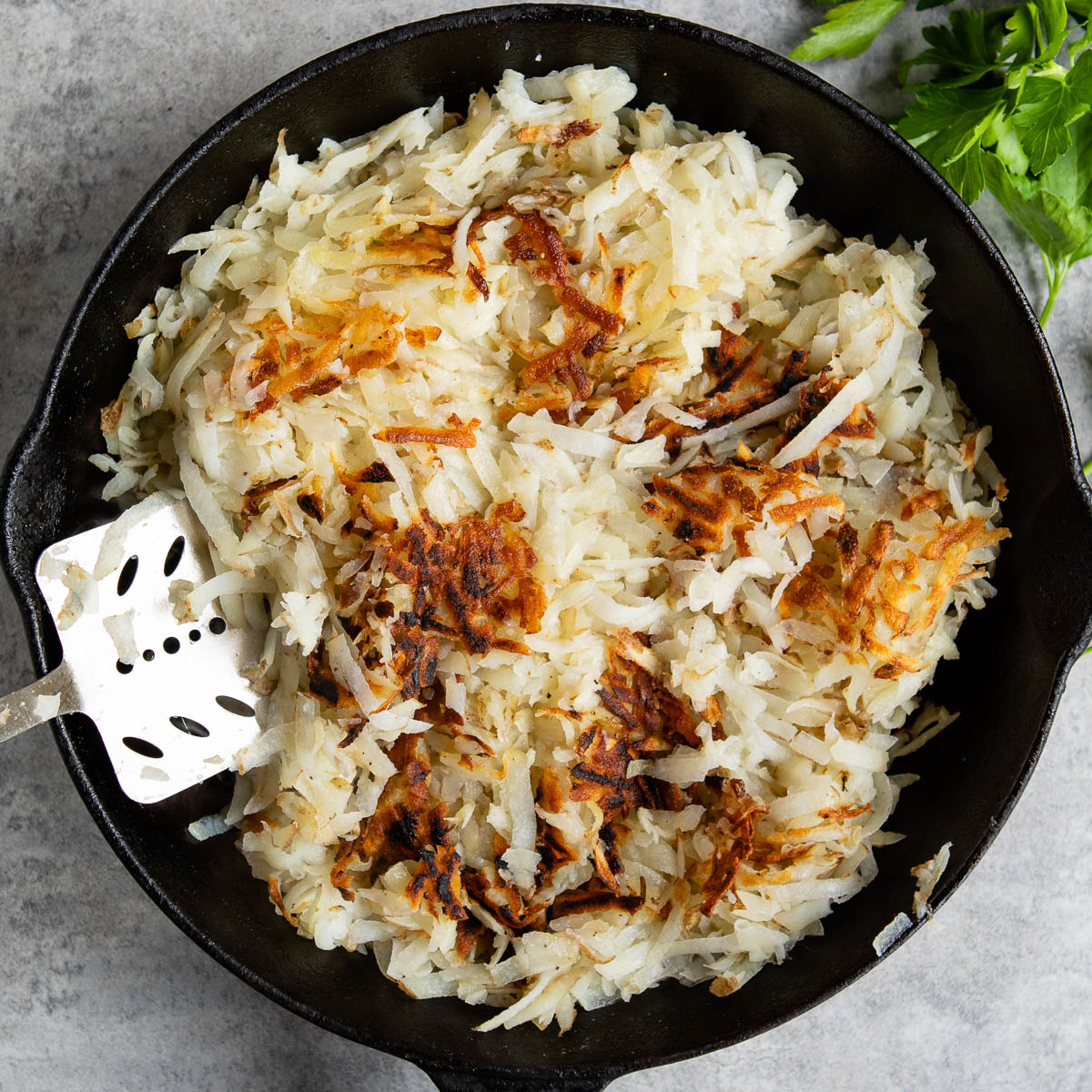 Step 3: Use a cast iron skillet for the crunchiest result. I also find that cooking the hash browns on medium heat instead of medium-high ensures they are crispy all the way through instead of just on the edges. Don't be afraid to work in batches. No need to cram all the shredded potatoes in the pan at one time!
Once these gorgeously browned potatoes are ready, top your way then serve immediately.
Leftovers
If you've got leftover potatoes, keep them! You can easily toss them into a delicious veggie bowl or reheat them in the toaster oven for equally crispy potatoes the next day. Let them cool thoroughly before storing them in the refrigerator so the steam doesn't get trapped inside the container.
When reheating potatoes in the skillet or toaster oven, spread them out a bit before reheating to ensure they re-crisp evenly.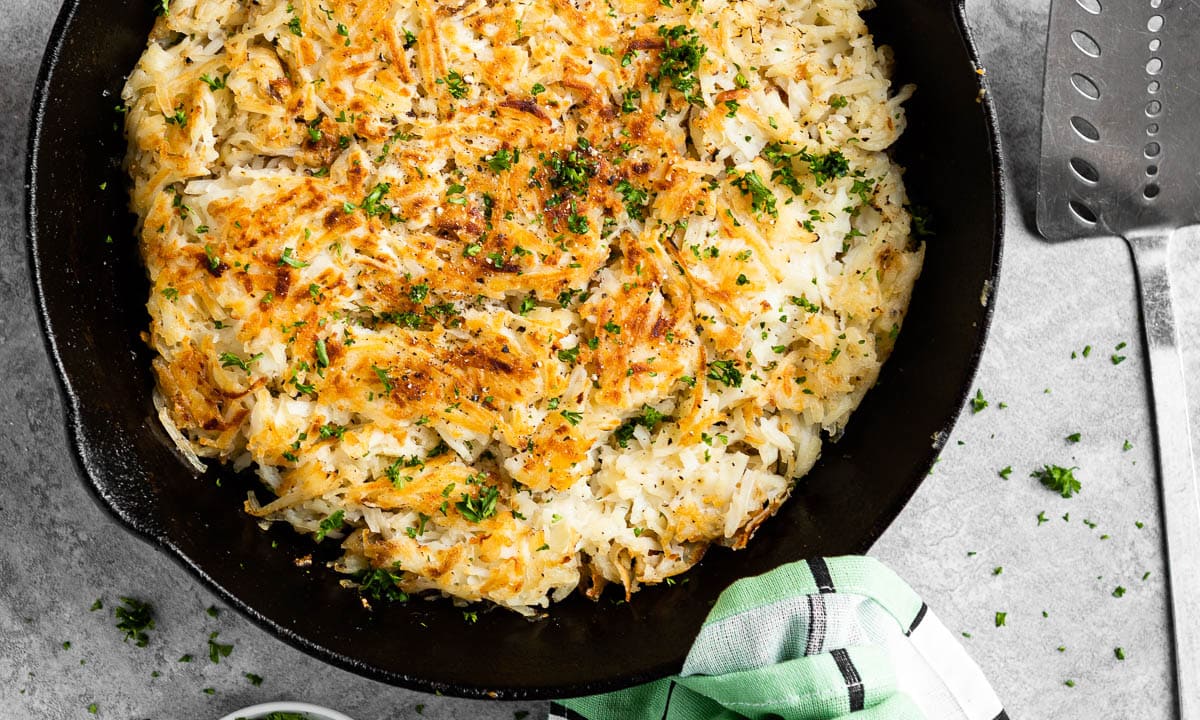 Crispy Hash Browns FAQs
How do I keep my hash browns crispy?
Boil your potatoes! Boil them whole then give them an ice bath to cool down. This helps release the starches and produces the crispiest result. Also, use a well-seasoned cast iron pan for the crispiest hash browns.
How do I make hash browns that aren't soggy?
Soaking the potatoes in boiling water and then giving them an ice bath to cool down helps create the perfectly crisp hash browns of your dreams. Also, don't be afraid to cook the hash browns in batches to ensure every part gets crisp.
What ingredients are in hash browns?
My easy hash browns are made with just five ingredients: Russet potatoes, avocado oil, salt, ground black pepper and parsley to top.
What to Serve with Breakfast Potatoes
Hash browns are the perfect addition to a variety of delicious breakfast or brunch menus. Here's what I like to serve alongside my potatoes:
Don't forget to rate + review this recipe once you've made it. I love hearing your feedback!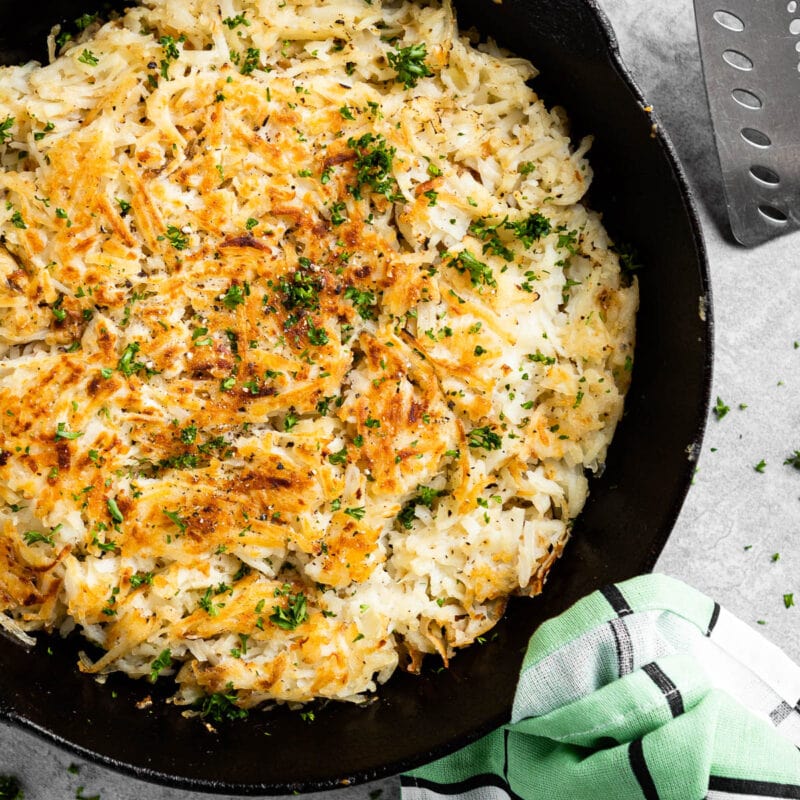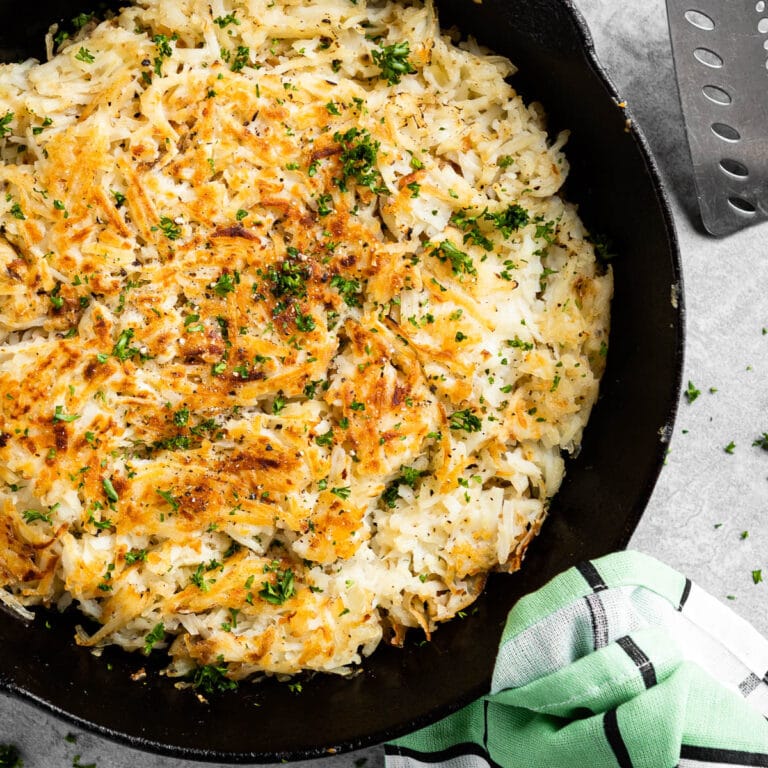 Crispy Hash Browns (Restaurant-Style)
Bring that comforting diner feel to your breakfast table with my crispy hash browns. This simple recipe is only five ingredients, made in a cast-iron skillet and will feed a crowd!
Ingredients
2

lbs

Russet potatoes

6-7 small or 5-6 medium sized potatoes

1

tsp

sea salt

plus more to taste

¼

tsp

black pepper

ground, plus more to taste

1

tbsp

avocado oil

for frying

parsley

fresh shredded, optional
Instructions
Scrub potatoes well. Without peeling, place potatoes in a large pot and cover with water. Bring to a boil and cook until potatoes are softened, but not falling apart.

Remove from water and place into a bowl of ice water to stop the cooking. Once the potatoes are cool to the touch, peel (if desired).

Shred the potatoes into a large bowl using a grater. Season with salt and pepper and gently toss to evenly coat.

Heat a cast-iron skillet or griddle to medium heat. Add avocado oil to coat pan then add shredded potatoes. You may need to work in batches depending on the size of your pan/griddle. Cook 8-10 minutes then gently flip the hash browns and cook for 8-10 minutes more. Add avocado oil to the pan as needed so the hash browns don't burn.

Top with parsley and a pinch of salt and pepper, then serve while hot.
Notes
The boil time for the whole potatoes will vary depending on the size of your potatoes. 
I like leaving the skin on my potatoes yet you can peel them, once cooled, if that's your preference. 
While another type of pan can be used to cook hash browns, I found that a cast iron skillet produces the crispiest and most flavorful result. That's what I was going for!
You really don't need a ton of oil to cook these potatoes, just make sure the pan stays coated if you are cooking in batches so that the hash browns don't burn. 
I love adding fresh parsley right before serving for a more intense flavor. You can also add chives. 
Nutrition
Calories:
140
kcal
,
Carbohydrates:
27
g
,
Protein:
3
g
,
Fat:
2
g
,
Saturated Fat:
0.3
g
,
Polyunsaturated Fat:
0.4
g
,
Monounsaturated Fat:
2
g
,
Sodium:
395
mg
,
Potassium:
632
mg
,
Fiber:
2
g
,
Sugar:
1
g
,
Vitamin A:
2
IU
,
Vitamin C:
9
mg
,
Calcium:
20
mg
,
Iron:
1
mg