You're about to experience the most enjoyable Detox Smoothie to help heal your body from the inside out. Go you! But first, let's get frank about that "D" word. "Detox" has become a trend in the weight loss space – and for the wrong reasons.
Detoxing shouldn't mean you're depriving yourself! My detox smoothie recipe is the perfect way to pump the brakes on a day-to-day diet that has slowly become filled with coffee, bagels, Taco Bell and pizza, as well as give your body some lovin' by nourishing it with plant based whole food.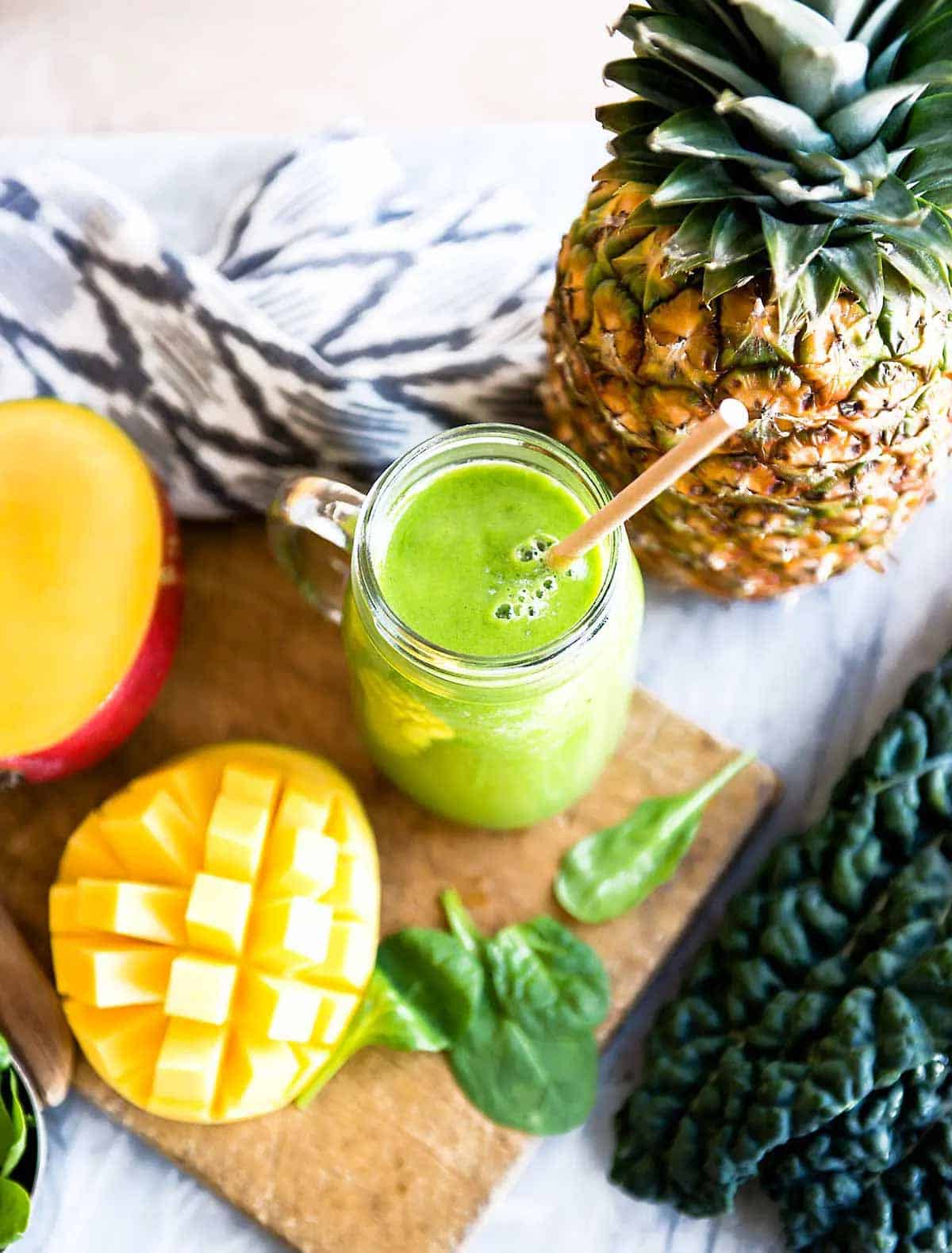 According to wellness experts around the world, a gentle, plant-based + whole food reset can heal and also renew the body.
Table of Contents
When Should I Detox?
Each season, I commit to a 7 to 21 day reset that is aimed at eliminating the foods that cause inflammation and addiction (sugar, caffeine, gluten), as well as embraces a 100% whole food plant-based recipes.
I sleep better. I lean up. I'm less bloated. And I have waaaaay more energy. As a result, although I'm getting older this protocol is how I'm able to look and feel younger!
How do I know what to eat when cleansing or detoxing each season? I use my home-grown meal planner (called Rawk the Year) to keep me on track while I'm cleansing, but also my day-to-day eating (including my detox smoothies!) too.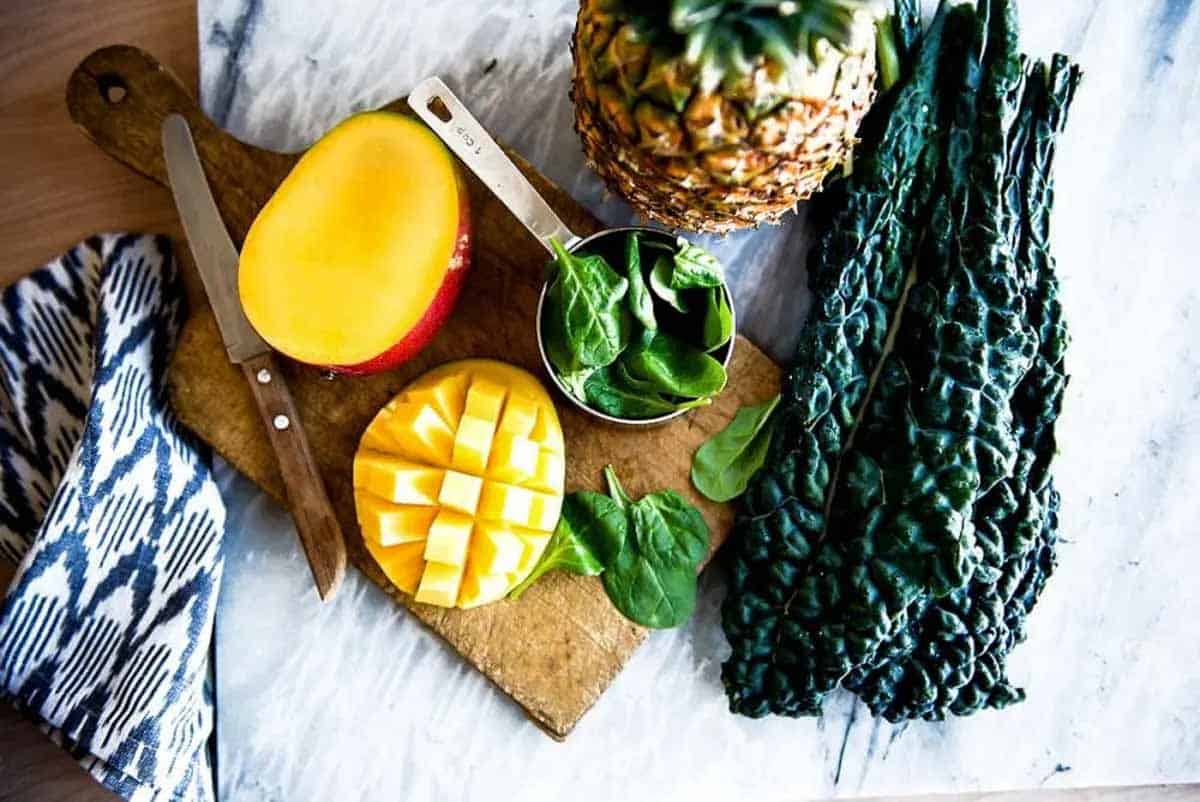 Can this detox smoothie recipe help me lose weight?
Many people use green smoothies to help them lose weight. While detoxing's main goal isn't weight loss, if your goal is shedding a few lbs, you'll want to replace a meal or two with a green smoothie. To be at your healthiest, make sure it's not just any green smoothie— you'll need a balanced recipe with good-for-you fats as well as protein to fuel your body.
To help with this, my Green Smoothie Meal Replacement Guide can transform any smoothie into a simple, quick meal.
If you need a more detailed detox plan, then I have just the one! My Thrive: A Seasonal Cleanse includes 2 green smoothie meal replacements each day, plus simple snacks and a plant based dinner.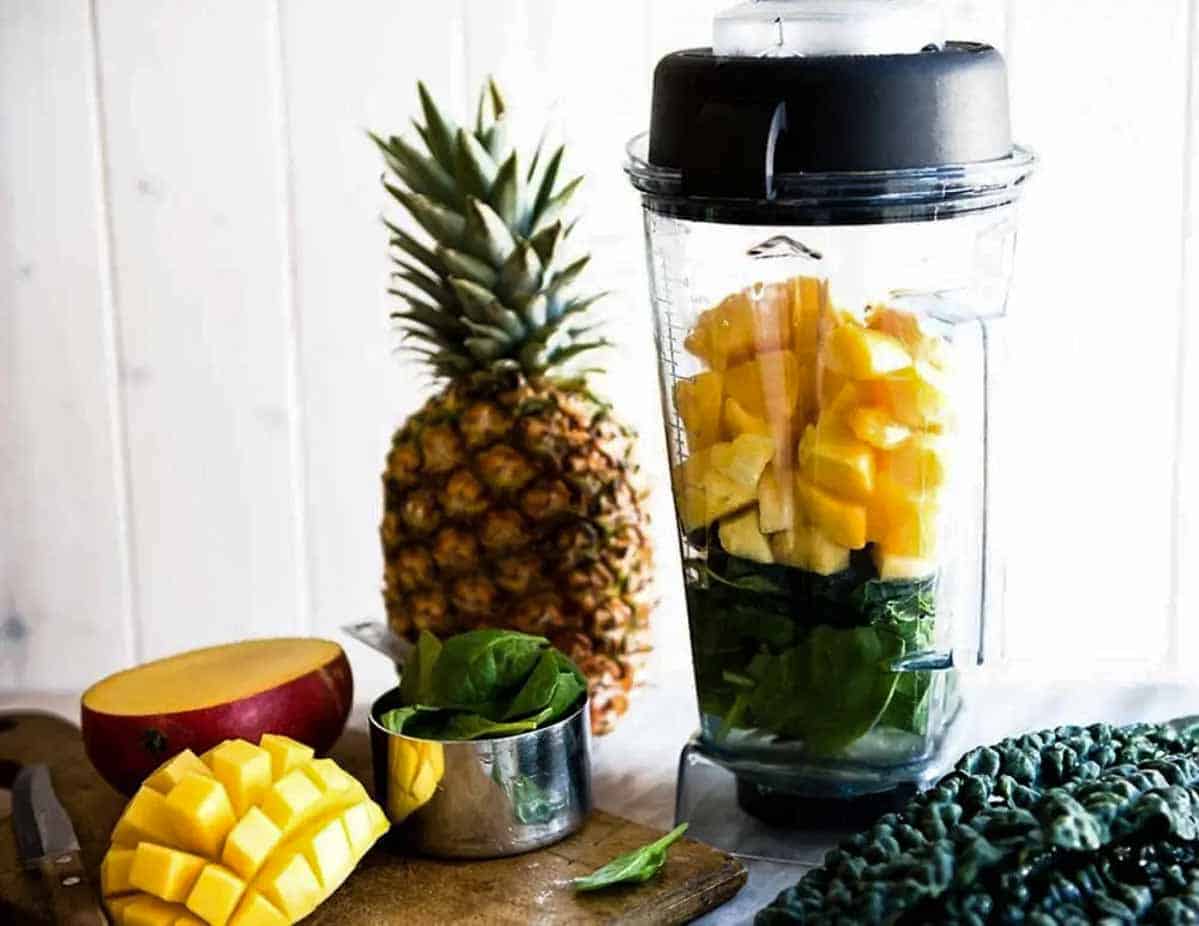 Are detox smoothies really that good for you?
A daily green smoothie is the #1 healthy habit to set a foundation for a healthier lifestyle. Plants are a key foundation to living a long, healthy life as we know from the Blue Zones around the world. The easiest way to eat more plants is to blend them up then drink them down, just like in the green detox smoothie recipe below. It's simple, quick and (maybe most importantly?) clean up is easy. #noexcuses
Truly, this Detox Smoothie Recipe is something that you could drink every morning to gain momentum and a fresh new direction when it comes to your health.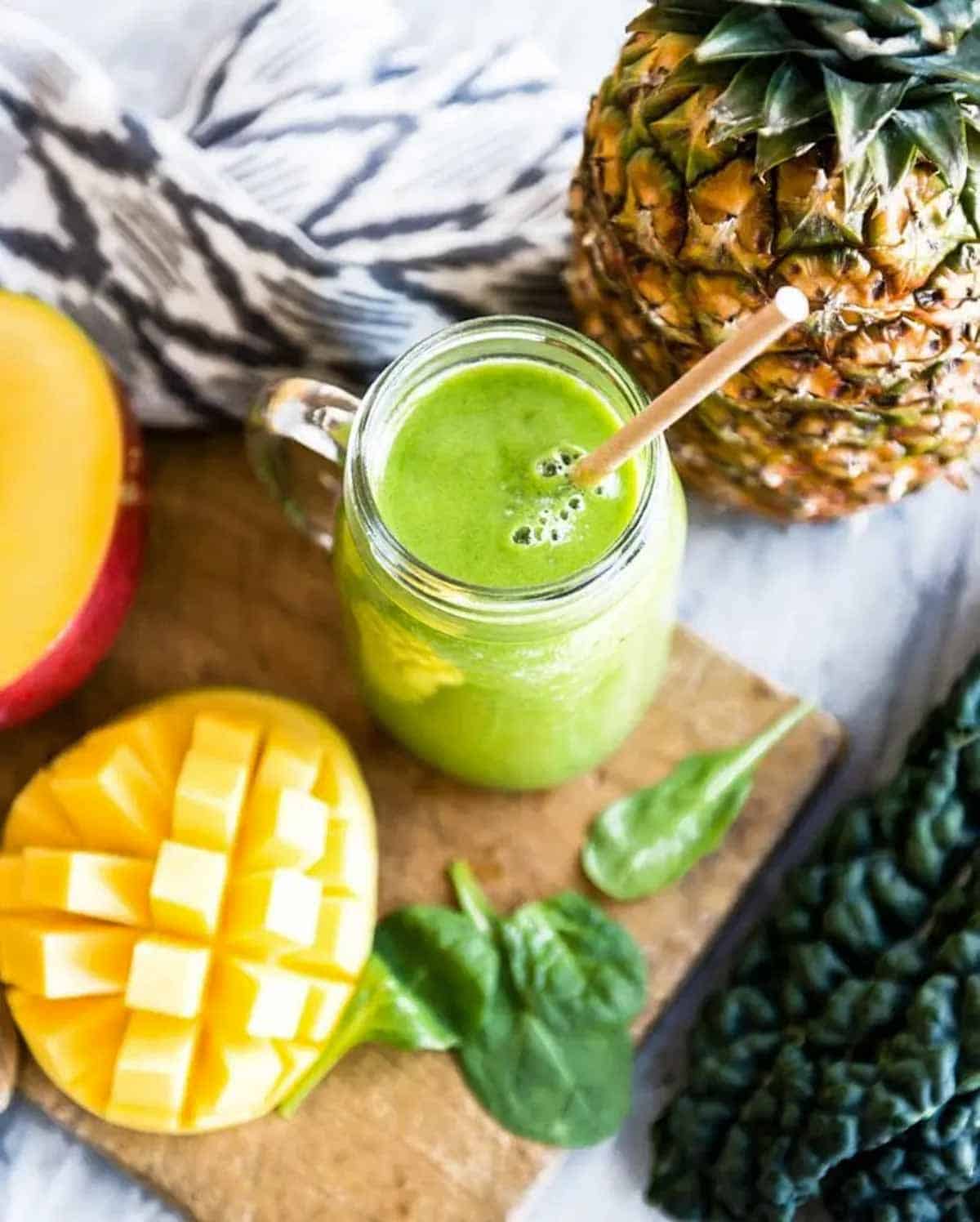 What do you eat while detoxing?
I always suggested drinking this detox smoothie along with plant based snacks and meal recipes. As an example, here are a few more ideas when it comes to eating healthy while doing a detox protocol.
Carrot Cake Bars: A batch of these makes a great snack that you can enjoy all week (plus it curbs the appetite!)
Cauliflower Buffalo Wings: Trust me… you will love these and crave them weekly.
Zoodles in a Jar: Is a healthier version of ramen with the comforting tasty flavors you've come to love.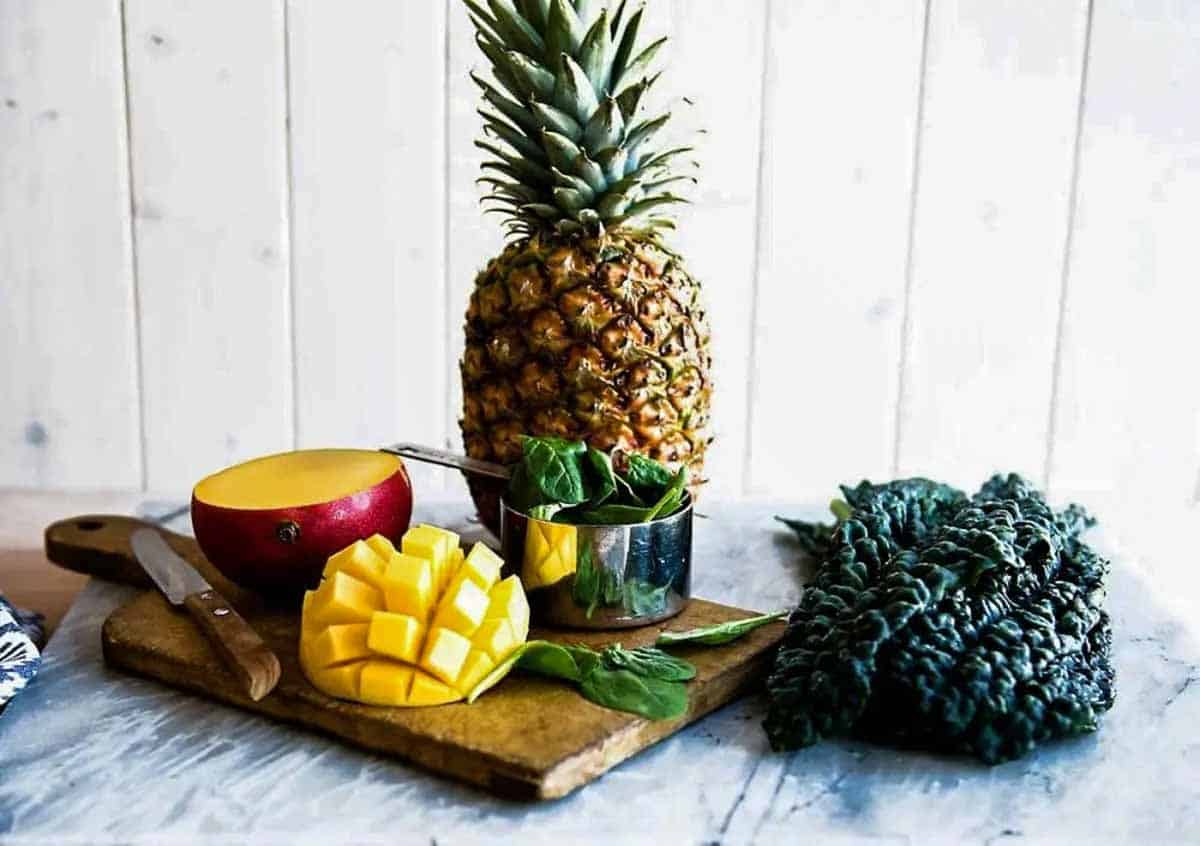 When Should I Drink a Detox Smoothie?
The very best time to drink any detox smoothie + absorb the most nutrients is on an empty stomach. In other words, an empty stomach means you don't have to worry about your smoothie sharing space with other digesting foods, which can lead to a bloating and upset stomach.
For instance, here's how I do it: I like to wake up, have a glass of water, and then my healthy coffee. About an hour later, I'll enjoy my smoothie (like this detox smoothie recipe with chia seeds + mct oil). If I work out, then I'll have a snack with nuts (trail mix, raw almonds, granola bar) before lunch. Sometimes I have a second green smoothie for lunch (it's truly the healthiest fast food!), or leftovers from a Rawk the Year dinner.
If you're doing multiple smoothies a day, I recommend having your second one for lunch or an afternoon snack. And don't forget! Make sure to transform those smoothies into a proper meal replacement so you aren't hungry. A great way to do that is with a plant-based protein powder, like my homemade protein powder.
Now, who's ready to take that "D" word back and make detoxing a delicious new habit?! Let's get blending, shall we…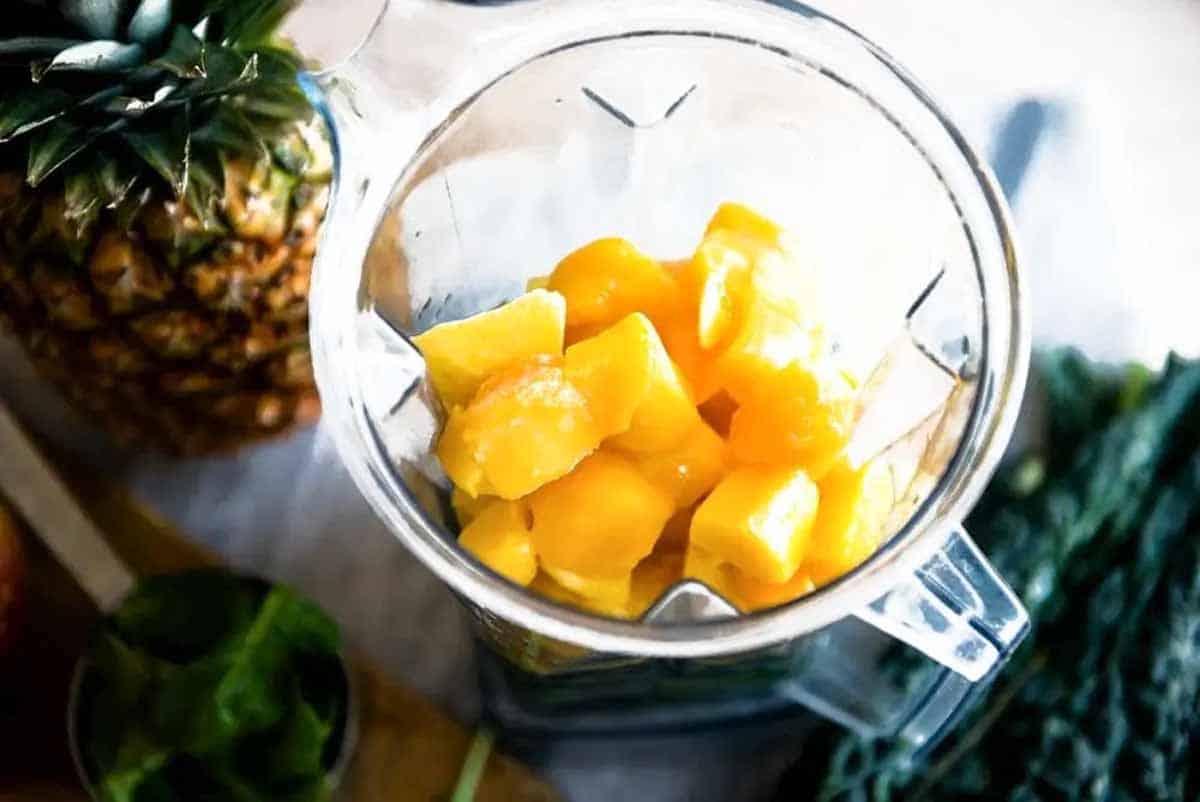 More Tasty Detox Smoothie Recipes
Looking for more recipes? Check out these super simple, super yummy smoothies from our Smoothie Challenge… (Whew! That's a lotta simple!)
Best Green Smoothie
Kale Banana Smoothie
Mango Orange Smoothie
Be sure to sign up for the challenge to get your guidebook! That's where you'll find your shopping list, recipes and prep guide. Above all, hit up that produce aisle and get blending with us!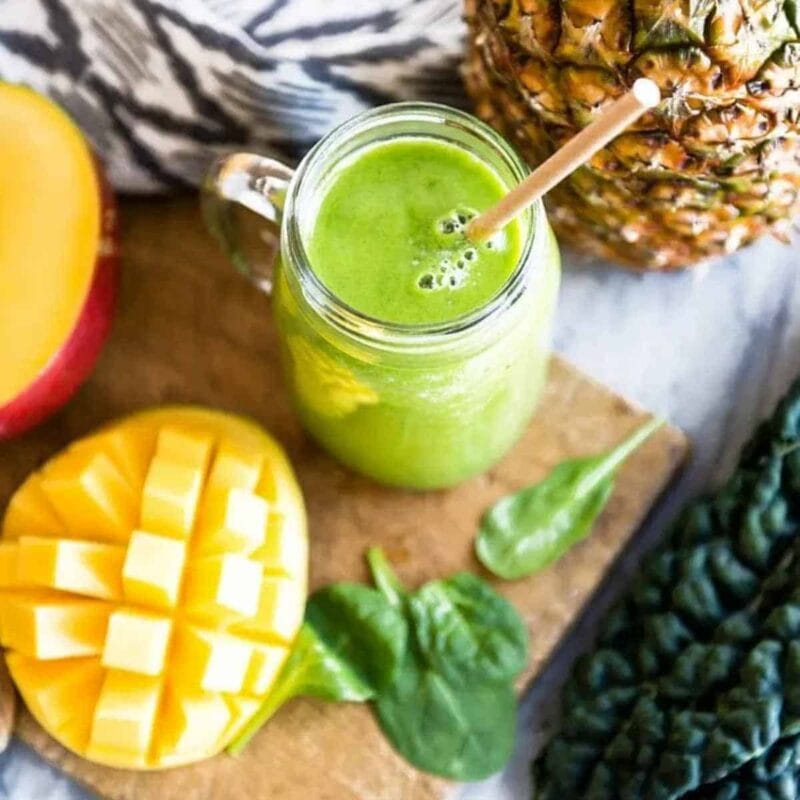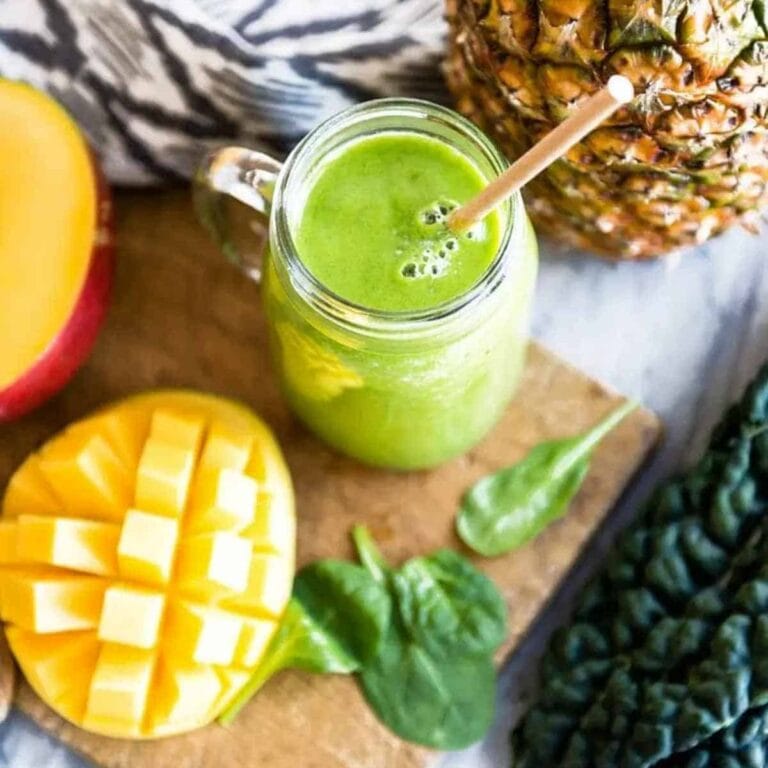 Detox Smoothie
Using plant based whole foods in your green smoothie is a simple way to detox your body naturally. We've used pineapple, mango and a blend of kale and spinach to nourish and heal in a tasty way.
Instructions
Blend spinach, kale, and water until smooth. 

Add remaining fruit and blend again.
Notes
Use at least 1 frozen fruit for a refreshingly cool smoothie.
Swap out spinach for the leafy greens of your choice.
You can use unsweetened coconut water in place of regular water for a electrolyte-filled beverage.
Nutrition
Calories:
160
kcal
,
Carbohydrates:
39
g
,
Protein:
4
g
,
Fat:
1
g
,
Saturated Fat:
1
g
,
Polyunsaturated Fat:
1
g
,
Monounsaturated Fat:
1
g
,
Sodium:
39
mg
,
Potassium:
615
mg
,
Fiber:
4
g
,
Sugar:
31
g
,
Vitamin A:
6586
IU
,
Vitamin C:
144
mg
,
Calcium:
101
mg
,
Iron:
1
mg