Today, I wanna show you how to make detox water for a flat belly. Bloating is such a common struggle, and can be rather simple to heal. Detox water is a key part in this, as you are essentially pairing fruits and herbs together for detoxifying and anti-inflammatory benefits.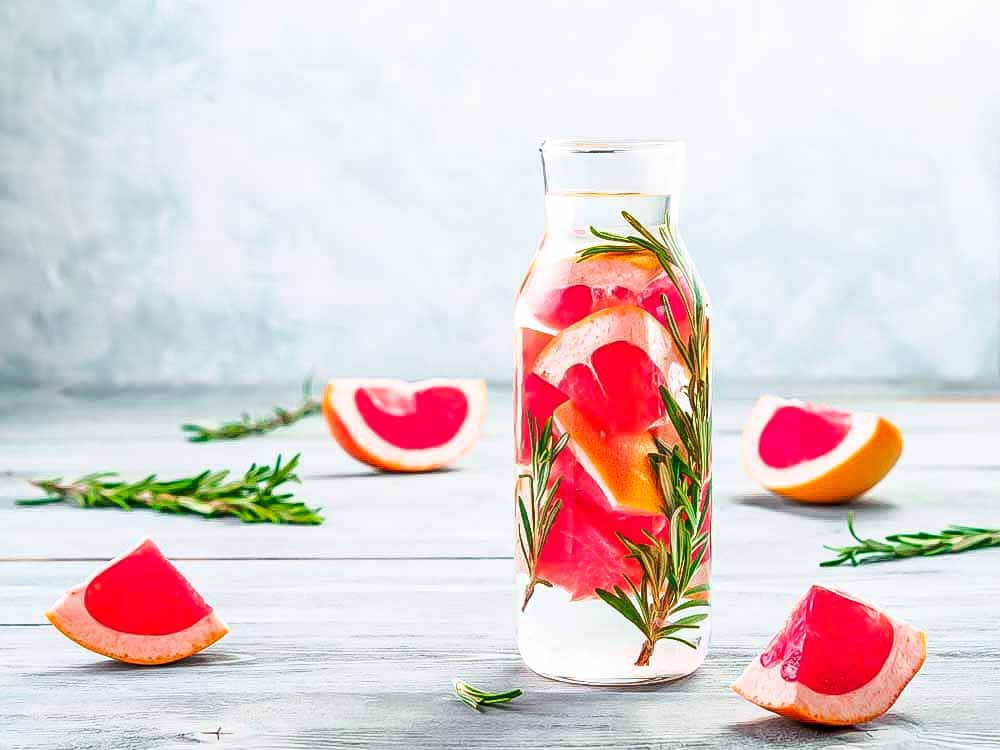 No matter what season it is, I always need a reminder to drink more water. Adding some nourishing fruits and herbs makes it more beneficial and fun. Making detox water for a flat belly is probably the top reason people do this, yet I also love how I feel overall when more hydrated.
Drinking detox water is my little secret to getting enough water each day. It's not only easy to make, it's got a whole host of health benefits. And the best part is, I can customize it to whatever my mood is (or what's in my fridge!). This way of drinking water keeps it fun and interesting.
Table of Contents
Health Benefits of Detox Water
Sure, you could save some time and just chug straight water. Yet chances are you're not going to… if you're anything like me. I first tried fruit detox water while doing a 21-day plant-based cleanse. I was amazed at how much better I was at staying hydrated when I added fruit flavors.
The more hydrated you are, the better your body can function properly. From skin health to digestive health, hydration is key. By making a habit of drinking detox water, you're actually helping your body thrive.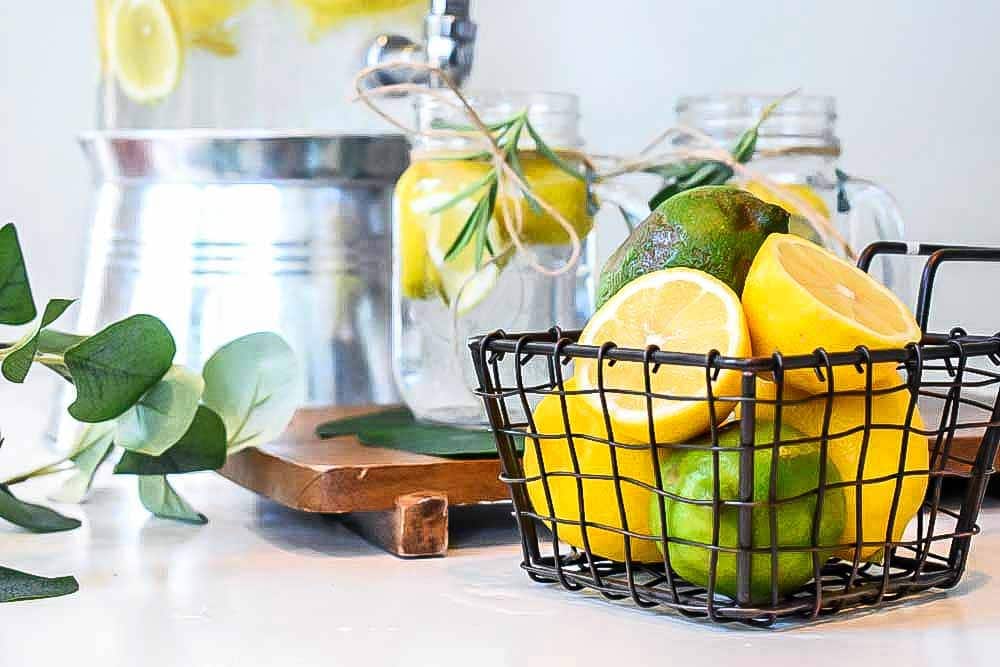 Detox Water for Flat Belly
Though the name suggests some weird ingredients or process to turn regular water into 'detox' water, it's super simple to make: fruit, water, and herbs. That's it!
For this recipe, I chose ingredients that help flush out the digestive system, and help promote a flat belly with 2 simple ingredients: grapefruit + rosemary.
Grapefruit Benefits
Rich in antioxidants
Helps with appetite control as it's got 2 grams of fiber per ½ fruit
Low calorie— it's mostly water!
Helps reduce kidney stones
High in Vitamin C— 64% of the recommended daily intake
High in Vitamin A— 28% of the recommended daily intake
Helps regulate blood sugar
In fact, this study done by the National Library of Medicine shows that daily consumption of fresh grapefruit aids in weight loss. I soak up the benefits of grapefruit in my detox water, then I eat the grapefruit once the water is gone for an extra belly flattening boost.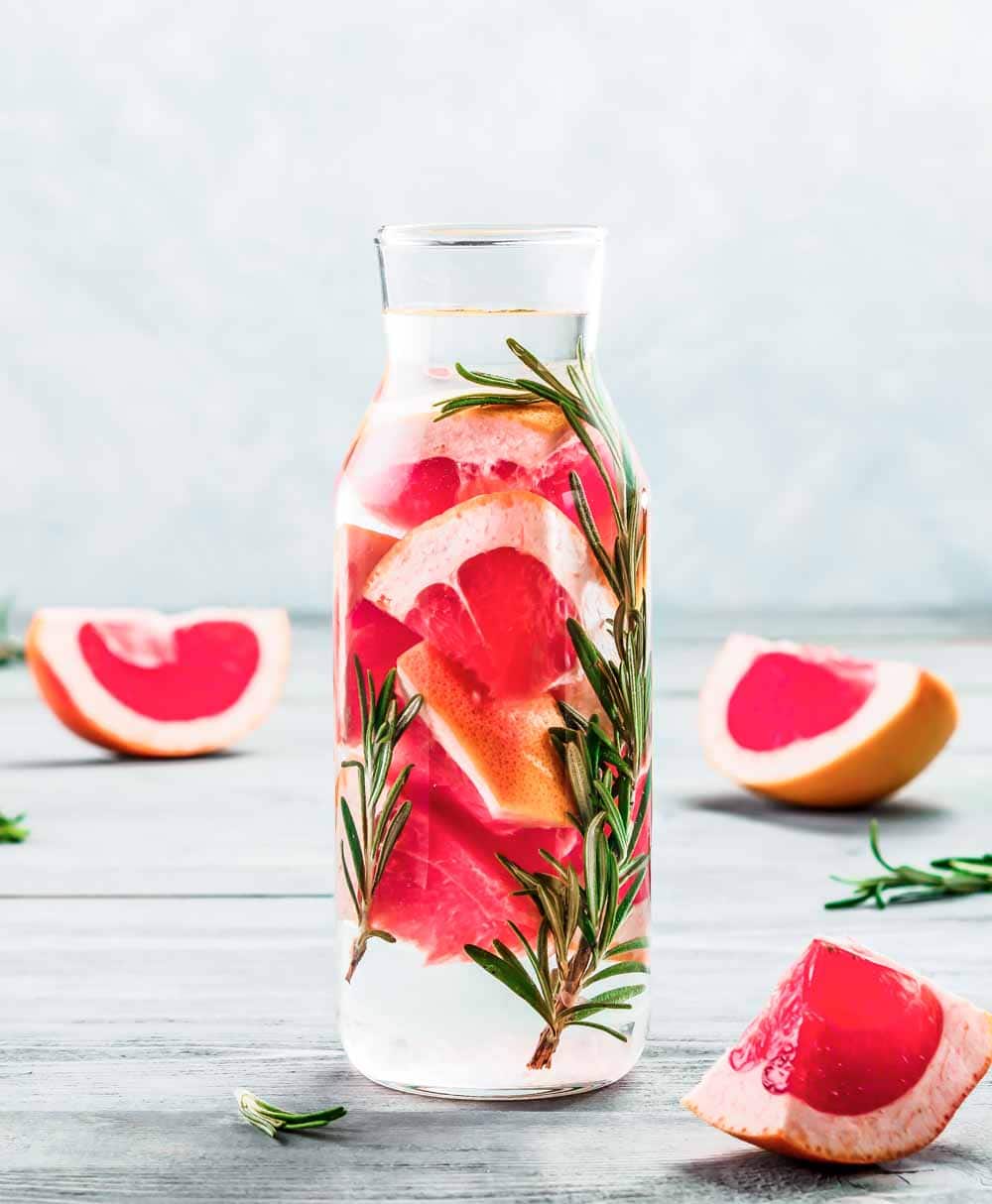 Rosemary Benefits
Herbs are often overlooked as simple garnish, yet they are loaded with health benefits as well. Adding them to your detox water is both aesthetically pleasing and good health sense.
Great source of antioxidants
Anti inflammatory, which helps with blood circulation
Cognitive stimulant— meaning it can help with memory retention
Stress relieving— even just the scent of rosemary is thought to help improve the mood, and relieve stress
Ultimately, while the added ingredients do have health benefits in their own right, the main goal of detox water is to drink more WATER. The body needs water, and most people only give it enough to survive, not thrive. Imagine only eating enough to stay alive, verses fueling your body with the proper nutrients to chase your goals.
The same is true for water consumption. Drinking enough water can speed up the metabolism, actually make you less hungry, and helps keep the body regular. Next time you feel the afternoon slump, try reaching for a detox water instead of a snack; your body may be telling you it's thirsty, not hungry!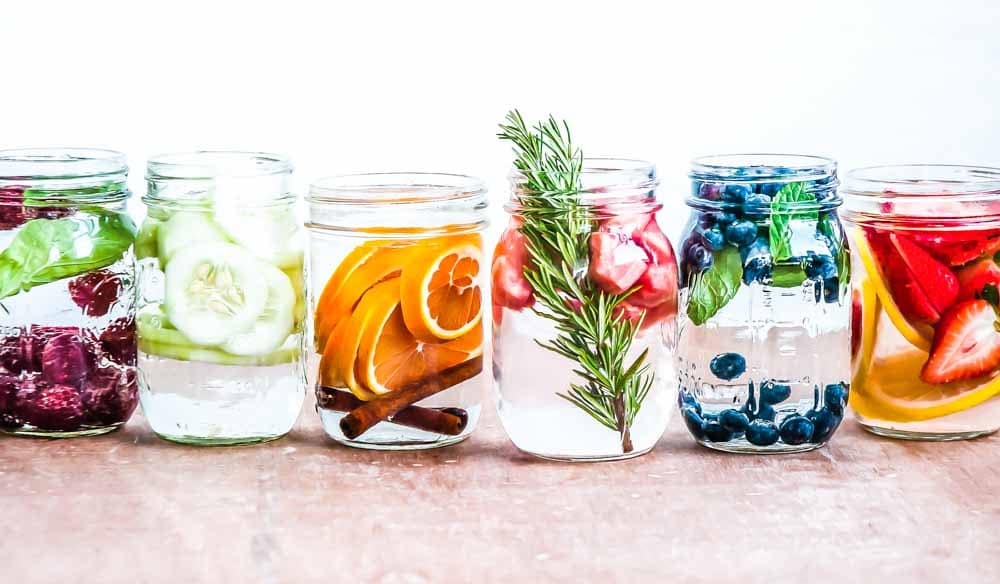 Fruit Combinations
While the ingredients in this detox water recipe help with weight loss and bloating (hello flat belly!), cater your detox water to fit your body's needs.
Here in Florida, it's almost always hot, humid and feeling like summer. So I like to drink my water cold. Yet in the winter, I may heat water before adding my fruit + herb combo, for a more soothing change.
Not a fan of grapefruit? No problem! Citrus of any kind is easy to add, berries are fun (smash before adding to release the flavor). Or just head in a different direction and toss in some bell peppers and chives, or cucumbers and mint. Here are a few of my fav combos:
Strawberries + lemon
Orange + cinnamon
Cucumber + mint
Lemon + cayenne
Watermelon + rosemary
Apples + cinnamon
The possibilities are endless. I love making a giant batch of fun detox water and bringing it to summer parties; it always adds a fun pop of color to the food table. Ready to try out this fun new recipe? Or perhaps you've got another winning combo? Drop a comment and let me know how you like to drink your water.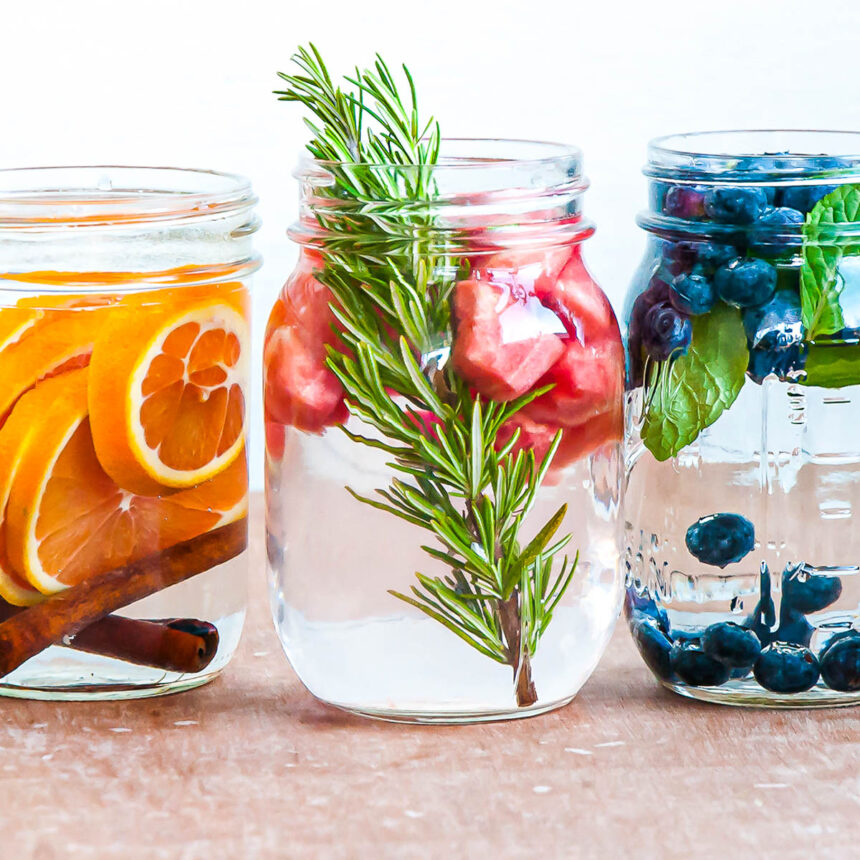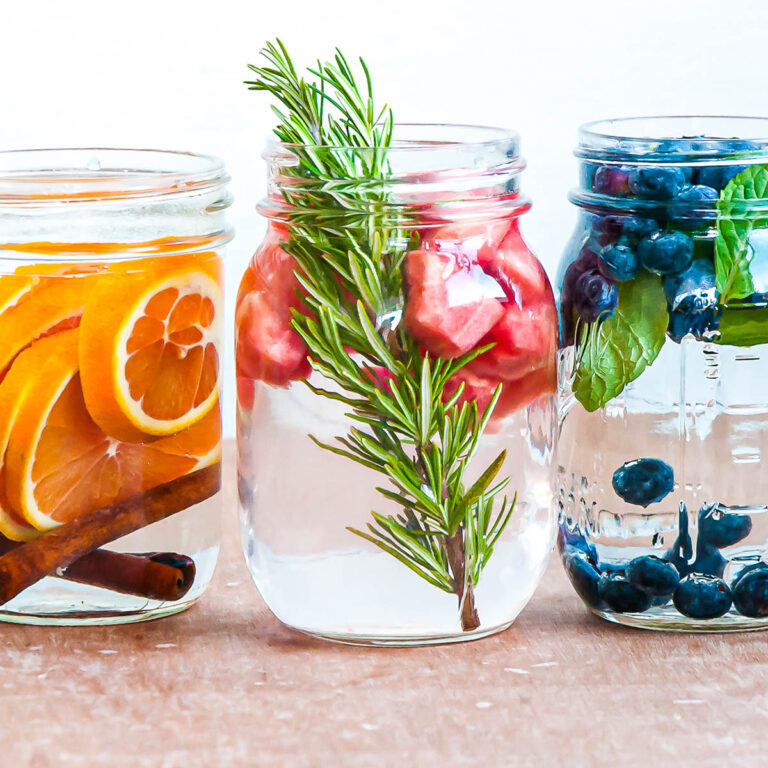 Fruit-Infused Water
Up your water consumption with this simple, tasty detox water recipe that helps fight belly bloat and hydrate your body.
Ingredients
4

cups

water

1

grapefruit

3

fresh rosemary

3-4″ long
Instructions
Thoroughly wash and rinse the grapefruit, then cut into chunks or slices, leaving the skin on. Add the grapefruit to a pitcher or into separate drinking containers.

Press the rosemary gently between fingers or palms of your hands to help release the natural oils. Place rosemary in the pitcher or drinking containers.

Fill with water and place in the refrigerator for at least 15 minutes, or up to 48 hours. If you're using sparkling water, keep in mind that the sparkling quality will wear off with time.
Notes
Can use sparkling water in place of still water for an extra bit of zing; look for unsweetened versions.
Feel free to use the fruit/vegetables + herbs/spices of your choice, just make sure you wash the produce well (skin and all) since you won't be peeling them before adding.
You can eat the fruit/vegetables after the water is gone, or just refill and continue using throughout the day.
Here are some more great combos:

Strawberries + lemon

Orange + cinnamon

Cucumber + mint

Lemon + cayenne

Watermelon + rosemary 

Apples + cinnamon
Nutrition
Calories:
27
kcal
,
Carbohydrates:
7
g
,
Protein:
1
g
,
Fat:
1
g
,
Saturated Fat:
1
g
,
Polyunsaturated Fat:
1
g
,
Monounsaturated Fat:
1
g
,
Sodium:
12
mg
,
Potassium:
86
mg
,
Fiber:
1
g
,
Sugar:
4
g
,
Vitamin A:
736
IU
,
Vitamin C:
20
mg
,
Calcium:
21
mg
,
Iron:
1
mg