Over the years I've realized that I can fill my body with the best whole food plant-based recipes out there and yet I'm not helping myself out much if I don't hydrate properly. Since drinking plain water has always been a struggle, I started creating some fruit-infused waters that add incredible flavor without any weird ingredients. Now I look forward to drinking water every day!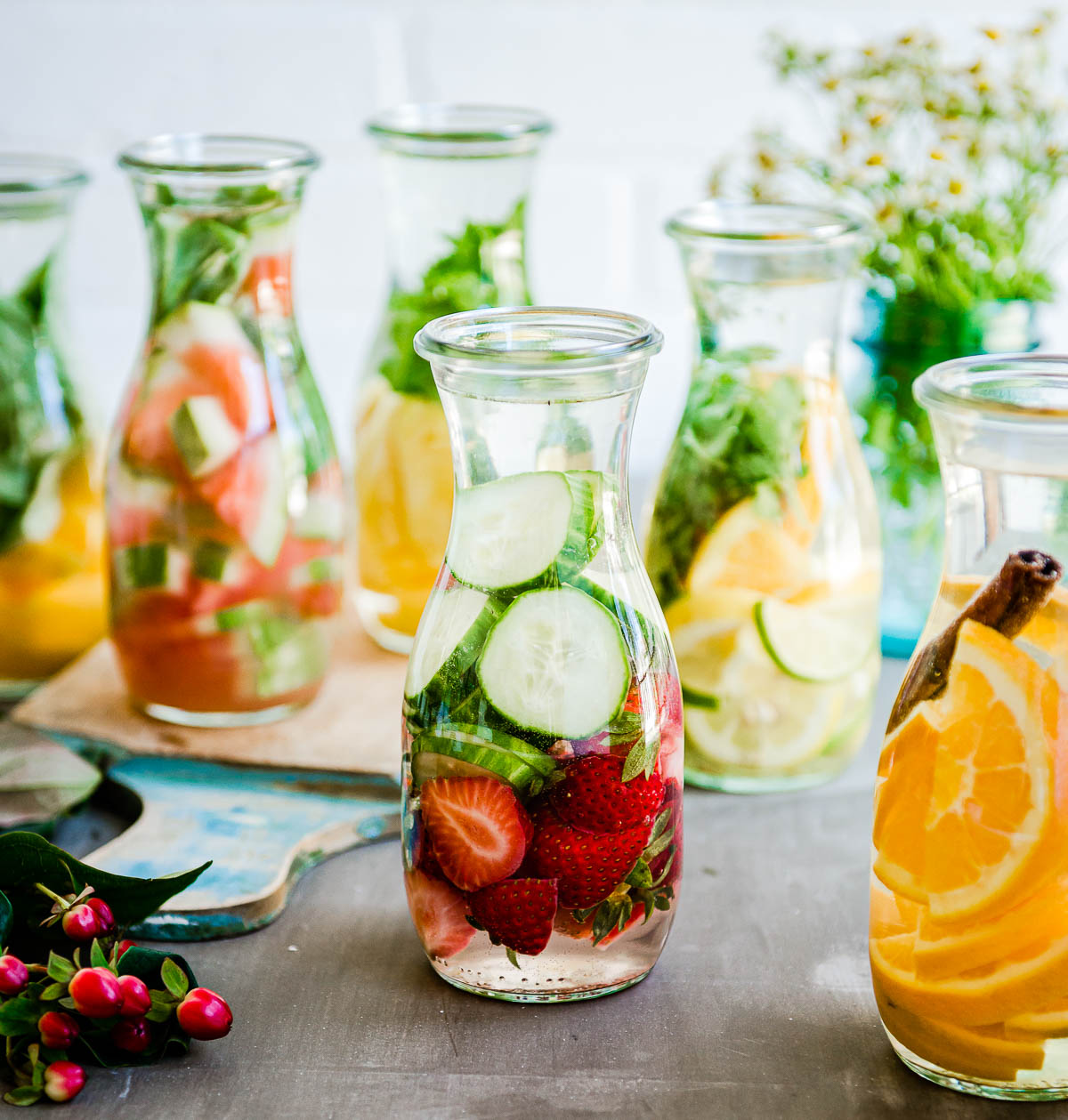 No matter what season it is, I always need a reminder to drink more water. Adding some nourishing fruits and fresh herbs makes it more beneficial and fun. These fruit-infused water ideas are super easy to put together and add some extra nutrients into something you need to consume daily anyway.
Table of Contents
Now I can customize my beverage to whatever my mood is (or what's in my fridge!). This way of drinking water keeps it fun and interesting.
Recipe Ingredients
For this recipe, I chose ingredients that help flush out the digestive system as well as help promote a flat belly.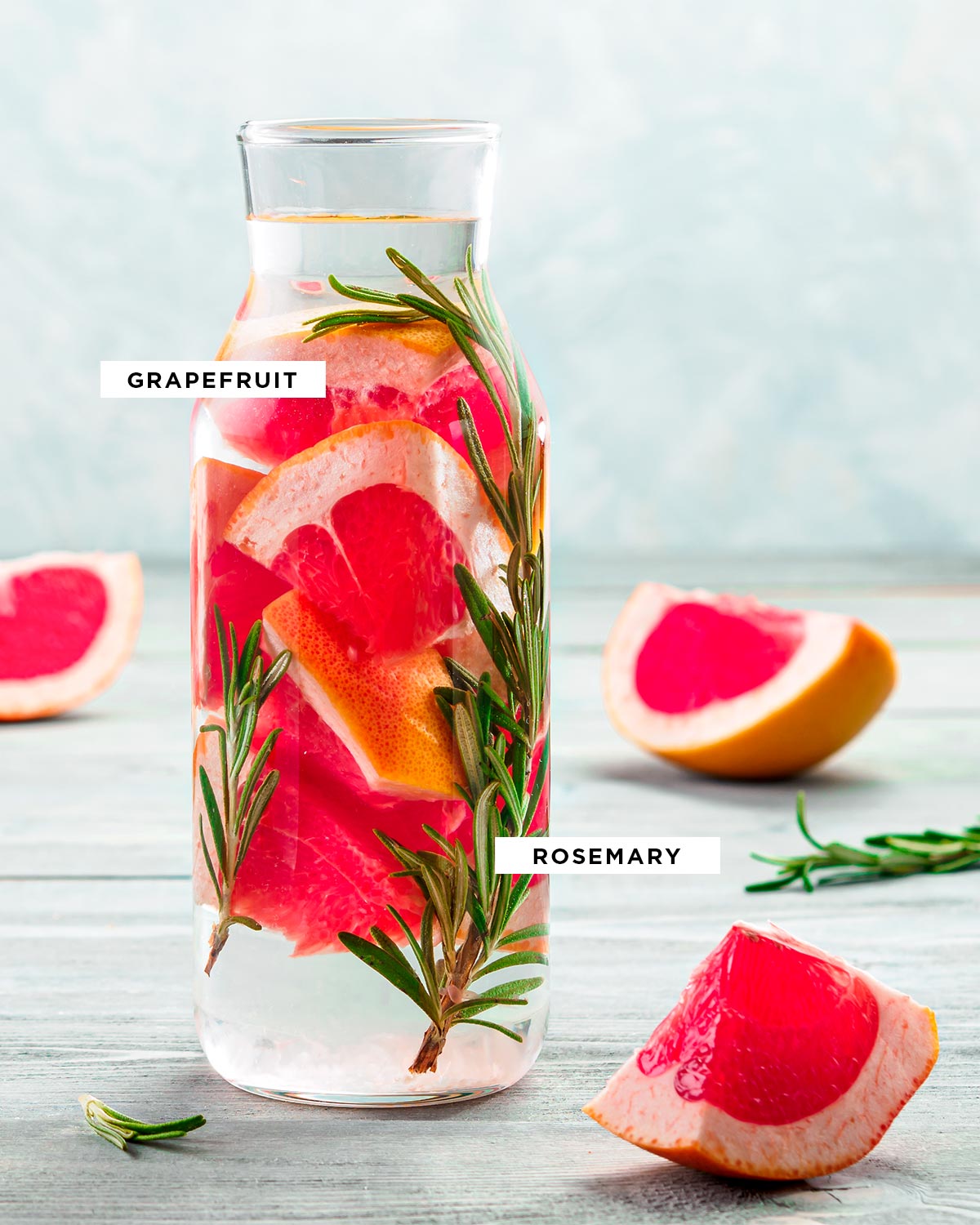 Ultimately, while the added ingredients do have health benefits in their own right, the main goal of detox water is to drink more water.
The body needs water, and most people only give it enough to survive, not thrive. Imagine only eating enough to stay alive, versus fueling your body with the proper nutrients to chase your goals.
Fruit-Infused Water Recipe
View this recipe as your template for a variety of infused water ideas. You can definitely use the ingredients in this recipe or you can get creative with your own combinations.
Thoroughly wash and rinse the grapefruit. Cut into chunks or slices, leaving the skin on. Add the prepped grapefruit to a pitcher or 4 separate drinking containers.
Press the fresh rosemary between your fingers or palms to help release the natural oils. Place rosemary into the pitcher or drinking containers.
Fill the pitcher/containers with water and place it in the refrigerator for at least 15 minutes or up to 48 hours. Enjoy the fruit-infused water throughout the day and refill your container as needed. Eat or compost the fruit and herbs once you are done.
If you use sparkling water instead of still, note that it will start to go flat the longer it is left in the fridge after pouring it into the pitcher. The fruit or vegetables will start to break down the longer they sit in the water, so discard them after a day of use.
Benefits of Detox Water
Sure, you could save some time and just chug straight water. Yet chances are you're not going to if you're anything like me. I first tried detox water while doing a plant-based cleanse. I was amazed at how much better I was at staying hydrated when I added fruit flavors.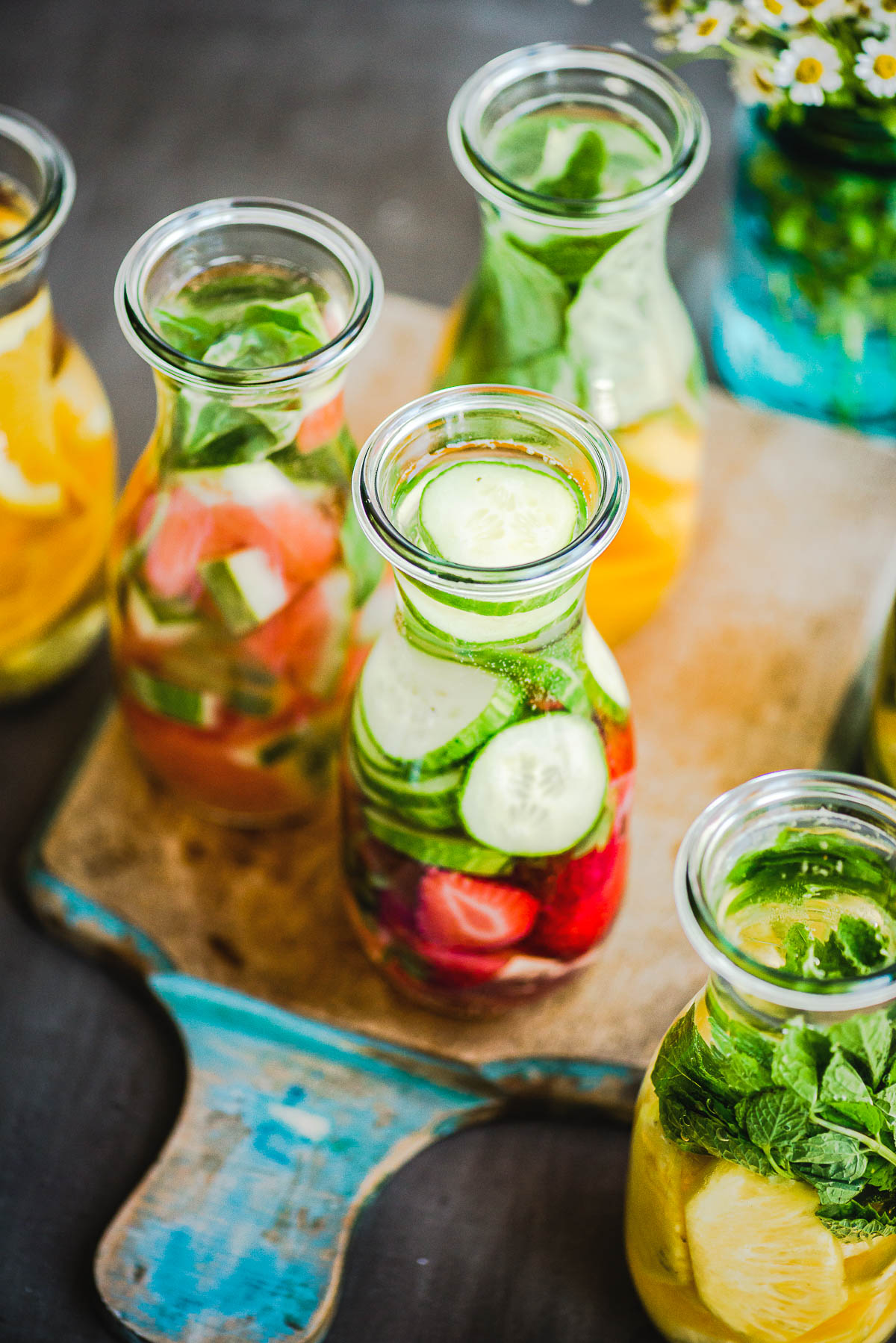 "Detox water" is the idea of drinking water with added nutrients, like fresh fruits, vegetables and various herbs and spices. Some of the beneficial properties of that produce infuses the water so when you drink it, you get those benefits too. While it is not some miracle elixir, simply replacing soda, juice and other beverages with fruit-infused water is only going to benefit you.
The more hydrated you are, the better your body can function properly. From skin health to digestive health, hydration is key. By making a habit of drinking water, you're actually helping your body thrive.
7 Other Fruit Combinations
Not a fan of grapefruit? No problem! Citrus of any kind is easy to add, berries are fun (smash before adding to release the flavor). Or just head in a different direction and toss in some bell peppers and chives, or cucumbers and mint.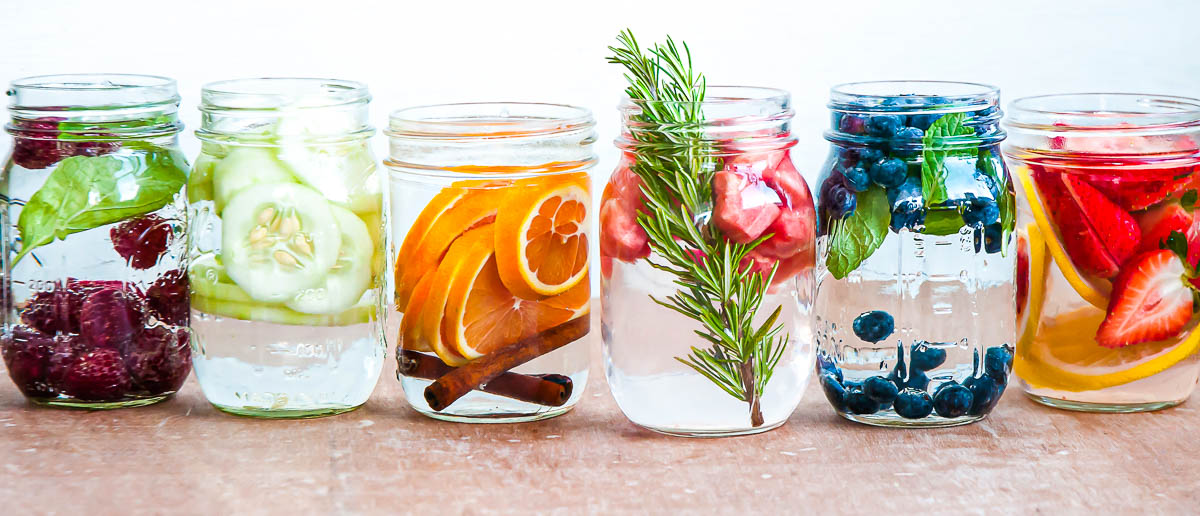 Here are a few of my favorite combos:
Strawberries + lemon
Orange + cinnamon
Cucumber + mint
Lemon + cayenne
Watermelon + rosemary
Apples + cinnamon
The possibilities are endless. I love making a giant batch of a fun combo and bringing it to summer parties. It always adds a festive pop of color to the food table. Which one of these pairings sounds like a winner to you?
Fruit-Infused Water FAQs
Is infused water good for you?
Water by itself is vital to life. Infusing it with fresh fruits, vegetables and/or herbs not only makes it taste better but also provides a few more nutrients than would be in a regular glass of water. You can benefit from adding these natural ingredients to your beverage. Stick to whole food and avoid any additional sweeteners or processed flavors for the best results.
How long should you infuse water?
For the flavor to come through, you want to add your fruit/vegetables/herbs in the water for at least 15 minutes. I like to refrigerate mine during that time so that it's cold when I drink it. You can keep it refrigerated for up to 48 hours, just know the fruit will start to break down the longer it's in the water.
How do you make infused water?
Wash the fruits, vegetables and/or herbs you plan to use well. Slice, keeping any peels/skins on then place in a glass jar with any herbs you want. Add water, either sparkling or still and refrigerate for at least 15 minutes for the flavor to infuse the water. Then enjoy! You can keep the produce and herbs in the water all day and keep adding water to it throughout the day for a deliciously infused beverage.
Table of Contents
More Delicious Beverages
If you liked these fun, fruit-infused water ideas then I've got some other hydrating beverages for you to try! Depending on the day or event, feel free to use any of these festive recipes to give you tasty beverages made from real, whole food ingredients:
Drop a comment and let me know how you like to drink your water and don't forget to rate this recipe once you've tried it!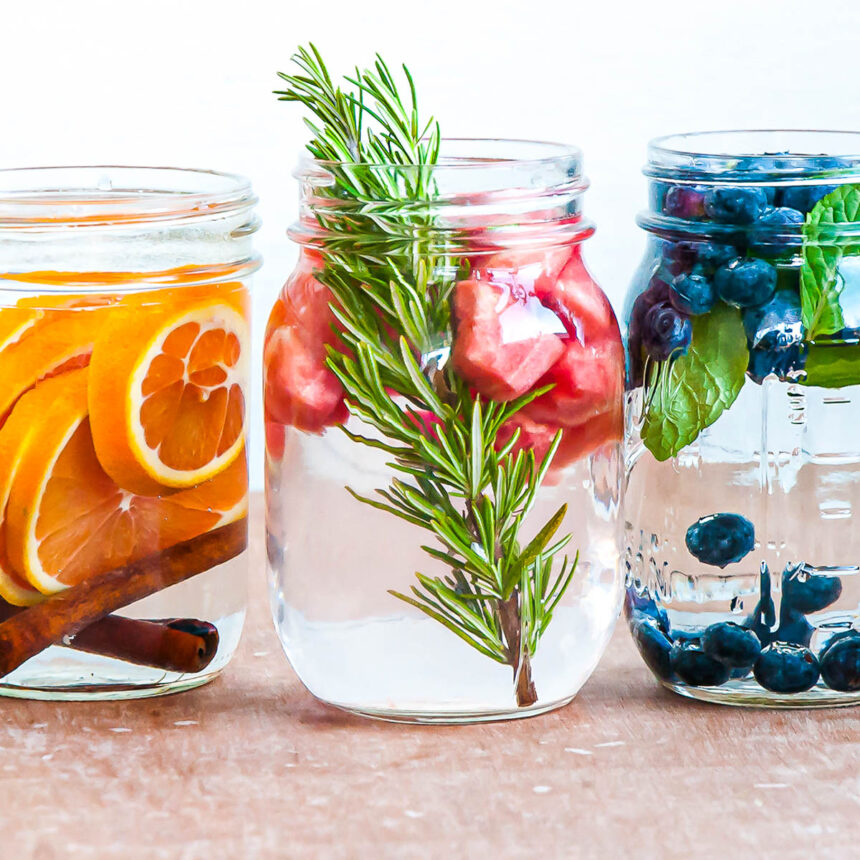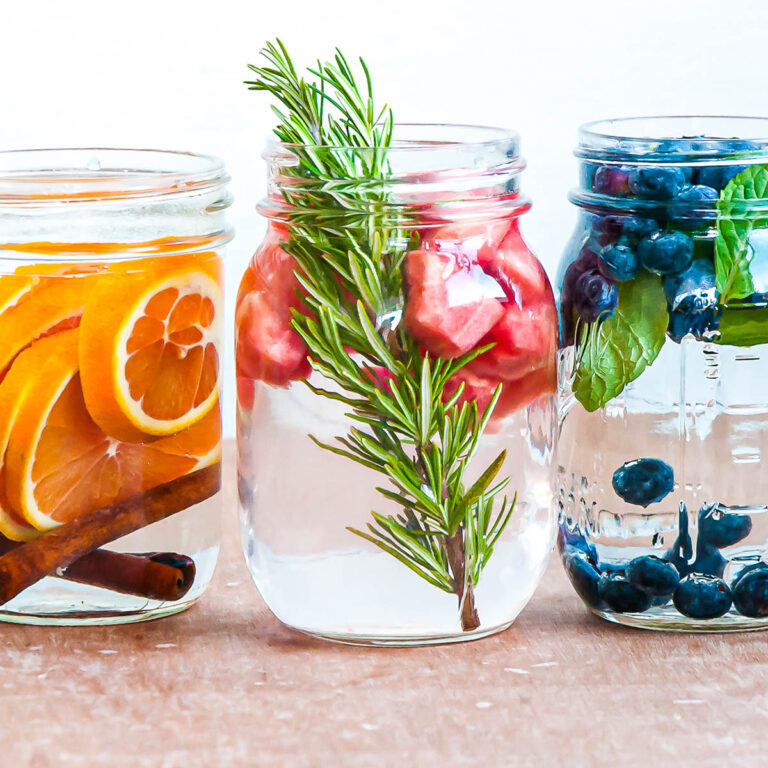 Fruit-Infused Water
Up your water consumption with this simple, tasty detox water recipe that helps fight belly bloat and hydrate your body.
Ingredients
4

cups

water

1

grapefruit

3

fresh rosemary

3-4″ long
Instructions
Thoroughly wash and rinse the grapefruit, then cut into chunks or slices, leaving the skin on. Add the grapefruit to a pitcher or into separate drinking containers.

Press the rosemary gently between fingers or palms of your hands to help release the natural oils. Place rosemary in the pitcher or drinking containers.

Fill with water and place in the refrigerator for at least 15 minutes, or up to 48 hours. If you're using sparkling water, keep in mind that the sparkling quality will wear off with time.
Notes
Can use sparkling water in place of still water for an extra bit of zing; look for unsweetened versions.
Feel free to use the fruit/vegetables + herbs/spices of your choice, just make sure you wash the produce well (skin and all) since you won't be peeling them before adding.
You can eat the fruit/vegetables after the water is gone, or just refill and continue using throughout the day.
Here are some more great combos:

Strawberries + lemon

Orange + cinnamon

Cucumber + mint

Lemon + cayenne

Watermelon + rosemary 

Apples + cinnamon
Nutrition
Calories:
27
kcal
,
Carbohydrates:
7
g
,
Protein:
1
g
,
Fat:
1
g
,
Saturated Fat:
1
g
,
Polyunsaturated Fat:
1
g
,
Monounsaturated Fat:
1
g
,
Sodium:
12
mg
,
Potassium:
86
mg
,
Fiber:
1
g
,
Sugar:
4
g
,
Vitamin A:
736
IU
,
Vitamin C:
20
mg
,
Calcium:
21
mg
,
Iron:
1
mg