I often get requests and questions for plant-based meals for diabetics. A lot of people shy away from fruits and vegetables when they struggle with blood sugar levels because they are carb-forward, yet this doesn't have to be the case.
I'm providing you with a free 7-Day Diabetic Meal Plan full of balanced, plant-powered meals that can help keep your sugar levels stable and your tummy full. You can grab the 7-Day Diabetic Meal Plan PDF below to get started.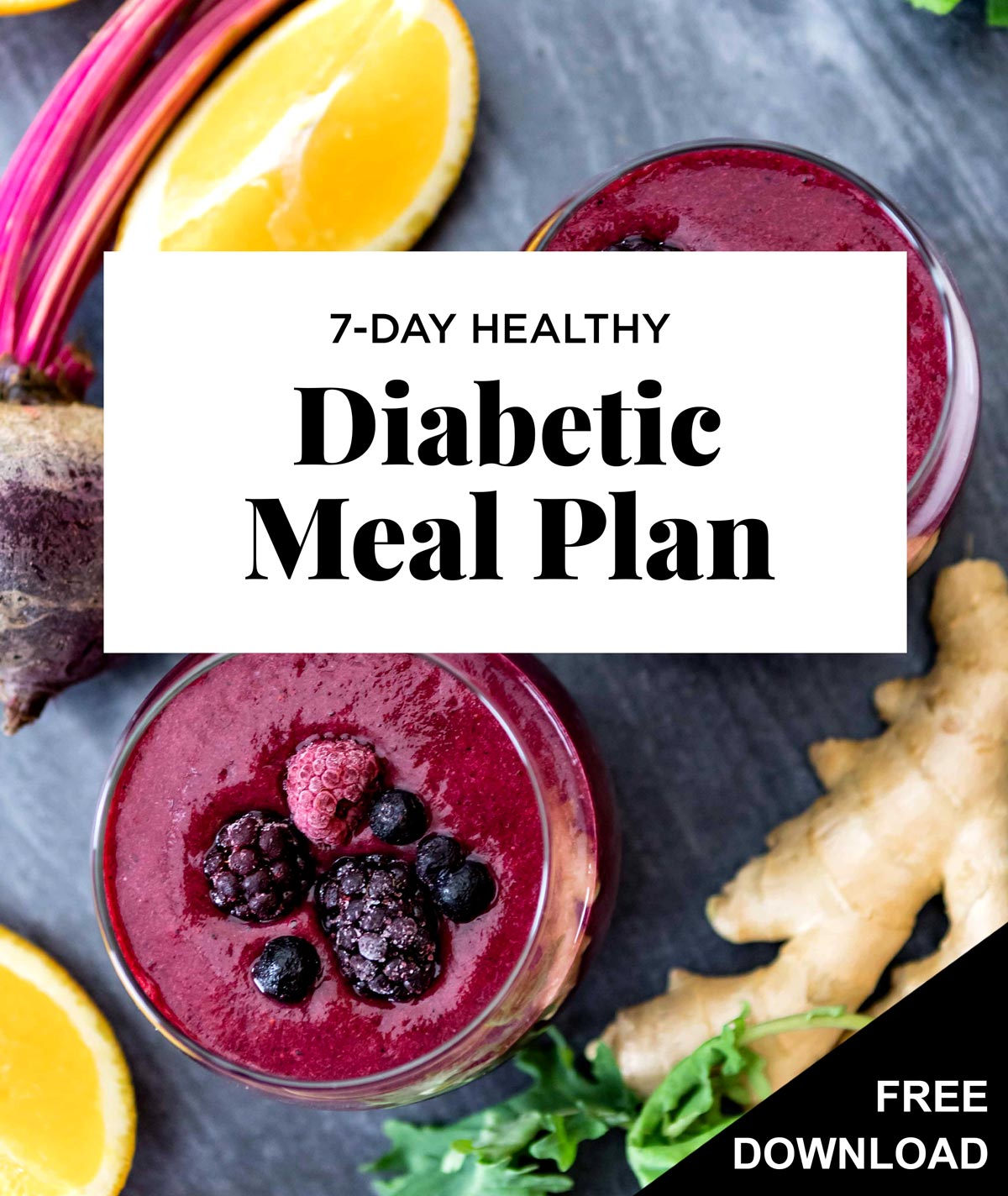 As always, speak with your certified practitioner to make sure a diet change like this is right for you. Modify it to fit your needs. If you want to add more protein in the form of eggs, chicken or fish then go for it.
Simple Green Smoothies team member Erin was diagnosed with gestational diabetes during her pregnancy and was able to thrive using this meal plan as a template during her pregnancy. I can't wait for you to try it, too.
Table of Contents
Diabetic Meal Plan
People living with diabetes have a hard time finding balanced, whole-food meals that work for them. I totally get it!
I structured this meal plan to include a variety of produce, both fruits and vegetables, and my top diabetic-friendly smoothies that are low in sugar (for real!) and are designed to give you protein, healthy fat and carbs in a balanced way that won't cause a sugar spike or crash after consuming.
I also took the guesswork out of planning your next seven days of breakfasts, snacks and dinners by providing a meal plan, recipes and a shopping list. All you have to do is order or shop for the ingredients you need, then get ready for a week of nourishing, helpful meals.
Download the free 7-Day Diabetic Meal Plan here.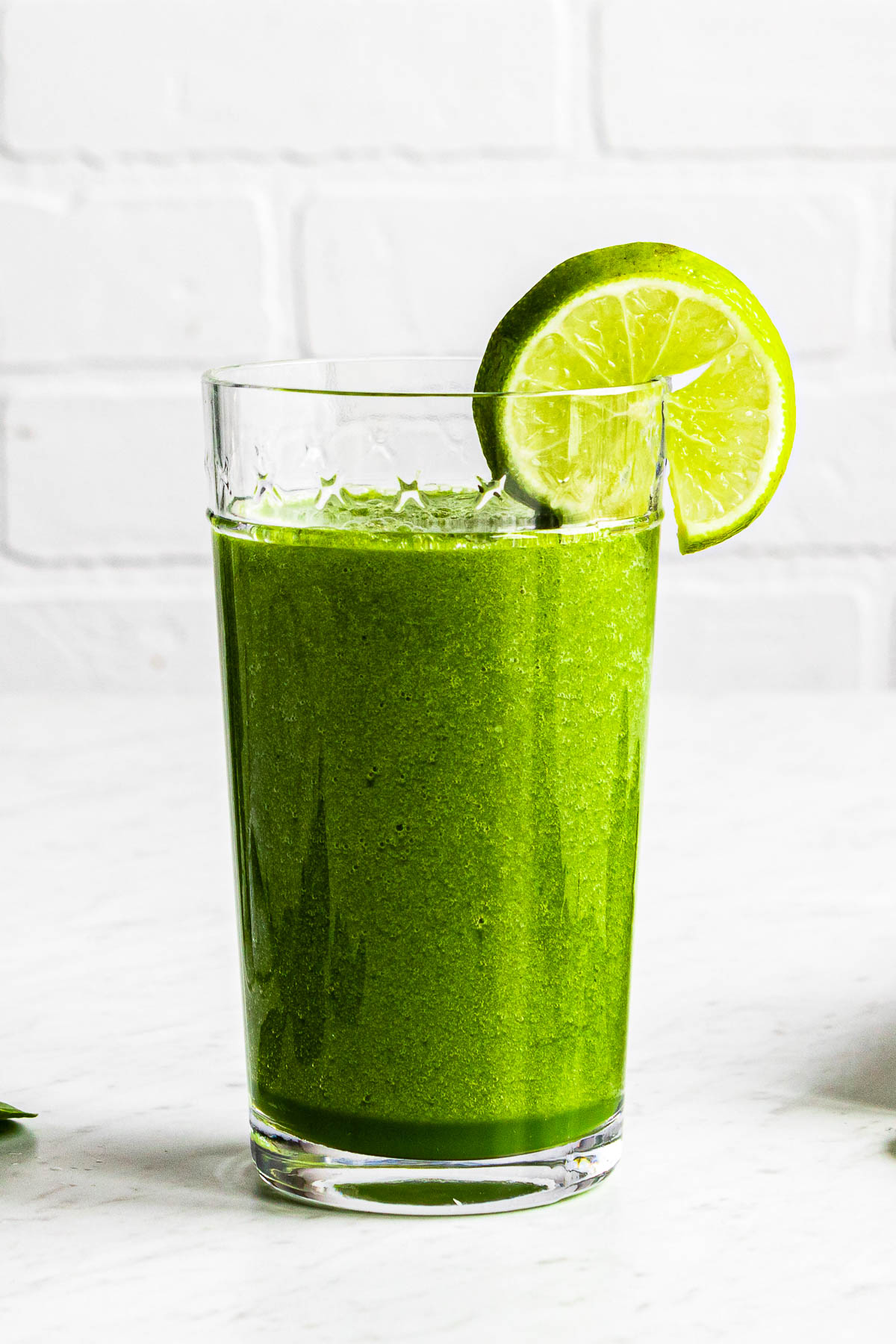 Low-Sugar Breakfasts
The following smoothies made the cut for this diabetic meal plan because they are loaded with fiber, contain healthy fat and protein, and are each lower in natural sugar. Feel free to add a plant-based protein powder to up the protein, healthy fat and fiber to help your body process the carbs from fruits and leafy greens.
I've also been sipping on this Cherry Vanilla Diabetes Smoothie and loving how sweet it is without causing me a sugar crash!
Protein-Packed Snacks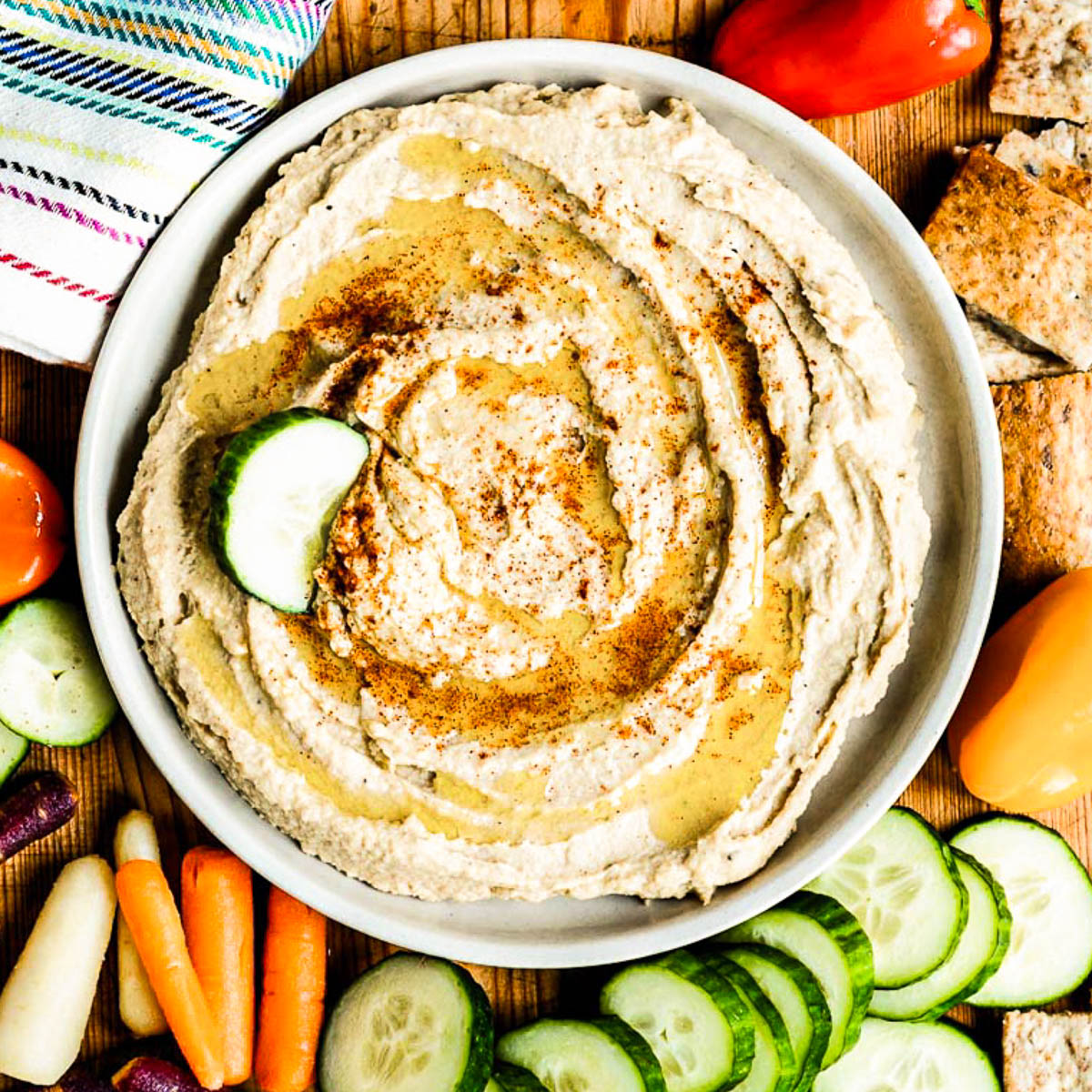 Snacks can be a lifeline when trying to keep your blood sugars in check. Keep snacks on hand that work for you! These three snacks are repeated throughout the week for a delicious little break mid-morning or afternoon, as well as full of healthy fats and protein that will give you sustainable energy.
The snacks in the 7-Day Diabetic Meal Plan PDF are laid out in a way that you can make them once and then enjoy them throughout the week.
Low-Carb Dinners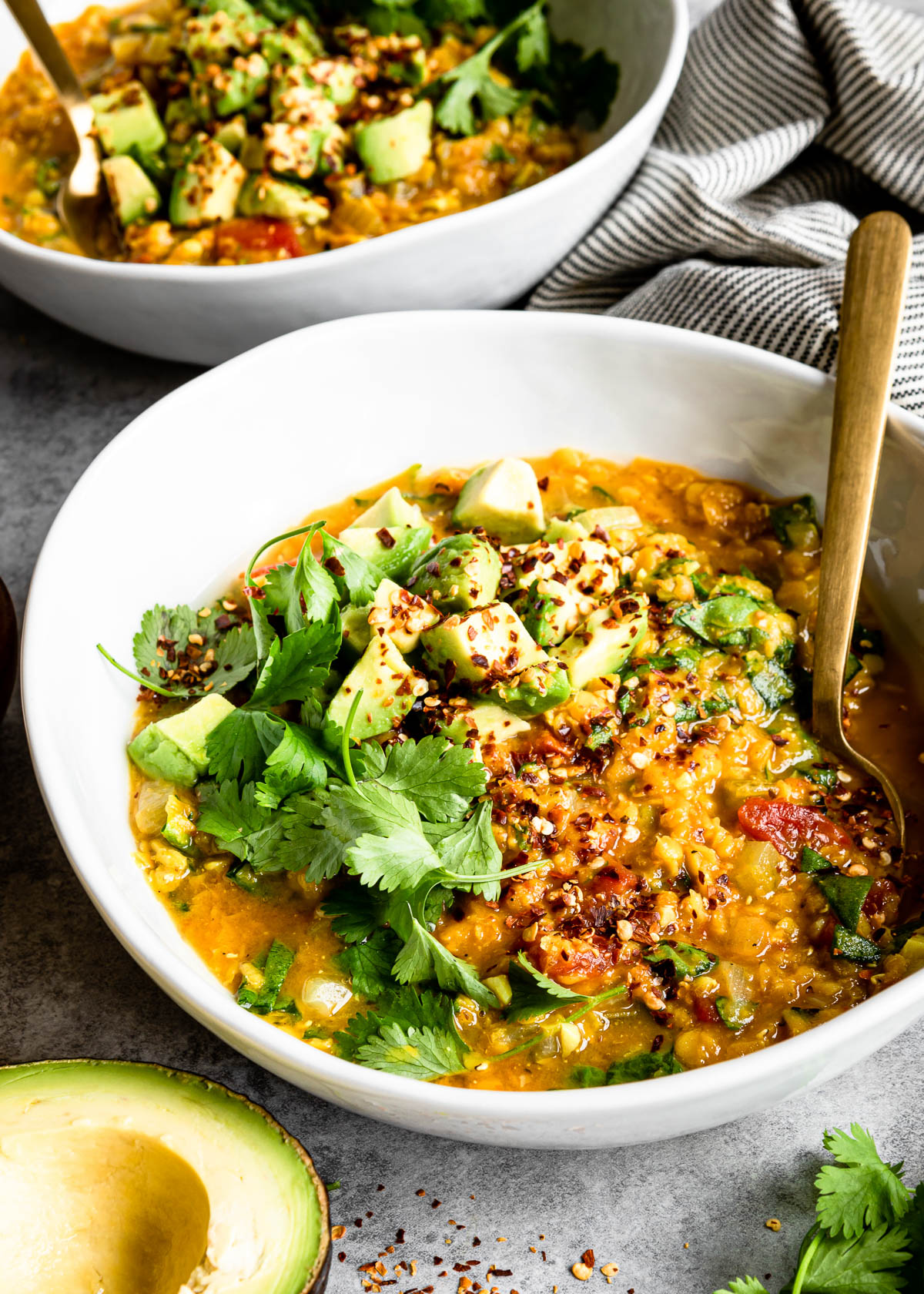 The dinners in this diabetic meal plan were especially fun to select. I have nothing against meat, and you can add it to any meal you want to. These incredible meals are 100% plant-powered and still full of protein. Plus, they taste good. I included each of these meals in the 7-Day Diabetic Meal Plan PDF to give you seven great, filling dinners to nourish your body.
Pro Tip: I started reading a book called the Glucose Revolution: The Life-Changing Power of Balancing Your Blood Sugar, by Jessie Inchauspe. In it, she gives incredibly easy "hacks" or ways to help keep your blood sugar stable throughout the day.
I loved the ease of reading and following it, especially for those starting a diabetic diet for beginners.
Diabetic Meal Plan FAQs
What is an ideal meal for a diabetic?
Balance is key! Make sure your meals have a balance between carbs, protein and healthy fat. Too much in one category will keep the other two categories from being able to do their jobs properly inside the body. Fiber is also super important to cut down on any natural fruit and vegetable sugars you are consuming.
What foods are unlimited for diabetics?
While I don't believe in 'unlimited' foods for anyone, dark green vegetables like leafy greens, cucumber, broccoli and more are great additions to a variety of meals. Don't underestimate the power of plants paired with healthy fats like avocado, olive oil and coconut oil. Loading up on vegetables of many kinds before eating protein or carbs has been shown to reduce sugar spikes and keep levels consistent.
What foods should diabetics limit?
It's pretty common knowledge that outside a sugar crash, loading up on sugar, doesn't work out great. Even fruit sugar is hard to process, especially when it's by itself. During a meal, start with vegetables before working on protein then save carbs for last when possible to keep your glucose levels as even as possible with no major dips or spikes.
Meal Planning Made Easy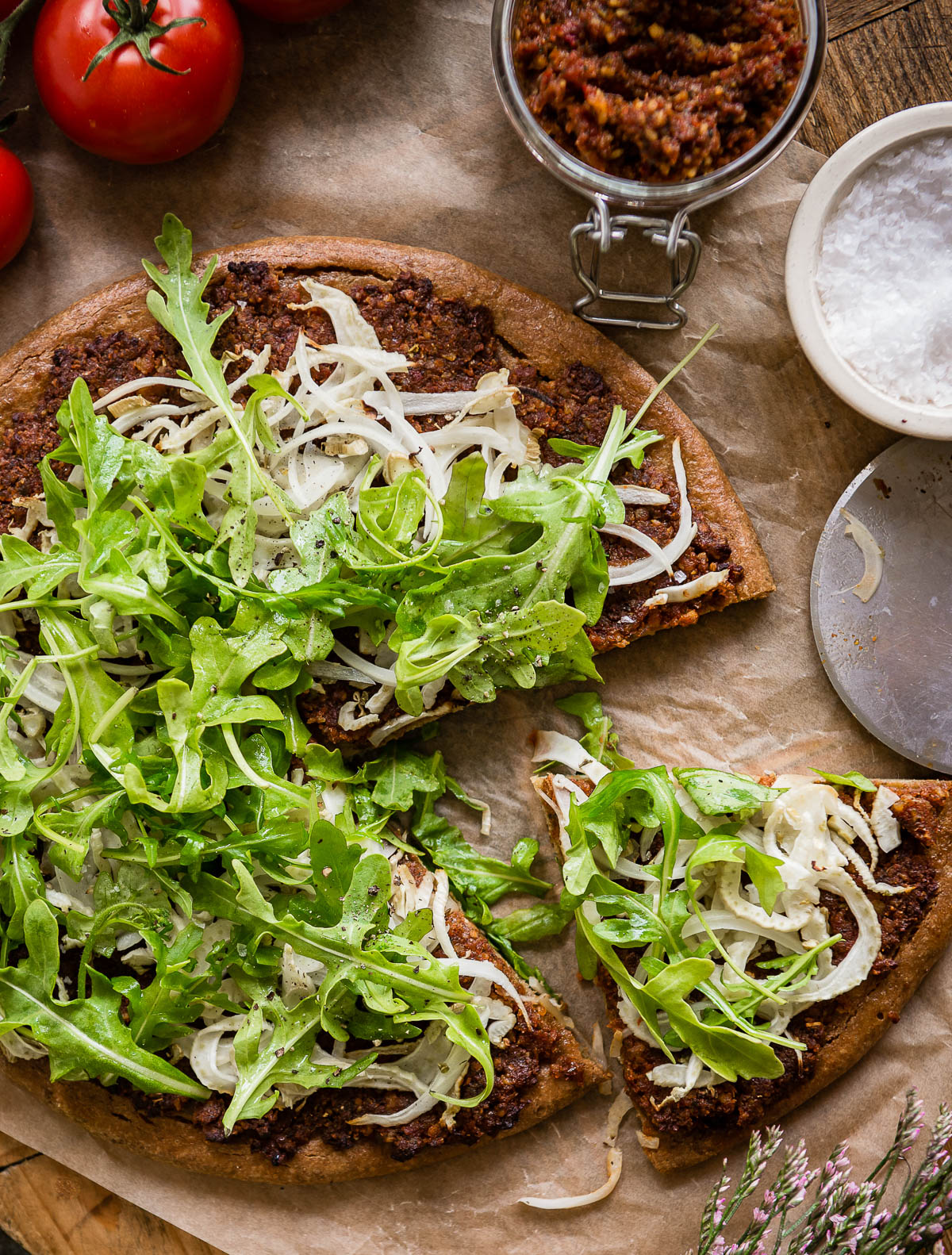 Meal planning is hard normally but it can be downright difficult when you have to add in dietary restrictions. I created Rawk the Year: Meal Planner to provide relief for people wanting to make healthy homemade meals without stress. It's a meal planner that creates a plan for you each week and you can customize it to be exactly what you need.
If you need balanced recipes, then you can use the Macro Breakdown I include at the bottom of each recipe. This way you know the recipes you choose will fuel you and not slow you down. Want to give it a try? I've got a 14-day free trial waiting for you!
More Meal Plans
Not convinced quite yet? That's okay! Check out these other free meal plans I've created to learn more about incorporating more veggies into your meals as well as how easy it is to create deliciously filling meals with plants.
I can't wait for you to give this diabetic meal plan a try, then leave a comment letting me know what you think. Did you add or remove anything? How did you make the plan work for you? I want to know!