This dragon fruit smoothie bowl was created with my daughter. One of my favorite ways to spend time with my daughter Clare is painting our nails together and talking about life. What better way to let those new nails dry than to indulge in a bright snack? Try this dragon fruit bowl with one of your loves and enjoy its uniqueness together.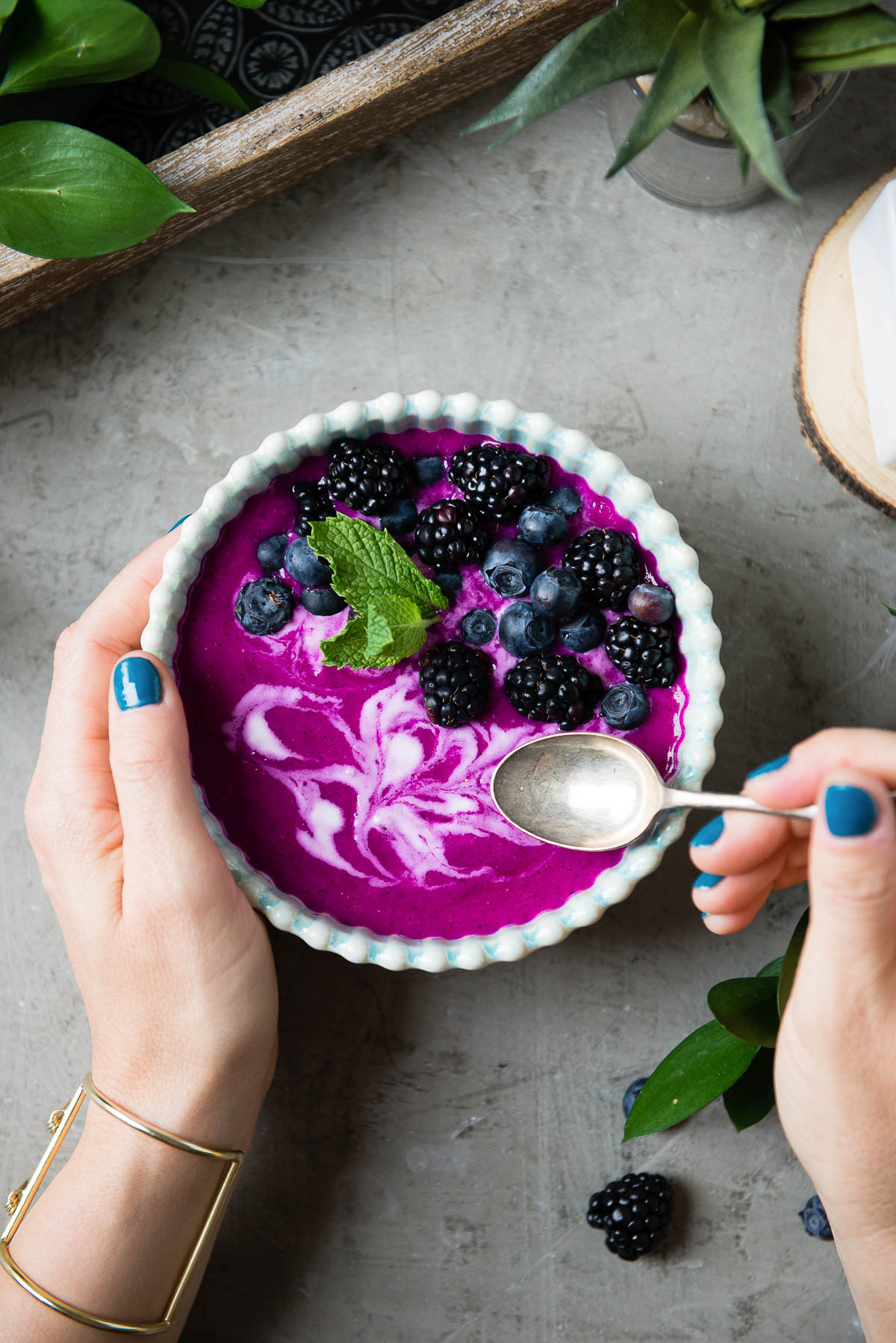 Smoothie bowls are an easy snack win because you can top them however you want. Add a crunch from some healthy granola, freeze-dried fruit or load up the top with more fresh fruit. This dragon fruit smoothie bowl is the perfect base for a bowl full of berries.
Table of Contents
This spiky fruit originated in Central America and has recently gained worldwide fame. Toss frozen fruit cubes into your next glass of water for a fruit-infused detox water, or get even more adventurous with one of the five recipes below.
While I started with the dragon fruit smoothie bowl below, I quickly fell in love with eating this fruit, whether plain or in a fun dish.
Recipe Ingredients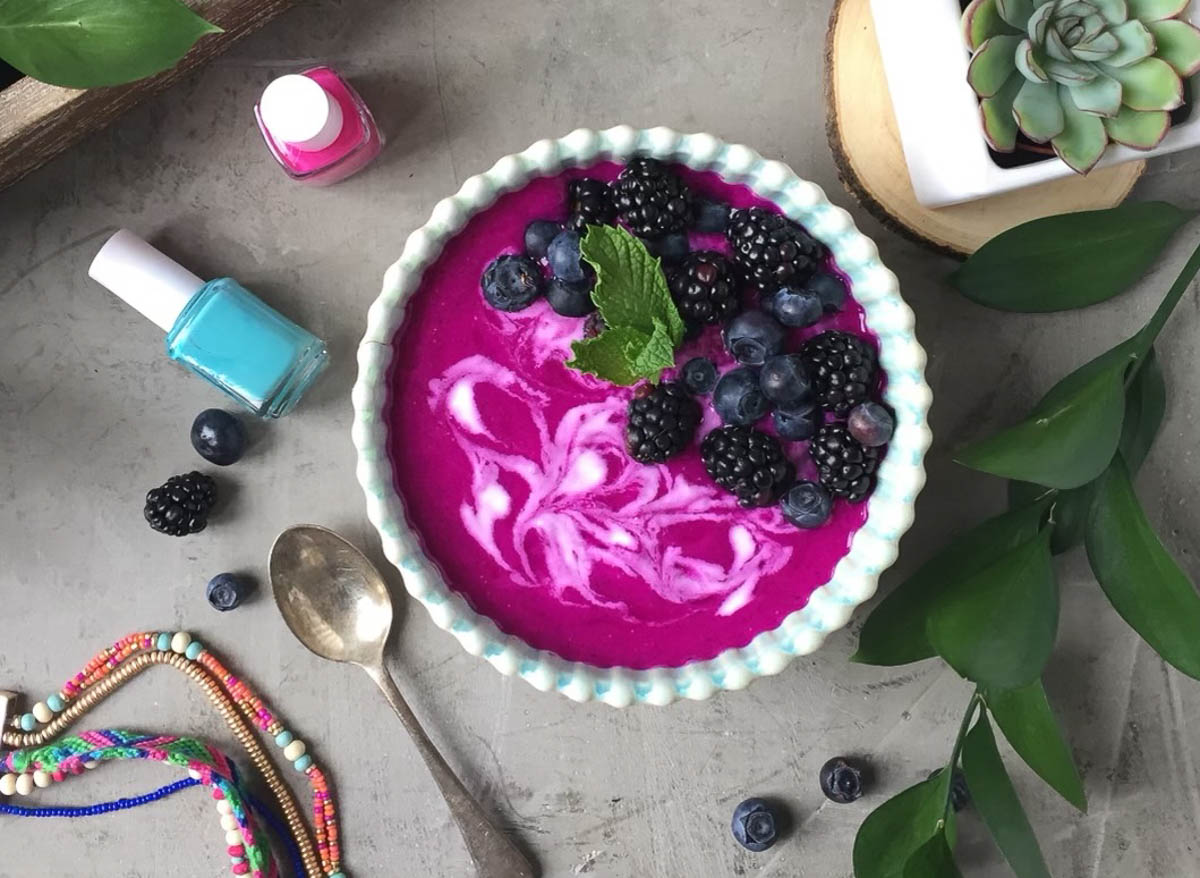 This recipe blends both fruits and vegetables for a thick and creamy bowl that is as nourishing as it is delicious. It's a great recipe for a smoothie bowl newbie, and also one kids will flock to. Who doesn't want to eat purple food? Here's what I'm blending:
Dragon fruit: This unique fruit might be visually shocking, but it is pretty mild in flavor. It tastes a bit like a kiwi with the texture of a pear. Also called pitaya, dragon fruit is high in fiber and magnesium.
Banana: Added for sweetness and a natural thickener.
Pineapple: Added for sweetness and to heighten the tropical flavor.
Cauliflower florets: Used as a thickener and to boost the nutritional value of this smoothie bowl, yet you won't even know it's in there!
Water: I am using a few water-dense fruits so just a little bit of extra liquid is needed to achieve the perfect blend.
Easy Swaps
To cut down on the natural fruit sugar in this pitaya smoothie bowl, swap 1/2 banana with 1/4 avocado, or use berries in place of the pineapple. This will change the flavor yet it will still taste delicious.
While pink-fleshed dragon fruit will help you achieve the deep purple color in this creation, you can use white or yellow depending on what's available at your grocery store.
Swap in coconut water for extra electrolytes or use almond milk, coconut milk or the dairy-free milk of your choice.
You can also boost this smoothie by adding in hemp seeds, chia seeds or some homemade protein powder.
How to Blend a Dragon Fruit Smoothie Bowl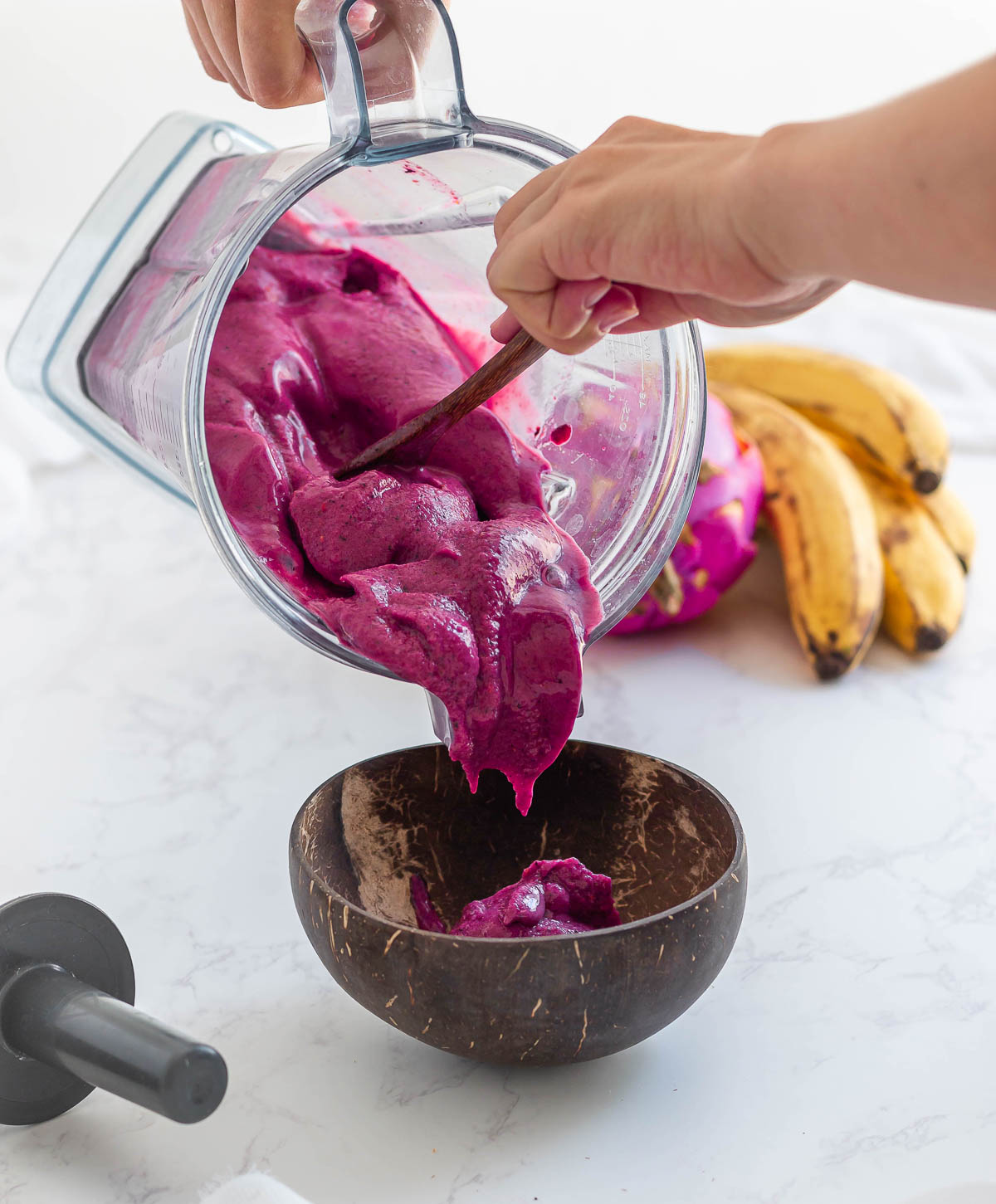 Blending a smoothie bowl is similar to a regular smoothie. I definitely recommend using a high-powered blender for this one as it takes a while to get a smooth finish. Patience and persistence will get you the consistency you desire.
Add all ingredients to the blender and turn on high. Blend until the blades stop, then stop and scrape down the sides, or use the tamper to continue to push the ingredients into the blades until they can spin on their own. If your blender is having trouble even after stopping to mix then add a bit more water just until the blades start moving on their own.
Once the mixture is smooth, stop blending and scoop into the bowl of your choice. The mixture should be really thick and scoop like ice cream.
Add the toppings of your choice and enjoy!
I love topping this bowl with chopped mango, healthy granola, coconut whipped cream, coconut flakes, a ribbon of acai, strawberries or nut butter. Frozen banana is also delicious as a topping.
FAQs
Is a pitaya bowl healthy?
Yes! Dragon fruit smoothie bowls can be a great healthy snack option. Use whole food, plant-based ingredients and toppings. Boost your bowl with plant-based protein powder for a more filling treat, and top with a variety of toppings to help it fuel your day.
What's the best way to peel dragon fruit?
This unique fruit can be intimidating to peel looking at its spiky exterior. To peel, I cut off both ends then slice the fruit in half length-wise. Then using a spoon, I scoop out the fresh fruit inside. Then cut into chunks to freeze, toss into smoothies, or eat.
What tastes good with dragon fruit?
To me, dragon fruit is similar in taste to kiwi. It's fairly mild in flavor and slightly sweet, making it a great ingredient to toss into your next smoothie bowl. It pairs well with a variety of tropical fruits like mango or pineapple or goes nicely with berries.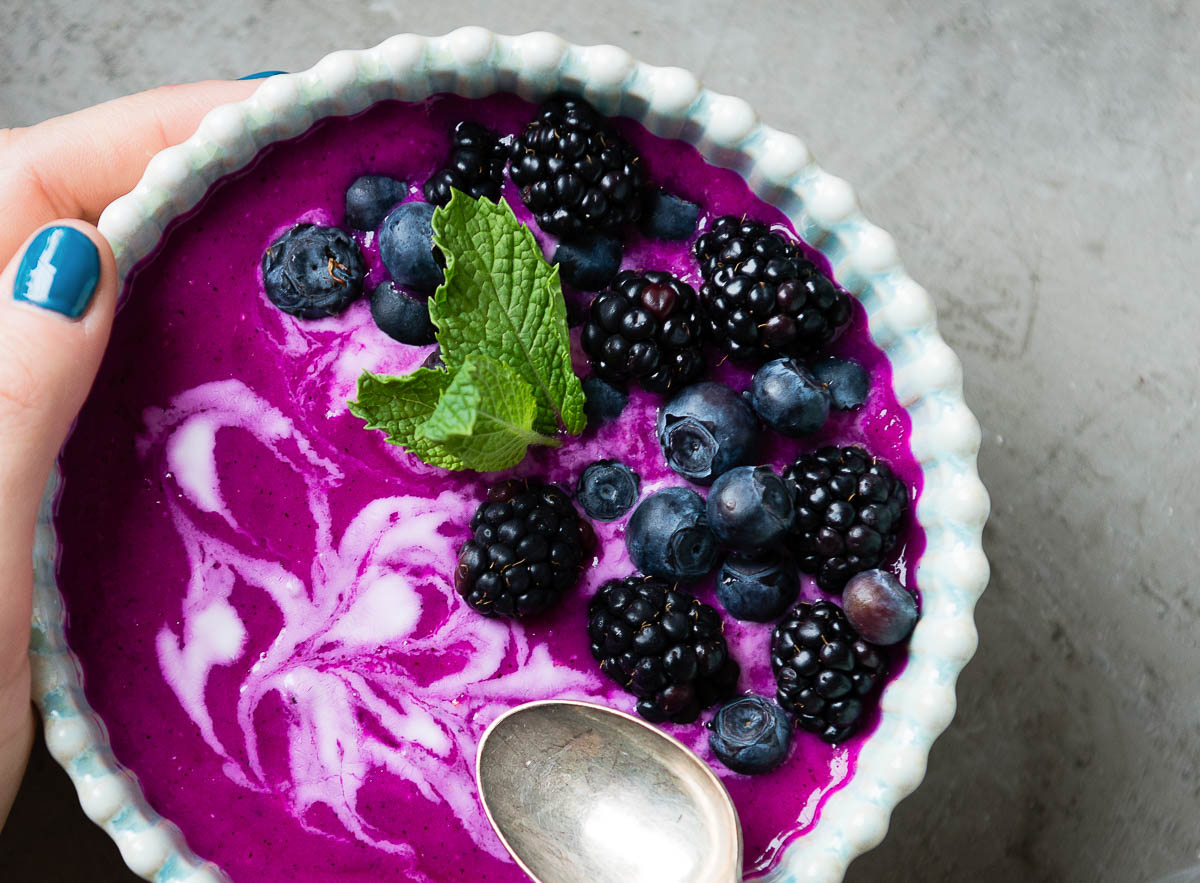 More Smoothie Bowl Options
Smoothie bowls are a great way to enjoy your daily smoothie in a different form to keep it fresh and exciting. Plus, toppings. Need I say more? Here are a few of my favorites:
Use them as a snack, breakfast or dessert. They really can change based on how you top them or what you blend into them, and I love that!
Would you please rate + review this recipe once you try it? It's such a fun one!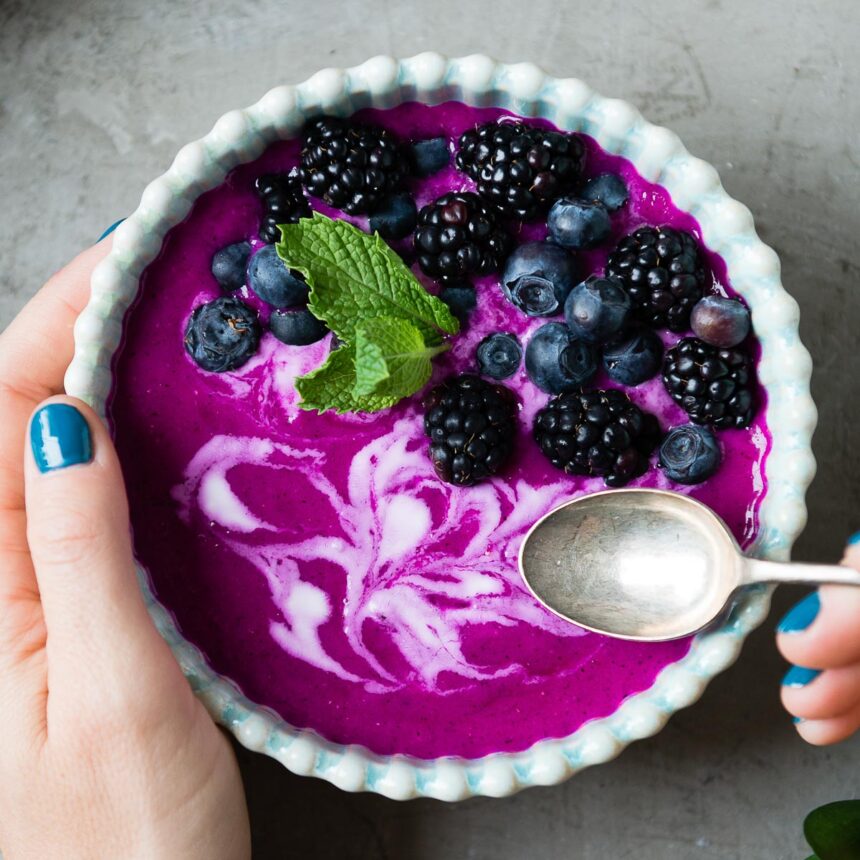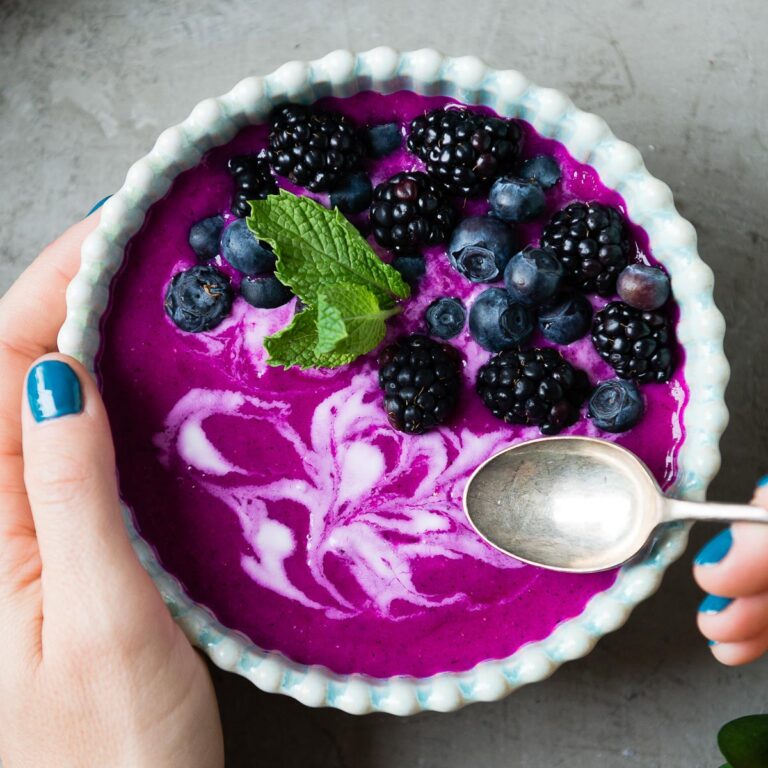 Dragon Fruit Smoothie Bowl
This dragon fruit smoothie bowl is a bit unique for us, yet still 100% perfect in a smoothie or bowl recipe. You'll commonly find white flesh ones at the grocery store, but if you can score one with a bright pink or bright yellow center then blend it into the most gorgeous creation.
Ingredients
1

cup

dragon fruit

frozen

1

banana

large frozen

½

cup

pineapple

frozen

½

cup

cauliflower florets

frozen

¼

cup

water

plus more if needed, for blending
Instructions
Blend all ingredients together.

Use a tamper to push down and encourage blending if getting stuck.

Spoon mixture into a bowl.

Swirl in coconut cream.

Top with fresh berries.
Notes
Coconut cream is added for visual effect and is not needed.
Smoothie bowls are meant to be thick and eaten with a spoon instead of a straw. You want a yogurt or sorbet consistency, so you may have to stop and scrape down the sides of the blender several times to get it all mixed together. 
Add just enough liquid to get your blender moving, but don't add too much or you won't get that scoopable consistency.
To cut down on the natural sugar in this dragon fruit bowl, swap one banana with blueberries. 
Top with fresh berries, coconut whipped cream, cashew cream, fresh fruit, healthy granola or nuts/seeds.
Nutrition
Calories:
301
kcal
,
Carbohydrates:
61
g
,
Protein:
3
g
,
Fat:
4
g
,
Saturated Fat:
0.2
g
,
Polyunsaturated Fat:
0.1
g
,
Monounsaturated Fat:
0.1
g
,
Sodium:
162
mg
,
Potassium:
662
mg
,
Fiber:
8
g
,
Sugar:
42
g
,
Vitamin A:
123
IU
,
Vitamin C:
74
mg
,
Calcium:
29
mg
,
Iron:
4
mg